There's nothing like the scent of an apple tart with cinnamon, fresh out of the oven. Yum! During the fall, we bake plenty of cakes with apples, and this apple tart with frangipane is one of the favorites. It's really easy and it tastes wonderful. Read along here and get our recipe.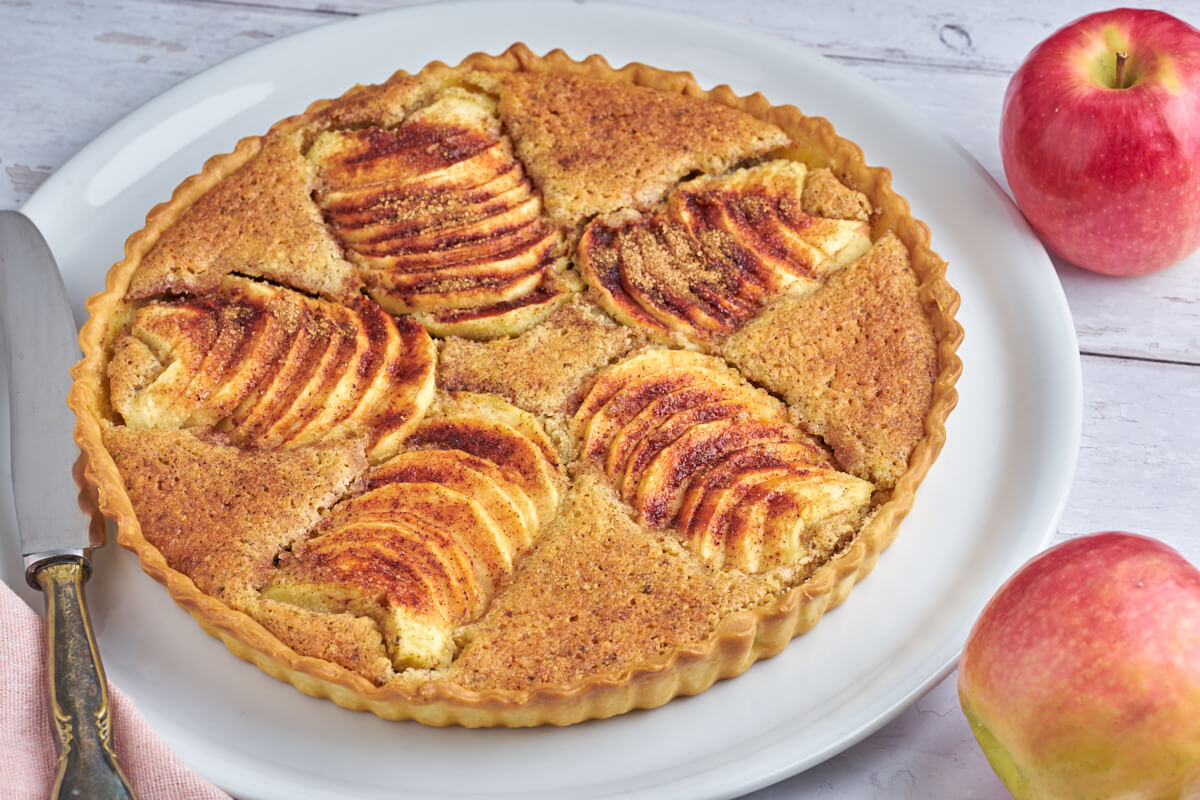 Easy Apple Tart with Cinnamon
We've become really fond of making tarts with frangipane. Frangipane is an almond cream that gives a really sweet and delicious flavor to a tart, and it pairs perfectly with fruit and berry tarts.

Apple tart is no exception, and in the fall, when there are plenty of delicious Danish apples, you mustn't cheat yourself out of trying one.

It's a tart you can bake for Sunday afternoon coffee with the family or serve for guests as dessert after a lovely meal. Perhaps alongside a scoop of good vanilla ice cream or whipped cream.

It's something most people really enjoy.

If you have a lot of apples in your garden right now, you can also easily bake the tart and freeze it. That way, you always have a delicious cake in the freezer ready to be taken out.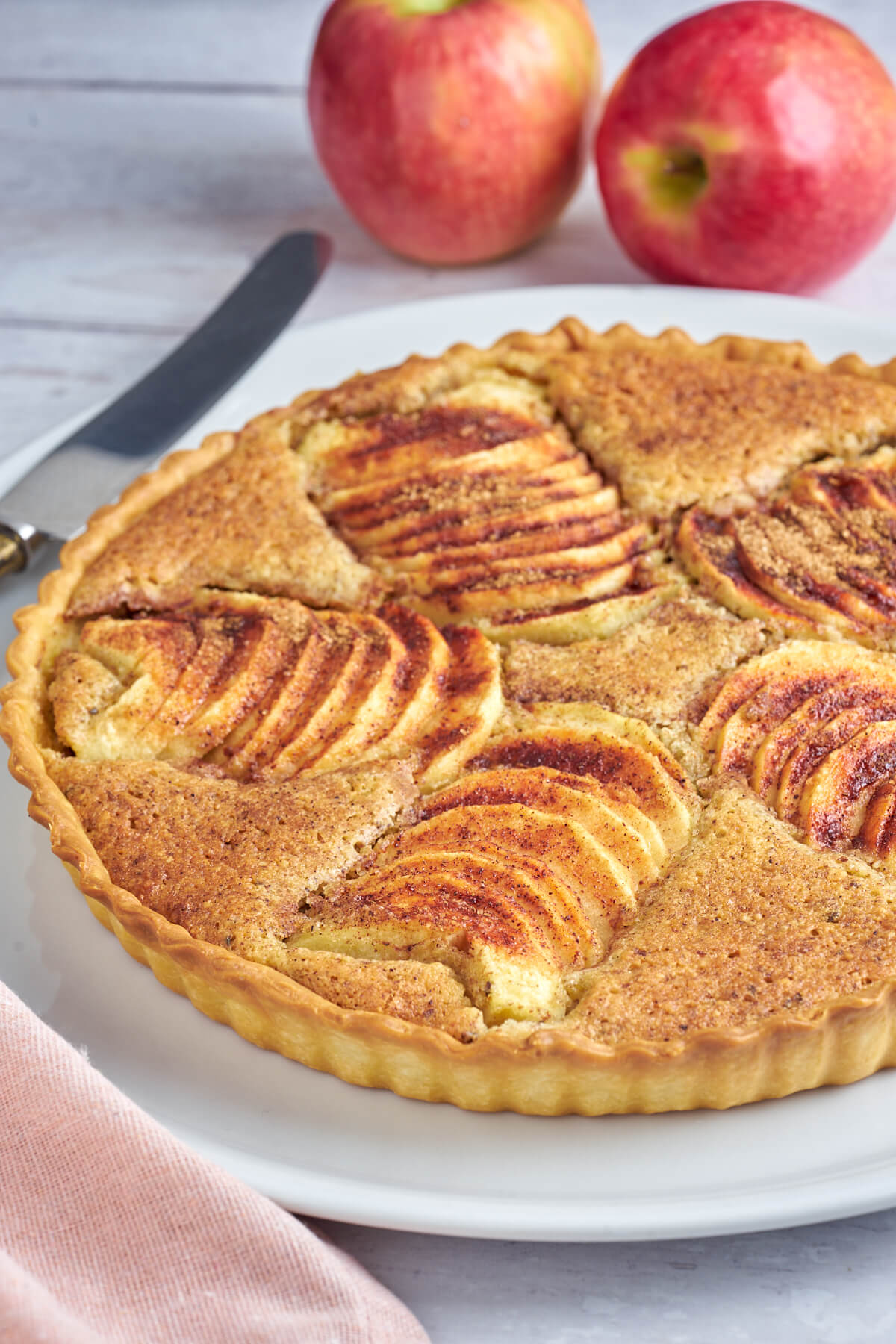 Ingredient notes
Apples – Opt for slightly tart as the frangipane mixture provides a lot of sweetness.

Cinnamon – I think apple tart and cinnamon go together, but if you're not a fan of cinnamon, you can, of course, skip it or sprinkle with a bit of vanilla sugar instead.

Almonds – Frangipane is made from almonds. I make it with almonds with their skins on, so you don't need to bother peeling almonds.
How to make frangipane apple tart?
The process for this tart is actually quite easy, but there are a few different elements you need to get right.

First, you need to make the shortcrust pastry. It needs to chill in the refrigerator before baking. If you have a food processor, it's easy to make shortcrust pastry. You just blend butter and flour, and then add powdered sugar and salt, and finally an egg.

The shortcrust pastry shouldn't be kneaded, just gathered, and then rolled out between two pieces of parchment paper. Place the pastry in the fridge.

Once the dough is cold, you can put it in a tart pan and prick it well with a fork before blind baking it with baking beads or dried beans.

Once the crust is partially baked, it's time to add the filling.

First, make the frangipane by beating butter and sugar together really well. Then add one egg at a time, and finally fold in almond flour with vanilla. Fill the mixture into the tart, and arrange slices of apple on top.

You can follow my pattern in the picture or make your own pattern.

Sprinkle the apples on top with cinnamon sugar, and then the tart just needs to go into the oven and bake.

Serve the tart warm or let it cool, for example with vanilla ice cream, crème fraîche, or whipped cream.

Find the full recipe further down this page.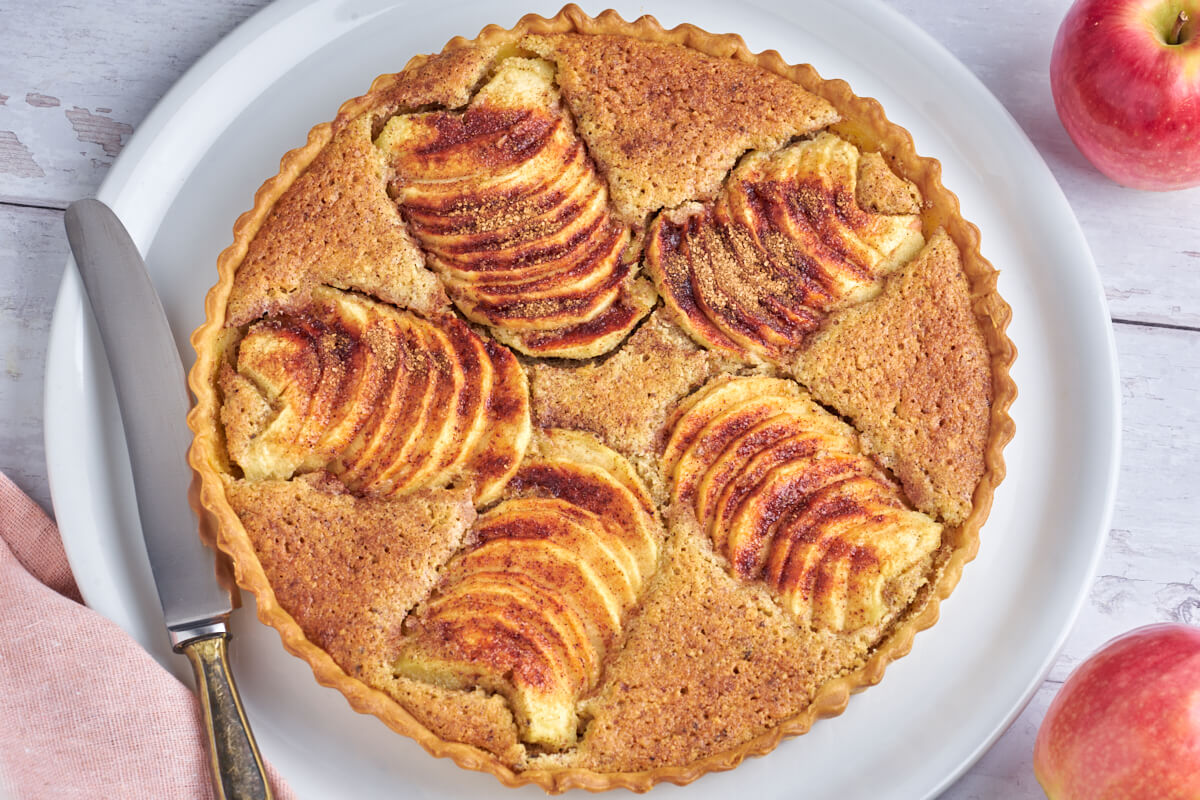 Frequently asked questions
Is it possible to freeze the apple tart?
Yes, it definitely can. If there are leftovers, they can easily be frozen, or you can freeze the entire tart, so it's ready for when you have guests.
Can alternate fruits be used aside from apples?
Indeed, we make this tart with all sorts of fruit and berries, for example pears, plums, cherries, blackberries, or blueberries.
Other cake recipes you might like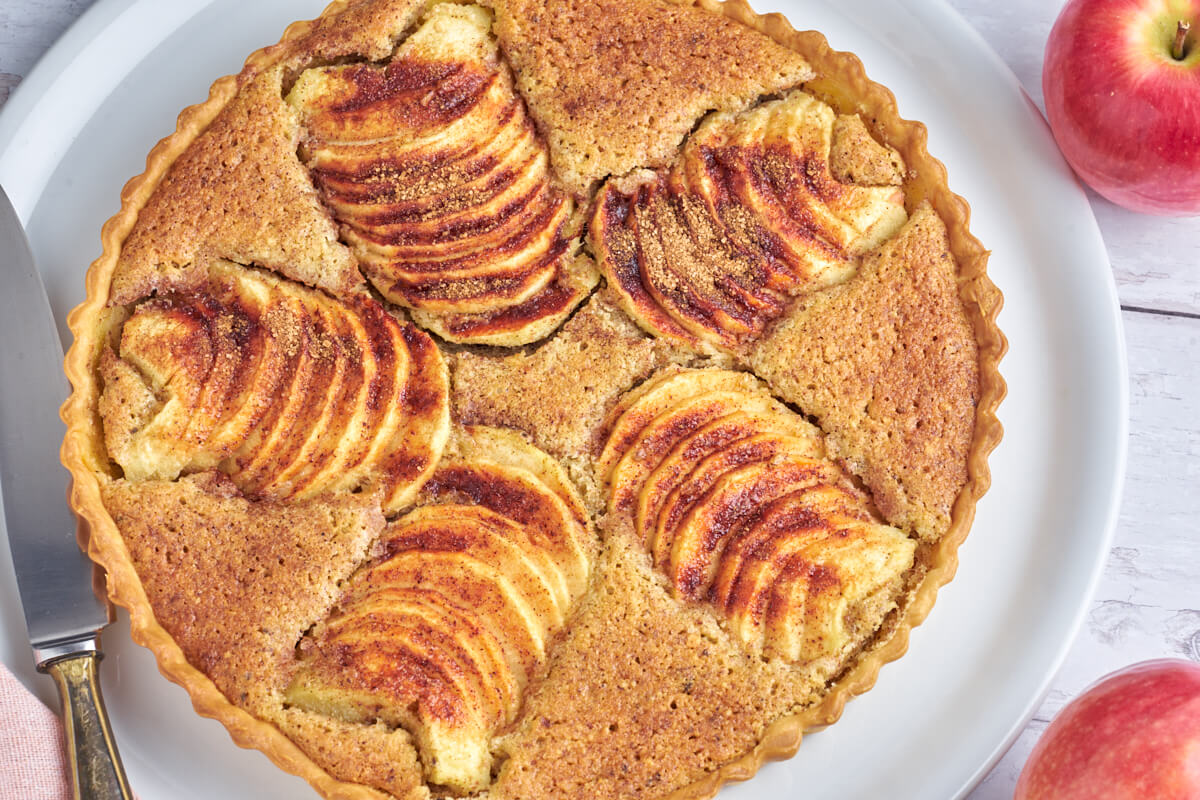 Tips and tricks for the recipe
Bake some tarts and freeze them if you have many apples in your garden right now. You can also bake the tart for 10 minutes less than stated in the recipe, and then give it the final 10 minutes when it's thawed and just before serving. This way, you'll have a warm freshly baked apple tart in no time.
Serving suggestions
Serve as a dessert alongside homemade Vanilla Ice Cream.
Pair with afternoon coffee, with whipped cream, crème fraîche, or custard.
Do you love apples?

Try our recipe for traditional Old-fashioned Danish Apple Cake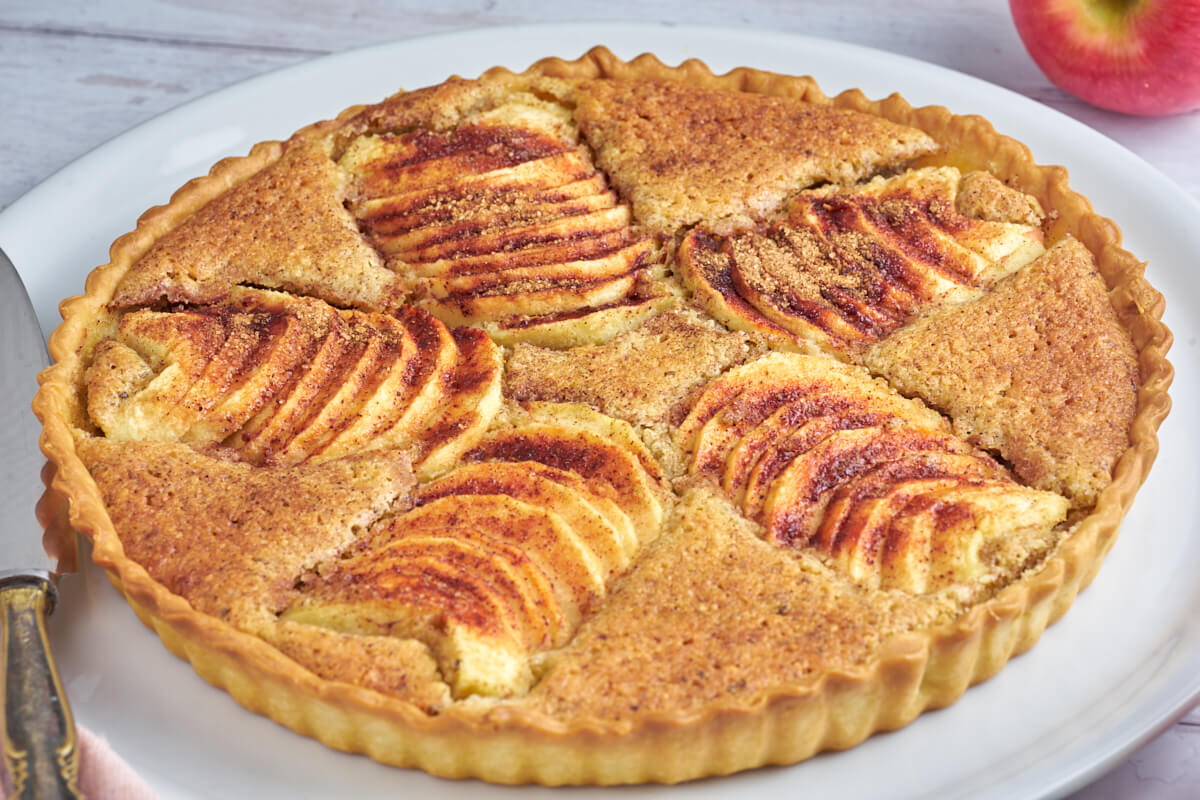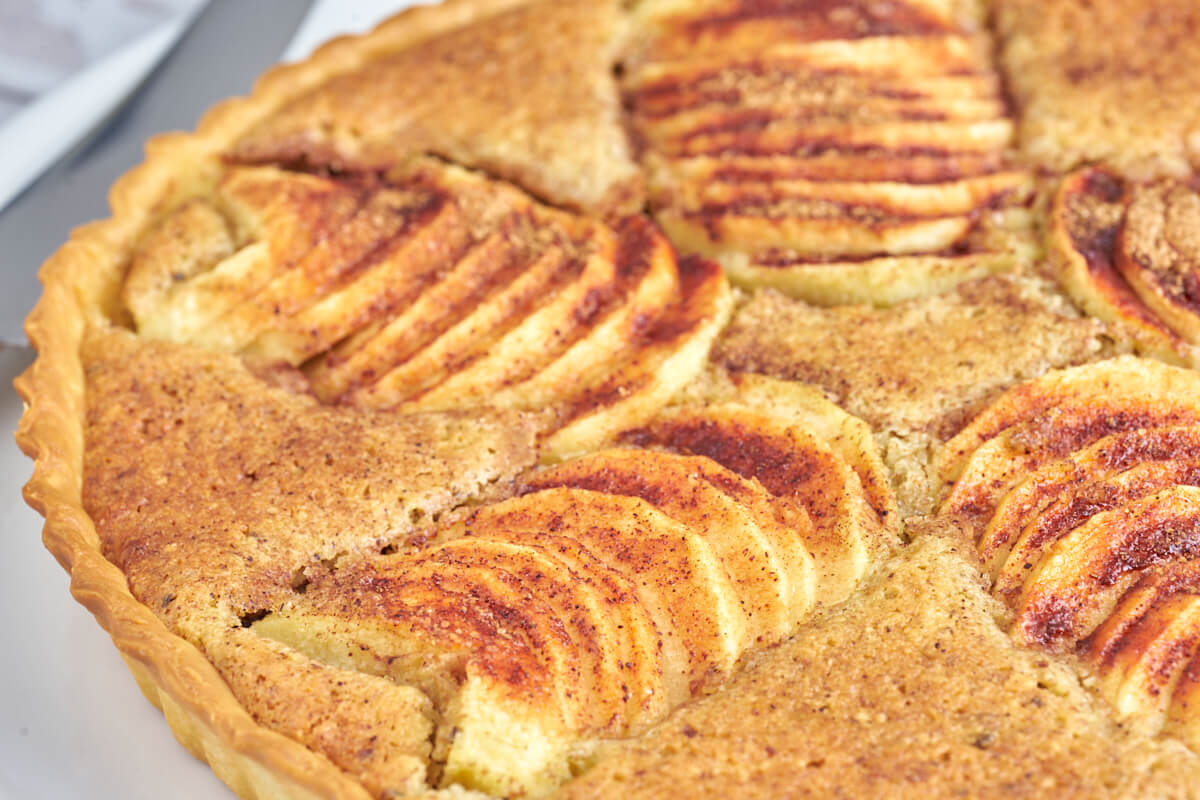 Recipe for apple tart with frangipane
Here's our recipe for a super delicious apple tart with frangipane. It's a true fall delight, and it tastes fantastic with a cup of coffee or tea, or as a dessert.

We hope you feel inspired to try the recipe and serve a delicious tart to your family.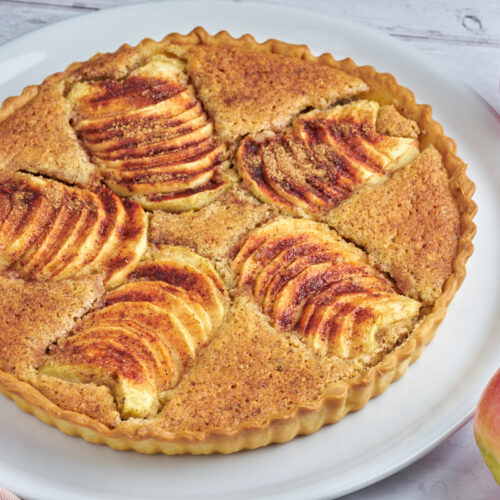 Frangipane apple tart
Recipe for frangipane apple tart
Easy Apple and Cinnamon Tart. The base is a crispy shortcrust pastry, and the tart is filled with sweet frangipane made with almonds, and, of course, delicious apples. Serve it with whipped cream, vanilla ice cream, or crème fraîche.
Ingredients  
3

apples

2

tbsp

sugar

1

tsp

cinnamon
Shortcrust pastry
150

g

butter

250

g

all purpose flour

50

g

powdered sugar

1

pinch

salt

1

egg
Frangipane
100

g

almonds

1

vanilla bean

100

g

butter

softened

100

g

sugar

2

eggs
Instructions 
Shortcrust pastry
Start by making the shortcrust pastry since it needs to chill in the refrigerator before baking.

Crumble the butter into the all-purpose flour. You can easily do this using a food processor. Then add powdered sugar and salt, and quickly bring the dough together with an egg. It's important not to knead the shortcrust pastry, just gently bring it together.

150 g butter,

250 g all purpose flour,

50 g powdered sugar,

1 pinch salt,

1 egg

Roll out the dough between two sheets of parchment paper, and place it in the refrigerator for 30-60 minutes.

Preheat the oven to 190 degrees Celsius (375 degrees Fahrenheit) with top and bottom heat.

Take the dough out of the refrigerator and place it in a greased 25 cm (10 inch) diameter tart pan. Poke many holes in the bottom with a fork to allow steam to escape during baking. Place a piece of parchment paper on top of the tart dough and fill the tart with baking beads, dried beans, or rice, and blind bake the tart for 20 minutes at 190 degrees Celsius (375 degrees Fahrenheit).

Meanwhile, prepare the apples and frangipane.
Filling
Wash and peel the apples. Remove the core and cut them in half. Thinly slice the apple halves.

Finely chop the almonds and the seeds from a vanilla bean in a blender or a mini chopper.

100 g almonds,

1 vanilla bean

Using a hand mixer, beat the butter and sugar until light and fluffy. Then add one egg at a time, beating well after each egg.

100 g butter,

100 g sugar,

2 eggs

Fold the almond flour together with the egg, sugar, and butter mixture.
Assembly
Once the tart crust is baked, remove the baking beads and parchment paper, and fill the tart crust with the frangipane mixture. Then arrange the apple slices on top and press them down slightly. Sprinkle a mixture of sugar and cinnamon on top of the apple slices.

2 tbsp sugar,

1 tsp cinnamon

Bake the tart for 30 minutes at 190 degrees Celsius (375 degrees Fahrenheit).

When the tart is done baking, remove it from the pan and let it cool on a wire rack.

Serve the apple tart with vanilla ice cream, crème fraîche, or whipped cream.
Nutrition
Serving:
1
person
Calories:
555
kcal
Carbohydrates:
58
g
Protein:
8
g
Fat:
34
g
Saturated Fat:
17
g
Polyunsaturated Fat:
3
g
Monounsaturated Fat:
11
g
Trans Fat:
1
g
Cholesterol:
129
mg
Sodium:
226
mg
Potassium:
230
mg
Fiber:
4
g
Sugar:
29
g
Vitamin A:
908
IU
Vitamin C:
3
mg
Calcium:
62
mg
Iron:
2
mg
How do you like the recipe?
Have you tried this recipe? We'd love to hear what you think of it. Leave a comment, add a number of stars to the recipe and share your photo on Instagram with #madformadelskere – We love seeing your dishes ♥️
Also, sign up for our Facebook group where you can show pictures of the delicious food you make! You can find the Facebook group here