There are plenty of delicious apples right now, and they are perfect for making apple compote. You can enjoy the compote on bread or as a topping for breakfast if you have porridge, yogurt, or the like. Read on here to get our easy recipe for delicious apple compote.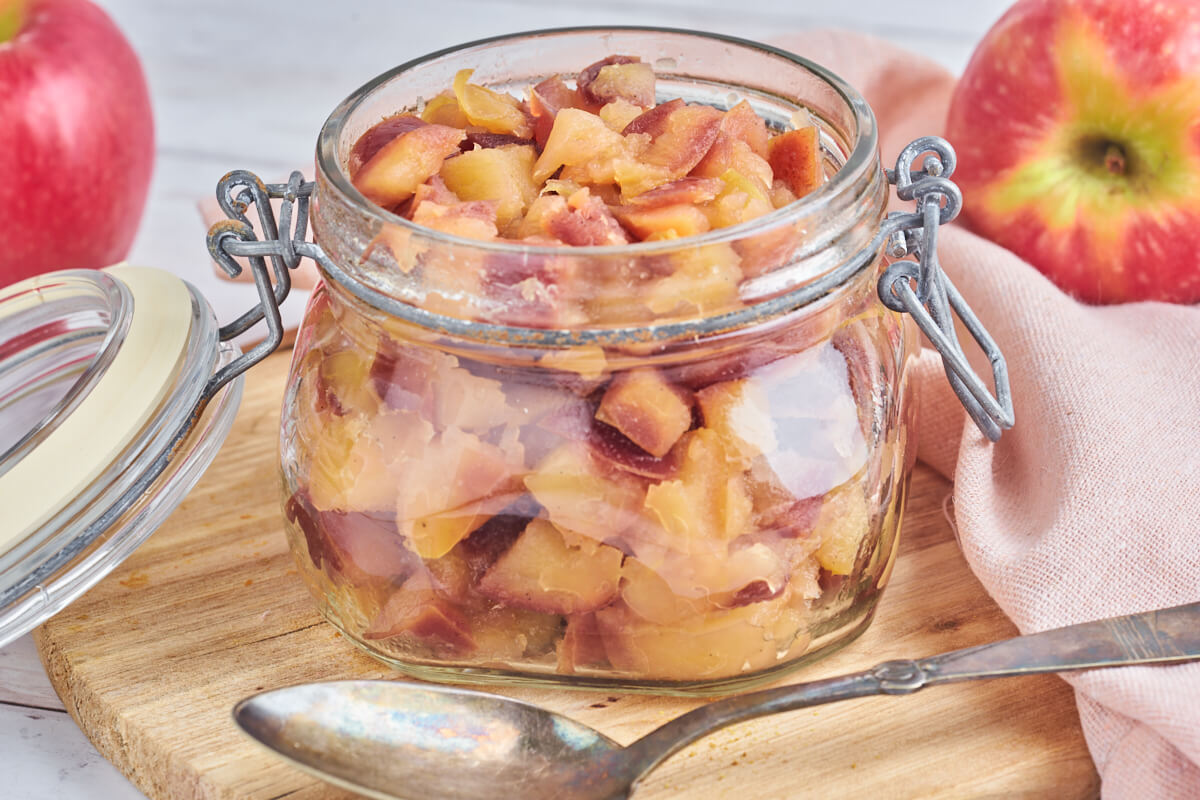 Easy Compote with Apples
There are so many delicious apples right now, and many are fortunate to have an abundance of apples in their garden. If you're one of them, then this recipe is perfect for you.

If you don't have apples in your garden, you can still use store-bought apples to make a delicious compote.

Apple compote can be enjoyed with many things. It's super tasty on top of rice pudding or oatmeal, and it's something kids love to have for breakfast when there's porridge on the table.

It can also be enjoyed in pancakes, on a freshly baked bun, or on a piece of cheese.

In fact, only your imagination sets the limit, and it's wonderful to have a jar of it in the refrigerator.

This version includes cinnamon and vanilla, but you can also spice it up and add a bit of ginger, cardamom, or other warm spices if you like. That will give it an extra taste of autumn.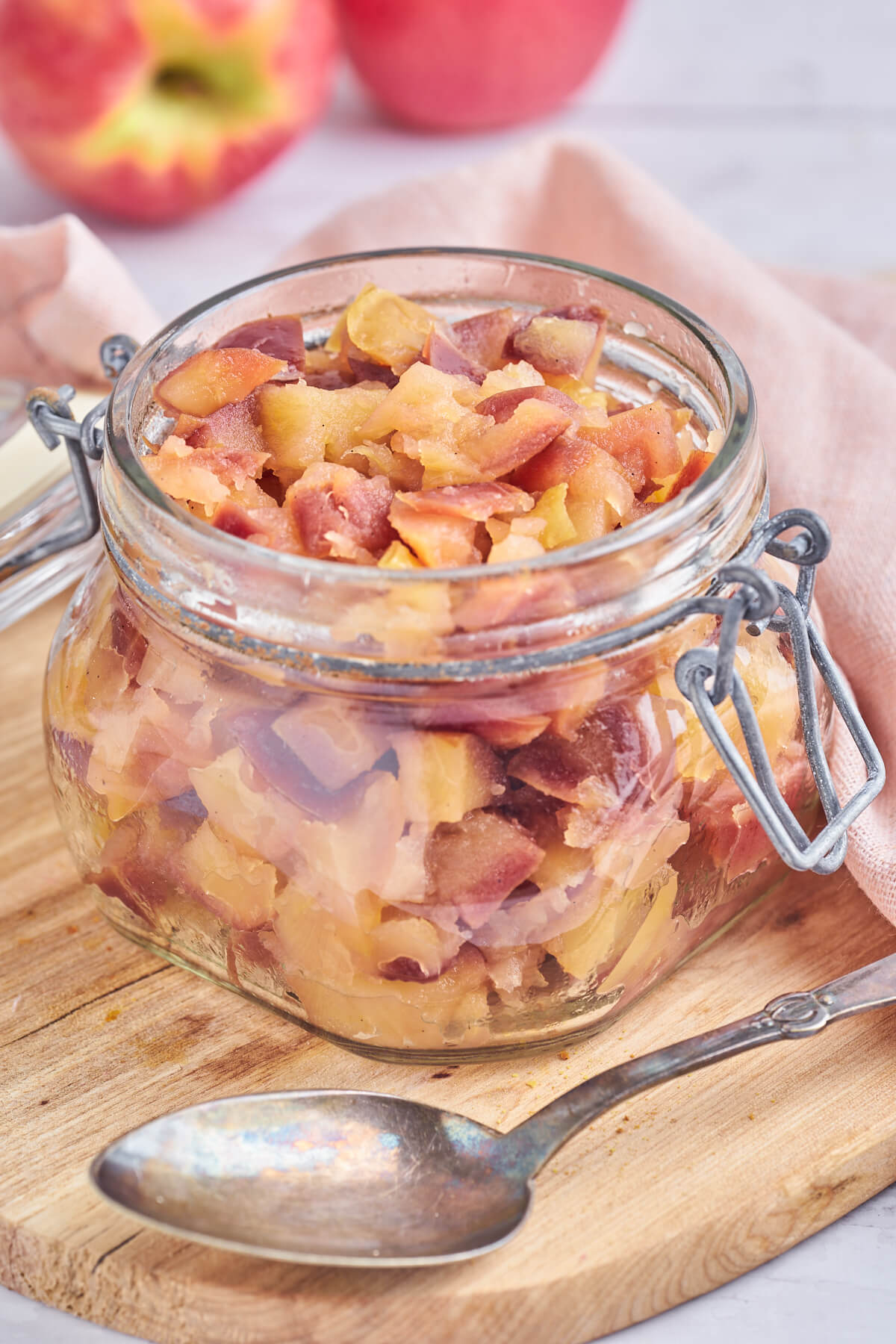 Ingredient notes
Apples – Preferably slightly tart apples that can be cooked down when prepared.

Sugar – A small amount of sugar is needed. You can also use a sugar substitute if you want to make apple compote without sugar. Sugar can be replaced with cane sugar.

Cinnamon – Cinnamon and apples go together perfectly. By using a cinnamon stick, you get the good flavors of cinnamon without getting the powder in your compote. That way, it remains a nice color and isn't murky.

Vanilla – Vanilla enhances the delicious apple flavor. We usually use vanilla paste, but the seeds from a vanilla bean can also be used. You can also replace some of the sugar with vanilla sugar.

Water – A small amount of water is needed, but the apples also release some juice when cooked.
How to make apple compote?
Making homemade apple compote is super easy, and once you've tried it, you'll definitely want to make it again and again.

First, wash the apples and remove the core, then cut them into small cubes. Then, put them in a saucepan along with all the other ingredients and cook until the compote reaches the desired consistency.

It doesn't get much easier than that.

Find the full recipe further down this page.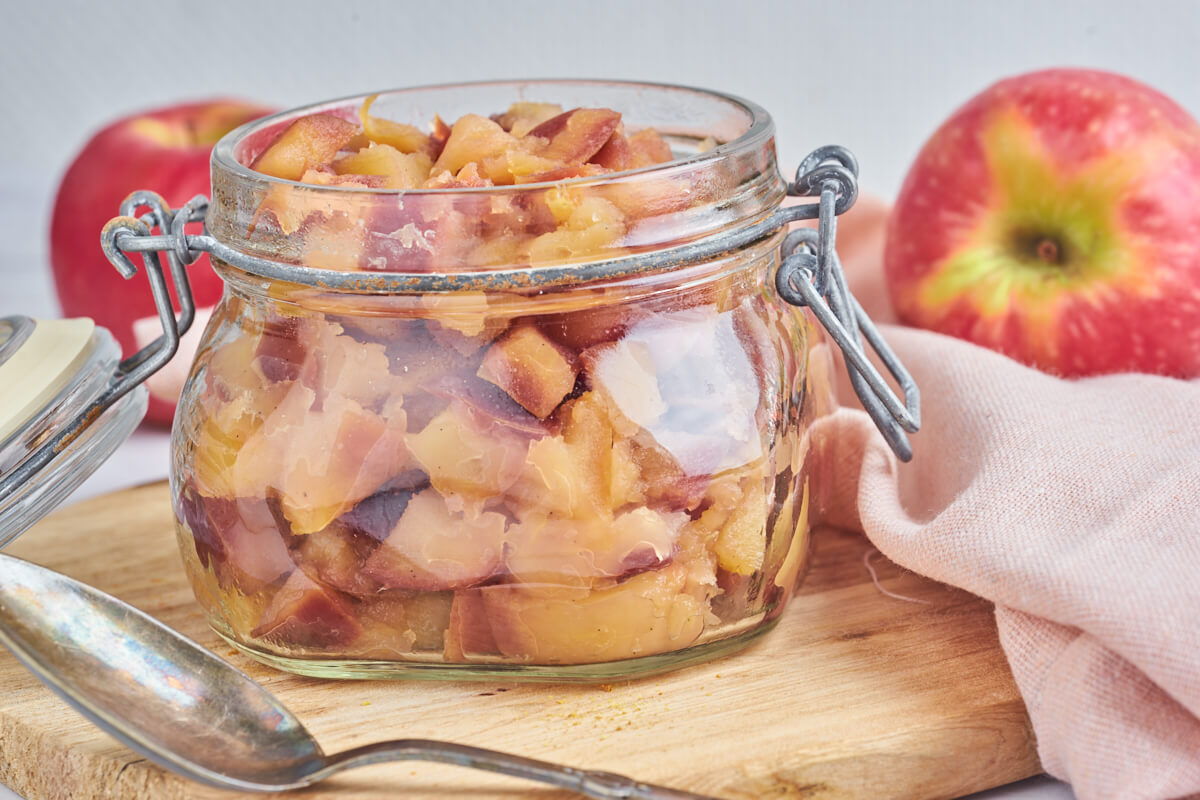 Frequently asked questions
How do you store apple compote?
The finished apple compote should be stored in a jar in the refrigerator. It can last for about a week.
Can apple compote be frozen?
Yes, it can be frozen. Let it thaw in the refrigerator, and it will be ready to serve.
But I don't like peel in my apple compote?
If you're not fond of the apple peel, you can peel the apples before cutting them into cubes. It's entirely up to you.

Other recipes you might like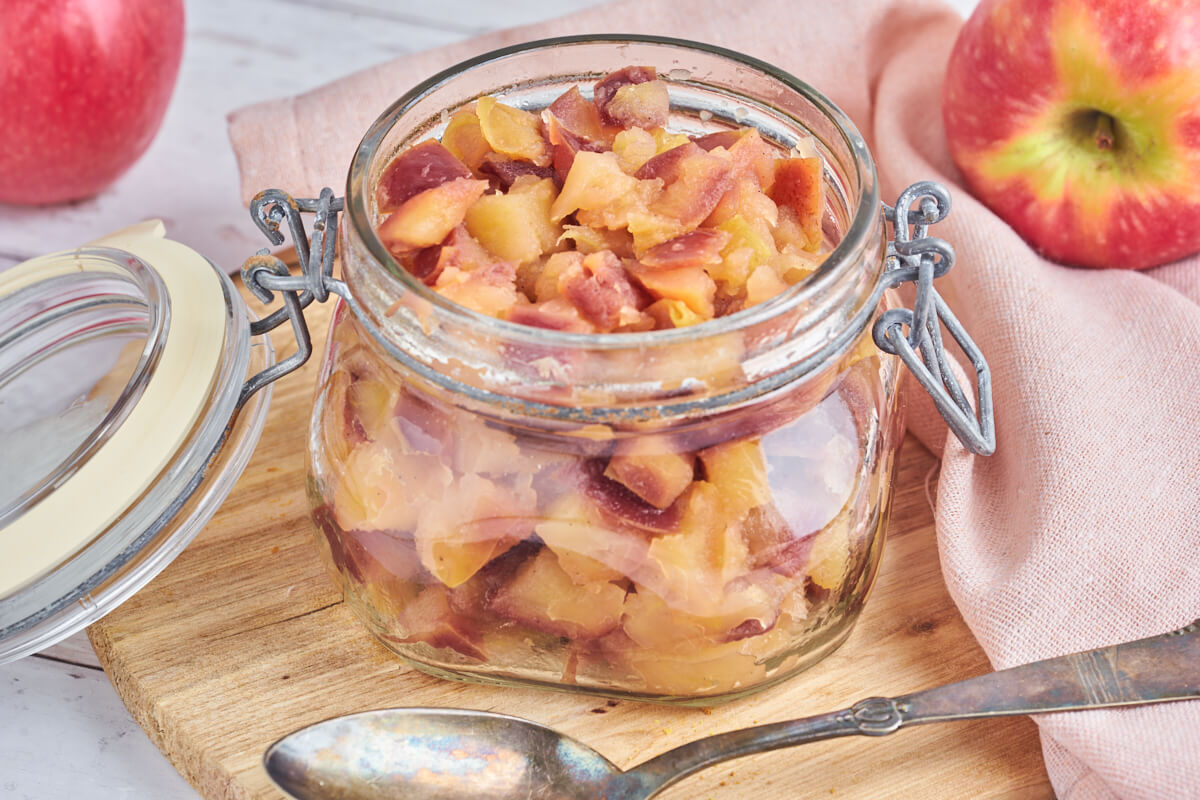 Tips and tricks for the recipe
The cooking time for your compote can vary depending on the type of apples you use and how cooked down you want the consistency. Therefore, it's important to keep an eye on the consistency during cooking and remove the pot from heat when you're satisfied.
The sweetness of the apples can also vary, so taste and add a bit more sugar if necessary.
You can also try adding a couple of centimeters of grated fresh ginger and a little lemon juice to the compote. It's delightful to serve with meat dishes as well.
Serving suggestions
Serve apple compote with cheese or as part of a cheese platter.
Enjoy it as a topping on a bun or a piece of French bread.
Serve it on top of your morning porridge or yogurt.
Do you have a lot of apples?

Also try our recipe for Frangipane apple tart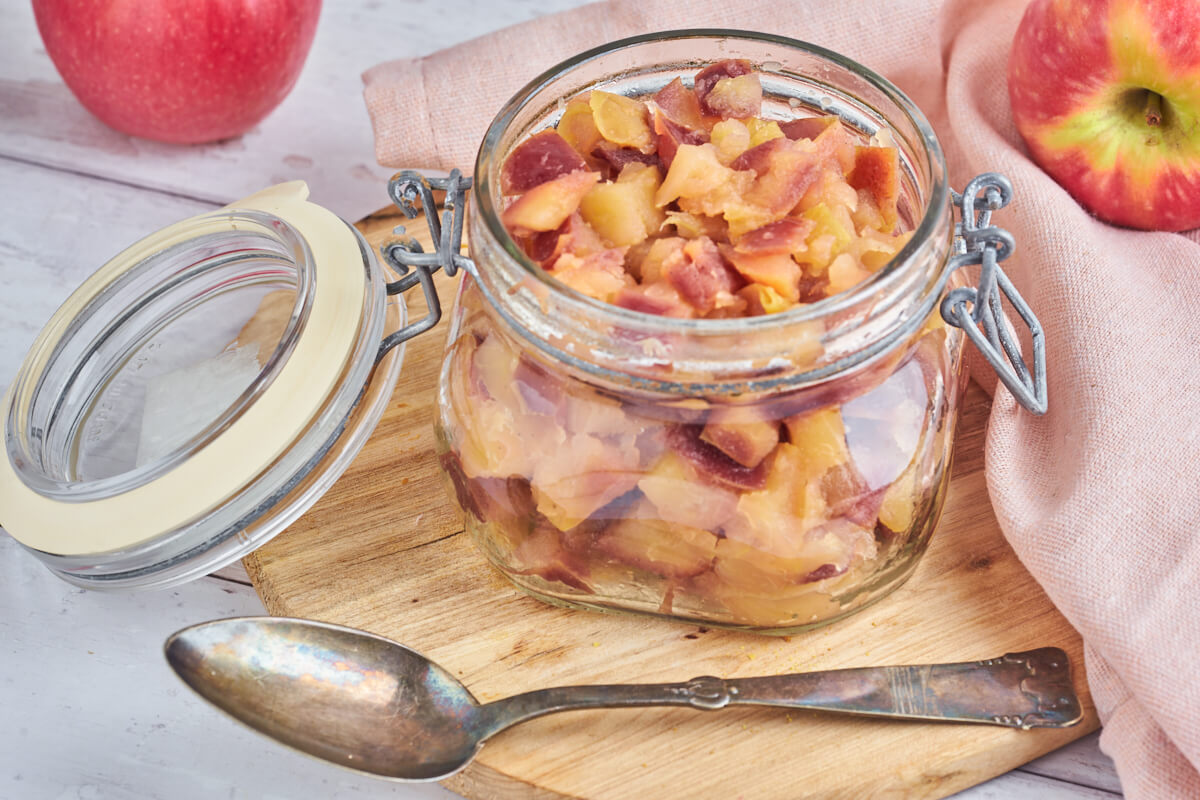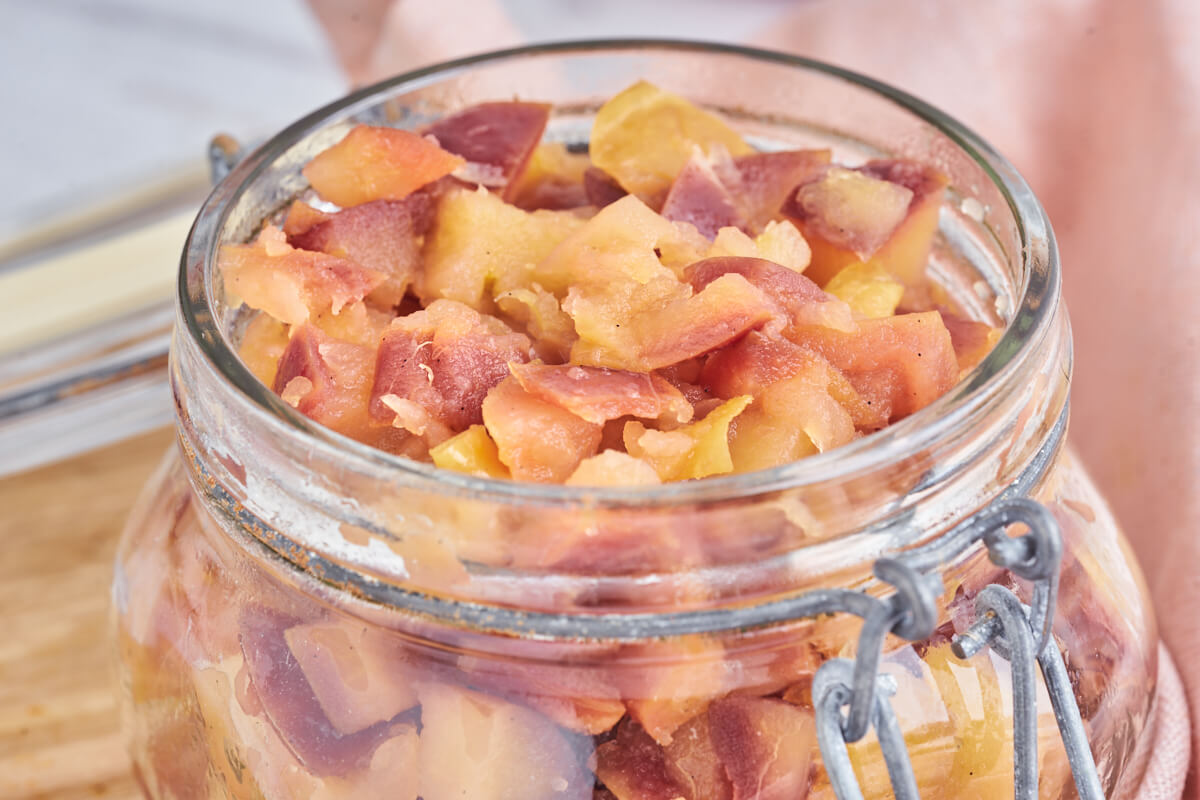 Recipe for the best compote with apples
We just love apple compote at home, and fortunately, it's super easy to make yourself. This version is quite classic with vanilla and cinnamon.

We hope you feel like trying the recipe and serving apple compote for breakfast or on a homemade bun for the kids. They will surely love it!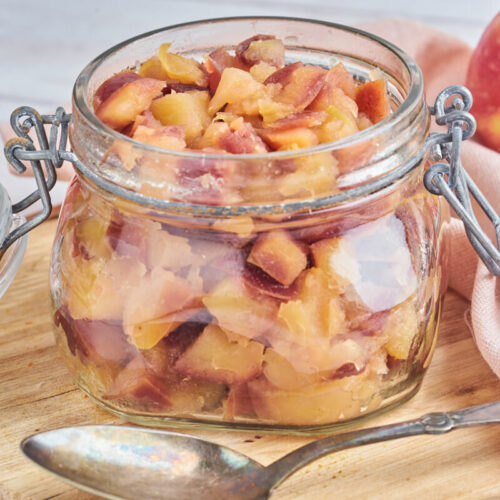 Apple compote
Recipe for apple compote
Easy apple compote with apples, vanilla, and cinnamon that you can serve on top of porridge, such as rice pudding or oatmeal, or on a freshly baked bun. Making apple compote is simple, and if you have apples in your garden, it's a delightful project to undertake.
Ingredients  
4

apples

30

g

sugar

1

cinnamon stick

½

tsp

vanilla paste

½

dl

water
Instructions 
Wash the apples and remove the cores. Cut the apples into approximately 1×1 cm cubes.

Place the apples in a saucepan along with the sugar, cinnamon stick, vanilla paste, and water. Bring it to a boil.

30 g sugar,

1 cinnamon stick,

½ tsp vanilla paste,

½ dl water

Cover with a lid and let the compote simmer over medium heat, stirring occasionally. The cooking time depends on the type of apples you've used and the desired consistency of your apple compote. I simmer it for 20-30 minutes, achieving a moderately chunky compote. If you want it more cooked down, simply simmer it for a longer duration.

Store the finished compote in a jar in the refrigerator and serve it on top of porridge, bread, or with meat dishes, for example.
Nutrition
Serving:
1
person
Calories:
128
kcal
Carbohydrates:
34
g
Protein:
1
g
Fat:
0.3
g
Saturated Fat:
0.1
g
Polyunsaturated Fat:
0.1
g
Monounsaturated Fat:
0.02
g
Sodium:
3
mg
Potassium:
199
mg
Fiber:
5
g
Sugar:
27
g
Vitamin A:
101
IU
Vitamin C:
8
mg
Calcium:
20
mg
Iron:
0.3
mg
How do you like the recipe?
Have you tried this recipe? We'd love to hear what you think of it. Leave a comment, add a number of stars to the recipe and share your photo on Instagram with #madformadelskere – We love seeing your dishes ♥️
Also, sign up for our Facebook group where you can show pictures of the delicious food you make! You can find the Facebook group here