If you're looking for a soup packed with flavor, then mulligatawny soup is what you should go for. This classic Indian spiced soup, with lots of delicious vegetables and chicken, is one of our favorites. It brings a good amount of heat and is just perfect on a cold autumn day. Read on and see how easy it is to make it from scratch.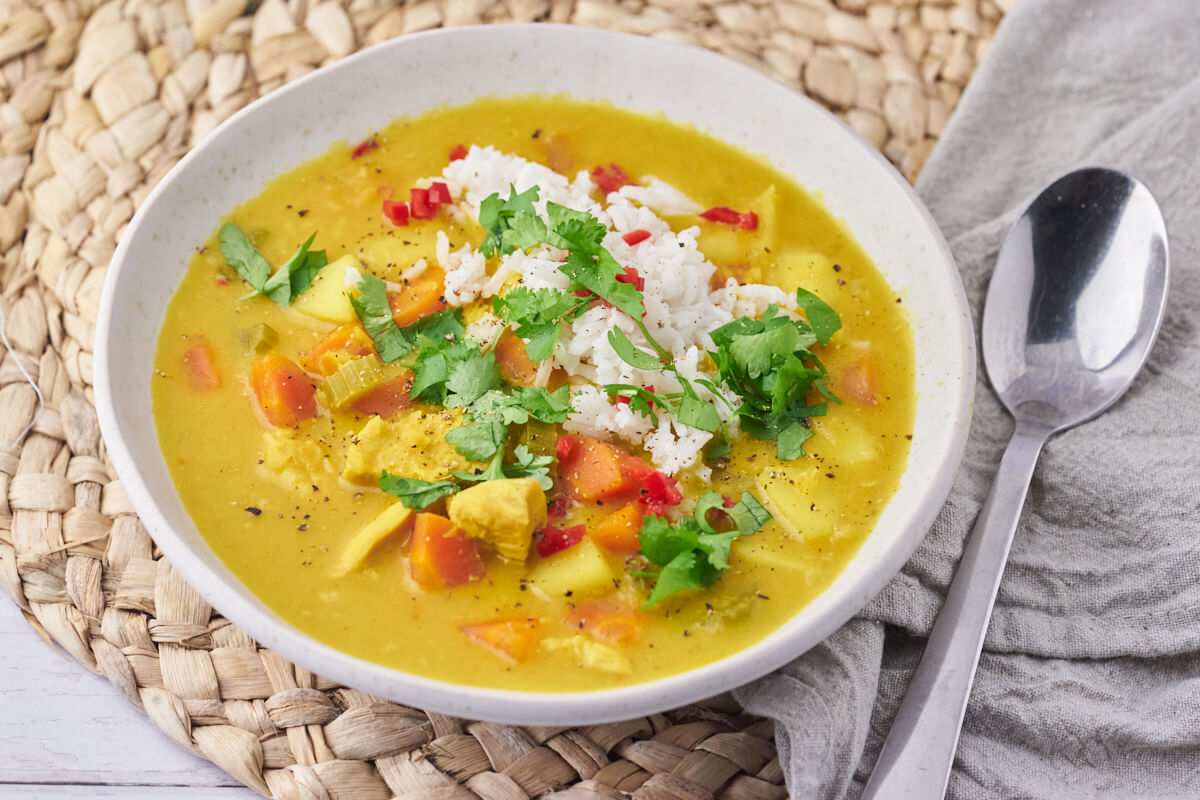 Delicious Indian soup!
Soup! Isn't it just wonderful? From our Danish tomato soup to this fantastic spiced curry soup called mulligatawny. It naturally hails from India, with a bit of influence from the colonial era when England had some influence in that part of the world, making mulligatawny a global favorite.

There are countless variations of this soup, but what they all have in common is their bold spiciness. In our version, we've gone with the classic ingredients, including onions, carrots, celery, and apple. This, combined with all the wonderful spices and other ingredients, creates a creamy and hearty soup with plenty of flavor, and it's quite filling too.

I usually make a double batch. The extra goes into the freezer in portions, so you can quickly warm up a delicious bowl of soup.

There is a bit of preparation with the vegetables that need to be prepared, but once that's done, it's actually quite easy, so you can easily involve the kids in the kitchen and let them participate in the cooking. It can also be an advantage if they get to taste along the way, so they aren't surprised by the strong flavor when it's time to eat.

Even though there are red lentils in the soup, we usually serve it with either boiled rice or naan bread as a side to give it a little extra substance. The topping usually includes chopped fresh cilantro along with chopped red or green chili, which adds that final touch to the soup.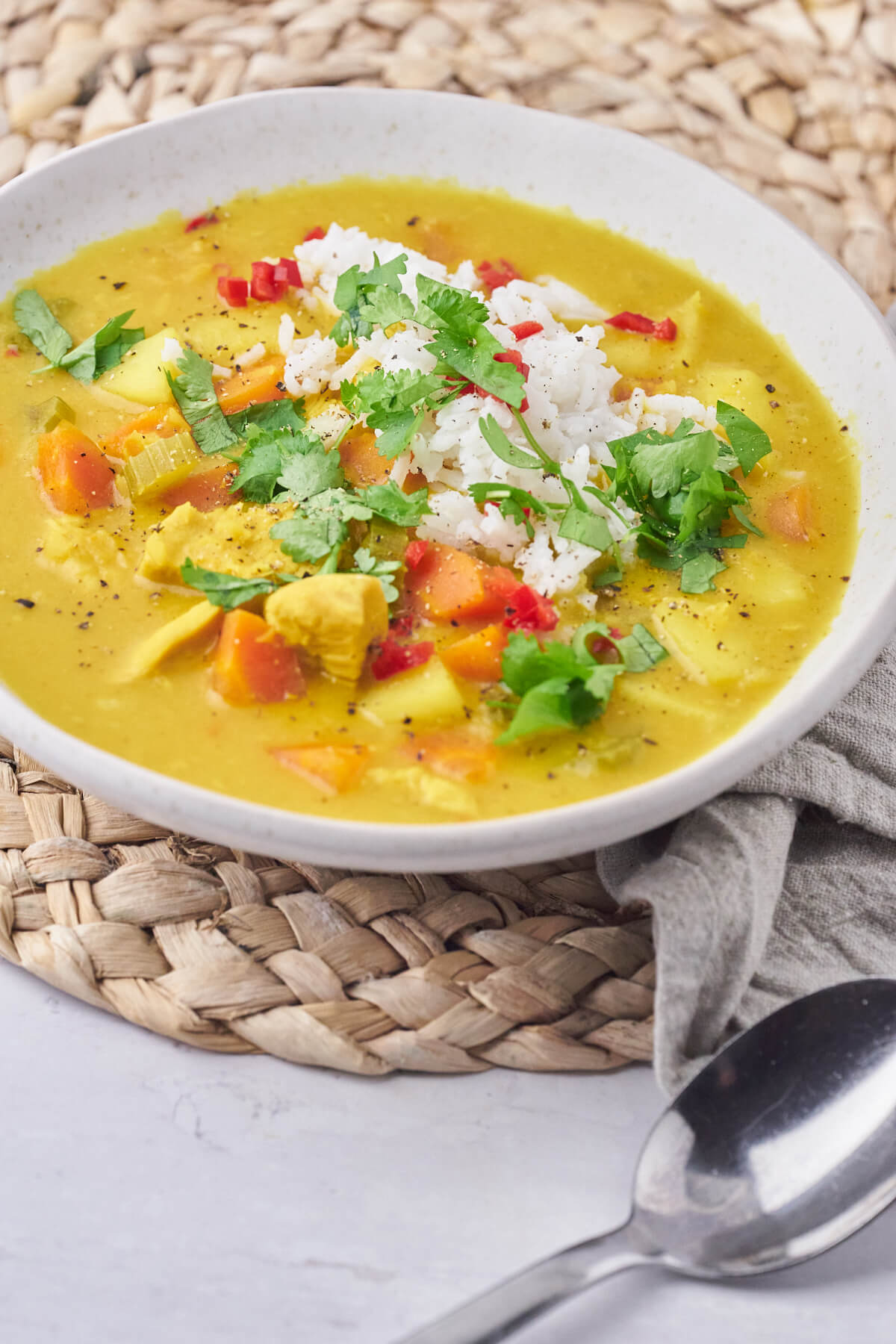 Ingredient notes
Chicken Breast – I use chicken breast because it's easy, but you can also use thigh meat, which has more flavor.

Vegetables – Onions, carrots, and celery. These are all vegetables that add a lot of flavor and substance to the soup. You can easily add other vegetables to the soup as well.

Red Lentils – The red lentils, along with the flour, help thicken the soup and add substance.

Chicken Stock – Chicken stock sounds fancy, but 2 stock cubes and 1 liter of water can work just as well.

Coconut Milk – I use coconut milk in our mulligatawny, which gives it a lovely flavor. Alternatively, you can use cream.

Spices – In addition to fresh ginger and garlic, there are plenty of dry spices in the soup: curry, coriander, cumin, turmeric, bay leaves, and salt and pepper. They all contribute to the soup's characteristic flavor. Some people also add a cinnamon stick, and it tastes quite good.
How to make Mulligatawny soup?
Here's a brief description of how to make the best Indian curry soup from scratch. There's some preparation involved, but once all the ingredients are ready and measured, it's smooth sailing.

In a thick-bottomed pot, melt the butter and sauté the chopped onions until they become translucent. Add garlic, ginger, and chopped chili, briefly sauté them, and then add carrots and celery to the pot and sauté for a few minutes.

Now, it's time for the spices. Add curry, coriander, cumin, turmeric, bay leaves, salt, and pepper, and sauté them lightly before adding the prepared chicken. Sauté everything over medium heat, stirring, until the chicken browns. Sprinkle flour over it and sauté briefly before adding red lentils, chicken stock, coconut milk, and sugar.

Stir everything together and bring it to a boil. Then reduce the heat and let it simmer, covered, for 15 minutes. Remove the lid, add apple pieces and lime juice, cover again, and let it simmer for an additional 15 minutes before seasoning to taste and serving.

Serve in bowls with a portion of rice, and garnish with chopped fresh cilantro and chopped chili.

Find the full recipe further down this page.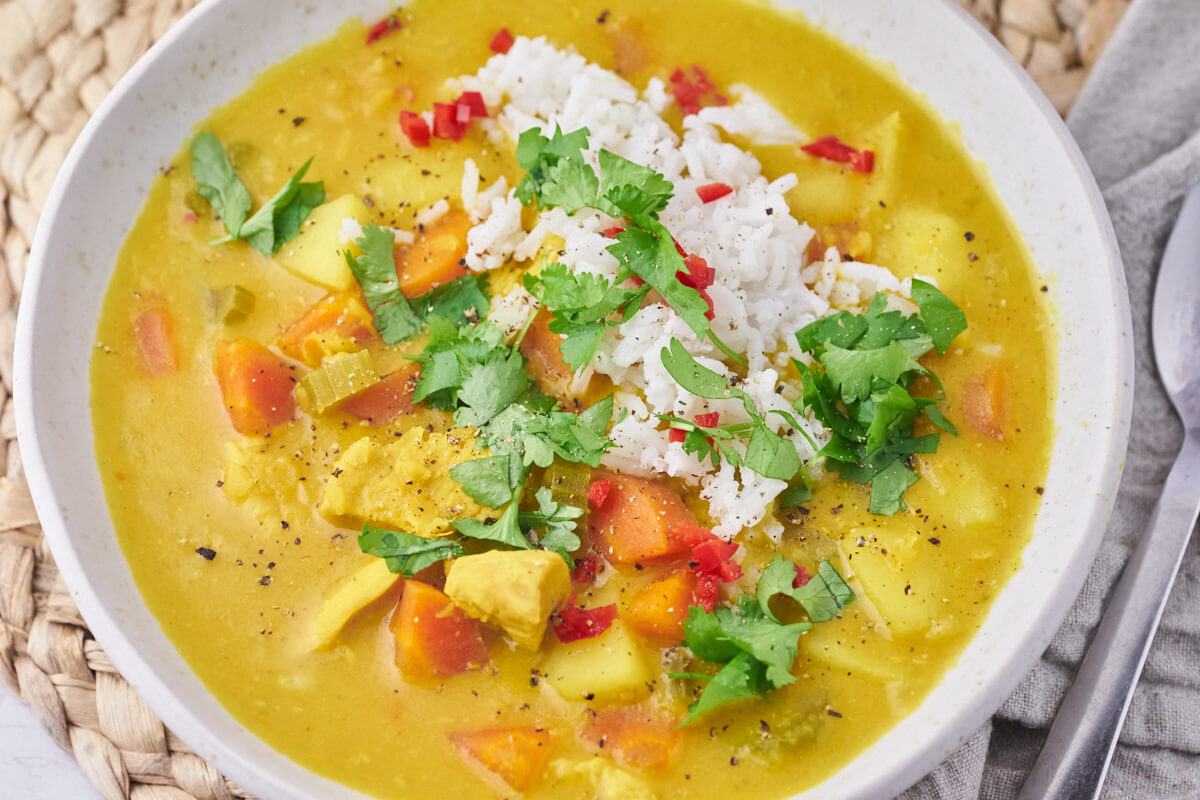 Frequently asked questions
Can I freeze the soup?
Yes, you can definitely freeze it, so feel free to make a large batch and freeze it.

Can I use something other than chicken?
Yes, you can also make it with pork, for example. Experiment!
Other Indian recipes you might like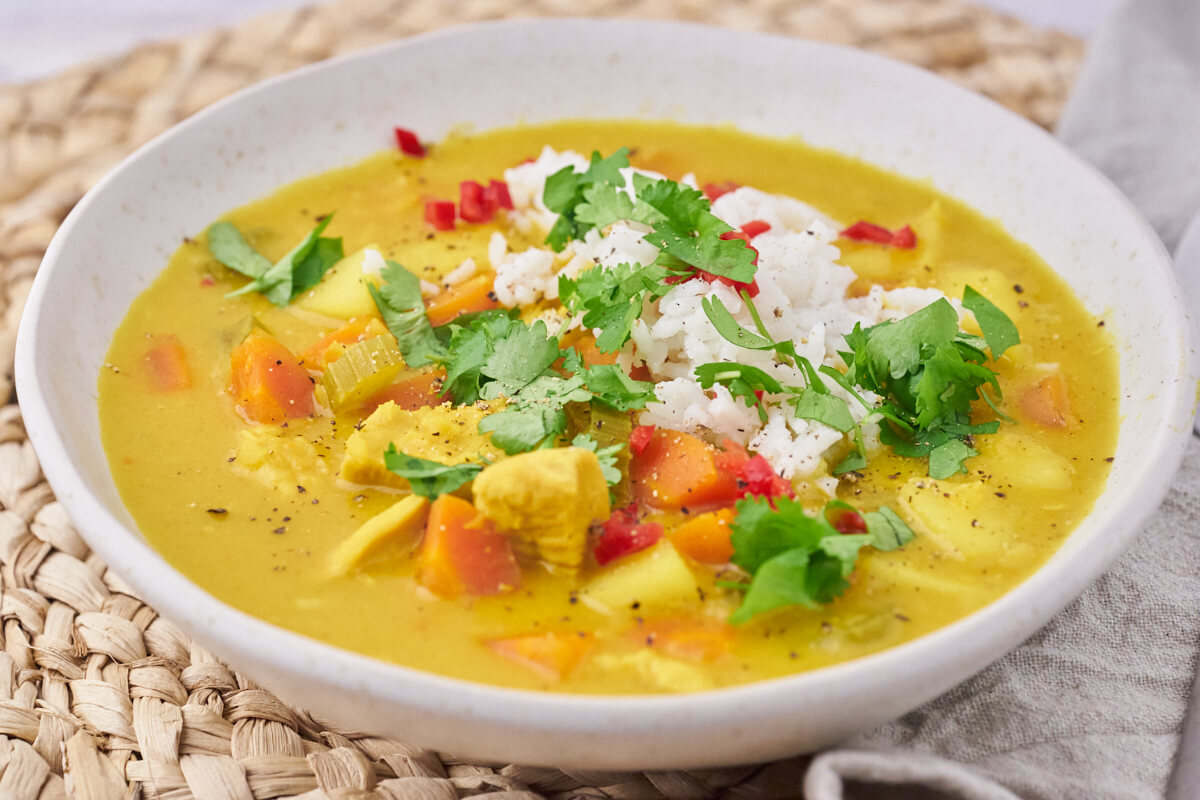 Tips and tricks for the recipe
Prepare all the ingredients in bowls before you start. It's much easier to keep track that way.
It's a good idea to make the soup a day in advance. It almost tastes better the day after when all the flavors have had a chance to meld.
If you don't like coconut milk, you can use cream instead. It won't provide the exact same flavor, but it's still good.
Serving suggestions
Serve with rice and naan bread. Make a small bowl with chopped red or green chili and chopped fresh cilantro, so people can sprinkle it on the soup as a topping.
Do you love Indian food?

Try our recipe for Chicken Tikka Masala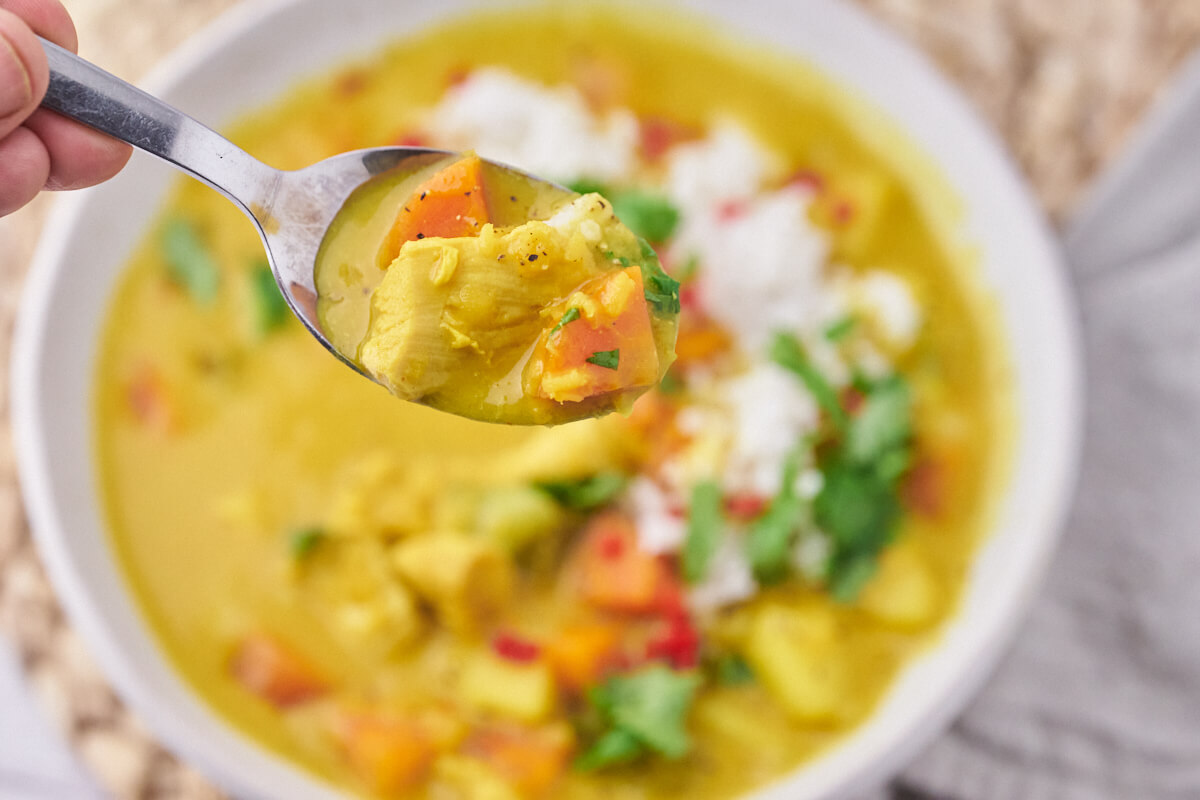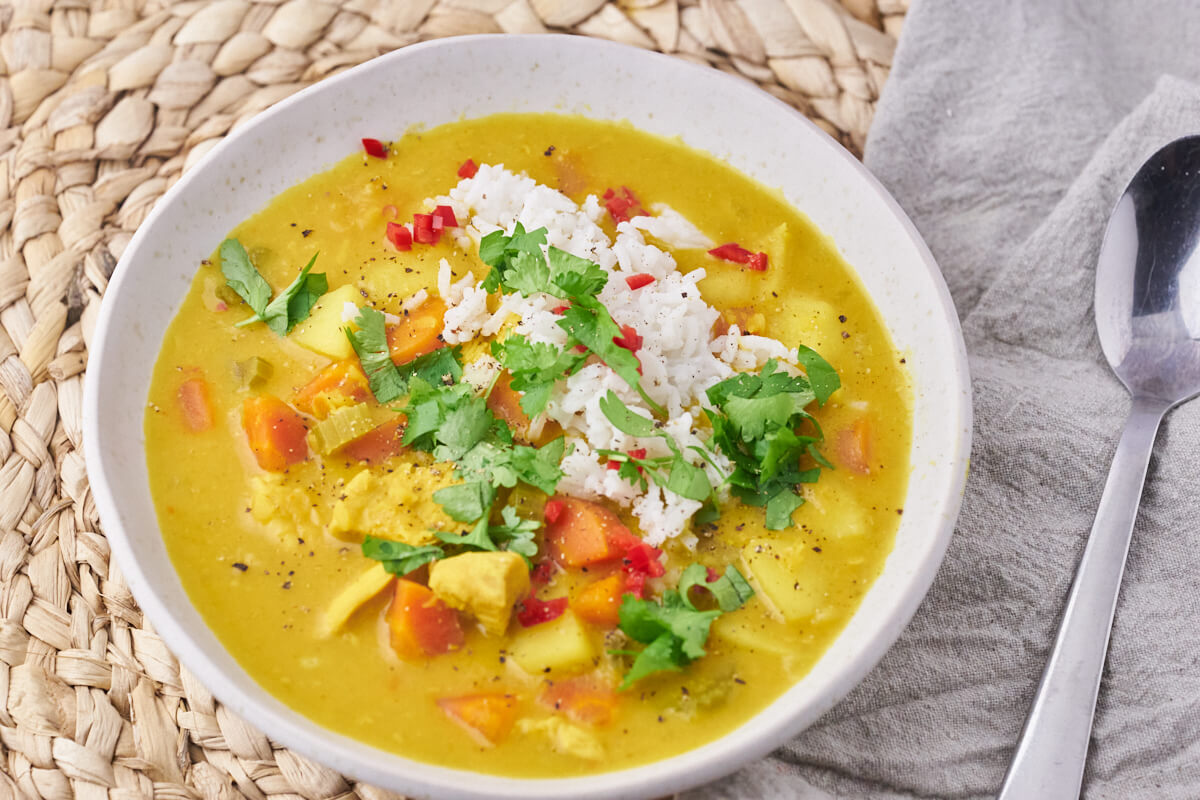 Recipe for Indian Chicken Curry Soup
Here's our recipe for the classic Indian mulligatawny soup with lots of substance and warmth.

It's perfect for a cold day when you just need to warm up with a delicious bowl of soup. Remember to make a large batch so you have some for the freezer.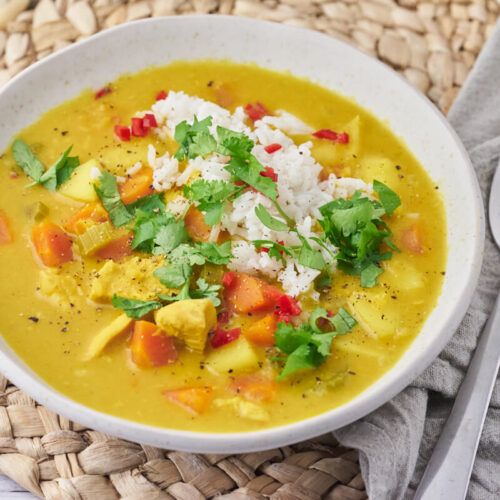 Mulligatawny soup
Recipe for mulligatawny soup
Classic Indian curry soup with chicken, red lentils, and plenty of vegetables. It tastes delicious on a cold autumn or winter day, and both kids and adults love this soup.
Ingredients  
800

g

chicken breast

40

g

butter

for frying, possibly extra as needed.

2

onions

3

carrots

3

stalks

celery

4

cloves

garlic

finely grated

½

tablespoon

fresh ginger

finely grated

½

red chili

finely chopped

170

g

red lentils

rinsed in cold water before use

2

green apples

peeled, cored, and cut into cubes.

2

tbsp

all-purpose flour

1

l

chicken stock

1

can

coconut milk

½

lime

juice
Spices
2½

tbsp

curry powder

1

tsp

ground coriander

1

tsp

ground cumin

1

tsp

ground turmeric

2

bay leaves

1

tsp

salt

1

tsp

sugar

Pepper
Sides
320

g

basmati rice

Fresh cilantro

chopped

½

red chili

finely chopped
Instructions 
Cook the rice according to the package instructions. While the rice is cooking, prepare the soup.

Clean the chicken breasts of tendons and fat. Cut them into bite-sized pieces and set them aside.

Peel the onions and dice them. Peel and chop the carrots into suitable-sized pieces. Split the celery stalks lengthwise and chop them into pieces.

2 onions,

3 carrots,

3 stalks celery

In a large, thick-bottomed pot, melt the butter. Add the diced onions and sauté them over medium heat until they become translucent. Add garlic, ginger, and chili, and sauté for about a minute. Then add the carrots and celery and sauté for a couple of minutes.

40 g butter,

4 cloves garlic,

½ tablespoon fresh ginger,

½ red chili

Next, add the curry, coriander, cumin, turmeric, bay leaves, salt, and pepper, along with the chicken breast pieces. Reduce the heat slightly and sauté until the chicken is no longer raw. When the chicken is nearly cooked, sprinkle the flour over it and sauté for about a minute.

Add more butter as needed, making sure the spices don't burn. The flour helps thicken the soup.

2½ tbsp curry powder,

1 tsp ground coriander,

1 tsp ground cumin,

1 tsp ground turmeric,

2 bay leaves,

1 tsp salt,

Pepper,

2 tbsp all-purpose flour

Now, add the chicken stock, coconut milk, lentils, and sugar. Stir well in the pot, making sure to scrape up any bits at the bottom. Bring it all to a boil, reduce the heat, and cover the pot. Let the soup simmer for 15 minutes.

170 g red lentils,

1 l chicken stock,

1 can coconut milk,

1 tsp sugar

After 15 minutes, add the apple pieces to the soup along with lime juice. Cover the pot again and let the soup simmer for another 15 minutes. When the soup is fully cooked, taste it and adjust the seasoning with extra salt and sugar if needed, just before serving.

Serve with cooked rice and garnish with chopped cilantro and chili.

Fresh cilantro,

½ red chili
Nutrition
Serving:
1
person
Calories:
1161
kcal
Carbohydrates:
134
g
Protein:
71
g
Fat:
39
g
Saturated Fat:
26
g
Polyunsaturated Fat:
3
g
Monounsaturated Fat:
7
g
Trans Fat:
0.4
g
Cholesterol:
157
mg
Sodium:
1323
mg
Potassium:
2269
mg
Fiber:
21
g
Sugar:
21
g
Vitamin A:
8320
IU
Vitamin C:
38
mg
Calcium:
167
mg
Iron:
11
mg
How do you like the recipe?
Have you tried this recipe? We'd love to hear what you think of it. Leave a comment, add a number of stars to the recipe and share your photo on Instagram with #madformadelskere – We love seeing your dishes ♥️
Also, sign up for our Facebook group where you can show pictures of the delicious food you make! You can find the Facebook group here