Classic curries from India are simply the best! Homemade butter chicken or murgh makhani as it is called in India, is one of my favorites. Delicious and tender chicken in a creamy sauce with plenty of the right Indian flavor. Served with refreshing raita, delicious homemade naan bread, and rice, you're in heaven (or India). Read along here, get our recipe, and see how easy it is to make the best butter chicken.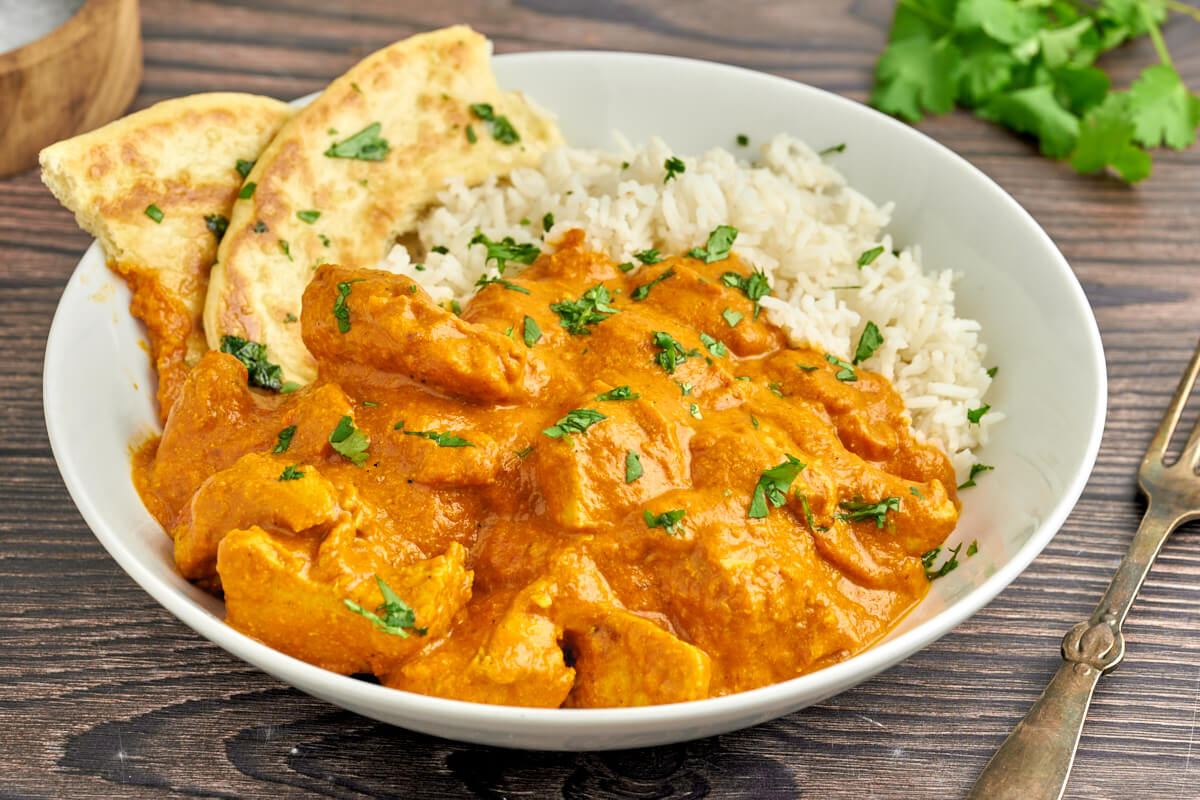 Easy homemade Murgh Makhani like in India
There's a world of flavors out there, and one of our favorites is butter chicken. Completely tender chicken in a delicious creamy sauce with plenty of flavors. When I first tasted butter chicken, it was in an Indian restaurant, and since then Indian cuisine has been something I return to quite often.

Indians are so good with spices, and they are known for their curries with everything from chicken to lamb. We all know the Danish meatballs in curry, and we must not deny that it tastes really good. But it's just not the same as a genuine Indian curry. Here there is a viarity of ​​different spices, all of which contribute their very special taste and depth, and together they make some of the best dishes in the world.

A good homemade butter chicken takes time to make. The meat must be marinated, the sauce must be allowed to simmer, and the dish must be tasted continuously, but the work is all worth it. When the scent spreads in the house, you can't help but look forward to mealtime. Butter chicken doesn't have to be strong! Many of the spices included in the dish contribute heat without burning the tongue.

I put cayenne pepper in the marinade as the only strong spice. You can leave it out if you want a completely child-friendly version. And if you want more flavor, add chopped red chili to get a spicier version. It is up to you to decide how strong it should be. But remember that the other spices also give what I would call warmth to the dish without being strong and burning hot.

When we eat homemade butter chicken, there is almost always both rice and naan bread on the table. That's the way we like it, but it's fine to just settle for one or the other. Another delicious side dish that we almost always have on the table is Raita, a deliciously refreshing cold sauce based on yogurt and fresh mint, garlic, and cucumber. It is really good for the hot curries, to give a bit of balance and counterplay.

Lastly, we always have freshly chopped cilantro on the table. It's one of those things you either like or hate. But it fits really well, and if it's on the table, people can decide for themselves whether they want to put it on or not.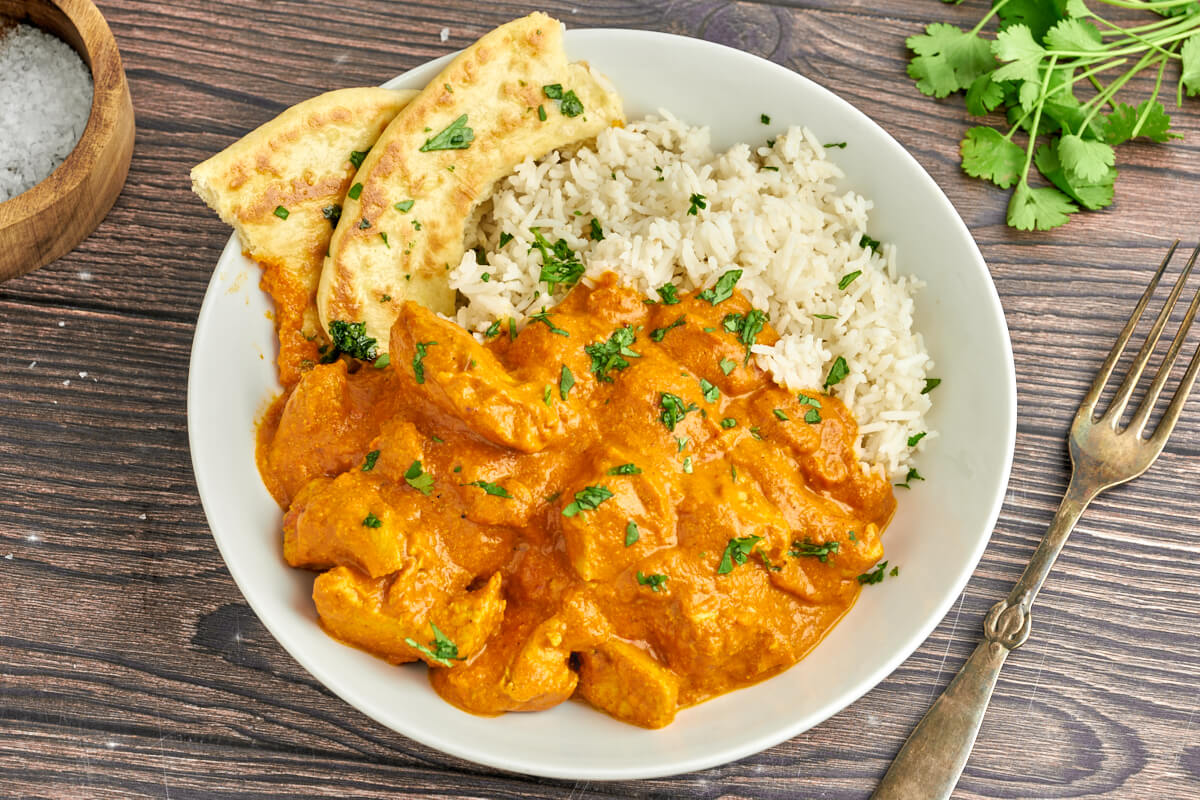 Ingredient notes
Chicken – Chicken breast works well in this dish.

Greek yogurt – Yoghurt helps to tenderize the meat and allows all the flavors from the spices to penetrate the chicken. You can easily use regular neutral yogurt instead.

Garam masala – Garam masala is a spice mixture that is very often used in Indian curries, and often contains black pepper, paprika, coriander, cumin, cardamom, cinnamon, nutmeg, and cloves, but is also found with other spices.

Ground cumin – Is one of the classic spices in Indian cuisine and is often included in other spice mixes. Ground cumin is also widely used in Mexican cuisine.

Ground Coriander – Has a very special slightly citrusy taste with notes of pepper. It is used in both savory and sweet cuisine and does not taste like fresh cilantro at all.

Ground cayenne pepper – Cayenne pepper is a chili that is dried and ground into powder. I use it in the marinade for the meat, it can be replaced with chopped fresh chili.

Ground paprika – Is powder made from dried fruits of the genus Capsicum annuum. It is used in all kinds of kitchens and has a very special taste. It is available as strong, sweet, and smoked.

Ground turmeric – It gives color to the dish, but actually also has flavor.

Garlic – Classic ingredient in many curries.

Fresh Ginger – Like garlic, is also a regular ingredient in many curries. Has a special taste and also gives heat to the dish.

Onion – Helps to give the creamy sauce, and of course, also gives flavor.

Tomato concentrate – Adds depth and umami flavor to the dish and, of course, tomato flavor too.

Passata – Are pureed tomatoes that, together with all the other ingredients, form the base of the sauce.

Whipping cream – The cream gives just the right creamy and fatty sauce butter chicken is known for.
How to make butter chicken?
When you have to make homemade butter chicken from scratch, there is a bit of preparation involved. The chicken must be marinated first, and this can advantageously be done the day before so that even more flavor penetrates the meat.

Here is a short overview of how to make Indian butter chicken from scratch. Just like with meatballs in Denmark, I would like to think that every family in India has their very own family recipe for butter chicken. So this is my interpretation of the classic Indian chicken curry.

In a bowl, marinate the cut out chicken in a mixture of yogurt, garam masala, ground cumin, ground coriander, ground turmeric, cayenne pepper, paprika, fresh ginger, garlic, and salt.

In a large pan, melt a good spoon of butter, the marinated chicken pieces are now seared at high heat. When they are cooked, pick them up and put them to the side. In the same pan, melt more butter and saute the already peeled sliced ​​onions over medium heat until they brown lightly. Then tomato paste, spices, brown sugar, garlic, and ginger are added to the pan.

When it has been slightly seared, tomato passata or chopped tomatoes and whipped cream are added to the dish. Let the sauce simmer for a few minutes before blending it completely smooth. Then add the seared chicken pieces to the curry sauce and bring to a boil.

Turn down the heat and let the dish simmer on low heat until it is ready to be served.

Find the full recipe further down this page.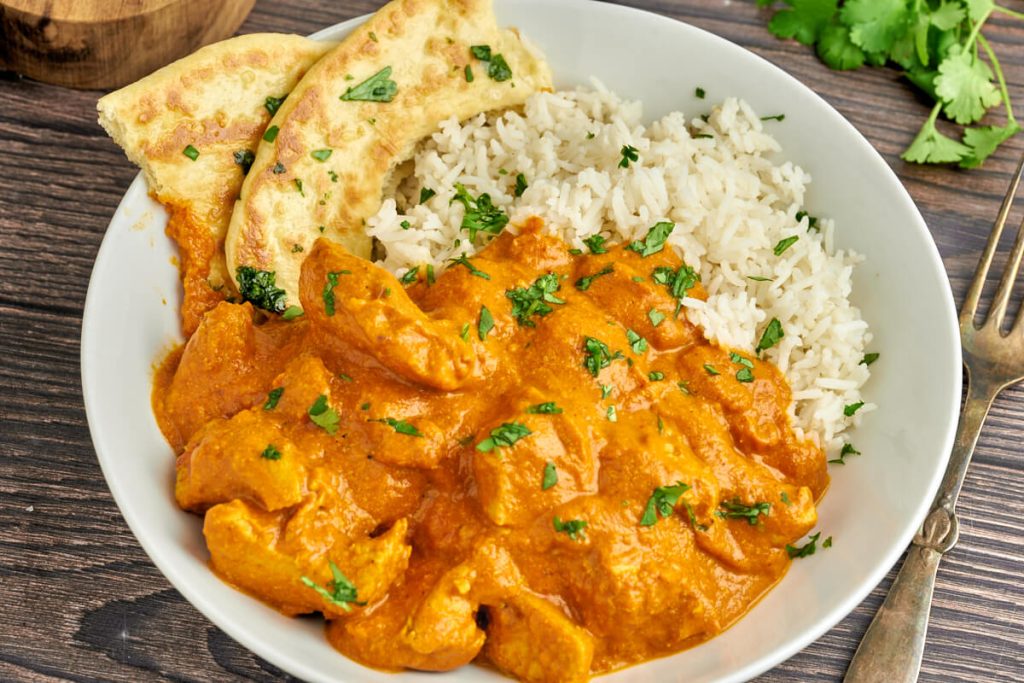 Frequently asked questions
How to store butter chicken?
You can keep it in the fridge for 3 days or freeze it.
Can butter chicken be frozen?
Yes, you can easily freeze butter chicken. Make a large batch and freeze the leftovers. Then there is always easy food in the freezer.
What can I substitute chicken with?
You can easily make butter chicken with turkey or other types of meat, but then the word chicken falls out of the name of the dish.
Can I make butter chicken in a slow cooker?
Yes, you can. Follow the recipe untill and including step 10, put the slow cooker on low, and give it 6 hours on low heat.
Other dinner recipes you might like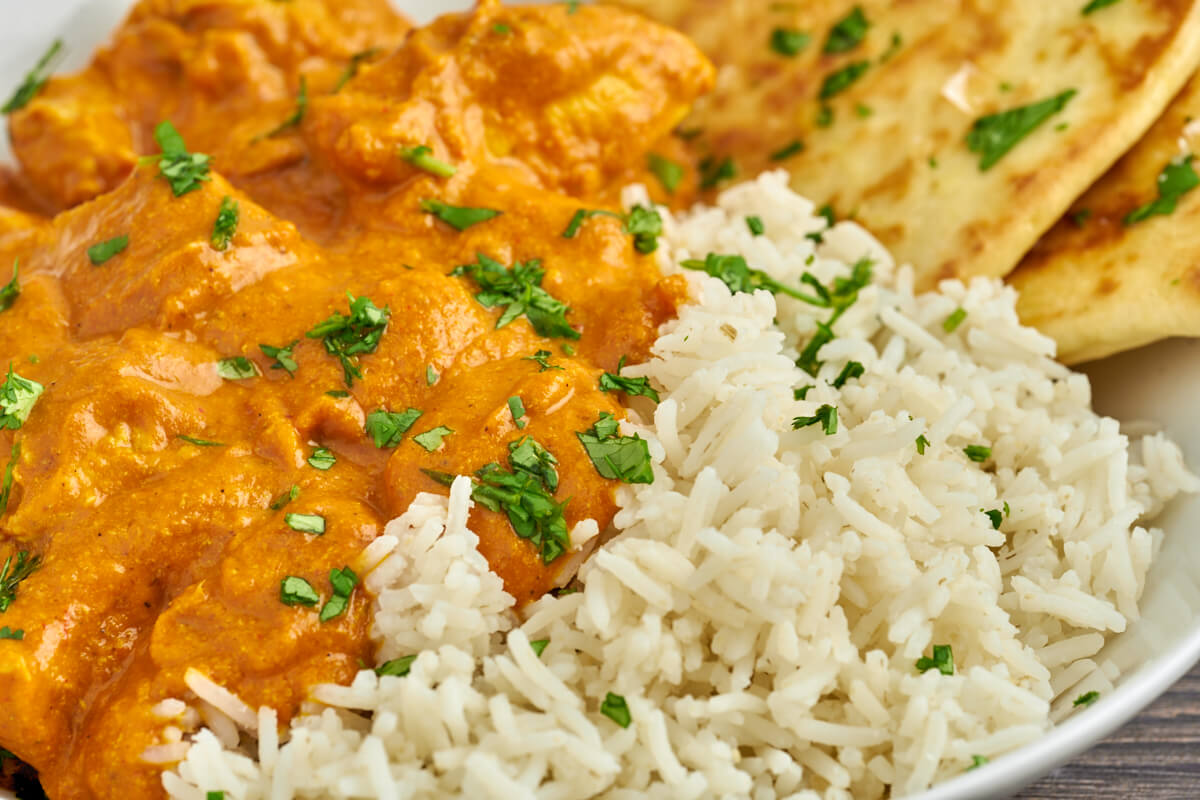 Tips and tricks for butter chicken
Make the marinade, marinate and put the meat in the fridge the day before you need it. Then it takes on some extra flavor.
Make a large batch and store the leftovers in the freezer.
Remember to taste the dish at the end. I have been reluctant to use salt in the recipe, so taste it so that it is just the way you want it.
Serving suggestions
You can serve homemade butter chicken with white rice. We usually use Basmati rice.
You can also serve it with naan bread, or serve it with both rice and naan bread.
We usually put the pot with butter chicken on the table so people can take it themselves. It is also a little cozier when the pot with the steaming hot dish arrives on the table with all the accessories.
Remember to make good fresh raita for it. Raita is a good fresh counterpoint to the rich creamy sauce.
Place a bowl of freshly chopped cilantro on the table, and guests can sprinkle it on their food themselves if they wish.
Want to make your own naan? Try our recipe for Garlic naan bread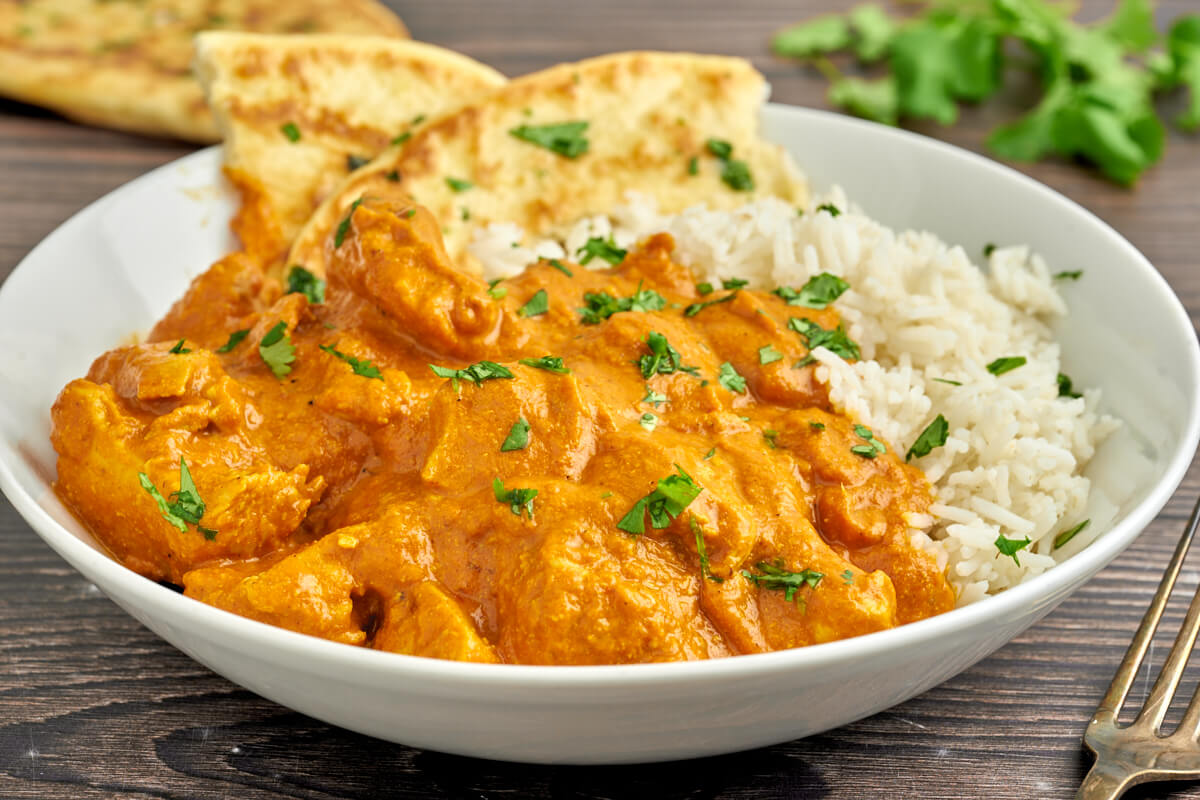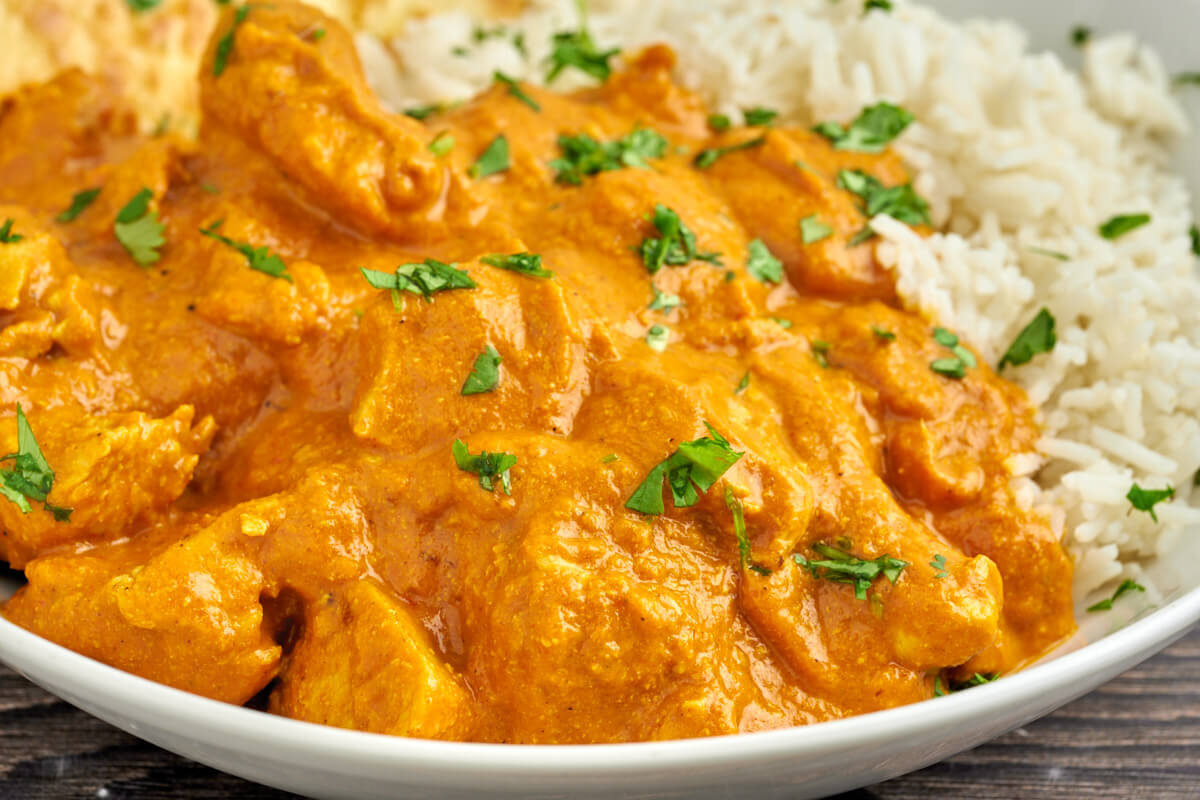 Recipe for real Indian Murgh makhani
Here you get our recipe for the classic Indian curry Butter Chicken. Delicious and tender chicken in a creamy spicy tomato sauce with cream.

It's a really cozy dish that you can serve with the classic accompaniments of rice, naan bread, and a good fresh Raita. Make a large portion and delight the family with one of the very best curries from India.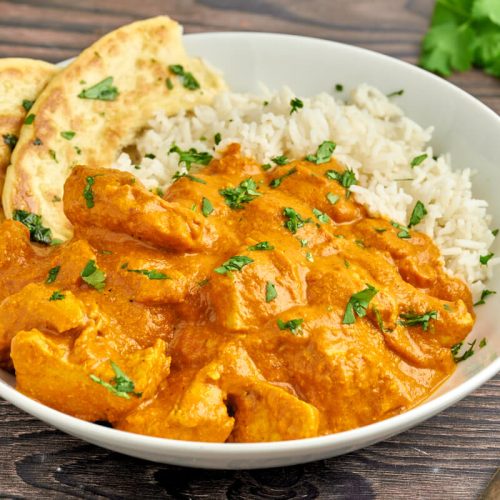 Butter chicken
Recipe for butter chicken
Here you get the recipe for a real Indian classic. It has lots of heat and flavor from all the amazing spices. Soft and tender chicken in a deliciously creamy and completely velvety sauce. Served with rice and homemade naan bread, it is so good.
Ingredients  
600

g

chicken breast

100

g

butter

Cilantro

garnish
Marinade:
1.5

dl

Greek yogurt

2

tsp

garam masala

1

tsp

ground cumin

1

tsp

ground coriander

1

tsp

ground cayenne pepper

1

tsp

paprika

2

tsp

ground turmeric

4

cloves

garlic

2

tsp

fresh ginger

2

tsp

salt
Sauce:
2

onions

3

cloves

garlic

3

tsp

fresh ginger

3

tbsp

tomato concentrate

1

tsp

ground cumin

1

tsp

garam masala

2

tsp

brown sugar

4

dl

tomato passata

or chopped tomatoes

3

dl

whipping cream

Salt

Pepper
Instructions 
Clean the chicken breasts from senes and fat. Cut them into bite-sized pieces and set them aside.

Now the marinade for the chicken must be made. Peel the fresh ginger and grate it finely. Peel the garlic and also grate them finely. Then put both parts into a large bowl together with the other ingredients for the marinade.

1.5 dl Greek yogurt,

2 tsp garam masala,

1 tsp ground cumin,

1 tsp ground coriander,

1 tsp ground cayenne pepper,

1 tsp paprika,

2 tsp ground turmeric,

4 cloves garlic,

2 tsp fresh ginger,

2 tsp salt

Stir the marinade thoroughly and add the pieces of chicken breast. Turn it around thoroughly so that the marinade is well distributed. Cover the bowl with cling film and refrigerate for an hour (or longer) before cooking.

Once the chicken has been in the fridge, it's time to start preparing the dish. Peel the onions cut them in half and cut them into thin slices. Peel the garlic and ginger and grate them finely.

2 onions,

3 cloves garlic,

3 tsp fresh ginger

In a large pan or pot, heat half of the butter at medium-high heat.

Add the chicken together with the marinade and now fry the chicken pieces until they are lightly browned. Pour it all into a bowl, cover and set aside.

Put the rest of the butter in the pan and heat it to medium heat. Put in the slices of onion and fry them for 5 – 10 minutes or until they start to take on a little color.

Put tomato paste, ground cumin, garam masala, and brown sugar in the pan and fry it together with the onions for 2 – 3 minutes. Then add the finely grated garlic and ginger, and fry together for another minute.

3 tbsp tomato concentrate,

1 tsp ground cumin,

1 tsp garam masala,

2 tsp brown sugar

Now add tomato passata and whipping cream to the pan. Bring it to a boil, turn down the heat and let it simmer for approx. 5 minutes. Now blend the sauce until completely smooth.

4 dl tomato passata,

3 dl whipping cream

Reheat the sauce to a simmer and now add the chicken along with the juices and stock from the bowl. Let it simmer in the pot for approx. 10 minutes. Season with salt, pepper, and possibly more sugar.

The best Butter Chicken is now ready to serve, but can easily be left to simmer on low heat for a longer time with the lid on.

Serve with naan bread and boiled rice and cilantro
Nutrition
Serving:
1
person
Calories:
719
kcal
Carbohydrates:
23
g
Protein:
41
g
Fat:
53
g
Saturated Fat:
31
g
Polyunsaturated Fat:
3
g
Monounsaturated Fat:
14
g
Trans Fat:
1
g
Cholesterol:
236
mg
Sodium:
2108
mg
Potassium:
1289
mg
Fiber:
4
g
Sugar:
13
g
Vitamin A:
2858
IU
Vitamin C:
19
mg
Calcium:
164
mg
Iron:
4
mg
How do you like the recipe?
Have you tried this recipe? We'd love to hear what you think of it. Leave a comment, add a number of stars to the recipe and share your photo on Instagram with #madformadelskere – We love seeing your dishes ♥️
Also, sign up for our Facebook group where you can show pictures of the delicious food you make! You can find the Facebook group here