Meatballs are always a hit for both children and adults. Danish chicken meatballs are no exception. It is both easy and delicious to make meatballs with ground chicken, and you can eat almost all kinds of side dishes with them. Read on here and get our recipe for juicy chicken meatballs the Danish way.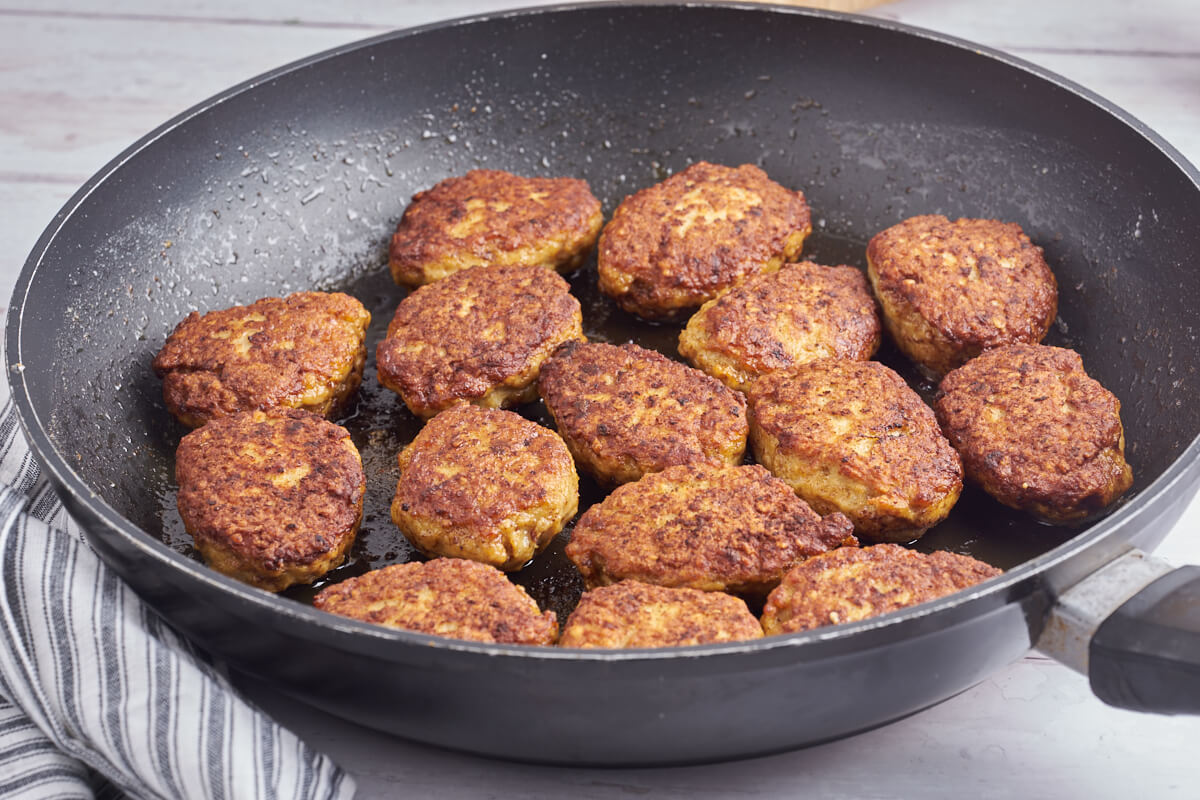 Danish frikadeller with ground chicken
We tend to do as we usually do at home. Therefore, it is also often that it is pork or minced veal and pork that gets in the shopping cart when we want to make meatballs, or frikadeller as we call them in Denmark.

However, we have started to vary a bit, because it also tastes just super good to make meatballs from ground chicken.

They become a little lighter, both in terms of consistency and fat, and they are mild in taste and therefore extremely child-friendly. So it's a super good idea for a healthier meatball.

We prefer to fry our meatballs in the pan in a mixture of butter and oil. But they can also be baked in the oven if you want to avoid the fat. Then of course you do not get the beautiful crust, but it is quite possible to make chicken meatballs in the oven.

We like to make a large portion when we serve Danish chicken meatballs because they are actually almost even better the day after when they are cold.

Then we put them in the kids' packed lunches along with some snack vegetables, they really love that. If you do not get to eat them all, they can also easily be frozen.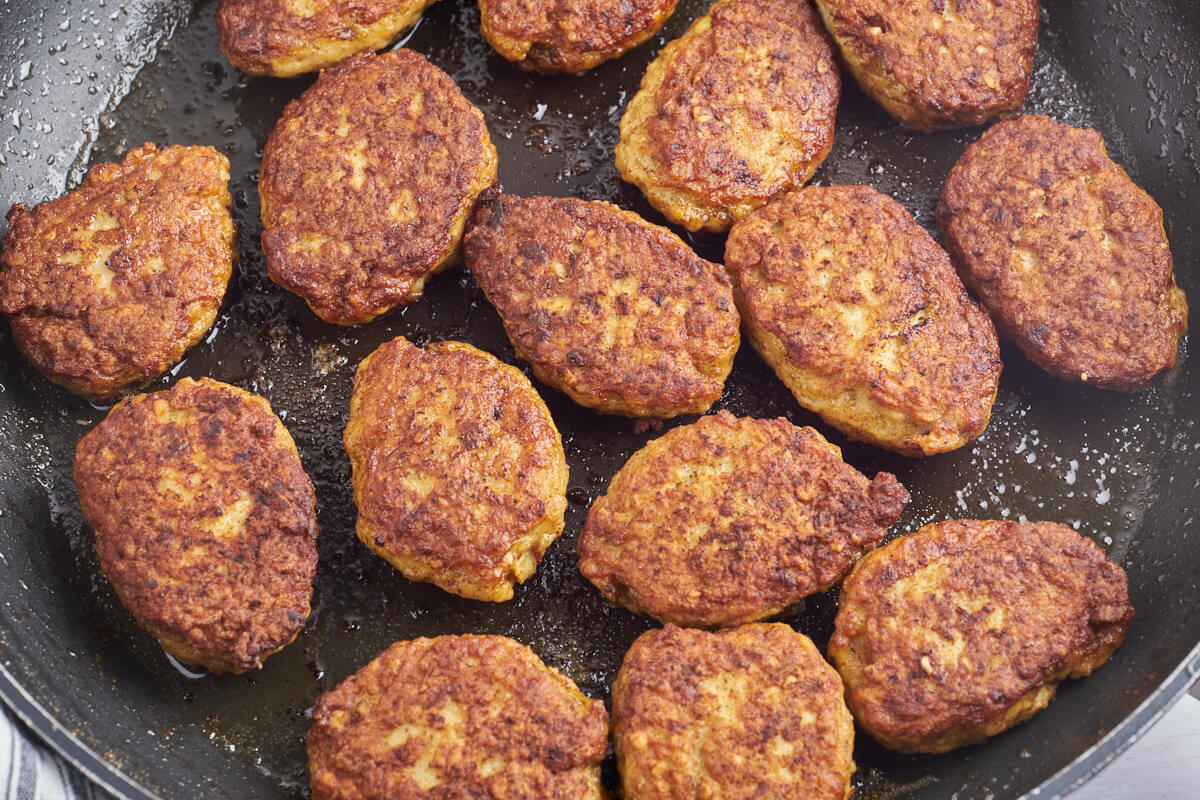 Ingredient notes
Ground chicken – Chicken mince or ground chicken can be bought in most supermarkets. It has become a fairly popular alternative to minced pork and often contains less fat.

Onions – You can not do without onions in meatballs, not even when you make them from chicken. They are important for taste.

Oatmeal and wheat flour – We use a mixture when we make chicken meatballs. Normally we only use oatmeal, but the mince gets a little too loose when it's chicken meatballs if no wheat flour is added.

Butter and oil for frying – We fry meatballs in a mixture of butter and oil. It gives a good taste and at the same time a good frying crust as we like them.
How to make Danish chicken meatballs?
Fortunately, it is quite easy to make delicious chicken meatballs yourself for dinner or packed lunches.

First, the meat mixture must be made. This is done by stirring ground chicken meat with salt and then adding grated onion, oatmeal, wheat flour, spices, and the rest of the ingredients to the mince. Once the mince is ready, let it rest for half an hour in the fridge before frying the meatballs.

Subsequently, fry the meatballs in a pan in a mixture of butter and oil, and serve hot, warm, or cold.

Find the full recipe further down this page.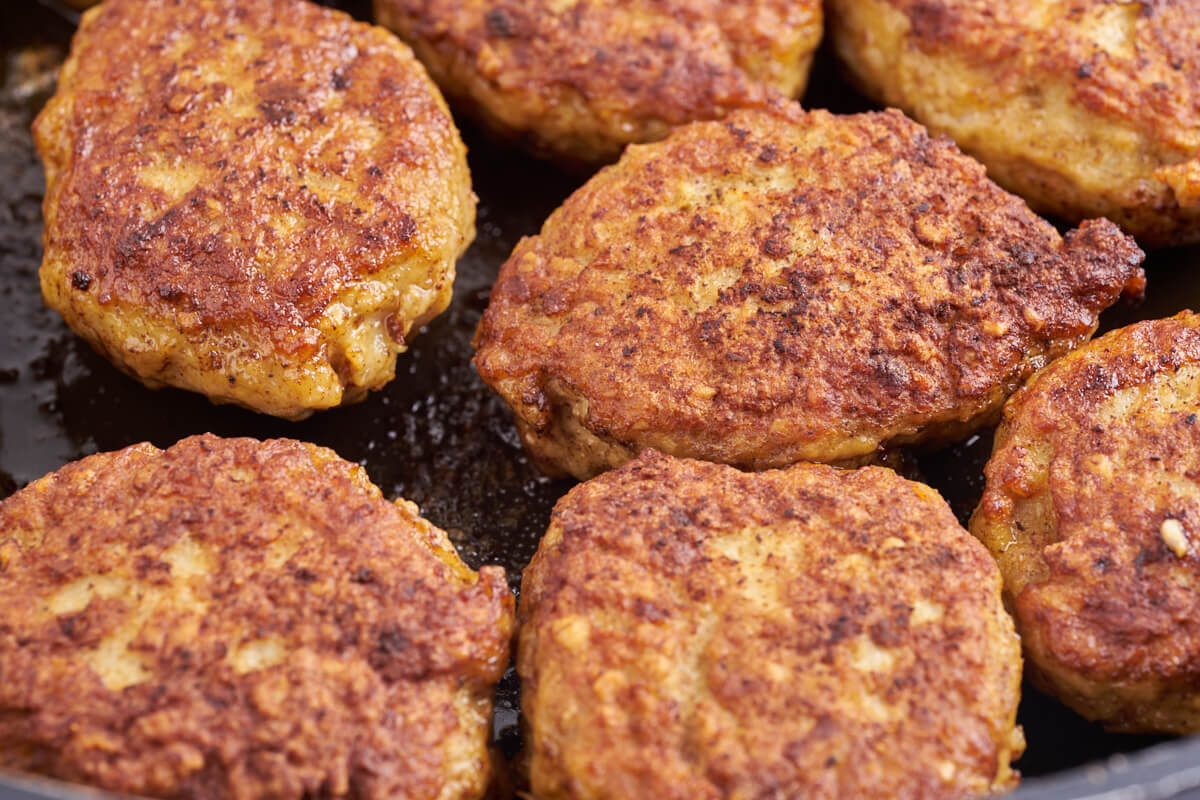 Frequently asked questions
How to store chicken meatballs?
If the chicken meatballs are not to be served immediately, store them in the refrigerator. They can be eaten cold or heated in the oven when they are to be served.
Can the chicken meatballs be frozen?
Yes, they can. It is always delicious to have meatballs in the freezer for packed lunches or a quick dinner.
Can I make the meatballs in the oven?
Yes, you can bake the chicken meatballs in the oven to avoid the fat from the pan. However, you will not get the same delicious roasting crust when you make them in the oven. Place them on a baking sheet and bake them for 10-12 minutes at 175 degrees Celcius convectional heat depending on size.
Other Danish dinner recipes you might like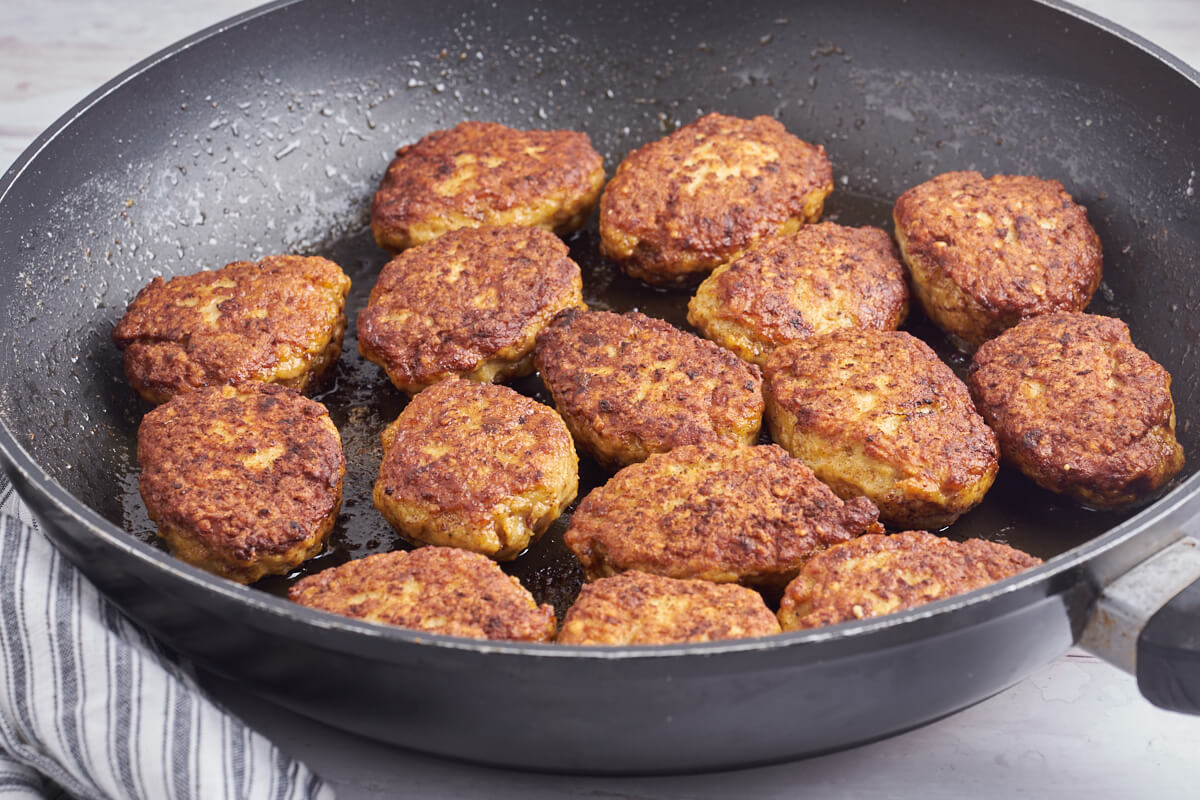 Tips and tricks for Danish chicken meatballs
Try adding cheese to the mince. It can be, for example, a handful of grated parmesan or chopped feta. It gives a good taste to the chicken meatballs.
Add grated vegetables if you want a little more greens into the meatballs. Carrots, squash, cabbage, or whatever you now have in the fridge.
Add chopped herbs to the mince. For example, chopped parsley or fresh thyme.
Serving suggestions
Serve chicken meatballs with Parmesan scalloped potatoes
Chicken meatballs are delicious with little snack greens in the lunch box or picnic basket.
Serve with a good cabbage salad and Broccoli baked in the oven
Traditionally Danish meatballs are made with pork, get our recipe for pork meatballs (frikadeller) here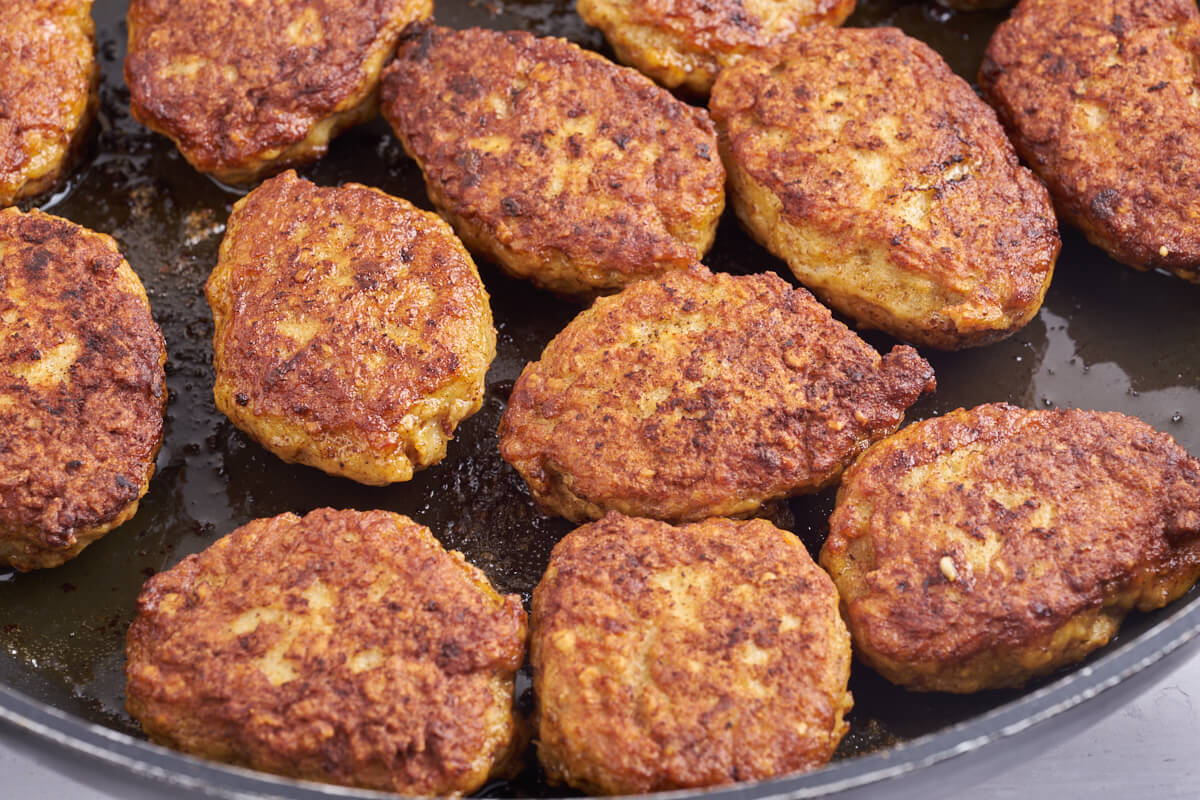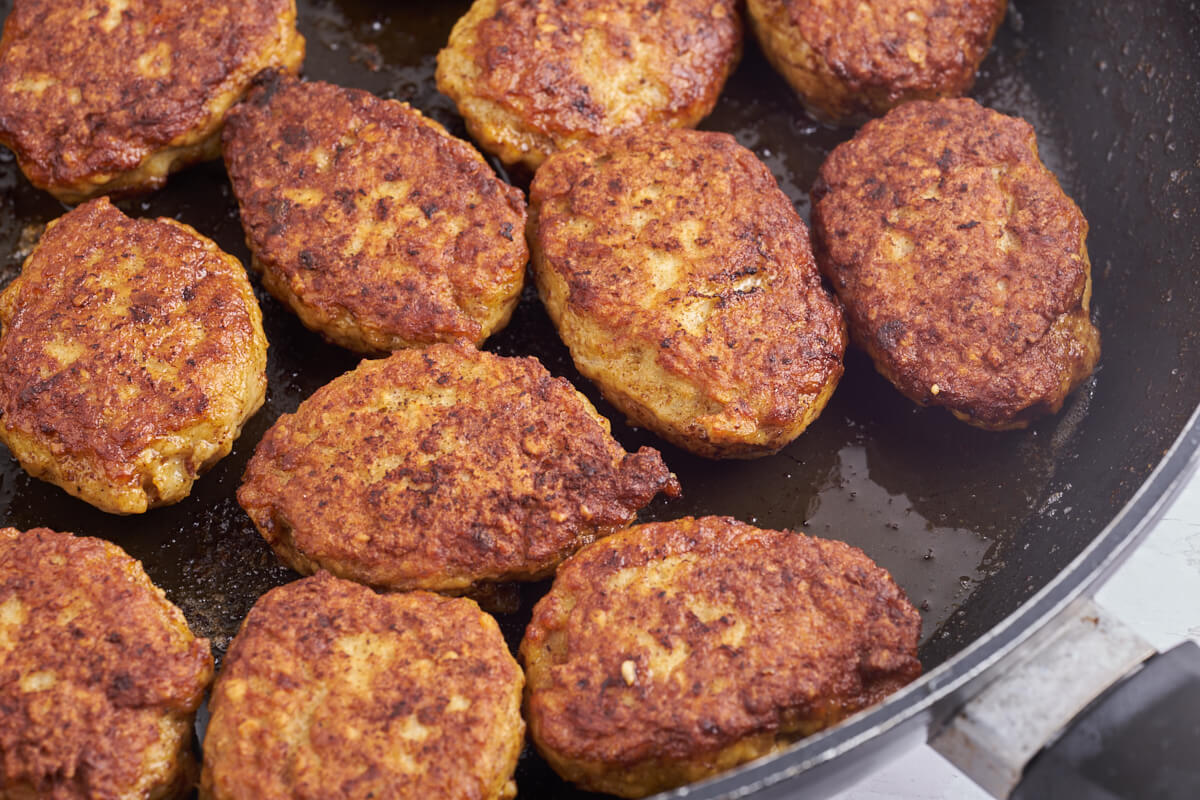 Recipe for Danish frikadeller with ground chicken
Here you get our recipe for delicious chicken meatballs with lots of flavors. These are juicy meatballs of ground chicken, which are always a hit for both dinners and packed lunches.

We hope you feel like trying the recipe and serving juicy chicken meatballs for the family. You can eat them with your favorite side dishes, a good salad, scalloped potatoes, baked root vegetables, or whatever you fancy.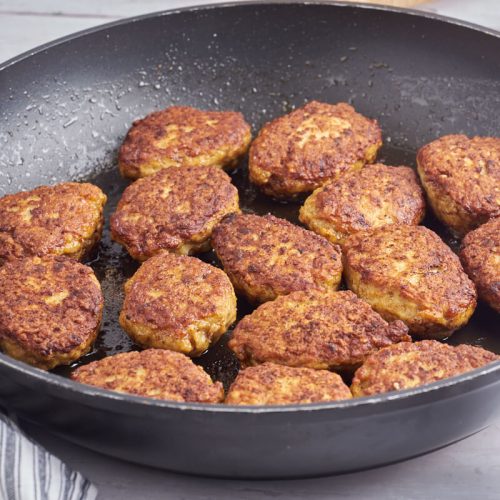 Danish chicken meatballs
Recipe for Danish chicken meatballs
Juicy and healthier meatballs of ground chicken. It is always a hit with meatballs in the family with children or as a delicious snack in the packed lunch. Eat Danish chicken meatballs with scalloped potatoes, baked root vegetables, coleslaw or your favorite side dish.
Ingredients  
1

kg

ground chicken

2

onions

2

dl

oatmeal

2

tbsp

all-purpose flour

2

tsp

salt

Pepper

¼

tsp

crushed allspice

1

egg

1

dl

milk

50

g

butter

for frying

2

tbsp

olive oil

for frying
Instructions 
The onions are peeled and roughly grated on a grater.

In a bowl, stir the ground chicken together with salt until it becomes tough.

Add flour, oatmeal, grated onion, eggs, milk, pepper, and crushed allspice to the mince and stir thoroughly.

Let the mince rest for half an hour in the fridge before frying the chicken meatballs.

In a pan, melt a good portion of butter together with a little oil over medium heat. Now shape meatballs into a suitable size of the chicken mince and fry them for 4-5 minutes or until golden, then turn the meatballs over, and fry them again until the desired crust is reached.

The finished chicken meatballs are placed in a dish and covered with foil, while the last meatballs are cooked.

Serve the finished Danish chicken meatballs with your favorite side dish.
Nutrition
How do you like the recipe?
Have you tried this recipe? We'd love to hear what you think of it. Leave a comment, add a number of stars to the recipe and share your photo on Instagram with #madformadelskere – We love seeing your dishes ♥️
Also, sign up for our Facebook group where you can show pictures of the delicious food you make! You can find the Facebook group here