Danish hash with potatoes and leftover pork roast is a classic Danish leftover dish. It tastes amazing and is pretty easy to make too. It takes no time at all if you have leftover pork roast from the day before. Read along here and get our best recipe for Danish potato hash with pork.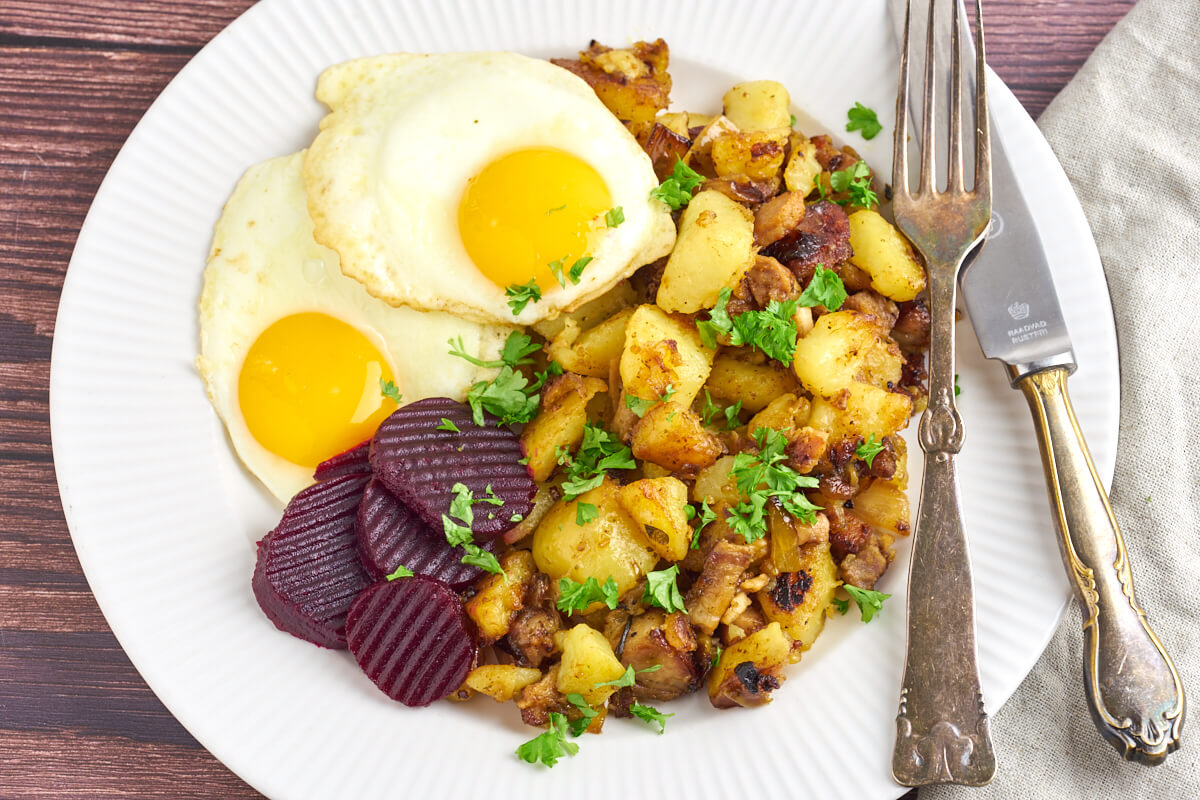 The best potato hash with leftover pork
It is no secret that I'm pretty crazy about biksemad or Danish hash. There's just something nice and cozy about it. And if there are leftovers of pork roast, then it is certain that there is biksemad on the table the next day.

When we have leftover pork roast, it is cut into slices to eat on rye bread, and the rest is cut into cubes, so that it is ready to turn into a delicious round of Danish hash with pork roast.

And in the sign of preparation, the potatoes are also something that can be made in advance and put in the fridge. All in all, Danish potato hash is something close to the perfect leftover dish, because it is not only pork roast that can be used. Should there be leftovers from the beef roast or a good ham, then just cut it into cubes and turn it into the best Danish hash.

Our children love hash with roast pork, it tastes of what it is, and they actually tend to be involved in making it themselves. Biksemad is a classic Danish lunch dish served at many inns around the country, and fortunately! The Danish potato hash is the Danish version of the Swedish dish "Pyt i pande".

No matter what kind of potato hash we are talking about, it tastes really good and it is also a really filling dish. It is also a cheap dish, so it does not burden the food budget so much if you make sure to use leftovers where possible.

For me, Danish biksemad is not right without a fried egg, and I, therefore, prefer my fried eggs "sunny side up" So with a soft plum and a fried egg that has not been turned around. And as the last perfect contribution to a nice lunch, so an ice-cold beer to quench your thirst.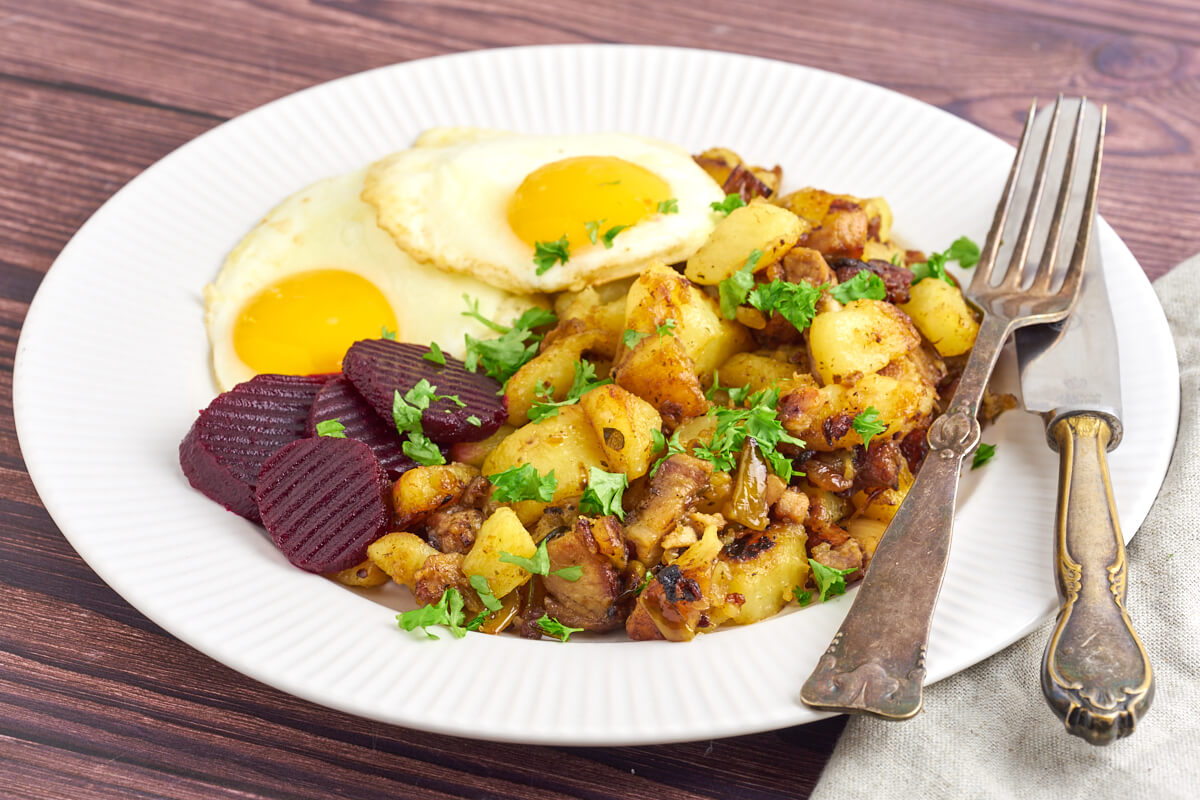 Ingredient notes
Pork roast – Here I am talking about leftover pork roast, without the crackling, cut into suitable cubes. You can also use other types of meat, it could be a piece of ham, some leftover beef roast, or chicken, sausages, or even duck from Christmas Eve.

Potatoes – Boiled potatoes. I recommend boiling them in salted water.

Onions – Onions are needed. 2 large onions, or more if you are into a lot of onions. The onions must be seared off by themselves before it is all mixed.

Rosemary – I usually use a sprinkle of fresh rosemary in my potato hash. It can be omitted, but it gives a nice taste to the dish.

Thyme – Fresh thyme is great with potatoes and meat, but again it is something that can be omitted if you think.

Bay leaves – Bay leaves give a nice taste to the dish, and I will not do without them. They have a very special taste that just does really well in the danish hash.
How to make Danish hash with potatoes and pork?
Here is a brief description of how to make the world's best biksemad or Danish hash with pork.

As always, much of it can be prepared in advance. So you can easily cook the potatoes the day before, saute the onions and fry the meat. Then you can just sauté the potatoes and mix it all together at the end, and of course, make fried eggs.

It takes some amount of butter to fry it all, and here you must not save! The butter helps to give the perfect taste to Danish hash. If you do not eat butter or use it in cooking, then you can use rapeseed oil, you just do not get quite the same taste as when using butter.

Find the full recipe further down this page.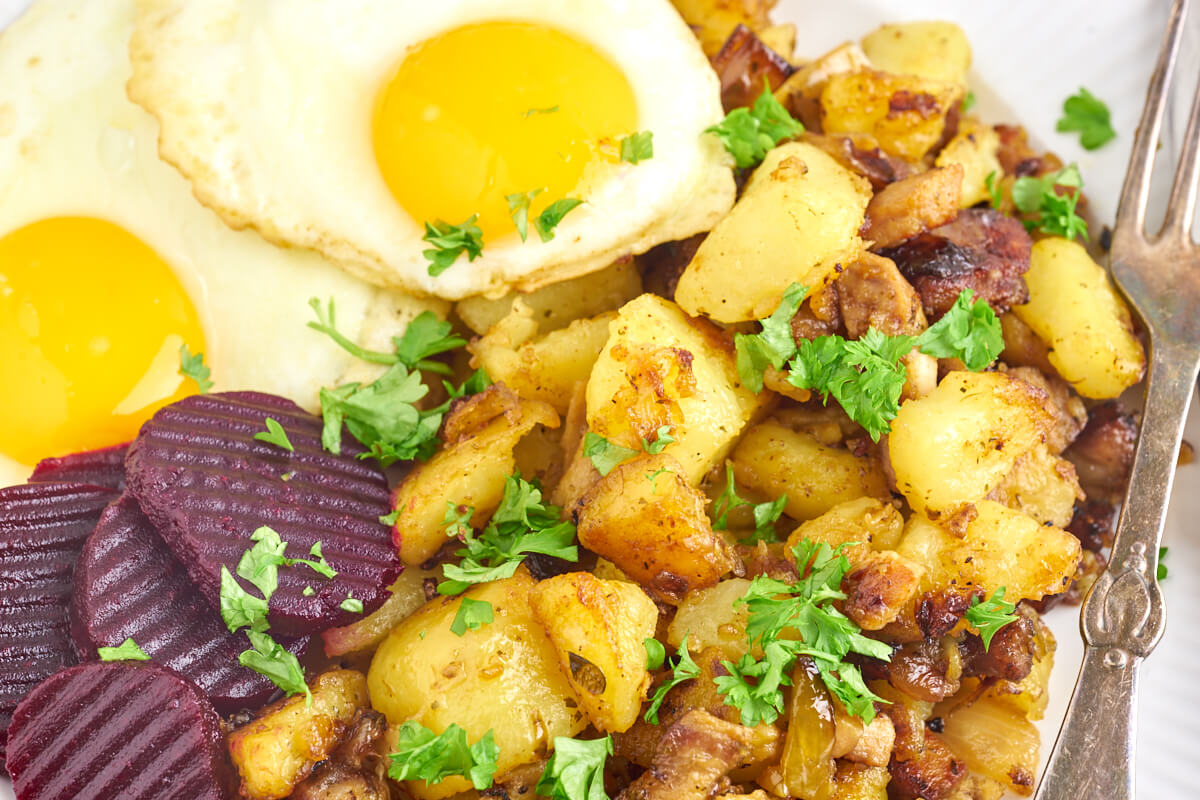 Frequently asked questions
Can I use anything else than pork roast?
Yes, you can also make this danish hash with other types of meat. You can use beef, chicken, sausages, or even duck meat from Christmas Eve. Only the imagination sets the limit, so just try it out.
Can I use leftover pork roast that has been frozen?
Yes, you can. So if you can not eat the pork roast right away, you can cut it into cubes and freeze it, then it's ready for a portion of Danish biksemad with pork roast.
Other Danish recipes you might like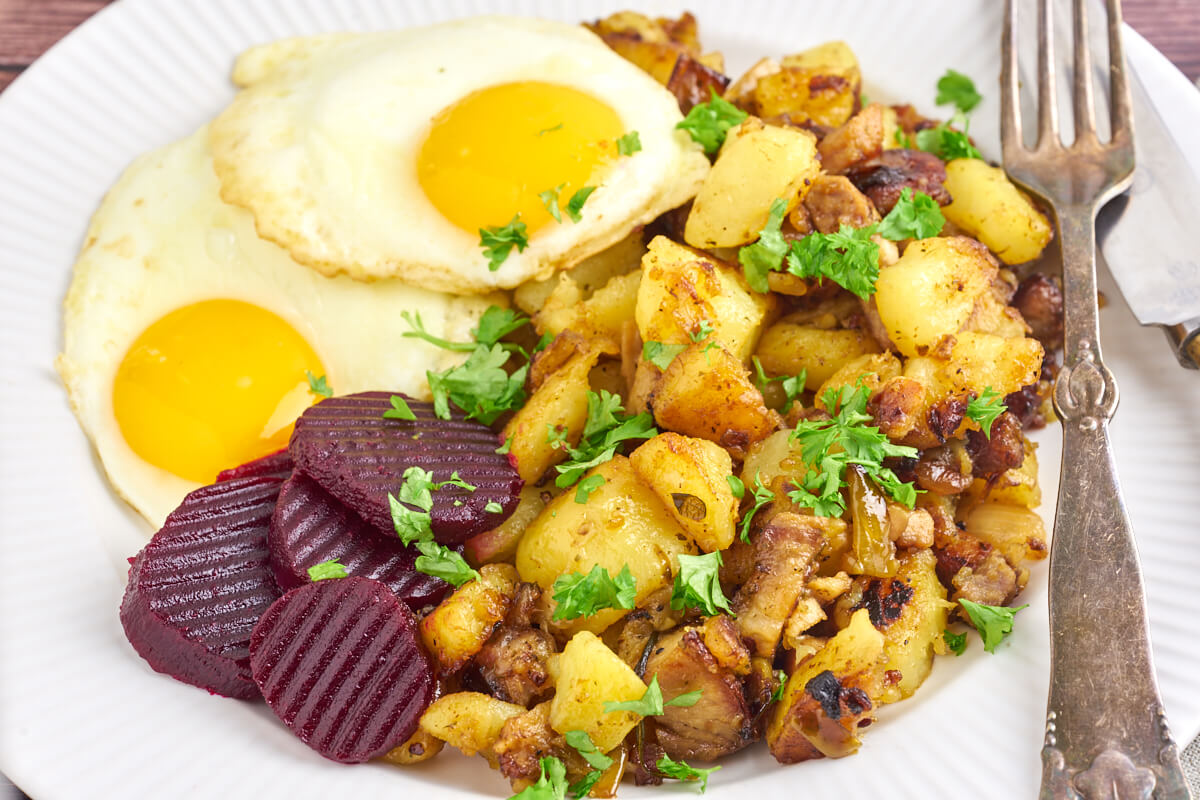 Recipe for easy dinne with leftover pork and potatoes
Here you get our recipe for a classic danish hash with leftovers from roast pork. It is a delicious and easy dish that the whole family loves to eat.

So if you have a little pork roast leftover from yesterday, or from earlier that you have frozen, then biksemad is the obvious choice. Use leftovers and stop food waste. We hope you enjoy the recipe.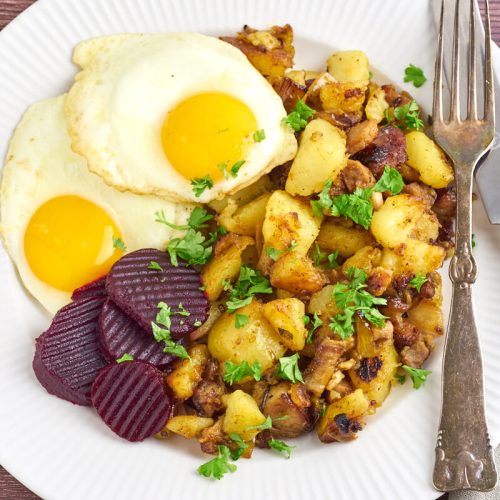 Danish hash (biksemad)
Recipe for Danish hash (biksemad)
Danish biksemad or potato hash is a traditional Danish leftover dish. We make it when we have leftover roast pork or other meat. It is easy to make, and it tastes amazing with a fried egg and pickled beets.
Ingredients  
1.5

kg

potatoes

100

g

butter

500

g

leftover pork roast

2

onions

3

bay leaves

1

sprig

fresh rosemary

1

sprig

fresh thyme

1.5

tsp

salt

Pepper

8

eggs
Instructions 
In a large saucepan, boil the potatoes in plenty of well-salted water. When the potatoes are tender (approx. 20 min), pour off the water and set the potatoes aside so they can evaporate and cool down a bit.

Once the potatoes are boiling, peel the onions and cut them into small cubes. Put ⅓ of the butter in a large frying pan and melt it over medium heat. Now put the prepared onions in the pan and then sauté until they are golden and soft.

While the onions are sautéing, the pork roast is prepared. Remove fat and crackling. Then cut the pork into slices and then into suitable cubes.

When the onions are done, take them off the pan and place in a bowl and set aside. In the same pan, melt half of the remaining butter.

Put the pork roast cubes together with rosemary, thyme and bay leaves in, and sauté the pork cubes until they turn golden.

While the pork roasts are browning, cut the potatoes into suitable cubes.

When the pork cubes are browned, the onions are returned to the pan along with the potato cubes. Now the potato hash must be seared over medium heat until the potato pieces turn golden. Add salt and pepper and taste.

When the potato hash is in the pan, the fried eggs are prepared. In another frying pan, melt the rest of the butter and crack the eggs out on the pan. Now cook the fried eggs until the yolk has the desired consistency, they can possibly be turned at the end if you like that the best.

Serve the biksemad with the fried eggs, pickled beets, and possibly a piece of rye bread.
Nutrition
How do you like the recipe?
Have you tried this recipe? We'd love to hear what you think of it. Leave a comment, add a number of stars to the recipe and share your photo on Instagram with #madformadelskere – We love seeing your dishes ♥️
Also, sign up for our Facebook group where you can show pictures of the delicious food you make! You can find the Facebook group here