We love the classic Danish dishes, one of our favorites is Danish beef patties with caramelized onions, gravy, and potatoes. Fortunately, it is easy to make, and good everyday food for the whole family, but also does well if you have to treat the family with a little extra one day. Read along here and get our recipe for the best ground beef patty with caramelized onions and gravy or as we call it "Dansk bøf" (Danish steak)!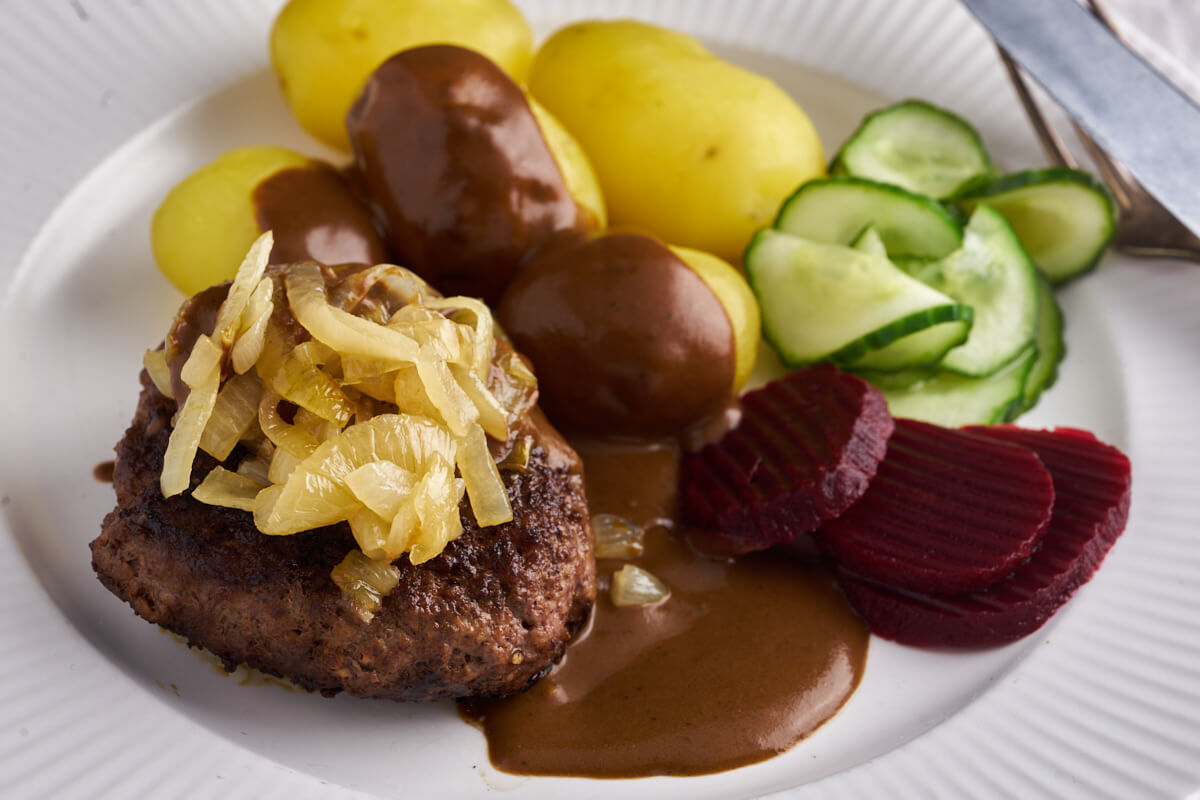 Ground beef patty with gravy
A good Danish beef patty with gravy is one of the best dishes when it comes to classic Danish food. We always fry the patties first and make the sauce in the same pan. It gives an absolutely amazing taste.

Our kids love gravy, and this pan gravy is no exception. When we get something with brown gravy, we Danes like to have potatoes with it. Because we simply love to mash the potatoes and grease them well into the gravy. Yes, we adults actually do that too! You should definitely try it!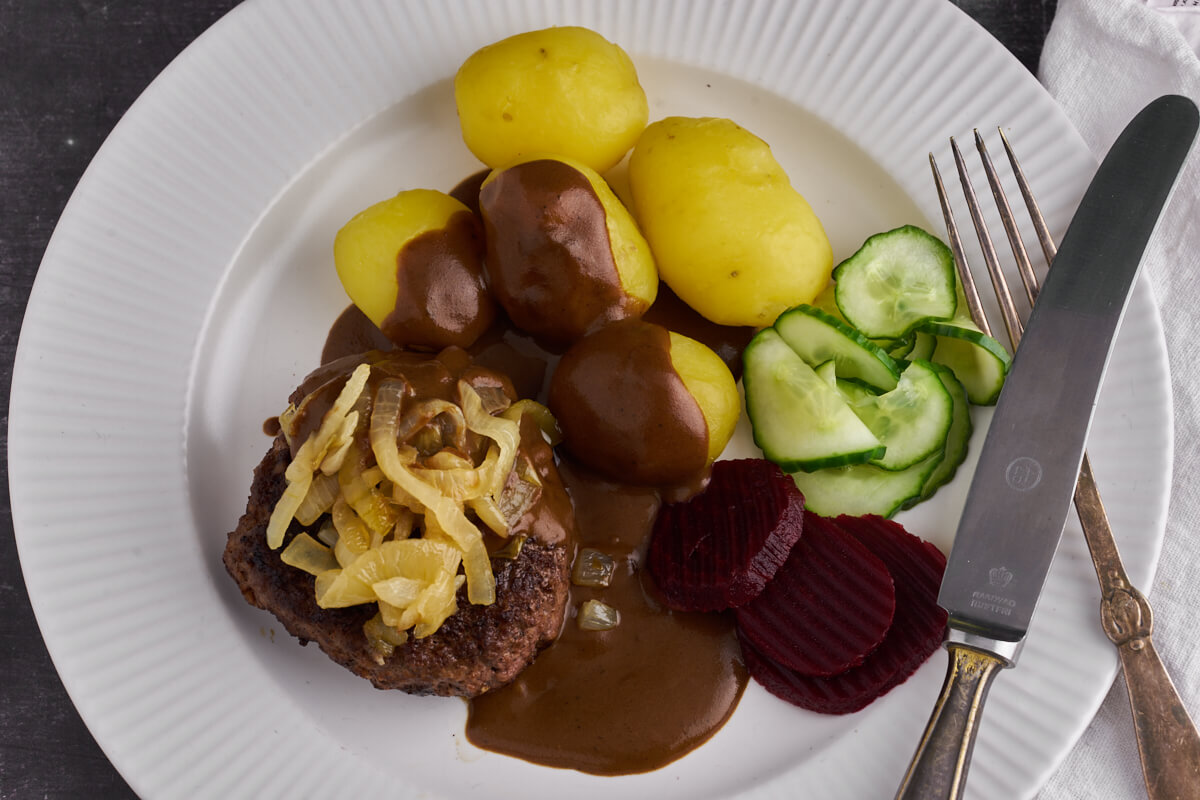 Ingredient notes
Ground beef – We use beef with around 8-12% fat. Don't use ground beef with too low fat, or your patties will be very dry.
How to make Danish beef patties with caramelized onions?
It's actually a pretty easy dish to make, and it does not take that long. You can easily do it in 45 minutes, so it is something that can easily be done on a weekday.

The most complicated thing about this dish is the timing. The whole thing should preferably be finished at the same time. Fortunately, the potatoes can easily be kept warm in a pot and the onions can simmer in the pan for longer if the timing is not perfect.

The first thing you need to do is set the potatoes to cook. When they are out of the way, get started with the soft sweet onions, and when they are simmering in the pan, it's time to get started with the ground beef patties in another pan.

The patties are shaped and fried, then they need to rest a little while you make the pan gravy in the same pan as you fried the patties in. It gives extra flavor to the sauce. When the gravy is done, you are ready to serve the meal to the family.

We usually eat it with pickled beets and Danish cucumber salad.

Find the full recipe further down this page.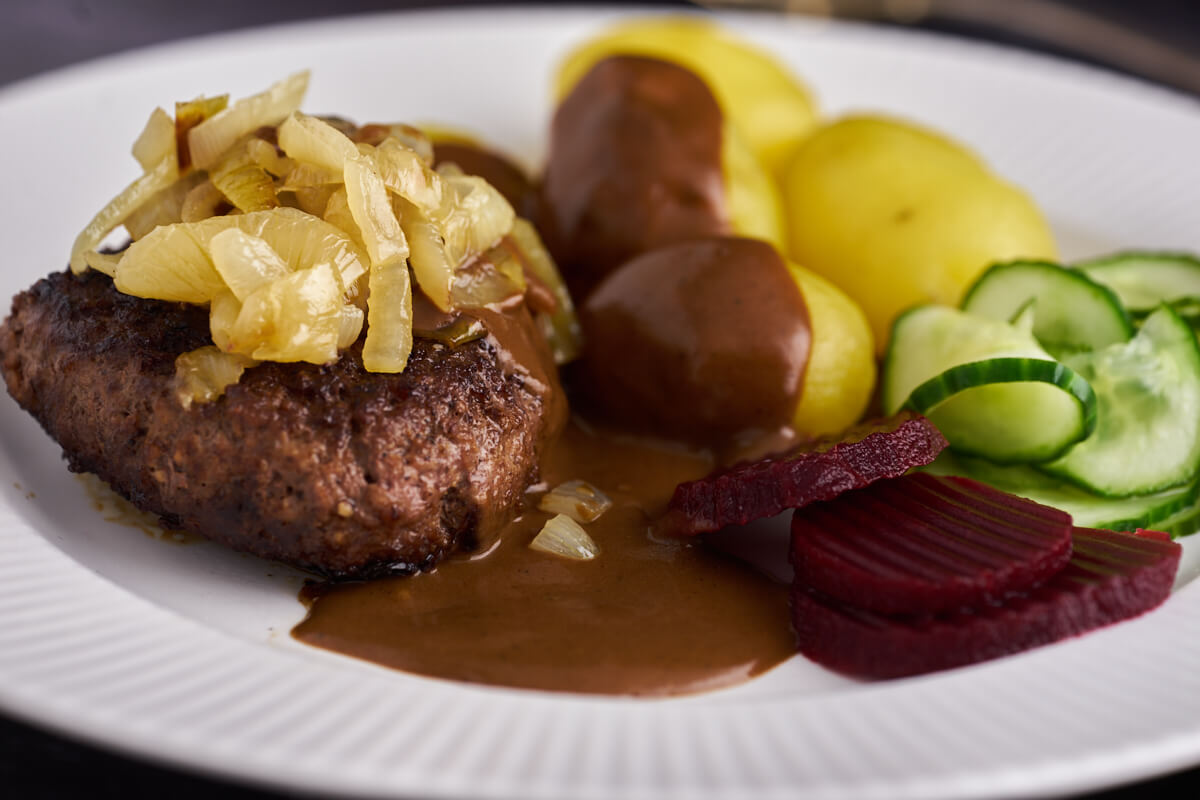 Frequently asked questions
Can leftovers be frozen?
Yes, you can freeze the beef patties and the gravy for an easy meal.
How to store the leftovers?
Leftovers can be kept in the fridge for a couple of days or frozen down for longer storage. Reheat the leftovers before serving.
What is this dish called in Danish?
Danish ground beef patties with caramelized onions are called "Dansk bøf med bløde løg", which translates to "Danish steak with soft onions".
Other Danish recipes you might like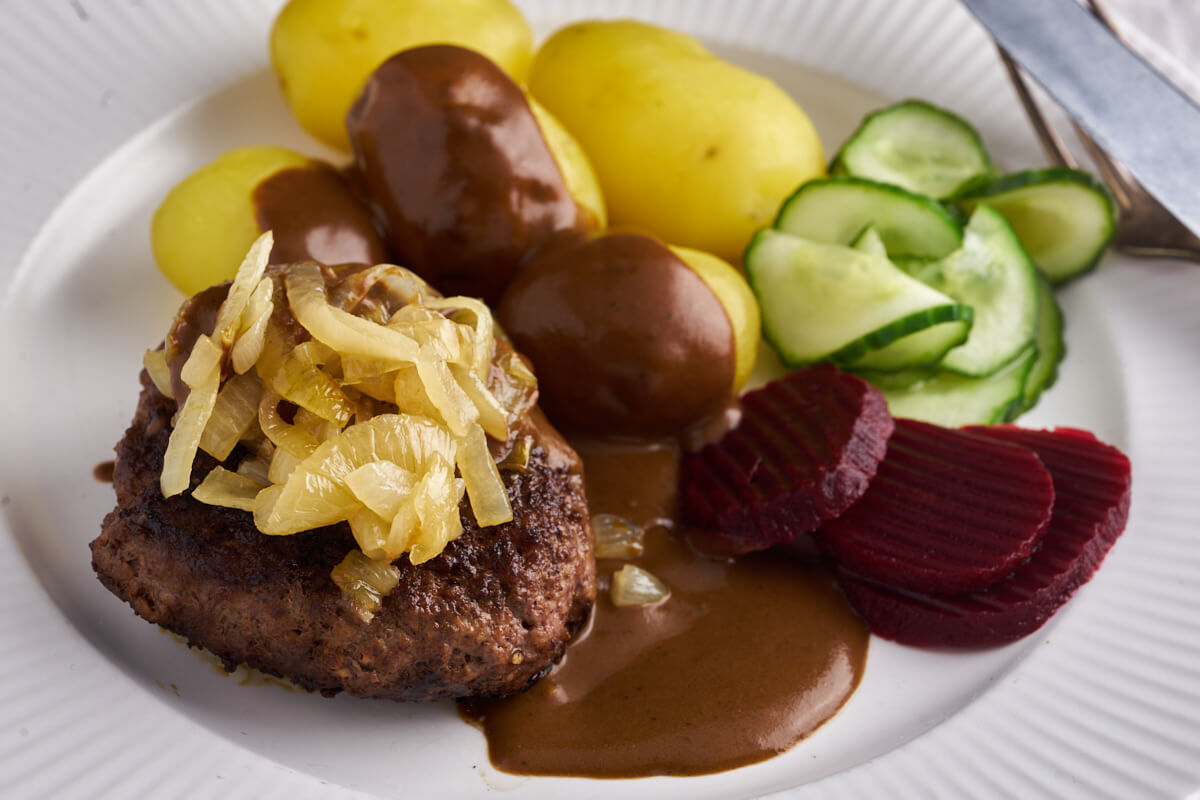 Recipe for Danish beef patty with caramelized onions
Here you get our recipe for one of our favorite dishes from Danish cuisine. A classic Danish steak with soft sweet onions, boiled potatoes, and a brown pan gravy.

We are sure your family will be happy if you put such a meal on the table for them. Enjoy.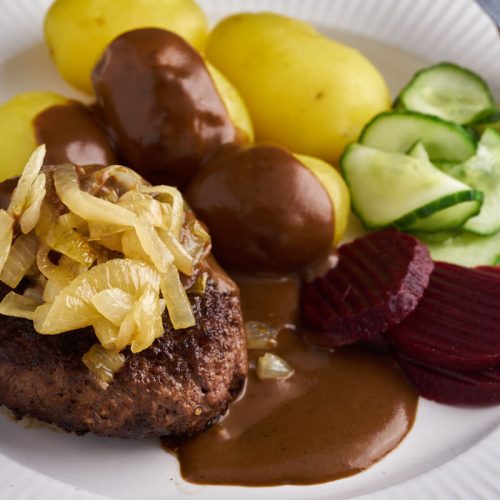 Danish beef patties with caramelized onions
Recipe for Danish beef patties with caramelized onions
This is real traditional Danish food at its best. Moist ground beef patties with soft caramelized onions, potatoes, and gravy. Preferably served with danish cucumber salad and pickled beets.
Ingredients  
Caramelized onions:
4

tbsp

butter

4

onions

1

tbsp

sugar

½

tsp

Salt
Beef patties:
800

g

ground beef

2

tablespoons

butter

2

tablespoons

oil

Salt

to taste

Pepper

to taste
Gravy:
Fat as well as frying residue from the pan

2

tbsp

all-purpose flour

1

dl

potato water

2.5

dl

water

½

beef stock cube

1

dl

whipping cream

1

tbsp

worcestershire sauce

1

tsp

sweet mustard

10

g

tomato concentrate

1

tbsp

ketchup

1

tbsp

gravy browning

1

tsp

salt

or to taste

1

tsp

sugar

or to taste

Pepper

to taste
Instructions 
Potatoes:
In a pot, bring well-salted water to a boil. Put the potatoes in and cook them for 15 – 20 minutes, or until tender. Stick if necessary in them with a knife to check if they are finished.

– The pre-cooked potatoes can be peeled or served with the skin on.
Caramelized onions:
Once the potatoes are put in the pot, start making the onions.

Remove the peel and cut the onions in half and then into thin slices. Melt the butter in a frying pan and add the slices of onion. Fry them over medium heat for a few minutes.

Turn down to low heat and let the onions become soft and golden. Add sugar and salt and let them simmer on low heat until the rest of the food is done. Stir once in a while so they do not burn.
Beef patties:
While the potatoes are cooking and when the onions are caramelizing, prepare the patties. Divide the mince into 200-gram portions and shape them into patties. Chop them with a knife on both sides, then they keep the shape during frying.

– This can possibly be done in advance.

In a large frying pan, melt the butter together with the oil over high heat, letting the butter simmer. Season the ground beef patties with salt and pepper and place them on the pan. Let them caramelize on both sides over high heat and then turn down the heat, and cook them further over medium heat until the desired core temperature is reached.

– Some prefer the beef patty medium, others want it well done. Make a small cut in one of the patties and check if they are done.

When the beef patties are cooked, take them off the pan and set them aside while you make the sauce in the pan in which the patties were fried.
Gravy:
In the pan with the leftovers and fat from the patties, flour is now added. Let it simmer over medium heat for a few minutes while stirring. Be aware that the flour must not be burned.

Now get water from the potatoes in the pan and whisk it until it is even and thick. Then add water, stock cube, and cream. Let the gravy simmer for a few minutes and then add Worcestershire sauce, sweet mustard, tomato concentrate, ketchup, and gravy browning.

Let the sauce simmer for a minute. Add salt, sugar, and pepper to the pan sauce and taste.

– If it becomes too thick, add more water.

– If you want the sauce thicker, it can be smoothed with a little corn starch stirred into water.

When you are satisfied with the taste and consistency of the sauce, turn down the heat and keep it warm until it is to be served.

Serve a plate with a beef patty, potatoes, gravy, pickled beets, and Danish cucumber salad.
Nutrition
Serving:
1
person
Calories:
1082
kcal
Carbohydrates:
64
g
Protein:
42
g
Fat:
74
g
Saturated Fat:
33
g
Polyunsaturated Fat:
4
g
Monounsaturated Fat:
29
g
Trans Fat:
3
g
Cholesterol:
215
mg
Sodium:
1443
mg
Potassium:
1858
mg
Fiber:
8
g
Sugar:
13
g
Vitamin A:
960
IU
Vitamin C:
59
mg
Calcium:
122
mg
Iron:
7
mg
How do you like the recipe?
Have you tried this recipe? We'd love to hear what you think of it. Leave a comment, add a number of stars to the recipe and share your photo on Instagram with #madformadelskere – We love seeing your dishes ♥️
Also, sign up for our Facebook group where you can show pictures of the delicious food you make! You can find the Facebook group here