Crunchy homemade danish cucumber salad. It tastes just so much better than what you can buy in the store. It fits perfectly as an accessory, for a delicious grilled chicken, or as a topping for a good old-fashioned Danish hotdog. Read on here and see how easy it is to make your own cucumber salad the danish way.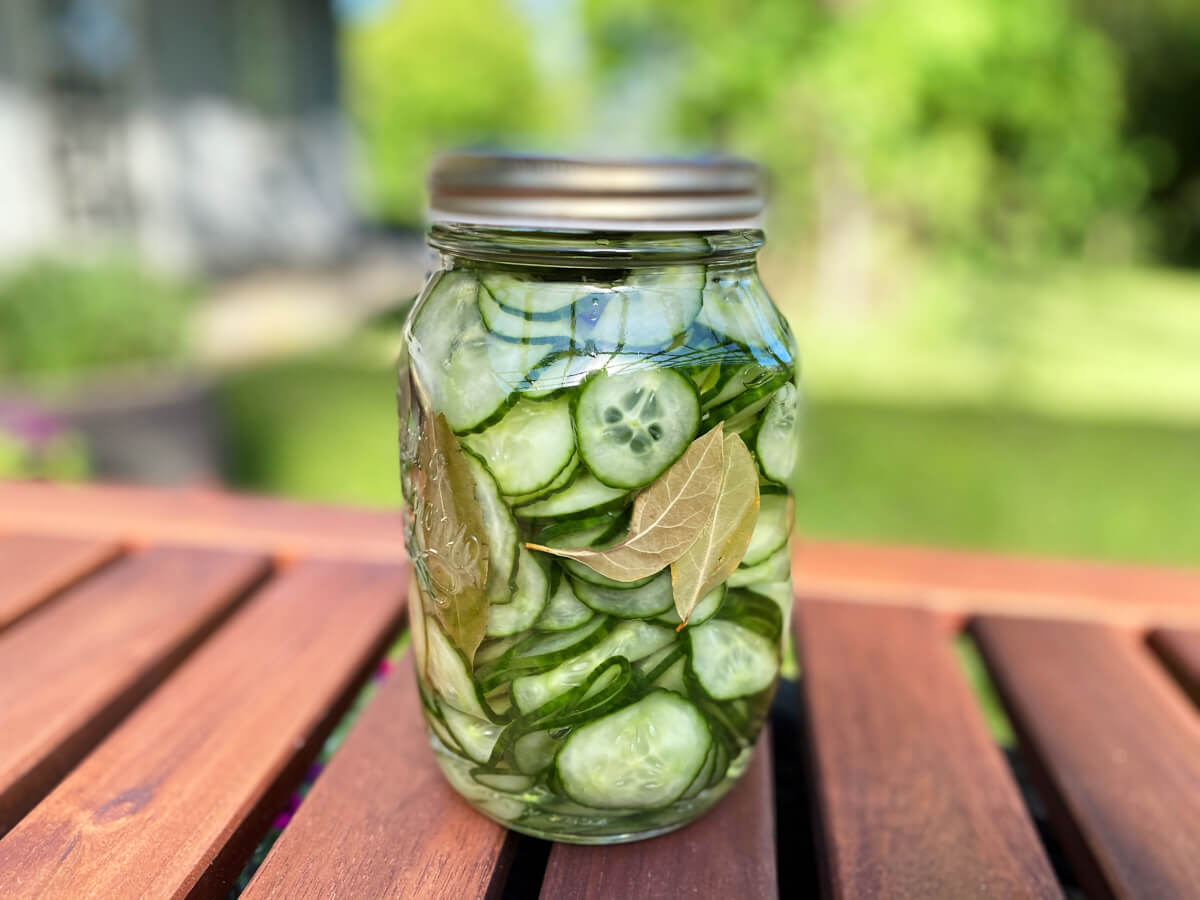 The perfect cucumber salad
For me, cucumber salad is one of the things you should always have in the fridge.

They come into play when we get a burger, bbq chicken, or get a delicious club sandwich.

The combination of sweetness, acidity, and salt is a matter of taste, and that is why we make our own cucumber salad. When making your own, you can adjust the ingredients and adjust the taste so that it is just as you like it.

In Denmark, the pickled cucumber slices are a traditional side dish for roast, Frikadeller – Danish meatballs or Danish roast pork with crackling. But you can eat it with a lot of dishes.
How to make danish cucumber salad?
In fact, you need very few ingredients to make a cucumber salad.

The recipe here is what I would call a basic recipe for homemade cucumber salad, and from here you can add fresh herbs or whatever you want to affect the taste. Cucumber salad with dill is very delicious and strongly recommended.

All you need is:
Cucumbers, I usually use organic cucumbers until I can harvest my own in the greenhouse.
Vinegar, clear vinegar, or apple vinegar.
Water
Sugar
Salt, both for the pickle and for getting water out of the cucumber slices.
Peppercorns
Bay leaves, gives a great taste.
The cucumbers are cut into thin slices, either on a mandolin or by hand. The slices of cucumber are salted to draw you excess water. Then rinse the cucumber slices with plenty of cold water until all the salt is gone.

Prepare the pickle by putting all the ingredients in a saucepan, boiling them briefly, and then cooling it down completely. The slices of cucumber are put in a jar. Now pour over the cooked pickle. The cucumber salad should be chilled in the fridge before it is ready to serve.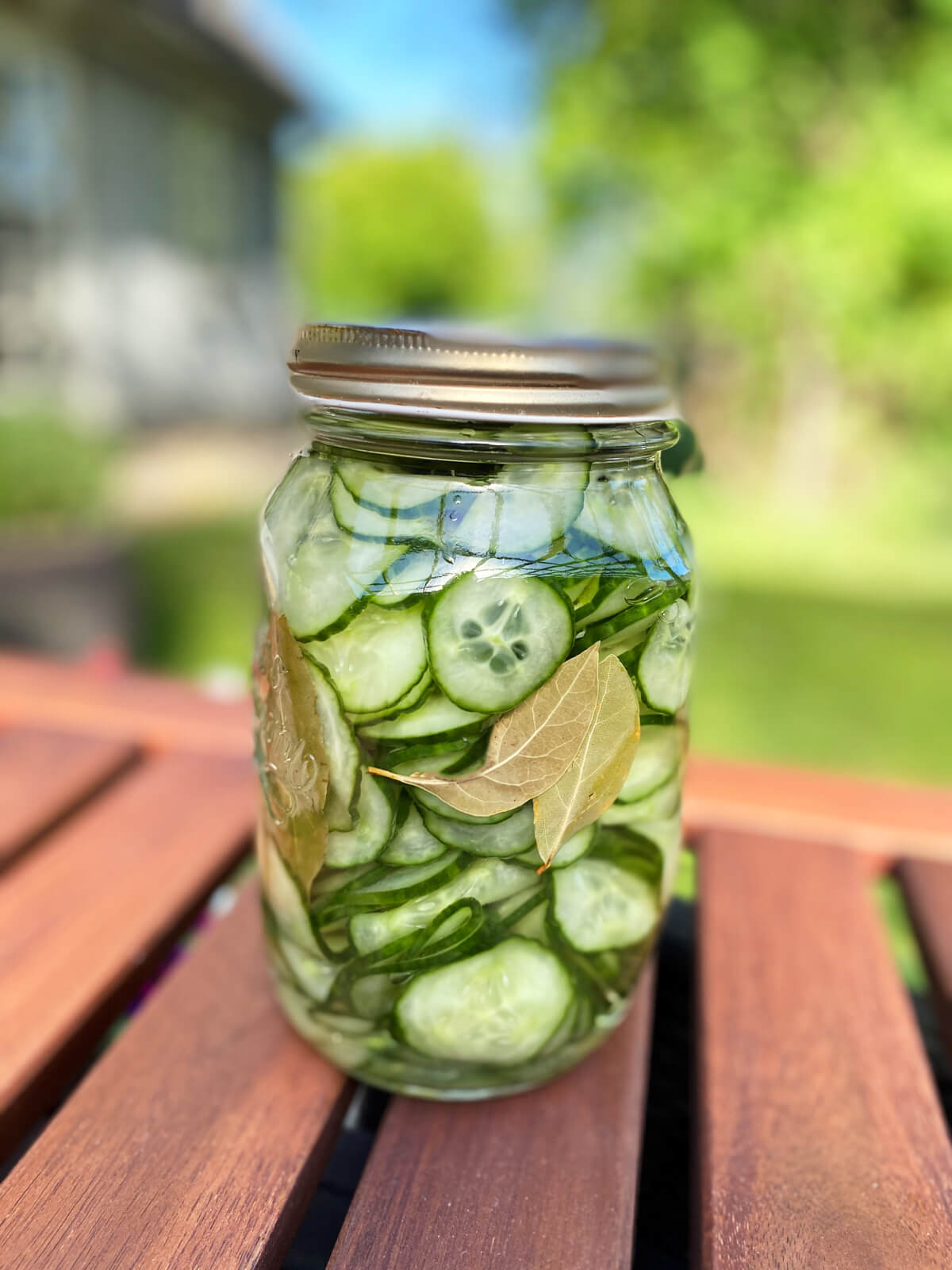 Serve danish cucumber salad with
Homemade cucumber salad recipe
Here comes our recipe for how to make the best old-fashioned Danish cucumber salad. It is highly addictive and you can never make too much! We hope you like it and make your own version of homemade cucumber salad.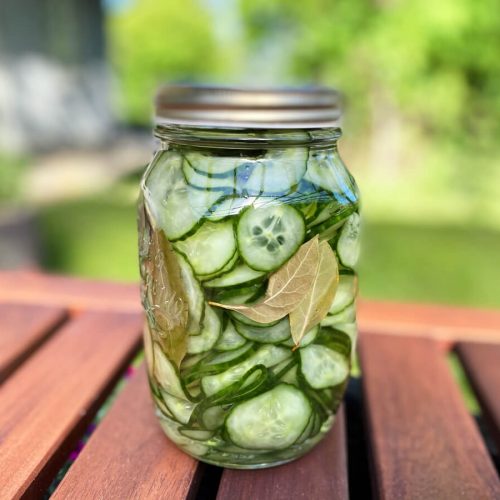 Danish cucumber salad
Recipe for Danish cucumber salad
Easy recipe for a traditional danish cucumber salad. Serve the pickled cucumbers with frikadeller, pork roast, in a burger, on a hotdog, or as a side dish for a lot of other dishes. You can add dill or other herbs if you like.
Ingredients  
2

cucumbers

½

dl

fine salt
Pickle
4

dl

vinegar

4

dl

water

2,5

dl

sugar

4

bay leaves

10

peppercorns
Instructions 
Put all the ingredients for the pickle in a saucepan and bring to a boil. Then, the pickle should cool completely before finally pouring over the cucumbers. The reason why you use a cold cook is to preserve the lovely green color and the crispy cucumbers.

The cucumbers are rinsed and then sliced ​​into thin slices. I usually use a mandolin to cut into 3 mm. thickness.

Place the cucumber slices in a colander and distribute the fine salt over. Then turn the slices of cucumber around so that the salt is well distributed.

Leave the cucumbers with the salt in approx. 15 minutes, so that the salt can extract excess water. It's how to get a delicious crispy cucumber salad.

Once the cucumber slices have rested in salt, rinse them in cold water. Lots of cold water! I usually rinse them several times, so I'm sure the salt is completely gone.

Then place the cucumber slices in a suitable clean jar. Pour the cooled pickle over. Let them chill for some hours, og even better for a few days if you can wait that long!
Nutrition
How do you like the recipe?
Have you tried this recipe? We'd love to hear what you think of it. Leave a comment, add a number of stars to the recipe and share your photo on Instagram with #madformadelskere – We love seeing your dishes ♥️
Note: This recipe is a translation of our danish recipe "Hjemmelavet agurkesalat" which can be found on our danish food blog.
Also, sign up for our Facebook group where you can show pictures of the delicious food you make! You can find the Facebook group here