Gambas pil pil prawns is a delicious Spanish dish of shrimps in garlic and chili sauce. They are great for serving tapas or just for dinner with bread to dip in the sauce. We love the dish at home and hope you will too. Read along here and get our recipe for the best gambas pil pil.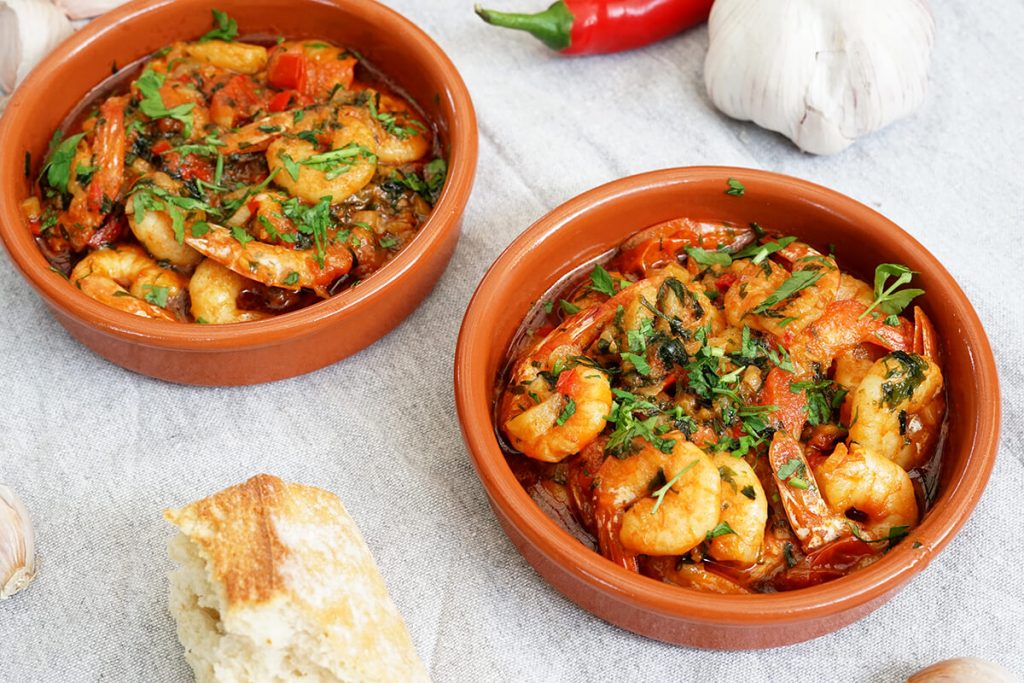 One comfort food to rule them all
Gambas pil pil is and always will be a favorite in our home. Lots of flavors, and then served with good bread. The bread is used to soak up all the lovely sauce, it just doesn't get much better than this. Gambas pil pil originates from Spain and can be served both as a main course and as a tapas dish if you can "settle" for a smaller portion.

It has taken many attempts before our recipe for gambas pil pil was just right. But now we found the secret formula. I would recommend using raw shrimp if you can get it, they give a better taste to the dish.

Gambas pil pil is a really cozy plate to enjoy in good company, and preferably with a glass of cold white wine. I usually make it in a large pan on the gas burner on my grill. Then we sit and eat directly from the pan or a large clay plate. Our son Johannes and our daughter Ellen also love it, they think it is fun to eat with their fingers, with mom and dad around the table.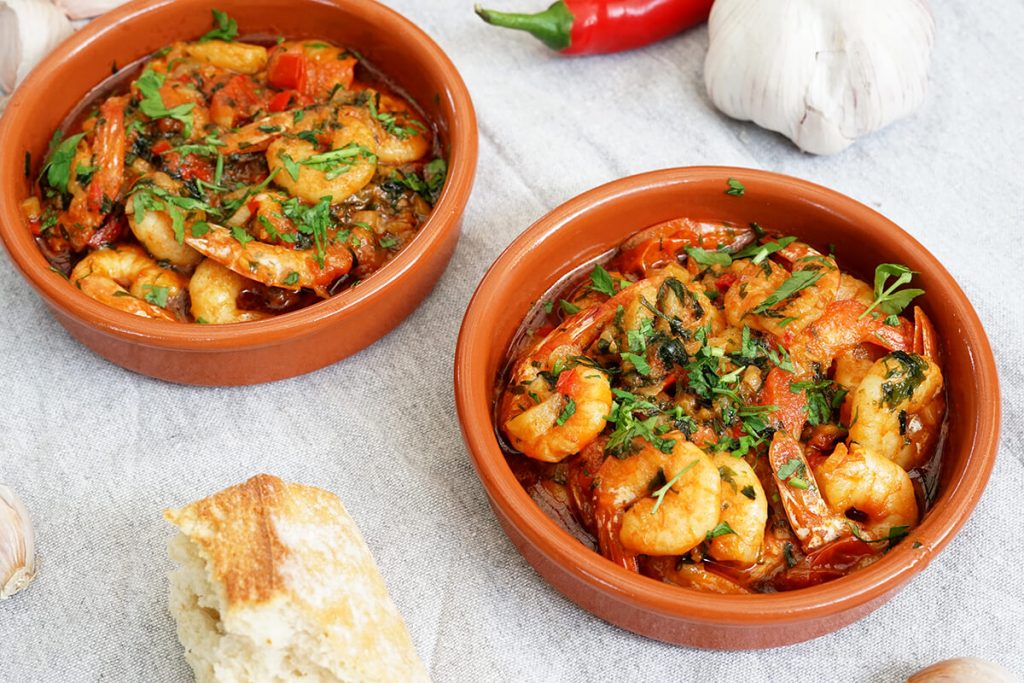 Other recipes you might like
Recipe for Gambas pil pil
When you go shopping for this recipe, please remember to be aware of the ingredients you buy. We only buy prawns with the ASC certificate to make sure they are farmed in a good way.

Homebaked bread is really good to eat with this dish, but you can also serve it with a small salad on the side if you want more greens, and serve it as a main course.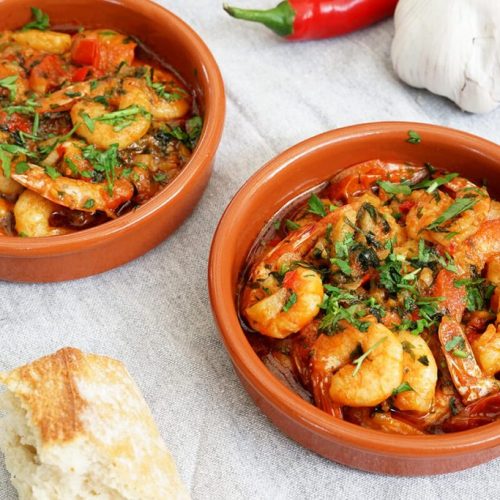 Gambas pil pil
Recipe for gambas pil pil
Easy recipe for classic gambas pil pil shrimp, that is prawns with garlic and chili! It is wonderful everyday food, a small starter or tapas dish, or just when you need real cozy food. It can be eaten all year round but is a lovely summer dish along with a cold glass of white wine on the terrace.
Ingredients  
300

g

prawns

1

shallot

finely diced

1,5

dl

olive olie

100

g

butter

1

dl

parsley

finely chopped

1/2

red or green chili

Finely diced

2

tomatoes

diced – 3 3-4 tbsp. canned tomatoes

10

cloves

garlic

chopped

½

lemon

the juice

1

tsp

smoked paprika

1

tsp

paprika

1

tsp

salt

1

tsp

sugar

Peber

to taste

1

tbsp

parsley

for garnishing, chopped
Instructions 
Take out a big frying pan and heat up the oil. Add the butter and let it melt in the oil at medium heat.

Add garlic, shallot, and chili and let it simmer on medium heat for 5 min.

Add paprika, smoked paprika, tomatoes, salt, and sugar, and let it fry for about a minute.

Add prawns and lemon juice and let it simmer until the tomatoes are soft and the sauce begins to split. Put in the parsley and give it one more minute all together.

Taste and put in extra salt, pepper, and lemon juice if needed. Take the pan off the heat and sprinkle chopped parsley over before serving.

Serve hot from the pan with a nice bread.
Nutrition
How do you like the recipe?
Have you tried this recipe? We'd love to hear what you think of it. Leave a comment, add a number of stars to the recipe and share your photo on Instagram with #madformadelskere – We love seeing your dishes ♥️
Note: This recipe is a translation of our danish recipe "Gambas pil pil" which can be found on our danish food blog.
Also, sign up for our Facebook group where you can show pictures of the delicious food you make! You can find the Facebook group here