Danish rye bread is a traditional danish bread that is made primarily from rye. It is dark in color and has a really nice deep taste of rye. We eat it every day, for either lunch or an easy dinner. Often we use it to make Danish open-faced sandwiches or smørrebrød. If you want the best recipe for a traditional Danish rye bread read along here.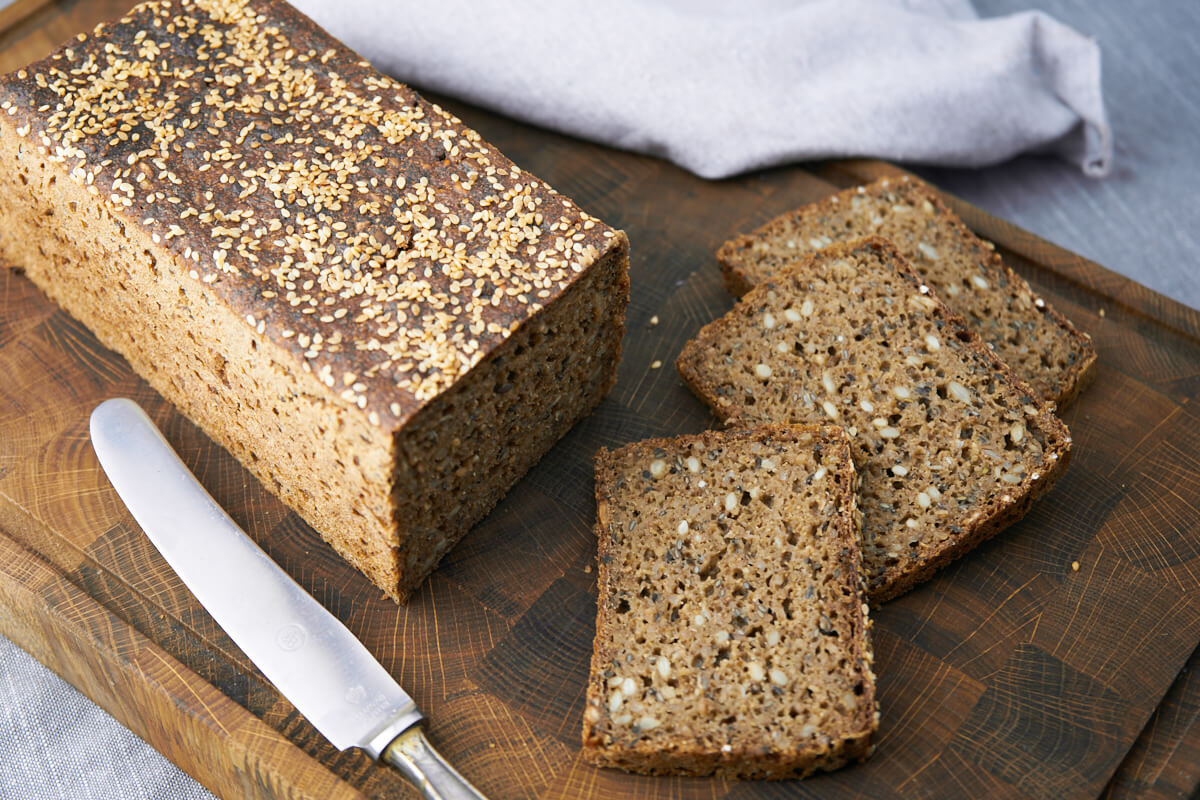 Traditional danish bread for lunch
Rye bread is a big part of our everyday food at our home. It probably is in most Danish families. We eat it for lunch, in the lunch boxes, and for special occasions such as Christmas lunch or Easter lunch.

Because we eat so much rye bread, we only want the best of the best. It has to taste amazing, be healthy and it has to stay fresh for several days. This recipe is the best in all aspects. In our opinion, it is the best danish rye bread recipe, and we bake this bread every week.

Many Danish people either buy their rye bread from the supermarket or the local bakery, but if you want to try making your own, this recipe is so good.

Also, it is difficult to buy rye bread outside Denmark, so if you don't live here, maybe you have to make your own.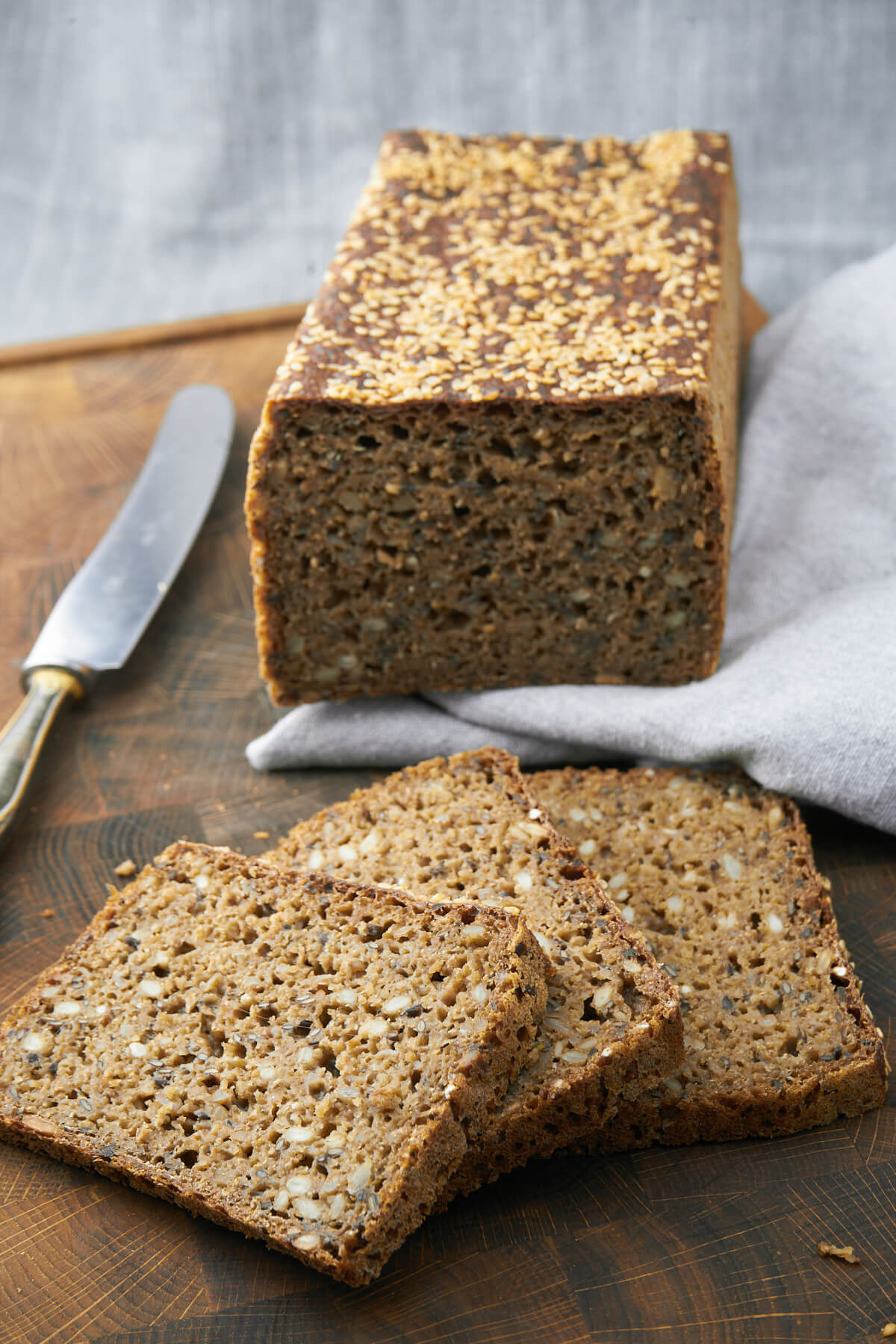 Ingredient notes
Cracked rye kernels – These are very important when making Danish rye bread.

Fresh yeast – I add fresh yeast to make sure the bread rises nicely. IF you have a very active sourdough, you can leave out the yeast.

Salt – Salt is important to give the right taste to the bread. Bread without salt tastes boring.

Sourdough – Sourdough is an important ingredient both for the rising and for the taste of danish rye bread. It is very difficult to give the right taste without sourdough.

Flour – I use a mix of different flour to give the right texture and taste. The primary flour should be rye, but adding a little wheat will make the bread more moist and airy and not too dense in texture.

Seeds – I use a mix of different seeds. These are the ones we like the most, but you can experiment with substituting with others to fit your taste.
How to make danish rye bread
It is not so difficult to make traditional Danish rye bread. First, you need to have an active sourdough to get started.

When making the bread you need to boil cracked rye kernels with water to make them softer.

Then yeast and water are mixed together with all the other ingredients and the soft kernels. Now the dough needs to be kneaded on the mixer. After about 15 minutes the dough needs to rest for 15 minutes before putting it in the bread trays.

The bread should rise to about double size before baking it.

Let it cool off completely before cutting the bread.
Find the full recipe further down this page.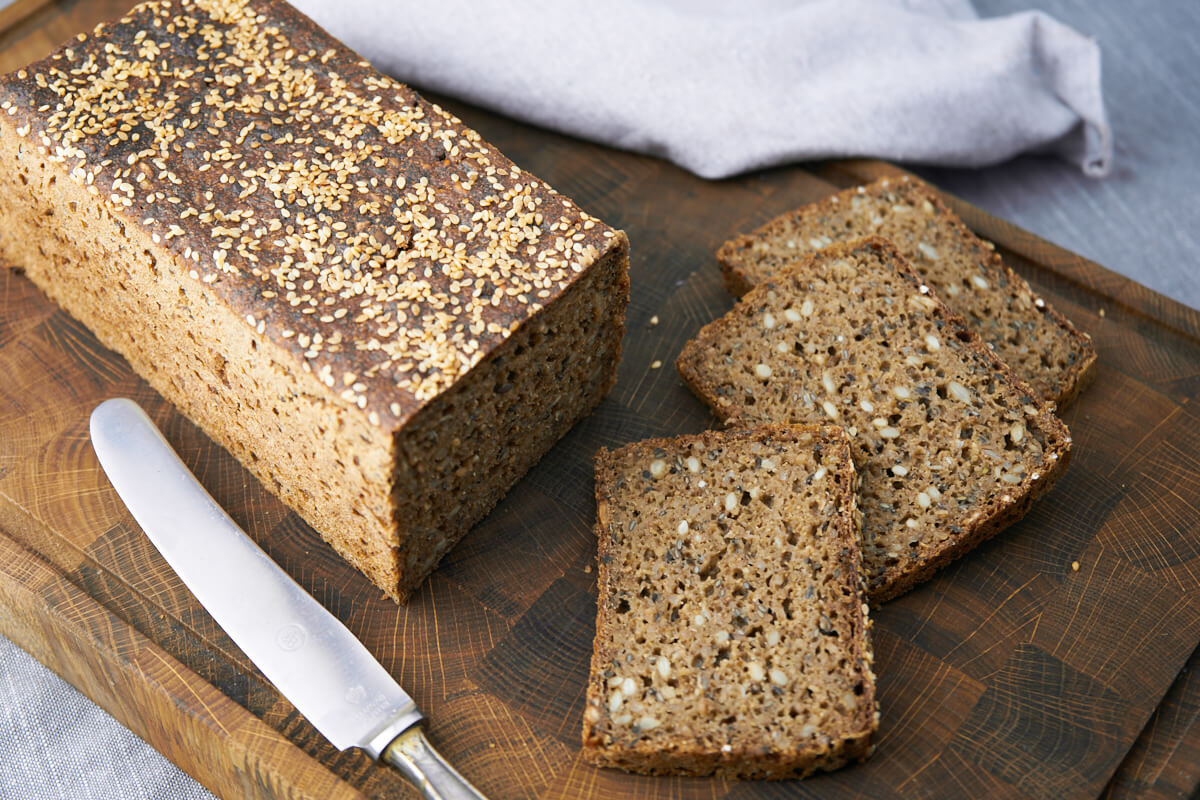 Frequently asked questions
Can the bread be frozen?
Yes. You can freeze the bread in whole or half or in slices. Put it in a plastic bag suitable for storing food. Let it defrost on the kitchen table.
How long will the bread stay fresh and moist?
This bread will be delicious for 3-4 days or more. If you want to store it for a longer period, I recommend freezing it.
Can I use other types of kernels?
Yes, you can. Feel free to switch with the same amount of other kernels.
Other danish recipes you might like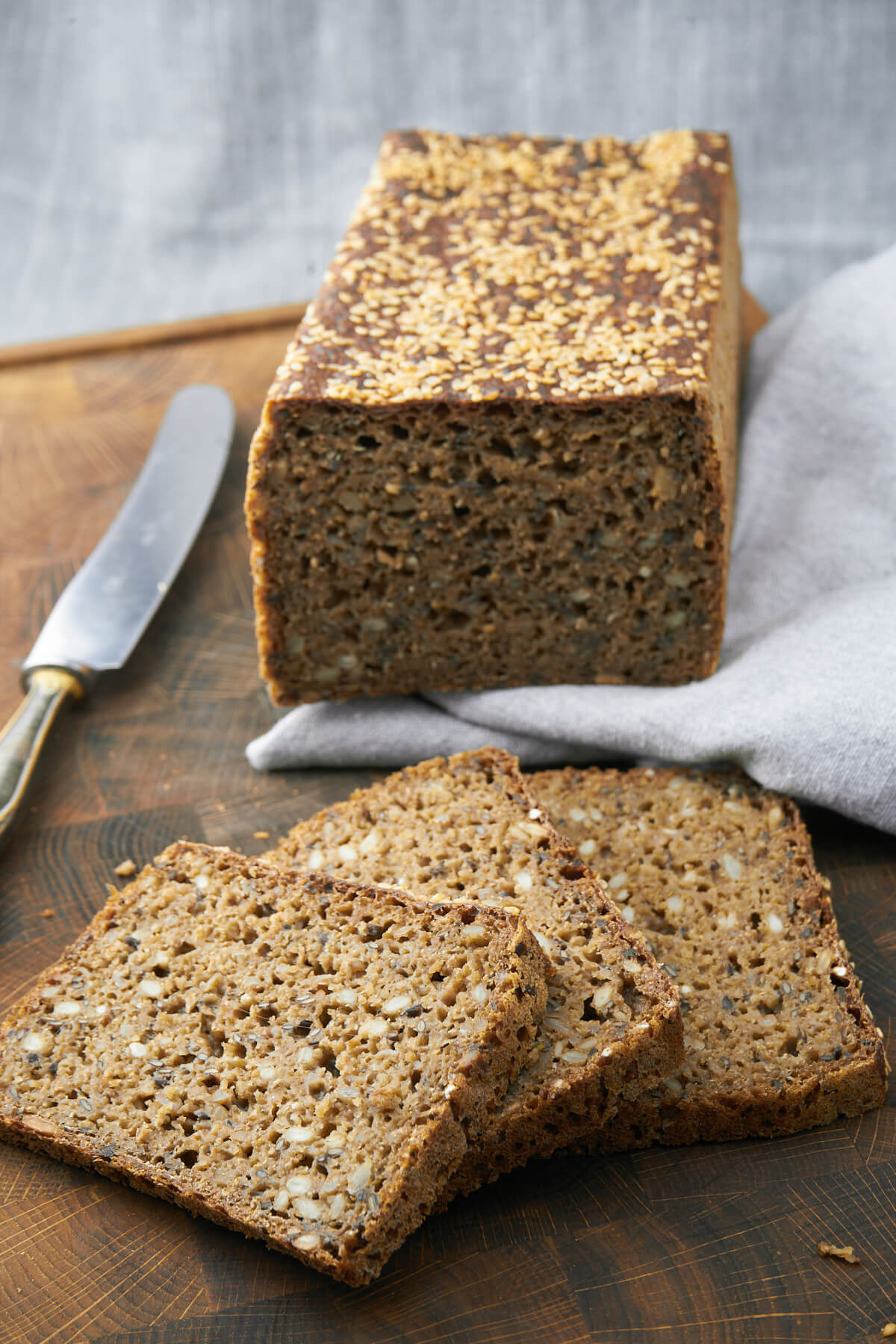 Tips og tricks for the best homemade rye bread
Let the breads raise in the fridge over night. This evolves the taste and makes great bread. Take out the pans and leave them at room temperature while preheating the oven and bake as the recipe states.
Rye breads can be frozen. We cut them in halv, and freezes them in plastic bags. You can also slice the bread and freeze the slices, then you can easily take a couple of slices when you need them.
You can substitute the kernels with other types if you want to.
Serving suggestions
Use for open faced sandwiches or Danish smørrebrød
Make a closed sandwich with your favorite filling.
Fry it and make it crisp in a pan with butter. Use it for soup or as a breakfast with a fried egg.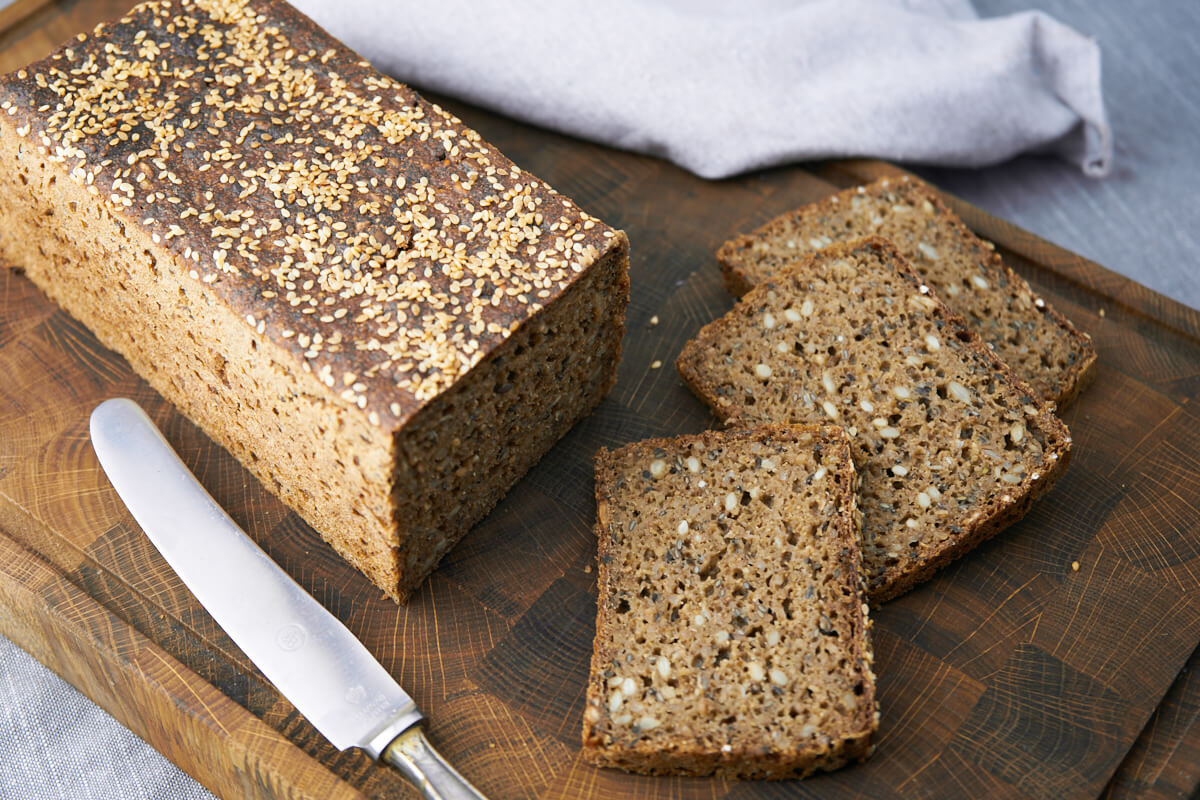 Danish rye bread recipe
This recipe will make for 2 big rye bread. The bread pan I use for this recipe is 30x10x10 cm. You can also make 3 smaller loaves of bread with this recipe, using smaller loaf pans.

We hope you will try out the recipe, and that you will love this bread as much as we do.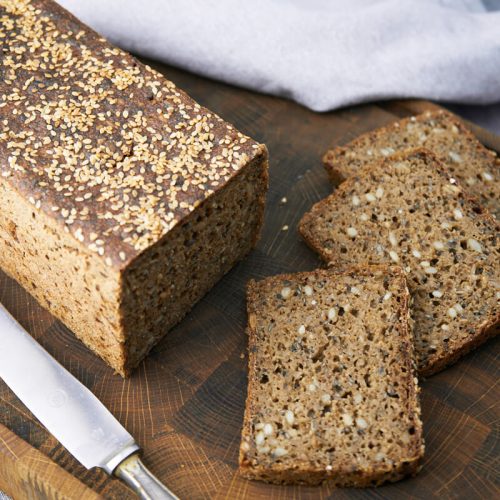 Danish rye bread (rugbrød)
Recipe for Danish rye bread
Rye bread or Rugbrød as we call it in Denmark is a dark bread made primarily from rye. The taste is deep and it is full of good fibers. We eat it for lunch every day and to make Danish open-faced sandwiches or smørrebrød.
Ingredients  
200

g

cracked rye kernels

470

g

water

900

g

water

20

g

fresh yeast

(can be omitted if your sourdough is very active)

25

g

salt

300

g

sourdough

130

g

sunflower seeds

130

g

linseeds

20

g

malt flour

550

g

whole grain rye flour

130

g

whole grain wheat flour

260

g

all-pourpose flour
Instructions 
Boil the cracked rye kernels and

470

g water in a pot for 10 minutes until all water is absorbed. Remove from the heat and let them cool off.

Put

900

g water in a bowl (I use the bowl from the mixer as the dough has to be kneaded for a long time). Dissolve the yeast in the water and add salt and sourdough. Mix it all together and add the rest of the ingredients as well as the kernels from the pot. Knead for 15 minutes.

Let the dough rest in the bowl for 15 minutes.

Butter up two loaf pans (30×10×10 cm) and divide the dough into the pans. Use a wet spatula to even out the top. Sprinkle with sesame seeds.

Let the bread rise to double size on the kitchen counter. It should take about an hour. Longer if you only use sourdough.

Preheat the oven to 250 degrees Celcius. Put a baking tray in the bottom of the oven.

Put the bread pans in the hot oven. Turn down the heat to 220 degrees Celsius and pour 2 dl of water into the baking tray to make steam in the oven. Bake the bread for approx. 1 hour and 15 minutes. Measure the temperature in the middle of the loaves, they should be 96 degrees Celcius in the middle in order to be done.

Let the bread rest in the pan for 5 minutes before turning them out on a wire rack to let them cool completely before cutting them.
Nutrition
How do you like the recipe?
Have you tried this recipe? We'd love to hear what you think of it. Leave a comment, add a number of stars to the recipe and share your photo on Instagram with #madformadelskere – We love seeing your dishes ♥️
Note: This recipe is a translation of our danish recipe "Rugbrød" which can be found on our danish food blog.
Also, sign up for our Facebook group where you can show pictures of the delicious food you make! You can find the Facebook group here