Danish cold rhubarb soup with vanilla ice cream equals summer. When you eat it, it feels and tastes like danish summer on a plate. The kids gobble it down, and we adults enjoy the ice-cold soup with the fine and delicate taste of rhubarb. It is in every way a super nice and delicious summer dessert for when the rhubarb announces its arrival.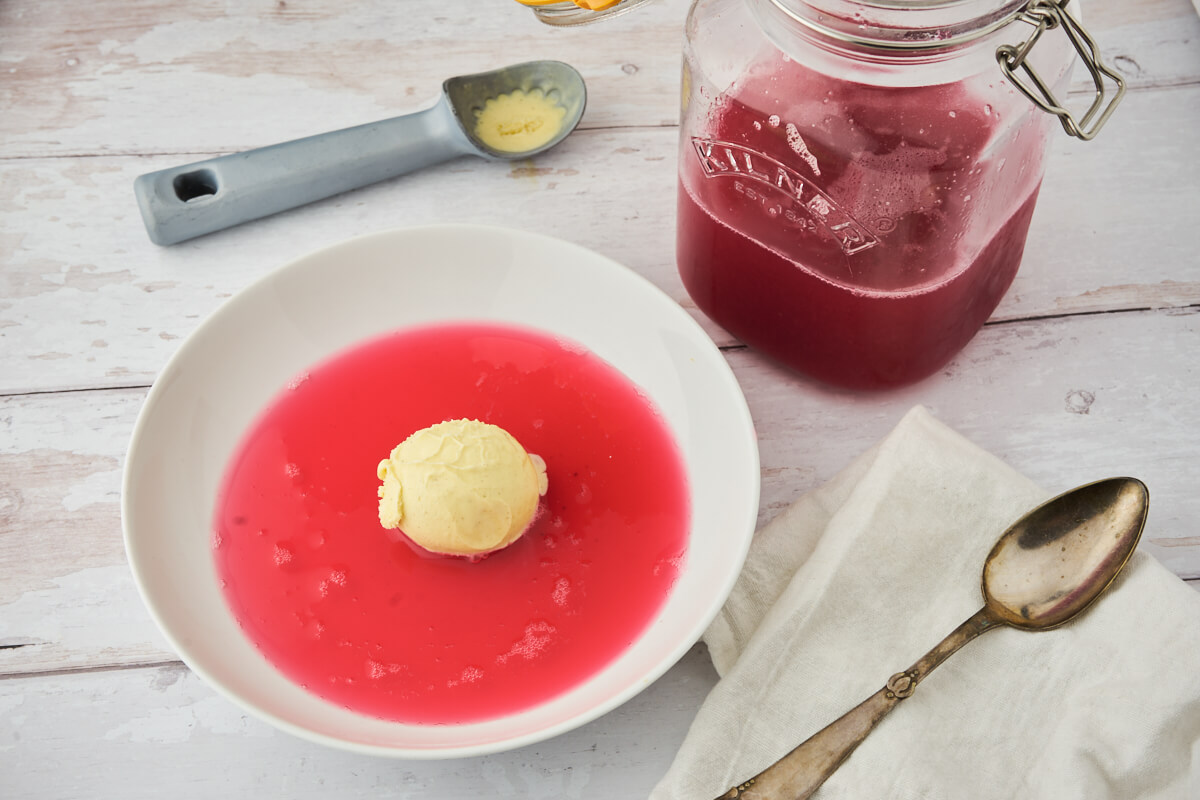 Cold soup, a traditional danish dessert
To many, it sounds crazy. Soup for dessert? And then a cold soup. But in fact, it just works super well. The ice-cold soup is actually just a delicious rhubarb juice with vanilla, which is served in a bowl with, for example, vanilla ice cream, biscuits, or marzipan croutons.

The soup can actually also be served hot, but that is not so common.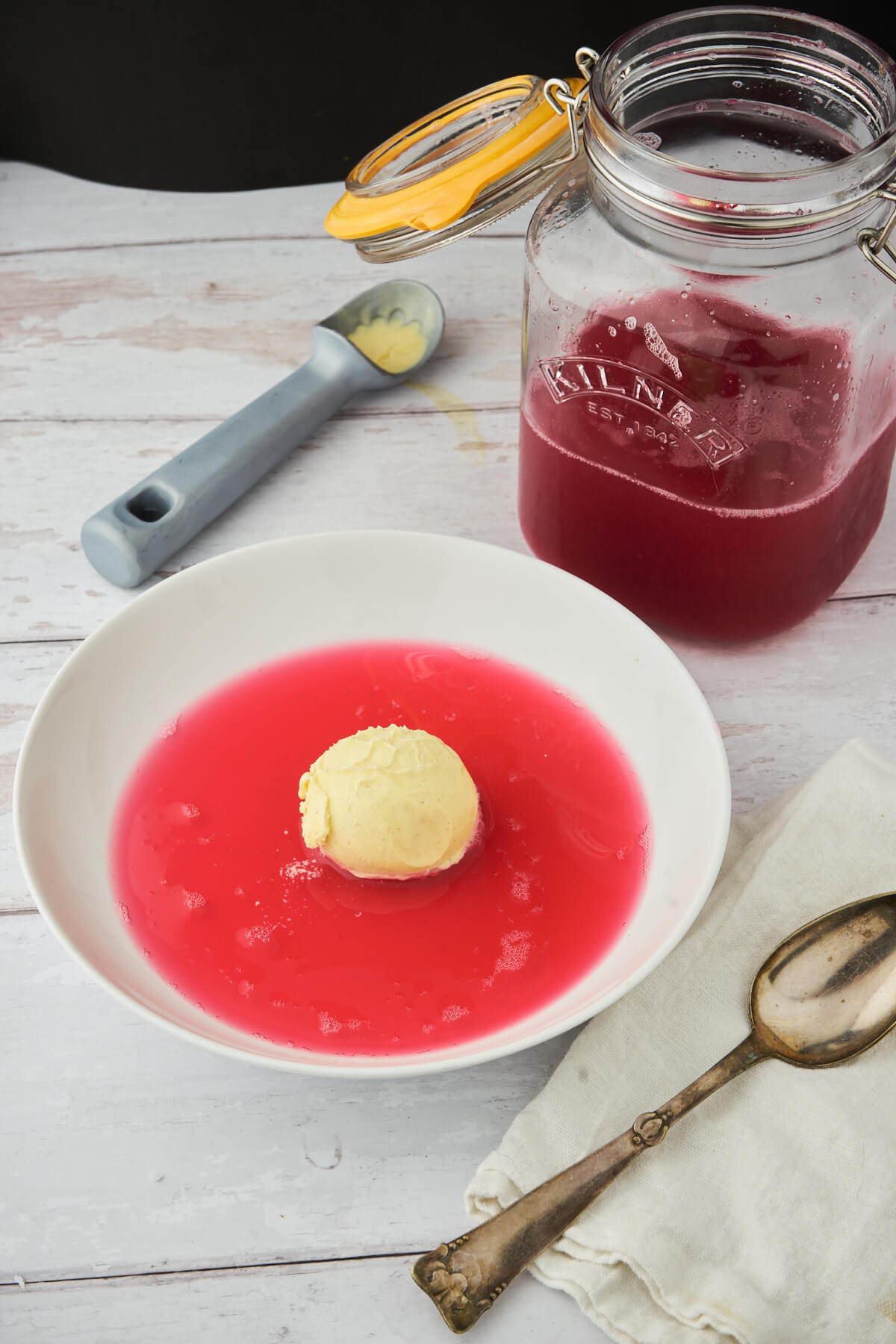 Ingredient notes
Rhubarb – Of course, they are needed for this recipe. It is the main ingredient. If you have rhubarb in the garden, use them, or go to the local farmers market to get the best ones.

Water – To boil the rhubarb in.

Vanilla – To give a nice taste. Use vanilla sugar, vanilla from a bean, or vanilla paste.

Cane sugar – To sweeten the soup. Gives a deep and lovely taste to the soup.
How to make Danish cold rhubarb soup?
It is really easy to make this traditional Danish dessert yourself. Or Scandinavian dessert, as they also eat it in other Scandinavian countries.

First, boil the rhubarb in a saucepan with water and vanilla. After 20 minutes, strain the juice and return it to the pan. Now you need to put cane sugar in, and when it is completely dissolved in the rhubarb soup, well then you take it off the heat and let it cool down.

Someone likes a thicker rhubarb soup, and then you can pour in a little potato starch whisked into water. We like the version without the best.

When the soup is completely cold, serve it in bowls with a scoop of vanilla ice cream or other toppings.

Find the full recipe further down this page.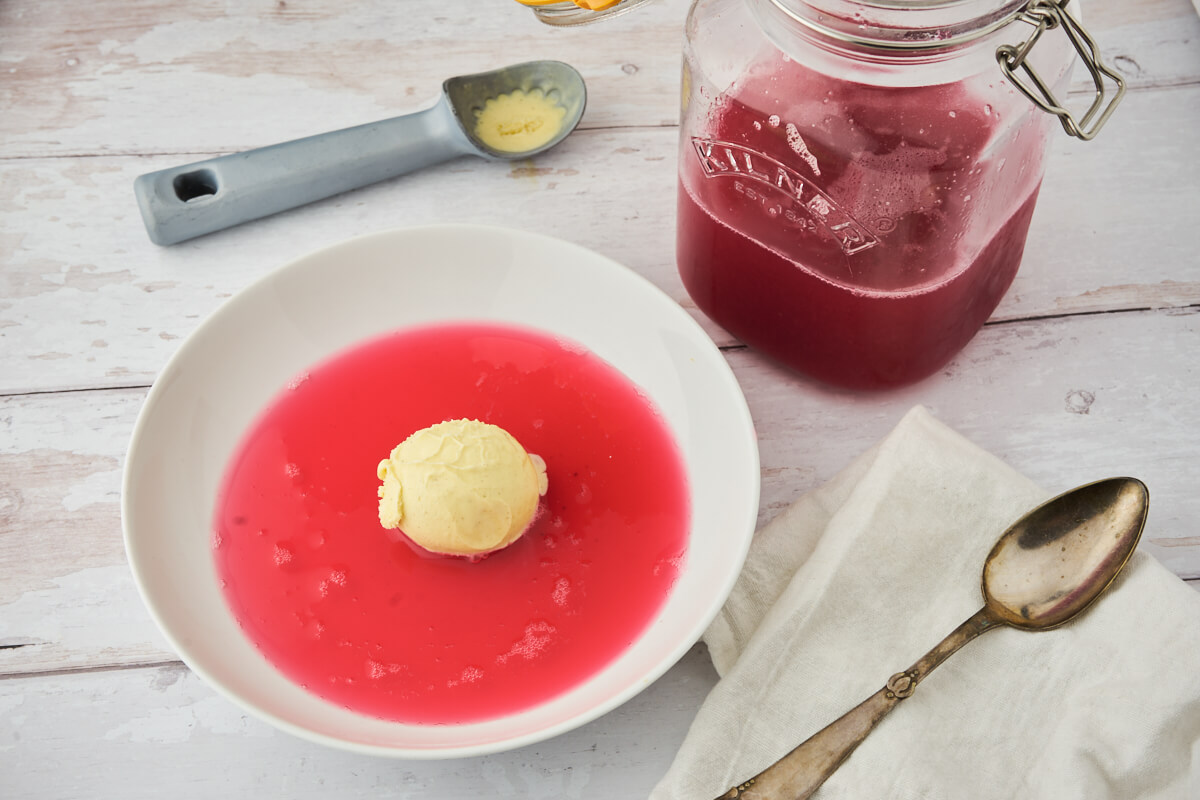 Frequently asked questions
Can I use anything else than rhubarb?
Yes, you can also use any kind of berries. Try a mixture of different red summer berries.
How to store rhubarb soup?
The soup should be stored in the fridge until serving. It should be served cold.
Other recipes you might like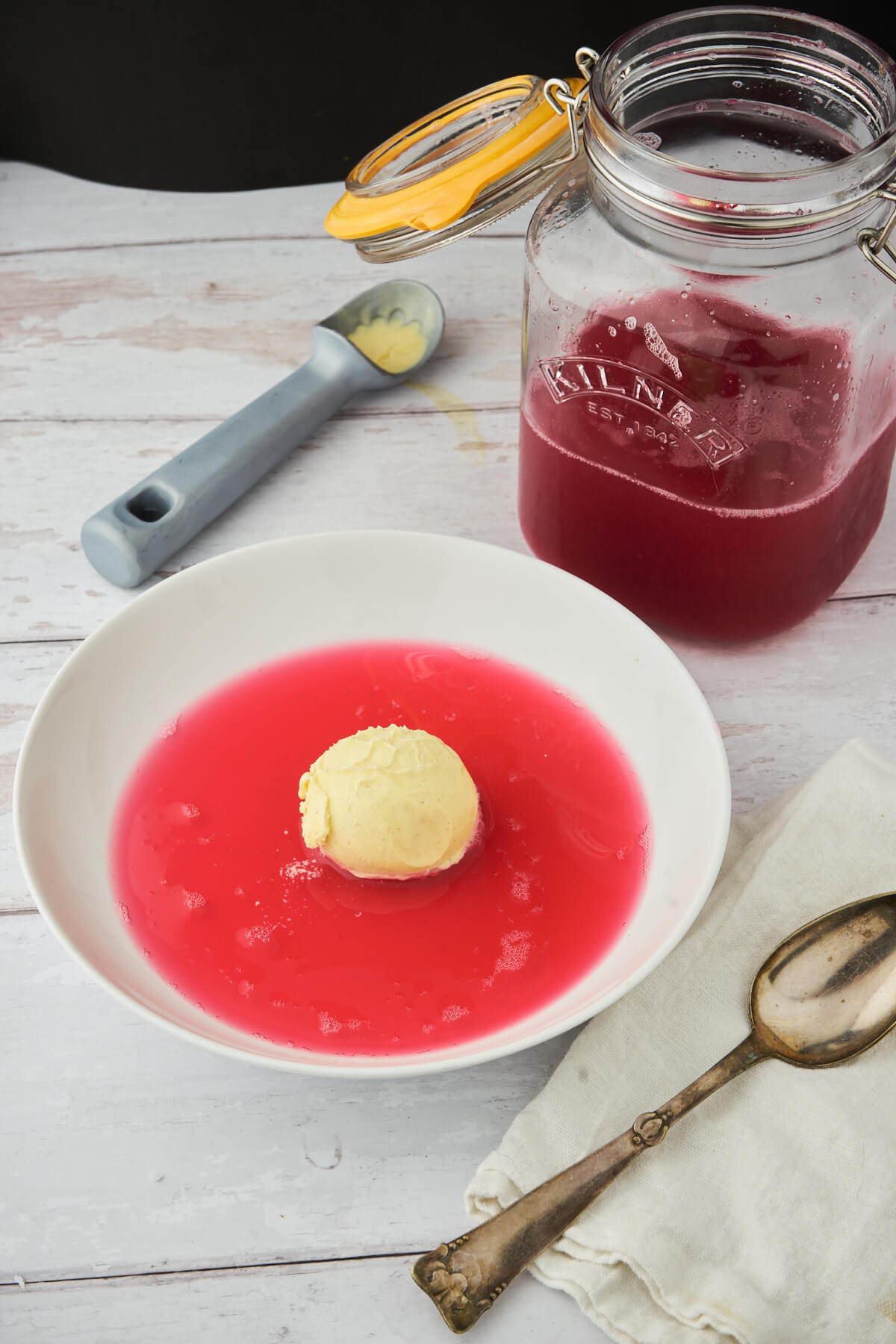 Tips and tricks
Try mixing rhubarb with red berries from the garden if you have any.
How to serve rhubarb soup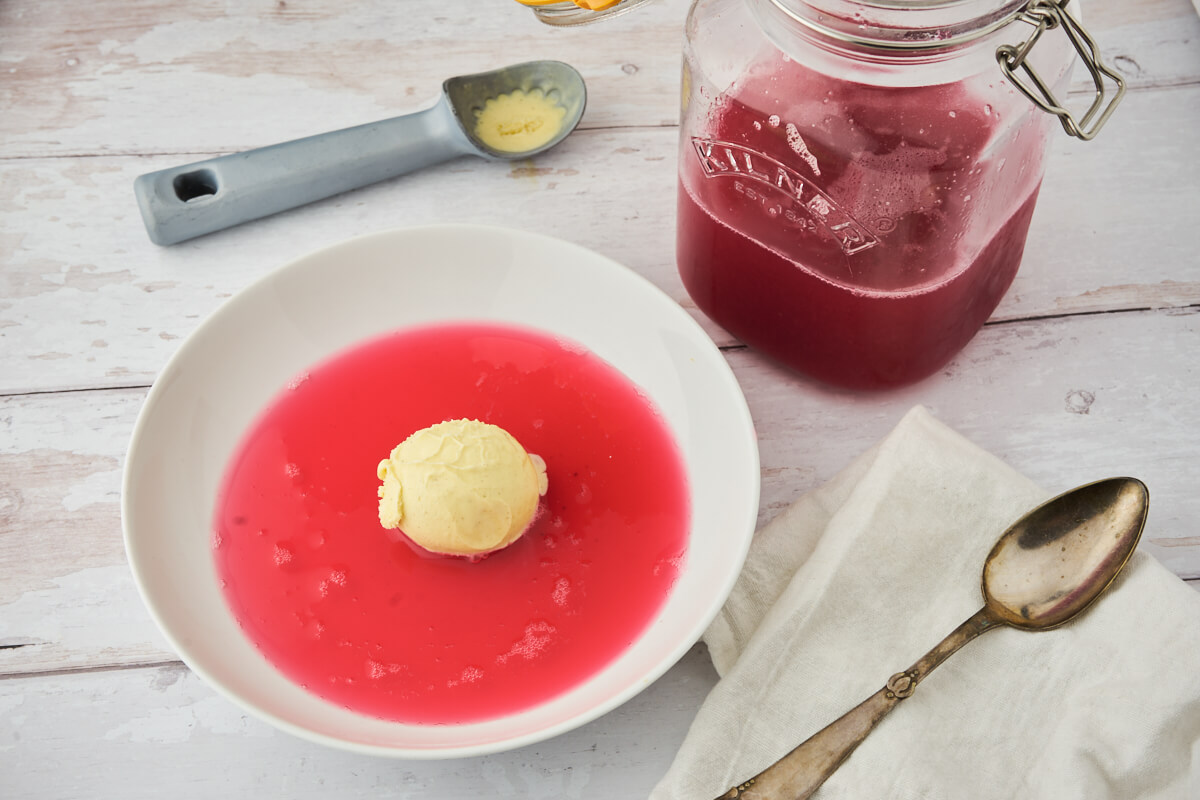 Recipe for the best summer dessert with rhubarb
Here you get our easy recipe for a delicious rhubarb dessert that the whole family will love. It's so easy to make and you can get the kids to help cut out the rhubarb. It is a task our children love to do.

Once you have made the soup, you can choose whether you want to serve it cold or hot. We like it ice cold with a scoop of homemade vanilla ice cream in it. We hope you want to try out the recipe.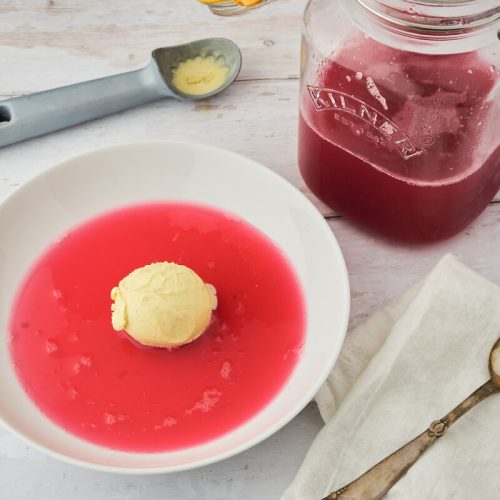 Cold rhubarb soup
Recipe for cold rhubarb soup
In Denmark, this is a traditional summer dessert with rhubarbs. Many people grow their own rhubarbs in their garden, and this dessert is a perfect use for them. Serve it cold with homemade vanilla ice cream on top.
Ingredients  
500

g

rhubarb

1

l

water

2

tbsp

vanilla sugar

120

g

cane sugar
Instructions 
Clean the rhubarb and cut it into slices of about 1 cm.

Put rhubarb slices, water, and vanilla sugar in a saucepan and boil over low heat under a lid for 20 minutes.

Pour the juice through a fine-mesh sieve and pour it back into the pan. Pour sugar into the juice and heat until the sugar is completely melted. Taste the soup, maybe a little more sugar, depending on how sweet or sour the rhubarb is.

If you want to thicken the soup, you can do it now with 2 tbsp. potato starch stirred in a little water, we like best the unthickened version.

Take the pan off the heat and pour the soup into a jar or bottle. Keep it refrigerated until it is to be served.

Serve the soup ice cold with a scoop of vanilla ice cream. It is a good idea to put the rhubarb soup in the freezer 30 minutes before it is to be served to ensure that it is completely cold. Also, serve it in cold bowls.
Nutrition
How do you like the recipe?
Have you tried this recipe? We'd love to hear what you think of it. Leave a comment, add a number of stars to the recipe and share your photo on Instagram with #madformadelskere – We love seeing your dishes ♥️
Note: This recipe is a translation of our danish recipe "rabarbersuppe" which can be found on our danish food blog.
Also, sign up for our Facebook group where you can show pictures of the delicious food you make! You can find the Facebook group here