We all know the classic danish lemon mousse, and orange mousse is the extremely tasty cousin. This mousse is mild and sweet in taste and is therefore always a hit with both children and adults. Read along here and get our recipe for an airy and creamy orange mousse served in a glass. Of course, it can also be served in a large bowl if you prefer.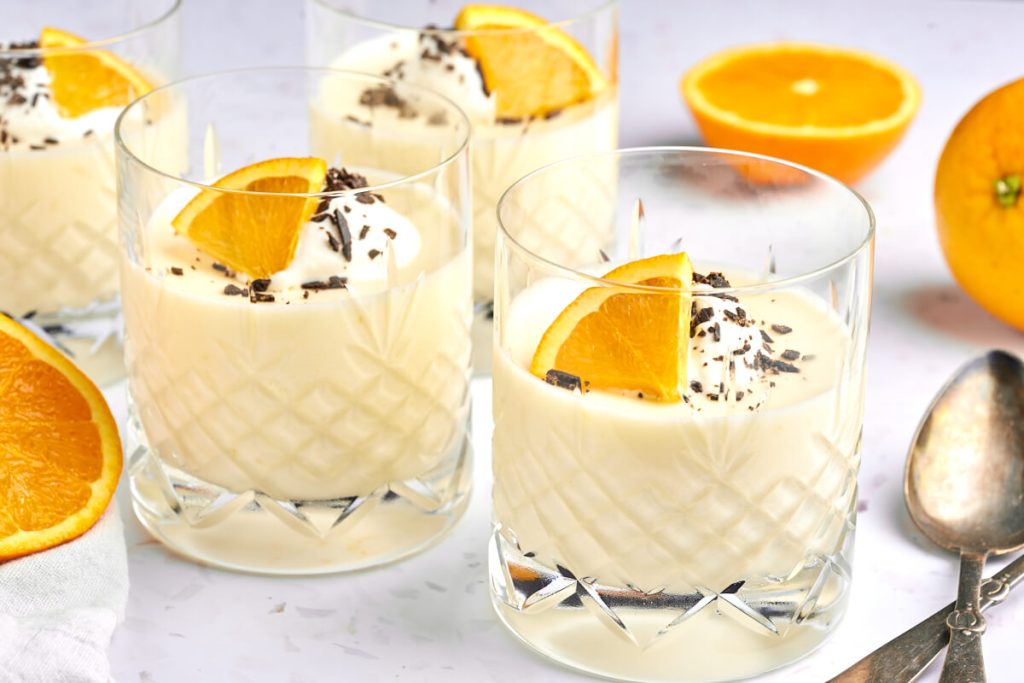 Sweet and mild dessert
We love a good lemon mousse here in our family, but there are many who have a mixed relationship with the classic grandmother dessert. For them, orange mousse is a super good alternative.

It's sweeter in taste, and it's mild, delicious, and creamy.

It is a dessert you can easily make in advance, so it is ready in the fridge when the main course is eaten and you need a little sweetness afterward.

The children here love orange mousse. It's just something that falls to their liking. They also love oranges, so along with the sweet creamy fromage and then just with a little whipped cream and chocolate on top then they are very happy.

So it's a really child-friendly dessert, but we adults are also quite crazy about it.

If you need a delicious and easy dessert with orange to serve on top of a delicious meal, then you should try this one. So it's the world's best orange mousse with chocolate on top and a lovely mild orange flavor.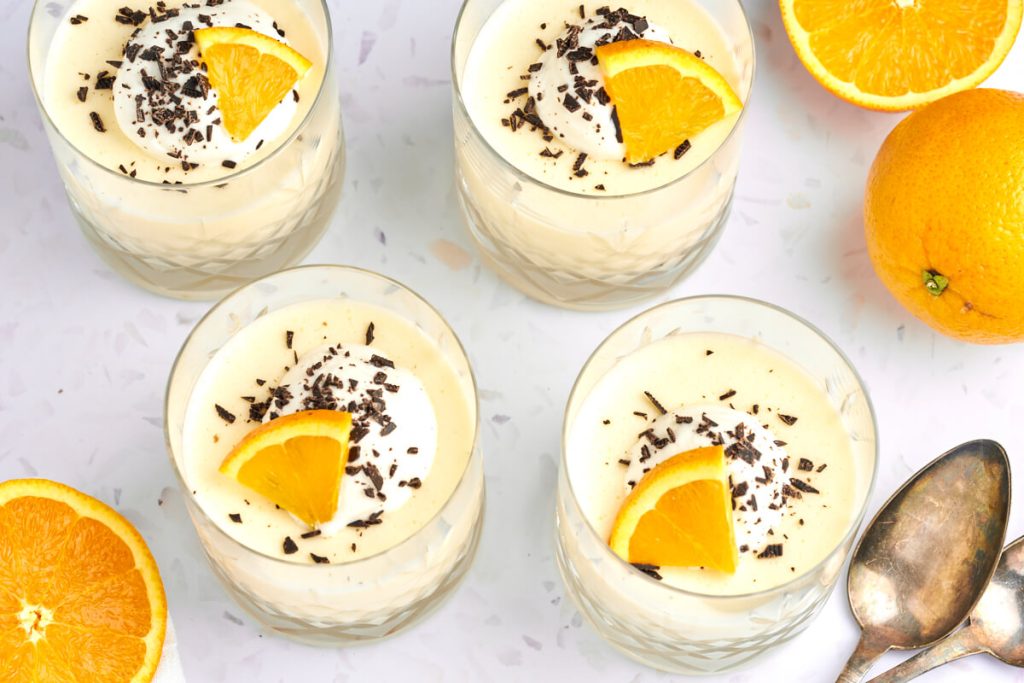 Ingredient notes
Oranges – For this recipe, choose some juicy organic oranges. You also need the peel, so make sure they are organic. If you have oranges that are slightly acidic in taste, then they are perfect for the mousse, as it can use a little acidity. If your oranges are very sweet, you may want to add a little lemon juice.

Eggs – Eggs must be in a mousse. We always use fresh ordinary whole eggs. If you prefer using pasteurized eggs, then you can easily do it. Danish eggs are salmonella-free, but not everyone wants to eat them in desserts raw.

Gelatine – Buy gelatine sheets. It's not as hard to work with as many people think. The important thing is to soak it in cold water before you need it. Then twist the gelatine and melt it in the hot orange juice.
How to make orange mousse?
Many people are worried about using gelatine in desserts. Don't be. Actually, it's not that hard. Just follow the recipe further down the page here and it'll be really delicious.

First, you need to have eggs and sugar beaten airily. Here you should use the mixer or a hand mixer. Meanwhile, the gelatine should soak in cold water. Then you need to grate orange peel and squeeze the oranges. The soaked gelatine should be melted in a little of the orange juice, which is then mixed with the remaining juice and orange peel.

Now the juice should be poured into the fluffy eggnog, which is eventually turned with whipped cream, and then it should be poured on glass and in the refrigerator. Before serving, your mousse can be decorated with whipped cream, chopped chocolate, and orange slices.

You can easily make the dessert the day before it is to be served, then you have better time and the mousse can be set properly.

Find the full recipe further down the page here.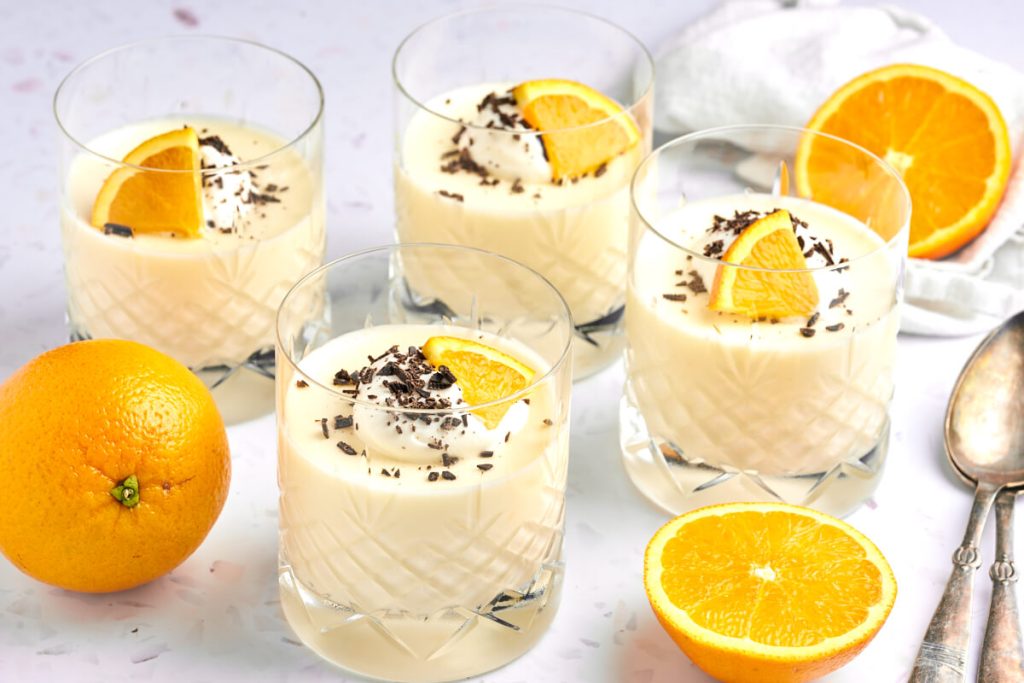 Frequently asked questions
How to store orange mousse?
The finished orange mousse should be stored in the refrigerator.
Can I make the dessert the day before?
Yes. You can easily make the mousse earlier in the day or the day before. It benefits from resting and refrigerating, and can easily sit to the next day. If you make it the day before, I recommend that you wait to decorate it until it is to be served, otherwise the whipped cream may well collapse a little on top of the dessert
Can I use anything but oranges?
Yes! This recipe you can use for a mousse with other citrus fruits too. Try, for example, grape, lime, or lemon.
Do I need to serve it in a glass?
No, you can serve it any way you want. There are some people who would rather serve the mousse in a large bowl, and you can easily do that with this recipe. In a glass, it is easy to serve, which is why we usually make desserts in glass rather than in a large bowl. But it's entirely up to you.
For what occasion can I serve orange mousse?
The mousse dessert is perfect for a lot of different occasions. It's perfect if you're looking for an Easter or New Year's dessert in a glass, or if you've invited friends and family for Christmas or duck roast for Morten's Eve. It is a dessert both children and adults love as it is mild and delicious in taste. You can serve it in glass or in a large bowl that you can share at the table.
Other recipes for mousse you might like
Recipe for the best mousse with oranges
Here's our recipe for orange mousse. It's a mild mousse with a taste of orange, and it's a hit with kids and adults alike.

It is an easy dessert that you can serve in glasses or in a large bowl if you would rather. I hope you want to try the recipe and serve the dessert to your family.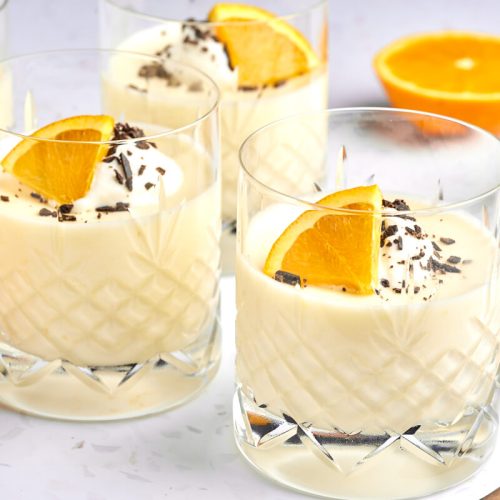 Orange mousse
Recipe for creamy orange mousse
Orange mousse served in a glass or large bowl and garnished with whipped cream, chopped dark chocolate and slices of fresh orange. Perfect Easter dessert or dessert after a good dinner. It is a wonderful and easy dessert that both children and adults love.
Ingredients  
4

sheets

gelatine

3

eggs

100

g

sugar

3

oranges

large

4

dl

whipping cream
Topping:
2

tbsp

dark chocolate

1

slice

orange
Instructions 
First, soak the gelatine sheets in cold water for 5 minutes.

Then beat eggs and sugar untill a fluffy eggnog, use a mixer or a hand mixer.

Finely grate the peel of the oranges (you will need

1

tablespoon of grated orange peel) and squeeze the juice out of the oranges (you will need 1.5 dl of orange juice).

Squize the water out of the gelatine and put it in a saucepan together with 2 tbsp. of orange juice. Heat on low heat until the gelatine is completely melted. Stir in the meantime.

Once the gelatine has melted, take the pan off the heat and add the remaining orange juice and the orange peel. Now gently combine the orange juice with gelatine and orange peel into the fluffy eggnog.

Whip the cream into light whipped cream. Carefully combine the whipped cream into the eggnog / orange mix, save a little whipped cream for garnish (approx. 1 dl). Serve your orange mousse in a large bowl or in a small serving glass, and refrigerate for 2 hours so that it can set. Garnish with a little whipped cream on top, chopped dark chocolate and orange slices before serving.
Nutrition
How do you like the recipe?
Have you tried this recipe? We'd love to hear what you think of it. Leave a comment, add number of stars to the recipe and share your photo on Instagram with #madformadelskere – We love seeing your dishes ♥️
Note: This recipe is a translation of our danish recipe "Appelsinfromage" which can be found on our danish food blog.
Also sign up for our Facebook group where you can show pictures of the delicious food you make! You can find the Facebook group here