Spinach roulade with salmon is a beautiful starter that can be served to guests or your family. It consists of a spinach base filled with cream cheese with lots of dill and smoked salmon. It's easy to make and is guaranteed to impress as a New Year's starter. Read along and get our recipe.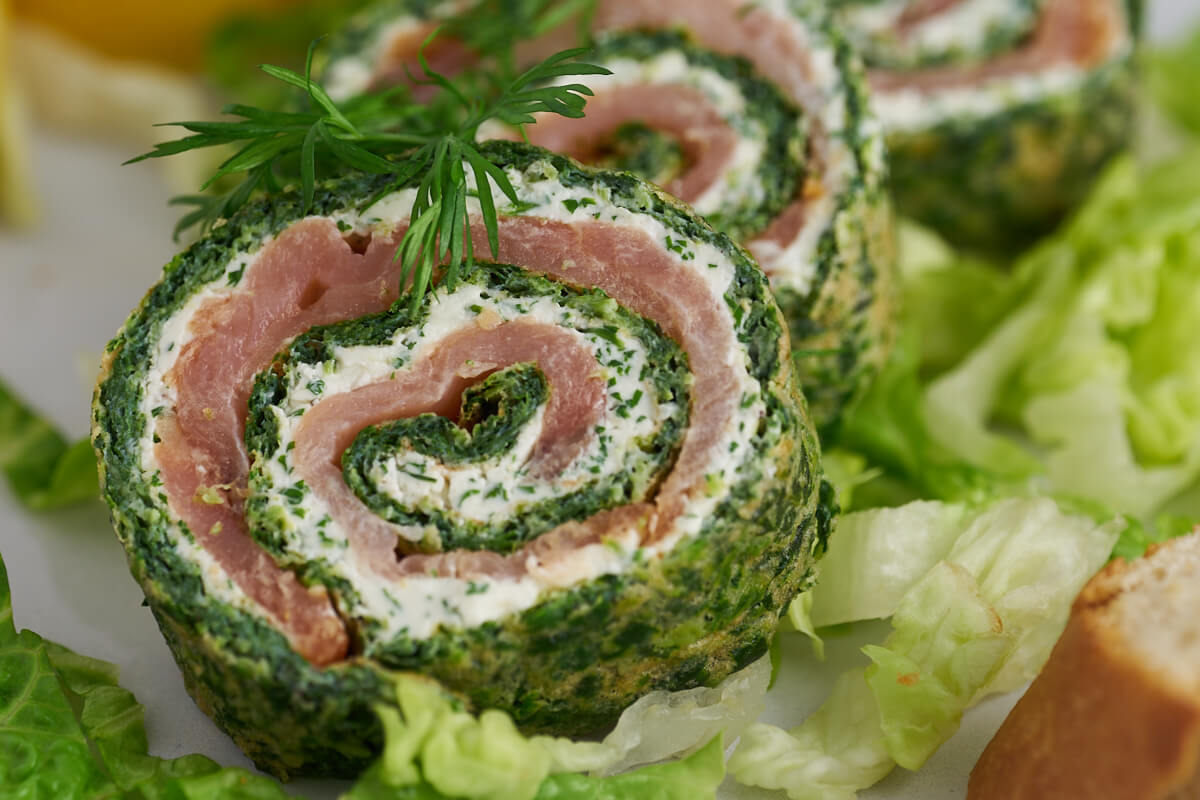 Pretty starter that can be made in advance
This spinach roulade with salmon and cream cheese is close to the perfect starter with fish. It is a really beautiful starter on the plate, both because of the fine spiral in the roulade, but also because of the beautiful green color from the spinach.

In addition, it is really good for having guests over, because it has to be made in advance and stand in the fridge rolled together a few hours before it is cut out. Just before it is to be served, you can cut it out and plate it with a little lettuce, lemon boats, and a good baguette.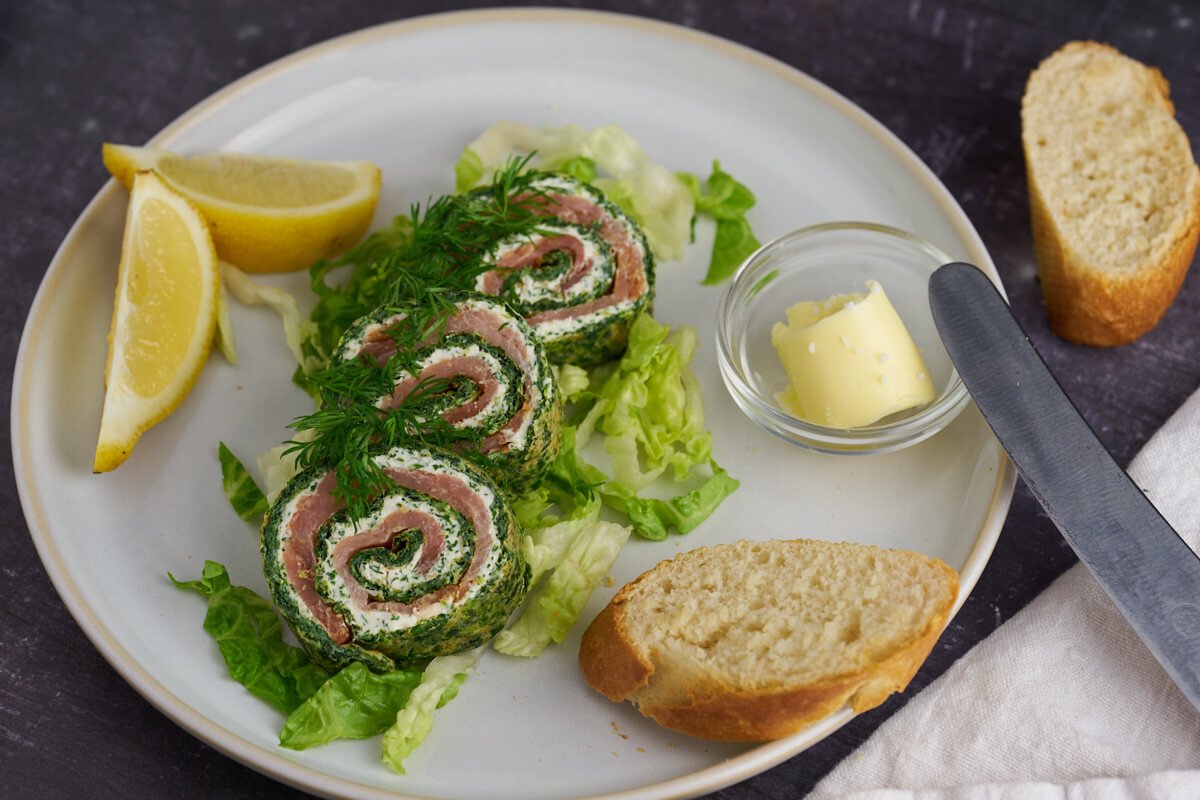 How to make spinach roulade with salmon
This recipe consists of 3 elements – the spinach base, the cream cheese filling, and the smoked salmon. Be sure to buy some good cold smoked salmon to get the best result.

For this recipe you will need:
Spinach, we use frozen spinach, which thaws before use.
Eggs
Milk
Lemon
Cream cheese
Dill
Smoked salmon
Salt og peber
First, the base has to be made. Once the spinach has thawed, it is put in a strainer and drained of water. Then divide the eggs into yolks and whites. The yokes are mixed together with spinach, milk, lemon zest, and salt and pepper. Then whisk the whites and turn together with the spinach mixture. Spread the dough onto a baking sheet and bake in the oven for about 20 minutes. Then cool it down and prepare the filling.

For the cream cheese filling, mix cream cheese with dill, lemon juice, salt, and pepper. The cream is spread out on the bottom and the salmon is distributed over. Then roll it together and cool for a few hours before it can be cut and served.

Find the full recipe further down this page.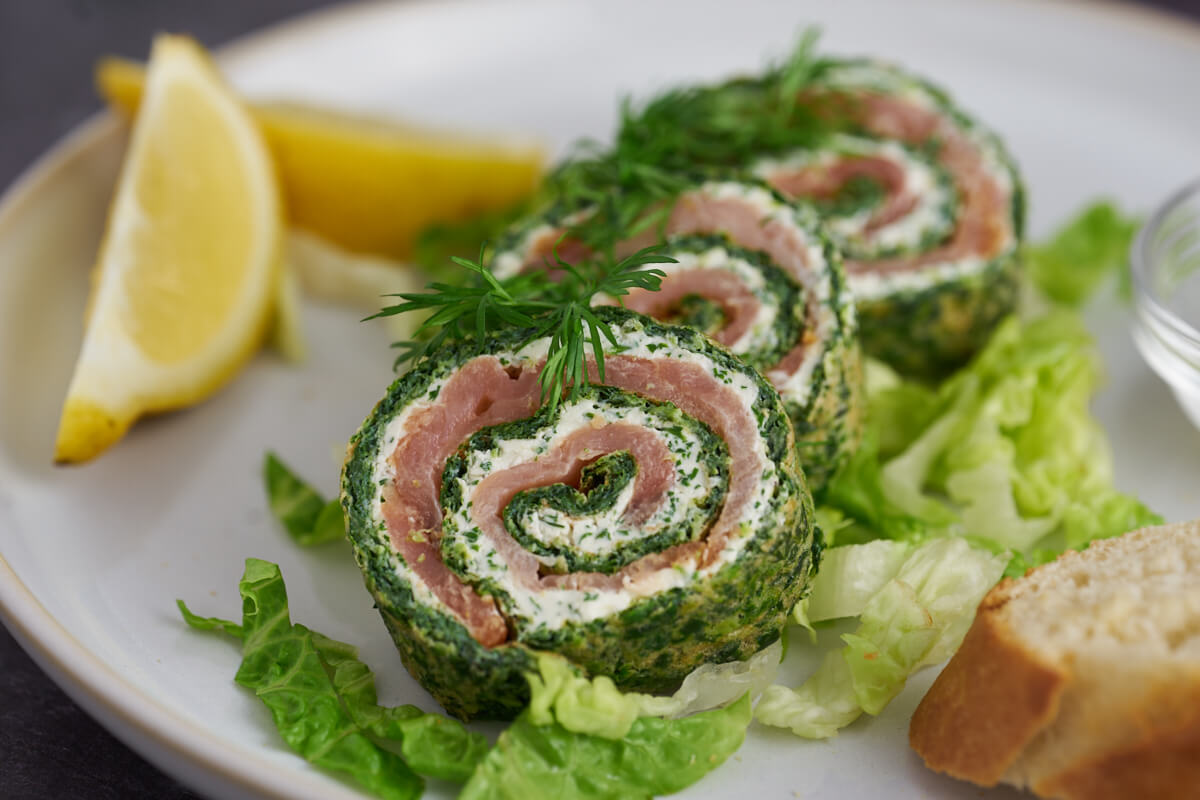 Recipe for delicious salmon roulade with spinach
Here you get our recipe for a delicious and easy spinach roulade with salmon and cream cheese filling. You can easily prepare this starter in advance, and then cut it out and plate it up just before serving.

It's a delicious starter for New Year's or other festive occasions, it's definitely going to be our New Year's starter this year. We hope you will try out the recipe.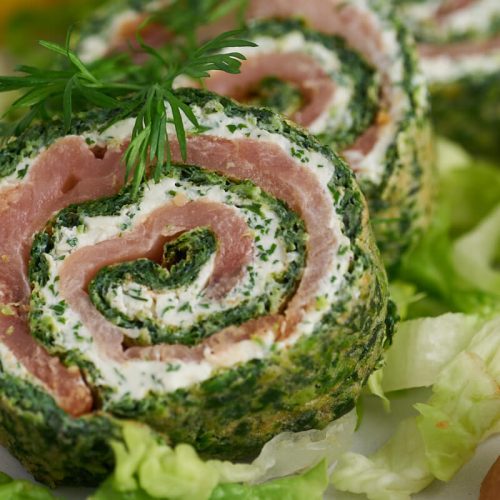 Spinach roulade with salmon
Recipe for Spinach roulade with salmon
Easy and delicious salmon roulade with spinach and cream cheese filling. Perfect for a starter, a lunch, or as a part of a nice brunch.
Ingredients  
Spinach base:
450

g

spinach

chopped and defrosted

4

eggs

½

dl

milk

1

tsp

salt

Pepper

1

lemon

the peel, the juice is used in the filling
Filling:
300

g

cream cheese

natural

1

bundle dill

finely chopped

Pepper

1

lemon

the juice

300

g

smoked salmon

cold smoked in thin slices
Instructions 
Spinach base:
Turn the oven to 200 degrees Celcius.

Put the thawed spinach in a sieve and squeeze the water out of it.

Divide the eggs into yoaks and whites.

Mix egg yolks, milk, drained spinach, lemon zest, salt and pepper together.

Beat the egg whites very stiffly. Mix ⅓ in the spinach mixture, then carefully turn the rest of the whipped egg whites in, avoiding beating the air out of the dough.

Spread the dough on a 40 × 30 cm baking sheet lined with baking paper. The dough should be about ½ cm thick.

Bake the base at 200 degrees for 15-20 minutes or until firm and slightly golden.

Let it cool for 5 minutes before removing the baking paper from the bottom so that it can cool completely.
Cream cheese filling:
Mix cream cheese, dill, lemon juice and season with pepper.
Filling and rolling:
Spread the cream cheese on the cooled base. Leave a few cm free on one of the long edges.

Place slices of cold-smoked salmon on top of the cream cheese, then roll the roulade tightly together from the opposite side of the free edge.

Wrap the roulade in cling film and put it in the fridge for at least 2 hours, so it is easier to cut.
Serving:
Cut the roulade into slices of about 2 cm and serve 3 slices per person for starters. Serve the roulade with a little salad, lemon slices and bread
Nutrition
How do you like the recipe?
Have you tried this recipe? We'd love to hear what you think of it. Leave a comment, add number of stars to the recipe and share your photo on Instagram with #madformadelskere – We love seeing your dishes ♥️
Also sign up for our Facebook group where you can show pictures of the delicious food you make! You can find the Facebook group here