We're not big potato fans at our house. In fact, it's not often we get potatoes for dinner, but that may change now that we've finally found the recipe for the perfect crispy oven-roasted potatoes. These crispy potatoes in the oven with rosemary and oregano, are really the ultimate crispy oven potato. Yum! I love them. So did the rest of the family, by the way!

This recipe is a method of making delicious crispy potatoes in the oven, which you must promise me to try. First, the potatoes must be pre-cooked with baking soda in the water – it breaks down the starch and gives a surface of the potatoes that makes them super crispy in the oven.

Then the pre-cooked potatoes have to go in the oven with delicious oil until they become super crispy. Eventually, they are seasoned with rosemary, oregano, and garlic. These little rosemary potatoes are just SO good, and we're never going to make crispy oven-roasted potatoes in any other way again.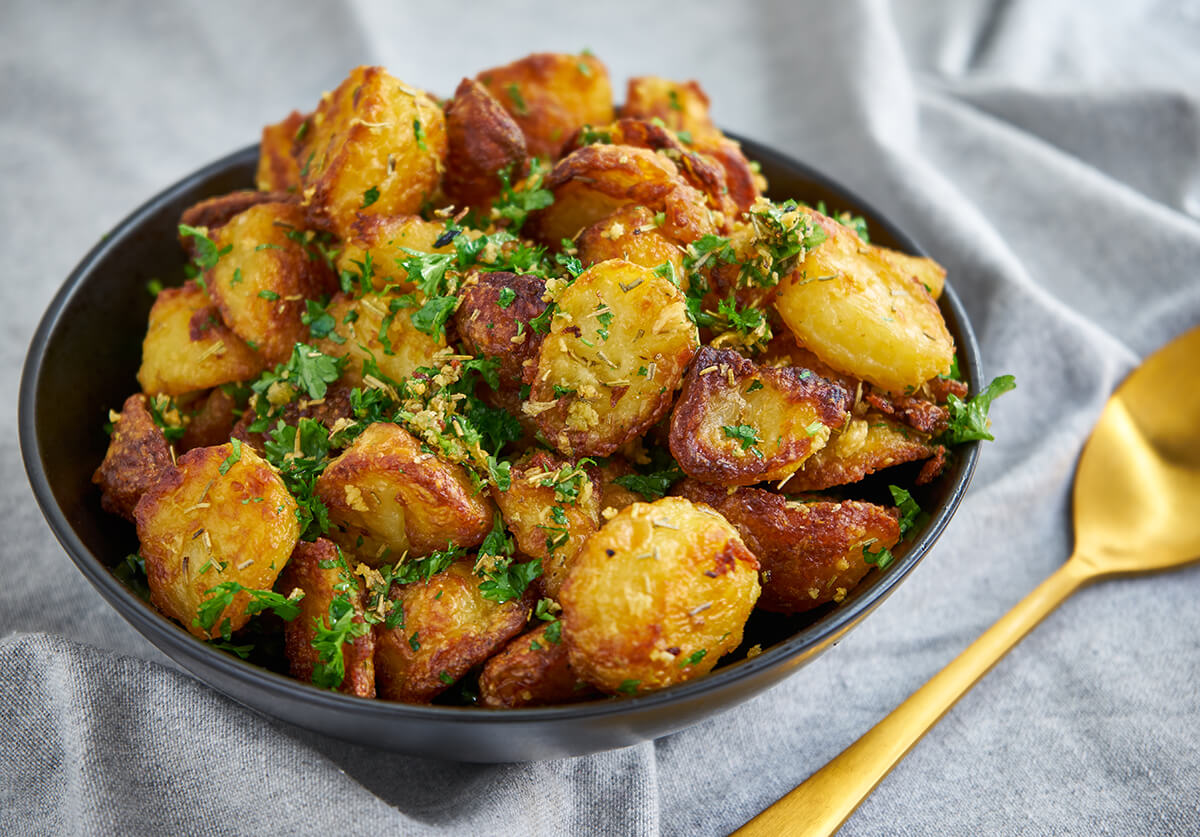 Easy oven potatoes for the whole family
There may be an extra step in this recipe compared to the roasted potatoes you normally make, but once you've tried to cook them this way, you won't do without this step.
It's not a very difficult recipe, and once you have the technique and the secret ingredient in place, you can always make delicious potatoes for dinner.
All you need is:
Potatoes
Water,for pre-cooking
Baking soda (it's the secret ingredient in this recipe)
Salt and pepper
Parsley
Spiced oil (which you can also easily make yourself!)
The secret behind these extremely crispy potatoes, as I said, is to cook them with baking soda. It breaks down the starch on the surface and makes them a bit dull.
It may not sound so nice, but it is actually this surface that gets quite crisp and delicious in the oven and gives a great result.
Dressing for roasted potatoes
You can use many different dressings for oven potatoes. We really like them with regular mayonnaise, a chili mayo, or a bearnaise mayo. They are also good with ketchup or a thick parsley sauce with a piece of fish.
Tips and tricks
Be sure to shake the cooked potatoes well in the bowl, to break down the surface. Don't be afraid to destroy the surface – of course, they should not become totally smashed. But it's the broken surface that makes them crispy in the oven.
If you want to make them for Christmas, you can only season them with salt and pepper, and use duck or turkey fat instead of oil.
Try with other spices, for example herbs de provence or thyme.
Storage
The potatoes are most crunchy and crispy if eaten immediately. You can easily store them for the next day in the fridge, but then they will be soft. Our recommendation is therefore to eat them immediately, and once you get started, it is not a difficult task.
Other potato recipes you might like
Crispy roasted potatoes recipe
Here is our recipe for little crispy potatoes in the oven.

This recipe needs no more explanation – just try them! You will not regret it, we promise.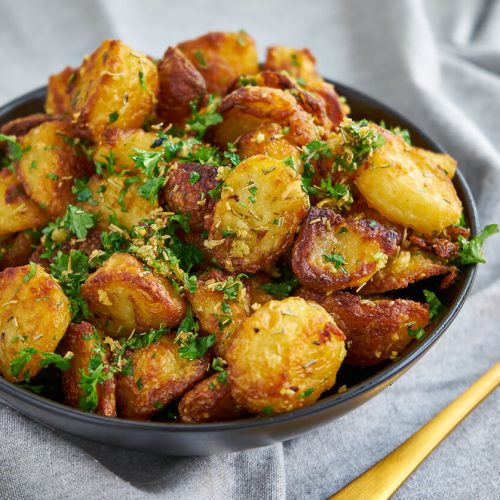 Crispy roasted potatoes
Recipe for crispy roasted potatoes
You can not stop eating once you have tasted them! Simply the best roasted potatoes to serve as a side dish or snack.
Ingredients  
1.5

kg

potatoes

2.5

l

water

30

g

salt

for the boiling water

1

tsp

baking soda

1

tsp

salt

Pepper

1

tbsp

fresh parsley

finely chopped
Spiced oil:
1

dl

olive oil

5

cloves

garlic

crushed

1

tbsp

fresh oregano

finely chopped, can be replaced by dried

2

tbsp

fresh rosemary

finely chopped, can be replaced by dried
Instructions 
Spiced oil:
Put the oil in a pan and heat it to medium heat. Add garlic and rosemary as well as oregano. Let it cook for a few minutes or until the garlic has turned golden. Pour it through a sieve. Save both oil and roasted spices.
The potatoes:
Preheat the oven to 200 degrees celcius with convection.

Peel the potatoes and cut them into suitable pieces.

Heat the water in a saucepan until it boils, add the 30 g. Salt, baking soda and finally the potatoes.

Now cook the potatoes until tender, it should take about 10 minutes. Pour the water from the pot and let them sit for a few minutes.

Put the potatoes in a bowl. Pour the saved oil over and 1 tsp. salt and pepper to taste. Shake them well so that they become slightly dissolved and chatter on the surface.

Transfer the potatoes to a baking sheet with parchment paper and spread them out well.

Place the baking tray in the middle of the preheated oven and give them 50 – 60 minutes, turning them continuously along the way (4 -5 times) so that they become completely golden and deliciously crispy on all sides.

When done, take them out and put in a bowl. Pour the saved roasted spices and parsley over and turn around.

Serve immediately.
Nutrition
How do you like the recipe?
Have you tried this recipe? We'd love to hear what you think of it. Leave a comment, add a number of stars to the recipe and share your photo on Instagram with #madformadelskere – We love seeing your dishes ♥️
Also, sign up for our Facebook group where you can show pictures of the delicious food you make! You can find the Facebook group here