Danish caramel potatoes are traditionally served with danish pork roast with crackling or with duck or turkey for Christmas. They are delicious small potatoes with a perfectly caramelized coating, and both kids and adults love them. Read along here and get the best recipe for Danish caramel potatoes or "Browned potatoes" as we Danes call them.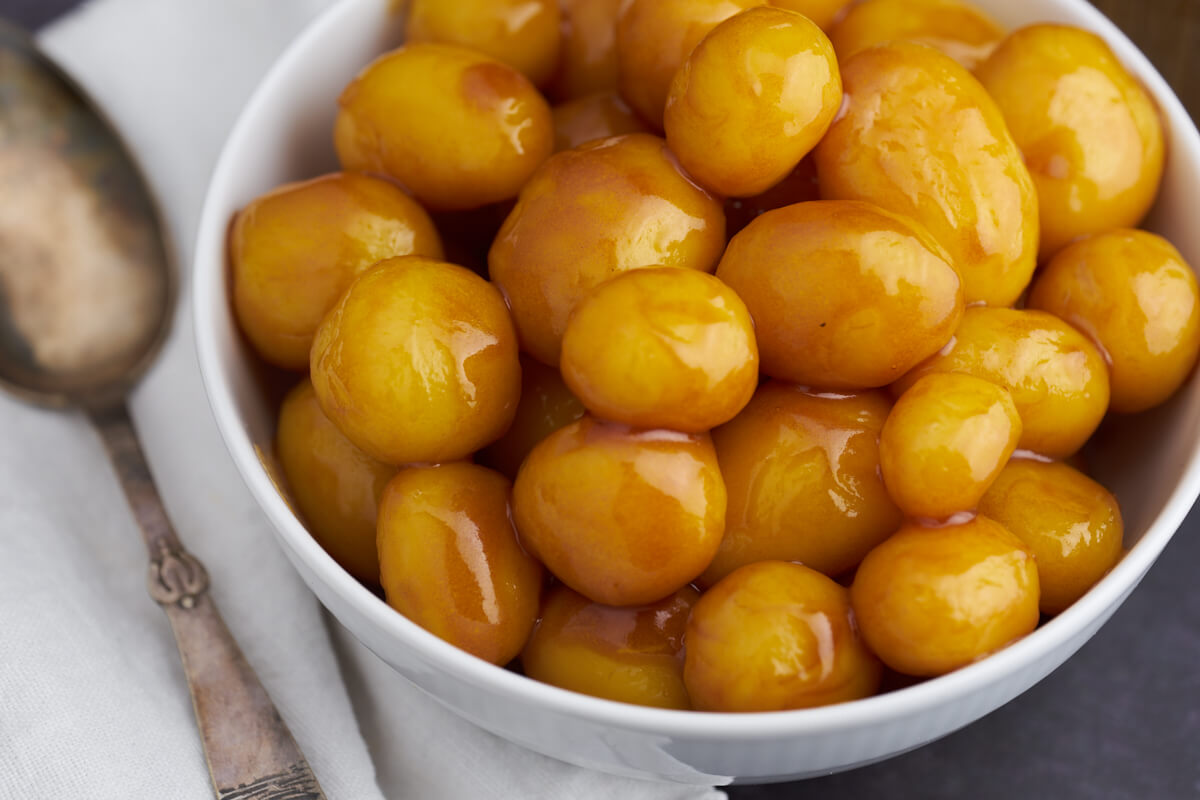 The best browned potatoes with cream
At home, we previously made browned potatoes as my mother taught me. With only sugar and butter. That is the traditional way I think. And our parents and grandparents probably all made them that way.

If I have to compare the two versions and come to a conclusion on what they each can do, well then they are actually quite different in taste I think.

The "classic" with sugar and butter gives a more bitter and strong caramel taste, while the version with cream gives a rounder and milder taste, of caramel. Just adding a little salt to this version gives a delicious taste of salted caramel, which is just delicious.

This version with cream is probably more child-friendly, our kids love it, and for Johannes who LOVES caramel potatoes to such an extent, the verdict was clear. Caramelized potatoes with cream are the best. The caramel becomes more creamy and therefore can stick better to the potatoes. We like that!

We have now switched to this recipe for both Christmas and Mortensaften or when you want to make a little extra out of the food.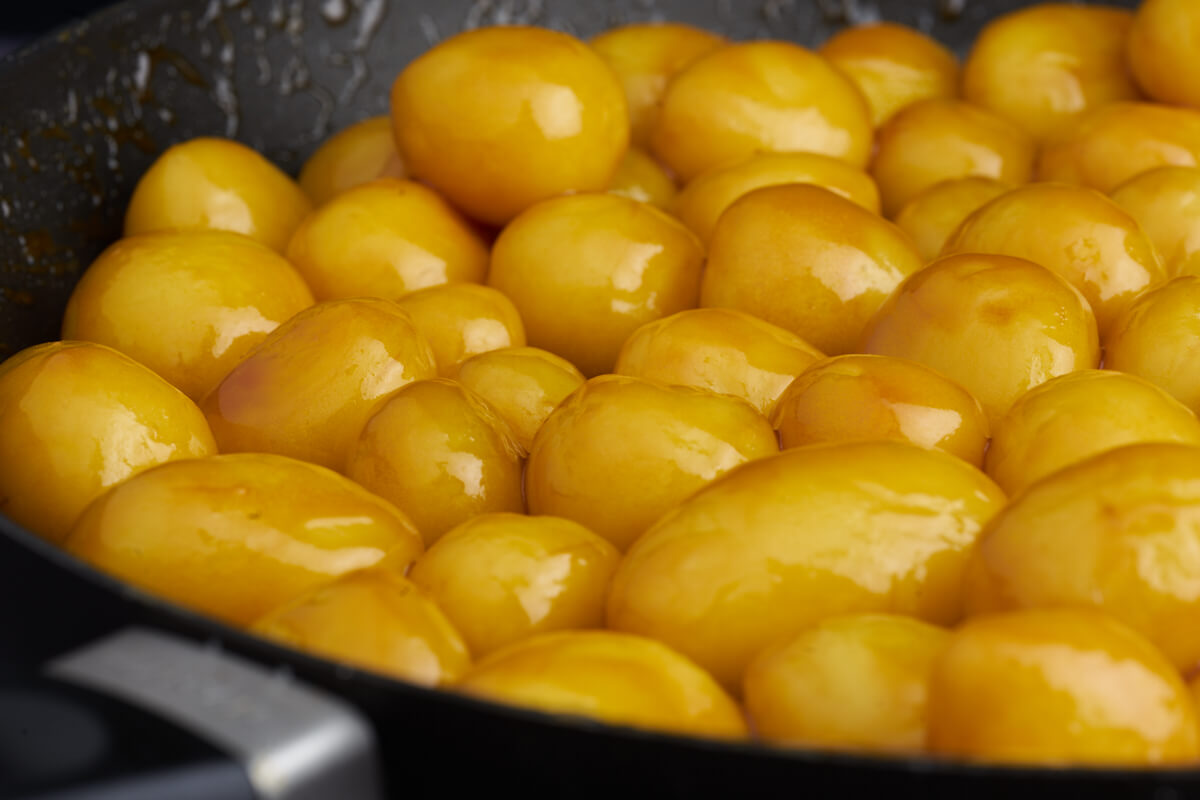 Ingredient notes
Potatoes – They must be boiled and peeled. Use small potatoes or the easy version with potatoes from glass.

Sugar – Normal sugar

Butter – Salted butter

Whipping cream – Rounds of the taste and make a creamy caramel.

Water – to make the caramel coat the potatoes.

Salt – To make the right taste.
How to make Danish caramel potatoes?
Now we are not going to make it a bigger science than it is to make danish brown potatoes. Because it's actually not that hard. It is important not to get impatient and turn up the heat too high because then it can easily go wrong, but otherwise, the process is quite straightforward.

Once the potatoes are cooked and peeled, you are ready to start making your caramel sauce. Turn on a large pan over medium heat, and add the sugar. Turn down the heat when it starts to melt, to prevent it from burning. Let the sugar melt and then add butter and stir until the butter is mixed into the caramel.

Now add water and whipping cream a little at a time. Stir in between, making sure at all times that the caramel does not get too cold, this can happen if you pour too much liquid on at once. Finally, add salt, and then the potatoes should go in.

Coat the potatoes in the caramel in the pan over low to medium heat. They are allowed to stand for half an hour on low heat. Remember to stir regularly so that they become beautiful and golden all around. Then they are ready for serving.

Find the full recipe further down this page.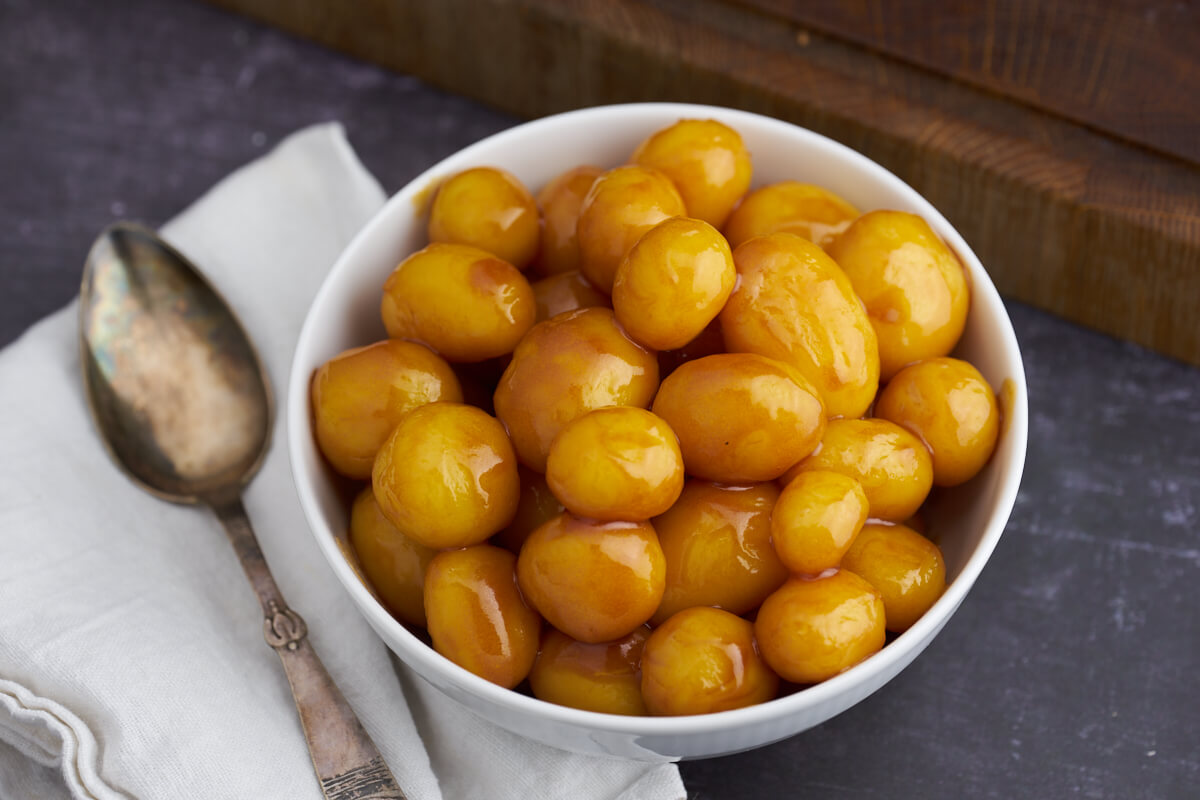 Serving suggestions
Serve with roast pork with grawy and danish red cabbage.
Serve with ham and kale.
Serve with roast duck and a red cabbage salad.
Other recipes you might like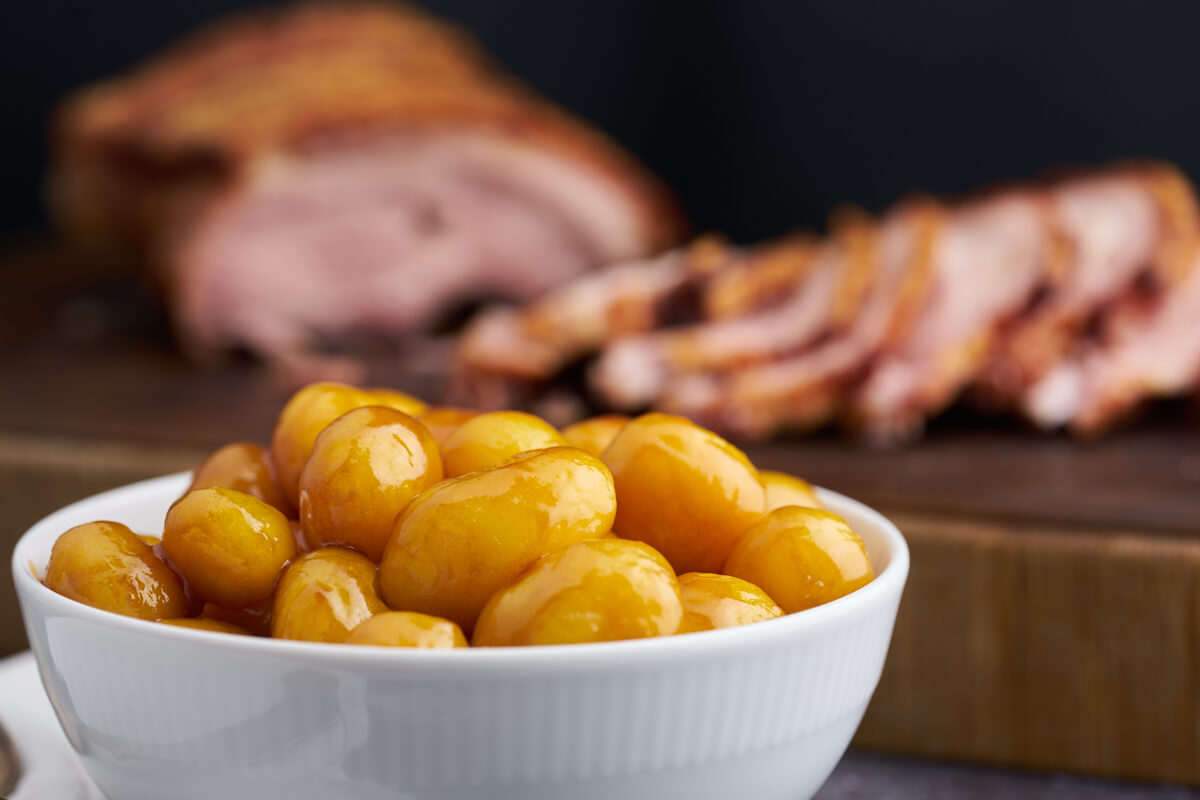 Recipe for the best caramelized potatoes
Here you get our recipe for perfect browned potatoes with cream. They taste great and the caramel taste is round and balanced. Perfect for a nice Christmas meal or for another for Morten's evening.

We hope you will try out the recipe and make the potatoes for your family.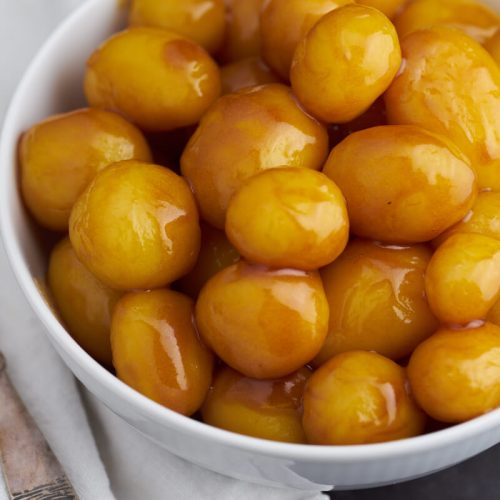 Danish caramel potatoes
Recipe for Danish caramel potatoes
Danish caramelized potatoes or "brunede kartofler" (browned potatoes) as we call them are traditionally served for Christmas or Mortens Eve with pork, duck, or turkey roast. They are pretty easy to make, and the whole family will love them.
Ingredients  
1

kg

potatoes

small, boiled and peeled

2

dl

sugar

20

g

butter

0.5

dl

water

1

dl

whipping cream

1

tsp

salt
Instructions 
Start by boiling and peeling the potatoes, they need to be cooled when they are to be used for browned potatoes.

Put sugar in a pan and let it melt over medium heat. Avoid stirring the sugar while it is melting.

Add butter and stir until it is mixed into the caramelized sugar. Then add water and whipping cream a little at a time so that the temperature is not lowered too much. Stir until the caramel is cooked through and smooth. Then add salt.

Pour the potatoes into the caramel in the pan and let them stand for a minute before stirring. Then turn the potatoes around and let the caramel boil into the potatoes. They can be left on low heat for 20-30 minutes, so they can really soak up the caramel. Turn the potatoes regularly so that they are browned all the way around.

Do not panic if the caramel looks thin just when you put the potatoes in. The caramel must boil for a while to get the potatoes covered perfectly in a thick caramel, so you may have to turn up the heat a little to make the caramel boil. It takes a little longer than if you make browned potatoes without liquid in the caramel. Turn up and stir regularly if the caramel looks thin, and have patience.

Turn the potatoes around in the caramel before serving.
Nutrition
How do you like the recipe?
Have you tried this recipe? We'd love to hear what you think of it. Leave a comment, add a number of stars to the recipe and share your photo on Instagram with #madformadelskere – We love seeing your dishes ♥️
Also, sign up for our Facebook group where you can show pictures of the delicious food you make! You can find the Facebook group here