The flavor of Mexico caught in a burger. Mexican burger with lots of delicious guacamole, a spicy homemade salsa, cheddar, and a patty with lots of flavors. If you want to see how easy it is to make the perfect burger with guacamole and salsa, read along here and get our recipe for the delicious taco burger.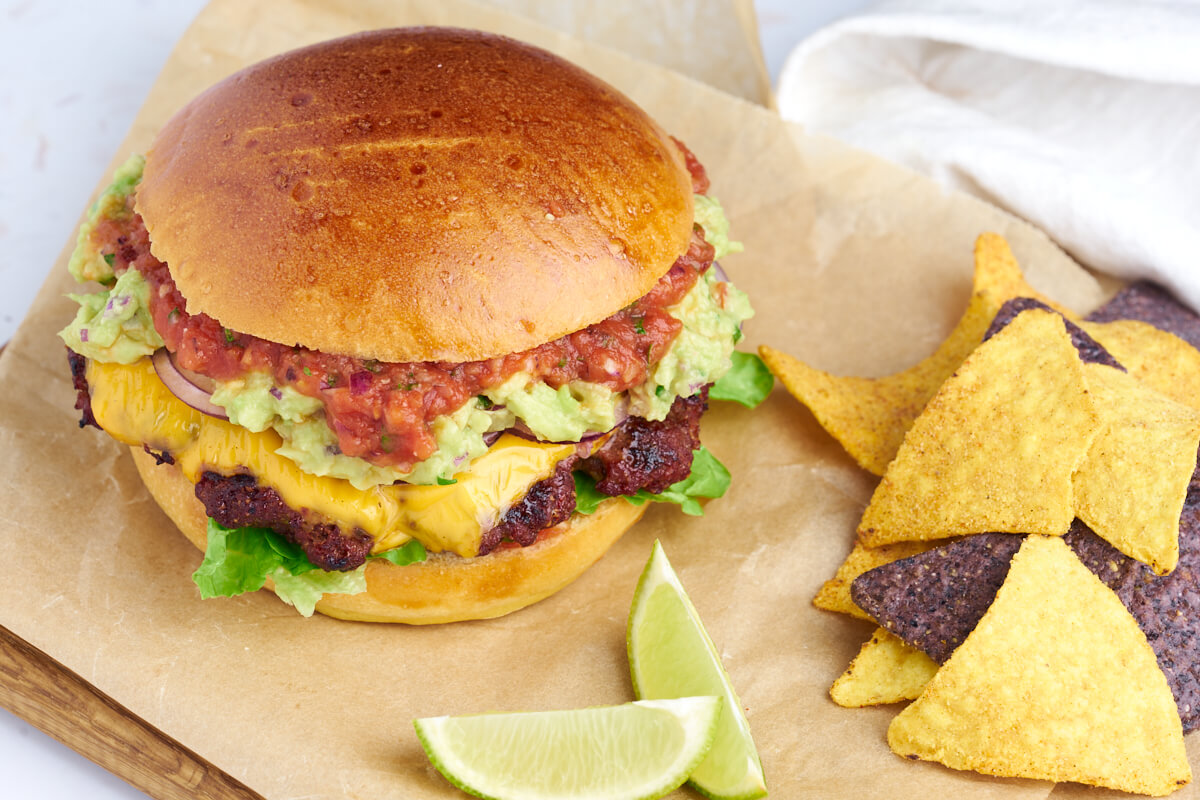 Burger with guacamole and salsa
The perfect homemade burger is delicious when there is junk food on the menu at our house. And you're well on your way if you just "cuddle" a little extra for the ingredients, from the brioche bun to the homemade guacamole. The starting point is "just" a hamburger with a spicy patty and some delicious sauces, that gives the Mexican flavor.

You can serve it to your own liking. I'm happy with the variety, the kids not so much I have to say. But then it's super easy to make a few extra patties without spices. I love a good Mexi Burger with nachos and everything. You can probably also call it a Taco Burger, the taste is certainly in that direction, you have to say.

I love food, and I love to cook good food! So when it comes to burgers for dinner, the burger buns are the first thing I make. And of course, they have to be brioche buns, they are by no means healthy, but that feeling that they just melt on the tongue and don't become the main element of the burger is important to me. The next thing is guacamole and salsa, they can be made in advance and refrigerated until it is dinner time, and it is actually quite easy to make it yourself.

The last element is the patty, and I have to say that although I love meat, the patty should not be the focal point either, but a part of the whole experience. In other words, I always make thin patties, a bit like the ones you know from McDonald's and Burger King.
Then you get the best of all parts from the burger, without there being an ingredient that is overpowering the others. It's all about the balance and the whole experience when making homemade burgers.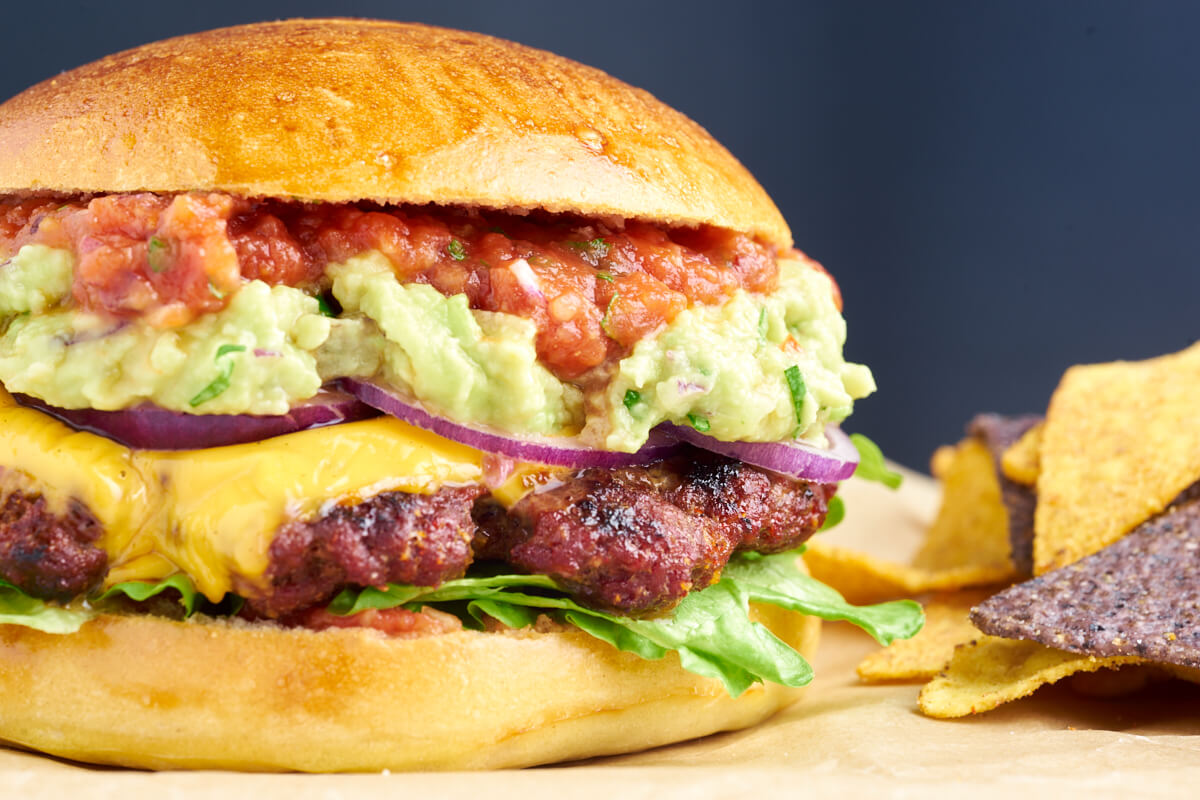 Ingredient notes
Minced beef – I would recommend going for meat with a fat percentage of at least 12-14 percent, preferably higher. And why is that? The high amount of fat helps to give a good taste to the patty, and makes sure that it does not become dry and dull! So given how little meat actually comes in this burger, it doesn't matter that there's a little more fat in it.

Taco spice – We always make our own taco spice– it's so easy. But if you don't want to, you can buy ready-mixed spice at the supermarket.

Cheddar – We buy sliced cheddar for burgers. The kids really love that. But of course you can skip the cheese or choose another cheese if you like.

Burger bun – You can of course choose to buy a ready-made burger bun, but it is advisable to bake your own. We always bake brioche burger buns when we need burgers at home.

Guacamole and salsa – Of course, you can choose the quick solution and buy it ready-made, but it is quite easy to make yourself, and it tastes much better.
How to make a Mexican burger?
It's not hard at all to make such a delicious Mexican burger. You can make anything from scratch, and of course, it takes a little longer than if you choose ready-made solutions.

Once you have all the ingredients ready, then the patties should be prepared. It is minced beef and spices, that is mixed into a good spicy mince, which is shaped into patties and grilled. Alternatively, the patties can be fried on a pan or grill pan.

When the patties are ready, cheese is added, and then the burger just needs to be built. This can be done at the table, then everyone can build their own burger, and get the accessories they like best. We love the burger with a little lettuce, a patty with cheese, red onions and lots of guacamole and salsa, and of course in a homemade brioche burger bun. The burger is served with fries or nachos.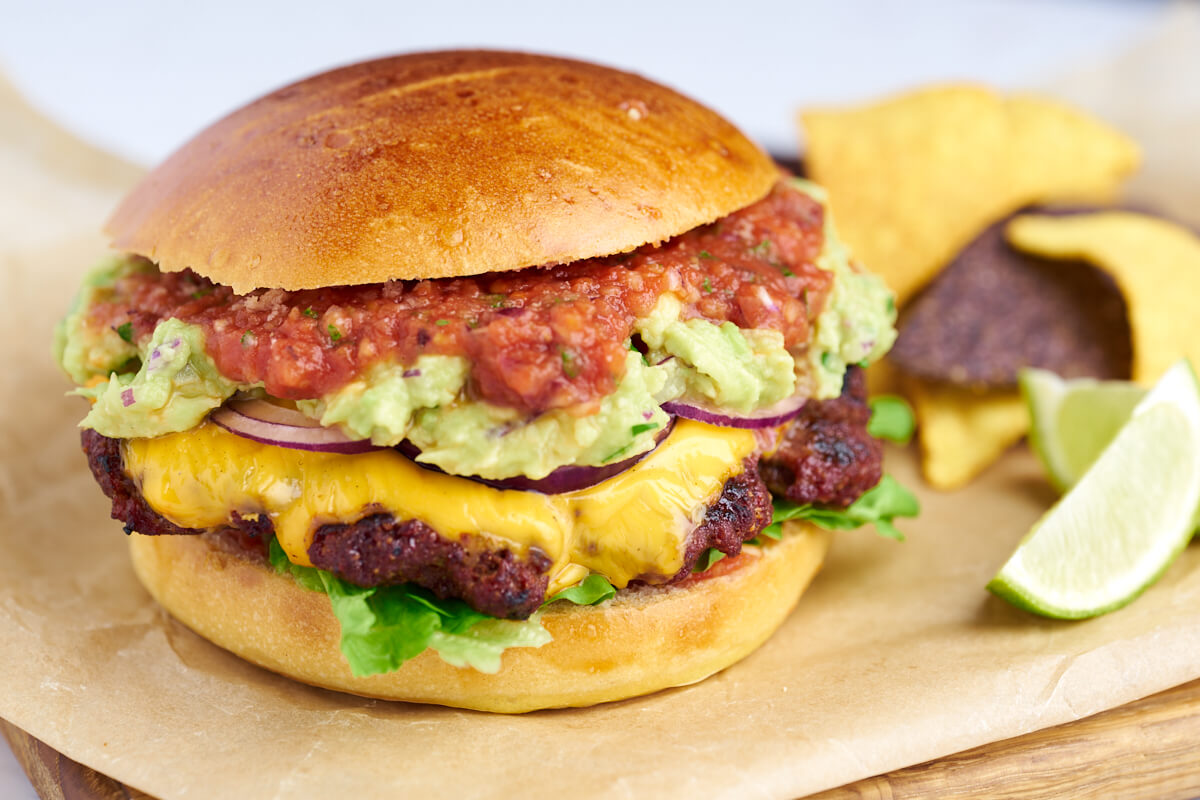 Frequently asked questions
Can I use any other meat?
You can make your burger from exactly the meat you like. You can even choose a plant-based meat substitute if you want to avoid meat altogether.
Is there anything else I can include in my burger?
Yes, you can. Choose exactly the filling for your burger that you like best. Tomatoes and cucumbers are obvious. Pickled cucumbers or pickled red onions are also super delicious in the burger, and you can always put bacon in a burger.
Other dinner recipes you might like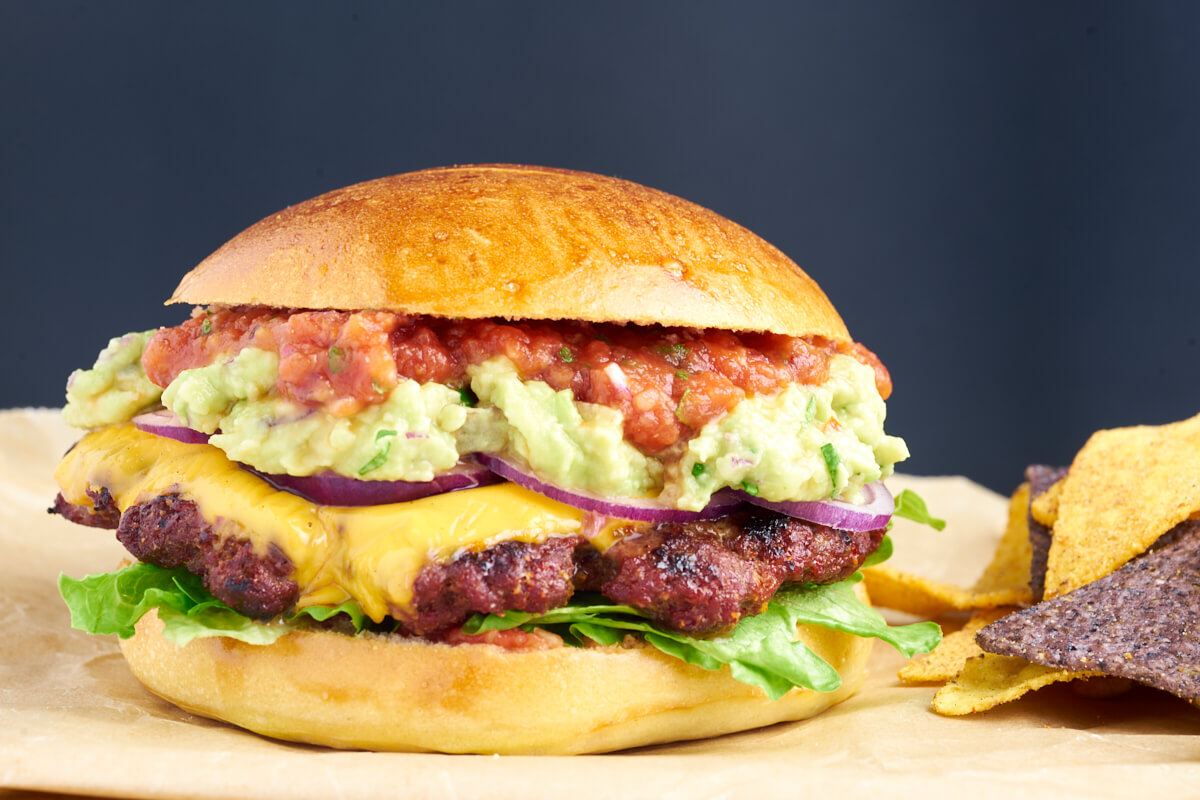 Recipe for the best taco burger
Here you get our recipe for a delicious and juicy Mexican burger. This is what we love to cook at home when it's the weekend or we just need to have a little extra good food. Along with a large dish of nachos with cheese, one is truly in heaven when eating this.

We hope that you will like the recipe and that you want to serve delicious Mexican burgers for your family soon.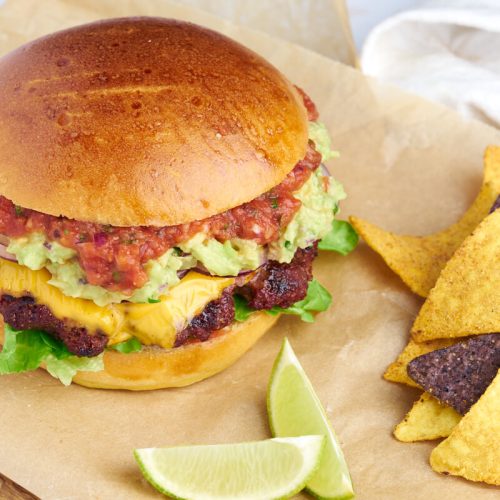 Mexican burger
Recipe for Mexican burger
Easy recipe for the best homemade burger with guacamole, salsa, and a juicy and tasty patty. It is a wonderful variation of the classic burger, and it is perfect for a Mexican dinner with the whole family.
Ingredients  
400

g

minced beef

preferably high fat

30

g

taco seasoning

homemade or purchased

Salt

Pepper

4

slices

cheddar

or other cheese

4

burger buns

4

leaves

lettuce

1

red onion

2

dl

guacamole

2

dl

salsa
Instructions 
Preheat the barbecue to 250 degrees celcious.

Taco seasoning and minced beef are thoroughly mixed by hand or in a mixer.

Then divide the meat into 100 g portions.

Find a cutting board and now form the meat into patties. They must be larger than the burger bun in diameter because they shrink a lot during cooking.

If the patties are stuck on the cutting board, move the knife underneath in one movement to loosen the steak.

Once the patties are shaped, place them on a plate with parchment paper in between so that they do not stick together.

The patties are now ready to go on the grill. They are seasoned with salt and pepper. Then cook them over direct heat for 3-5 minutes on each side. Cheese can be added when the patty is turned over.

The patty can also be fried on a pan or grill pan instead of on the barbecue.

Transfer the grilled hamburger patties to a plate so they are ready to get in the best Mexi-Burger in the world.

Build your burger with a burger bun, salad, patty with cheddar, slices of red onion and a nice amount of guacamole and salsa.
Nutrition
How do you like the recipe?
Have you tried this recipe? We'd love to hear what you think of it. Leave a comment, add a number of stars to the recipe and share your photo on Instagram with #madformadelskere – We love seeing your dishes ♥️
Also, sign up for our Facebook group where you can show pictures of the delicious food you make! You can find the Facebook group here