Have you heard of the Swedish lenten buns called Semlor? It is buns that are eaten from January up until the lent or fat Tuesday. So before the fasting starts we eat a lot of these delicious Swedish buns. They are soft cardamom buns with a layer of marzipan and almond cream and a lot of whipped cream on top. Read along here and get the recipe for one of the most popular Scandinavian recipes.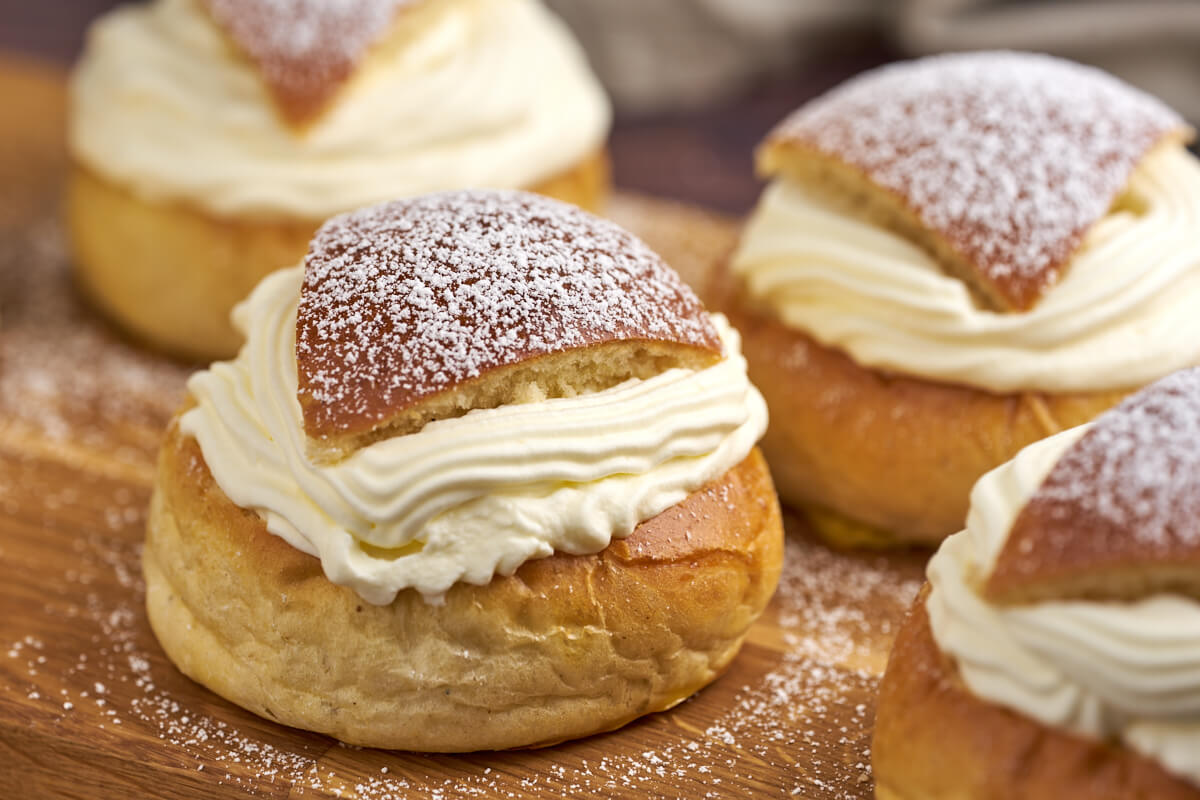 Swedish fastelavnsboller (shrovetide buns)
Have you tasted a semla? A Swedish Shrovetide bun with almond/marzipan filling and whipped cream in a soft yeast bun with cardamom. Of course, we need to share our recipe for this delicious fastelavnsbolle from our Swedish neighbors.

Semlor is not as sweet as the Danish Shrovetide buns with cream.

It is a traditional Swedish cardamom bun with filling, so it is also a little heavier than those we know in danish pastry or choux pastry from Denmark.

Are you ready to give the Swedish semlor a try? Then get our recipe here.

They are not very difficult to make, and that is something most people like.

You can bake the buns in advance, and also make the almond/marzipan filling ready and store it in the fridge. Then all that is left is to whip the whipped cream and fill the buns just before they are to be served.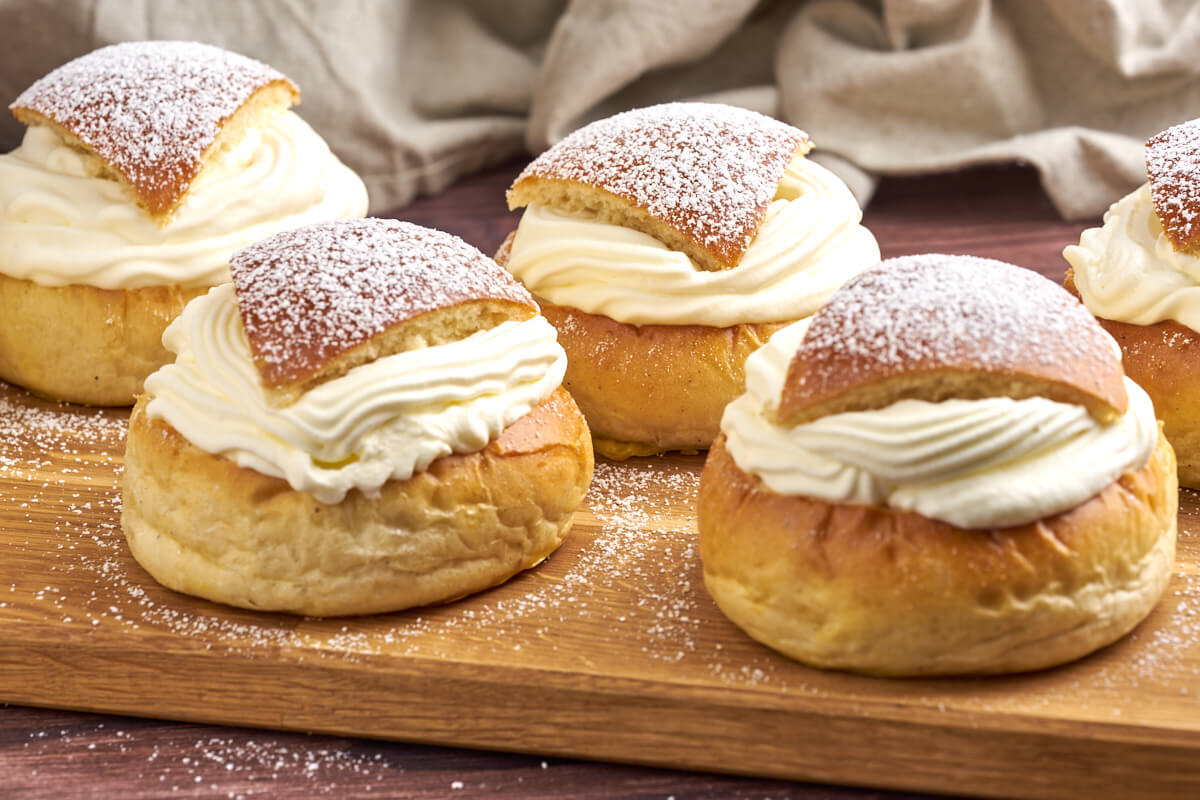 Ingredient notes
Yeast – I usually use fresh yeast when I bake, but dry yeast can also be used. If you use dry yeast, you will need about 6 grams for this recipe.

Cardamom – Cardamom is almost the taste of Sweden. So I do not think you should skip it, it belongs in a semla.

Butter – Butter is needed when baking Shrovetide buns, and this also applies to the Swedish kind. Use real butter, it just tastes better.

Marzipan – The buns are filled with a filling containing marzipan. Do not skip this.

Almonds – Almonds should also be in the filling.

Whipping cream – There must be whipped cream in semlor, so of course you need to use whipping cream.
How to make swedish semlor?
It's actually not that hard to make these Swedish semlor.

The first thing you need to do is bake the buns. It is a completely ordinary yeast dough with butter and cardamom. Once you have made the dough, leave it to rise for half an hour before the buns are shaped. They need to rise to double size and then they need to be baked in the oven.

When they have cooled down a bit, they are cut open, and then you scrape the filling out so that they are a little hollow. The filling you have scraped out is mixed with chopped almonds, marzipan, milk, icing sugar, and vanilla, and then filled back into the buns.

Then whip the whipped cream, which is filled on top before the lid is put on, and sprinkle with icing sugar.

Now the traditional Swedish Shrovetide buns are ready to serve.

Find the full recipe further down this page.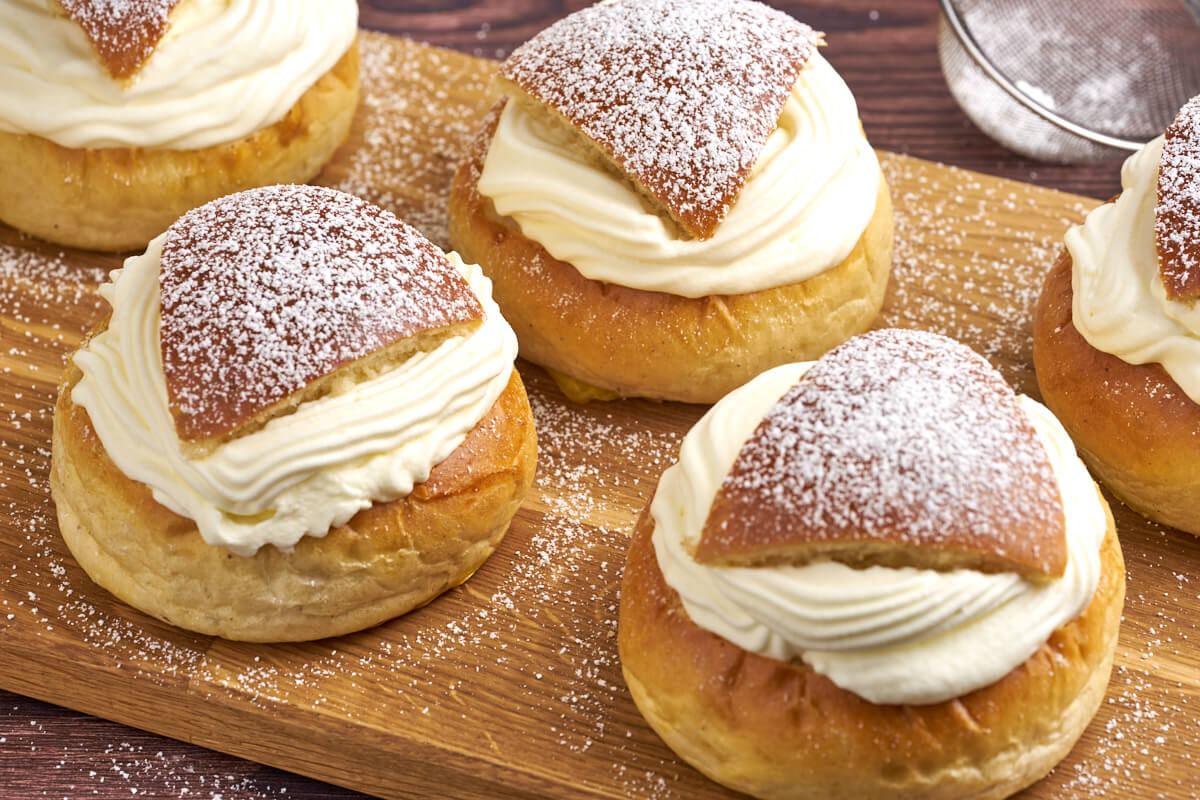 Frequently asked questions
How to store semlor?
Once assembled, they should be stored in the refrigerator. I first recommend that you assemble the Shrovetide buns just before serving, as they get a little dry from standing in the fridge.
Can I fill them with anything else?
The traditional filling is this almond/marzipan filling and whipped cream. You can, of course, experiment with other types of fillings. I think an acidic component will do really well in the otherwise slightly heavy Shrovetide buns. Maybe blackcurrant jam, lemon curd, or mousse with berries.
Other recipes for fastelavn you might like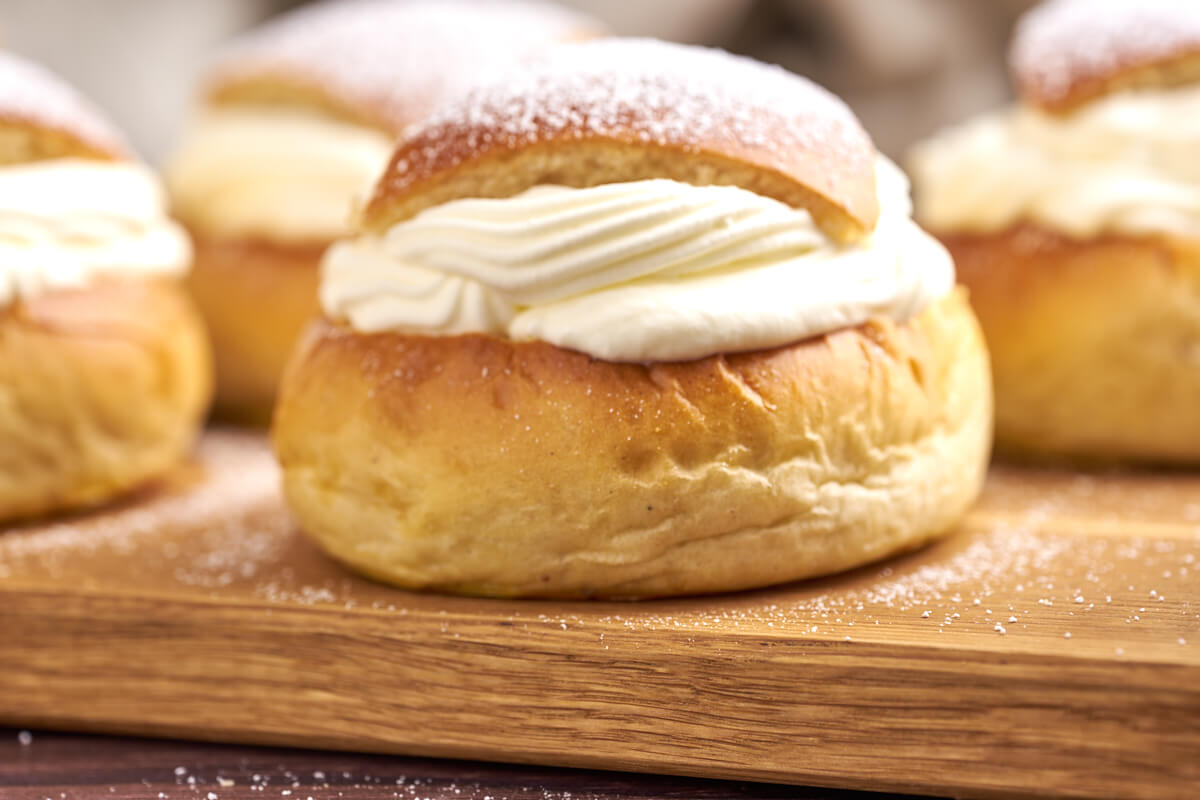 Tips and tricks for Swedish semlor
Wait to assemble your semlor until they are to be served. They can be refrigerated for a few hours, but then no longer, as the buns quickly become dry in the refrigerator.
If you are not fond of plain whipped cream, you can make a berry foam and put in instead. The Shrovetide bun becomes a little lighter if you add aa acidic element to the otherwise slightly heavy bun.
Serving suggestions
Serve these Swedish Shrovetide buns as you would with the Danish varieties.
Eat the buns for Shrovetide or on Shrovetide Sunday with a good cup of coffee, tea or hot cocoa.
Traditionally, in Sweden, these are eaten on fat Tuesday before the lent starts.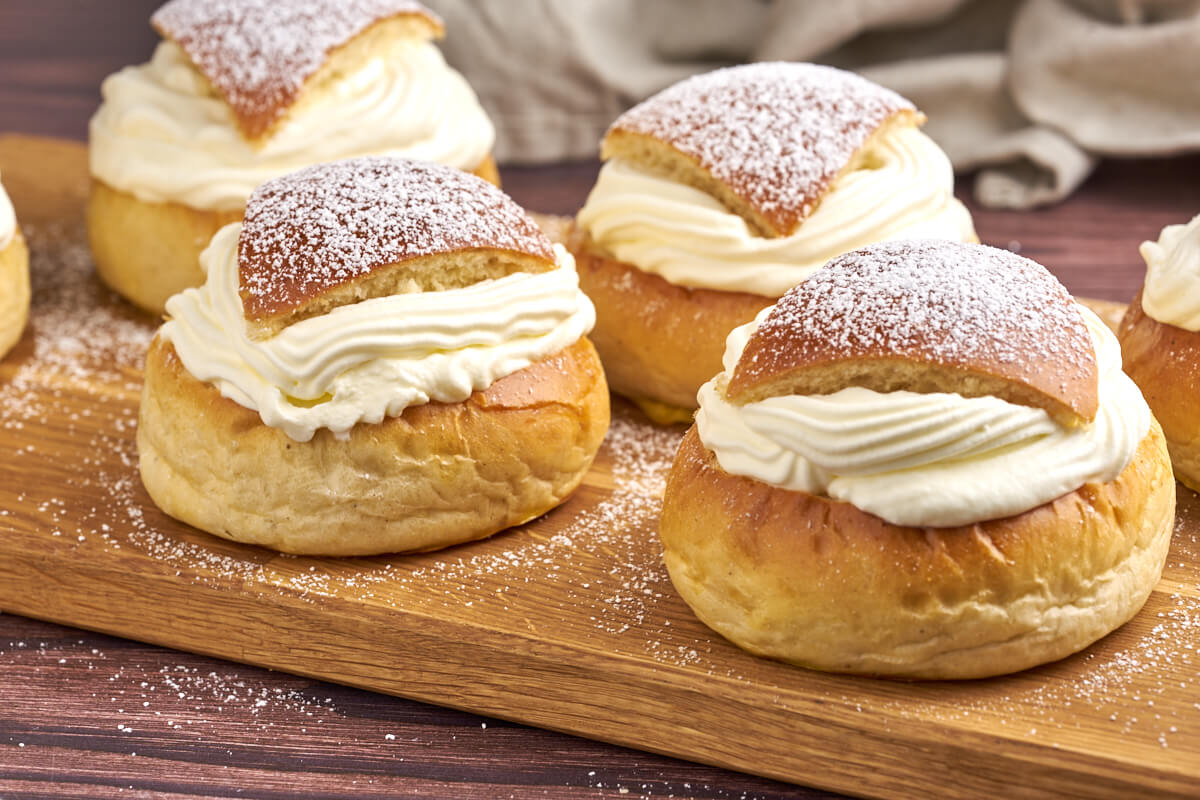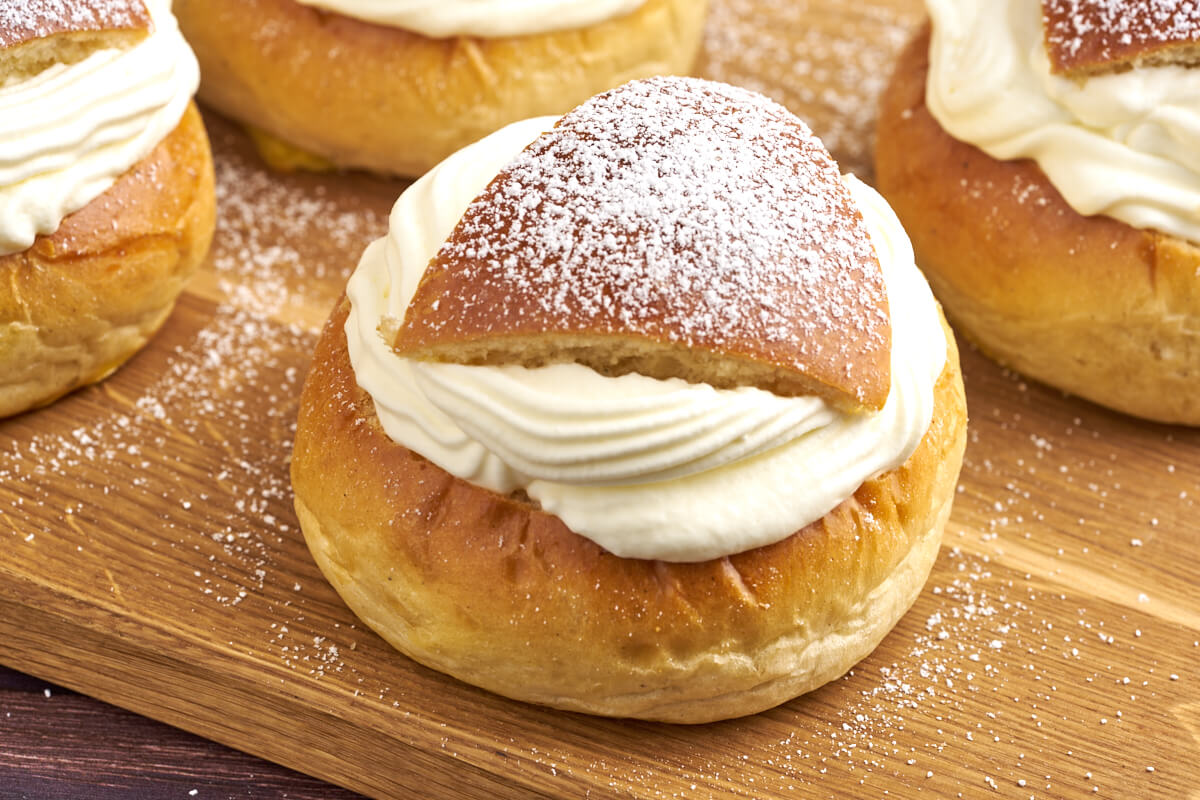 Recipe for Swedish shrovetide buns with whipped cream
Here you get our recipe for the Swedish semlor, which is their variant of Shrovetide buns. They are not very difficult to make, and both children and adults will be happy to have a semla served.

We hope you feel like trying the recipe and serving Swedish semlor for the family for Shrovetide.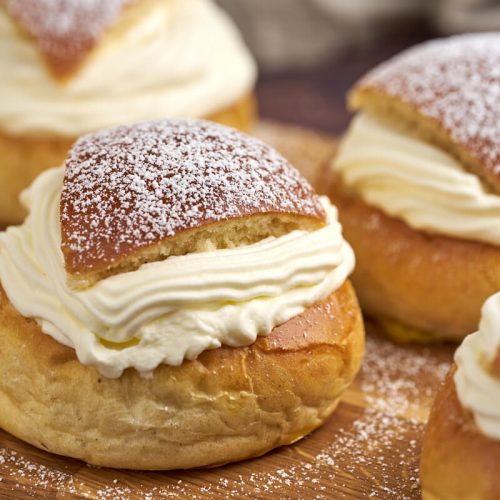 Semlor – Swedish lenten buns
Recipe for semlor
Semlor is plural for a semla. A Swedish lenten bun with a filling of marzipan and almonds in a soft cardamom bun. They can be bought in most Scandinavian bakeries from January until fat Tuesday, but you can easily make them yourself.
Ingredients  
Buns:
25

g

fresh yeast

2

dl

whole milk

2

eggs

½

tsp

salt

1

tsp

cardamom

60

g

sugar

450

g

all-purpose

100

g

butter

soft

1

egg

for brushing
Filling:
150

g

marzipan

75

g

almonds

1

dl

milk

2

tbsp

icing sugar

1

vanilla bean

5

dl

whipping cream

Icing sugar
Instructions 
Buns:
Warm the milk until it is about 37 degrees Celcius, and dissolve the yeast in the warm milk.

Add eggs, salt, sugar, and cardamom, and then the flour a little at a time. Knead the dough well, use the mixer. When the dough is smooth, add soft butter in cubes, and knead into the dough. Knead the dough until it releases the bowl, it takes about 15 minutes on the mixer.

Let the dough rise for 30 minutes in the bowl.

Form into buns of about 75 grams of dough and place them on a baking sheet lined with parchment paper.

Let the buns rise to double size for about 1 hour. Meanwhile, preheat the oven to 200 degrees Celcius normal heat.

Brush the buns with beaten egg, and bake them for 12-14 minutes until golden and baked through.

Place them on a rack when they come out of the oven so they can cool down a bit before moving on.
Filling:
Once the buns have cooled down a bit, cut off the top. You need to cut about ⅓ off so that ⅔ of the bun becomes the bottom.

Hollow out the bottom so that there is room for the filling. The crumbs you take out are put in a bowl along with grated marzipan, chopped almonds, icing sugar, grains from the vanilla bean, and milk. The filling is stirred together, or run on a food processor to a smooth mass. Add a little extra milk if it is too dry.

The almond / marzipan cream is filled back into the bottom of the buns.

Whip the cream to whipped cream, put it in a piping bag, and pipe it on top of the buns with the filling.

Cut the top of the bun as a triangle, place it on top of the whipped cream and finally sprinkle with icing sugar.

Serve immediately or refrigerate until serving.
Nutrition
How do you like the recipe?
Have you tried this recipe? We'd love to hear what you think of it. Leave a comment, add a number of stars to the recipe and share your photo on Instagram with #madformadelskere – We love seeing your dishes ♥️
Also, sign up for our Facebook group where you can show pictures of the delicious food you make! You can find the Facebook group here