We are always making a lot of Shrovetide buns in spring, or fastelavnsboller as we call them. One of the easy kinds is those of choux pastry. They do not take very long to mix together, and then they just taste good. Here you get our recipe for perfect airy danish choux buns filled with whipped cream and jam.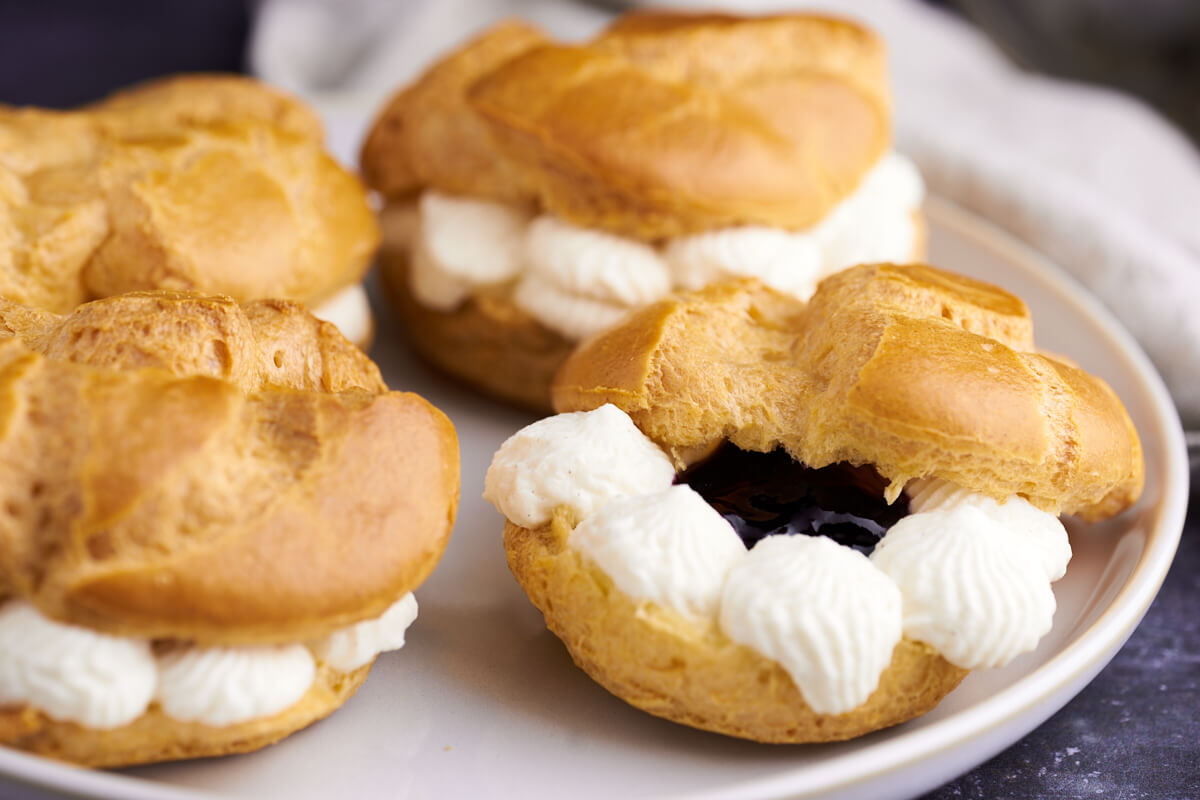 Wales buns with whipped cream
This kind of danish choux buns with whipped cream or custard inside is also called wales buns. No matter what you call them, they taste great at all times of the year, even if it is not fastelavn as we call the carnival season here in Denmark.
You can fill them with exactly the stuff you like best. Here, whipped cream and jam are a favorite. If we have a little vanilla custard left over, then it is also delicious to mix it in the whipped cream and get a pastry cream.

Choux bunx are also wonderful with ice or fruit foam.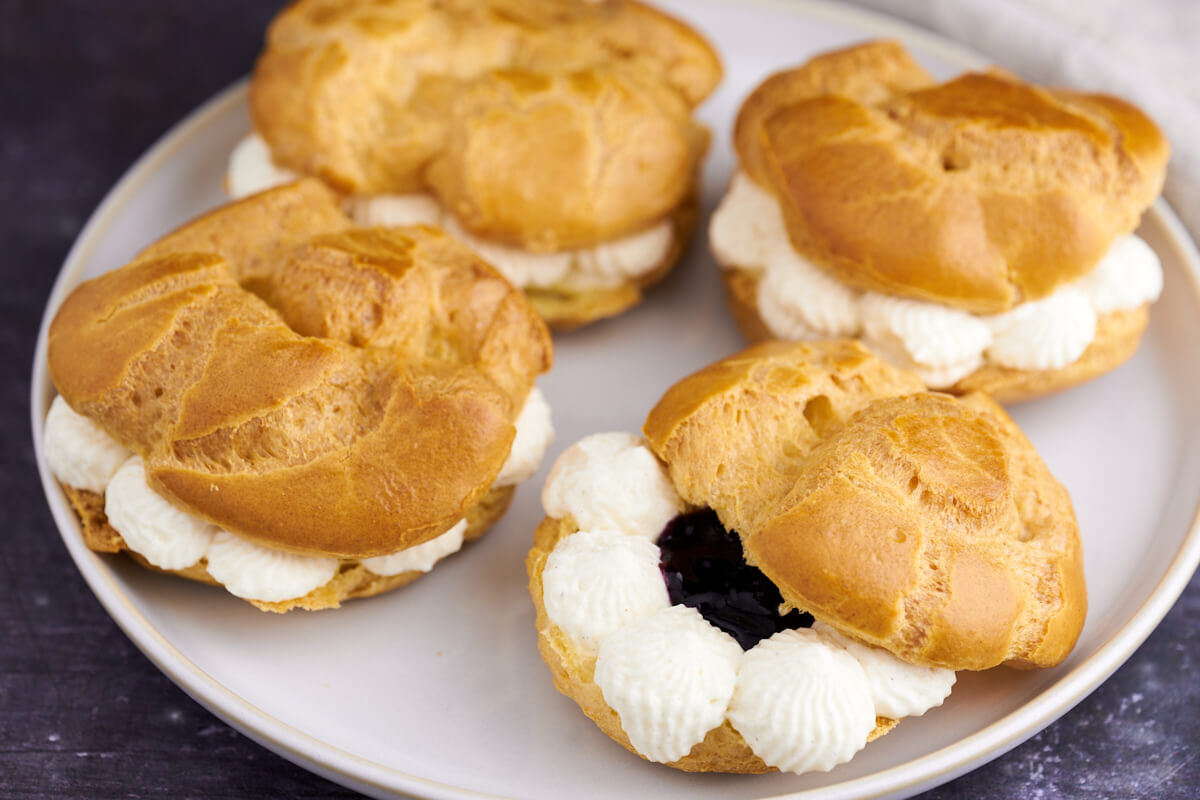 Ingredient notes
Butter – You can use salted or unsalted butter as you wish.

Water – Just tap water.

Flour – All-purpose flour.

Eggs – Normal whole eggs.

Filling – For the filling you need whipping cream, vanilla sugar, and jam. We used black currant jam. Feel free to try other types of filling.
How to make danish choux buns
Many people tend to get a little worried and anxious when they hear the word choux pastry. It is often something that they have once tried and ended up with some small collapsed and unbaked buns, or maybe even only heard of someone who has tried it without much success.

However, there is no need to worry, it is actually not that difficult. I learned it in school, and the recipe I have kept for all these years because it works every time.

The procedure is quite simple. The only thing to remember is that you must not open the oven until the baking time has passed, as you risk the buns collapsing. Once the buns are baked, prepare the whipped cream and then they are ready to be filled and eaten.

Find the full recipe further down this page.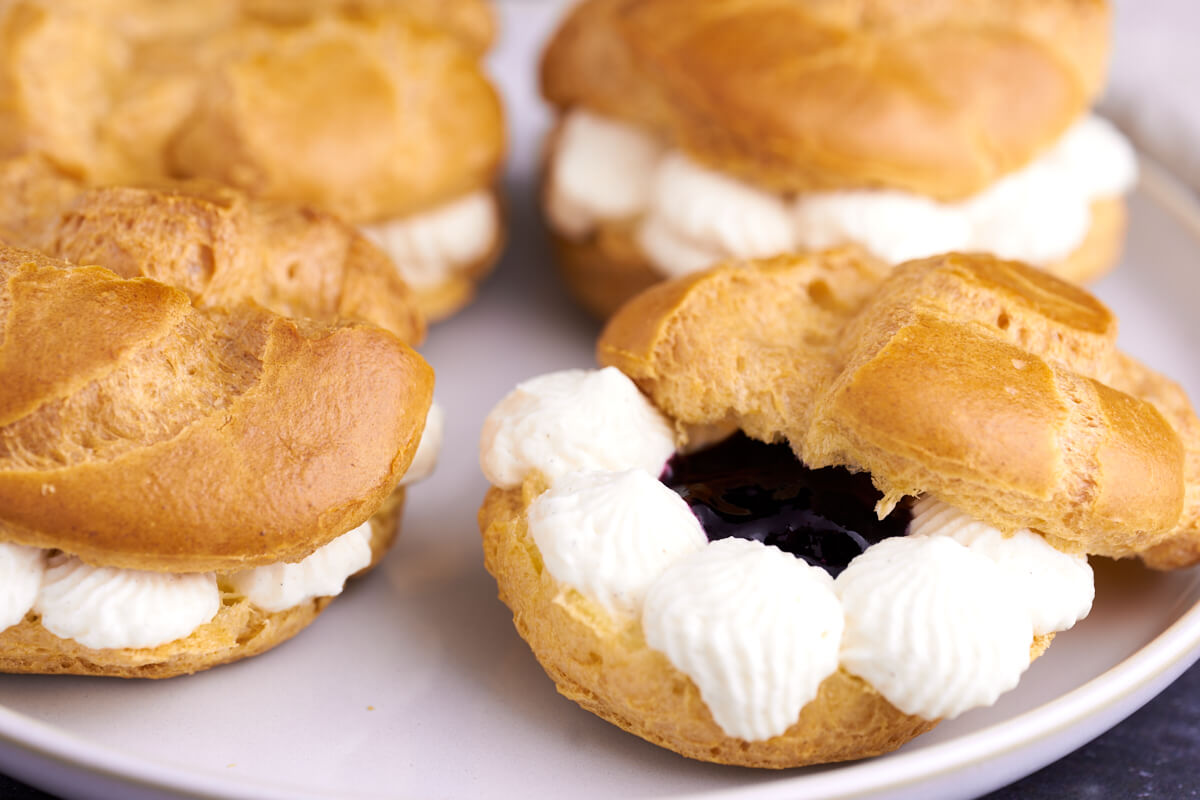 Frequently asked questions
Can I make the choux buns ahead of time?
Yes, you can store the baked choux buns in an airtight container till the next day. However, I like them better freshly baked. You can also make the dough and store it in the fridge for up to 3 days before baking.
What can I fill the choux pasty with?
You can do like we do in this recipe and fill them with whipped cream with vanilla sugar and jam or you can use just the filling you like. Any kind of jam and cream will work for the buns. You can actually also use a savory filling as tuna mousse and serve it for lunch.
Other danish desserts you might like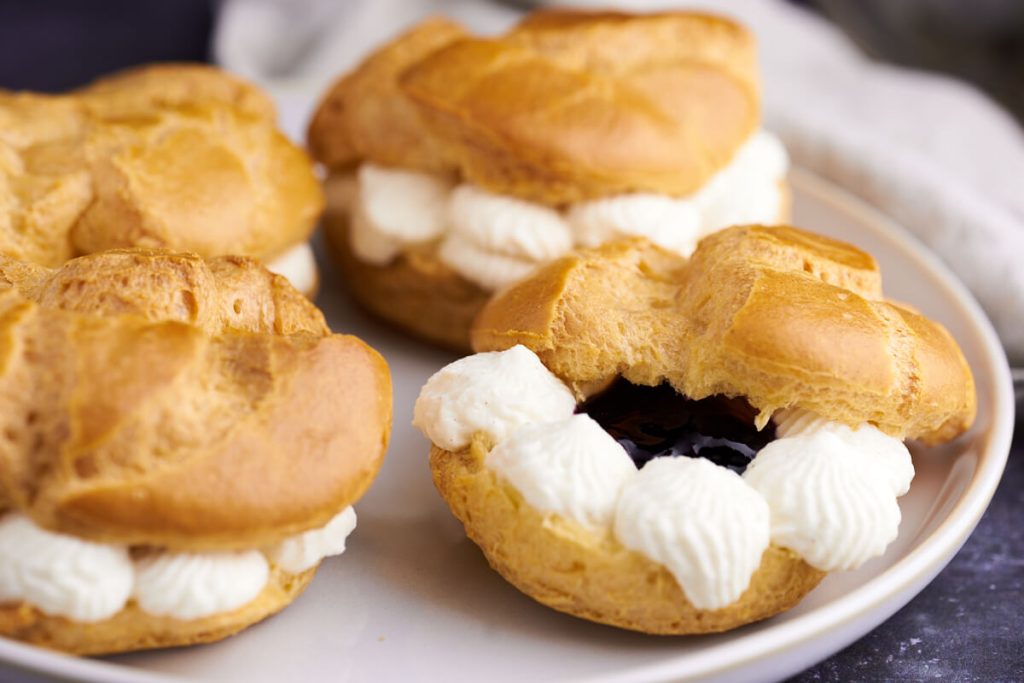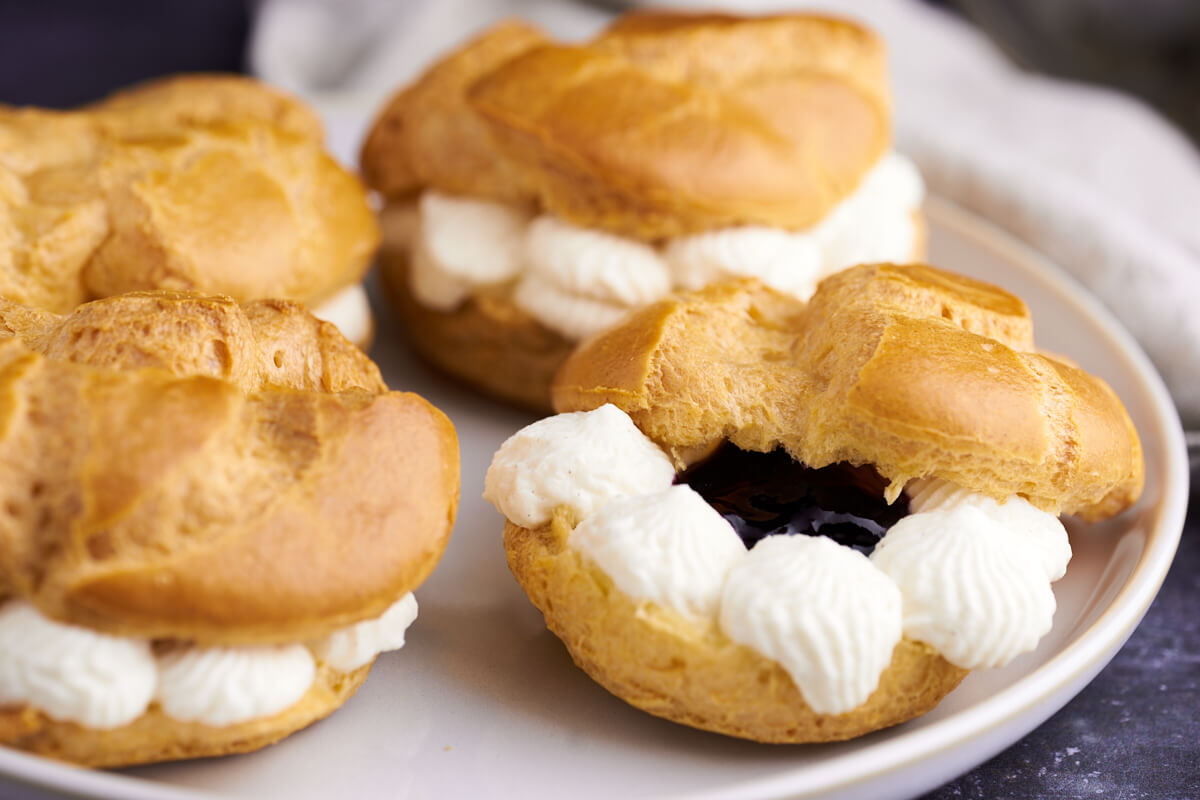 Recipe for vandbakkelser (danish choux)
Here you get our easy recipe for classic danish choux pastry buns with a filling of sweet vanilla whipped cream and blackcurrant jam.

You can of course easily replace the filling with another filling according to your own wishes if you like. Only the imagination sets the limit of what you can put inside your choux buns. We hope you will try the recipe and make delicious danish vandbakkelser for your family.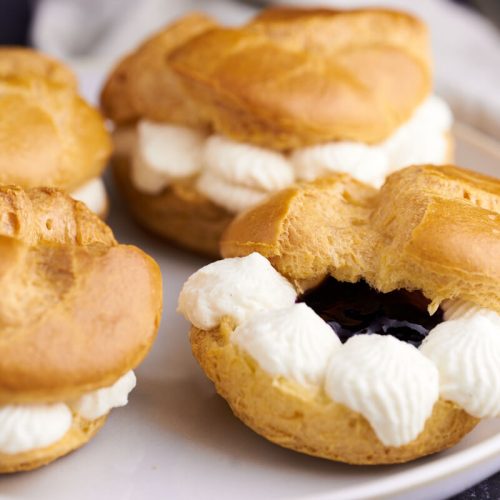 Danish choux buns (vandbakkelser)
Recipe for danish choux buns or vandbakkelser
Easy recipe for airy wales buns of choux pastry with a filling of whipped cream and jam. They are delicious as Shrovetide buns or for afternoon coffee.
Ingredients  
Choux buns:
2

dl

water

125

g

butter

125

g

all-purpose flour

5

eggs
Filling:
5

dl

whipping cream

2

tbsp

vanilla sugar

2

dl

black currant jam
Instructions 
Choux buns:
Turn the oven to 200 degrees celcius.

Bring water and butter to a boil in a saucepan.

When the liquid boils, add all the flour at once. Stir vigorously with a spoon. Stir over low heat until the dough gathers, becomes glossy, and releases the bowl. Then it needs to get off the heat right away.

Allow the dough to cool slightly. Meanwhile, whisk the eggs together in a bowl.

Put the dough in a mixer with a whisk or use an electric hand mixer. Add the equivalent of 1 egg at a time, whisking the dough well after each egg. In the end, the mixture should be quite sticky but still smooth and even.

Place 12 choux buns on a baking sheet lined with baking paper. This is most easily done with two spoons. It does not have to be that nice, as long as they are roughly the same size. You can also put the dough in a piping bag and pipe your choux buns on the baking tray.

Bake the choux buns for 30-35 minutes in the middle of the oven. Avoid opening the oven for the first 30 minutes. When the time is up and they are well golden, take one of the buns out and see if it collapses. If it collapses, the baking time must be extended. If it does not collapse, you can take the rest out of the oven.

Place them on a rack so they can cool while you prepare the filling.
Filling:
Whip the cream to a foam together with the vanilla sugar.

Cut the choux buns in half with a knife and place the filling on the bottom. I like to put the whipped cream in a piping bag and pipe it along the edge of the bottom. In the middle, I put the jam. But you can decide the order yourself.

When there is whipped cream and jam are on the bottom, put the lid on and the wales buns are ready to serve.
Nutrition
How do you like the recipe?
Have you tried this recipe? We'd love to hear what you think of it. Leave a comment, add a number of stars to the recipe and share your photo on Instagram with #madformadelskere – We love seeing your dishes ♥️
Note: This recipe is a translation of our danish recipe "Vandbakkelser med flødeskum og syltetøj" which can be found on our danish food blog.
Also, sign up for our Facebook group where you can show pictures of the delicious food you make! You can find the Facebook group here