In December, we are going to have a lot of aebleskiver here in Denmark, and the best kind is the homemade ones. Here you get our recipe for traditional danish aebleskiver with buttermilk. We think this gives the perfect taste and texture, just as old-fashioned original danish pancake balls should be.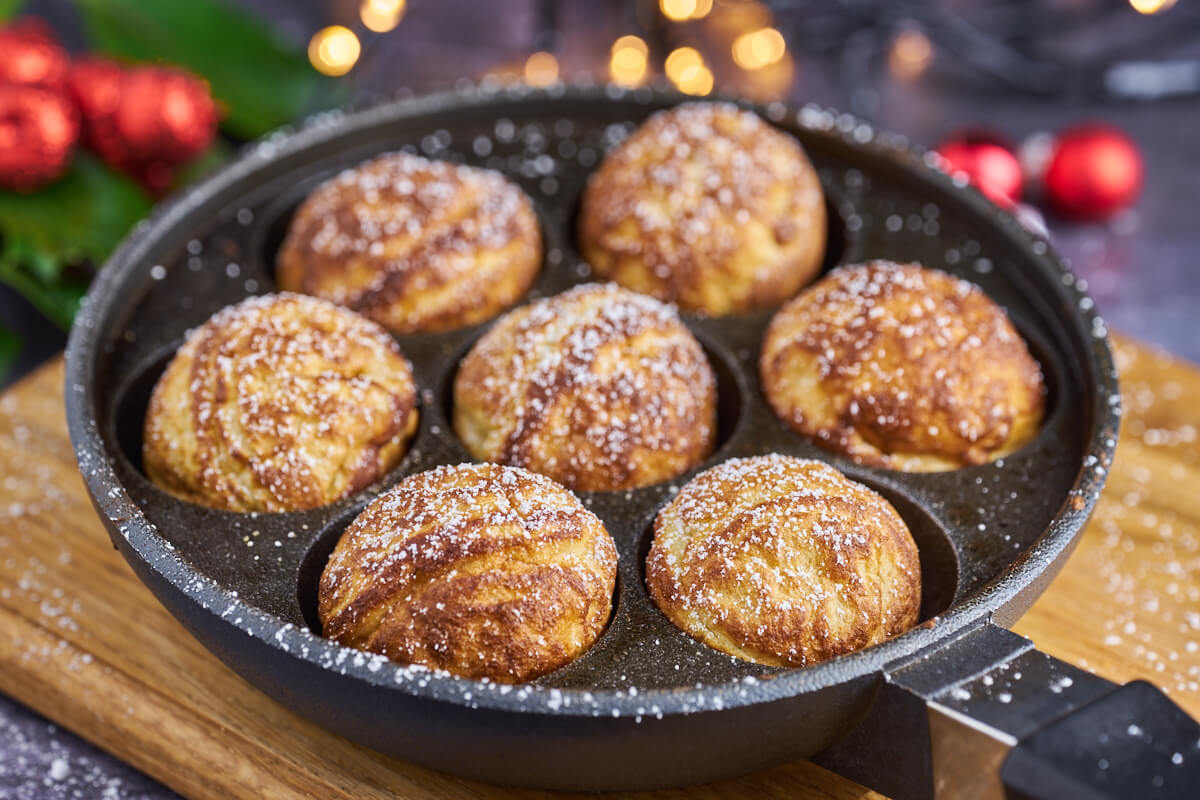 What is aebleskiver?
The correct Danish name is Æbleskiver, and the name means directly translated "Apple slices". In the old days we used to put apples inside, but today it is often left out. The name sticks tough. The dough is sweet and taste like pancakes – therefore many people call them Danish Pancake Balls.

The circular shapes are from the cast iron pan they are baked in. Yes, we say "to bake aebleskiver", even though they are fried in butter in a pan on the stove. Non the less, they taste amazing, and you have to try them if you never had the chance. They are served with icing sugar and jam as a dipping sauce.
How to make homemade aebleskiver?
Many people think it's hard to make aebleskiver on your own. But it's really not, you just have to find the right technique and turn them around at the right time, then you get beautiful and round aebleskiver every time.

For our recipe you will need:
Eggs, they must be divided into yolks and whites.
Buttermilk
All purpose flour
Soda
Sugar
Salt
Lemon zest
Cardamom
Stuffing if you like, for example, apple pieces or prunes.
Of course, it is important that you get the dough done right, but it is difficult to make wrong. I usually use the blender. All ingredients except the egg whites are blended together and the dough is refrigerated.

Then whisk the egg whites stiff and turn them in the dough. Here you need to pay close attention when the egg whites are going in the dough. They must first be whipped completely stiff, and then gently blended in the dough so that they do not lose too much air. Use a spatula to turn the egg whites into the dough.

Then you are ready to bake your aebleskiver in an ableskive pan.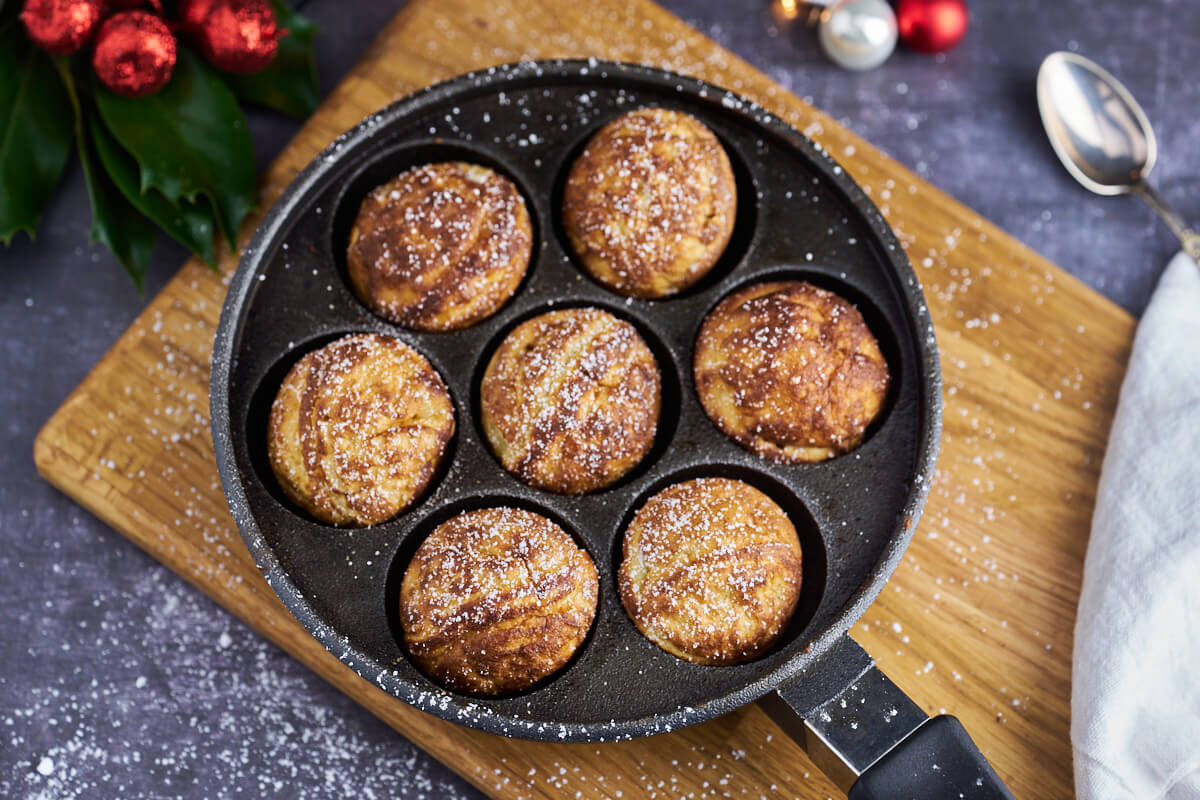 The trick to round pancake balls
It's all about technique and timing. First thing is to fill the hole in the pan completely! It should also be quite hot so that the dough on the edge cooks quickly. When you're done filling up the dough in all the holes, start turning them immediately.

First, turn the aebleskiver a quarter turn so that half of the baked bottom comes up over the edge. Once you've done it all the way around, turn it over the last quarter to close the circular aebleskive. If you haven't got quite enough dough in, you can also refill with a little dough before turning the aebleskive the last quarter and closing it.

Also remember to add pieces of apple before closing it completely if you want it in. Then you bake the aebleskiver until they are baked all the way through while you turn them regularly.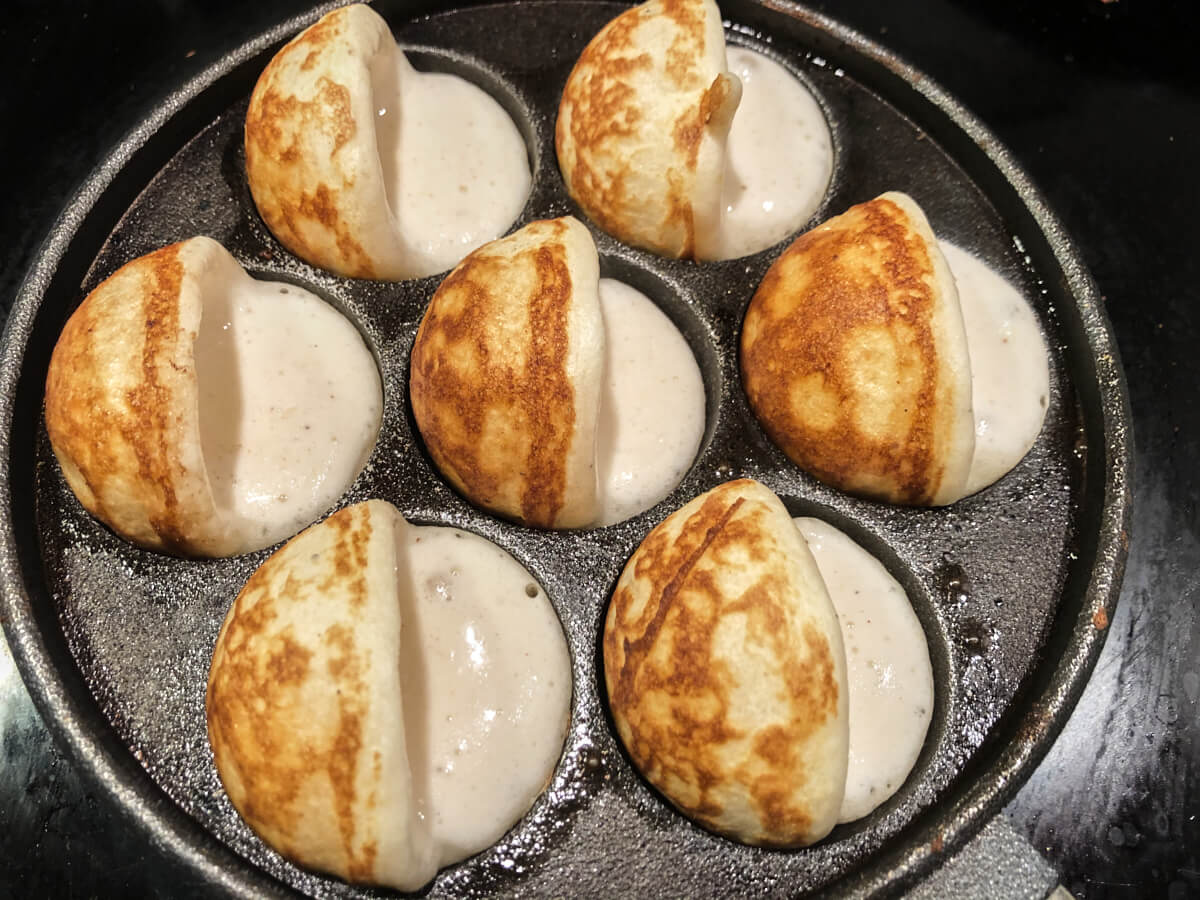 Mulled wine and aebleskiver
You can hardly say aebleskiver without also saying mulled wine or Danish Gløgg. It's a Danish Christmas tradition, and the two go hand in hand. If you want to serve a nice homemade white mulled wine, we have shared the recipe for apple mulled wine here.
Save the leftovers
If you don't eat all the delicious danish pancake balls right away, they can easily be stored for the next day in a plastic bag, or you can put them in the freezer. They can then be heated in the oven again.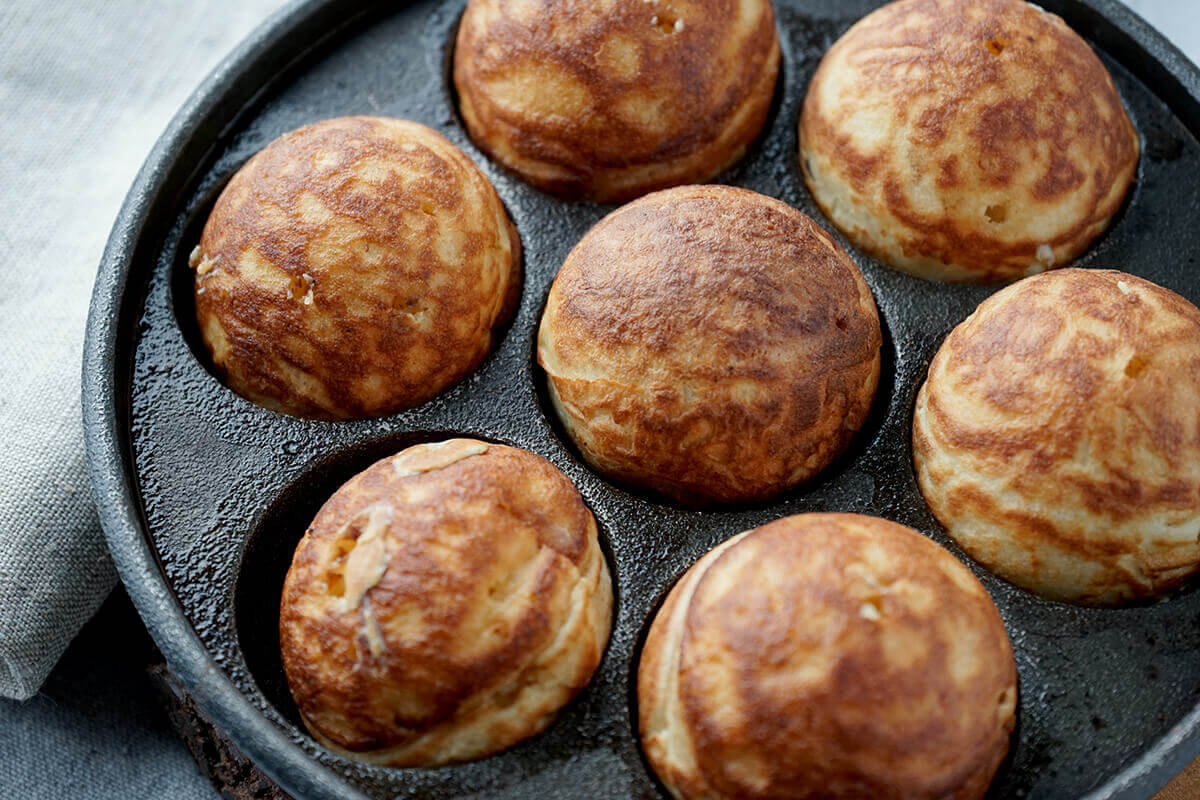 Other danish desserts you might like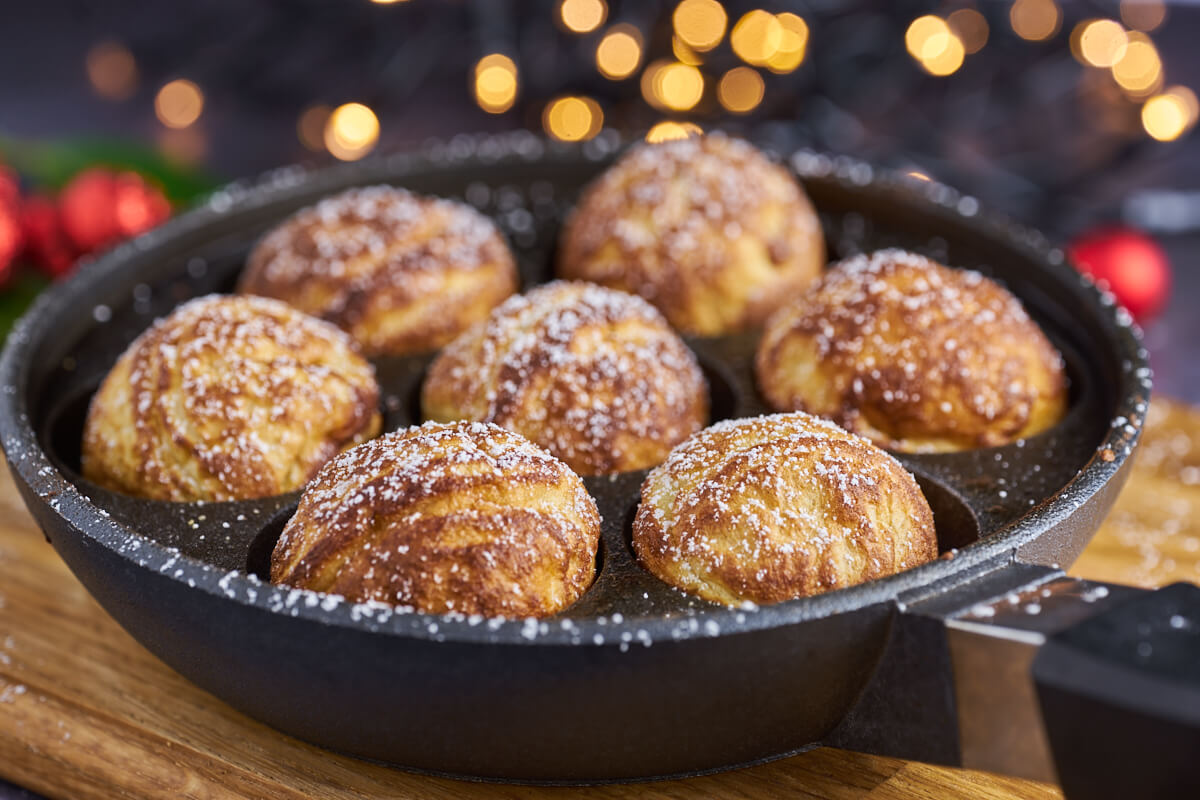 Recipe for Danish pancake balls / Aebleskiver
Here's our recipe for homemade old-fashioned airy aebleskiver. They taste absolutely amazing of Christmas, lemon, and cardamom.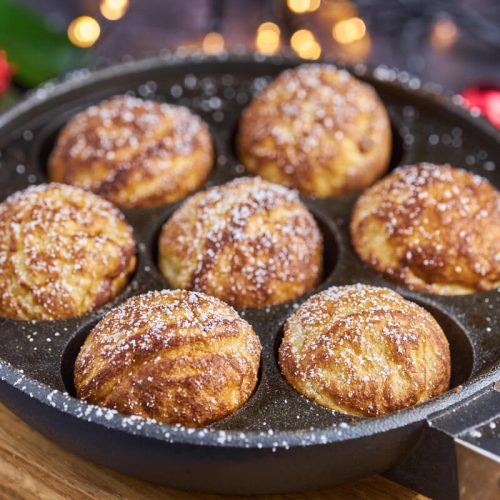 Aebleskiver
Recipe for Aebleskiver
Original Danish Pancake Balls called aebleskivers. We eat them in the month leading up to christmas. You need a special Aebleskiver pan to make them, but they are pretty easy to make.
Ingredients  
Dough:
3

eggs

divided into yoaks and whites

4

dl

buttermilk

or sour cream

240

g

all purpose flour

1

tsp

baking soda

1

tbsp

sugar

1

pinch

salt

1

tsp

lemon zest

finely grated

1

tsp

cardamom

ground
Instructions 
Put all the ingredients for the dough – EXCEPT THE EGG WHITES – in a blender, and blend until the dough has an even consistency. Refrigerate the dough for 30 minutes.

Then beat the egg whites until forming stiff peaks and fold them carefully into the dough without beating too much air out of them.

Heat an aebleskive pan on the stove. It should be on medium heat, and be well warmed up before you start baking.

First, melt a little butter in each hole and then fill the holes with dough. Once you have dough in all the holes, turn the apple slices over. Turn them first a quarter turn, and when you have reached all the way around, turn them the last quarter turn so that they close and become completely round. If you have not filled enough dough in, you can refill them a little before turning the last quarter turn, but it should not be necessary. This is also where you can get a few apple cubes inside the aebleskiver if you like.

Then bake the apple slices while turning regularly. It takes about 5 minutes on medium heat to bake them through.

Take the aebleskiver off the pan and place them in a dish. Cover them with tin foil and keep them warm in the oven at 50 degrees celcius while you bake the rest.

Once all the aebleskivers are baked, sprinkle them with icing sugar and serve with your favorite jam.

Merry Christmas!
Nutrition
How do you like the recipe?
Have you tried this recipe? We'd love to hear what you think of it. Leave a comment, add number of stars to the recipe and share your photo on Instagram with #madformadelskere – We love seeing your dishes ♥️
Note: This recipe is a translation of our danish recipe "Æbleskiver" which can be found on our danish food blog.
Also sign up for our Facebook group where you can show pictures of the delicious food you make! You can find the Facebook group here