It's the season right now for hokkaido pumpkins, and we're certainly not complaining about that. This means that we can make baked hokkaido pumpkin fries as a snack or side for a meal. Read along here and get our recipe for delicious oven-baked hokkaido fries.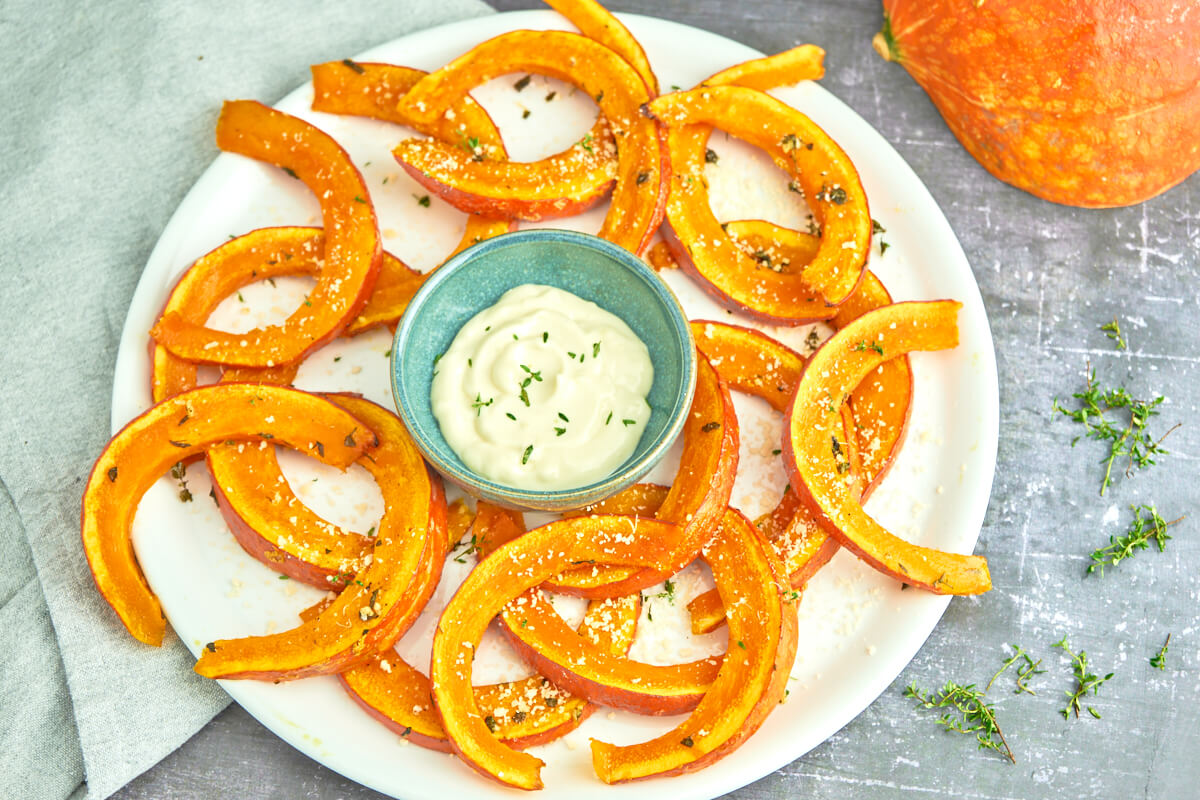 What is Hokkaido?
Right now Hokkaido pumpkin is in season, which is why it is obvious to cook with the delicious, flavorful, and healthy pumpkin. The season goes from August to December, so you have plenty of time to try various delicious dishes with pumpkins over the next months.

Hokkaido is originally a Japanese pumpkin named after a Japanese peninsula, but in the last years we have seen it more and more in Denmark too, and for good reason! There is plenty of good taste in the delicious orange-colored little pumpkins.
Oven-baked hokkaido pumpkin fries
You can make many delicious dishes from the Japanese pumpkin. Everything from snacks to whole meals and even desserts with hokkaido.

In this recipe, you will get our take on the best oven-baked hokkaido pumpkin fries. It is thin slices of hokkaido baked in the oven with thyme, and then sprinkled with a good Parmesan when they come out of the oven.

Don't count on crispy fries when making them from pumpkin, but they're full of flavor and lovely as a side for everything from chicken and fish to beef or just as a delicious snack with a good mayo.

You can also use the baked slices of pumpkin in a delicious salad or served with good feta crumbled on top.

Pumpkin has a sweet and delicious taste that also makes most children think it tastes good. We hope you will want to make pumpkin fries with the family this fall.
Ingredient notes
Hokkaido pumpkin – You can buy edible pumpkins in most supermarkets in the fall, and hokkaido is one of the most common. You can also ask your greengrocer.

Thyme – We use fresh thyme for these fries, but you can also use dried. Then you need about half the amount indicated.

Garlic – Gives good taste along with thyme, but you can skip it if you are not crazy about garlic.

Parmesan – A little grated Parmesan over your pumpkin fries at the end, giving just the icing on the cake. However, you can omit it if you think or serve with crumbled feta on top instead.
How to make baked hokkaido pumpkin fries?
Such a hokkaido pumpkin is a really grateful ingredient to work with. It can hardly go wrong, and this recipe is really easy to make.

First, the pumpkin should be washed well. You don't have to peel it because you can eat the peel on a hokkaido pumpkin. If necessary, use a clean sponge if the shell is very ugly, but otherwise, a thorough wash may be fine.

Then cut the pumpkin into slices of about 1cm and rub the pieces into a mixture of oil, thyme, garlic, and salt and pepper. Place them on a baking sheet and bake them in the oven until delicious and tender. It'll take half an hour. When they come out of the oven you can sprinkle parmesan over them for extra good taste, and serve them with an aioli/garlic mayonnaise.
Find the full recipe further down the page here.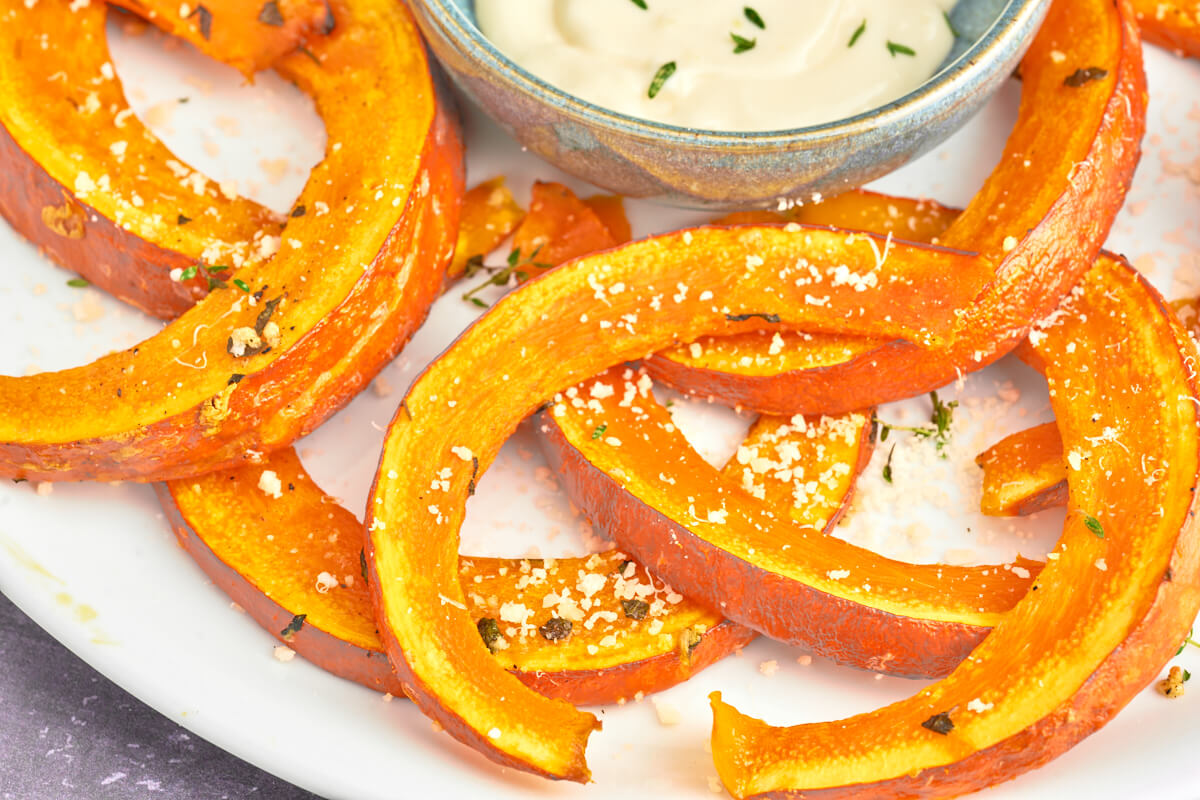 Frequently asked questions
Should hokkaido be peeled?
No, you can eat the shell of a hokkaido pumpkin. Wash it well and, if necessary, scrub it with a clean pot sponge if it is very ugly in the shell.
What should I serve with pumpkin fries?
A good mayonnaise with chili or garlic is perfect as an accessory to pumpkin fries. You can also serve other types of dips, or use the baked pumpkin in a meal salad.
Can I use other herbs?
Yes you can easily replace thyme with other herbs. Rosemary and pumpkin are also super delicious together, but you can experiment with others. Both fresh and dried can be used.
Other recipes you might like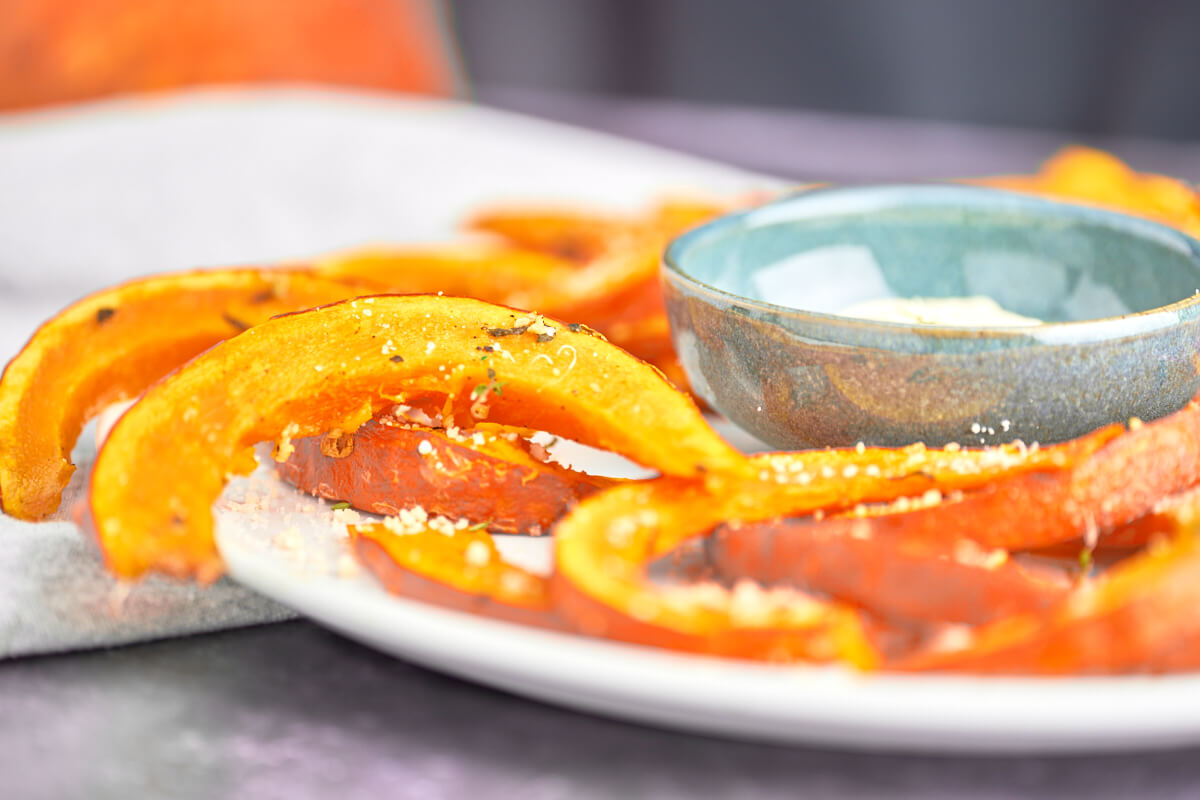 Recipe for baked hokkaido fries
Here you get our recipe for baked hokkaido pumpkin fries. It turns into beautiful hokkaido fries, which you can serve as a delicious snack or as a side dish for dinner.

It's delicious for everything from meatballs to chicken or a good steak. We hope you will enjoy the recipe.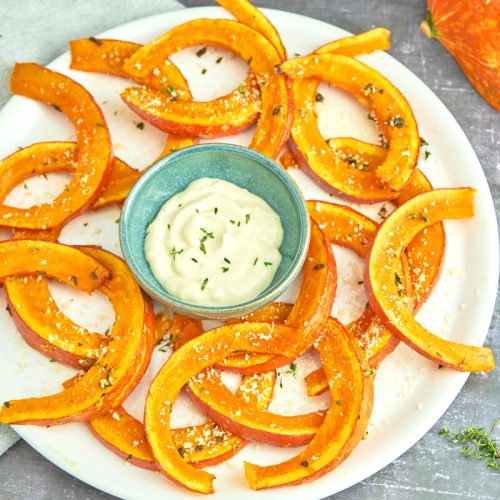 Hokkaido pumpkin fries
Recipe for hokkaido pumpkin fries
The best hokkaido fries in the oven. They are easy to make, and they taste great as accessories for dinner. You can also use them in salads or just as snacks. They can be eaten both hot and cold, and can also be used in the lunch box if there are leftovers.
Ingredients  
1

hokkaido pumpkin

4

tbsp

olive oil

1

tbsp

fresh thyme

1

clove

garlic

Salt

Pepper

2

tbsp

parmesan
Instructions 
Preheat the oven to 180 drgress celcius.

Wash the pumpkin well, it does not need to be peeled. Use a clean sponge if the peel is very ugly.

Divide the pumpkin in half, and scrape out the seeds with a spoon. Then cut the pumpkin into slices about 1 cm thick.

Mix oil, thyme and crushed garlic in a bowl together with salt and pepper. Turn the pumpkin slices in the spiced oil and place them on a baking sheet lined with parchment paper.

Bake the pumpkin slices in the oven for about 30 minutes. Feel if they are tender, then they are done. Once they come out of the oven, you can sprinkle them with finely grated parmesan cheese. It gives good taste, but can also easily be omitted.

Serve pumpkin fries with garlic mayonnaise or as an side dish to meat or fish.
Notes
Serve, for example, with garlic mayonnaise made from 1 dl mayonnaise stirred with two cloves of garlic and seasoned with salt, pepper, and a little lemon juice.
Nutrition
More pictures of baked hokkaido pumpkin fries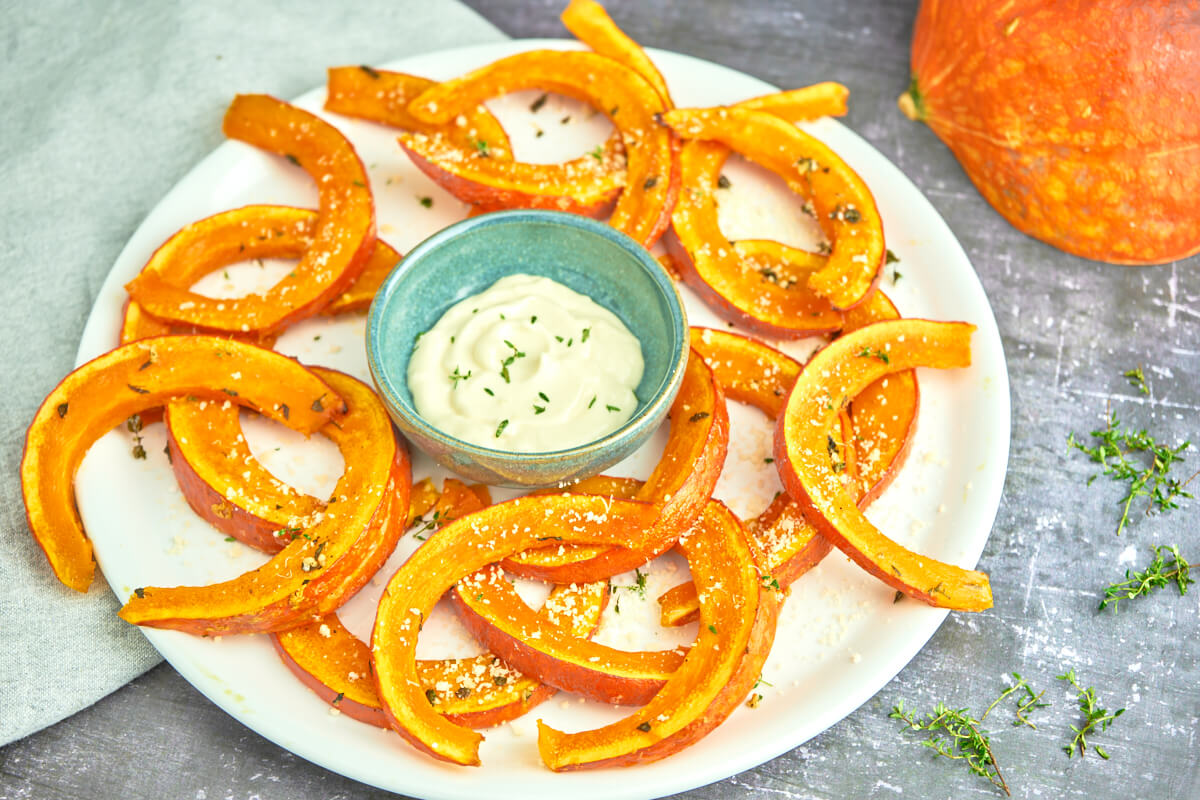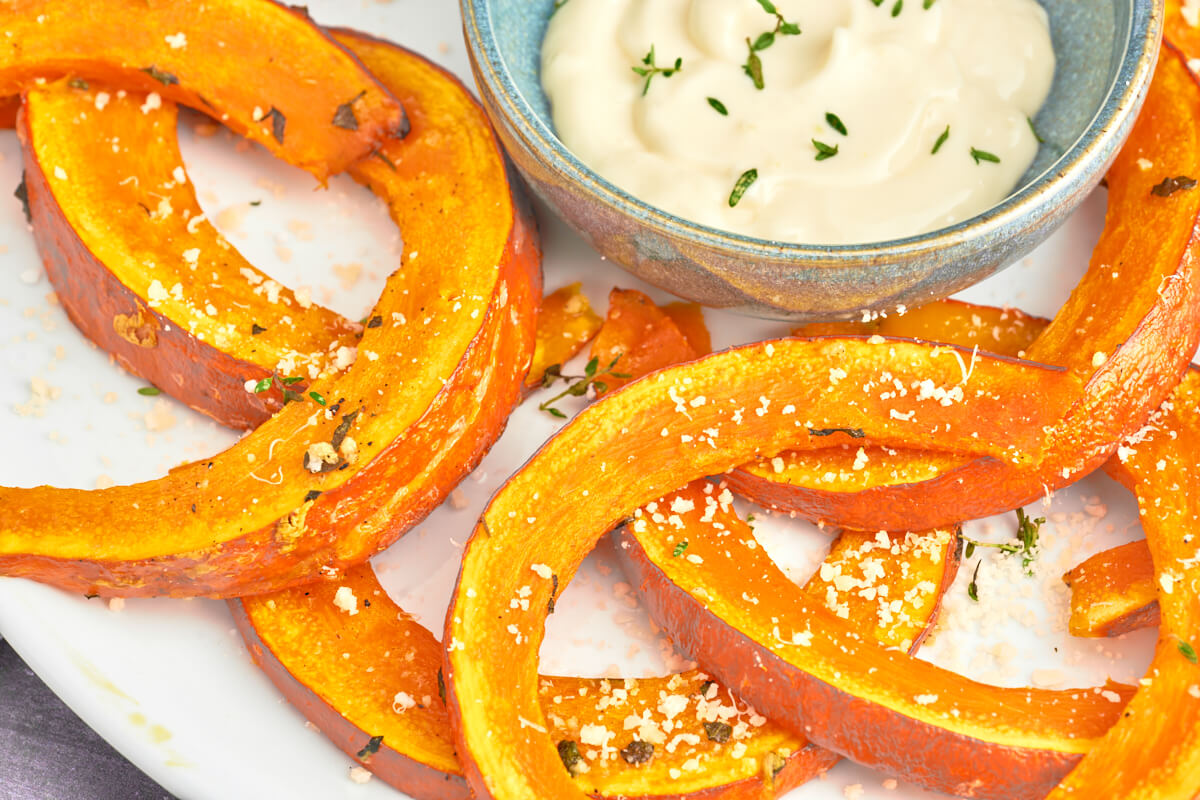 How do you like the recipe?
Have you tried this recipe? We'd love to hear what you think of it. Leave a comment, add number of stars to the recipe and share your photo on Instagram with #madformadelskere – We love seeing your dishes ♥️
Also sign up for our Facebook group where you can show pictures of the delicious food you make! You can find the Facebook group here