Quinces are fun and exciting to cook with. Today, we've made a delicious quince jam perfect for a cheese platter or on top of freshly baked rolls with cheese. Read on to get our recipe.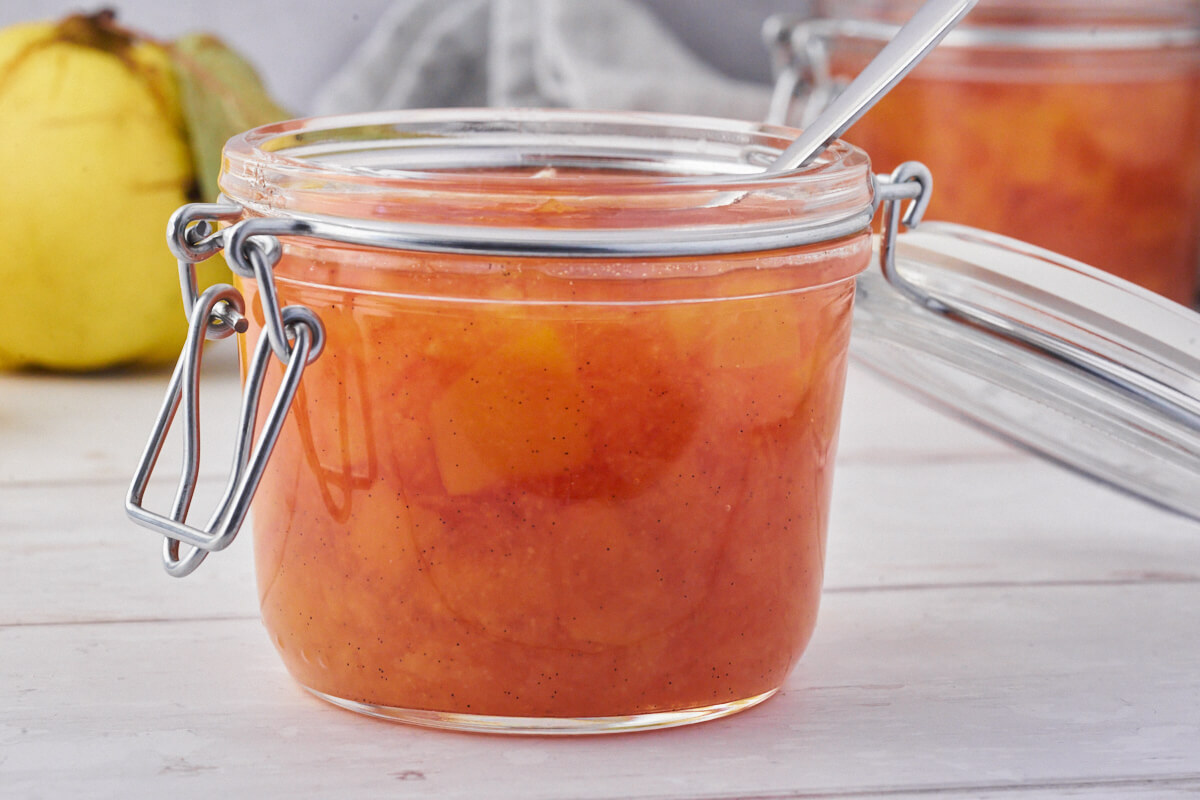 Delightful Sweet Jam
We've dived into making some recipes with quinces this year. We've been lucky to receive some as a gift, so it's time to get started!

Previously, we made Quince Jelly, which is incredibly delicious to serve with meat or game, or to use in sauces or other dishes. Today, we've taken on quince jam.

It's a delightful jam that tastes a bit like pear or apple jam but has that distinctive fragrant quince flavor, combined with vanilla. Yum, it's just delicious! We love to enjoy it on everything from pancakes and freshly baked bread to a cheese platter or in cakes. It can be used in so many ways, so if you have access to quinces, we can only recommend that you start making some jam yourself.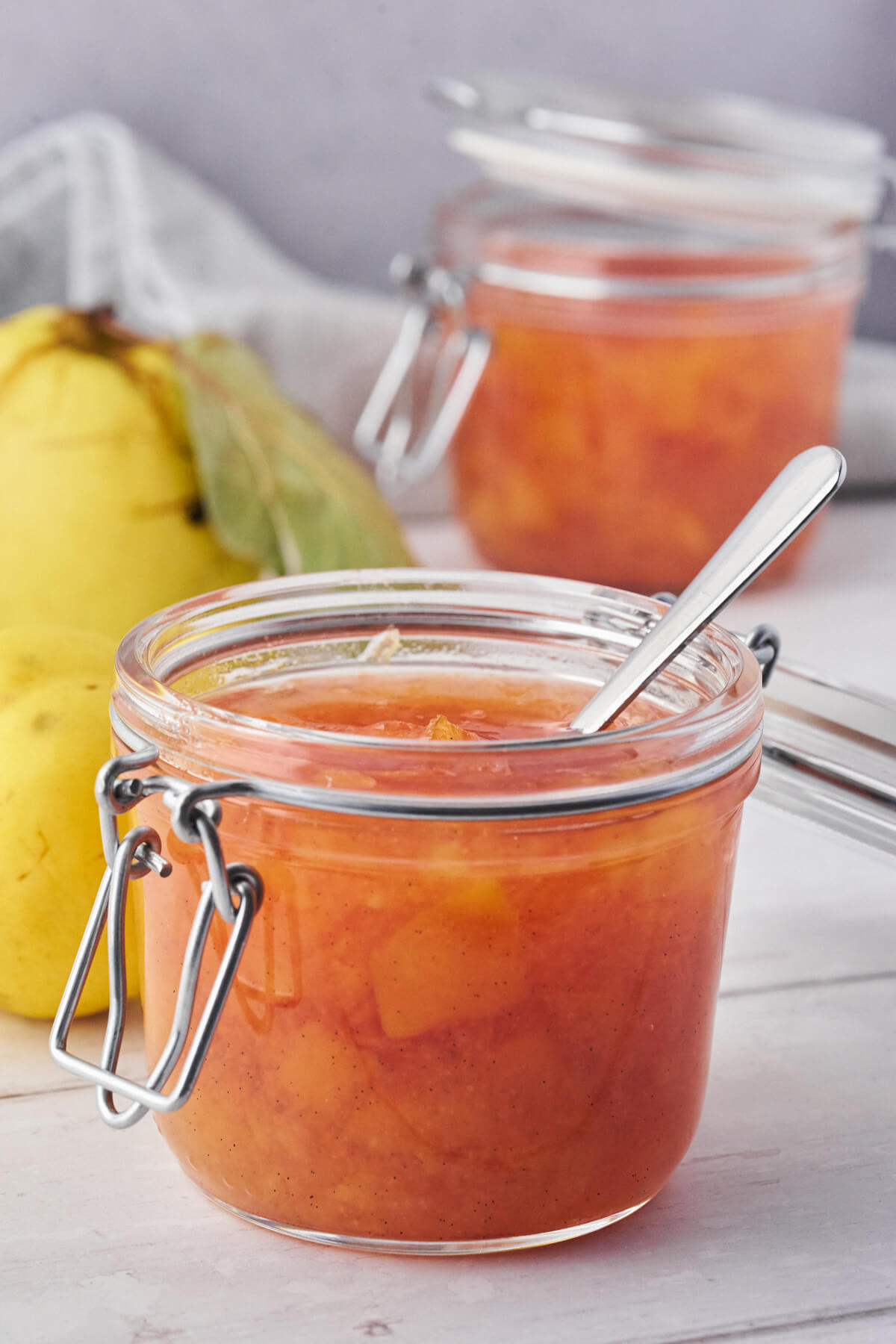 Ingredient notes
Quinces – We've used some Danish quinces here. You can use both apple and pear quinces. We used about 3 quinces, which amounted to 350 grams once the core was removed.

Sugar – You'll need a fair amount of sugar, both for the flavor and to achieve a thick jam. There's no need to add a gelling agent, as quinces contain plenty of pectin.

Vanilla – Vanilla complements the quince flavor nicely. You can use vanilla bean seeds or substitute with vanilla paste. You can also use vanilla sugar if that's what you have at home. If you use vanilla sugar, you can replace a couple of spoonfuls of sugar with vanilla sugar.
How to make the jam?
Fortunately, it's quite easy to make this jam yourself, and it tastes great. So, go ahead and make a large batch if you have many quinces in your garden.

First, wash the quinces. I don't peel them because the skin becomes very soft and adds some texture. If you don't want the skin, you can peel them, of course.

The washed quinces should be cut into small cubes, about 1-2 cm, and discard the core. Put the quince pieces in a pot with water, sugar, lemon juice, and vanilla, and bring it to a boil. Now, let the jam simmer for about 30 minutes. Remove the lid for the last 10 minutes so the jam thickens a bit. It will set more as it cools.

Put the jam in clean, sterilized jars, and let it cool before it's ready to eat.

Find the full recipe further down this page.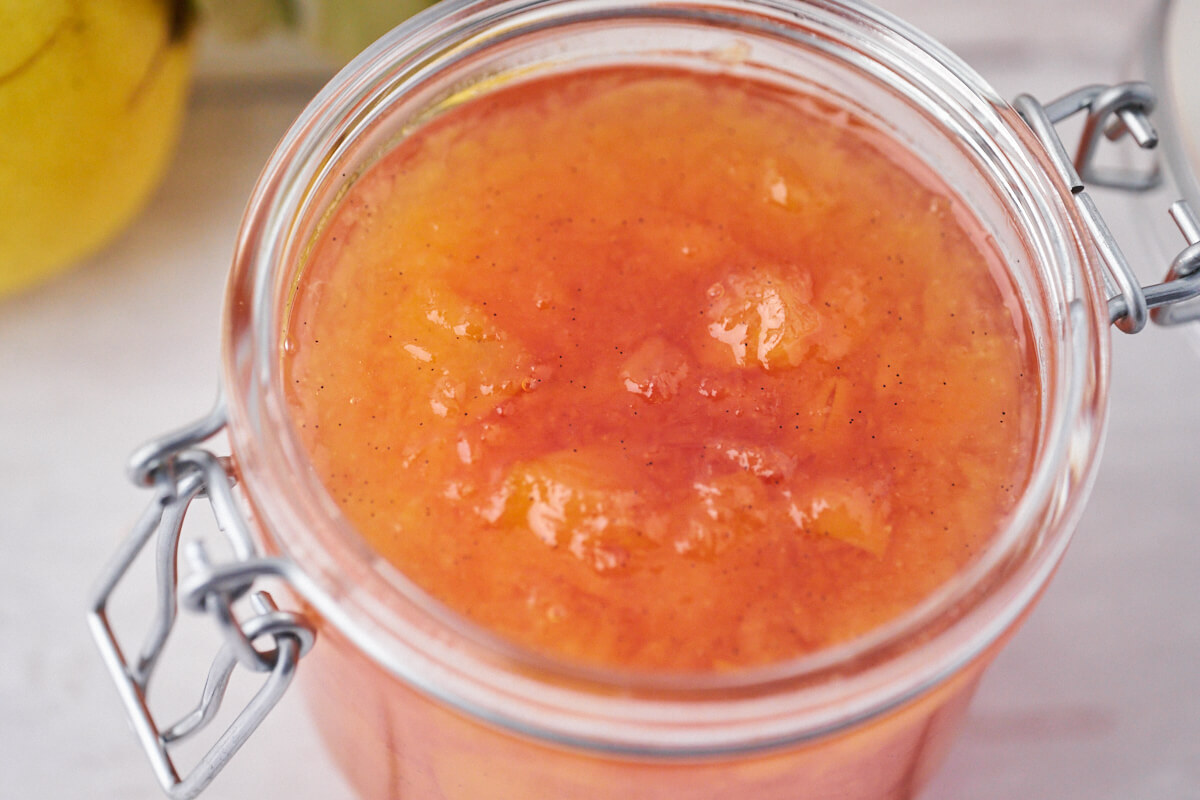 Frequently asked questions
How should I store the jam?
We have a cool pantry where we store all our jam and preserves until the jar is opened. Once the jar is open, it should be kept in the refrigerator.
Other jam recipes you might like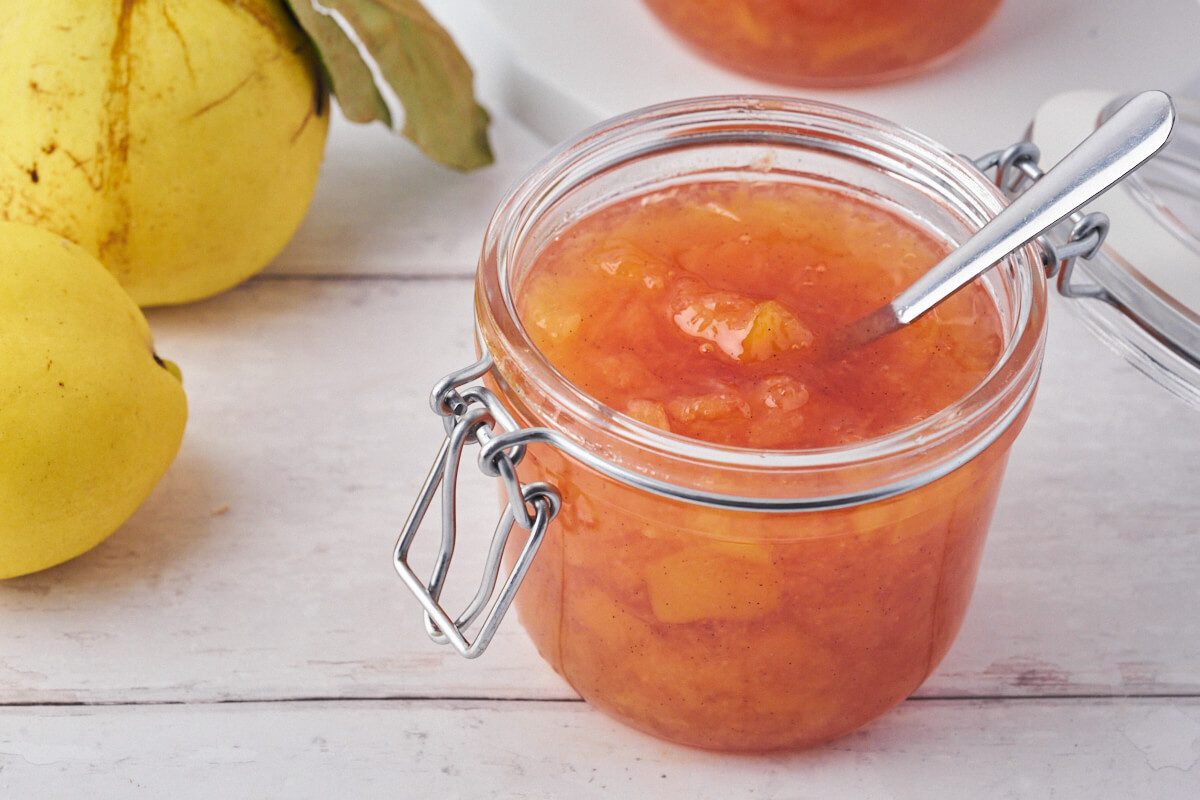 Tips and tricks for the recipe
Be meticulous about hygiene when making jam. The jars should be well-washed, scalded in boiling water, and then rinsed with antamon or taste-neutral spirits like vodka. Fill the jars completely and seal them immediately for the best shelf life.
Serving suggestions
Enjoy it on freshly baked bread or French bread with cheese.
Serve it for breakfast or on pancakes.
Do you have a lot of quinces in your garden?

Also, try our recipe for Quince Jelly.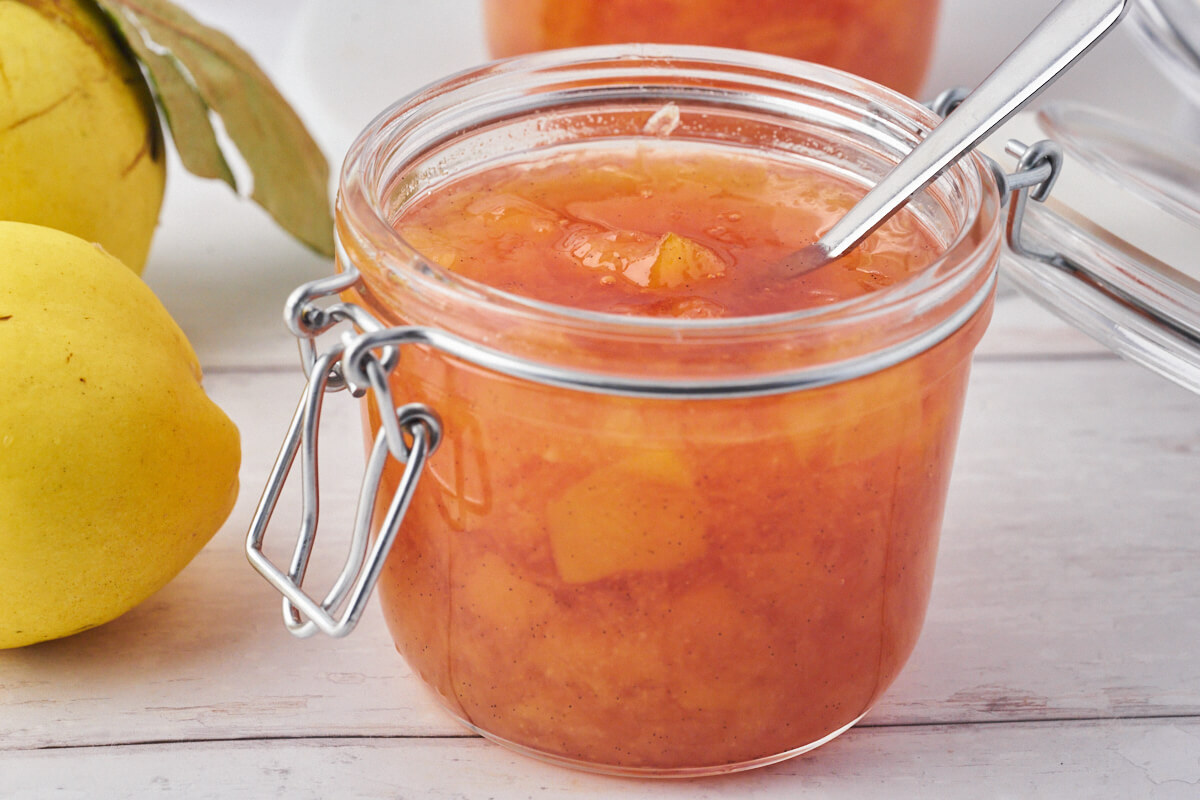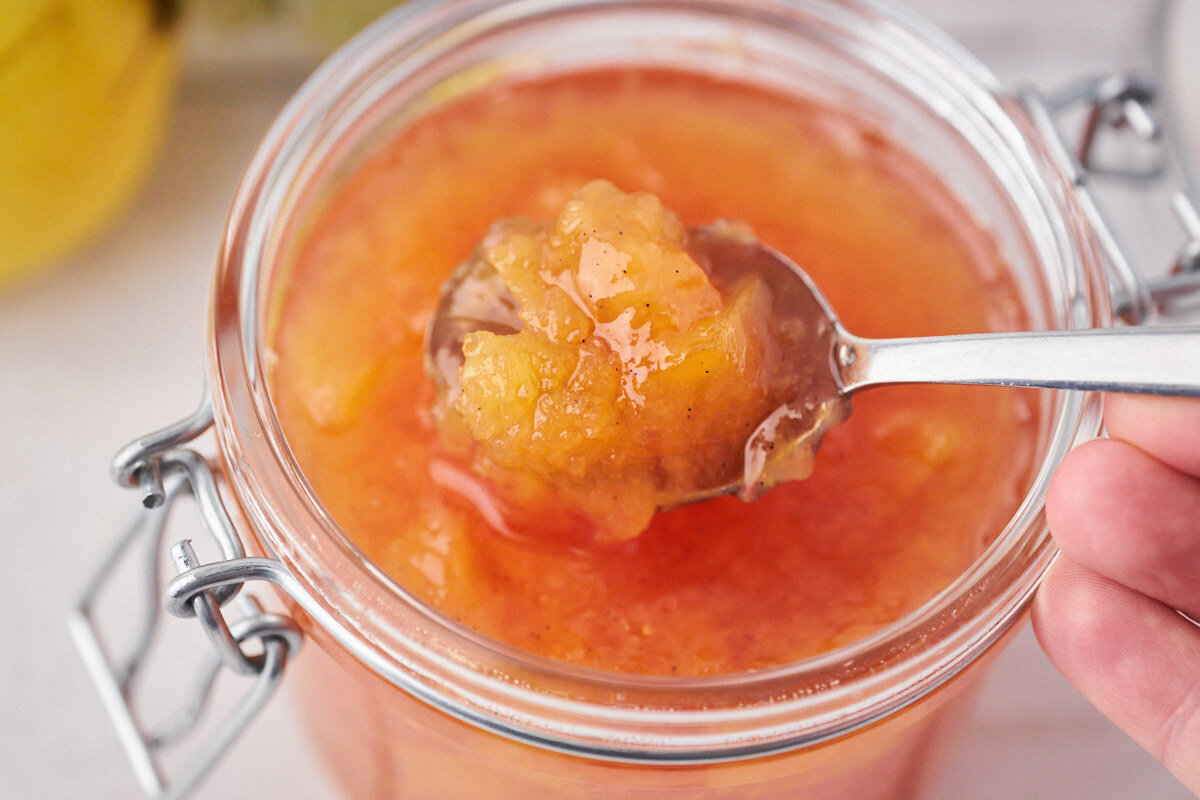 Recipe for marmalade with quinces
Here's our super easy and super delicious quince jam recipe. We love this jam, both kids and adults, so we hope you will too. We hope you feel like trying the recipe if you have quinces at home.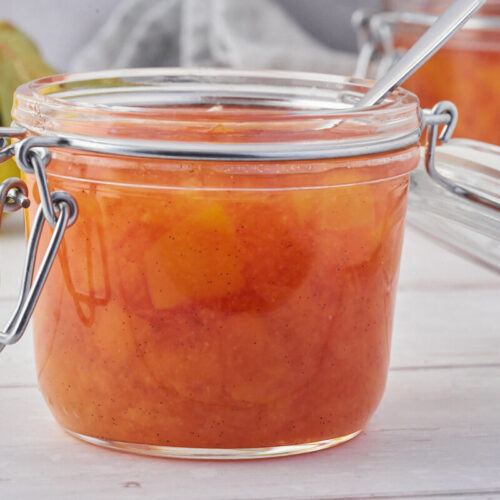 Quince jam
Recipe for quince jam
Delicious recipe for homemade quince jam. It's delightful to enjoy on pancakes or bread or as a complement to cheese.
Ingredients  
350

g

quinces

weight after cutting

400

g

sugar

1

vanilla bean

1

lemon

the juice

3

dl

water
Instructions 
Wash the quinces thoroughly, remove the core, and cut them into 1-2 cm cubes. You don't need to peel the quinces. The weight specified in the recipe is the weight after cutting.

Put the quince pieces in a pot along with the sugar, lemon juice, the seeds from the vanilla bean, and water. Bring it to a boil.

400 g sugar,

1 vanilla bean,

1 lemon,

3 dl water

Reduce the heat once it's boiling and let it simmer for 30 minutes. The first 20 minutes should be covered, and for the last 10 minutes, remove the lid to allow the jam to thicken slightly. It will thicken even more as it cools.

Transfer the finished jam into clean, sterilized jars that have been rinsed with antamon or vodka to sterilize them. Seal the lids on the jars and let them cool down.
Nutrition
How do you like the recipe?
Have you tried this recipe? We'd love to hear what you think of it. Leave a comment, add a number of stars to the recipe and share your photo on Instagram with #madformadelskere – We love seeing your dishes ♥️
Also, sign up for our Facebook group where you can show pictures of the delicious food you make! You can find the Facebook group here