Classic old-fashioned Danish Waldorf salad with celery, grapes, apples, and walnuts in a creamy dressing made of whipped cream and sour cream, which is really delicious to serve with game, duck, or as a Christmas salad. Read on and get our recipe.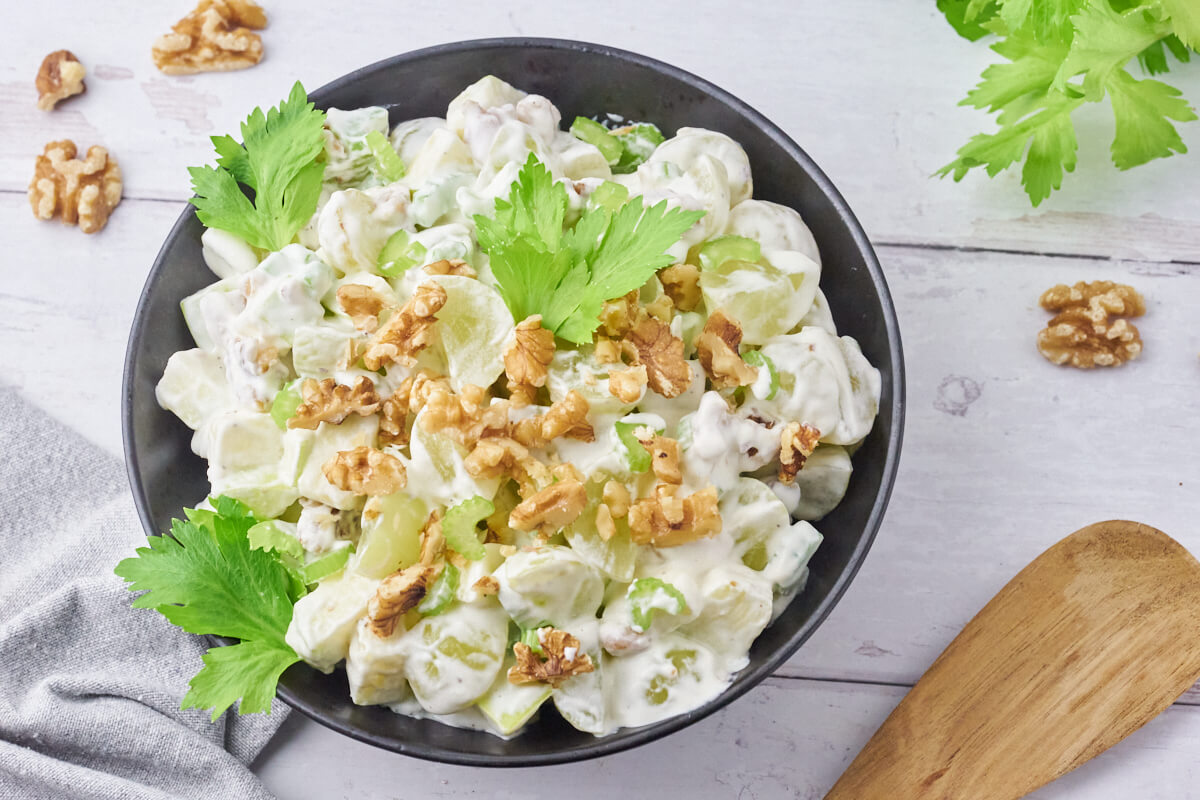 Salad for game, duck, or Christmas Eve
Waldorf salad originates from the USA in the late 1800s, but it's also a salad that has been eaten for many years in Denmark.

Many of us might remember it from our parents or grandparents.

And it's worth remembering because it still holds up!

The slightly quirky combination of celery, apples, grapes, and walnuts is a delightful mix to serve with both game, duck, or as a salad for Christmas Eve.

It's a salad that seems to have been forgotten a bit here in Denmark, so we think it deserves to be brought back into the spotlight because it's just delicious!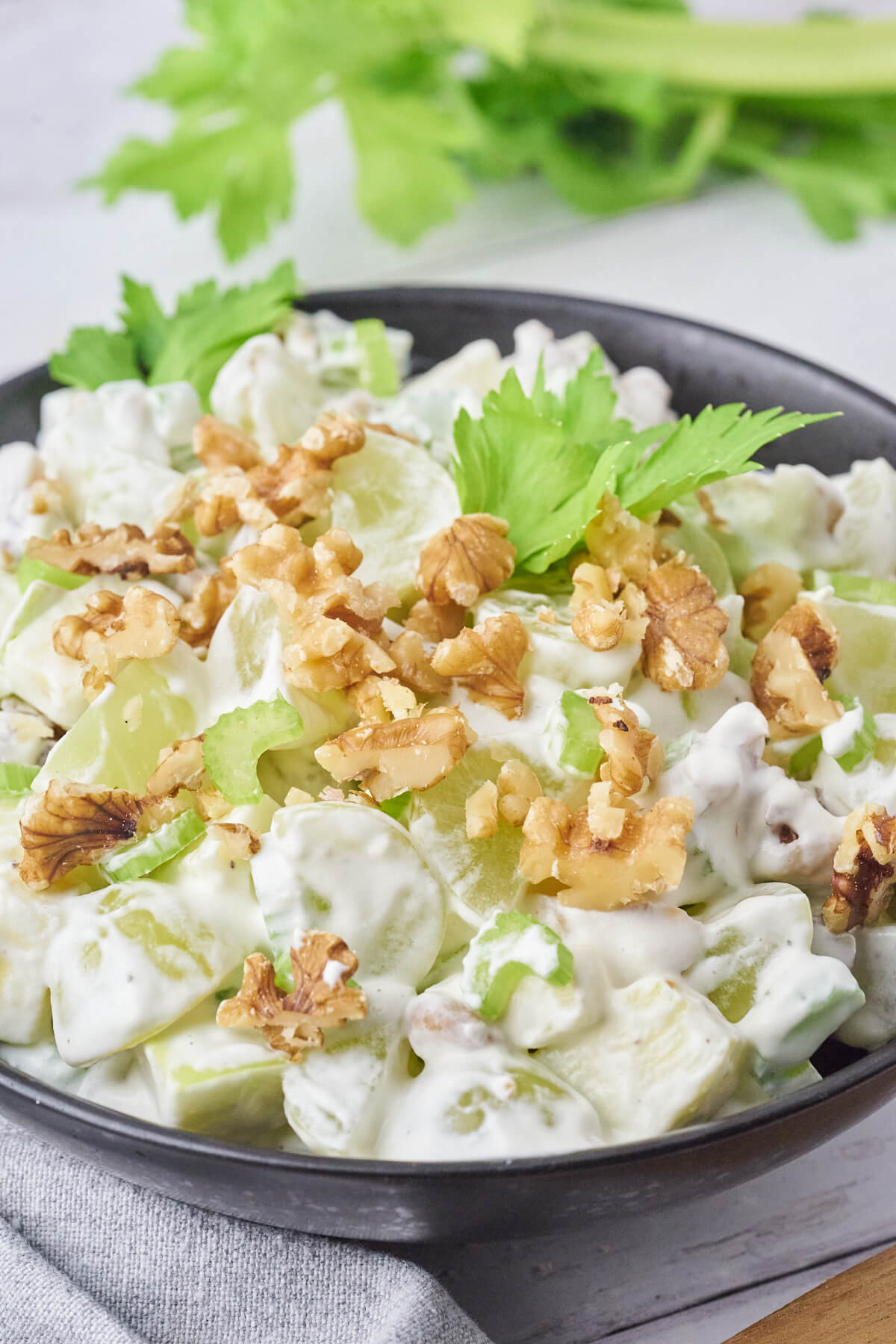 Ingredient notes
Celery – The green stalks; we choose the smallest stalks as they tend to be the most delicate, in our opinion.

Grapes – Here, we use green grapes, but you can also use red or choose a combination.

Apples – We use slightly tart green apples, but you can use the type you prefer. We think the apples should have a bit of tartness in this salad as it complements the slightly rich dressing.

Walnuts – Regular walnut kernels, commonly found in most supermarkets. The slightly bitter nuts fit really well in the salad.

Whipping cream – Not everyone makes Waldorf salad with cream, but we believe it's essential. Not much cream is needed, but it provides the right creaminess and richness to the salad.
How to make Danish Waldorf Salad?
It's really easy to make a delicious Waldorf salad for the next time you're serving roast duck or game, or perhaps for Christmas Eve, and you should try this Danish version with whipped cream.

First, cut all the vegetables into bite-sized pieces and chop the nuts. Then, prepare a dressing using sour cream, honey, lemon juice, salt, and pepper, which you mix with lightly whipped cream.

Toss the dressing into the salad and garnish it with some walnuts and celery leaves.

Now, the salad is ready to serve, but it's good to let it sit in the refrigerator for at least half an hour before serving.

Find the full recipe further down this page.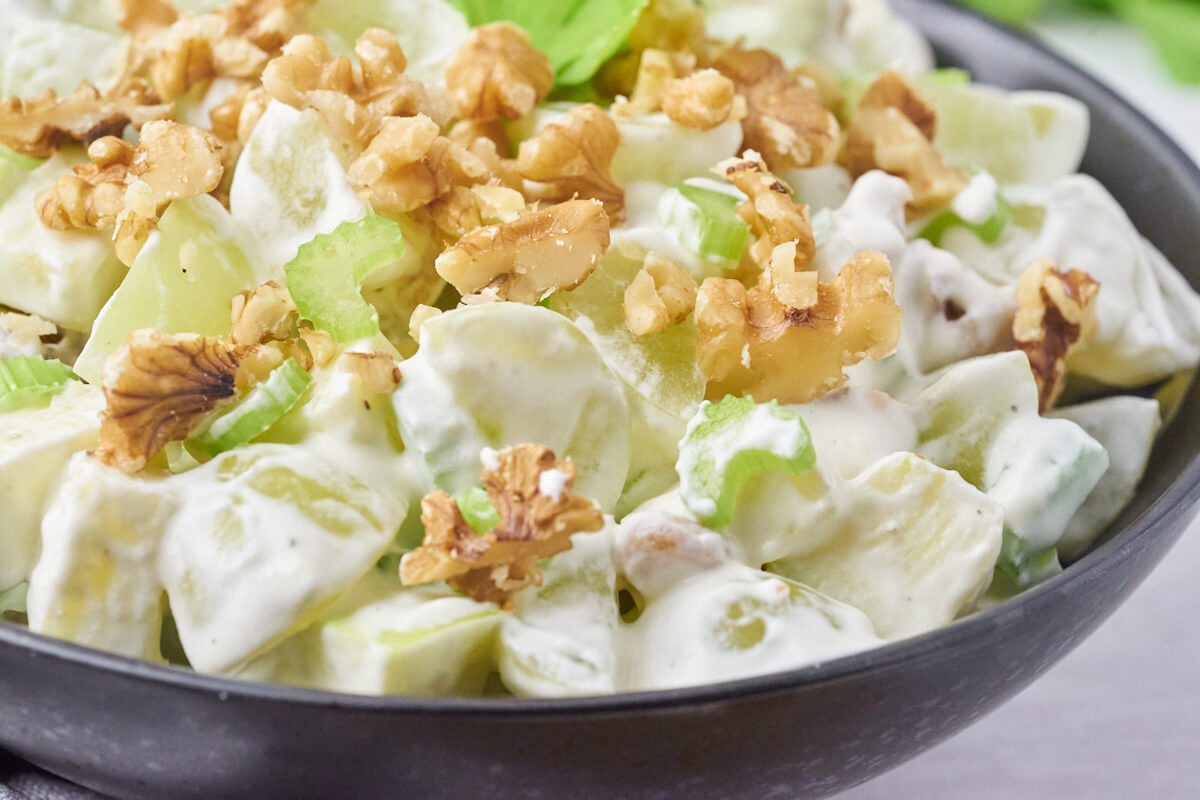 Frequently asked questions
Can I make Waldorf salad the day before?
Yes, you can easily do that. Store it in an airtight container in the refrigerator until it's time to serve.

Can I make Waldorf salad without cream?
Yes, you can. You can either skip the cream and make the dressing solely with sour cream, but some also add a spoonful of mayonnaise to provide a bit of richness. Both work well, but the truly old-fashioned Danish version includes cream.
Other salad recipes you might like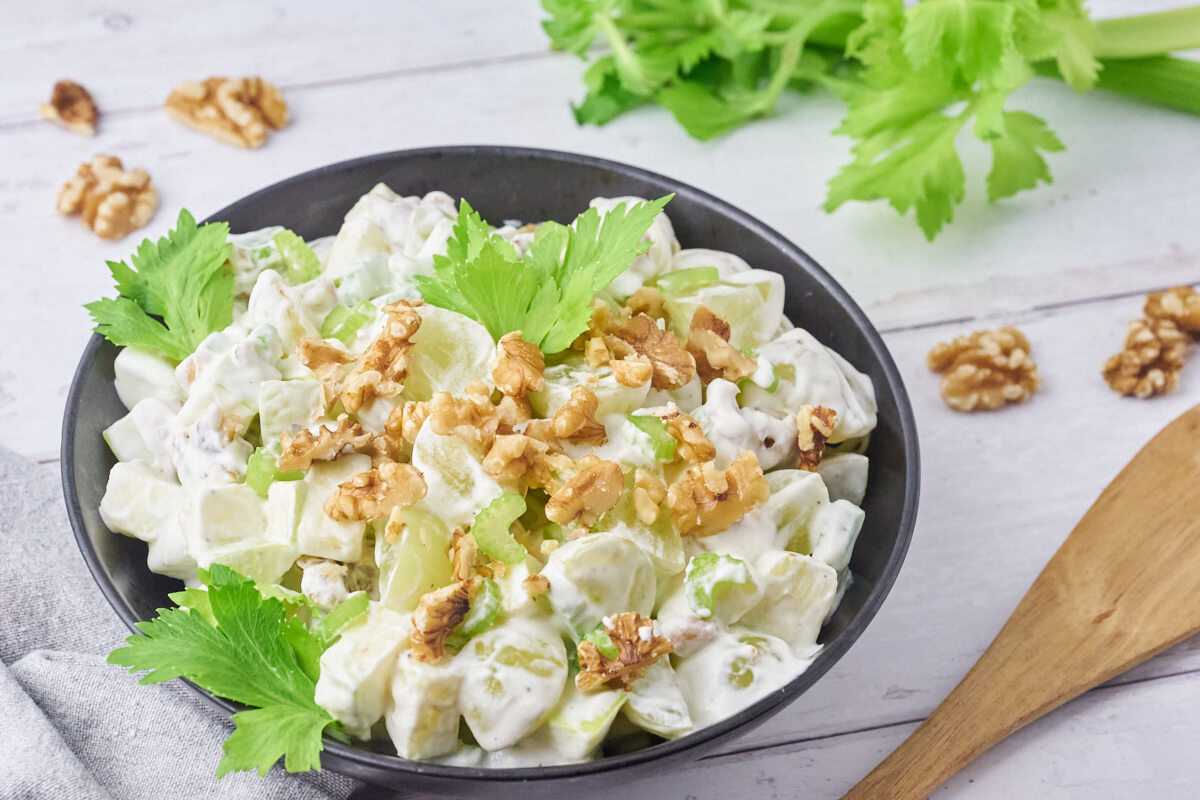 Tips and tricks for the recipe
It's advisable to make the salad in advance; it only gets better by resting for half an hour or longer in the refrigerator.
Serving suggestions
Serve the salad with game or roast duck, when you want to make something extra special or perhaps for St. Martin's Day or Christmas Eve.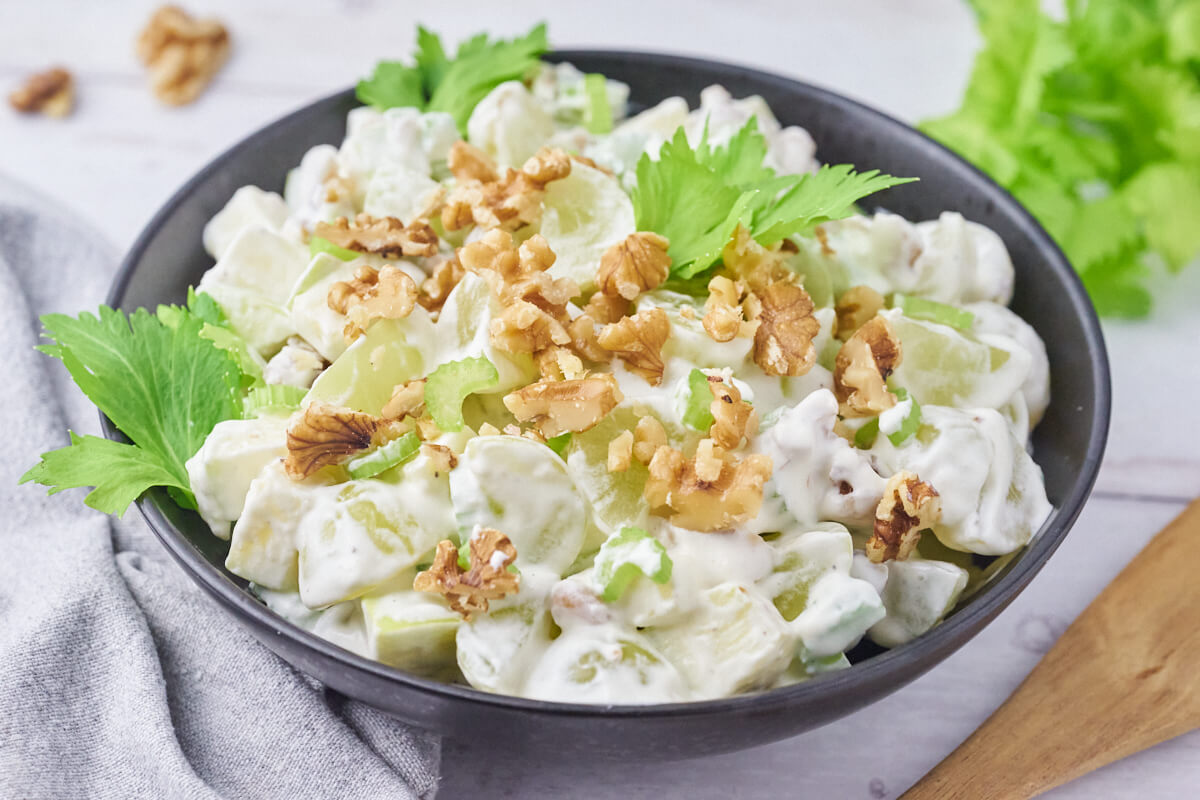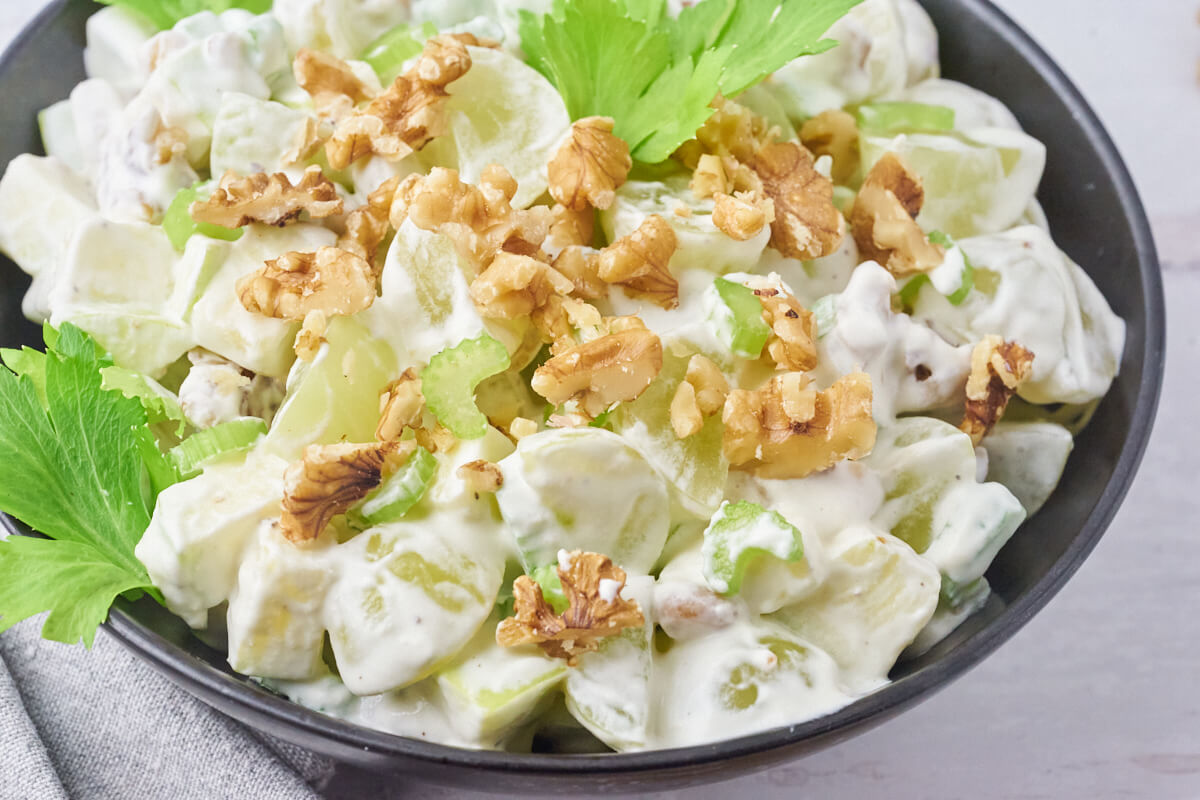 Recipe for old-fashioned salad with celery
Here's our recipe for a completely classic Waldorf salad, just like the one you might remember from your childhood. It's made with a creamy dressing with whipped cream and pairs well with game or duck but is also delightful to serve with turkey, chicken, or other poultry.

We hope you feel inspired to try the recipe and serve the salad to your family or guests.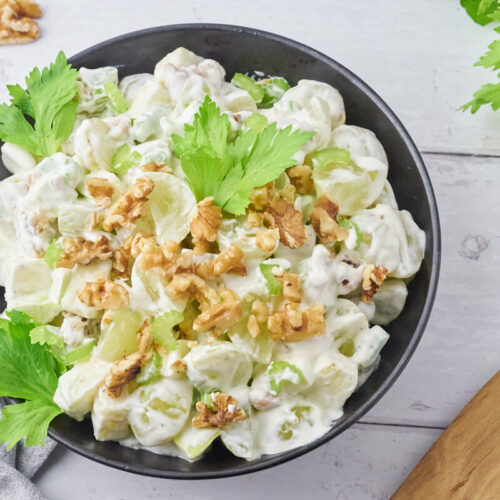 Danish Waldorf Salad
Recipe for Danish Waldorf Salad
Easy and delicious classic salad with celery, grapes, apples, and walnuts. Feel free to prepare the salad in advance and serve it with meat, game, or duck.
Ingredients  
400

g

grapes

4

stalks

celery

2

apples

tart

100

g

walnut kernels
Dressing
2

dl

sour cream

1

tbsp

honey

1

tbsp

lemon juice

½

tsp

salt

Pepper

1

dl

whipping cream
Instructions 
Cut the grapes in half or quarters, depending on their size. Slice the celery thinly and dice the apples into small cubes, leaving the peel on. Roughly chop the walnut kernels.

400 g grapes,

4 stalks celery,

2 apples,

100 g walnut kernels

Mix sour cream, honey, lemon juice, salt, and pepper together. Whip the cream until it forms soft peaks; it shouldn't be too stiff, just lightly whipped. Fold the whipped cream into the dressing. Use a spatula to gently combine them to avoid deflating the dressing too much.

2 dl sour cream,

1 tbsp honey,

1 tbsp lemon juice,

½ tsp salt,

Pepper,

1 dl whipping cream

Combine celery, apple, grapes, and walnuts with the dressing. You can reserve some walnuts for garnishing, if desired.

Arrange the salad in a bowl and garnish it optionally with walnut kernels and celery leaves.
Nutrition
Serving:
1
person
Calories:
486
kcal
Carbohydrates:
43
g
Protein:
7
g
Fat:
35
g
Saturated Fat:
12
g
Polyunsaturated Fat:
13
g
Monounsaturated Fat:
7
g
Cholesterol:
58
mg
Sodium:
349
mg
Potassium:
596
mg
Fiber:
5
g
Sugar:
33
g
Vitamin A:
979
IU
Vitamin C:
11
mg
Calcium:
124
mg
Iron:
1
mg
How do you like the recipe?
Have you tried this recipe? We'd love to hear what you think of it. Leave a comment, add a number of stars to the recipe and share your photo on Instagram with #madformadelskere – We love seeing your dishes ♥️
Also, sign up for our Facebook group where you can show pictures of the delicious food you make! You can find the Facebook group here