Delicious seafood salad at its best! We love prawns and crayfish tails, so a beautiful combination of them in a delicious seafood salad is just perfect. It works really well as a small appetizer or as a complete meal served with crispy toasted bread rubbed with a little garlic. Read on for the easy recipe.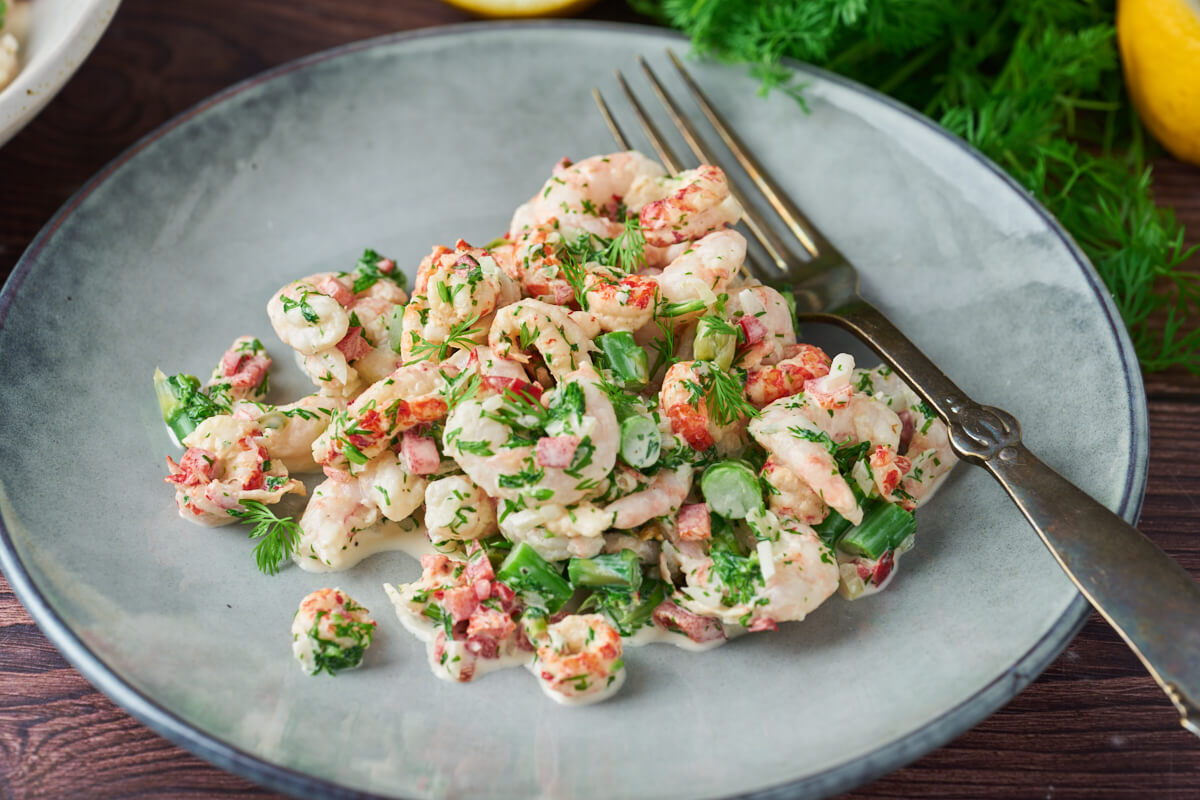 Appetizer with crayfish tails or wonderful summer food
A delicious seafood salad and a glass of chilled white wine on a warm summer evening, it doesn't get any better than that!

This salad with prawns and crayfish tails is one of our favorites during the summer, both for adults and kids. The salad has a very mild flavor, making it really child-friendly, and our kids love it! They have been eating it since they were little and still enjoy it.

It has a great taste of fresh dill and other ingredients, and as mentioned, it can be enjoyed as a delicious appetizer or a complete meal.

Seafood salad is not just for summer. It's also a wonderful starter for New Year's Eve or other festive occasions where you want to make a little extra effort with the food.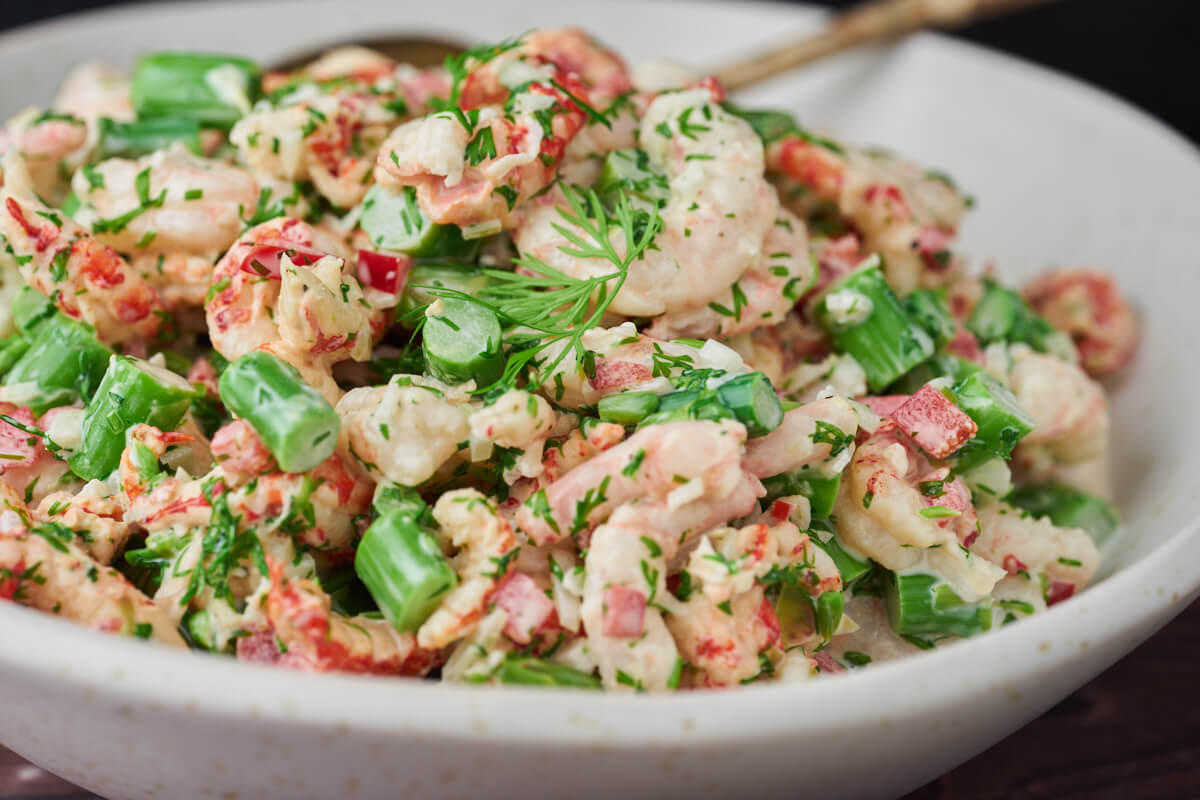 Dressing for seafood salad
The dressing in this recipe goes well with different types of seafood salad. You can easily vary the ingredients in your salad and use the same dressing with mayonnaise, sour cream, dill, and garlic.

It's a classic and delicious dressing that you can also use with other vegetables, fruits, and seafood. For example, try replacing asparagus with melon, avocado, or mango.
As a Tapas dish
Seafood salad can easily be enjoyed as part of a larger tapas spread. We often do that, just like with salmon rillette or other seafood dishes.

I think it's really nice to have some fish or seafood on the tapas table, and it's also a good way to get some fish into the kids.

Ellen loves prawns, so it's not a problem for her, but Johannes is a bit more selective, although he usually enjoys shrimp and crayfish tails as well.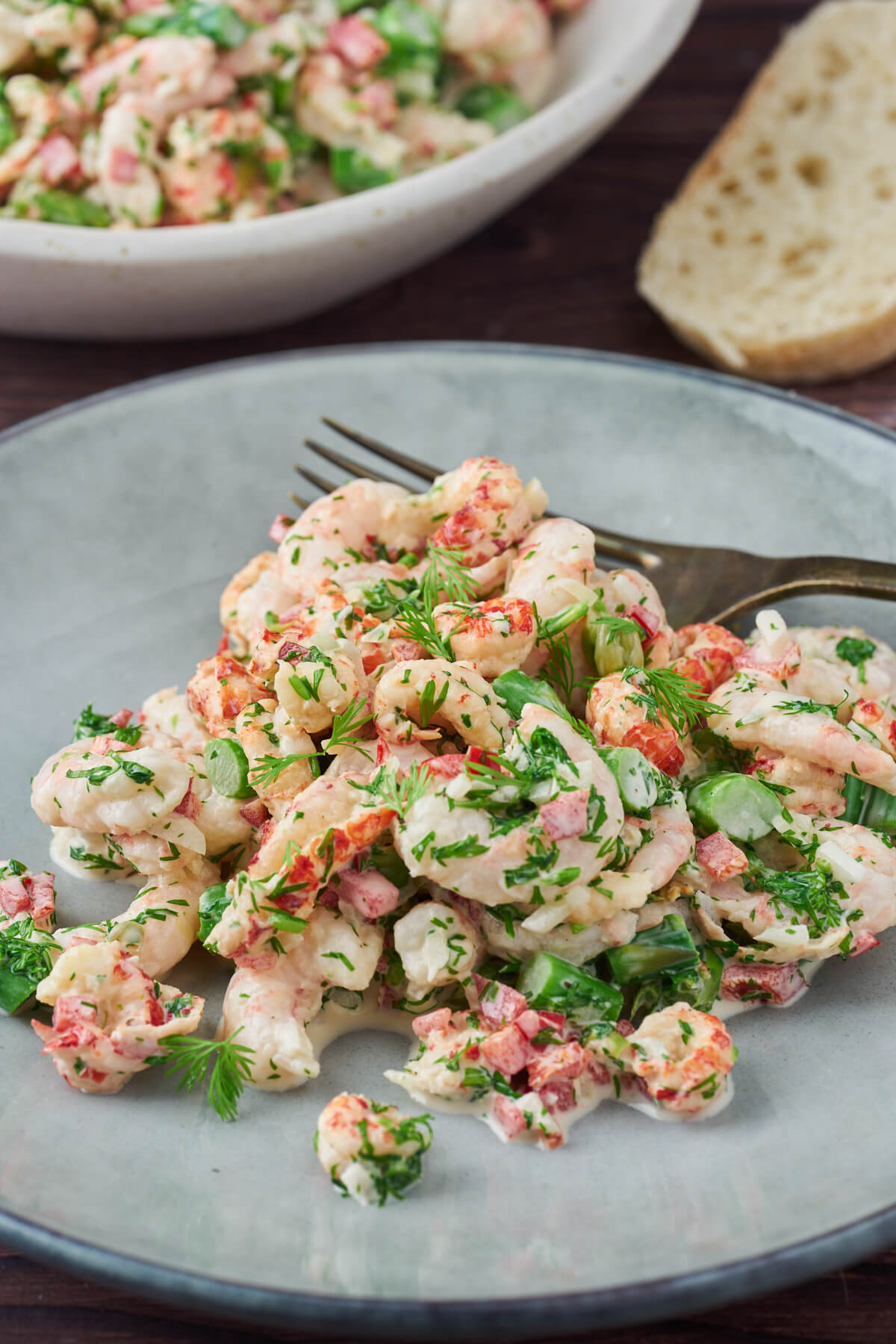 Ingredient notes
Prawns in brine – Preferably large Greenlandic prawns.

Crayfish tails in brine – Yummy! Just love them. They can be purchased at most larger supermarkets.

Onion – Adds a bit of sharpness to the salad.

Red bell pepper – Provides good flavor and a bit of color and crunch to the salad. It goes really well with the seafood.

Green asparagus – Adds crunch and flavor.

Sour cream – Lightens the dressing and adds a bit of acidity.

Mayonnaise – Homemade or store-bought. If you don't feel like making it yourself, I can recommend Hellmann's.

Garlic – A tasty touch without overpowering the other ingredients.

Fresh dill – Dill and seafood are just a great match.

Salt and pepper – Remember to taste the salad and adjust the seasoning.
How to make Danish seafood salad?
Once you've made this fantastic seafood salad once, the recipe will stick with you! And luckily, it's also really easy to make.

Snap off the ends of the green asparagus, then briefly blanch them in boiling water. Cool them down in cold water to stop the cooking process. Cut them into suitable pieces and set them aside. Place the prawns and crayfish tails in a sieve to drain.

Mix mayonnaise, sour cream, chopped dill, and garlic in a bowl and season with salt and pepper.

When the flavor is satisfying, add the drained prawns, crayfish tails, asparagus pieces, diced red bell pepper, and onion to the dressing. Mix everything well together. Now, refrigerate the seafood salad until ready to serve.

Find the full recipe further down this page.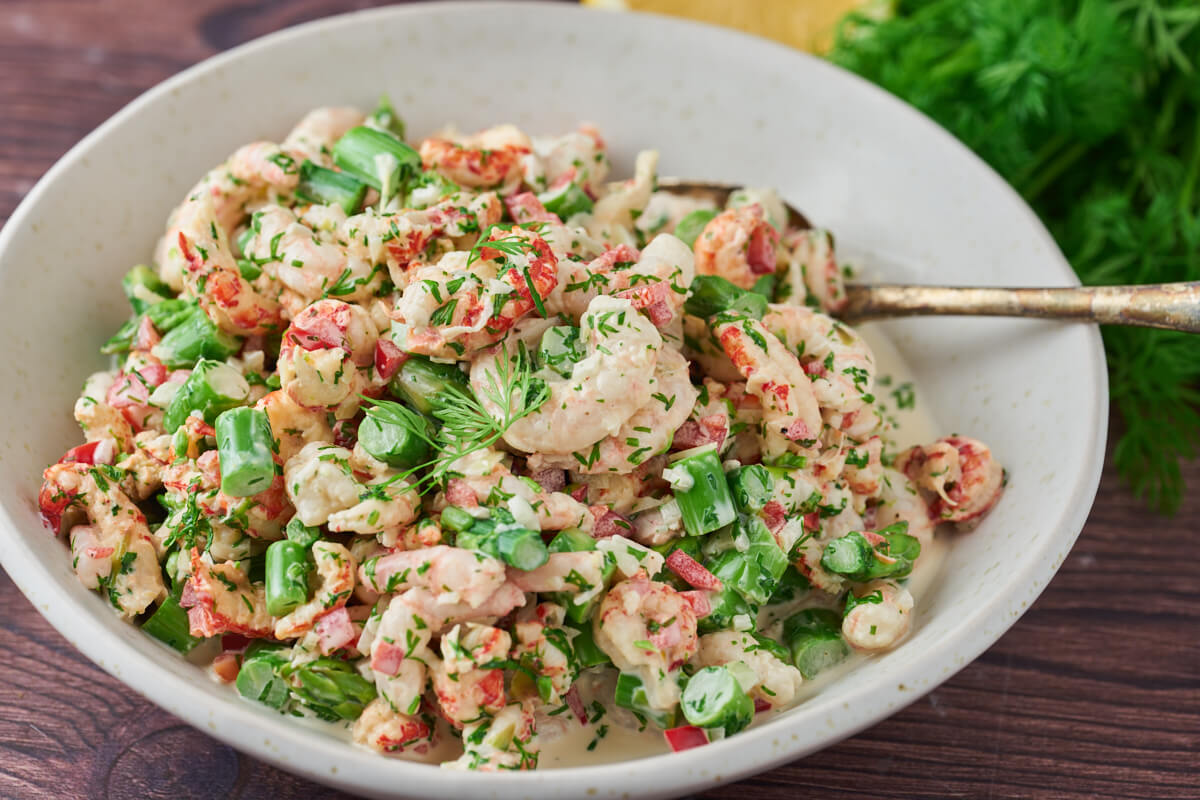 Frequently asked questions
How should I store the salad?
Once you've finished making the salad, it should be stored in the refrigerator. In fact, it gets even better by letting it sit and develop flavors for a couple of hours before serving.

Can I make the salad in advance?
Yes, please do. It's recommended to make it a few hours before serving. Let it sit in the refrigerator and develop flavors until serving.
Other seafood recipes you might like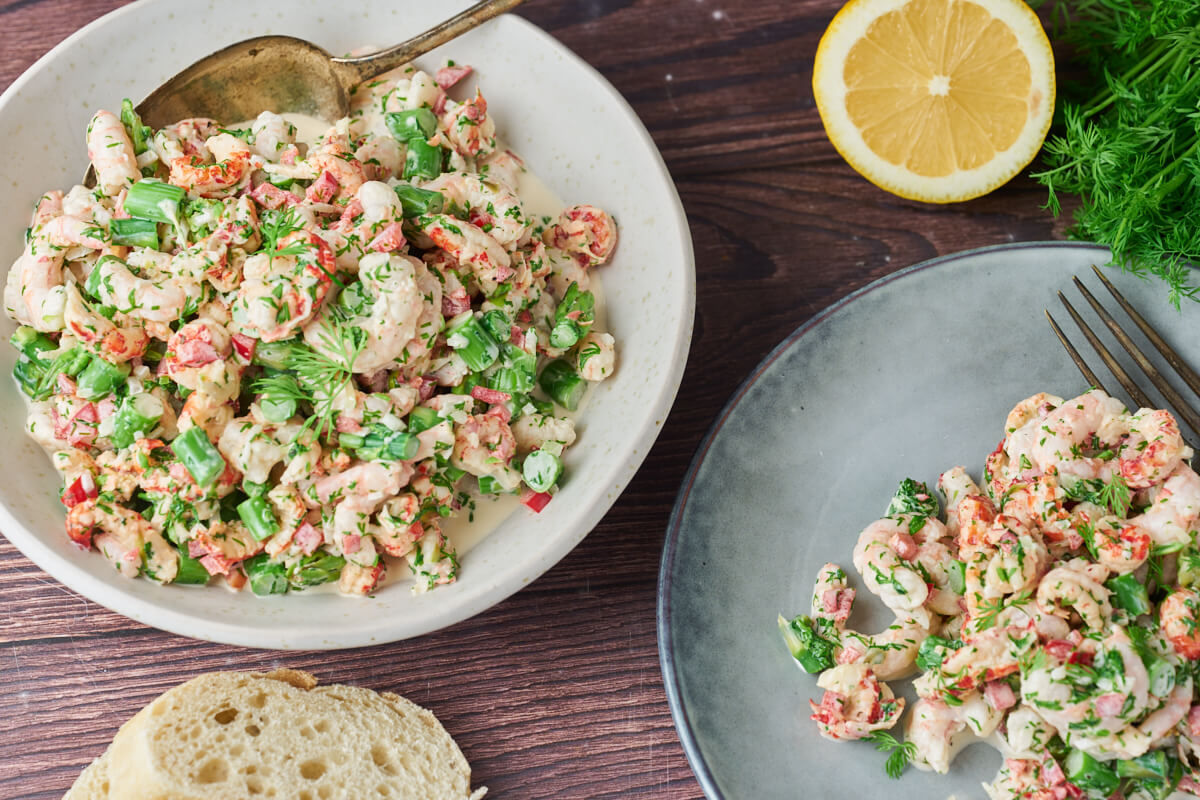 Tips and tricks for the recipe
Make the salad a few hours before serving; it benefits from being chilled and developing flavors before eating.
Taste the dressing thoroughly, and also taste the salad after mixing everything together to see if it needs more salt and pepper.
Add plenty of dill, it only makes it better!
Serving suggestions
Serve as an appetizer for New Year's Eve, confirmation, or other festive occasions.
For an extra touch of luxury, serve the salad on small homemade blinis.
Serve as a main course on a warm summer day on the terrace.
Use it as a tapas dish or as an element on a brunch or lunch table for Christmas lunch.
Do you love this recipe?

Try our recipe for Baked salmon with browned butter sauce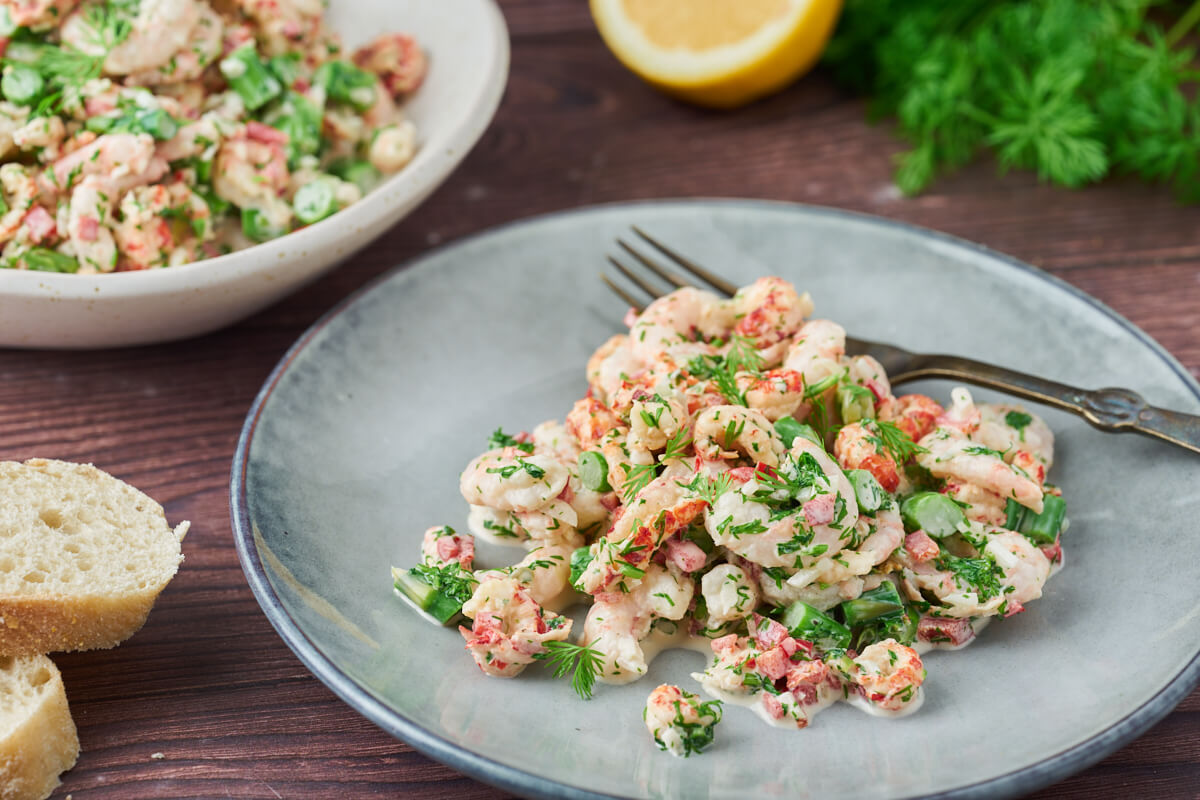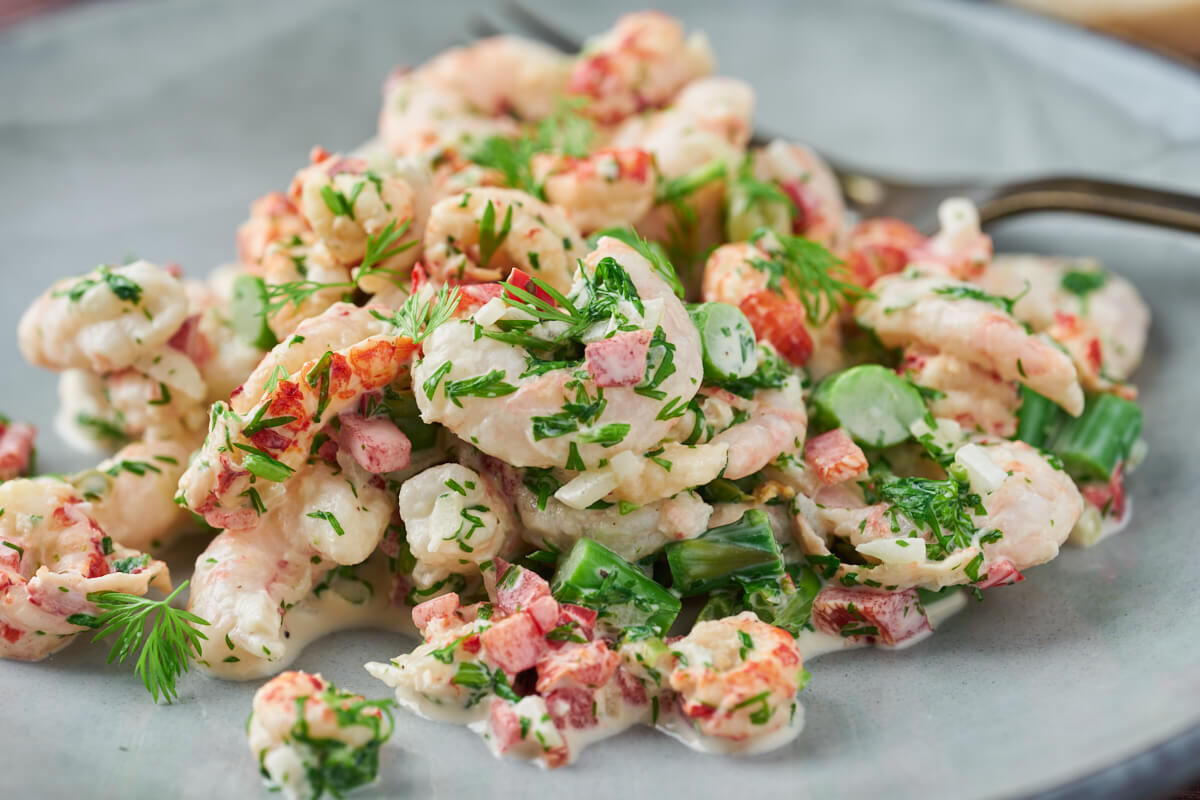 Recipe for homemade crayfish tail salad with prawns
Here's the recipe for the best seafood salad with crayfish tails and prawns. It tastes wonderful in the summer because of the dill and asparagus. Of course, you can easily experiment with other types of herbs if you like, but dill goes really well with seafood.

We hope you feel inspired to try the recipe; it's delightful to eat all year round, both on a warm summer day and as an appetizer for New Year's Eve or other festive occasions.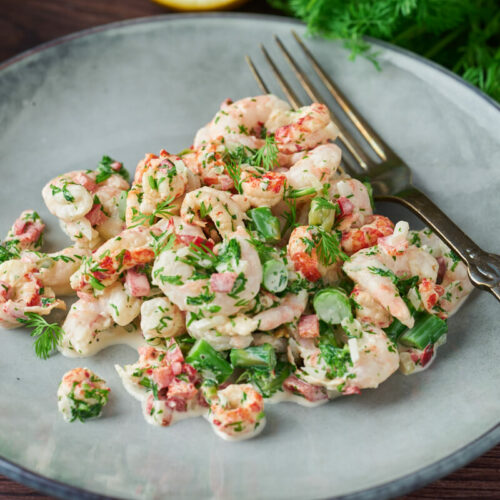 Danish Seafood salad
Recipe for Danish seafood salad
Easy and delicious seafood salad. It's perfect as an appetizer or a light lunch on a warm summer day. It's easy to make and includes both prawns and crayfish tails along with tasty green asparagus and a good dressing. The recipe serves 4 people as an appetizer or 2 people for lunch.
Ingredients  
200

g

prawns in brine

200

g

crayfish tails in brine

8

green asparagus

1/2

red bell pepper

1

onion

2

tbsp

sour cream

1

tbsp

mayonnaise

1/2

clove

garlic

1

dl

fresh dill

Salt

Pepper
Instructions 
Place the shrimp and crayfish tails in a sieve and let them drain.

200 g prawns in brine,

200 g crayfish tails in brine

Now, let's prepare the green asparagus. First, remove the tough ends by holding each end and snapping it off, leaving the tender part with the tip. Boil them in water for about 3 minutes. Drain the hot water and rinse them under cold running water. Once they have cooled down, let them drain, and then cut them into approximately 1 cm pieces.

Dice the onion and red bell pepper into small cubes.

1/2 red bell pepper,

1 onion

Finely chop the dill and crush the garlic.

1 dl fresh dill,

1/2 clove garlic

In a bowl, mix together mayonnaise and sour cream with dill and garlic, and season with salt and pepper to taste.

2 tbsp sour cream,

1 tbsp mayonnaise,

Salt,

Pepper

Add the diced onion, red bell pepper, asparagus, shrimp, and crayfish tails to the dressing and mix well.

Serve the salad as an appetizer or lunch with a good piece of bread or homemade baguettes.
Nutrition
Serving:
1
person
Calories:
116
kcal
Carbohydrates:
7
g
Protein:
13
g
Fat:
5
g
Saturated Fat:
1
g
Polyunsaturated Fat:
2
g
Monounsaturated Fat:
1
g
Trans Fat:
0.01
g
Cholesterol:
94
mg
Sodium:
107
mg
Potassium:
477
mg
Fiber:
2
g
Sugar:
3
g
Vitamin A:
2680
IU
Vitamin C:
44
mg
Calcium:
109
mg
Iron:
3
mg
How do you like the recipe?
Have you tried this recipe? We'd love to hear what you think of it. Leave a comment, add a number of stars to the recipe and share your photo on Instagram with #madformadelskere – We love seeing your dishes ♥️
Also, sign up for our Facebook group where you can show pictures of the delicious food you make! You can find the Facebook group here