Garlic bread with cheese is a delicious pull-apart bread, also known as a tear-and-share bread, that you break apart at the table when eating. This version is loaded with garlic and filled with delicious mozzarella. Read on to get our recipe for the best cheesy pull apart garlic bread.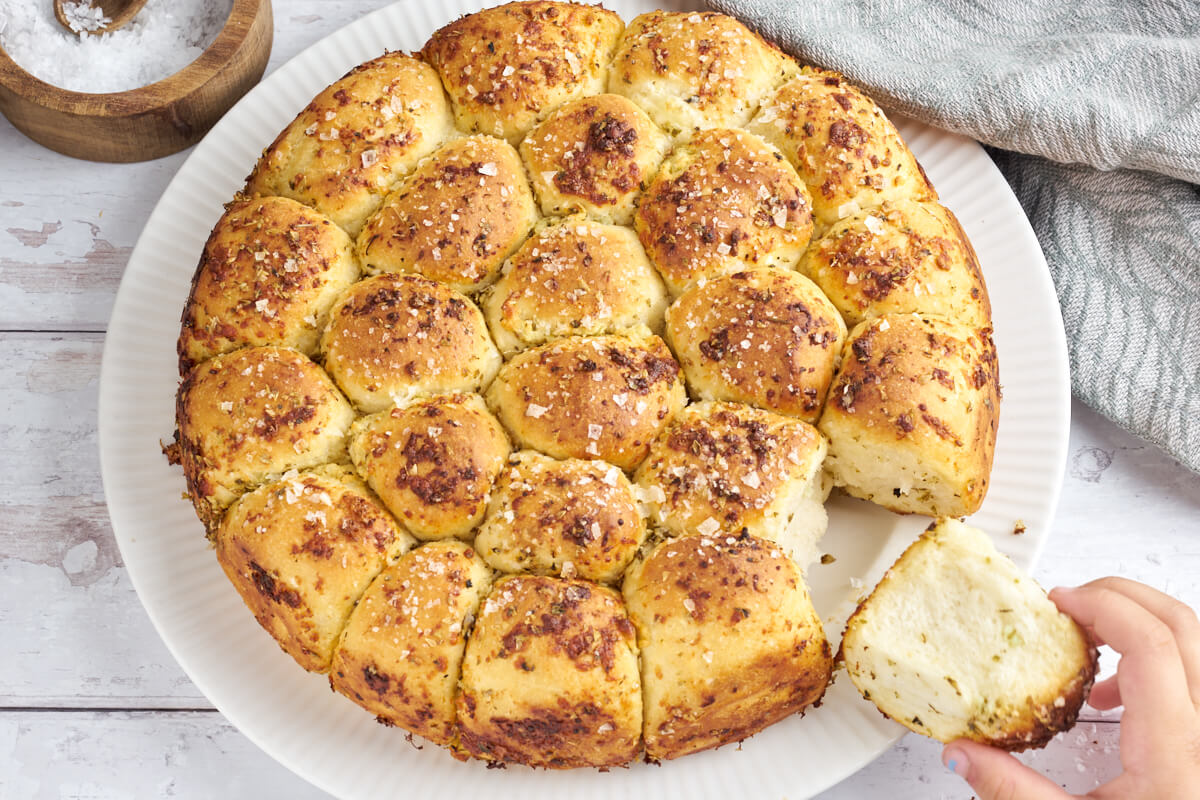 As a side dish, tapas, or on a cheese platter
This is the ultimate cheesy pull-apart garlic bread – better than garlic breadsticks! It contains even more delicious garlic, more butter, and each bun is filled with mozzarella cheese!

Yes, you heard that right, the small balls are filled with mozzarella – I think that's how they eat garlic bread in heaven, it must be.

This bread is so delicious, and it works really well as part of a meal or on a buffet table. You simply break one of the small balls out of the bread and eat it like that. Yum!

We eat this bread with dishes like lasagna or spaghetti bolognese. The kids love this bread, it's just so much fun to sit and break the bread apart at the table while eating.

It's also a bread that works really well for a children's birthday party or a potluck gathering at school or kindergarten. Or for a barbecue evening on the terrace with a nice piece of meat on the grill. Yes, it's actually good for most occasions.

It's also a great snack bread for a cozy evening with cheese and a good glass of red wine. If you serve it as a small dish on its own, you can optionally make a dip to dip the bread in. But I don't think it's necessary because it's quite gooey on its own due to the cheese inside.

We often make it when we have tapas because it's a bread that is always a hit with both adults and children.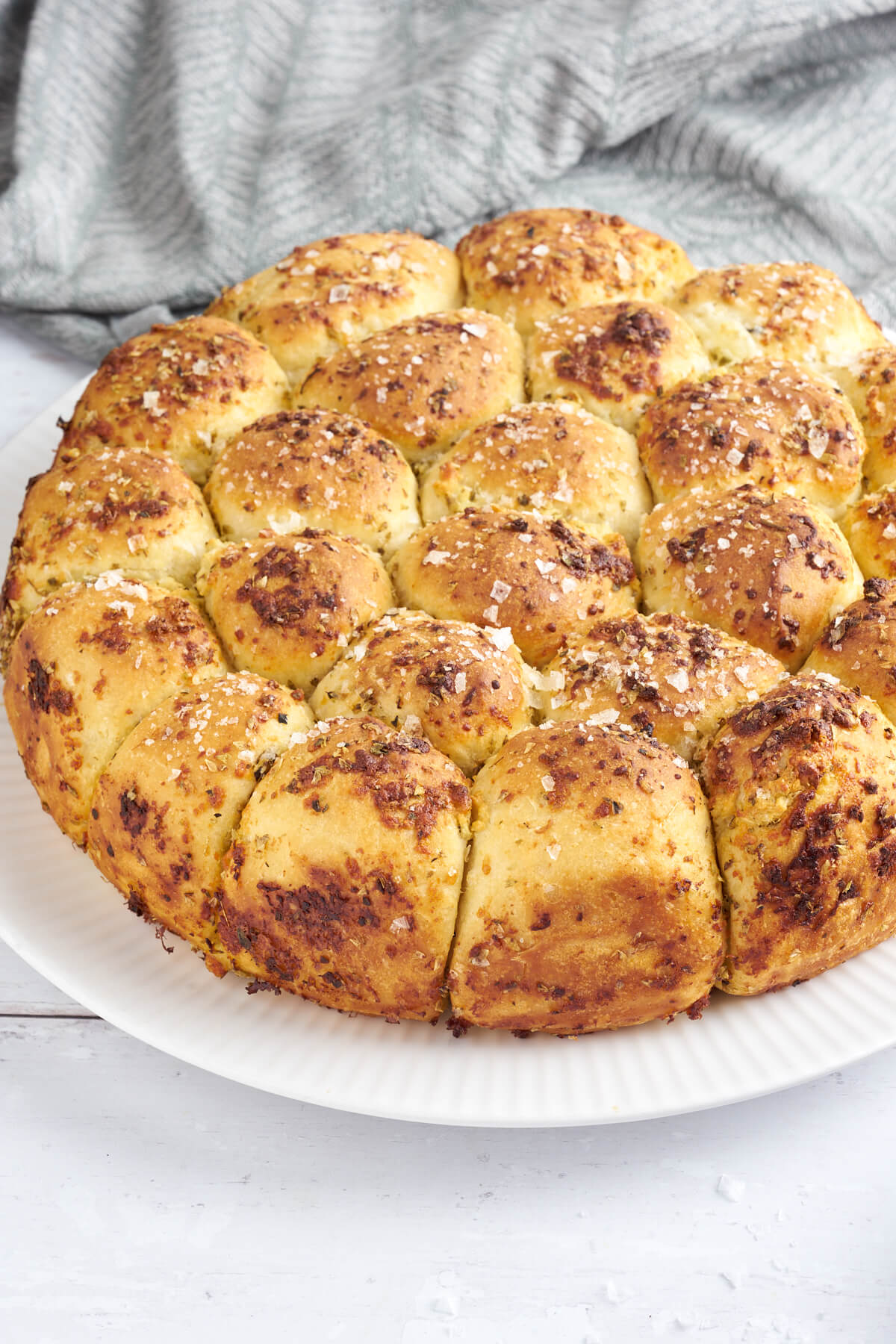 Ingredient notes
Milk – I usually use whole milk or low-fat milk.

Yeast – Regular fresh yeast. You can also use dry yeast if you don't have fresh yeast. In that case, you'll need about 6 grams or half a package for one bread.

Wheat flour – All-purpose wheat flour, preferably with a high protein content for the best bread rise.

Butter – The small balls should be rolled in butter before placing them in the pan; it helps give the bread the right flavor and juiciness.

Garlic – Garlic is essential when making garlic bread.

Oregano – Oregano goes well when the bread is served with tapas or as a side dish, for example, with pasta. You can use other dried or fresh herbs, such as parsley, basil, rosemary, or others.

Parmesan – It can be omitted, but it adds a really good flavor.

Mozzarella – Fresh mozzarella should be inside the small balls of dough; it's one of the best things about this bread, so you shouldn't skip it.
How to make cheesy pull apart garlic bread?
The bread itself is not difficult to make. If you have a stand mixer in your kitchen, it takes no time, but the dough can also be kneaded by hand.

The dough is a traditional yeast dough, and once it's kneaded, you'll need to prepare the butter mixture that these small balls will be rolled in.

It consists of butter, garlic, oregano, and Parmesan. Then the balls should be filled with pieces of mozzarella, rolled in the butter mixture, and placed in a springform pan.

Once the bread has risen, it is baked in the oven and served warm.

Find the full recipe further down this page.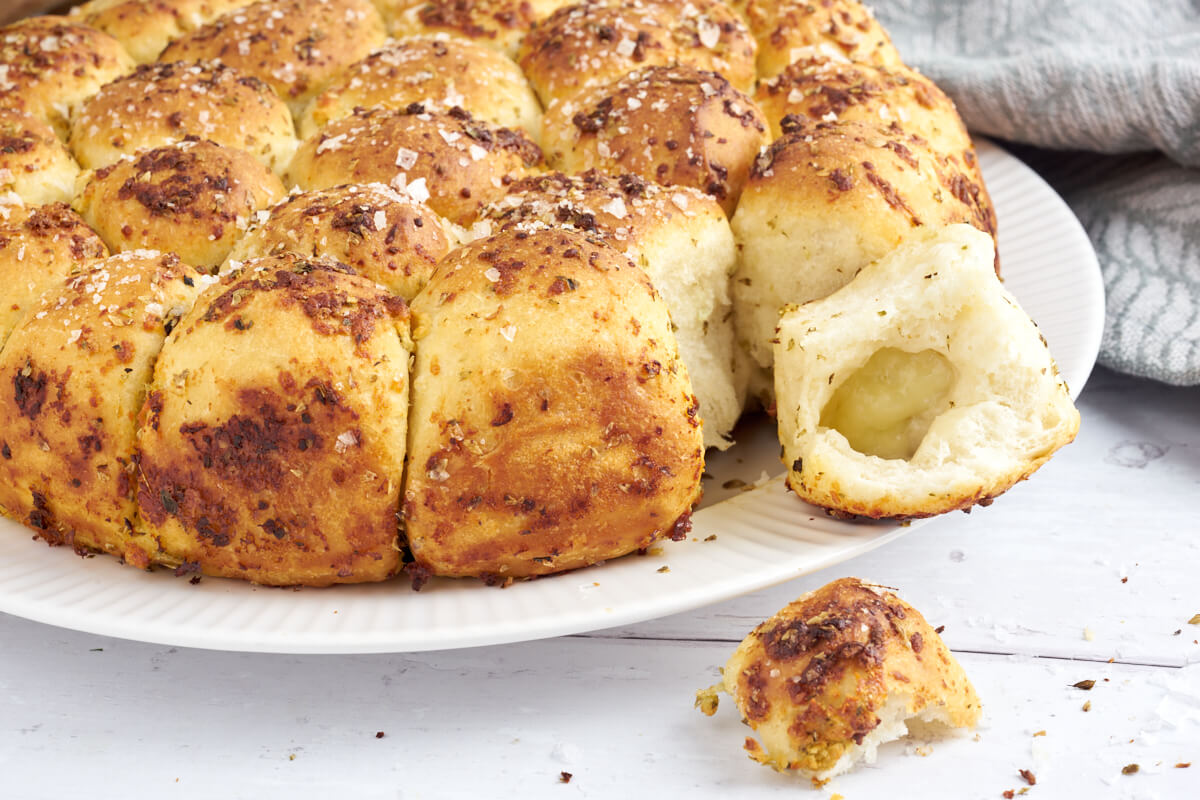 Frequently asked questions
Can I use something other than oregano?
Yes, you can easily use other herbs instead of oregano, both fresh and dried. For example, try using ramps, lovage, parsley, rosemary, or thyme. Only your imagination sets the limit for the flavor you can give your bread.

Can I use something other than Parmesan?
If you're not fond of Parmesan, you can omit it from the recipe, but it does add a really delicious flavor to the bread. You can also use other types of grated cheese.

Can the bread be frozen?
Yes, you can freeze the bread if you don't eat it all. It can be thawed and heated in the oven before serving.
Other recipes you might like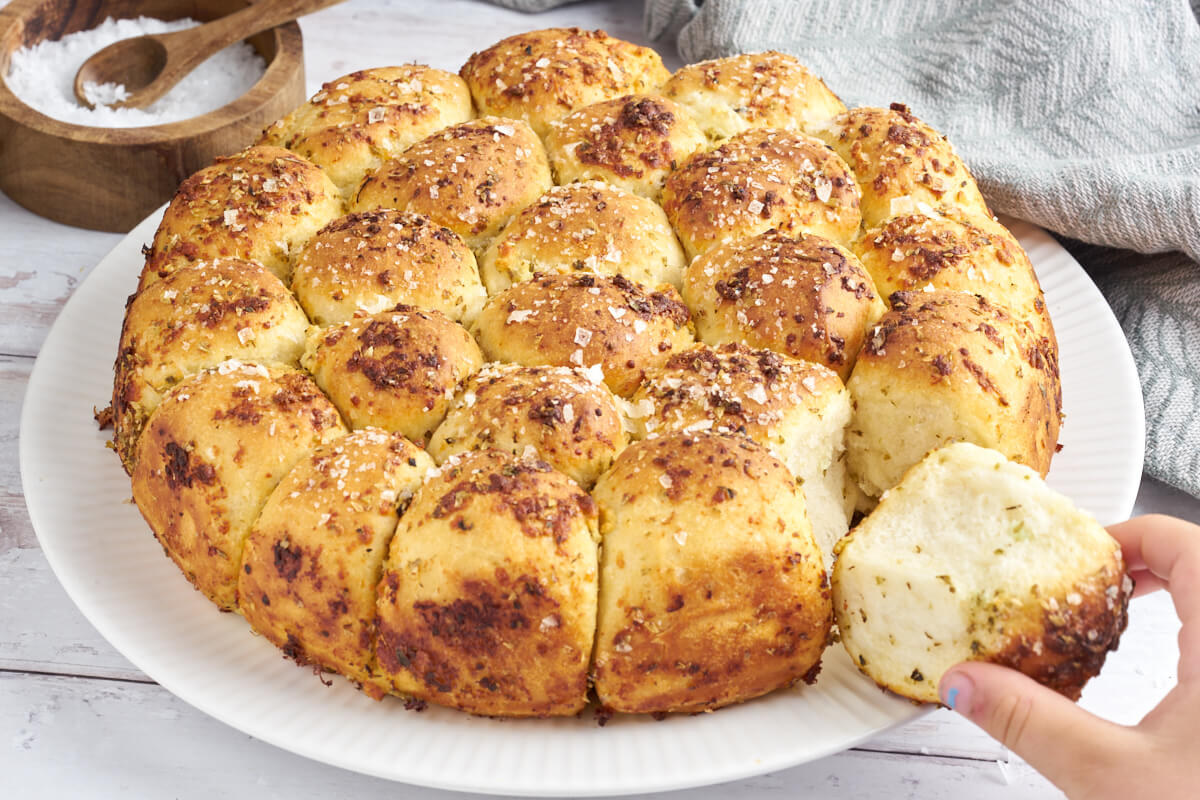 Tips and tricks for the recipe
Serve the bread warm so that the cheese is completely melted and delicious inside the bread balls.
Make plenty! Our kids love this bread, and we can easily eat the whole bread as a side dish for dinner. If it's part of a tapas table, you can probably calculate one bread for 6-8 people depending on the other bread available.
Replace oregano with other fresh or dried herbs such as parsley, vild garlic, or others.
Serving suggestions
Serve as a side dish with Italian dishes like classic Italian lasagnette or spaghetti bolognese.
Take the bread to a potluck gathering at school or school; it's always a hit with kids.
Serve as part of a delicious tapas table.
Serve as a bread dish for summer grilling on the terrace.
Do you love making your own garlic bread?

Try our recipe for Garlic naan bread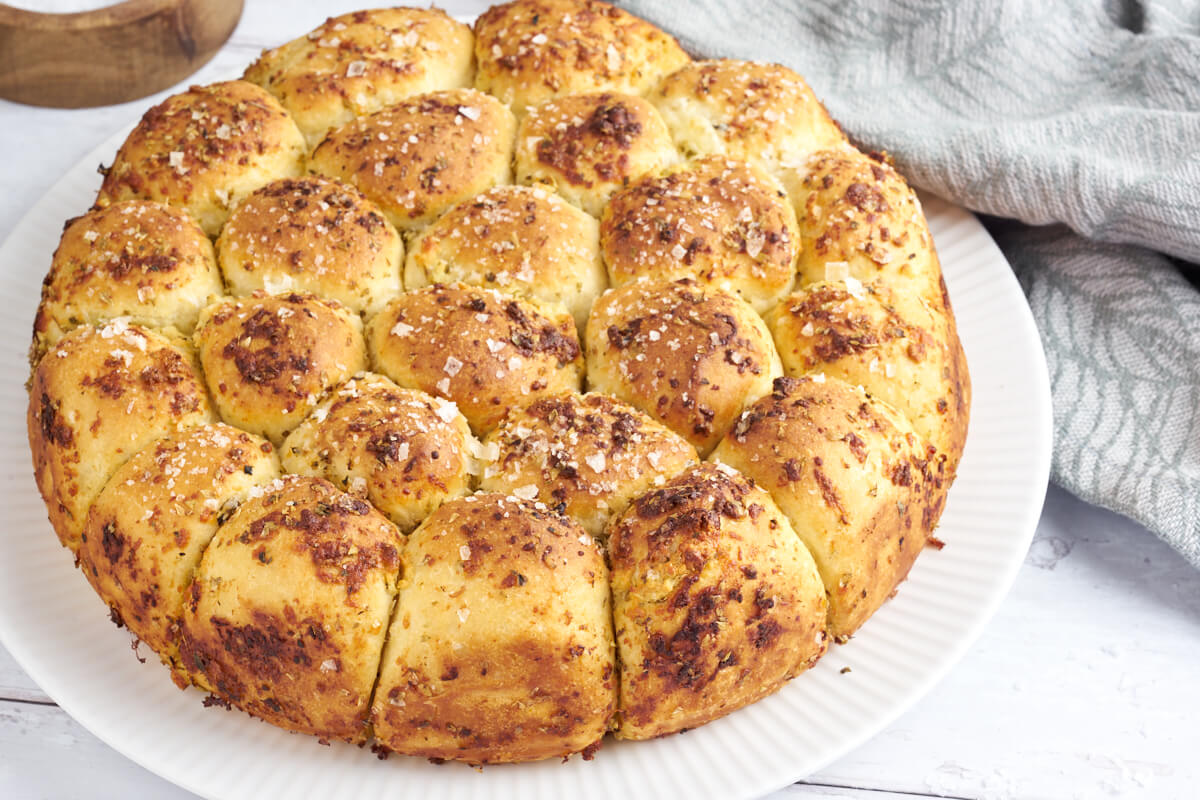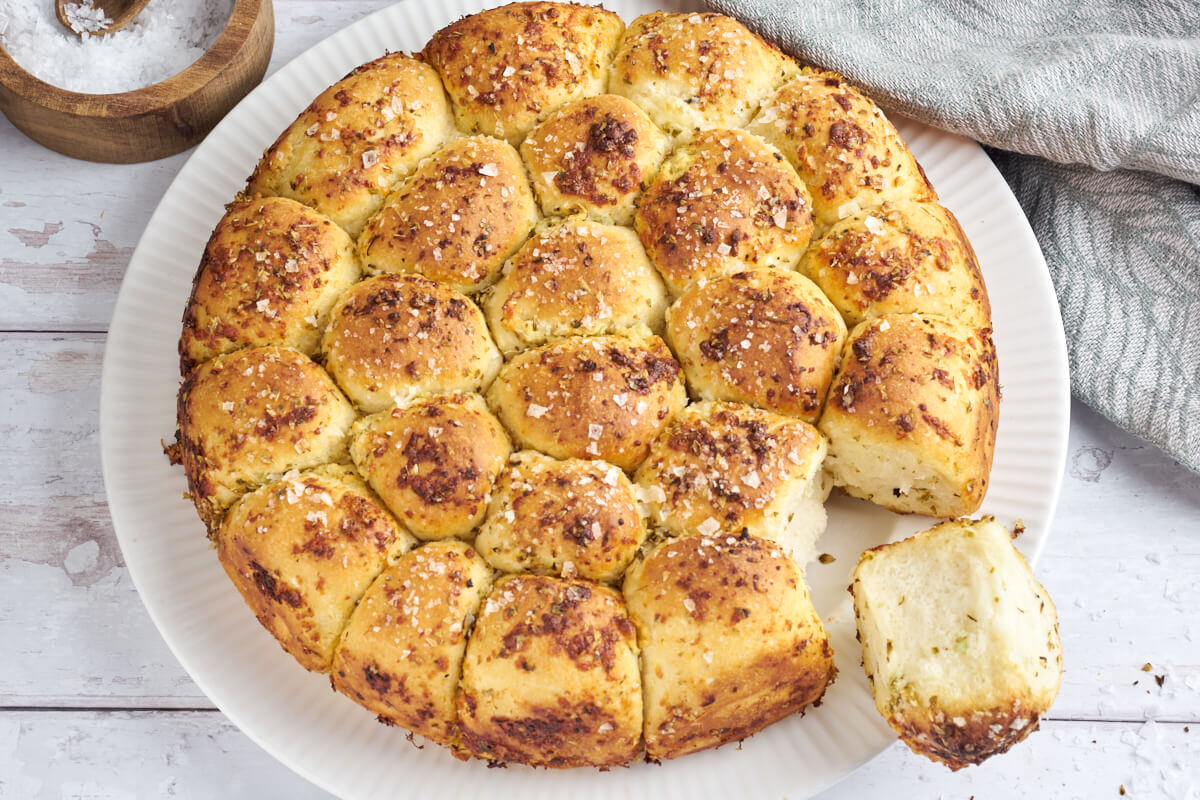 Recipe for Bread with Garlic and Mozzarella
Here's our recipe for the world's best garlic bread with mozzarella. This is how we like it best, but if you have other ideas, you can vary it with the exact spices or herbs that you and your family enjoy.

We hope you feel inspired to try the recipe and serve the bread as a side dish for dinner or as part of a cheese or tapas table. It's super delicious and not too difficult to make.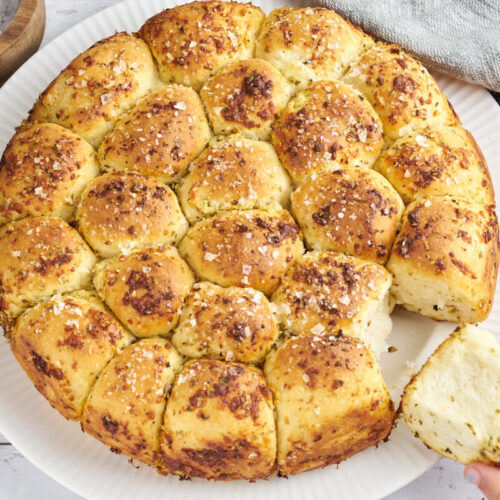 Cheesy pul apart garlic bread
Recipe for cheesy pull apart garlic bread
The best garlic bread with Parmesan, mozzarella, and loads of flavor! Pull-apart cheese bread is wonderful as a side dish for dinner or as part of a cheese platter or tapas spread. It's a garlic bread with mozzarella that the whole family loves to eat.
Ingredients  
Dough:
200

ml

milk

25

g

fresh yeast

1

tsp

salt

1

tsp

sugar

325

g

all-purpose flour
For assembling the bread:
125

g

butter

5

cloves

garlic

1

tbsp

oregano

2

tbsp

parmesan cheese

finely grated

200

g

fresh mozzarella

Coarse salt
Instructions 
Warm the milk slightly in the microwave until it is lukewarm.

Dissolve the yeast in the milk and add salt and sugar.

25 g fresh yeast,

1 tsp salt,

1 tsp sugar

Gradually add the all-purpose flour while kneading the dough in a stand mixer. Knead for about 10-15 minutes until the dough is smooth and elastic.

Let the dough rest at room temperature while you proceed.

Cut the mozzarella into cubes. Melt the butter in a saucepan, then brush a 9-inch (23 cm) springform pan with some melted butter. Add minced garlic, grated Parmesan, and oregano to the remaining melted butter.

125 g butter,

5 cloves garlic,

2 tbsp parmesan cheese,

200 g fresh mozzarella,

1 tbsp oregano

Take a small portion of the dough and wrap a cube of mozzarella inside.

Roll the dough in the garlic butter before placing them in the springform pan.

Continue this process until the entire pan is filled, using up all the dough.

Pour any excess butter over the dough in the springform pan.

Sprinkle the bread with coarse salt and let it rise for about 30 minutes while preheating the oven to 200°C (400°F) conventional oven.

Bake your garlic bread in the oven at 200°C (400°F) for about 20-25 minutes until it is golden on top.

Serve the bread warm.
Nutrition
Serving:
1
bread
Calories:
2919
kcal
Carbohydrates:
279
g
Protein:
93
g
Fat:
159
g
Saturated Fat:
97
g
Polyunsaturated Fat:
7
g
Monounsaturated Fat:
42
g
Trans Fat:
4
g
Cholesterol:
458
mg
Sodium:
4640
mg
Potassium:
1122
mg
Fiber:
13
g
Sugar:
17
g
Vitamin A:
4974
IU
Vitamin C:
5
mg
Calcium:
1574
mg
Iron:
19
mg
How do you like the recipe?
Have you tried this recipe? We'd love to hear what you think of it. Leave a comment, add a number of stars to the recipe and share your photo on Instagram with #madformadelskere – We love seeing your dishes ♥️
Also, sign up for our Facebook group where you can show pictures of the delicious food you make! You can find the Facebook group here