Meat, sauce, pasta, and creamy béchamel. Homemade and delicious Italian lasagnette from scratch. The best lasagnette is the one you make yourself, and it tastes much better than the one from a package! If you want to see how easy it is to make it yourself, then read on and get our recipe.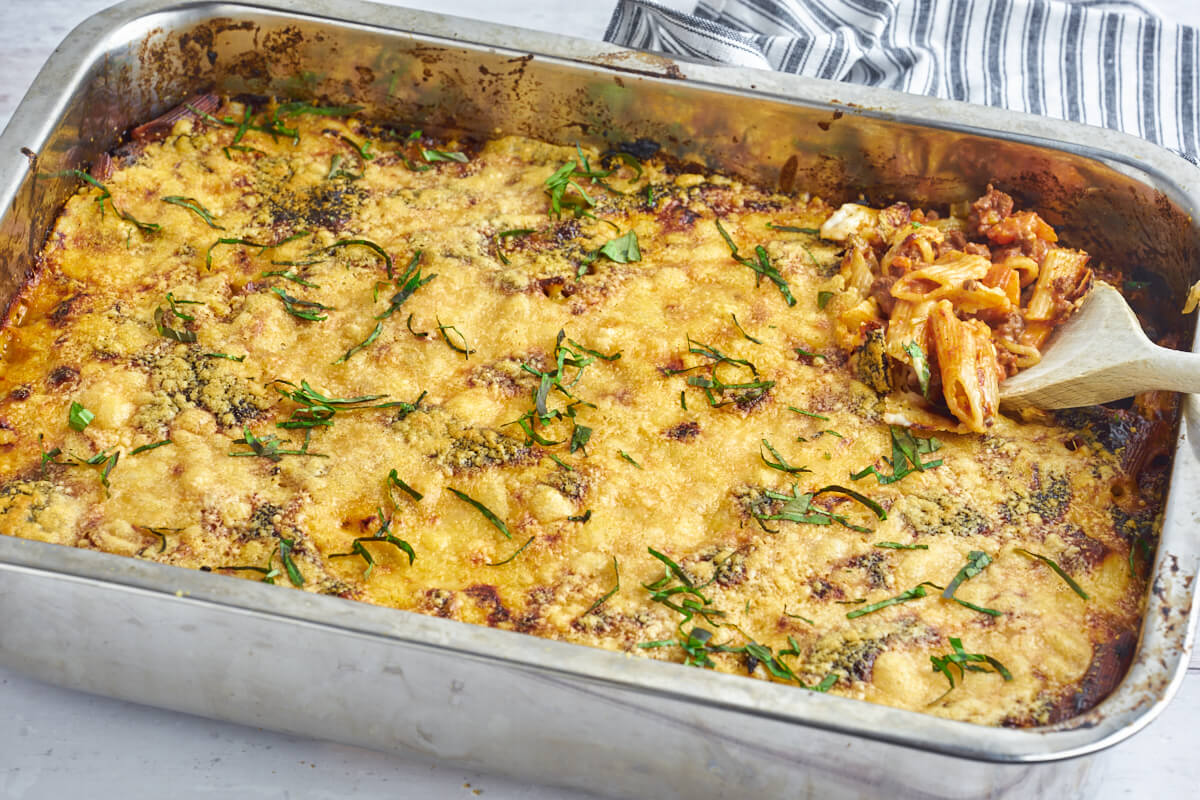 Lasagna with pasta penne
Most of us Danes know lasagnette, and it's probably the one from Knorr that we remember best. It actually tastes quite good, but it's still not as good as the homemade one. We have a good collection of various pasta dishes here on the site, but this one was missing, and it certainly deserves a place.

But what's the difference between lasagnette and lasagna? In a lasagna, the meat sauce is between the layers of pasta sheets, and in a lasagnette, small pieces of pasta are mixed together with the sauce, there's not much difference in reality.

Lasagnette is a really child-friendly dish, and our kids love it! It tastes like what it is, and it doesn't take more than a fork to eat it. I usually take the kids into the kitchen when I make it, one to chop vegetables and one to control the pot. When it's ready, we help each other with the béchamel sauce, and then finally put everything in a dish with pasta.

If I were to serve a side dish with lasagnette, I would probably go with a fresh salad and homemade bread, so there's something to soak up the rich meat sauce.

This is not the first time we have made lasagnette; it took some attempts before it was just right, and along the way, I have actually made it on the bbq, just to try, and it can definitely be done.

If you've never had lasagnette before, you should give it a try! It tastes really good, and it's just easy.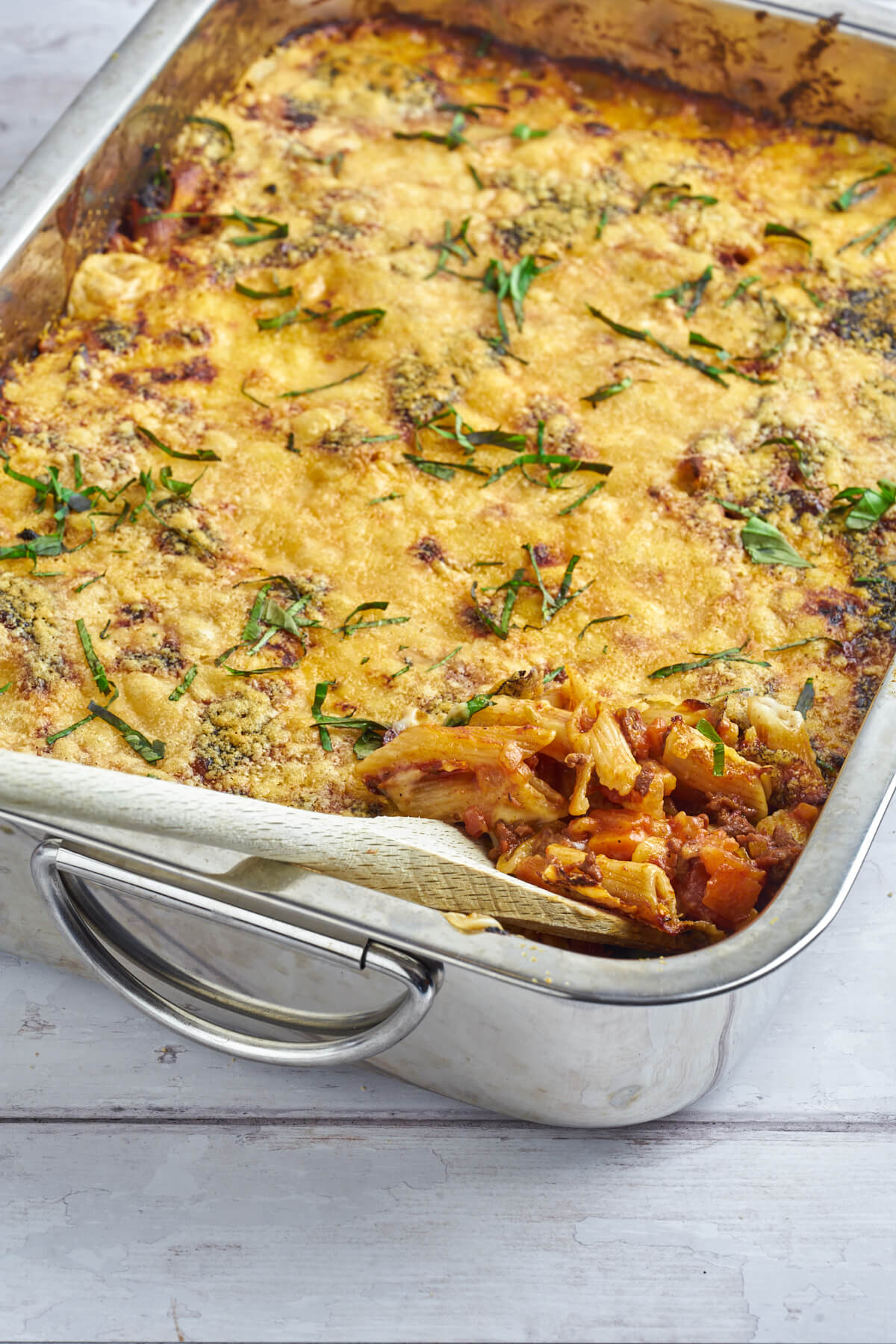 Ingredient notes
Ground beef – Ground beef forms the base for the meat sauce. Find something with a fat percentage of around 10-12 percent.

Onions, carrots, and celery – The holy trinity in Italian meat sauces. They give a lot of flavor and substance.

Garlic – Garlic gives a good depth to the meat sauce with its unique taste.

Tomato paste – Tomato paste also gives a good strong flavor to the meat sauce.

Water – Liquid for the meat sauce.

Red wine – Gives good flavor and acidity.

Stock cubes – Gives a good base for the meat sauce.

Canned diced tomatoes – Lots of tomato flavor.

Salt, sugar, pepper – Of course, salt, sugar, and pepper are needed in the meat sauce.

Oregano – Gives good flavor, and can be replaced with basil.

Penne pasta – Can be replaced with other pasta.

Parmesan – For the top, can be skipped or replaced with other cheese.

Béchamel sauce – Gives a delicious creamy consistency to the dish.
How to make lasagnette?
Here's a brief description of how you can make the best lasagnette in the world yourself. Once it's in the oven, it takes care of itself, and delicious dinner is waiting.

In a pot, brown the meat, add the already prepared vegetables to the pot, and sauté them. Add tomato paste and sauté, then add water, red wine, stock cubes, chopped tomatoes, salt, sugar, pepper, and oregano to the pot. Put the lid on the pot and turn down the heat.

While the meat sauce is simmering, prepare the béchamel sauce according to the recipe. When it's ready, set it aside.

In an ovenproof dish, add the penne pasta, pour the meat sauce over it, and toss it with a spoon. Add the bechamel sauce and smooth it out. Now, place the dish in a preheated oven and cook for about 40 minutes. When the time is up, spread the cheese over the dish and put it back in the oven until the cheese has melted and turned golden.

Take the dish out and let it sit for 5 minutes before placing it on the table and serving.

Find the full recipe further down this page.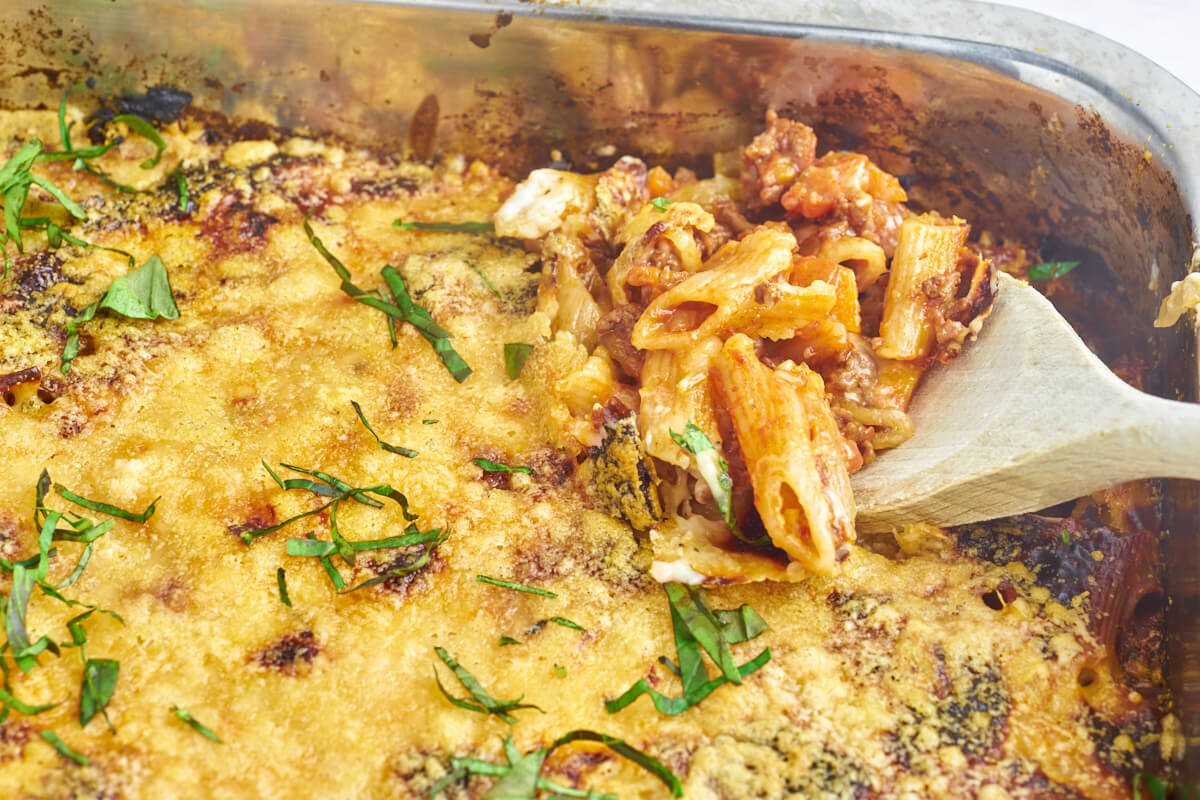 Frequently asked questions
How do you store leftovers?
Leftovers can be stored in the refrigerator for about 3 days, or the leftovers can be frozen.
Can I use something other than beef?
Yes, try using ground chicken as well.
Other dinner recipes you might like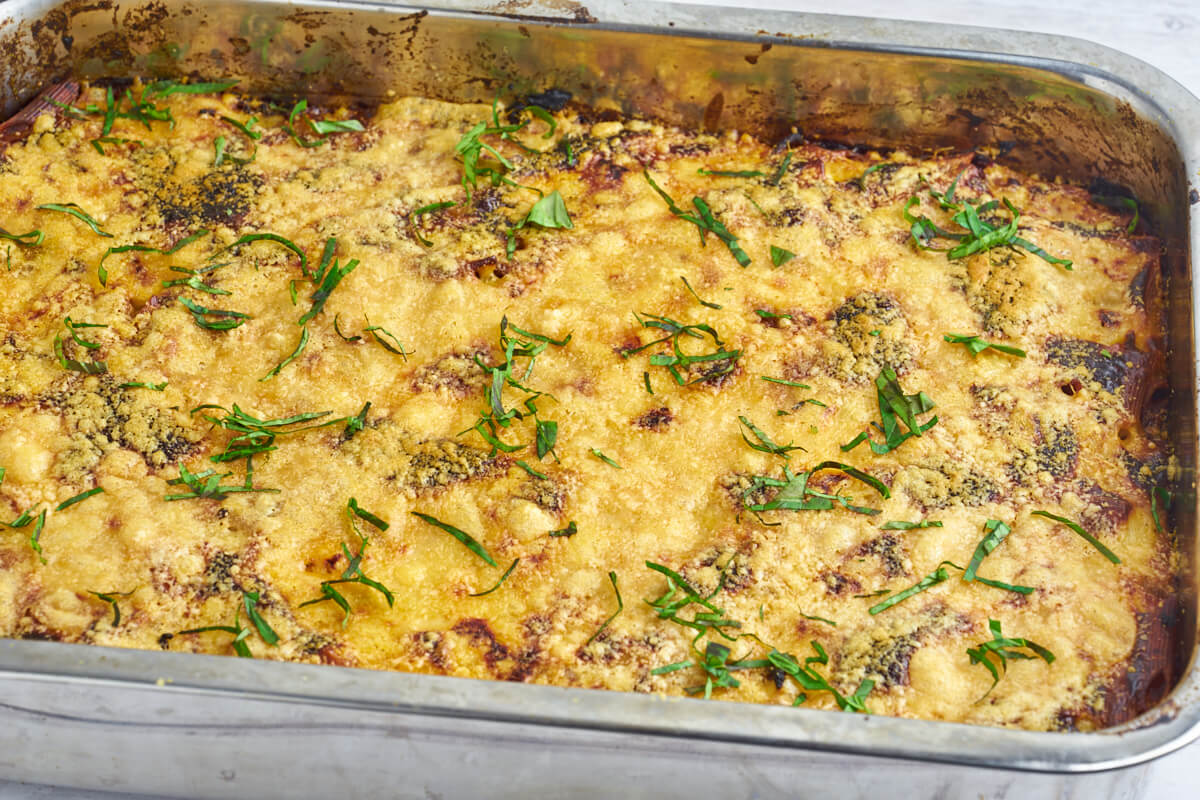 Tips and tricks for the recipe
Remember to taste the meat sauce before pouring it into the dish.
Try using mornay sauce instead of bechamel if you love cheese.
Make the meat sauce in advance or use a leftover from the freezer.
Serving suggestions
Serve with a good baguette and a fresh green salad.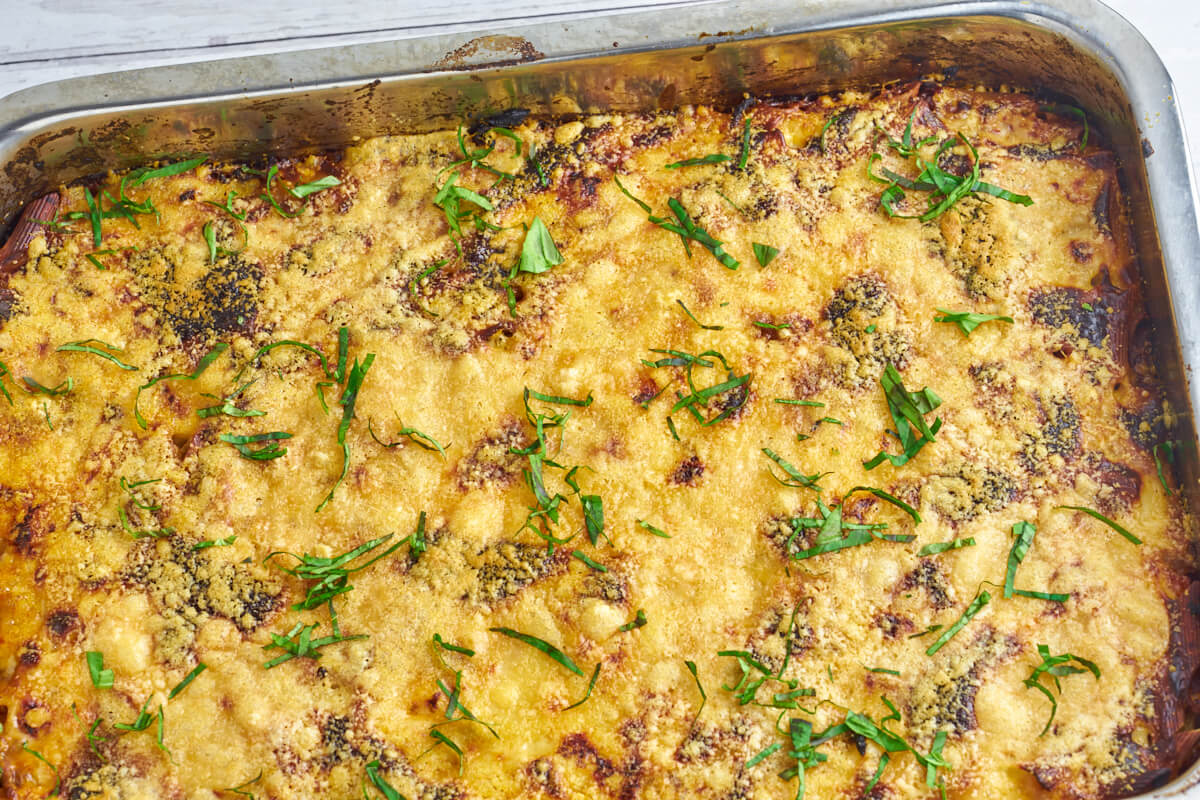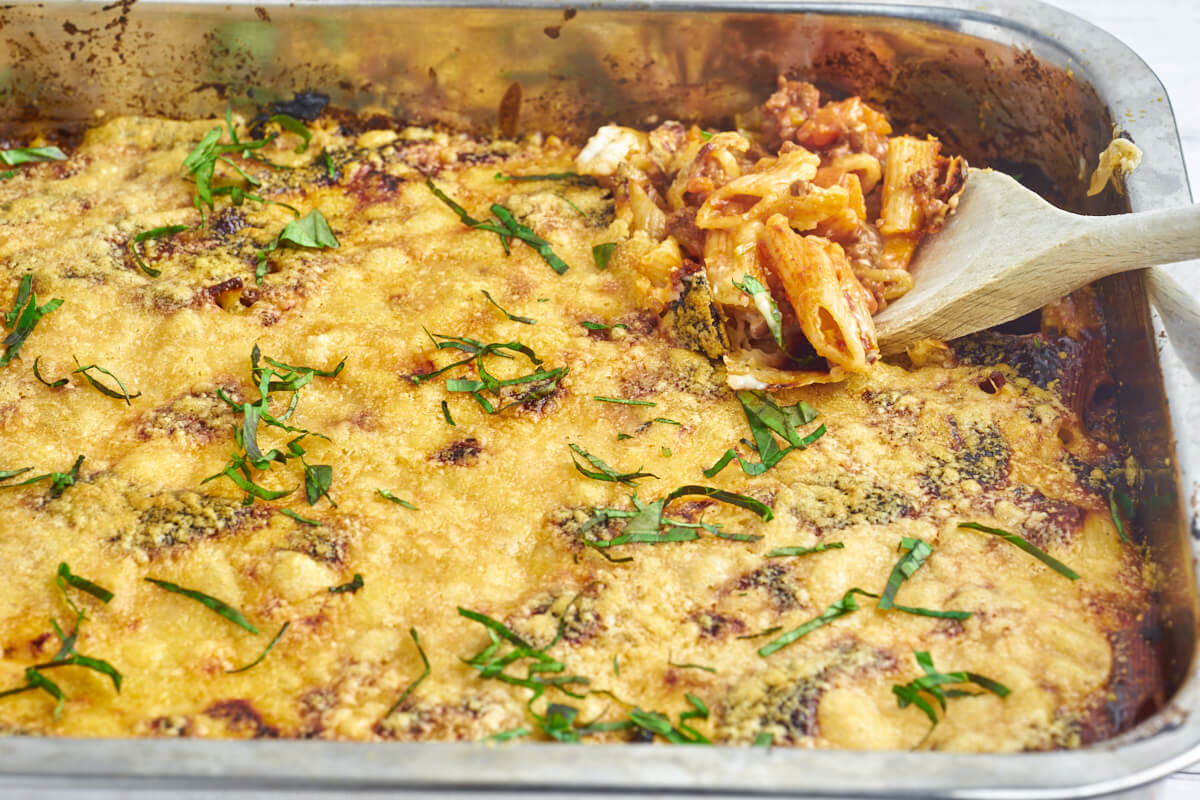 Recipe for homemade lasagnette
Here's our recipe for the classic lasagnette. There are plenty of flavors and it fills you up really well. It's a wonderful pasta dish in the oven with a hearty meat sauce that tastes fantastic.

We hope you'll be inspired to try the recipe and serve it for your family. At our house, it's always a huge hit with both children and adults.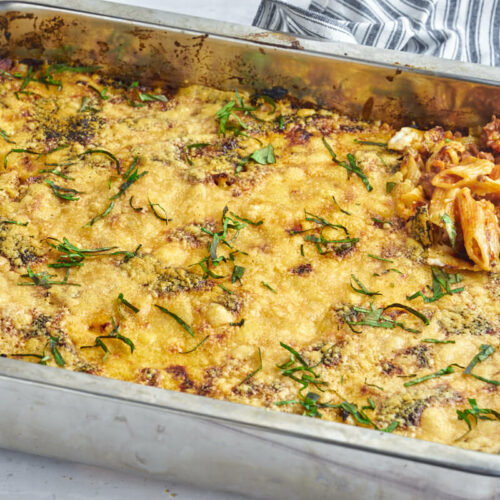 Italian lasagnette
Recipe for italian lasagnette
Baked pasta dish in the oven with meat sauce and béchamel sauce. It is a dish that both children and adults love to eat. Serve it as it is or with a green salad and optionally a baguette.
Ingredients  
3

tbsp

olive oil

400

g

ground beef

1

onion

1

carrot

1

stalk

celery

3

cloves

garlic

40

g

tomato paste

3

dl

water

2

dl

red wine

1 ½

beef stock cube

2

cans

chopped tomatoes

1 ½

tsp

salt

2

tsp

sugar

Pepper

to taste

1

tsp

oregano

400

g

penne pasta

70

g

parmesan cheese
Bechamel sauce
30

g

butter

3

tbsp

all purpose flour

5

dl

milk

½

tsp

salt

or to taste

Pepper

to taste

¼

tsp

ground nutmeg
Instructions 
In a large pot, heat the olive oil over medium-high heat. Add the beef to the pot and brown it.

3 tbsp olive oil,

400 g ground beef

Meanwhile, chop the onion, celery, and carrot into small pieces. Grate the garlic finely. Add the chopped vegetables to the pot with the beef and sauté for about 5 minutes.

1 onion,

1 carrot,

1 stalk celery,

3 cloves garlic

Add the tomato paste to the pot and sauté for a few minutes.

Add water, red wine, stock cubes, chopped tomatoes, salt, sugar, pepper, and oregano to the pot. Reduce the heat and let the sauce simmer covered for about 20 minutes.

3 dl water,

2 dl red wine,

1 ½ beef stock cube,

2 cans chopped tomatoes,

1 ½ tsp salt,

2 tsp sugar,

Pepper,

1 tsp oregano

Preheat the oven to 200 degrees Celsius on conventional heat. Meanwhile, prepare the béchamel sauce.

Melt the butter in a pot and add the flour, sauté for a few minutes over medium heat. Gradually add the milk while whisking. When all the milk has been added and the sauce is simmering and has thickened, add salt, pepper, and ground nutmeg.

30 g butter,

3 tbsp all purpose flour,

5 dl milk,

½ tsp salt,

Pepper,

¼ tsp ground nutmeg

Set the béchamel sauce aside.

In an ovenproof dish, place uncooked penne pasta on the bottom, pour the meat sauce over it, and mix it thoroughly. Evenly distribute it in the dish.

Then spread the béchamel sauce on top and place the dish in the middle of the preheated oven and bake it for about 40 minutes. After 40 minutes, sprinkle grated parmesan on top and bake it for an additional 10 minutes or until the cheese is melted and golden.

Remove the finished lasagne from the oven and let it rest for 5 minutes before serving.

Serve as a standalone dish or with a green salad on the side.
Nutrition
Serving:
1
person
Calories:
1056
kcal
Carbohydrates:
104
g
Protein:
44
g
Fat:
47
g
Saturated Fat:
19
g
Polyunsaturated Fat:
3
g
Monounsaturated Fat:
20
g
Trans Fat:
1
g
Cholesterol:
114
mg
Sodium:
2371
mg
Potassium:
1393
mg
Fiber:
7
g
Sugar:
20
g
Vitamin A:
3523
IU
Vitamin C:
25
mg
Calcium:
506
mg
Iron:
7
mg
How do you like the recipe?
Have you tried this recipe? We'd love to hear what you think of it. Leave a comment, add a number of stars to the recipe and share your photo on Instagram with #madformadelskere – We love seeing your dishes ♥️
Also, sign up for our Facebook group where you can show pictures of the delicious food you make! You can find the Facebook group here