Baked potatoes in an air fryer, it's an easy and quick way to make perfectly crispy baked potatoes. Who doesn't love a good soft and piping hot baked potato with lots of garlic butter? Read on and see how simple it is.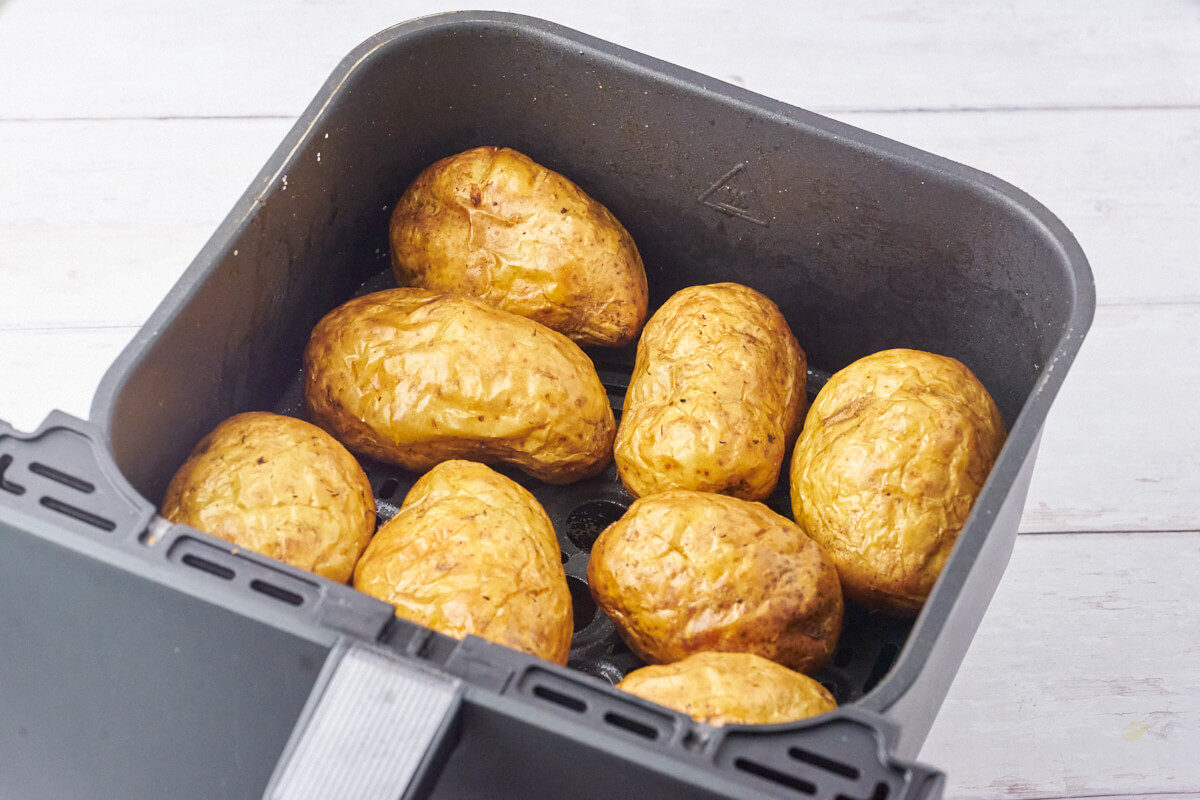 Baked Potatoes the Easy Way
I love baked potatoes! With a good steak, as a standalone dish with lots of delicious toppings, or alongside a serving of spare ribs, the baked potato remains a favorite.

Potatoes, in general, are a versatile little thing, whether in potato salad, hasselback style, or just as a plain boiled potato – we Danes love our potatoes.

At our home, we consume a lot of potatoes, but the baked potato is the best of all. That creamy, soft interior that can soak up lots of butter, and the crispy, salty skin – it's just perfect! There are many ways to bake potatoes, on the grill, in the oven, in the microwave, with or without foil. Just remember not to use foil if you're using the microwave, it won't turn out well!

But here, we're going to make Air fryer baked potatoes, and it works really well. It's pretty fast, and you also save a bit on electricity compared to using a regular oven. I used medium-sized baking potatoes, so there's room for many, and if you happen to have one leftover, you can quickly reheat it in the microwave the next day for an easy lunch.

But what goes into a baked potato when it's steaming and piping hot? I prefer garlic butter, but it could also be regular butter or a fresh herb-infused cream fraiche dressing. What's your preference?

If you have an air fryer and haven't made baked potatoes in it before, now's the time to get started!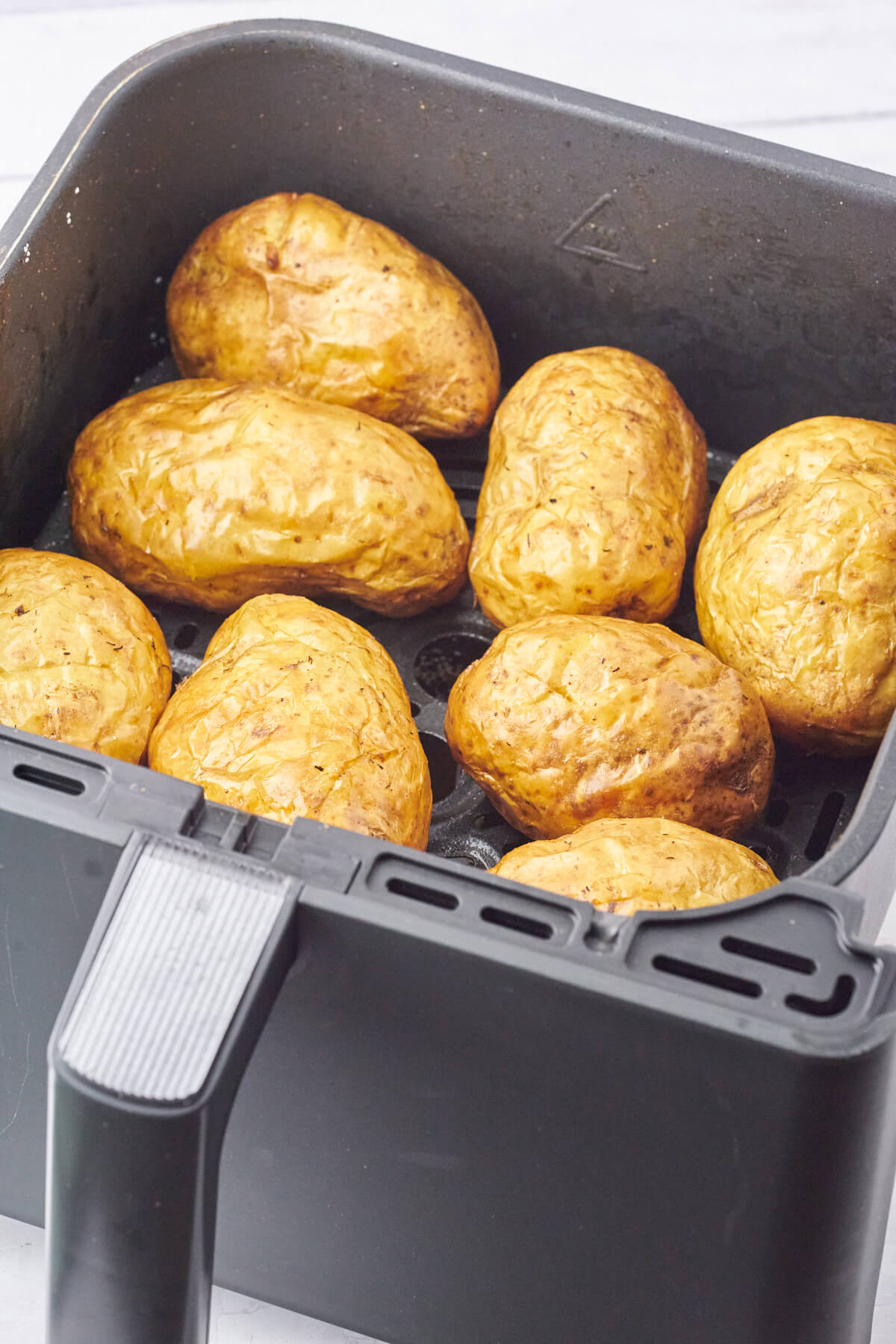 Ingredient notes
Baking Potatoes – I usually go for medium-sized ones; most people can enjoy one, but a very hungry man or woman might eat two.

Olive Oil – I'm writing olive oil, but it could just as well be canola oil or sunflower oil that you use.

Salt – I use fine salt, but kosher salt works too.
How to make air fryer baked potatoes?
Here's a brief description of how you make baked potatoes in the air fryer.

Coat the prepared baking potatoes in a thin layer of oil and sprinkle with salt. Place them on the rack in the air fryer's drawer and cook them at 185 degrees Celsius (365 degrees Fahrenheit) until they're tender.

Serve them with your favorite toppings.

Find the full recipe further down this page.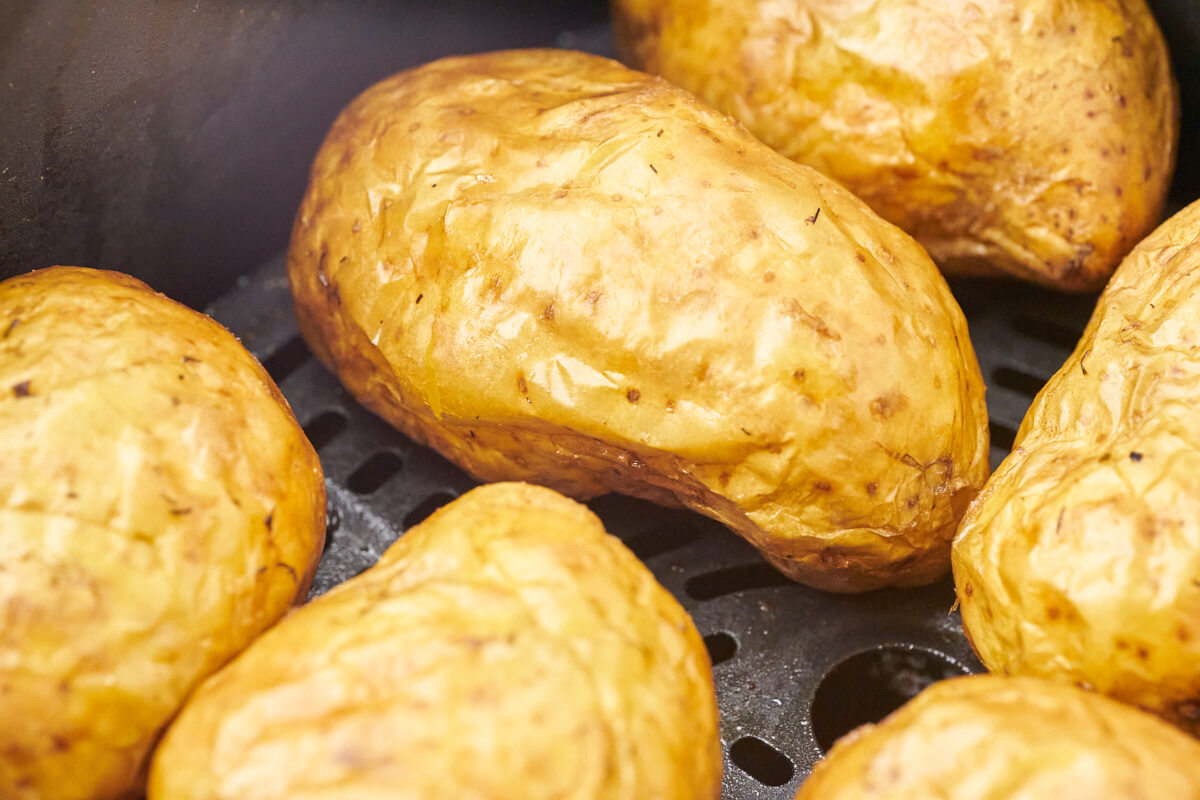 Frequently asked questions
How do you store leftovers?
Leftover potatoes can be refrigerated for 2-3 days or frozen.
Can I use something other than salt?
Yes, you can season your baked potatoes as you like.
Can you keep baked potatoes warm?
Yes, you can easily keep them warm until serving. Wrap them in foil and a kitchen towel, or place them in a styrofoam box.
Other potato recipes you might like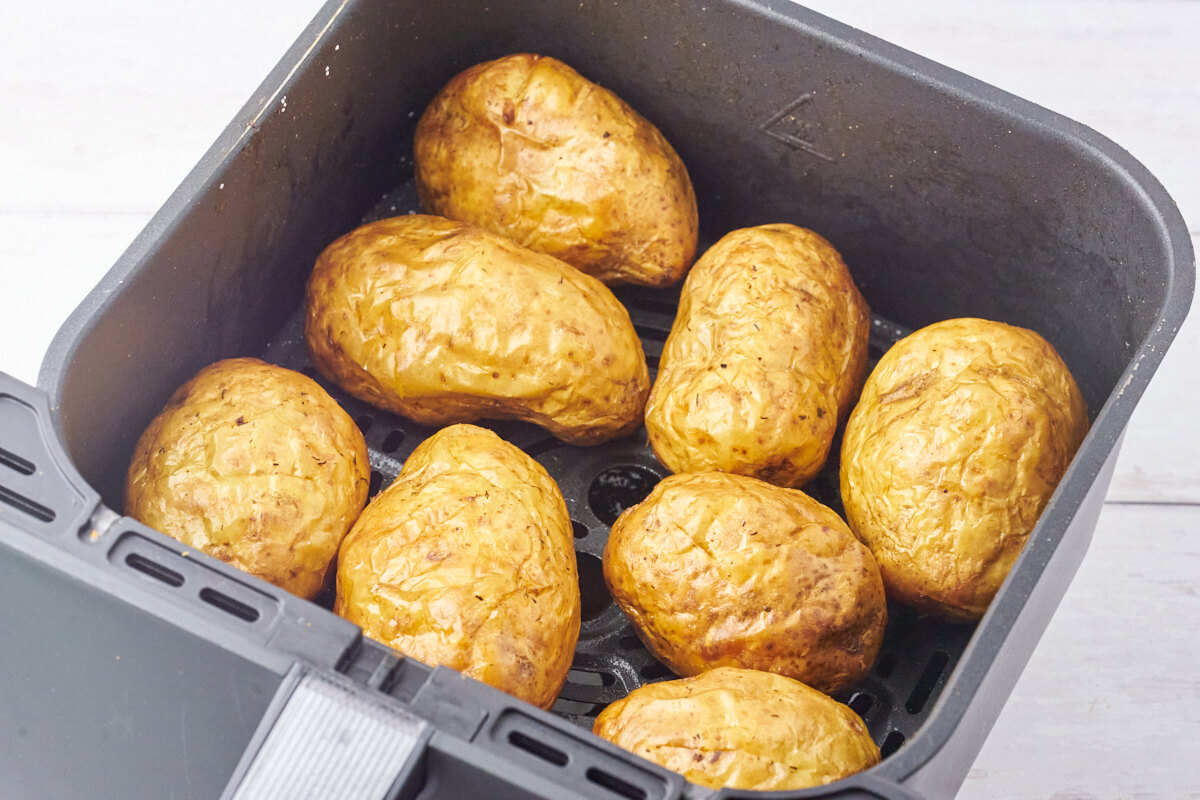 Tips and tricks for the recipe
Poke the potatoes with a sharp knife to check for tenderness.
Serving suggestions
Serve in a classic manner with butter.
Serve with garlic or herb butter.
Serve with various exciting fillings as a standalone dish.
Do you love cooking in your air fryer?

Try our recipe for Air fryer stuffed chicken breast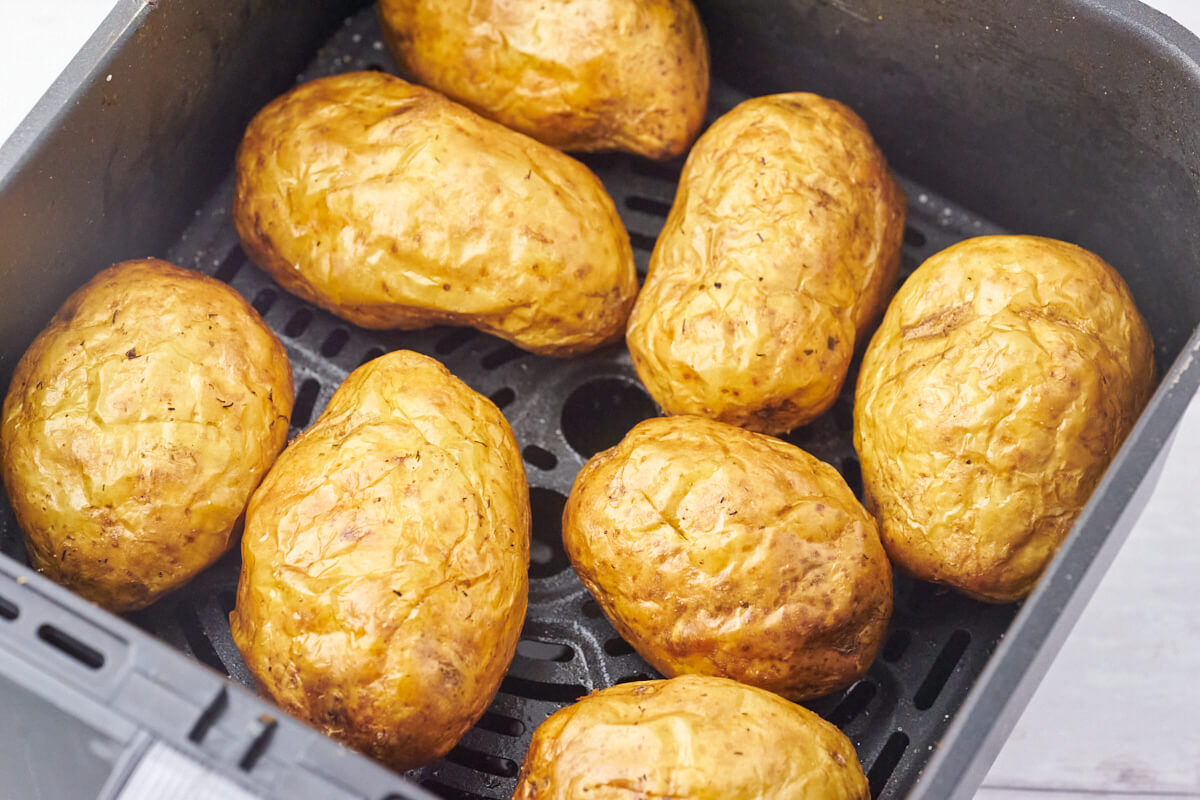 Recipe for the Best baked potatoes in air fryer
Here's our easy and delicious recipe for baked potatoes made in an air fryer. It's simple, cost-effective, and a truly tasty side dish for dinner, loved by the whole family.

We hope you're tempted to try the recipe and make them for your family.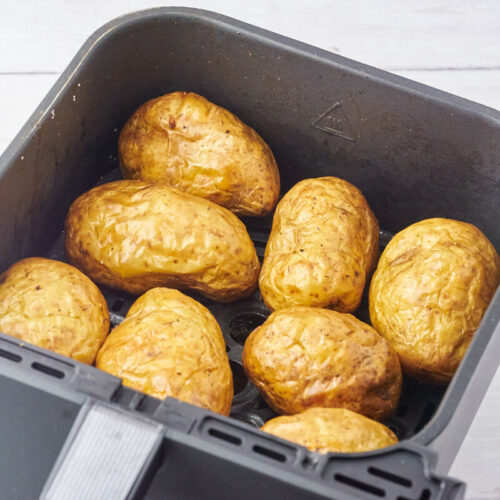 Air Fryer Baked Potatoes
Recipe for Air Fryer Baked Potatoes
Easy and delicious baked potatoes made in an air fryer. This is both an easy and quick way to prepare a tasty side dish for dinner. Enjoy them with garlic butter or sour cream.
Ingredients  
4

baking potatoes

medium-sized

1

tbsp

olive oil

or other oil like rapeseed or sunflower oil

1

tsp

fine salt
Instructions 
Thoroughly rinse the baking potatoes in cold water and remove any dirt. Cut away any "eyes" if present.

Pat them dry with paper towels. Coat them in a thin layer of oil and sprinkle with fine salt to taste.

1 tbsp olive oil,

1 tsp fine salt

Now place them in the drawer of your air fryer and set the temperature to 185 degrees Celsius (365 degrees Fahrenheit). The potatoes should be baked for about 45 minutes, or until you can easily insert a sharp knife through a potato without resistance.

Remember that the baking time may vary depending on the size of the potatoes. We use our Cosori Dualblaze air fryer, and the baking time is 45 minutes at 180 degrees Celsius (356 degrees Fahrenheit) using the "Airfryer" function.

When the baked potatoes are done, serve them immediately, along with seasoned butter, garlic butter, or plain butter.
Nutrition
Serving:
1
person
Calories:
199
kcal
Carbohydrates:
38
g
Protein:
5
g
Fat:
4
g
Saturated Fat:
1
g
Polyunsaturated Fat:
0.5
g
Monounsaturated Fat:
3
g
Sodium:
592
mg
Potassium:
888
mg
Fiber:
3
g
Sugar:
1
g
Vitamin A:
2
IU
Vitamin C:
12
mg
Calcium:
28
mg
Iron:
2
mg
How do you like the recipe?
Have you tried this recipe? We'd love to hear what you think of it. Leave a comment, add a number of stars to the recipe and share your photo on Instagram with #madformadelskere – We love seeing your dishes ♥️
Also, sign up for our Facebook group where you can show pictures of the delicious food you make! You can find the Facebook group here