Delicious creamy scalloped potatoes are just the best. Flødekartofler as we call them here in Denmark literally means "Cream potatoes", and with parmesan added it doesn't get much better than that. The cheesy, salty parmesan flavor just complements the creamy potatoes very well. Serve them as a side dish to a good steak, or a grilled chicken. If you want to see how easy it is to make parmesan scalloped potatoes, read along here and get our recipe.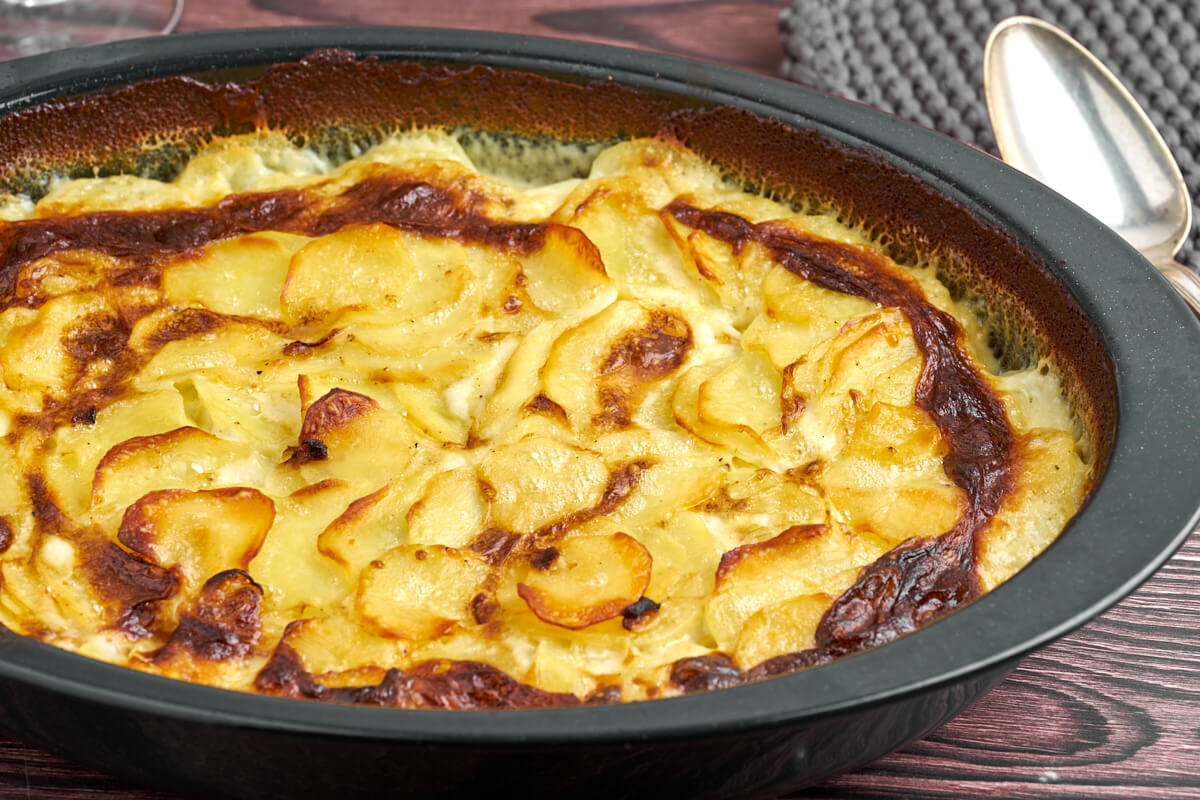 Creamy potatoes with a cheesy taste
I love scalloped potatoes, or as well Danes call them "flødekartofler"! It tastes great and is suitable for a multitude of dishes as an accompaniment, or as a completely independent dish.

But what is the secret behind the best scalloped potatoes really? For me, it's about a few, but delicious ingredients, potatoes, cream and quite a few other ingredients to contribute to the taste experience.

Here in the recipe, it is parmesan cheese that gives the creamy potatoes a touch, and if you are into parmesan, then these scalloped cheese potatoes are just the thing for you.

Parmesan can do something very special in dishes, with its salty, umami taste it gives a depth you just do not get elsewhere. At our home, scalloped potatoes are a favorite, and they can be as a side dish to a delicious grilled chicken, ham, or completely ordinary Danish meatballs (frikadeller).

So get the potato peeler and the mandoline slicer! You can help yourself a lot when making scalloped potatoes from scratch. The mandoline slicer is definitely your friend, you really save a lot of time by slicing the potatoes with the help of the mandoline slicer, you just have to watch for your fingers! I usually cut the potatoes into slices of approx. 3 mm, I think that is appropriate for this dish.

The golden slightly crispy surface of the parmesan scalloped potatoes along with the creamy soft potatoes at the bottom make up something near the perfect mouthful. So it is therefore important that you let them turn golden and slightly crispy on the surface, if there are signs that they are drying out, then of course you supplement with a little extra cream.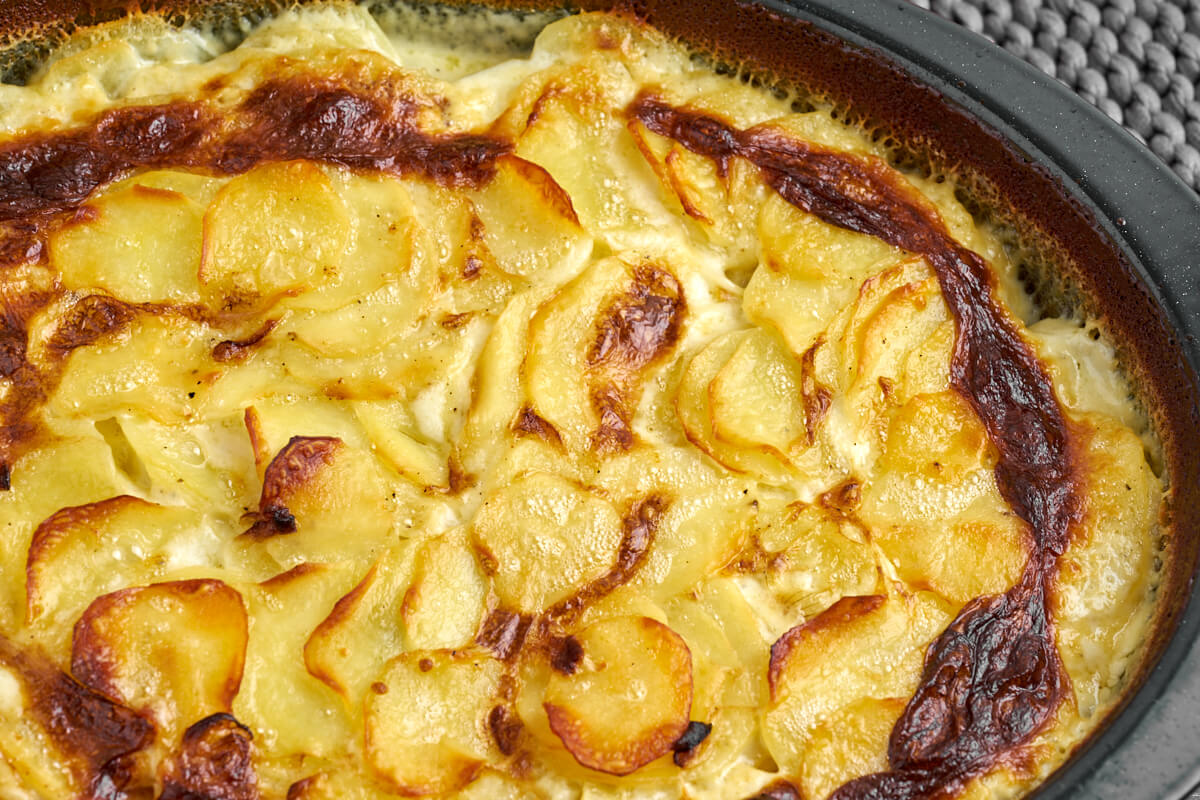 Ingredient notes
Potatoes – I usually find medium-sized potatoes, preferably without too many stains and scratches.

Cream – I get the best result with whipping cream 38%, it gives a good creamy consistency.

Whole milk – Just dilute the cream a little so it does not become too fat.

Bay leaves – They help to give just the right taste.

Parmesan – And then of course there's the star, parmesan. Find a good parmesan, preferably a whole piece you can grate yourself.
How to make parmesan scalloped potatoes?
Here is a brief description of how to make the best parmesan scalloped potatoes. Remember that all ovens heat differently, and not all equally, so it may be necessary to give them a little more or less time. Try with a knife to check if they are tender.

In a big saucepan, mix all the ingredients except the prepared potato slices. Bring to the boil and turn down the heat and add the potato slices, which should now simmer in the pan for approx. 5 minutes. Pour the potatoes and all the cream mixture into a dish of suitable size and place it in the middle of a preheated oven.

Now let the scalloped potatoes cook in the oven until they are golden and slightly crispy on the surface and the potatoes are tender.

Take the creamed potatoes out of the oven and serve them immediately as an accompaniment to a delicious steak, a well-cooked ham, or grilled chicken.

Find the full recipe further down this page.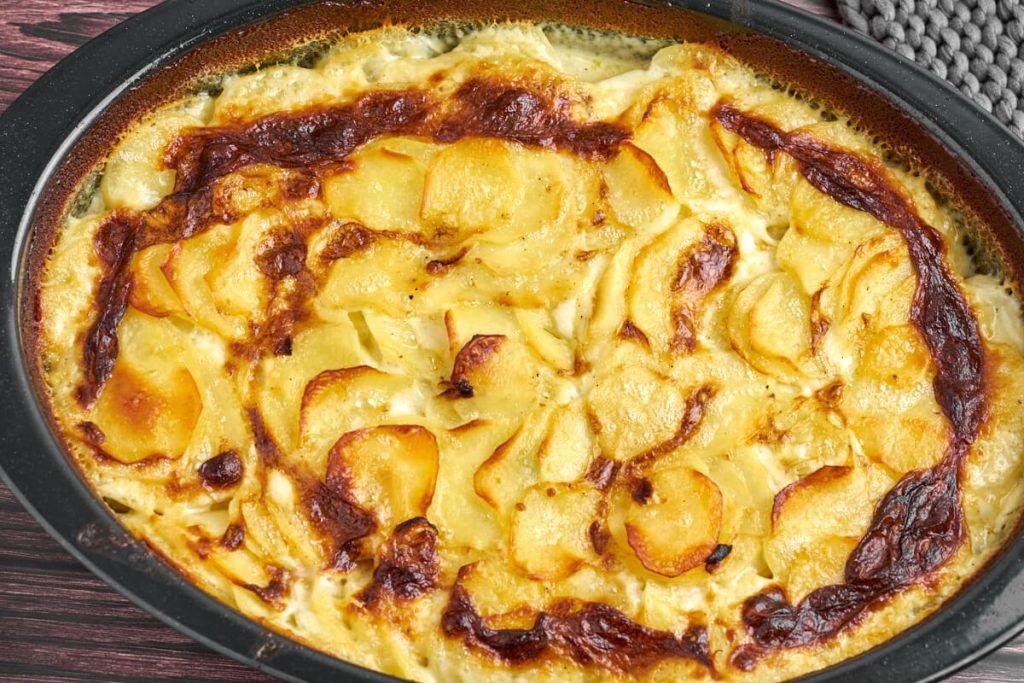 Frequently asked questions
Can I use another cheese?
Yes, try Gruyère, Pecorino, or another cheese with a good taste.
How to store parmesan scalloped potatoes?
You can store the creamed potatoes in the fridge for a few days.
Can I use another type of cream?
We think the potatoes get the creamiest when using whipping cream, but you can use another type if you are trying to watch how many calories you get.
Is this a traditional Danish dish?
Yes. Scalloped potatoes or flødekartofler as we call them in Danish, is very traditional to serve with Danish frikadeller or ham. In the traditional recipe, there is no cheese, but cheese makes them taste even better.
Other recipes you might like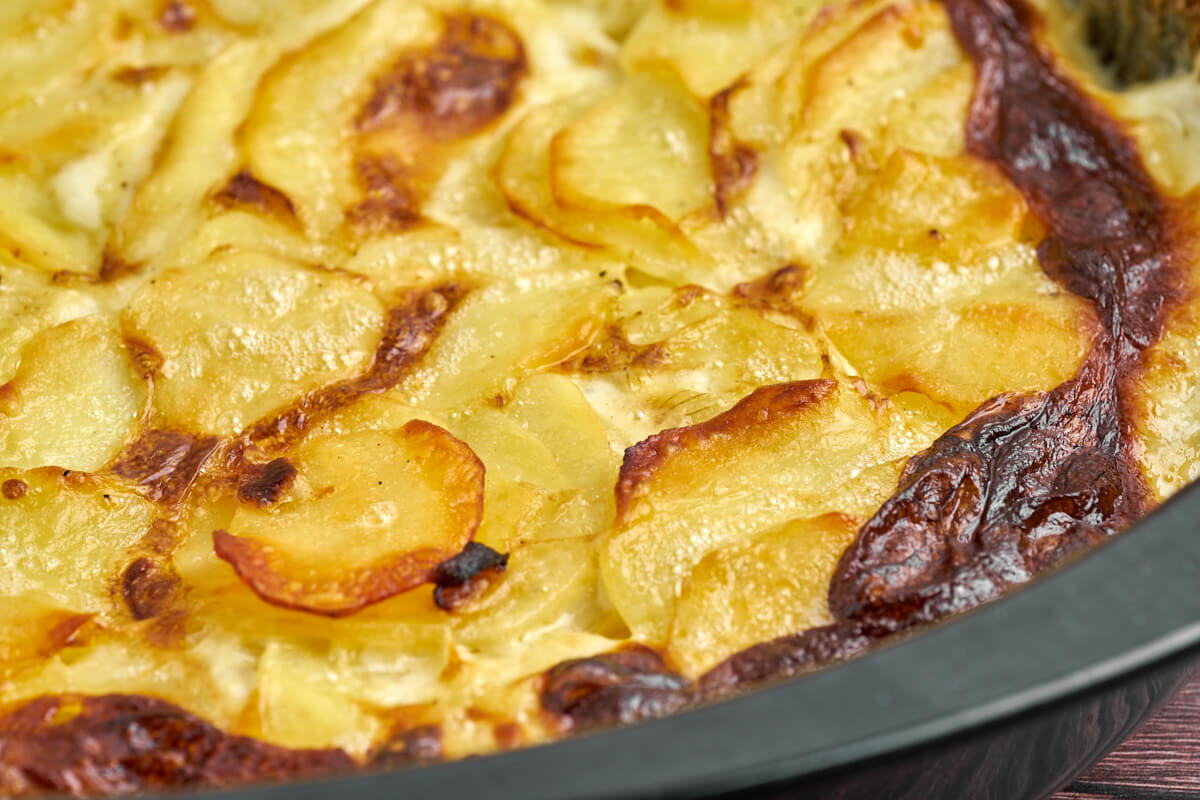 Tips and tricks for the best scalloped potatoes
Cut the potatoes into slices of approx. 3 mm. it is made easy on a mandoline slicer.
Add cream during cooking if it gets too dry.
Try different cheeses.
You can also add fresh herbs. Rosemary goes really well with the parmesan flavor.
Serving suggestions
Scalloped cheese potatoes with parmesan go really well with a grilled steak.
You can also serve it with a good oven-roasted or grilled chicken.
Scalloped potatoes and ham or Frikadeller – Danish meatballs are classic Danish dinner dishes.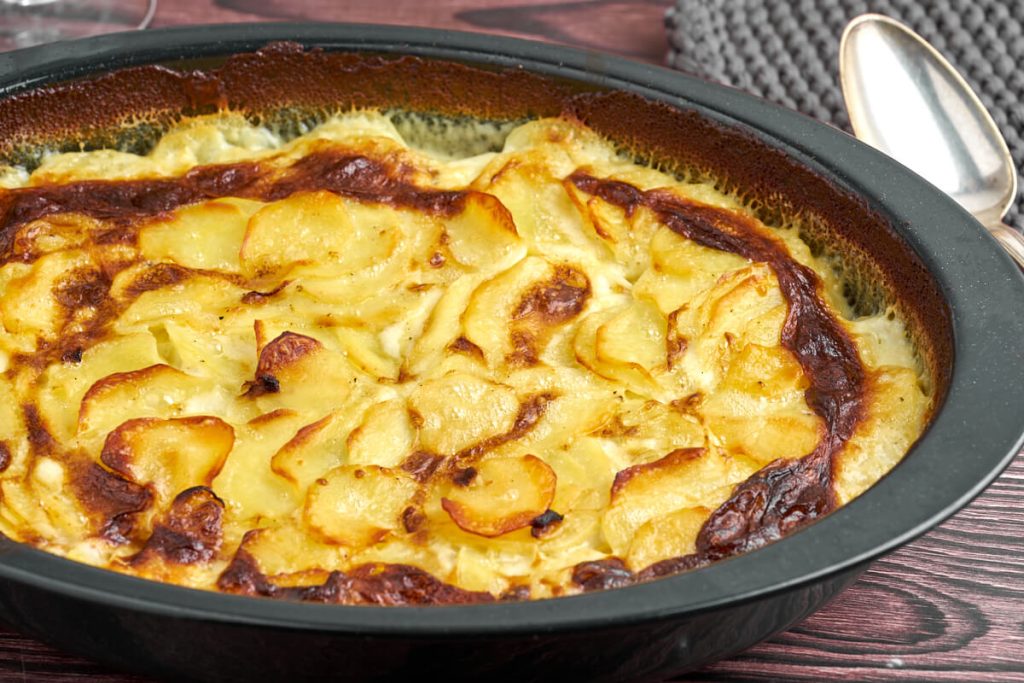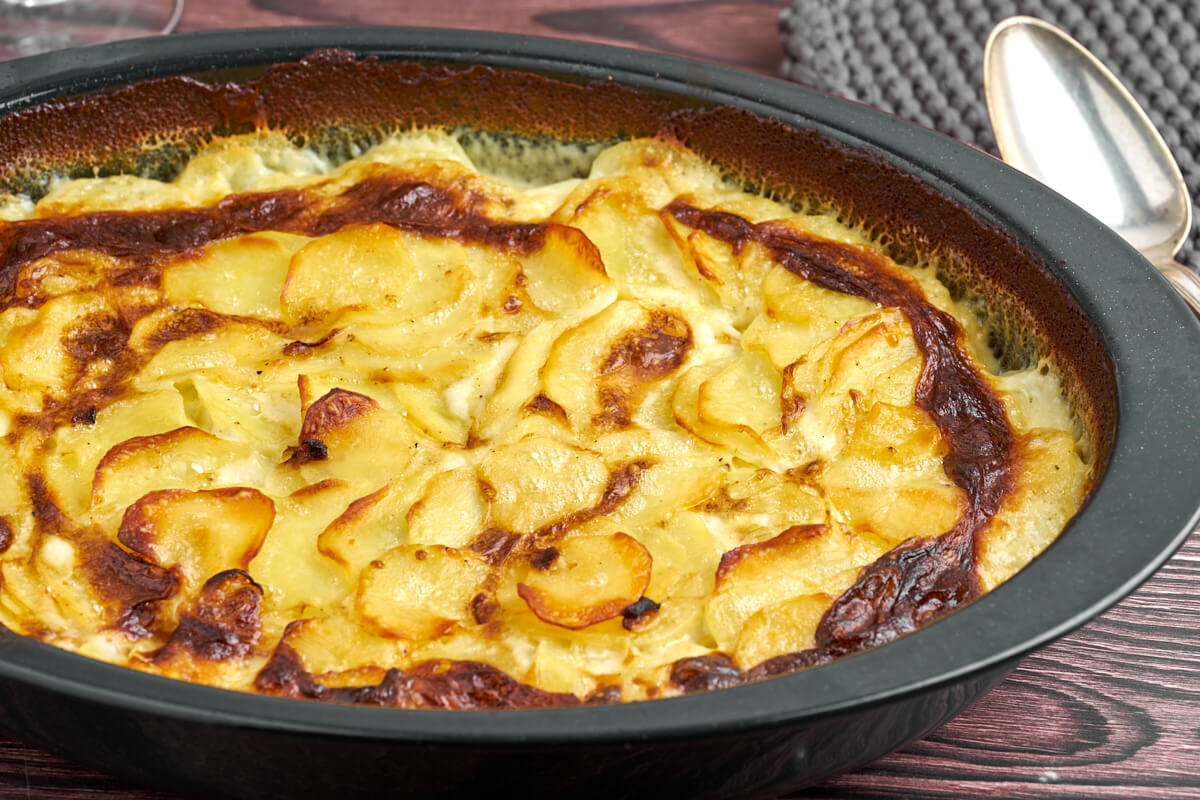 Recipe for Danish scalloped cheese potatoes
Here you get our recipe for delicious creamy scalloped potatoes with parmesan. These creamy potatoes are the perfect accompaniment to a piece of good meat or traditional Danish dishes.

Make your own parmesan scalloped potatoes from scratch and delight your family with the best potatoes in the world. We hope you enjoy the recipe.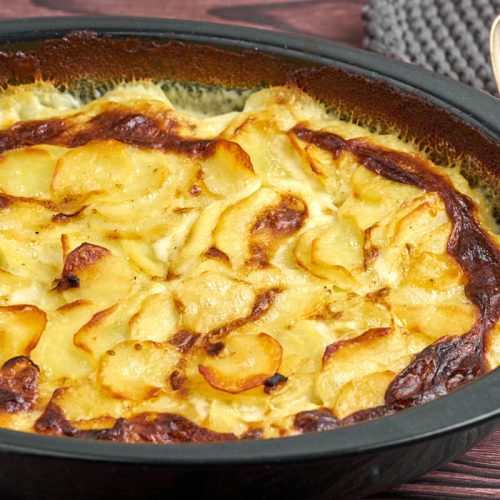 Parmesan scalloped potatoes
Recipe for parmesan scalloped potatoes
Absolutely fantastic delicious dish with creamy cheese potatoes. The parmesan gives the dish a really nice cheesy taste. Scalloped potatoes with cheese go well with a grilled steak, roasted chicken or the classic dishes like ham or Danish meatballs.
Ingredients  
1.5

kg

potatoes

1

onion

1

clove

garlic

1

dl

whole milk

4

dl

whipping cream

3

bay leaves

2

tsp

salt

or to taste

Pepper

to taste

1

pinch

crushed nutmeg

can be omitted if you do not like the taste

100

g

parmesan
Instructions 
Preheat the oven to 200 degrees Celcius normal heat.

The potatoes are peeled and cut into slices of approx. 3 – 4 mm. Set them aside when you are done. You can preferably use a mandoline slicer.

The onion is peeled and cut into thin slices. Finely chop the garlic.

Whipping cream, whole milk, salt, pepper, onion, garlic, bay leaves, and nutmeg are placed in a big saucepan together with finely grated Parmesan cheese.

Let it simmer for a few minutes on medium heat while stirring. Then add the potato slices and let them simmer over low heat for approx. 5 minutes, making sure it does not stick to the bottom of the pan.

Pour the contents of the pan into an ovenproof dish and place it in the middle of a preheated oven at 200 degrees Celcius. Now it should be in the oven for approx. 1 hour or until it has become deliciously golden on the surface and the potatoes are tender. You can check them with a knife and feel whether they should cook a little longer.

Serve the parmesan scalloped potatoes immediately, for example as a side dish tfor ham, meatballs or a grilled steak.
Nutrition
How do you like the recipe?
Have you tried this recipe? We'd love to hear what you think of it. Leave a comment, add a number of stars to the recipe and share your photo on Instagram with #madformadelskere – We love seeing your dishes ♥️
Also, sign up for our Facebook group where you can show pictures of the delicious food you make! You can find the Facebook group here