Potatoes are just a great accompaniment to many dishes. During the summer, grilled potatoes are often a favorite, as they are an easy and delicious way to prepare potatoes. Read on and get our easy recipe for potatoes on the grill.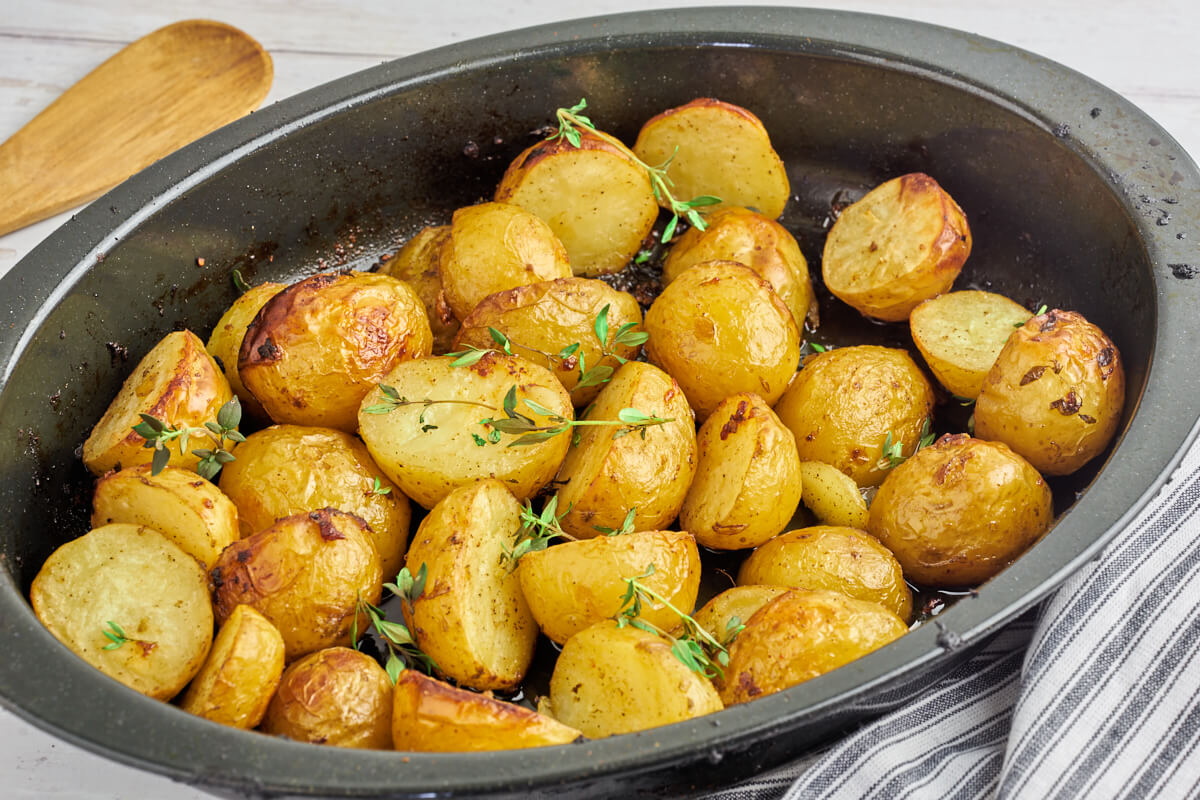 Easy Grill Side Dish
When grilling, it's nice to have something easy as a side dish, preferably something that can be cooked on the grill as well. Potatoes are a perfect choice. They are really easy to prepare and practically cook themselves on the grill while you prepare the rest of the meal.

They taste delicious with the herbs you add to the dish. Here, we have used thyme and lovage, as we have plenty of them in the garden, but other herbs work just fine too.

What should we grill today? And most importantly, what should we have with it? That's always the question when we grill at home.

One of the side dishes we always fall back on is grilled potatoes. It works every time and can be served with almost anything. I've actually never been fond of potatoes, or I should say boiled potatoes because in all other forms, I actually think they taste pretty good.

When the grilling season kicks off in early summer, we have potatoes on the grill, whether they're prepared in a dish on the grill, as baked potatoes, or in foil.

Potatoes are just versatile, and you can add a lot of flavor to them when cooking them on the grill. Another bonus of potatoes is that they are inexpensive, but they certainly don't have to be boring!

Having a crispy potato from the grill together with a delicious sauce and some good meat, it's actually not bad at all!

These simple potatoes can be served with all kinds of grilled fish, poultry, and meat, and if you make a delicious tzatziki or romesco sauce to go with them, it doesn't get much better than that.

We hope you feel inspired to try these flavorful and crispy grilled potatoes.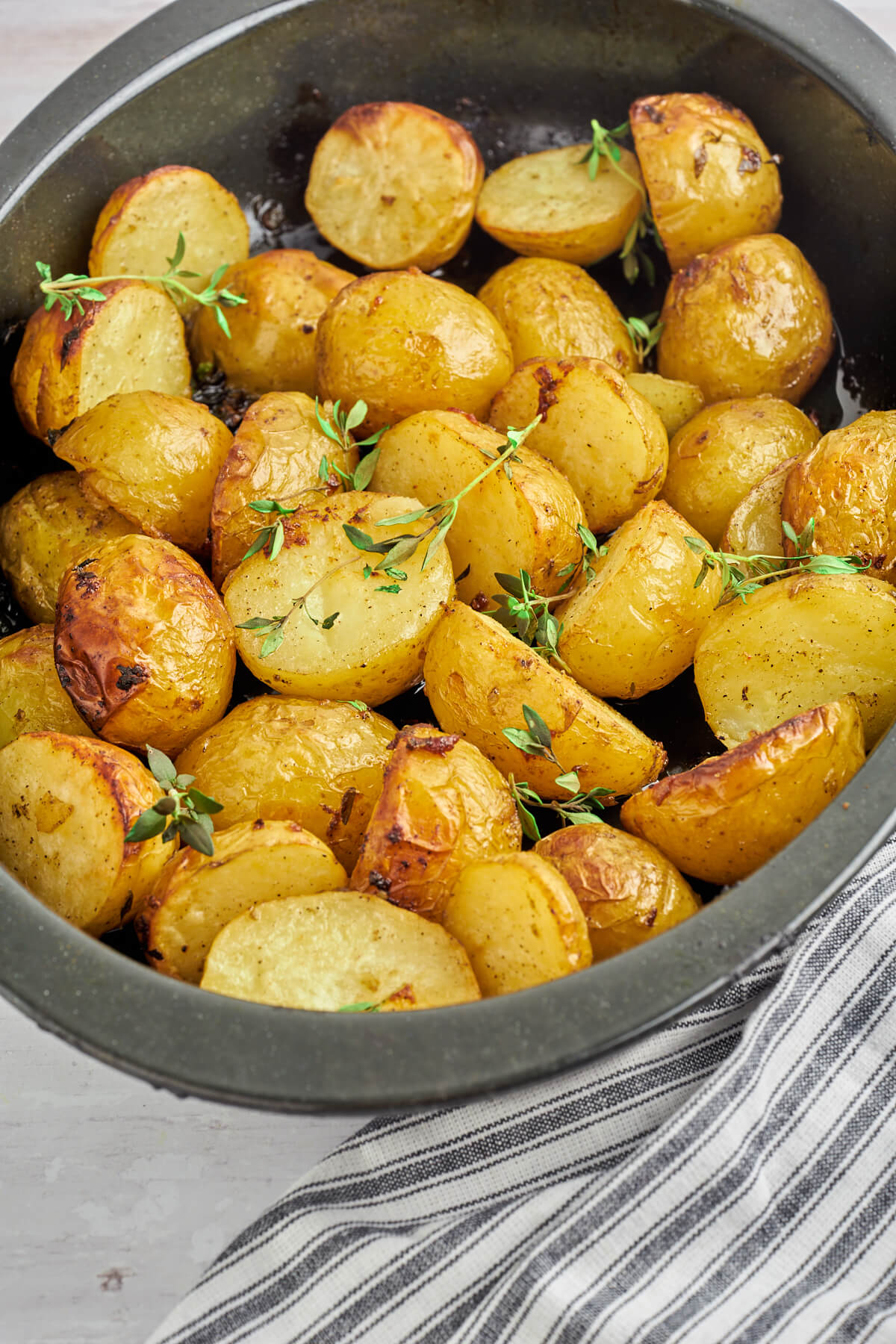 Ingredient notes
Potatoes – Find some good new potatoes. Small/medium-sized ones are a suitable size, larger potatoes can be halved or quartered.

Herbs – Here we have used thyme and lovage, but you can easily replace them and try other herbs.

Olive oil – Olive oil is the lubricant that binds the salt, pepper, and herbs to the potatoes and ensures that the potatoes have something to "fry" in.

Butter – Butter adds flavor, but it can be omitted as long as you add a little extra oil to the potatoes.

Salt/pepper – Of course, the potatoes need seasoning. Salt and pepper are sufficient.
How to make grilled potatoes?
Here is a brief description of how to make the best potatoes on the grill. Delicious and golden, slightly crispy, and with a perfect flavor.

First, preheat the grill to about 210 degrees Celsius (410 degrees Fahrenheit). Then, prepare the potatoes and place them in a fireproof dish. Add oil along with the other ingredients and mix everything together well.

Finally, spread the butter over the potatoes. Place the dish on the grill over indirect heat and cook for about 1 hour. Turn the potatoes a few times along the way to prevent them from sticking to the dish and to ensure they become golden on all sides.

When the potatoes are tender, remove them from the grill and serve immediately.

Find the full recipe further down this page.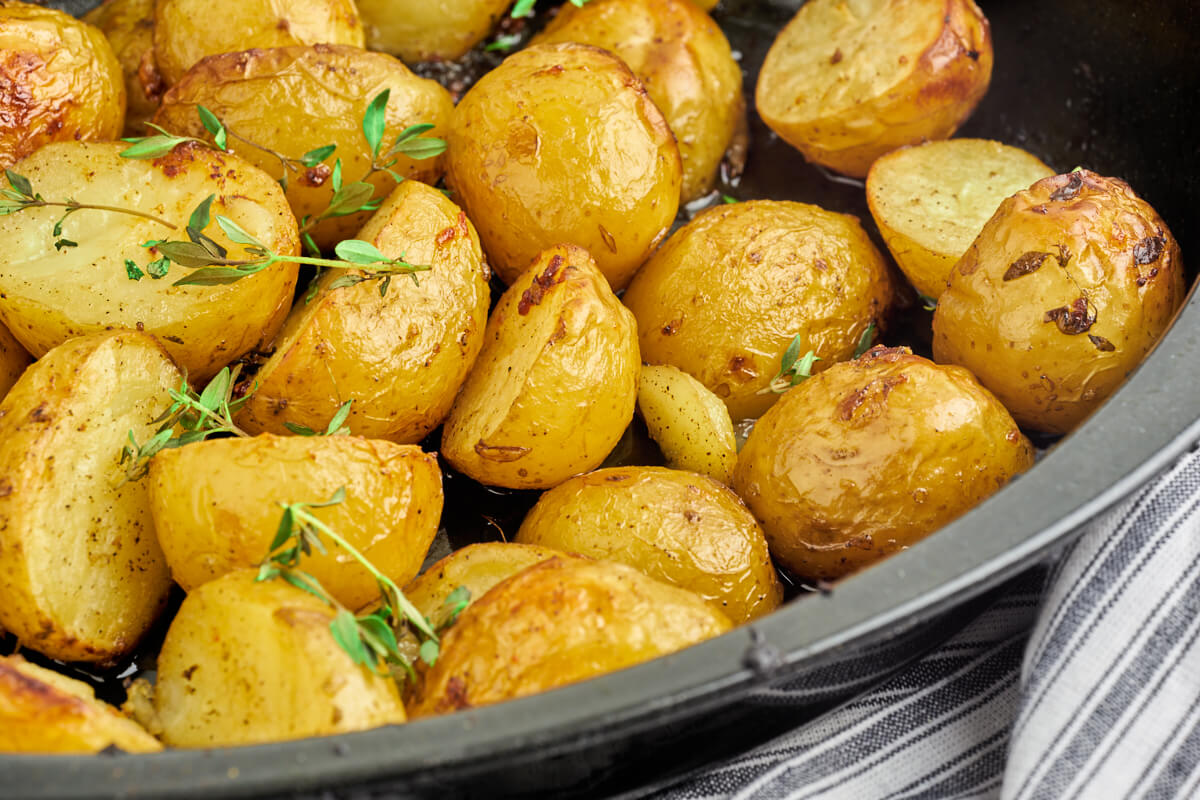 Frequently asked questions
Can you save the leftovers?
Yes, you can easily store any leftovers in the refrigerator for a couple of days.

Can I use other herbs?
Yes, definitely. Here we have used thyme and lovage, but only your imagination sets the limit for which herbs you can use. Try parsley or whatever you have in your garden.
Other grilling recipes you might like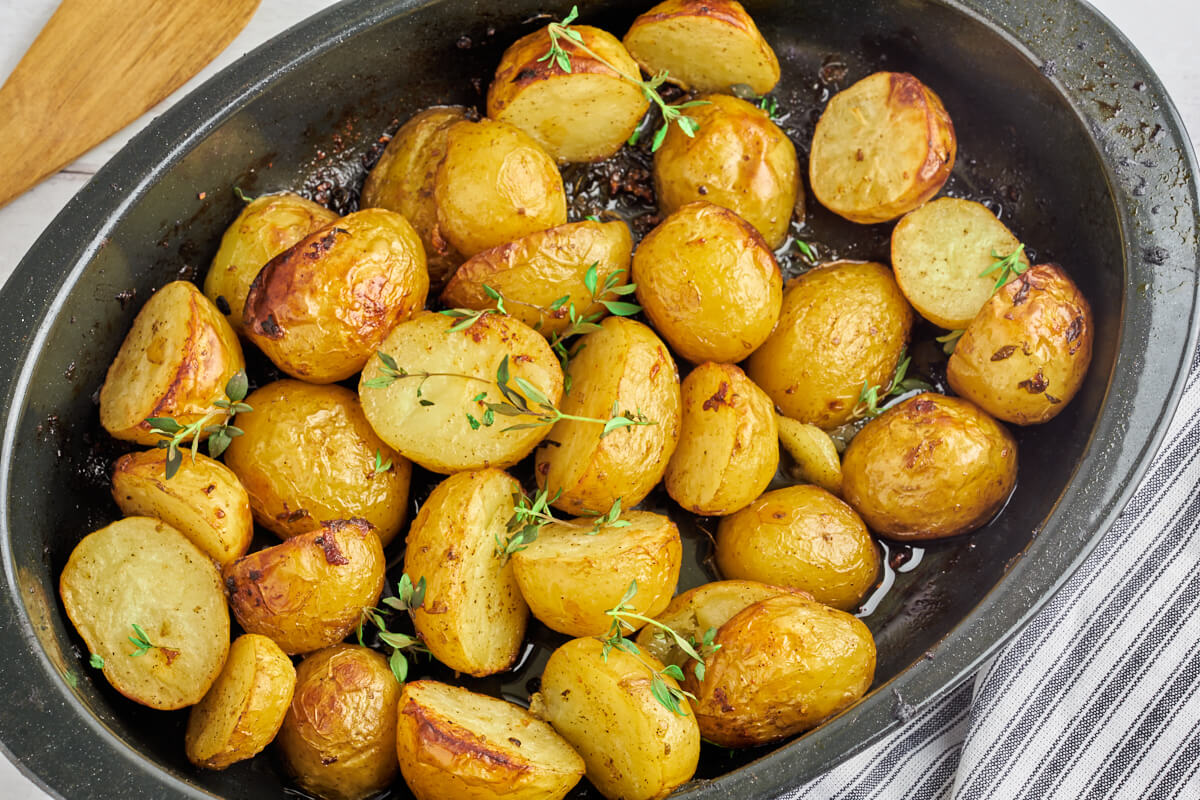 Tips and tricks for the recipe
Make sure to turn the potatoes in the dish a few times along the way. This will prevent them from sticking and ensure they get color all the way around.
Experiment with different herbs, both fresh and dried ones.
Remember that the size of the potato determines how long it needs to cook.
If you feel they're not getting enough color, turn up the temperature for the last half hour.
Remember that you can easily cook meat on the grill while the potatoes are on.
Serving suggestions
Serve with grilled salmon and a delicious hollandaise sauce.
Serve with any grilled meat, such as grilled pork chops.
Pair them with a juicy hamburger on the grill with tzatziki.
Do you love grilling?

Try to make our recipe for grilled pointed cabbage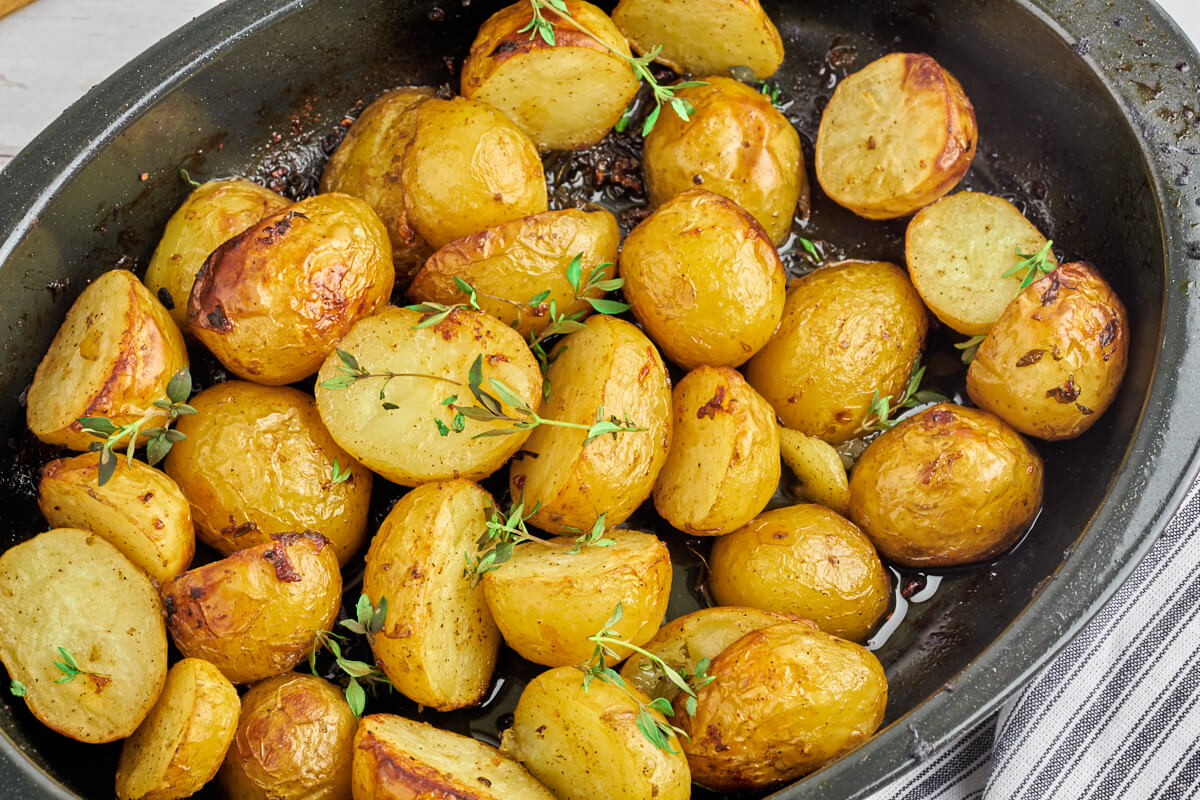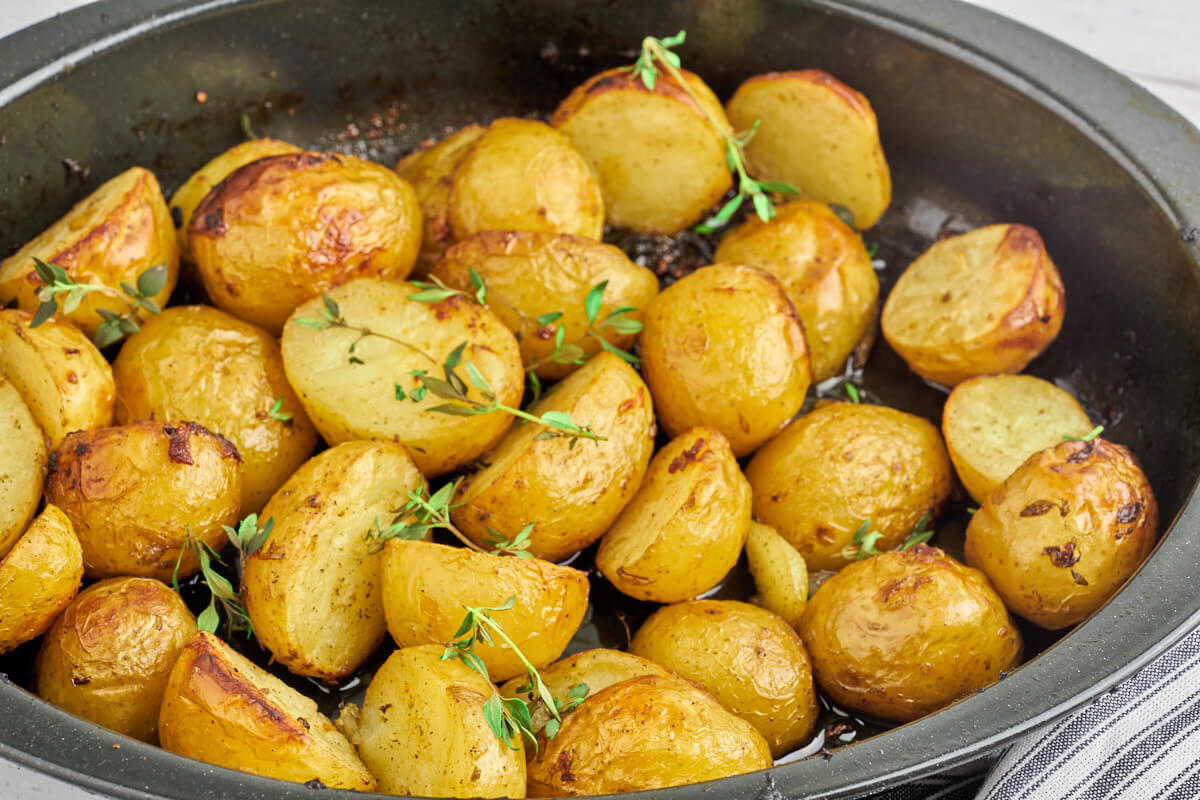 Recipe for potatoes on the grill
Here is our easy recipe for grilled potatoes. They taste great with all kinds of grilled food and are really easy to make.

We hope you feel inspired to try the recipe and make these wonderful potatoes. Our whole family loves them at home, and we eat them with everything from fish and chicken to grilled meat.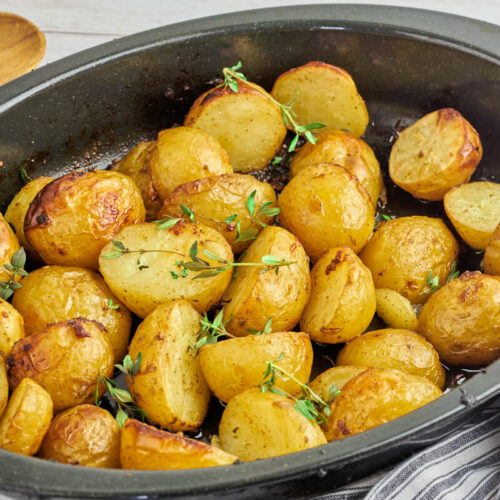 Grilled potatoes
Recipe for grilled potatoes
These potatoes are a delightful accompaniment to all kinds of grilled food, from fish and chicken to grilled meat. Feel free to serve them with a sauce, tzatziki, or any other dip. It's an easy way to make grilled potatoes.
Ingredients  
1

kg

potatoes

small

2

tbsp

fresh thyme

2

tbsp

fresh lovage

2

tbsp

olive oil

50

g

butter

1.5

tsp

salt

or to taste

Pepper

to taste
Instructions 
Preheat the grill to 210 degrees Celsius (410 degrees Fahrenheit) for indirect heat.

Thoroughly wash the potatoes in cold water. Let them drain in a colander.

If the potatoes are relatively large, cut them in half or quarters.

Place the potatoes in a fireproof dish or grill tray. Pour the oil over the potatoes, then add fresh herbs, salt, and pepper. Mix everything thoroughly so that the herbs and salt are evenly distributed on the potatoes.

2 tbsp fresh thyme,

2 tbsp fresh lovage,

2 tbsp olive oil,

1.5 tsp salt,

Pepper

Slice the butter thinly and distribute it over the potatoes before placing them on the grill.

I use butter because it adds a delicious flavor to the potatoes, but it can be skipped.

Now, place the dish with the potatoes on the preheated grill over indirect heat and close the lid. Cook the potatoes for approximately 60 minutes, or until they are tender. The cooking time depends on the size of the potatoes.

Turn the potatoes in the dish 2-3 times during the cooking process to ensure they get color on all sides.

Once the potatoes have a nice golden color and are tender, they are ready to be served.
Nutrition
Serving:
1
person
Calories:
348
kcal
Carbohydrates:
45
g
Protein:
5
g
Fat:
17
g
Saturated Fat:
7
g
Polyunsaturated Fat:
1
g
Monounsaturated Fat:
8
g
Trans Fat:
0.4
g
Cholesterol:
27
mg
Sodium:
968
mg
Potassium:
1077
mg
Fiber:
6
g
Sugar:
2
g
Vitamin A:
484
IU
Vitamin C:
55
mg
Calcium:
48
mg
Iron:
3
mg
How do you like the recipe?
Have you tried this recipe? We'd love to hear what you think of it. Leave a comment, add a number of stars to the recipe and share your photo on Instagram with #madformadelskere – We love seeing your dishes ♥️
Also, sign up for our Facebook group where you can show pictures of the delicious food you make! You can find the Facebook group here