Grilled vegetables taste fantastic! Grilled spring onions are no exception. They are easy to make and make a great side dish for grilled food, whether it's a top sirloin cap roast, a steak, or a piece of chicken. Read on and get our easy recipe.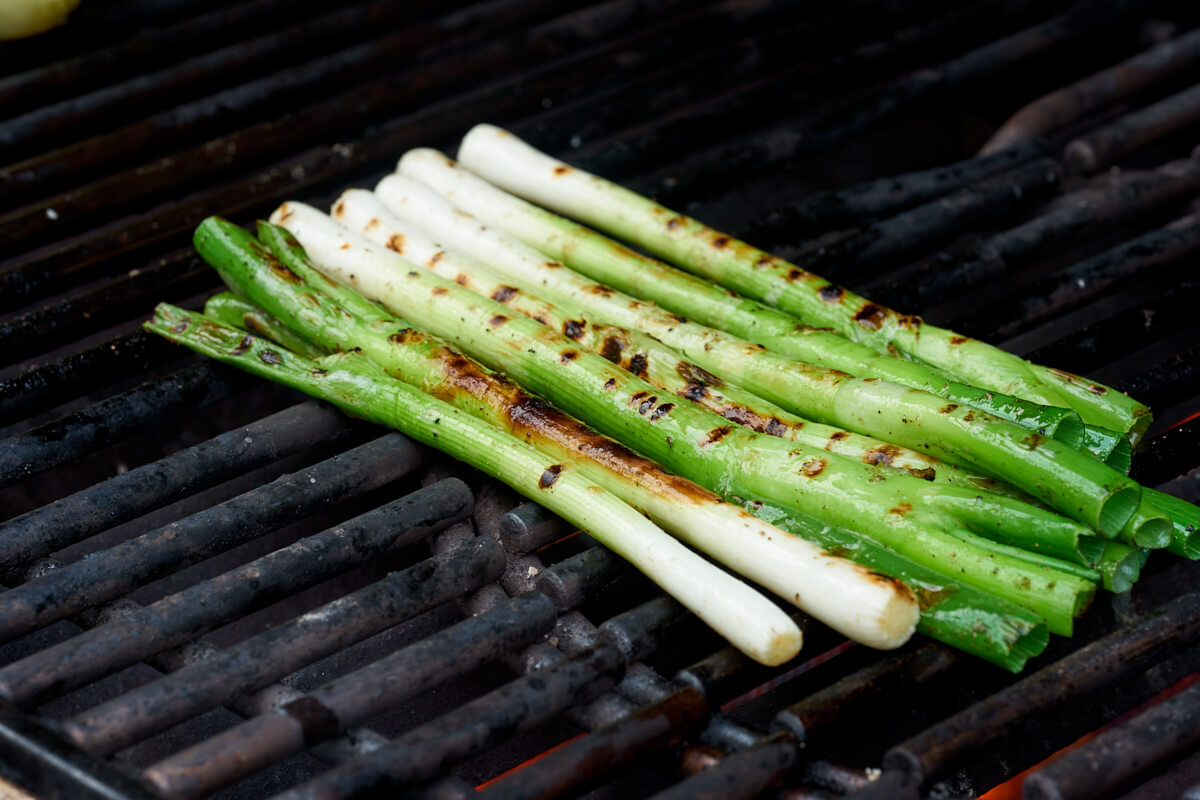 Grilled vegetables
When we talk about grilled food, it's usually the meat we're referring to.

It's actually a bit unfortunate that we don't focus more on vegetables because many vegetables become really delicious after being grilled.

Spring onions are one of them! They are also called scallions or green onions.

Grilled spring onions are super easy to make, it's an inexpensive side dish, and they taste really good.

You can serve them as a side dish to a good ribeye steak, a veal roast, or a whole salmon fillet on the grill. It's something that goes well with almost all types of meat, and you can easily combine it with other grilled vegetables if you like.

Spring onions are a somewhat overlooked vegetable, which is actually a shame because they have a delightfully mild flavor when cooked, not as sharp as when tasted raw. I don't know if that's what keeps people from eating them.

In addition to tasting good, these mild onions are also packed with vitamins and dietary fibers, so if you're one of those hesitating to eat spring onions, there's a good reason to start using them in your kitchen.

Another fun thing is that you can actually regrow spring onions. Once you've cut off the ends with the roots, you can place them in a pot with soil or a small bowl of water, and new spring onions will grow soon. It's a cozy little project for the windowsill, and kids find it amusing to see how such an onion can grow even though most of it has been eaten.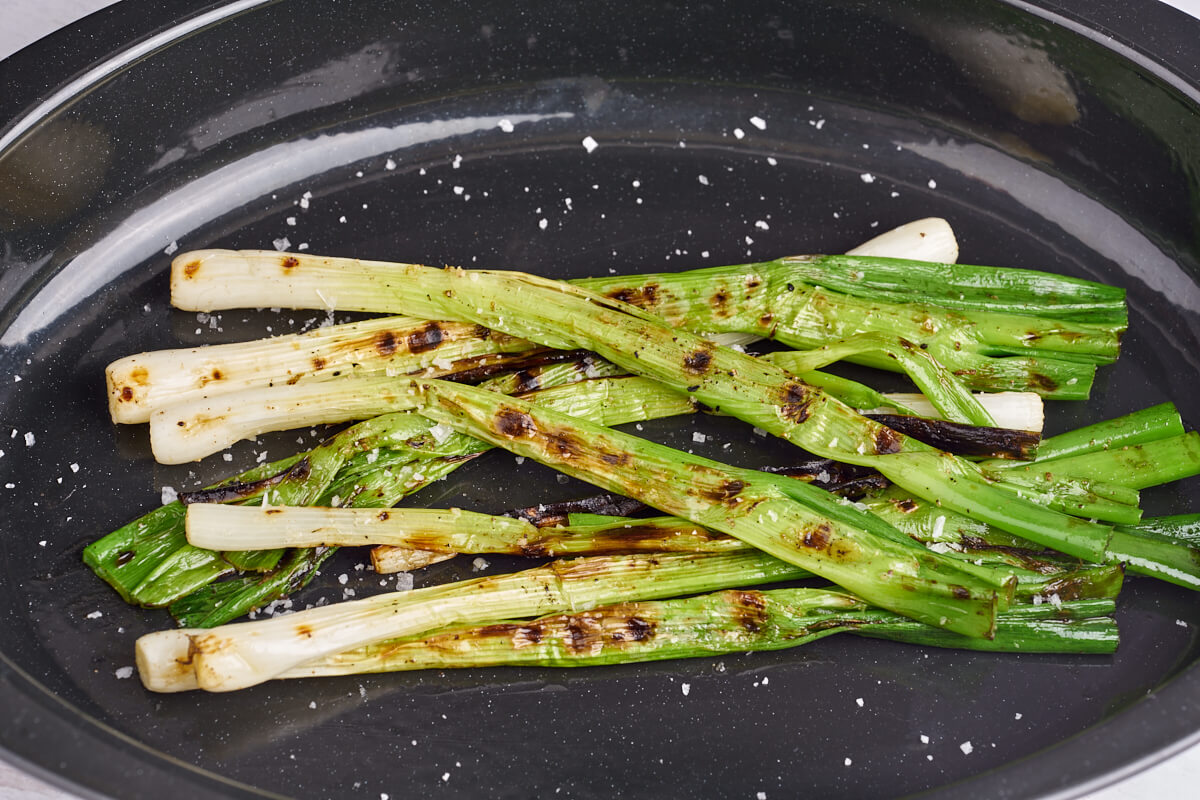 Ingredient notes
Spring onions – You can buy spring onions at the supermarket or from a greengrocer. You'll need to use the entire onion and just remove the roots at the bottom. There's a difference in taste between the white and green parts of the plant, but it's all great when grilled.

Salt – Vegetables need to be salted; otherwise, they can be a bit bland in flavor. Grilled spring onions can be sprinkled with a good amount of salt before serving.
How to make grilled spring onions?
Grilling vegetables, in general, is super easy, and spring onions are always delicious on the BBQ.

First, you need to remove the roots from the spring onions and wash them well.

Next, you'll need to coat them with oil, sprinkle them with salt, and then grill them. They should be grilled for 5-10 minutes until they become slightly tender and develop grill marks. Then they're ready to be served.

Find the full recipe further down this page.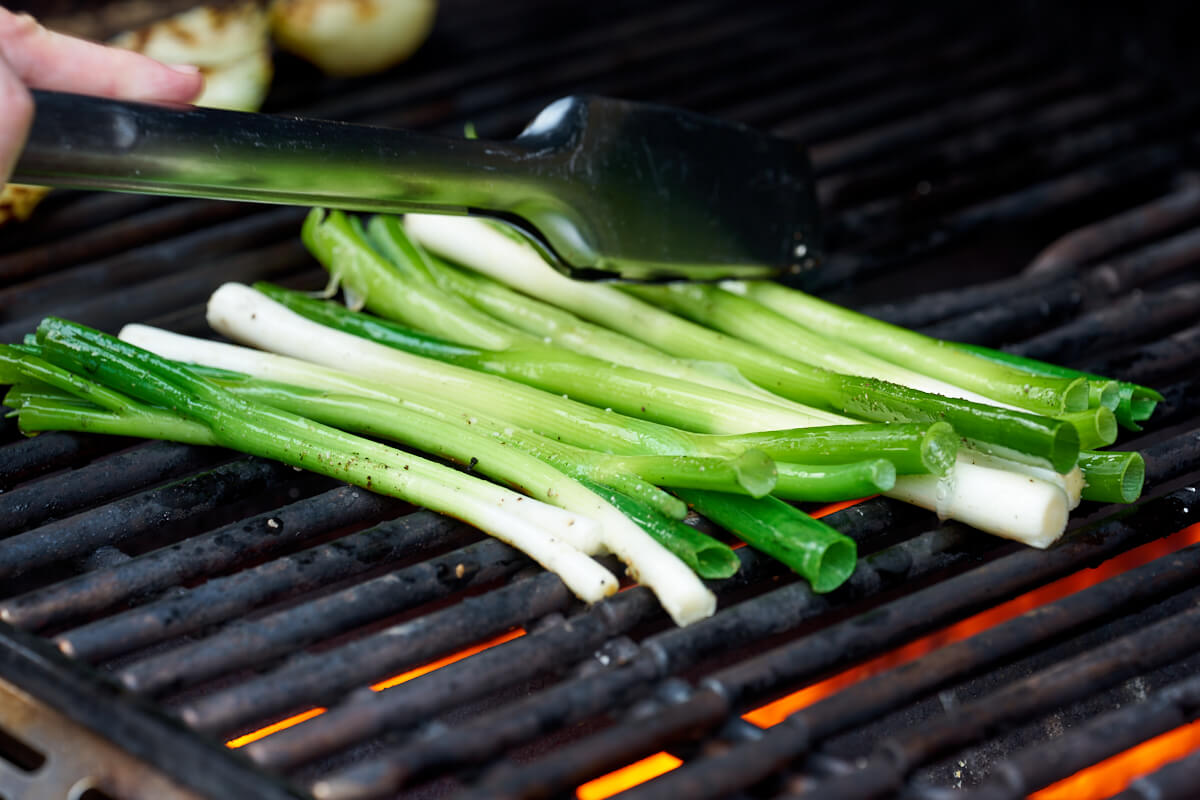 Frequently asked questions
Which vegetables can be grilled?
There are plenty of good vegetables that you can grill, and it's actually only limited by your imagination. For example, you can try making:
– Grilled onions
– Grilled green asparagus
– Sweet potatoes on the grill
– Grilled fennel
– Vegetable skewers on the grill
– Grilled cabbage
When grilling vegetables, it's a good idea to rub them with a little oil before placing them on the grill. Also, remember to season them with salt and pepper to enhance the flavor.
How much of a spring onion can I use?
You should use the entire onion, so the only thing you need to cut away is the bottom part with the roots. Both the green top and the white part of the onion should be eaten, and they taste wonderful.
Can I make sautéed spring onions in a pan?
Yes, you can. If you don't have a grill, you can make the onions in a pan or perhaps on a grill pan if you have one. The procedure is exactly the same.
Other BBQ recipes you might like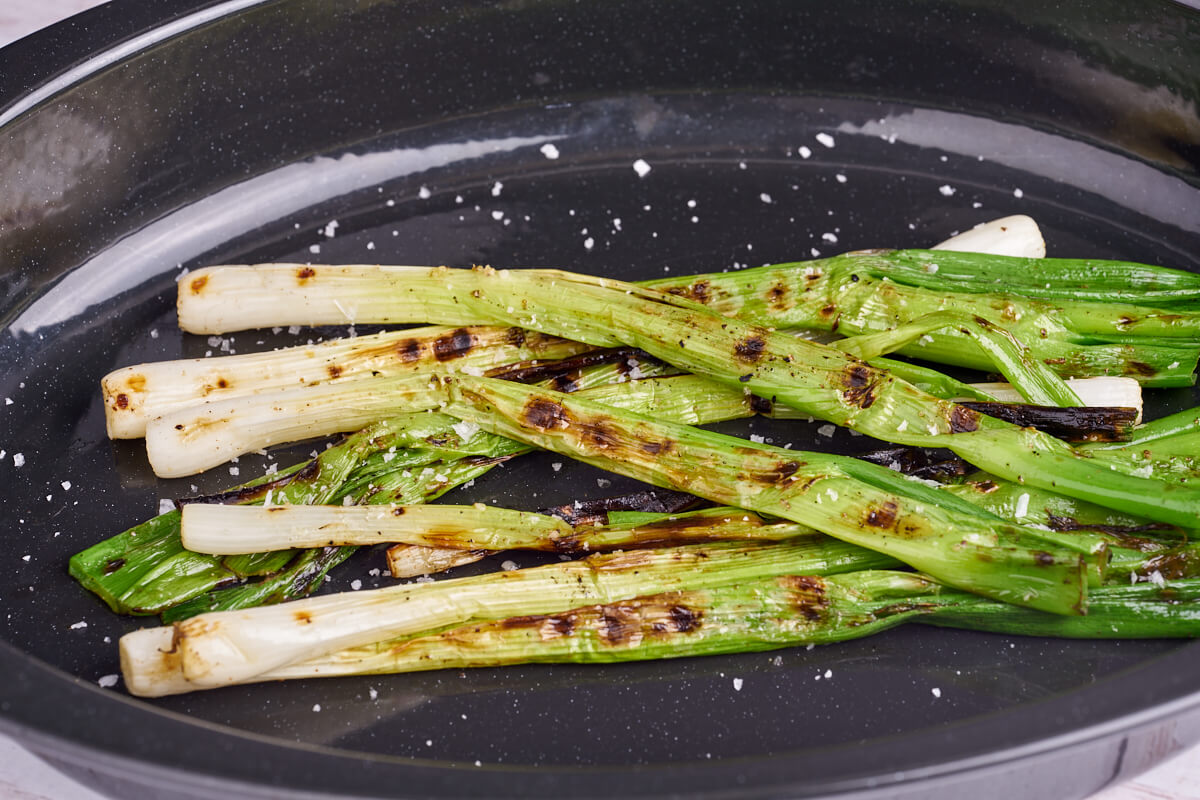 Recipe for scallions on the grill
Here's our recipe for delicious grilled spring onions. It's a green side dish that you can serve with grilled food, whether it's beef, pork, fish, or even chicken.

It's also an inexpensive side dish, and spring onions are often an overlooked vegetable. But there's no reason for that because they actually taste really good. We hope you'll feel like trying the recipe the next time you grill at home.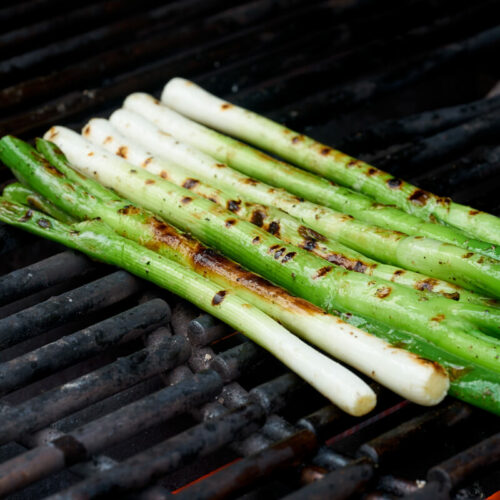 Grilled spring onions
Recipe for grilled spring onions
Grilled spring onions are a delicious addition to summer grilling. The grilled onions pair well with pork, beef, poultry, or fish, and they are easy to make. You only need spring onions, a little oil, and some salt.
Ingredients  
1

bunch

spring onions

2

tbsp

olive oil

Salt
Instructions 
Wash the spring onions and trim the ends with the roots.

Rub the spring onions with oil and sprinkle them with salt.

Grill the spring onions over direct heat for 5-10 minutes until they have grill marks and become slightly tender. Alternatively, you can cook them on a grill pan on the stovetop.

Serve the warm spring onions immediately with meat or fish.
Nutrition
Serving:
1
person
Calories:
64
kcal
Carbohydrates:
0.4
g
Protein:
0.1
g
Fat:
7
g
Saturated Fat:
1
g
Polyunsaturated Fat:
1
g
Monounsaturated Fat:
5
g
Sodium:
1
mg
Potassium:
17
mg
Fiber:
0.2
g
Sugar:
0.1
g
Vitamin A:
60
IU
Vitamin C:
1
mg
Calcium:
4
mg
Iron:
0.1
mg
How do you like the recipe?
Have you tried this recipe? We'd love to hear what you think of it. Leave a comment, add a number of stars to the recipe and share your photo on Instagram with #madformadelskere – We love seeing your dishes ♥️
Also, sign up for our Facebook group where you can show pictures of the delicious food you make! You can find the Facebook group here