The sun is shining, and the grill is fired up. Grilled flank steak is a truly delicious mouthful, and it's not an expensive cut of meat. Served with a baked potato, plenty of garlic butter, and a cob of corn, it's actually perfect! If you want to see how easy it is to make the perfect grilled flank steak, read on and get our recipe.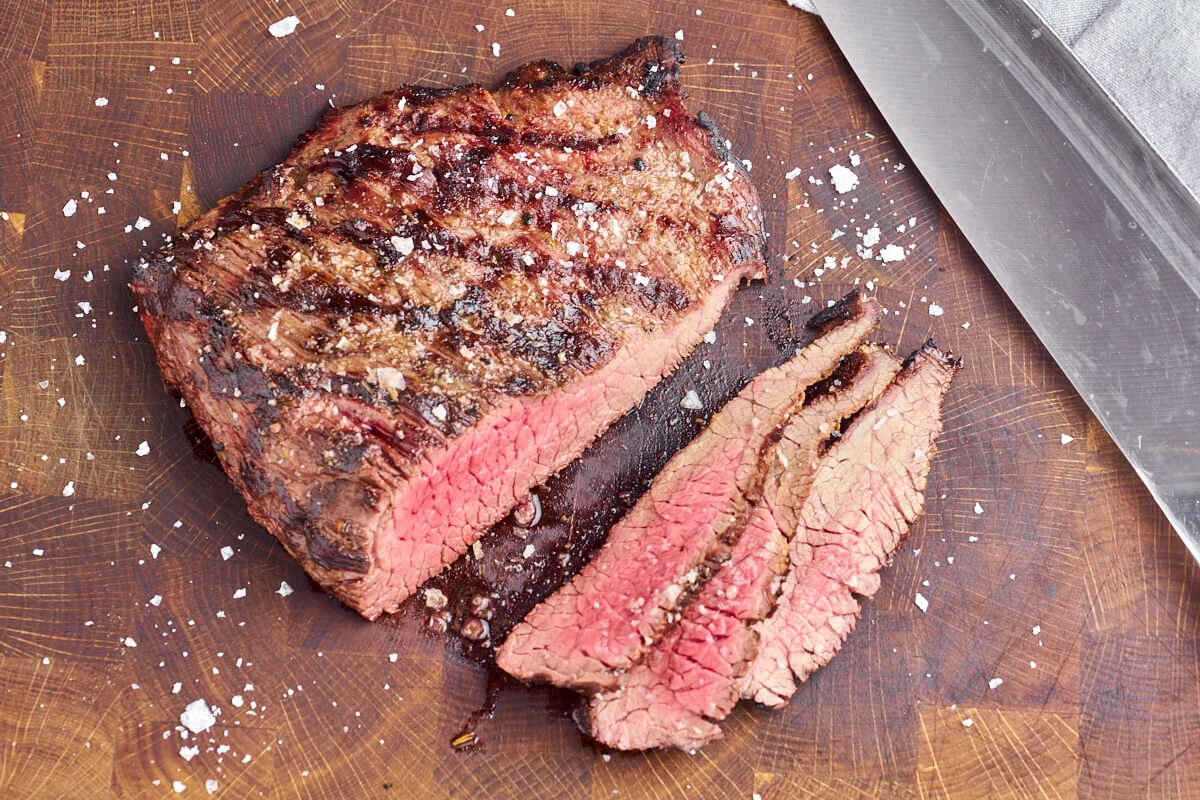 Finally, BBQ season!
The sun and warmth have finally arrived, and the smell of the grill being lit at dinnertime is so cozy! Now the refrigerated counters in all supermarkets are overflowing with all kinds of meat cuts, sausages, and other delicious items for the grill.

One of our favorites has always been a flank steak. It's an underrated cut of meat! It may not be the most tender, but you can't question the flavor.

It has a coarse texture, and it's important not to overcook it, as it can become dry and tough. Personally, I believe a flank steak should be cooked somewhere between medium-rare and medium, so it's juicy and tender, just as it should be.

In most supermarkets, you can find flank steaks in the refrigerated section during grilling season, and they're quite good! You can get them with all sorts of marinades, but personally, I prefer them with garlic if they come marinated. However, the best way is to keep it simple, with just salt and pepper!

When we eat a flank steak, what we serve with it varies a lot. It can be a baked potato with garlic butter and not much else. But it also tastes really good with a delicious green salad and bread rolls. And if you want to go in a completely different direction, it's delicious when thinly sliced in a steak sandwich.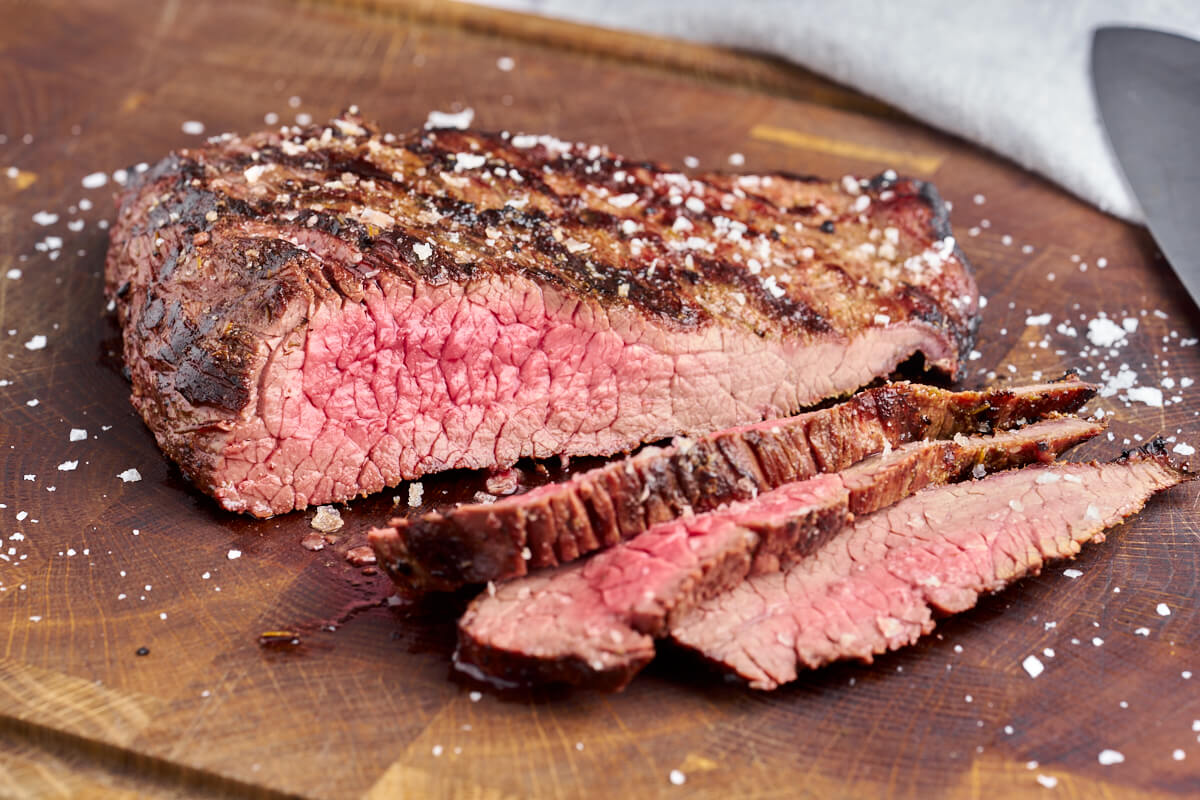 Ingredient notes
Flank steak – I don't have a strong opinion on where to buy it. It can be a good idea to support the local butcher, of course. But the ones available in the supermarkets also taste fine. Personally, I prefer them without marinade so that I can control the flavor.
How to grill flank steak?
I always cook flank steak over direct high heat, and then let it rest before slicing.

If you buy one that isn't marinated beforehand, you can do this a day before it needs to be cooked. Otherwise, I actually prefer it simply seasoned with coarse salt and pepper.

On a preheated grill, grill the flank steak over high direct heat on both sides until it reaches the desired internal temperature. Then let the flank steak rest uncovered before slicing and serving with your favorite side dishes.

Find the full recipe further down this page.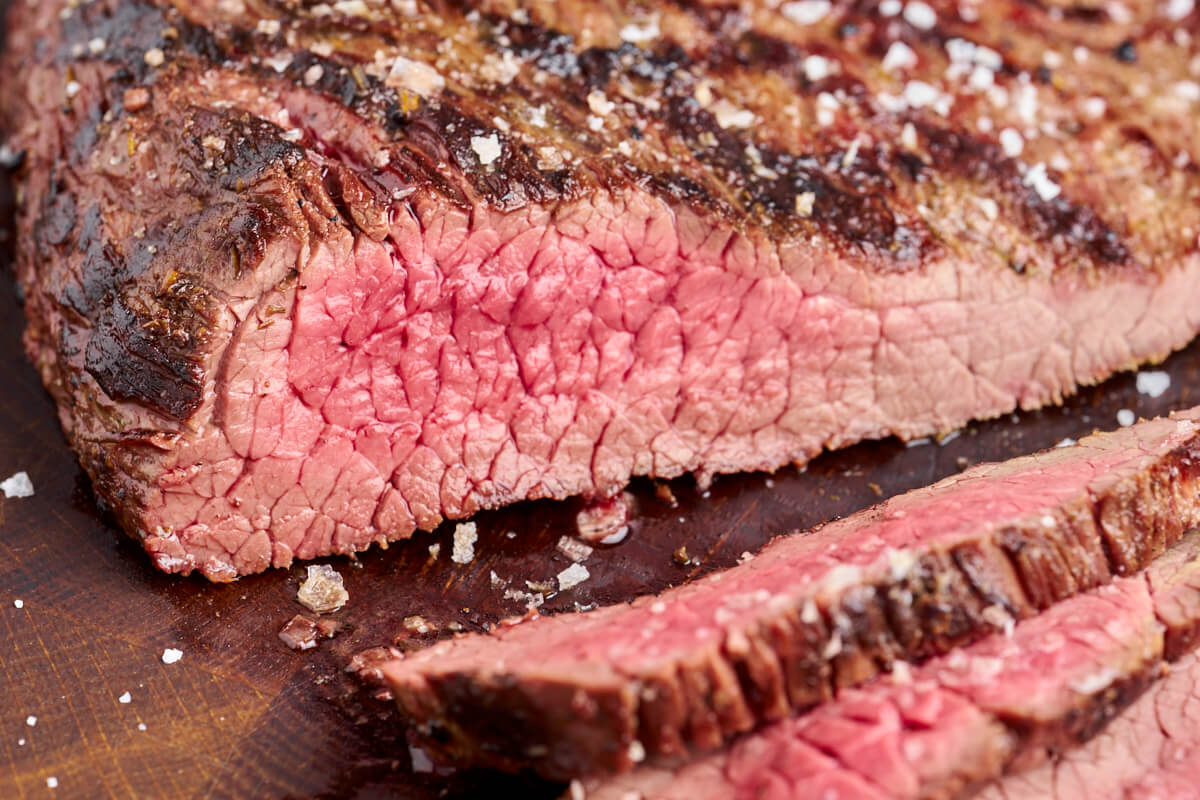 Frequently asked questions
How do you store the leftovers?
The meat can be refrigerated for a couple of days, or it can be frozen if not all of it has been eaten.
What can you use the leftover flank steak for?
It's delicious in a salad when thinly sliced. It can also be used in a sandwich or in Danish hash.
Other BBQ recipes you might like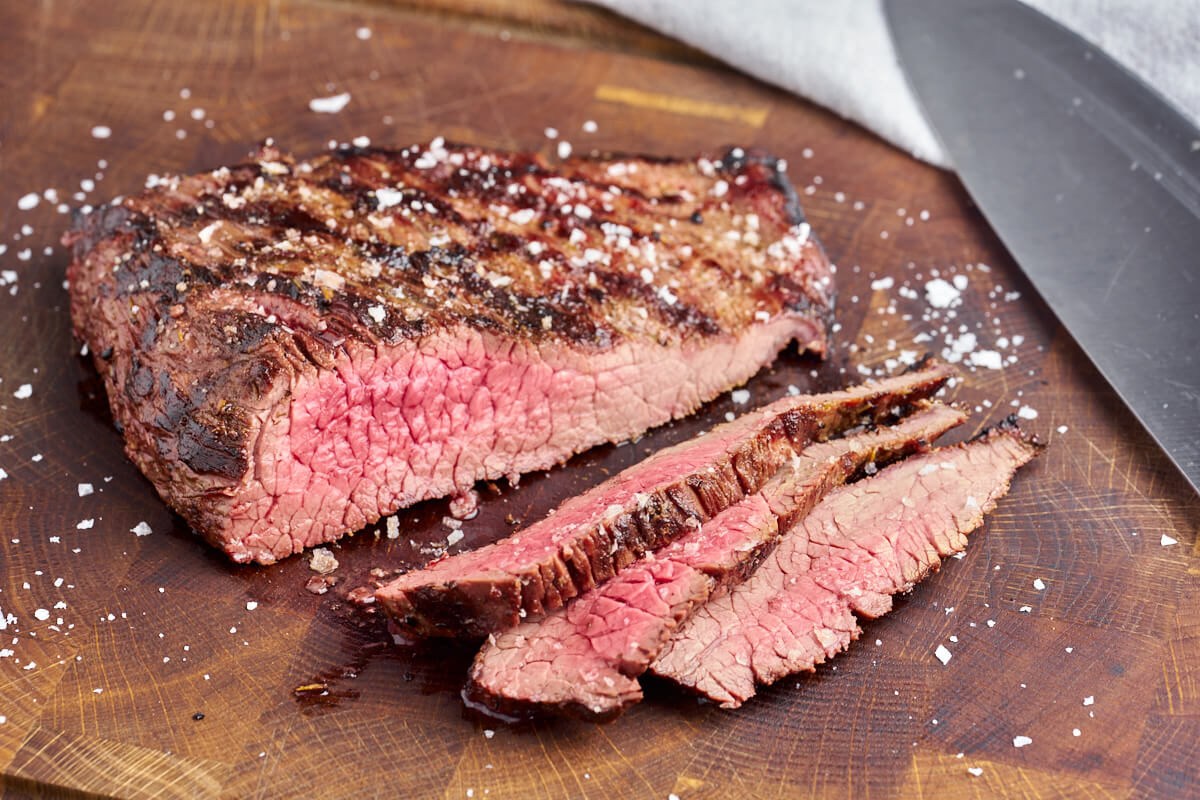 Tips and tricks for the recipe
Grill the meat over direct high heat to avoid it becoming dry and tough when grilled. You can use a thermometer to achieve perfect medium cooking.
Remember to let the meat rest before slicing. Be sure not to cover it while resting, as it will continue to cook and may become overcooked.
Serving suggestions
Serve with Grilled Baked Potatoes and Grilled Corn.
Serve with Butter-fried Potatoes with Parsley and Chimichurri Sauce.
Want to serve flank steak as a special meal? Elevate the dish by making Pommes Anna and a delicious homemade Whiskey Sauce.
Do you love to BBQ?

You must also try our recipe for Grilled top sirloin cap roast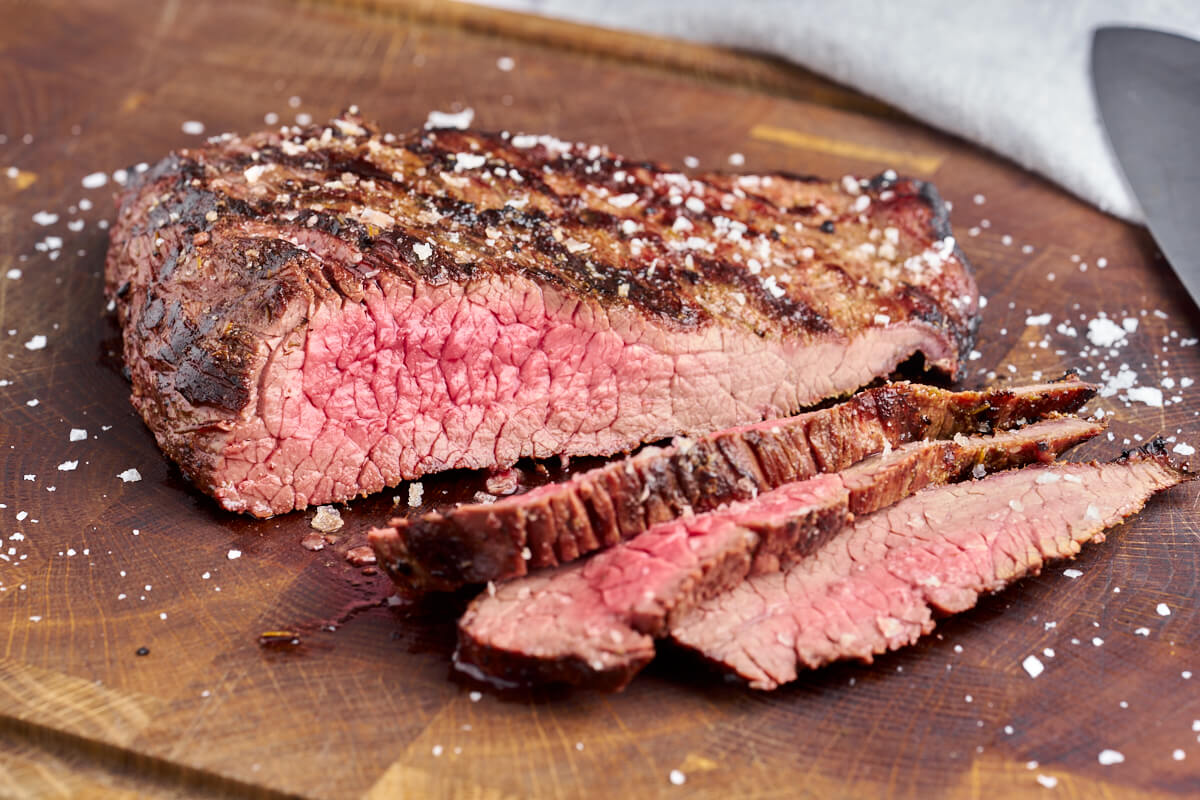 Recipe for beef flank steak on the BBQ
Here's our recipe for the best grilled flank steak. It's cooked to medium and is tender and juicy. Serve it with your favorite side dishes and use the leftovers for a delicious sandwich the next day.

We hope you feel inspired to treat your family to a delicious piece of grilled meat.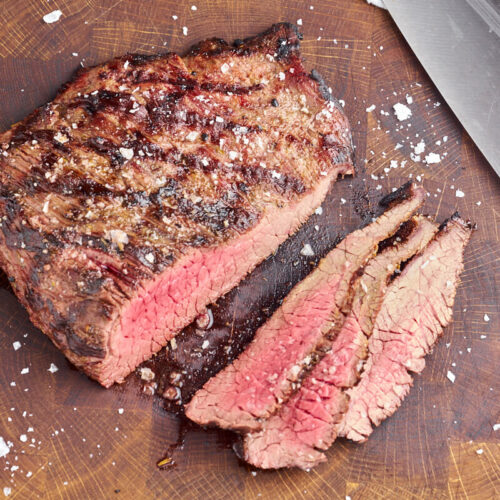 Grilled flank steak
Recipe for grilled flank steak
Flank steak is a relatively inexpensive cut of meat, and it tastes wonderful after a turn on the grill. Here's our recipe for a perfectly cooked medium steak that is as tender as butter. Serve grilled flank steak with baked potatoes and corn on the cob or your favorite grill accompaniments.
Ingredients  
800

g

beef flank steak

1

tbsp

olive oil

Salt

to taste

Pepper

to taste
Instructions 
Take the flank steak out of the refrigerator about 30 minutes before grilling.

Preheat the grill to 250℃ (482℉) on direct heat.

– When I grill flank steak, I prefer to do it over direct high heat. The meat has a coarse texture and can withstand the high heat for a longer period.

Once the grill is hot, rub the flank steak with oil and season it with salt and pepper to taste. You can also marinate the flank steak in a good marinade the day before to add extra flavor to the meat.

1 tbsp olive oil,

Salt,

Pepper

Place the flank steak on the grill over direct heat and cook it for about 6 minutes on each side. Keep an eye on it to prevent it from burning.

If you're unsure about the cooking, using a meat thermometer can be helpful.

The internal temperature should reach around 58℃ (136℉) for a perfectly cooked steak.

Remove the cooked flank steak from the grill and let it rest uncovered for about 15 minutes before slicing and serving.

When slicing the flank steak, remember to cut it into thin slices, and cut it against the grain.
Nutrition
Serving:
1
person
Calories:
305
kcal
Protein:
43
g
Fat:
14
g
Saturated Fat:
5
g
Polyunsaturated Fat:
1
g
Monounsaturated Fat:
6
g
Cholesterol:
120
mg
Sodium:
106
mg
Potassium:
682
mg
Calcium:
42
mg
Iron:
3
mg
How do you like the recipe?
Have you tried this recipe? We'd love to hear what you think of it. Leave a comment, add a number of stars to the recipe and share your photo on Instagram with #madformadelskere – We love seeing your dishes ♥️
Also, sign up for our Facebook group where you can show pictures of the delicious food you make! You can find the Facebook group here