Classic Italian porchetta on the bbq. It is the "Italian cousin of roast pork." Crispy crackling skin all the way around, tender and juicy meat, with a fantastic flavor of all the beautiful spices. It simply tastes marvelous and served with some crispy potatoes and a delicious salad, it doesn't get much better than that.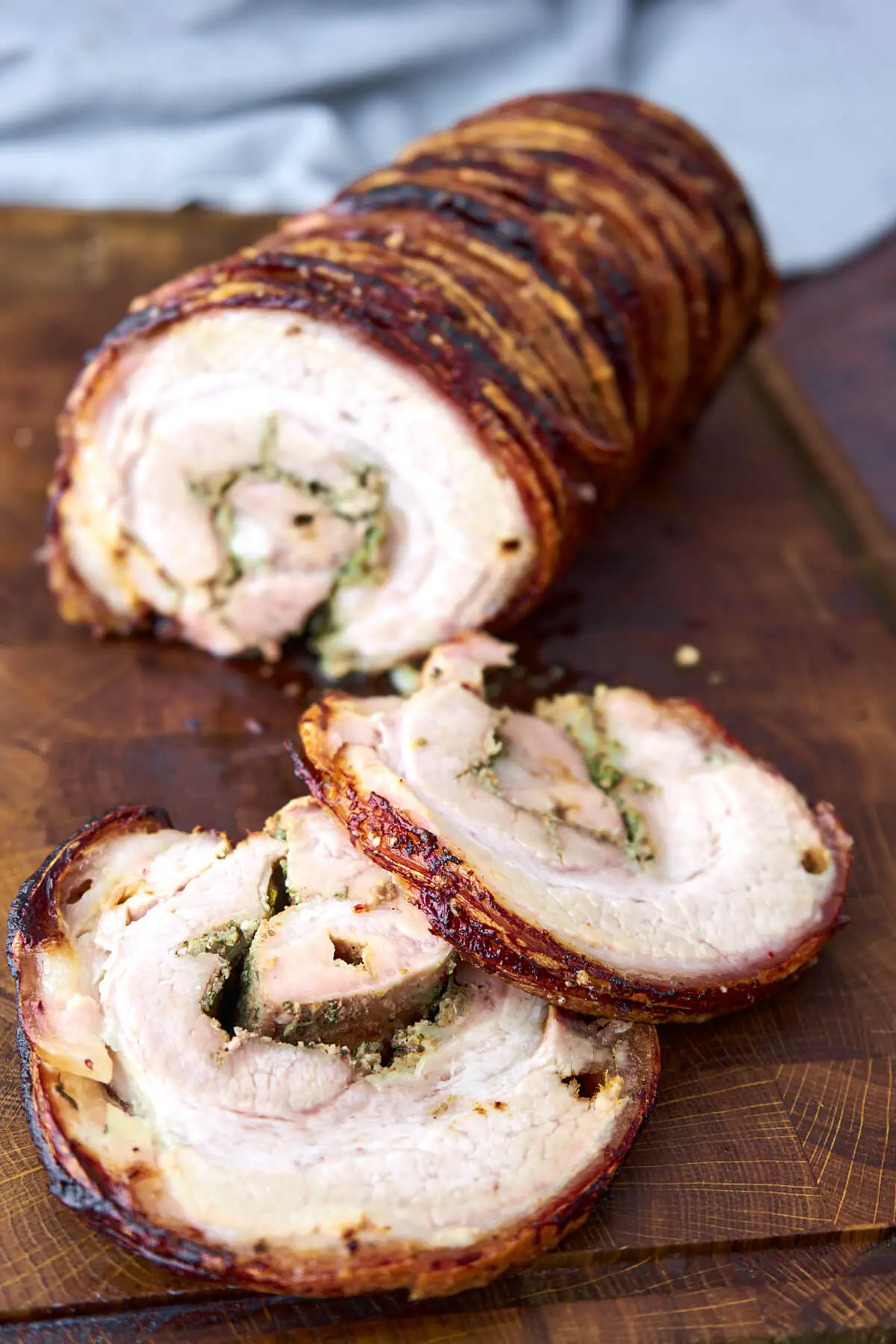 Porchetta, the taste of Rome
Porchetta originates from Italy and is actually a whole suckling pig that is deboned and filled with spices. It is then cooked over fire for 6 to 12 hours depending on the size of the pig. Porchetta can be traced back to the 15th century, so it's a recipe with some history.

Before we had children, we went on an amazing trip to Rome. After a visit to a small restaurant where our stomachs were already nicely filled, we spotted a long queue in a small side street on our way back. I got curious, of course!

I simply had to pass by the shop window and take a look inside.

Porchetta galore! Sliced thin and served as a sandwich in a kind of flatbread. Despite our already full stomachs, we each bought a sandwich, and wow! What a flavor.

We were pretty stuffed, but the sandwich tasted fantastic. Now I make porchetta at home regularly, although on a much smaller scale. But the flavor is there; it's just the atmosphere that's not quite the same as in that side street in Rome.

Sometimes I like to make porchetta with pork tenderloin, which simply means rolling the pork belly around a tenderloin. The tenderloin becomes juicy and delicious, taking on the flavors of all the spices. So pig wrapped around pig is not bad at all. However, it's not necessary to make a good porchetta, but it's a good way to incorporate some lean meat.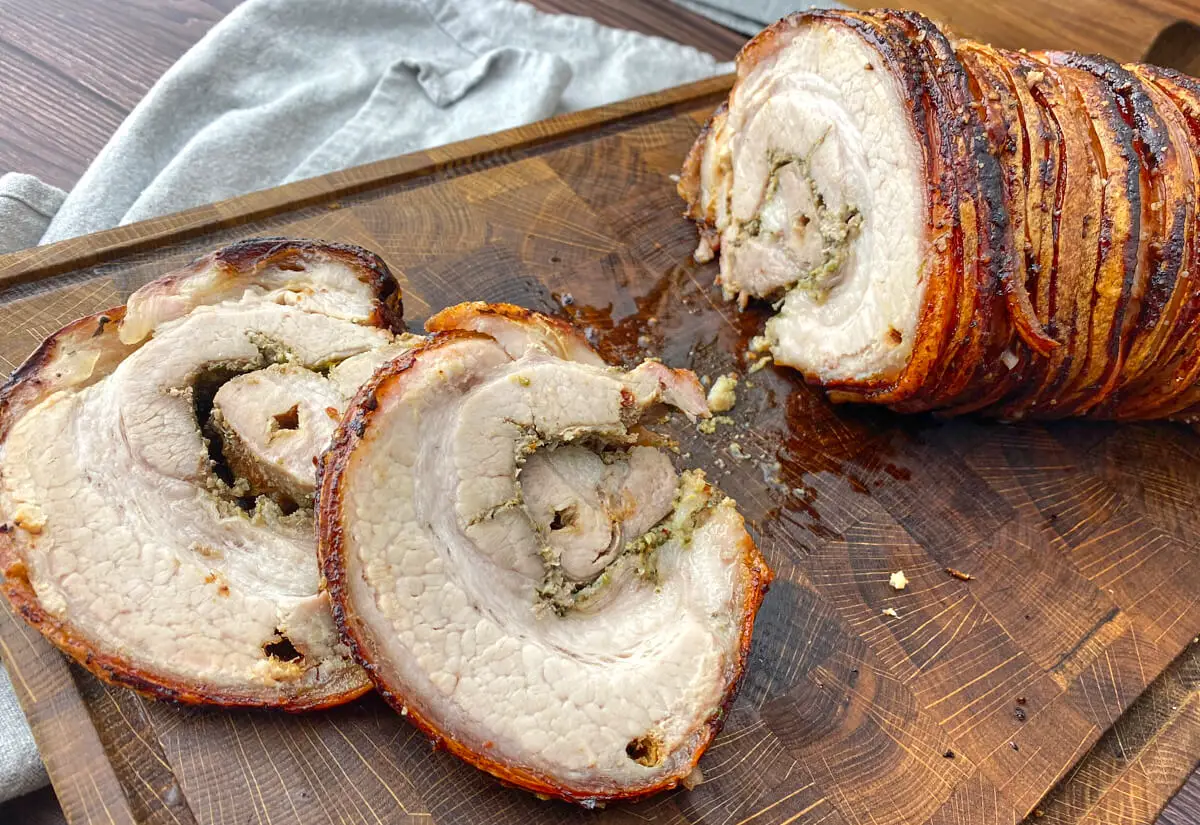 Ingredient notes
Pork belly of about 3 kg – Pork belly or pork shoulder. I usually get one from the butcher. He trims it so that it's ready to use. Have him score the skin either diagonally or just like a traditional roast pork.

Spices – Salt, black pepper, fennel seeds, and a little chili flakes distributed inside the pork shoulder, followed by the herbs.

Herbs – Finely chopped fresh sage and fresh rosemary.

Lemon – Finely grated lemon zest.

Garlic – In generous amounts, you could say!

Kitchen twine – Needed to tie up the roast in the classic round shape.
How to make Italian porchetta?
Making porchetta is actually not that difficult.

You start with pork belly, and fill it with spices and herbs to taste. Then the pork needs to be rolled and tied together, and voila, the porchetta is ready to go on the grill or in the oven.

As you can see, the list of ingredients isn't that long, but the combination of them is absolutely fantastic. It can be hard to wait for the food when the aroma starts to spread on the patio.

Find the full recipe further down this page.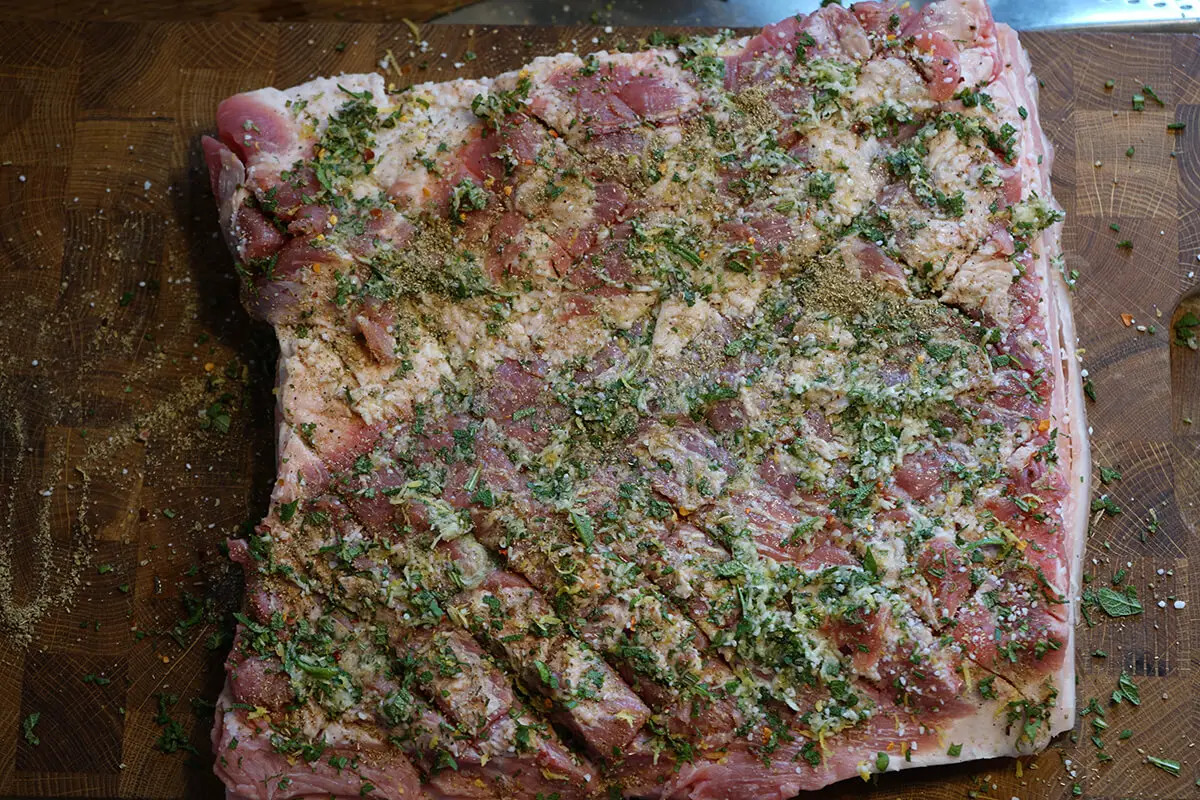 Porchetta in the oven
If you find yourself in the unfortunate situation of not having a grill, you can still make porchetta in the oven. The best result is achieved with a roasting rack or a grate, so that the heat surrounds the roast. Place a dish under the rack with a little water in it, adding more water as needed. Make sure to position the roast in the center of the oven, and preheat your oven well in advance.

Cook the roast at 150-160 degrees Celsius for about 3 hours. Make sure to turn the roast 3-4 times along the way. If the skin hasn't become crispy, increase the heat to 250 degrees Celsius until the skin crisps up and bubbles. Keep an eye on it and constantly turn it to prevent burning.

Afterwards, let the roast rest uncovered on a cutting board for 15-20 minutes before carving and serving.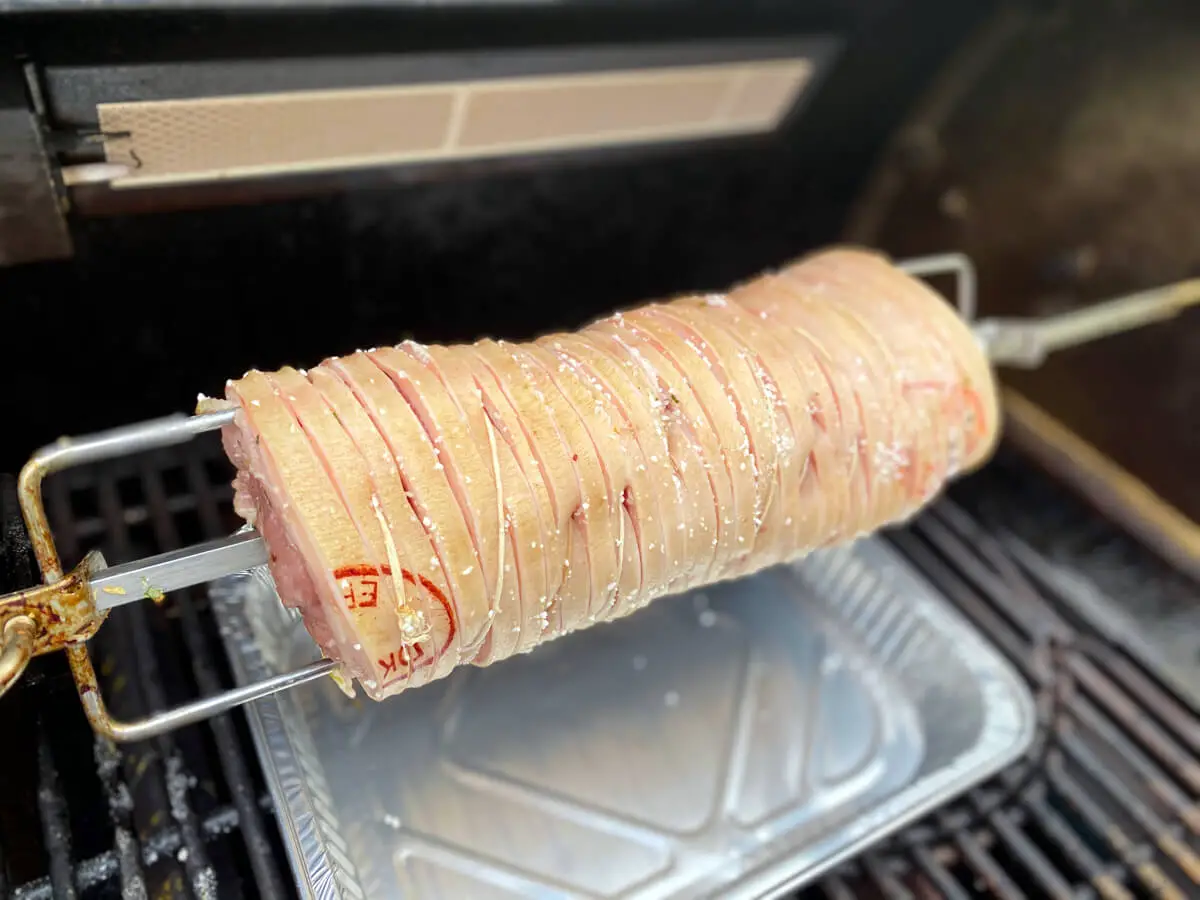 Frequently asked questions
What is porchetta?
Porchetta is a classic Italian rolled roast filled with fresh herbs and spices. It has crispy crackling skin all around and tastes heavenly.
Where can you buy porchetta?
You can buy pre-made porchetta in many supermarkets, or you can inquire at your local butcher.
What do you eat with porchetta?
Enjoy porchetta with roasted potatoes and a good salad. Or in a sandwich with salad and aioli. Personally, I prefer simple accompaniments with porchetta. We usually pair it with oven-roasted potatoes and a bean salad, which is a great salad for porchetta. But that being said, there are no limits to what you can serve it with. A really good potato salad could be a good option. And since you already have the grill fired up, you could also make grilled green asparagus. Of course, there's also porchetta sandwich. It's really delicious, and you can fill it with salad and a tasty aioli. Or simply with porchetta and nothing else like the Italians do.
What should the internal temperature of porchetta be?
Whether you make porchetta on the grill, porchetta on a rotisserie, or porchetta in the oven, aim for an internal temperature of 68-70 degrees Celsius. When the roast is resting, the temperature will rise slightly, but it won't affect the final result. A pork belly or shoulder is a relatively fatty cut of meat, so the chances of it drying out during cooking are not as high as with regular roast pork.
Other Italian recipes you might like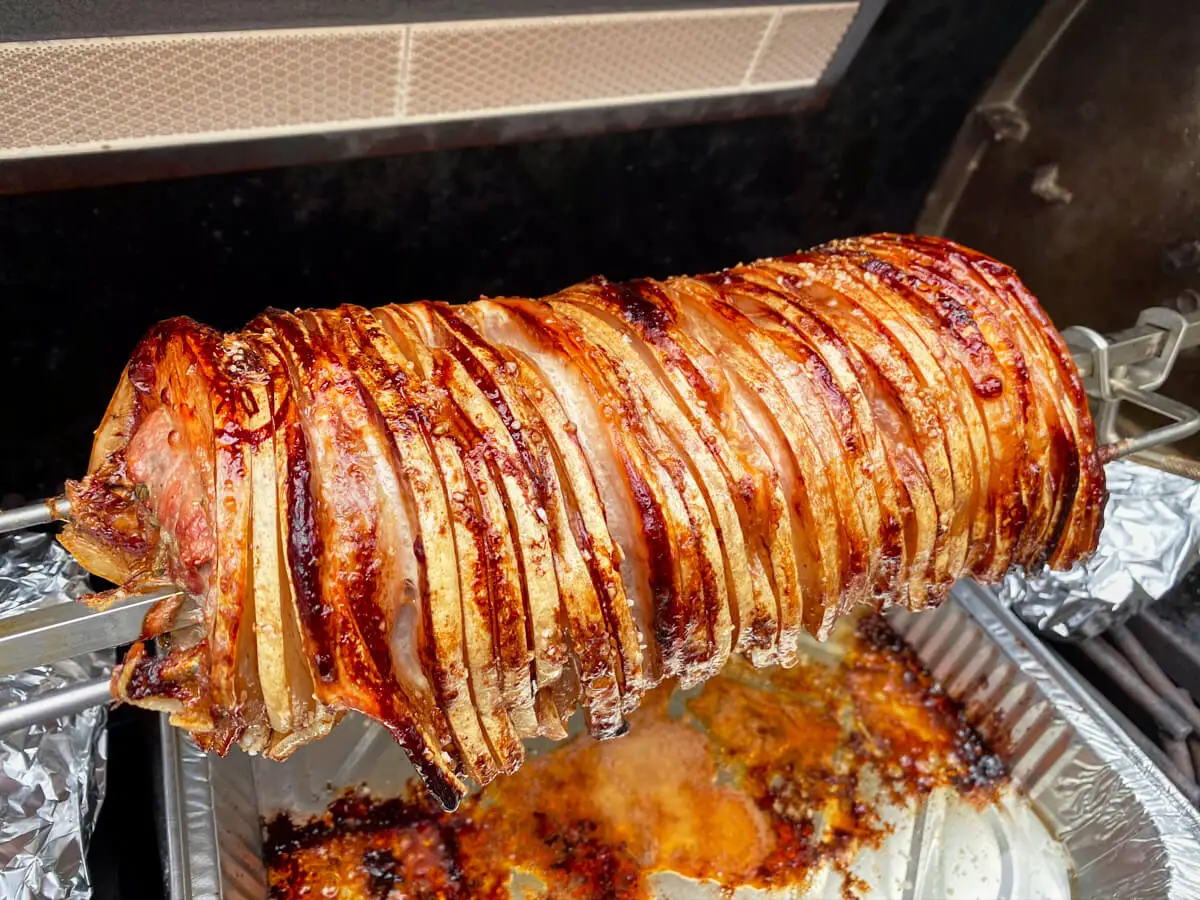 Grilled porchetta recipe
Here's our recipe for a classic Italian porchetta on a gas grill. It has an amazing flavor and is tender, juicy, and has crispy crackling skin.

We hope you're tempted to try our interpretation of traditional Italian rolled roast.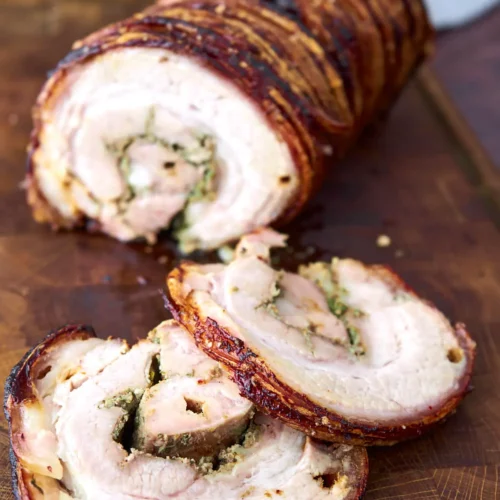 Porchetta
Recipe for Italian Porchetta
Classic Italian roast on the grill. Crispy crackling skin all around, and plenty of flavor, of course. Enjoy the roast with some oven-roasted potatoes and a salad, or perhaps a simple potato salad.
Ingredients  
1

pork belly

approximately 3 kg

1 ½

tbsp

salt
Spices
1

tbsp

ground fennel seeds

1

tbsp

ground peppercorns

1

tbsp

salt

10

cloves

of garlic

finely grated

1

tsp

chili flakes

1

lemon

zest

2

tbsp

fresh sage

chopped

2

tbsp

fresh rosemary

chopped
Instructions 
Preparation
In this recipe, I assume that you have a prepared pork belly with scored skin. Place the shoulder with the skin side down. Make diagonal cuts in the meat, about half a centimeter deep. This will make it easier to work the spices and herbs into the meat.

Start by sprinkling the meat with salt. Then add ground fennel seeds, ground black pepper, and chili flakes. Massage them well into the meat.

1 ½ tbsp salt,

1 tbsp ground fennel seeds,

1 tbsp ground peppercorns,

1 tsp chili flakes

Next, add the sage, rosemary, and lemon zest. Massage everything into the meat once again.

2 tbsp fresh sage,

2 tbsp fresh rosemary,

1 lemon

Finish off with the garlic and massage it in thoroughly.

Now tightly roll the roast and tie it securely with kitchen twine.

Next, it's time to season the skin. Rub coarse salt into and between the scored skin.

At this point, you can choose to let the roast marinate in the fridge for a few hours before grilling. But you can also proceed to cook it right away.

Place the porchetta on a rotisserie.
Preheat the grill to 250℃ indirect heat
Place a pan under the roast and put it on the grill. Turn on your rotisserie. The roast should grill at 250℃ for about 15 minutes.

Then reduce the heat to 150℃ and continue cooking the rotating roast until the internal temperature reaches 68-70℃. If the skin is not crispy, increase the heat to 250℃ towards the end. Keep a close eye on the skin to prevent it from burning.

Once the desired internal temperature is reached and the skin is golden and crispy, remove the roast from the grill. Let it rest uncovered for 15-20 minutes before carving and serving.
Nutrition
Serving:
1
portion
Calories:
1304
kcal
Carbohydrates:
2
g
Protein:
24
g
Fat:
133
g
Saturated Fat:
48
g
Polyunsaturated Fat:
14
g
Monounsaturated Fat:
62
g
Cholesterol:
180
mg
Sodium:
1537
mg
Potassium:
495
mg
Fiber:
0.5
g
Sugar:
0.3
g
Vitamin A:
86
IU
Vitamin C:
6
mg
Calcium:
28
mg
Iron:
2
mg
How do you like the recipe?
Have you tried this recipe? We'd love to hear what you think of it. Leave a comment, add a number of stars to the recipe and share your photo on Instagram with #madformadelskere – We love seeing your dishes ♥️
Also, sign up for our Facebook group where you can show pictures of the delicious food you make! You can find the Facebook group here