We love broccoli at home, and we love preparing it in different ways. When you roast broccoli in the oven with a sprinkle of Parmesan on top, you get crispy and delicious broccoli that can be served as a side dish with meat or fish. Read on and get our easy recipe.
Roasted Broccoli with Parmesan
Cabbage is good, and we eat quite a lot of different cabbages at home. Broccoli is something we eat a lot of because both the children and we adults love it.

It can get a bit monotonous to only serve traditional boiled broccoli, so we often prepare it in many other ways too.

One of our favorite ways is roasted broccoli sprinkled with Parmesan cheese. It doesn't get much better than that!

At the same time, it's really easy and quick to make.

You can serve this broccoli with almost any kind of dish. All the places where you would normally serve boiled broccoli.

We like to have it with everything from fish to chicken and other meat dishes.

If there is any leftover, I gladly keep them in the refrigerator, and they are also delicious cold for lunch the next day or in a salad with other ingredients.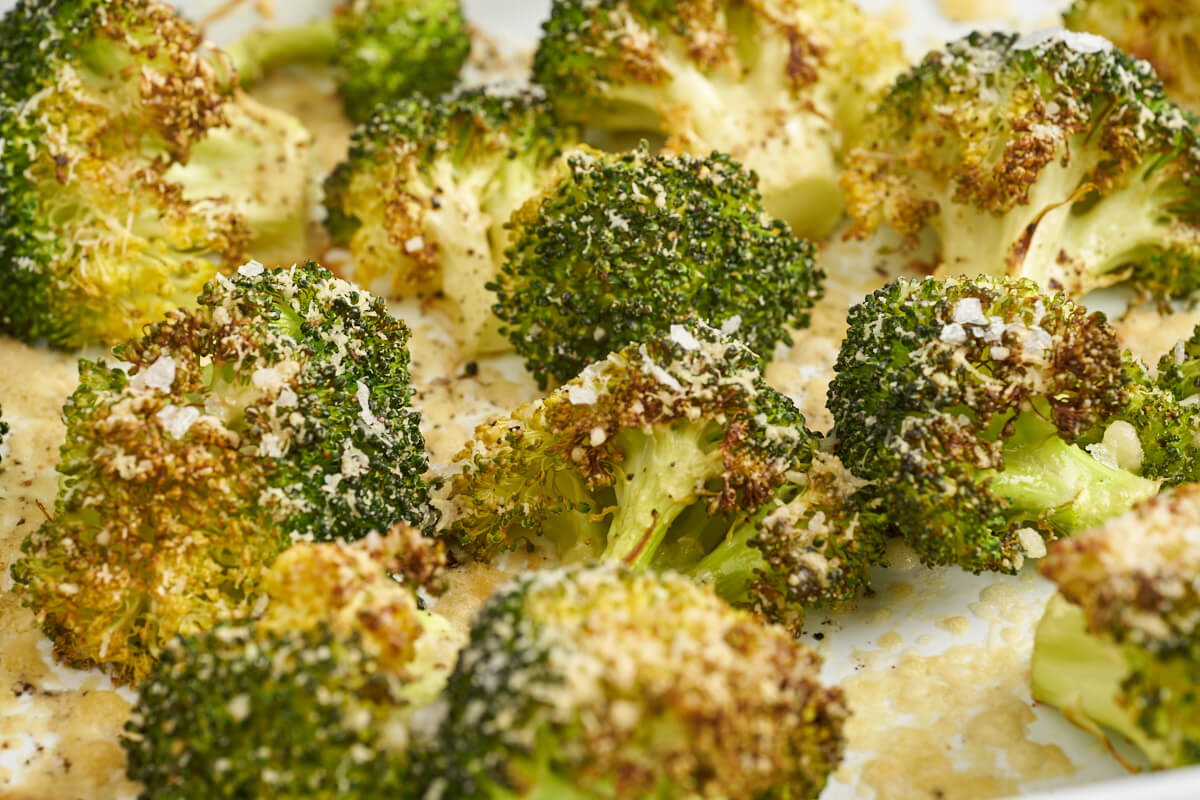 Ingredient notes
Broccoli – One whole broccoli, cut into smaller florets that can be eaten in one bite.

Olive oil – The small broccoli florets need a little oil before going into the oven.

Parmesan – You can use Parmesan, Grana Padano, or another delicious cheese on top.
How to make oven roasted broccoli?
It's super easy to prepare broccoli this way. First, you need to wash the broccoli, dry it, and divide it into small bite-sized florets.

Toss the florets in olive oil and place them in an ovenproof dish, where they are sprinkled with salt, pepper, and Parmesan.

Then, simply put the dish in the oven and cook for about 20 minutes, and you're ready to serve oven-roasted broccoli to your family.

Find the full recipe further down this page.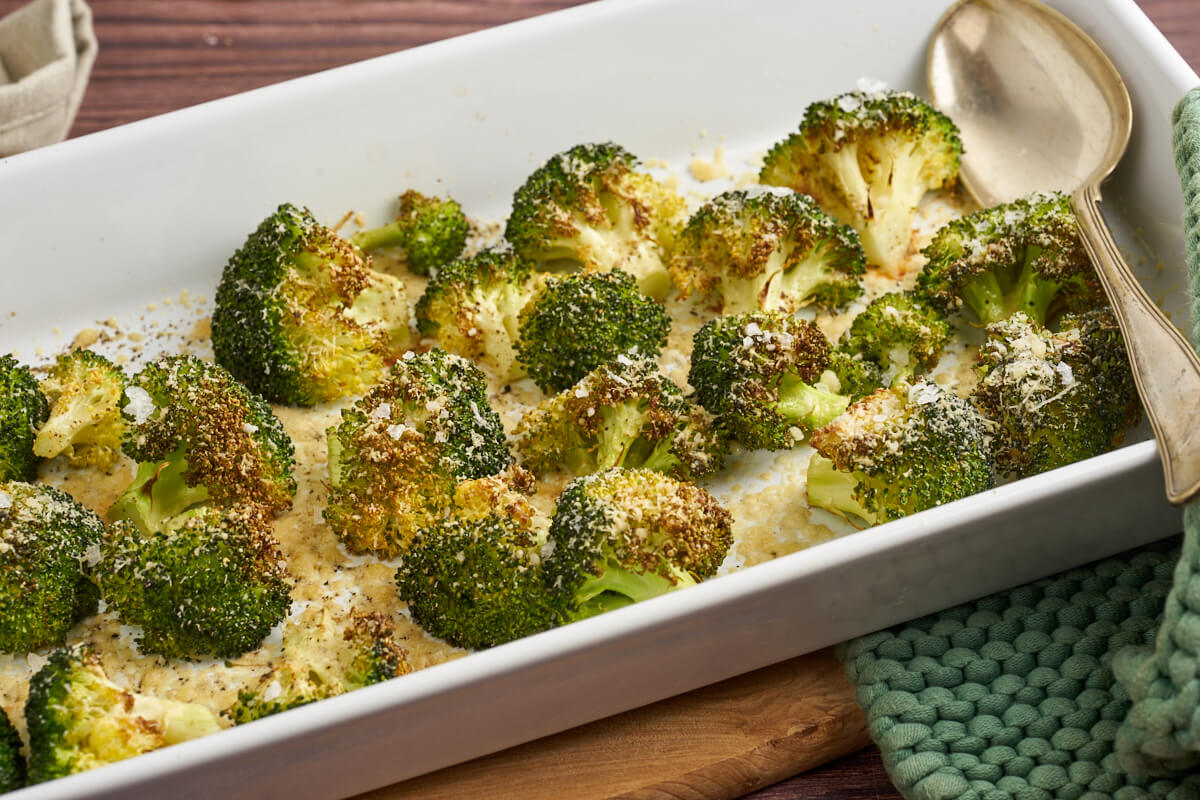 Frequently asked questions
Can I save the leftovers?
Yes, you can easily save the leftovers for the next day. They also taste really good cold in a packed lunch.
Can I use a different cheese?
Yes, you can use the cheese you like best or the one you have in the refrigerator. Also, try it with a good Grana Padano, Pecorino, or Cheddar.
I would like the broccoli to be softer, what should I do?
In this recipe, you get a result where the broccoli florets are crispy and have a good bite. If you prefer them softer, I recommend boiling them for a couple of minutes before putting them in the oven. It can be a good idea if they are served to young children.
Other recipes for side dishes you might like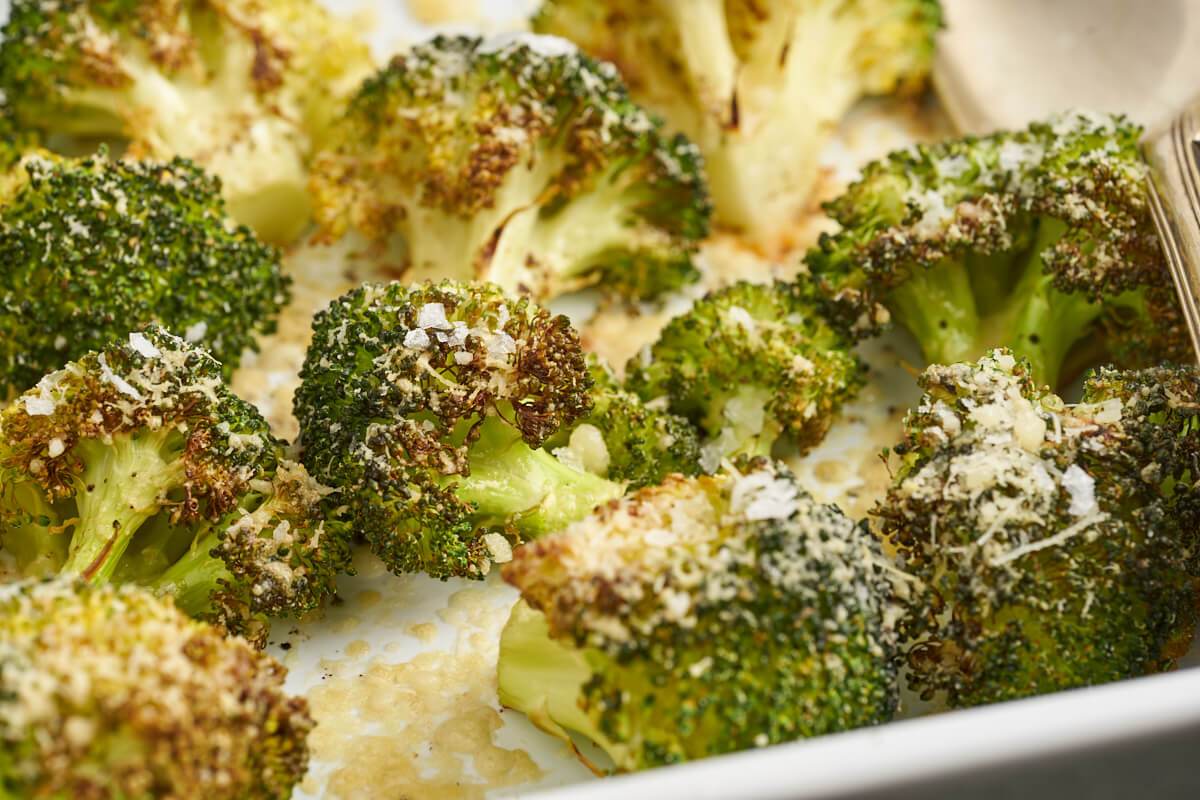 Tips and tricks for the recipe
Use the cheese you like best or a leftover cheese you have in the refrigerator.
If you're extra fond of cheese, you can grate some extra on top when the dish comes out of the oven.
Serving suggestions
Serve, for example, with steamed salmon.
Broccoli is delicious with all kinds of meat, fish, and poultry.
Serve as a green element with a delicious cheese omelet for lunch.
Why eat broccoli?

Broccoli tastes good, and it's really healthy and packed with good vitamins. Broccoli contains, among other things, vitamin C and several types of B vitamins. Additionally, it also contains vitamins A, K, and E and is a good source of iron. There are really many good reasons to eat plenty of this type of cabbage.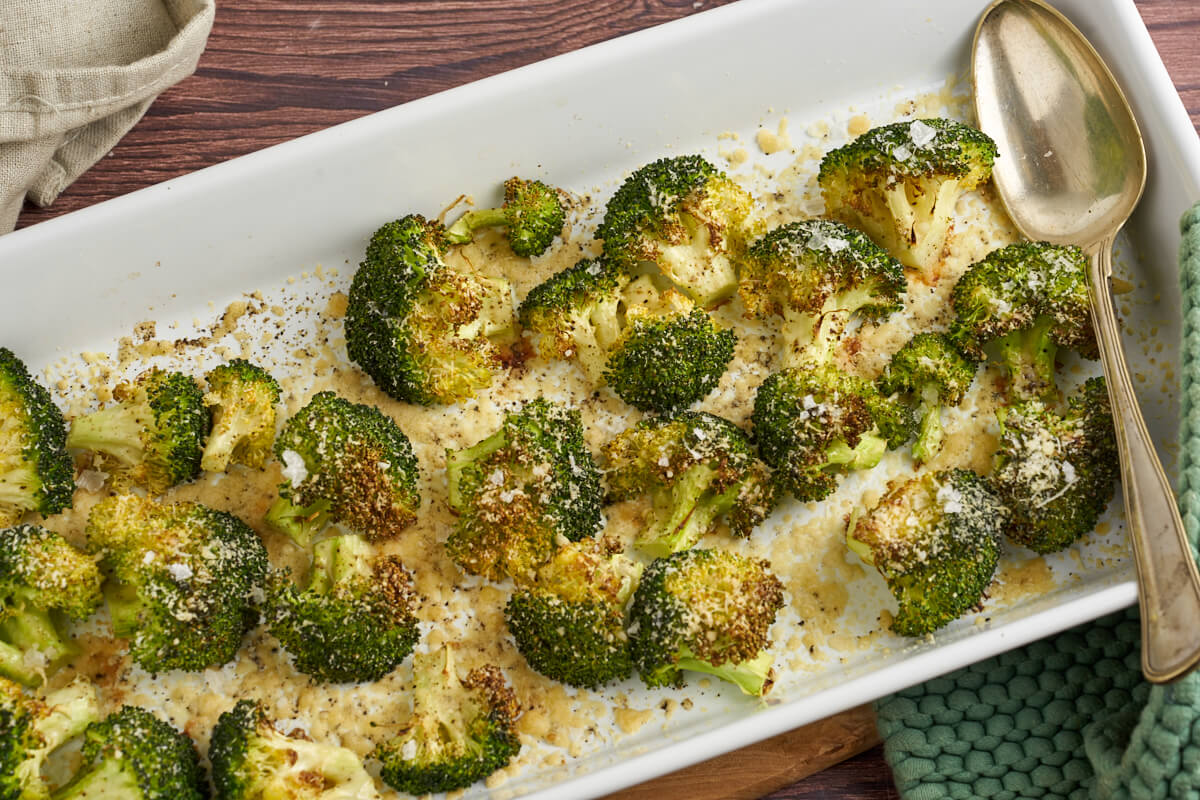 Recipe for broccoli in the oven
Here's our recipe for an easy, delicious, and healthy side dish: Oven-Roasted Broccoli with Parmesan or another type of cheese on top.

It's easy to make, and it's something the whole family loves to eat at home. We hope you feel inspired to try the recipe. Serve it, for example, with fish, chicken, or a piece of pork or beef.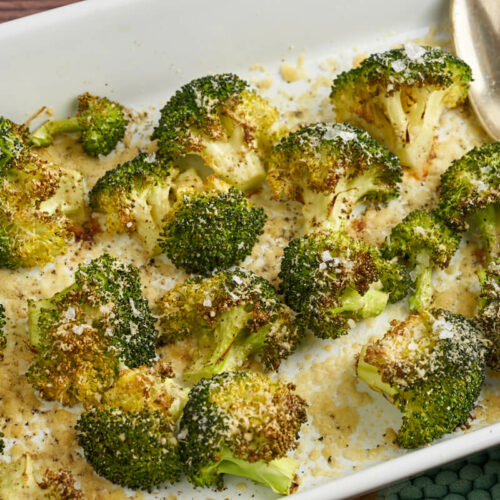 Oven roasted broccoli
Recipe for oven roasted broccoli
Oven-roasted broccoli is an easy, affordable, delicious, and healthy side dish for the whole family's dinner. Both kids and adults at home love roasted broccoli with Parmesan. We enjoy it with everything from meatballs to chicken or fish.
Ingredients  
1

broccoli

2

tbsp

olive oil

Salt

Pepper

20

g

Parmesan cheese
Instructions 
Preheat the oven to 175℃ with the fan on.

Wash the broccoli and dry it well. Cut it into bite-sized pieces.

Toss the broccoli florets in olive oil and distribute them in an ovenproof dish.

Sprinkle with salt, pepper, and Parmesan cheese or any other cheese of your choice on top.

Salt,

Pepper,

20 g Parmesan cheese

Place the broccoli in the oven at 175℃ with the fan on for about 20 minutes. The broccoli should still have a good crunch and should not become too dark.

Serve immediately, for example, with fish or chicken.
Nutrition
Serving:
1
person
Calories:
133
kcal
Carbohydrates:
10
g
Protein:
6
g
Fat:
9
g
Saturated Fat:
2
g
Polyunsaturated Fat:
1
g
Monounsaturated Fat:
6
g
Cholesterol:
3
mg
Sodium:
130
mg
Potassium:
485
mg
Fiber:
4
g
Sugar:
3
g
Vitamin A:
986
IU
Vitamin C:
136
mg
Calcium:
131
mg
Iron:
1
mg
How do you like the recipe?
Have you tried this recipe? We'd love to hear what you think of it. Leave a comment, add a number of stars to the recipe and share your photo on Instagram with #madformadelskere – We love seeing your dishes ♥️
Also, sign up for our Facebook group where you can show pictures of the delicious food you make! You can find the Facebook group here