Delicious, easy, and affordable dinner. Mexican pasta bake is a recipe for an inexpensive family dinner with a flavor that most people will enjoy. The taste is reminiscent of Mexican tacos or tortillas, just assembled in a delicious creamy pasta casserole. If you want to see how easy it is to make, keep reading.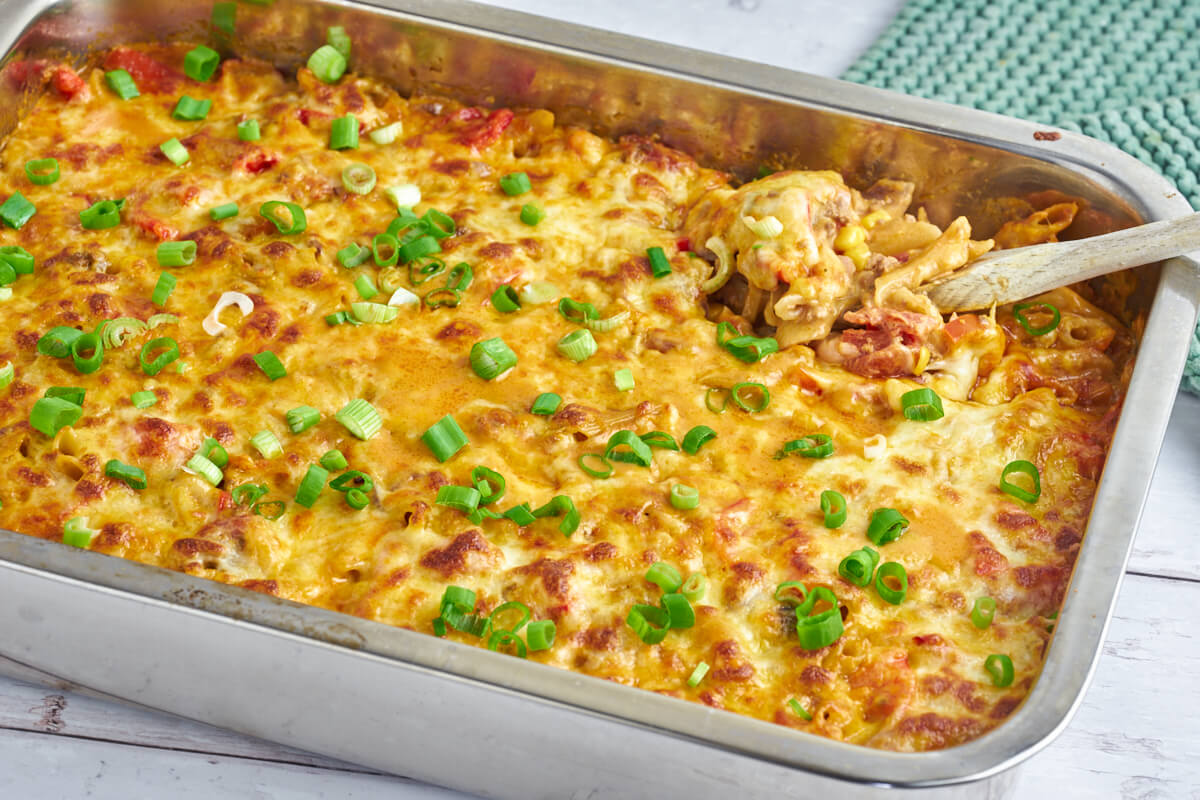 Affordable dinner with the flavors of Mexico
It's no secret that prices for almost everything are skyrocketing, so it's all about saving where you can. This Mexican pasta bake was created from leftovers in the pantry and fridge, and the result turned out really well.

We love Mexican food, chili, lots of spices, fresh salsa, and fresh herbs. It can't go wrong, and our kids feel the same way. Much Mexican food is meant to be eaten with your hands, and that's something the kids love!

If I had to suggest the best Mexican dish, it would definitely be classic chili con carne, which simply means chili and meat. It just tastes so good! But this taco pasta bake is also really delicious, and as mentioned before, it's an inexpensive dinner for 4 people.

At some point, a trip to Mexico is on the list of things to experience, and even though it's not one of the most peaceful countries in the world, the food alone would make me take the chance.

Pasta dishes are generally quite cheap to make, so if you, like us, are trying to save on your monthly food budget, this dish is a great option for a tasty dinner that won't cost a fortune.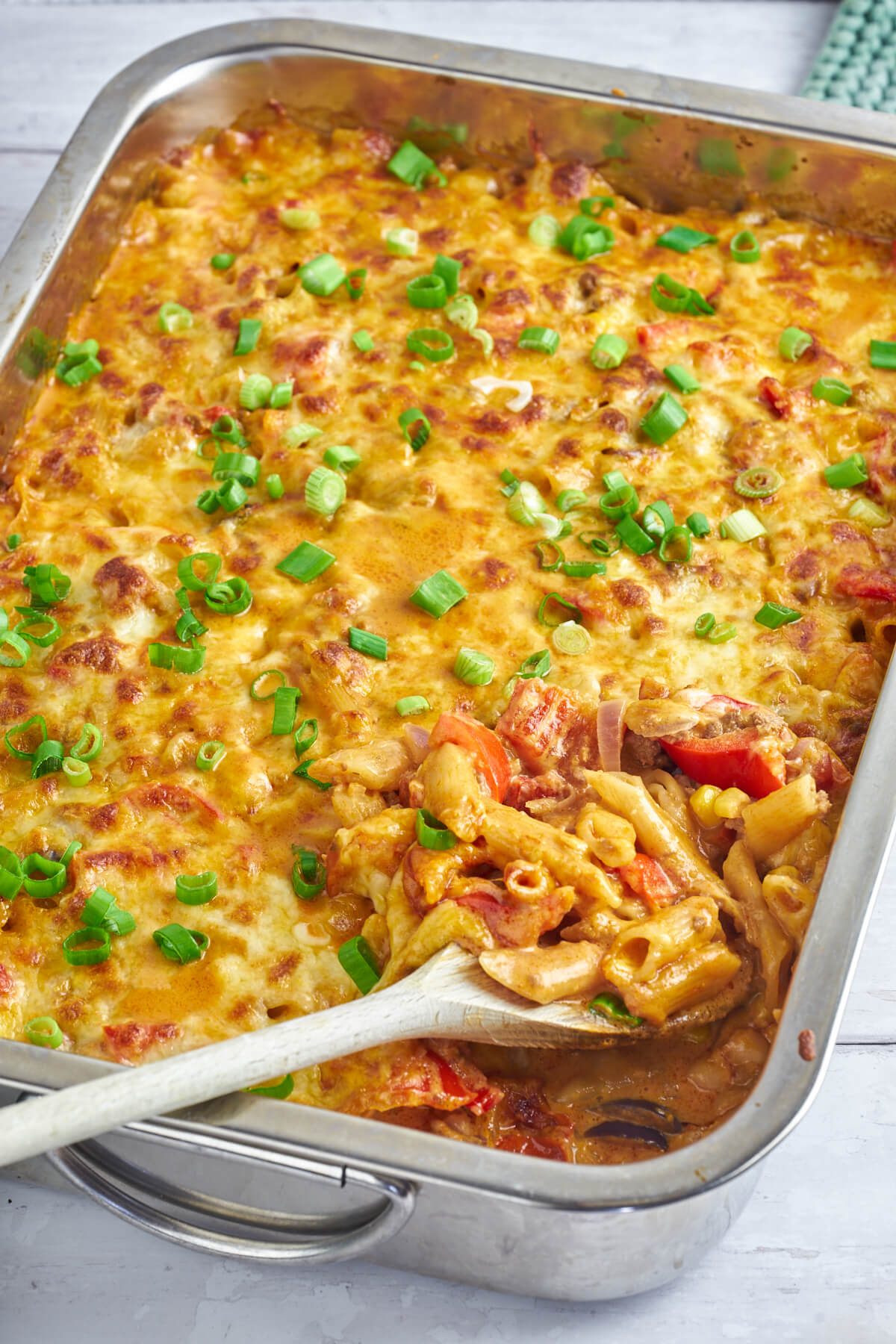 Ingredient notes
Onions – You'll need regular onions, of course. They add a lovely flavor to the meat sauce. However, you can also use red onions.

Ground beef – Ground beef, ground pork, or ground chicken. You can use any of these three types of meat for variation. If you don't eat meat, you can replace it with lentils or chickpeas.

Garlic – I love garlic, and it's also an important ingredient in Mexican cuisine.

Red bell pepper – Red bell pepper, green bell pepper, it doesn't matter much.

Corn – We usually always have corn on the table when we eat tacos, so it should definitely be included here.

Beans – Beans are healthy, tasty, and cheap. We usually use kidney beans, but you can choose the beans you like best.

Chopped tomatoes – Chopped tomatoes help to give a good flavor and liquid that the pasta absorbs when cooked.

Cream – Cream makes the pasta casserole creamy and delicious, but it can be skipped. Just remember to add a corresponding amount of other liquid.

Stock – Stock, I'm just talking about a cube dissolved in 1/2 liter of water.

Salt & Pepper – Food needs to be seasoned, and salt and pepper are essential.

Pasta – I usually use penne, but other pasta can be used.

Cheddar & Mozzarella – Together, they create a delicious gratin topping.

Spring onions – Fresh and tasty as a garnish on top.
How to make Mexican pasta bake?
In a large pan, heat oil over medium heat, and sauté the pre-chopped onions until translucent before adding the ground beef. Brown the beef before adding minced garlic and chopped red bell pepper. Sauté for a few minutes.

Add taco seasoning and sauté for a couple of minutes before adding corn, beans, chopped tomatoes, cream, and bouillon. Bring the sauce to a boil and season with salt and pepper. Let the sauce simmer while you place dried pasta in a baking dish. Pour the heated meat sauce over the pasta and mix everything together. Cover with foil and place it in a preheated oven.

Bake the pasta casserole for about an hour, then remove the foil and sprinkle grated cheddar and mozzarella over the top. Place the dish back in the oven and let the cheese gratinate.

Take the dish out and garnish it with freshly chopped spring onions.

Find the full recipe further down this page.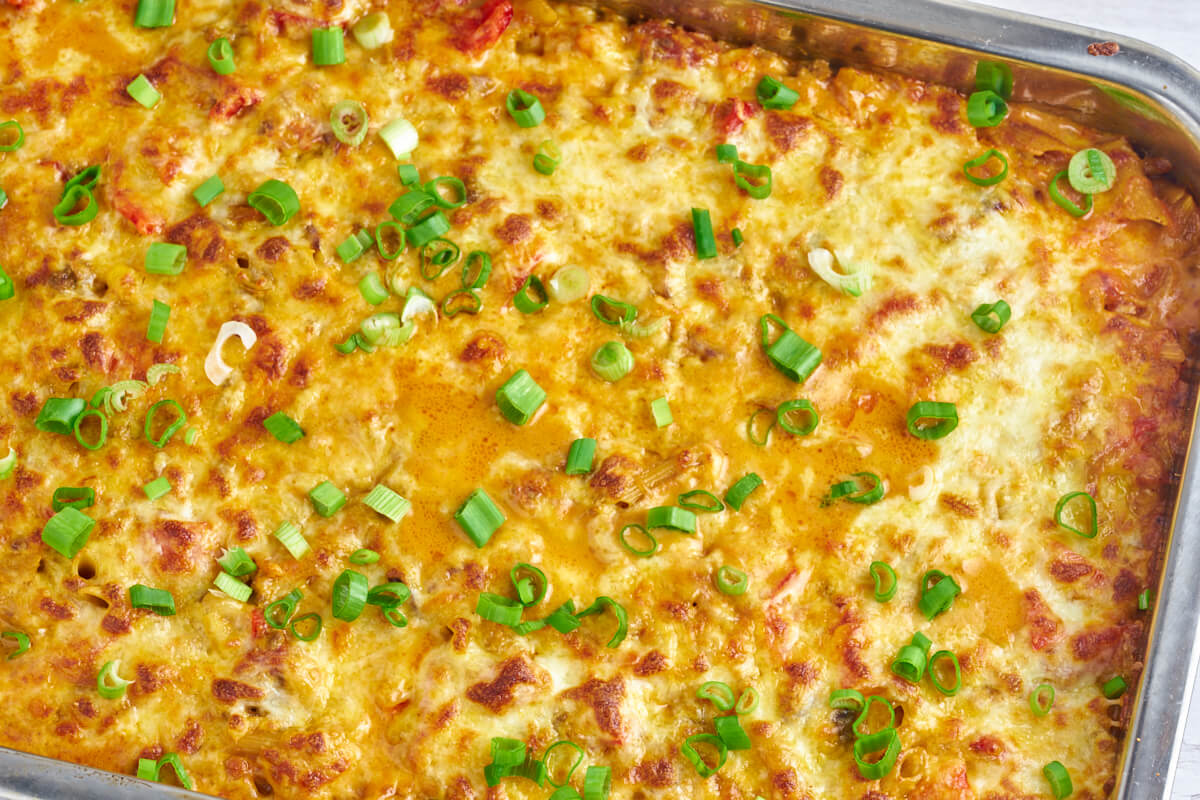 Frequently asked questions
How do you store Mexican pasta casserole?
Leftovers can be stored in the refrigerator for up to 3 days or frozen.
Can I use something other than ground beef?
Yes, you can use pork or chicken. Or perhaps skip the meat altogether and use lentils or chickpeas.
Other dinner recipes you might like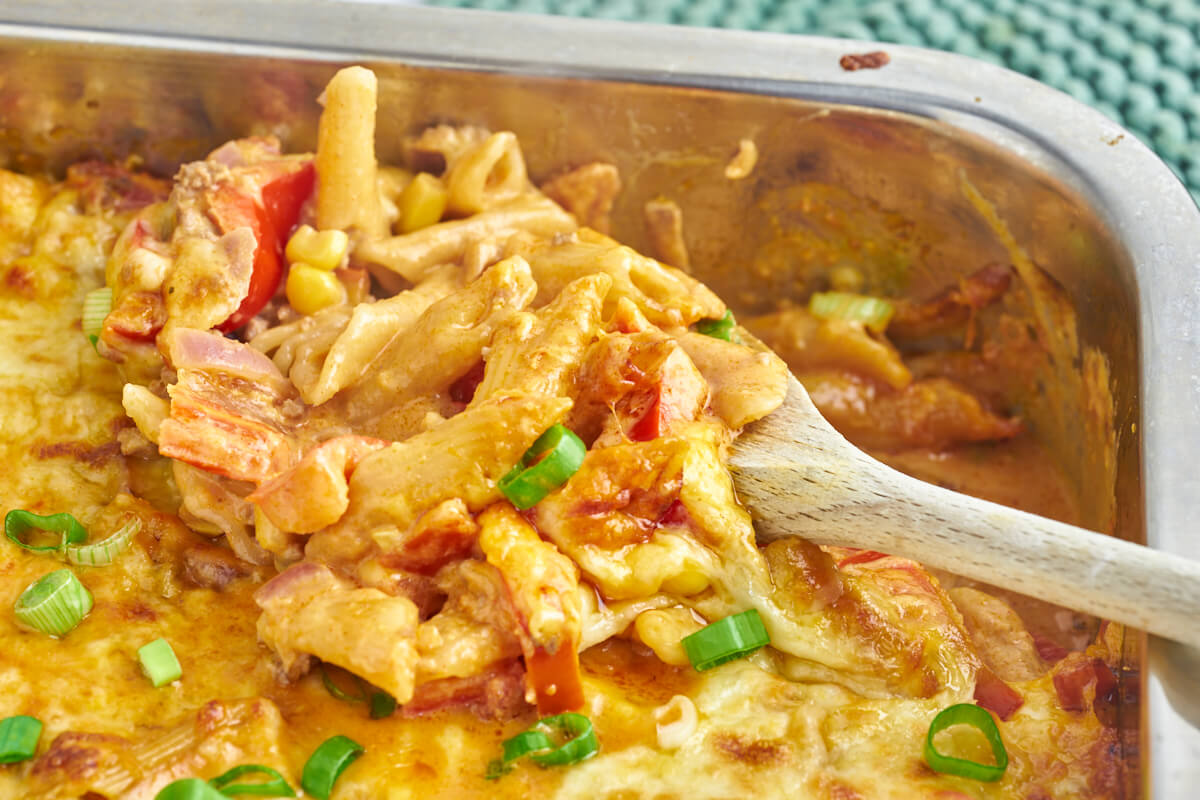 Tips and tricks for the recipe
Make sure to season the meat sauce well. You can add chili for an extra kick.
You can easily use other vegetables. Look for any leftovers in the fridge, chop them up, and add them to the pasta casserole.
Serving suggestions
Serve with crispy nachos.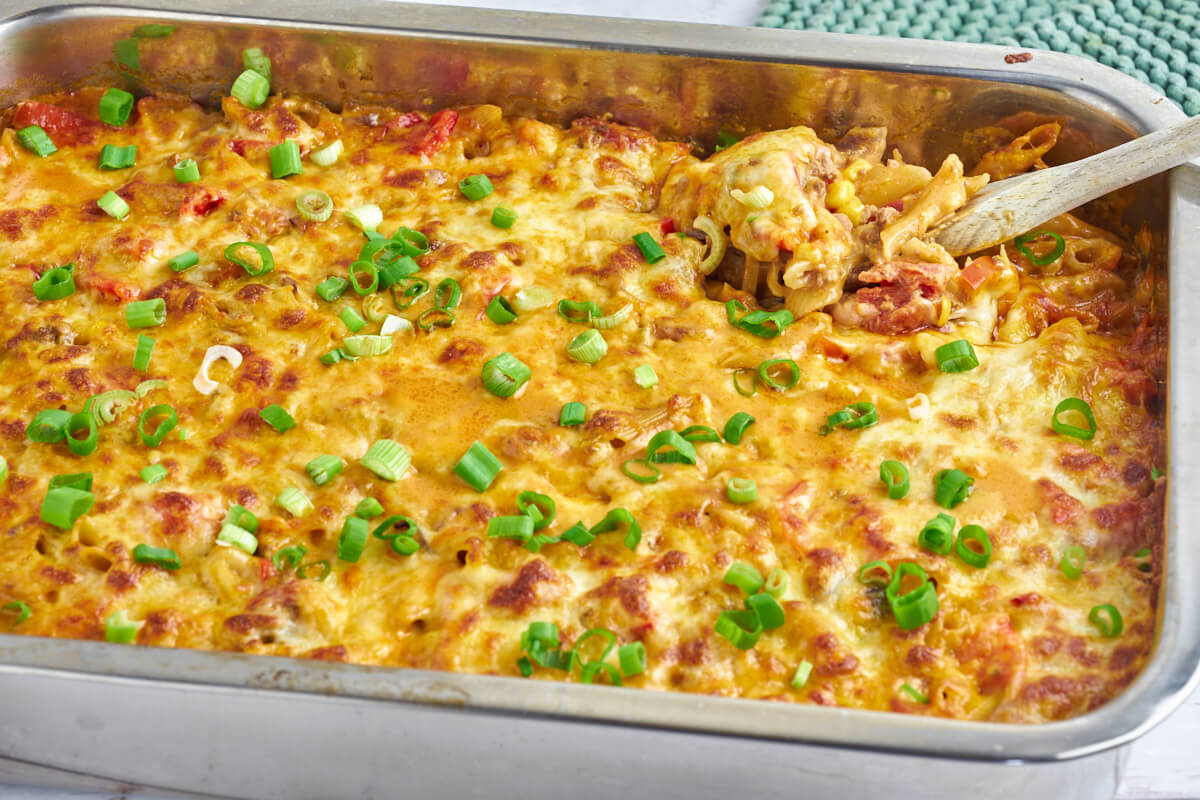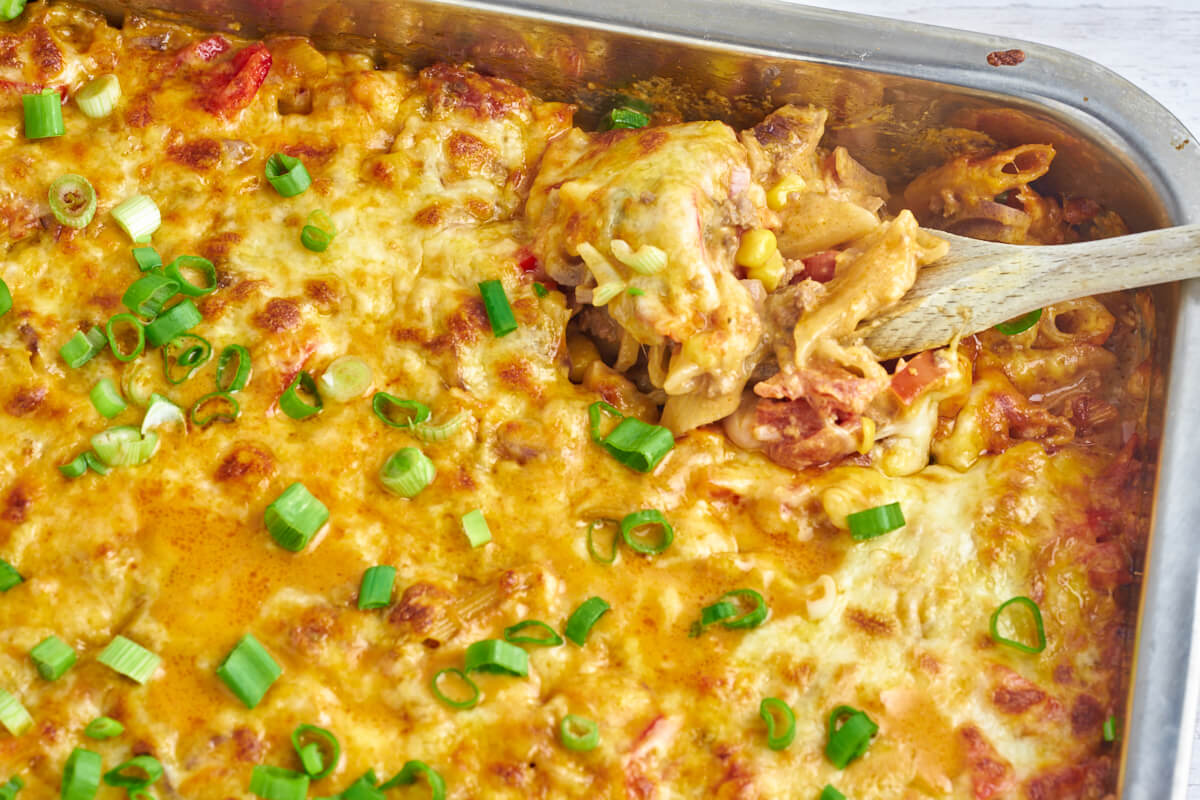 Recipe for baked Mexican pasta casserole
Here's our recipe for a delicious Mexican pasta bake with lots of flavor, meat, and vegetables. It's easy to make, and you can use any vegetable leftovers you have in the fridge.

We hope you feel inspired to try the recipe and serve this pasta casserole to your family. It's a huge hit at our home with both kids and adults.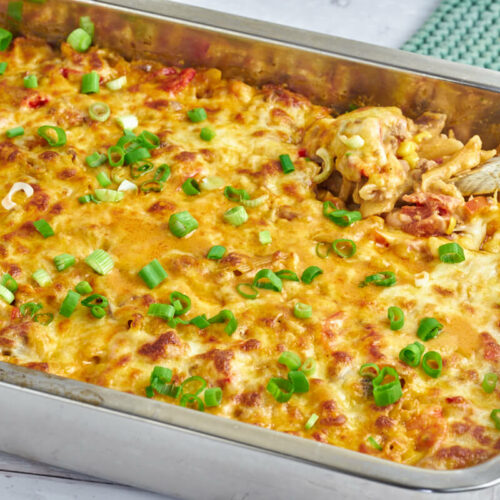 Mexican pasta bake
Recipe for Mexican pasta bake
Easy taco pasta bake with delicious Mexican flavor. You can use store-bought taco seasoning or mix your own. You can also use leftover vegetables from your fridge that you want to use up.
Ingredients  
2

onions

400

g

ground beef

3

cloves

garlic

1

red bell pepper

30

g

taco seasoning

1

can

corn

1

can

beans

4

dl

chopped canned tomatoes

3

dl

heavy cream

5

dl

beef stock

1

tsp

salt

Pepper

300

g

pasta

penne

100

g

cheddar cheese

grana padano, or grated mozzarella

100

g

mozzarella

3

spring onions
Instructions 
Chop the onions and sauté them over medium heat until they become translucent. Add the ground beef, minced garlic, and diced red bell pepper, and continue cooking until the meat is browned.

2 onions,

400 g ground beef,

3 cloves garlic,

1 red bell pepper

Next, add the taco seasoning and sauté for a couple of minutes before adding the corn, beans, chopped tomatoes, cream, and stock. Bring it to a boil, then reduce the heat. Add salt and pepper to taste.

30 g taco seasoning,

1 can corn,

1 can beans,

4 dl chopped canned tomatoes,

3 dl heavy cream,

5 dl beef stock,

1 tsp salt,

Pepper

Place the uncooked pasta in a large baking dish. Pour the sauce over the pasta and stir to evenly distribute and combine the sauce with the uncooked pasta.

Cover the dish with aluminum foil and bake it in the oven for 50-60 minutes or until the pasta is cooked through.

Remove the foil from the dish, sprinkle with pieces of mozzarella and grated cheddar, and return the dish to the oven for 10 minutes or until the cheese is melted and bubbly.

100 g cheddar cheese,

100 g mozzarella

Take the dish out of the oven, sprinkle with chopped spring onions, and serve with vegetables, a salad, or bread.
Nutrition
Serving:
1
person
Calories:
1146
kcal
Carbohydrates:
99
g
Protein:
48
g
Fat:
64
g
Saturated Fat:
34
g
Polyunsaturated Fat:
3
g
Monounsaturated Fat:
20
g
Trans Fat:
1
g
Cholesterol:
201
mg
Sodium:
1995
mg
Potassium:
1367
mg
Fiber:
9
g
Sugar:
17
g
Vitamin A:
3635
IU
Vitamin C:
63
mg
Calcium:
456
mg
Iron:
6
mg
How do you like the recipe?
Have you tried this recipe? We'd love to hear what you think of it. Leave a comment, add a number of stars to the recipe and share your photo on Instagram with #madformadelskere – We love seeing your dishes ♥️
Also, sign up for our Facebook group where you can show pictures of the delicious food you make! You can find the Facebook group here