Delicious creamy and wonderfully tangy citrus flavor. Lemon sauce is the perfect accompaniment to a piece of delicious fish. Serve the sauce with oven-baked salmon, new potatoes, and steamed green asparagus. If you want to see how easy it is to make the best lemon sauce yourself, read on and get our recipe.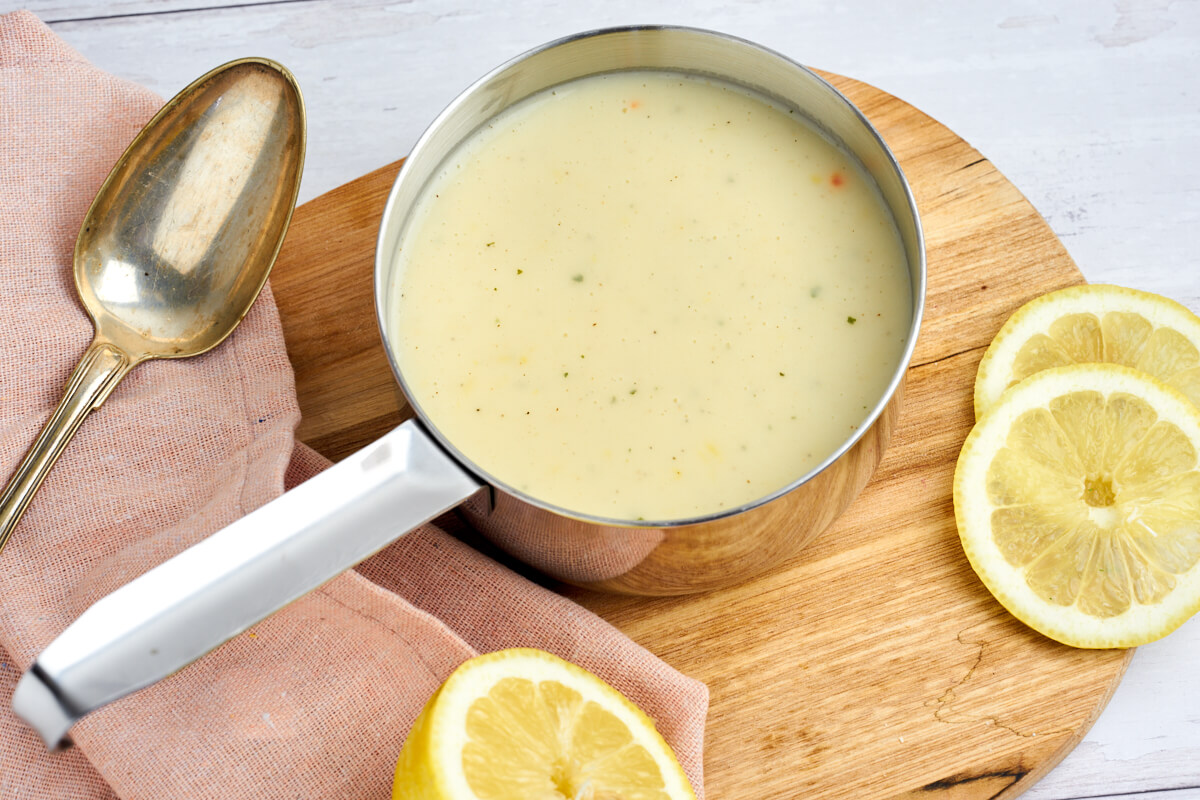 Easy lemon sauce with lots of flavors
The easiest sauce with lemon is actually the one you make yourself. I am well aware that you can buy those ready-made sauces that just need to be heated in a pot, but they don't taste as good as the homemade ones.

When fish is on the menu and sauce is being served, there are usually 4 sauces we work with. Hollandaise sauce, Blanquette sauce, Beurre Blanc, and, last but not least, Lemon Sauce. The lemon sauce is the favorite of the kids, while I may lean more toward a good old-fashioned Hollandaise. But having said that, the sauce does something special, especially with fatty fish, and it's really easy to make if you don't want to venture into making a Hollandaise.

Our version is thickened, which means that the base of the sauce is a roux, a mixture of flour and butter that is sautéed before the liquid is added. The roux sauce is something most of us are familiar with from the classic Danish brown gravy we eat with duck and roast pork, and the first steps in the process are the same.

The leftover sauce can easily be stored in the refrigerator for a couple of days and reheated again over low heat. A little liquid can be added to the pot when reheating if desired. Alternatively, it can also be heated in the microwave.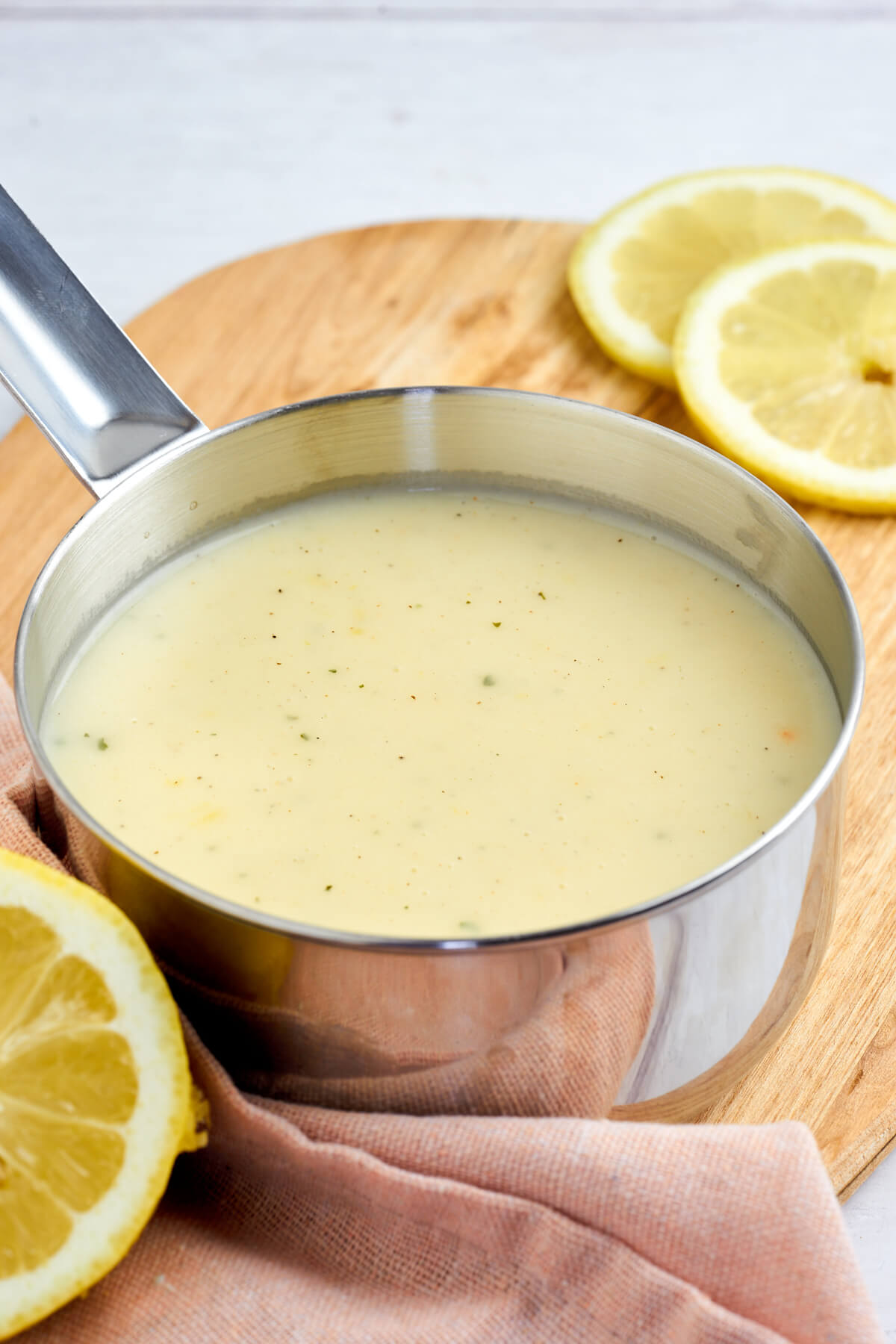 Ingredient notes
All-purpose flour – All-purpose flour makes up one part of the roux, the base for thickening.

Butter – Butter is the other part of the thickening. Other fats can be used as well, but classic butter is what's commonly used. If you can't tolerate butter, you can use oil instead.

White wine – White wine adds a lovely flavor to the lemon sauce. It can be omitted and replaced with water.

Milk – Milk is one part of the liquid in the sauce. It can be replaced with water if you can't tolerate milk.

Vegetable stock – I usually use 1/2 stock cube and 2.5 dl of water.

Lemon – You'll need both the zest and juice of the lemon, so it's important to buy organic! You may consider buying an extra lemon if your sauce needs more acidity.

Sugar – Sugar is an important ingredient for me in many dishes, and I use it as a flavor enhancer, just like salt.

Salt and Pepper – Salt and pepper are, of course, also needed.
How to make lemon sauce?
Here's a brief description of how you can make a delicious sauce with plenty of citrus flavor.

As with all thickened sauces, you start by sautéing butter and flour in a thick-bottomed pot.

Once the butter and flour have sautéed for a couple of minutes, gradually add milk and vegetable stock while whisking. After the milk and stock have been whisked in, add the remaining ingredients. Taste the sauce and let it simmer over low heat. If it becomes too thick, add more liquid.

Now the sauce is ready to be served.

Find the full recipe further down this page.
Frequently asked questions
How do you store the sauce?
Leftover lemon sauce can be stored in the refrigerator and reheated over low heat in a thick-bottomed pot.
What can I serve lemon sauce with?
This sauce is very suitable for fish. We often eat it with salmon because both kids and adults love it. It can also be enjoyed with dishes like chicken.
Other sauce recipes you might like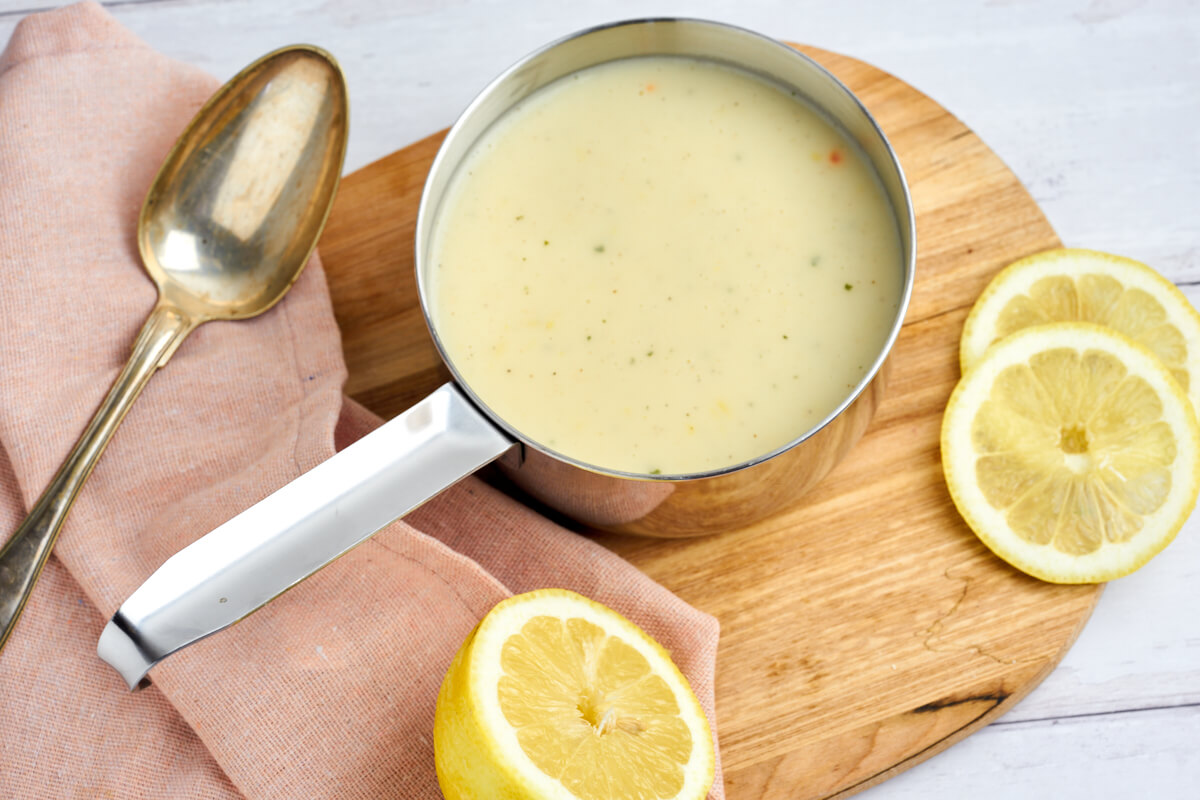 Tips and tricks for the recipe
Remember to have some extra lemon juice to adjust the sauce's flavor.
Use organic lemons whenever you need the zest in your recipes.
Serving suggestions
Serve the easy lemon sauce with steamed fish, new potatoes, and grilled green asparagus.
Serve the homemade sauce with roasted chicken breast and oven-baked potatoes.
This sauce is fantastic with fish. Try it, for example, with grilled salmon fillet.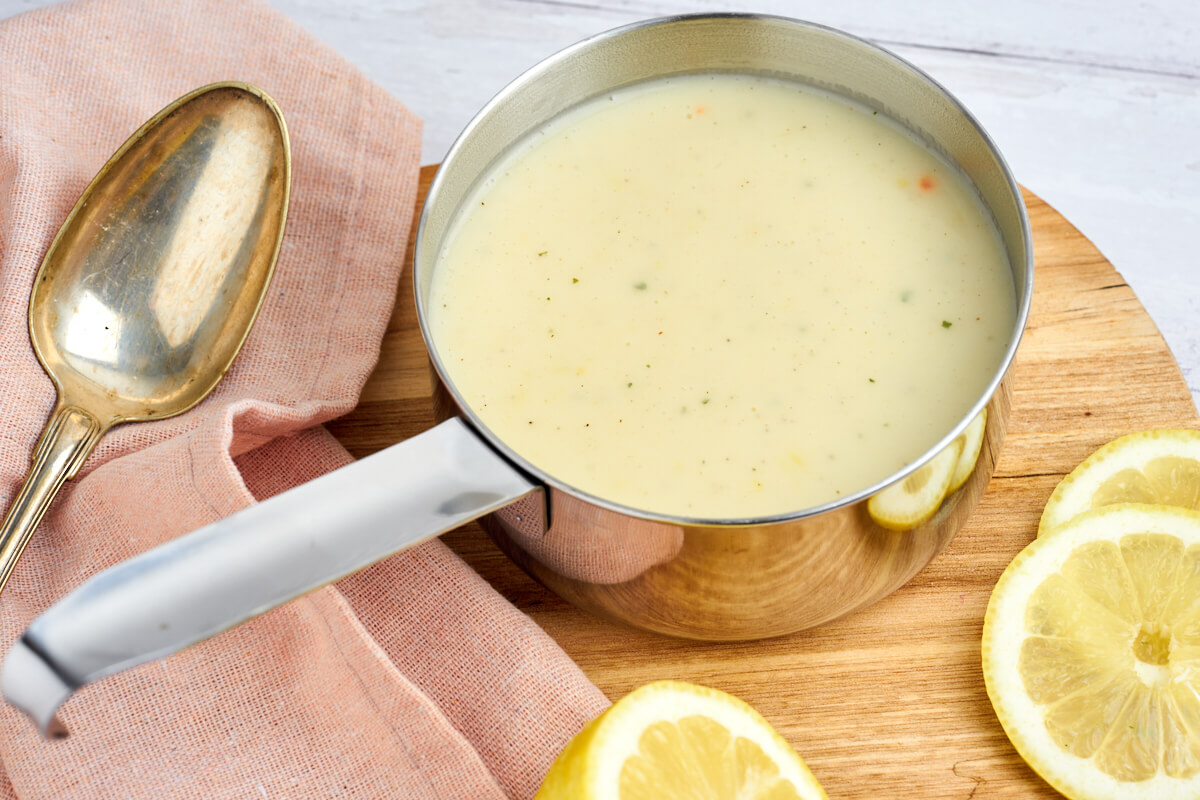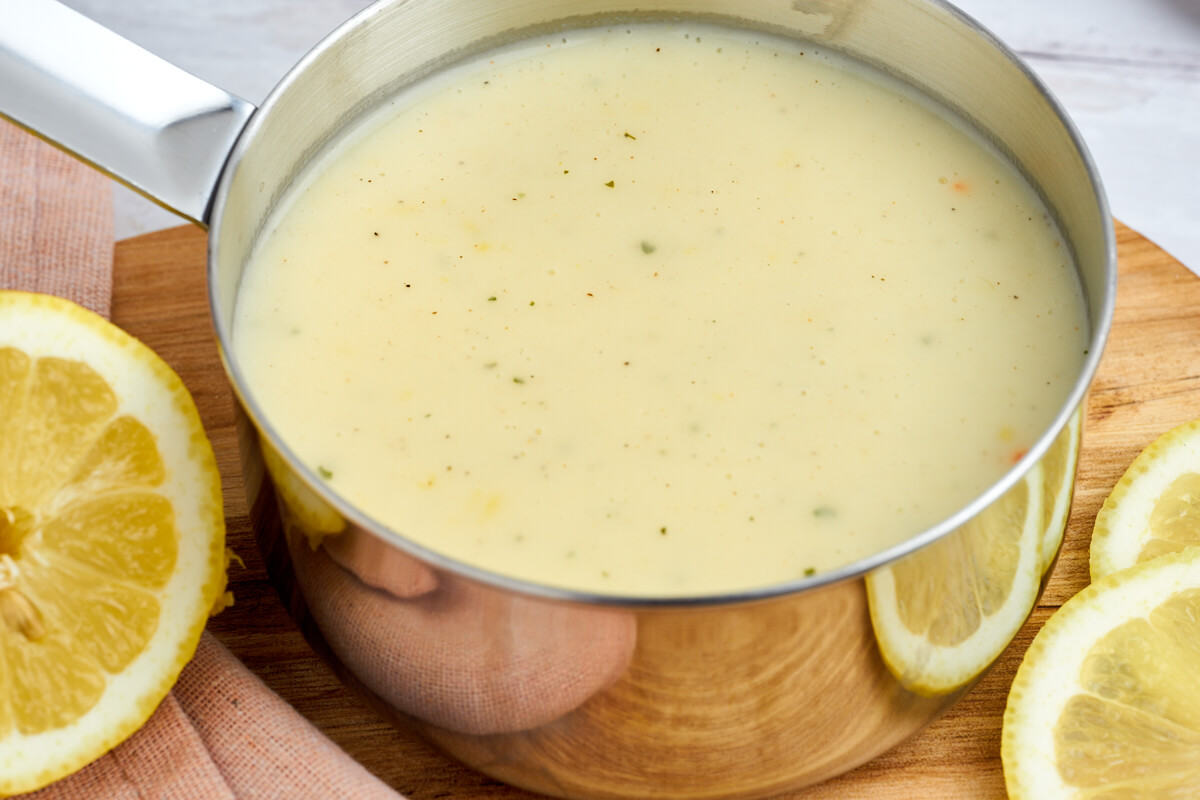 Recipe for easy sauce for fish
Here's our recipe for the best lemon sauce with lots of flavor. Serve it with a delicious grilled salmon side, new potatoes, and grilled green asparagus. It also goes well as a sauce for fatty fish or chicken.

We hope you feel inspired to try the recipe. It's a sauce that the whole family loves in our home.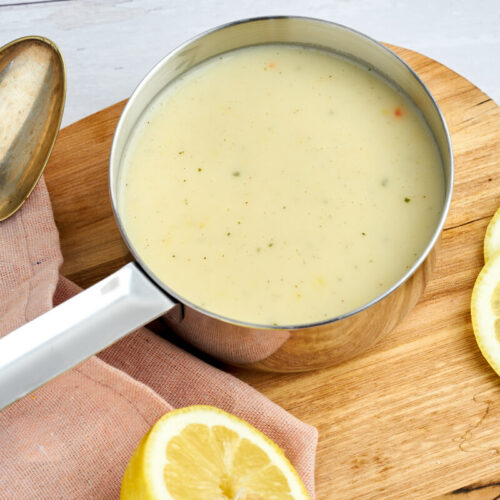 Lemon sauce
Recipe for lemon sauce
Delicious and wonderfully tangy lemon sauce that pairs perfectly with fish. Serve it, for example, with salmon, new potatoes, and asparagus, or a piece of roasted chicken with oven-baked potatoes.
Ingredients  
30

g

butter

2 ½

tbsp

all purpose flour

½

dl

white wine

2 ½

dl

milk

2 ½

dl

vegetable stock

1

lemon

juice and zest

½

tsp

sugar

1 ½

tsp

salt

Pepper
Instructions 
In a thick-bottomed pot, melt the butter over medium heat. Add the flour and whisk it into the butter. Let the roux sauté for a couple of minutes before adding the liquid.

– Roux is the name for the mixture of fat and flour used for thickening.

30 g butter,

2 ½ tbsp all purpose flour

Once the mixture of flour and butter has sautéed a bit, gradually add the milk and vegetable stock while whisking. After it has been whisked in, add the white wine, lemon juice, finely grated lemon zest, salt, sugar, and pepper.

½ dl white wine,

2 ½ dl milk,

2 ½ dl vegetable stock,

1 lemon,

½ tsp sugar,

1 ½ tsp salt,

Pepper

Reduce the heat and let the sauce simmer over low heat. Taste it and adjust the seasoning with salt and pepper. Add extra lemon juice if you prefer a more tangy flavor.

The level of tanginess in a lemon sauce can vary, so taste it as you add lemon juice. If it becomes too tangy, add a little sugar.

Serve the finished lemon sauce right away.
Nutrition
Serving:
1
person
Calories:
124
kcal
Carbohydrates:
10
g
Protein:
3
g
Fat:
8
g
Saturated Fat:
5
g
Polyunsaturated Fat:
0.3
g
Monounsaturated Fat:
2
g
Trans Fat:
0.2
g
Cholesterol:
24
mg
Sodium:
1196
mg
Potassium:
143
mg
Fiber:
1
g
Sugar:
5
g
Vitamin A:
428
IU
Vitamin C:
14
mg
Calcium:
88
mg
Iron:
0.4
mg
How do you like the recipe?
Have you tried this recipe? We'd love to hear what you think of it. Leave a comment, add a number of stars to the recipe and share your photo on Instagram with #madformadelskere – We love seeing your dishes ♥️
Also, sign up for our Facebook group where you can show pictures of the delicious food you make! You can find the Facebook group here