Delicious and easy Greek chicken gyros made from scratch. If you've never made your own gyros before, now is the time to start. It tastes fantastic, and you can serve it like this with flatbread, or simply with a basic Greek salad and baguettes. Read on and see how easy it is.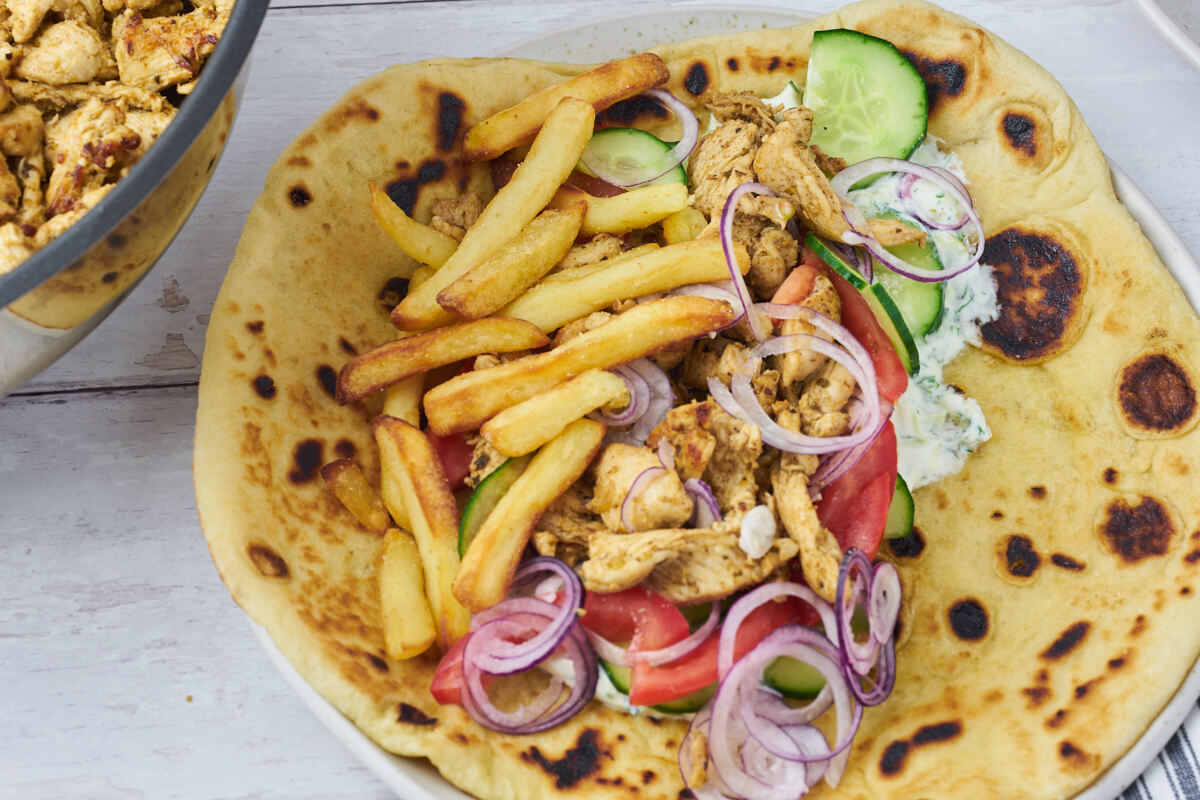 Greek food
Gyros usually consist of meat, in this case, chicken, marinated in a mixture of olive oil, lemon juice/zest, and a variety of delicious spices. Traditionally, it is cooked on a rotisserie, but since that's not readily available to everyone, we'll make it in a pan.

Traditionally, gyros are made with pork, but chicken is a healthier alternative with lower fat. Let me make it clear, though, it tastes just as good as classic pork gyros. The cooked gyros are served either on flatbread or in a pita, which many of us are familiar with. It is served with the classic Greek cold sauce tzatziki, fresh finely chopped vegetables, and my favorite! crispy french fries.

Alternatively, it can be served with cooked rice. Or how about serving it with a delicious Greek salad and a freshly baked baguette?

It is the perfect mouthful, and I recommend enjoying it with a cold beer or a refreshing chilled white wine.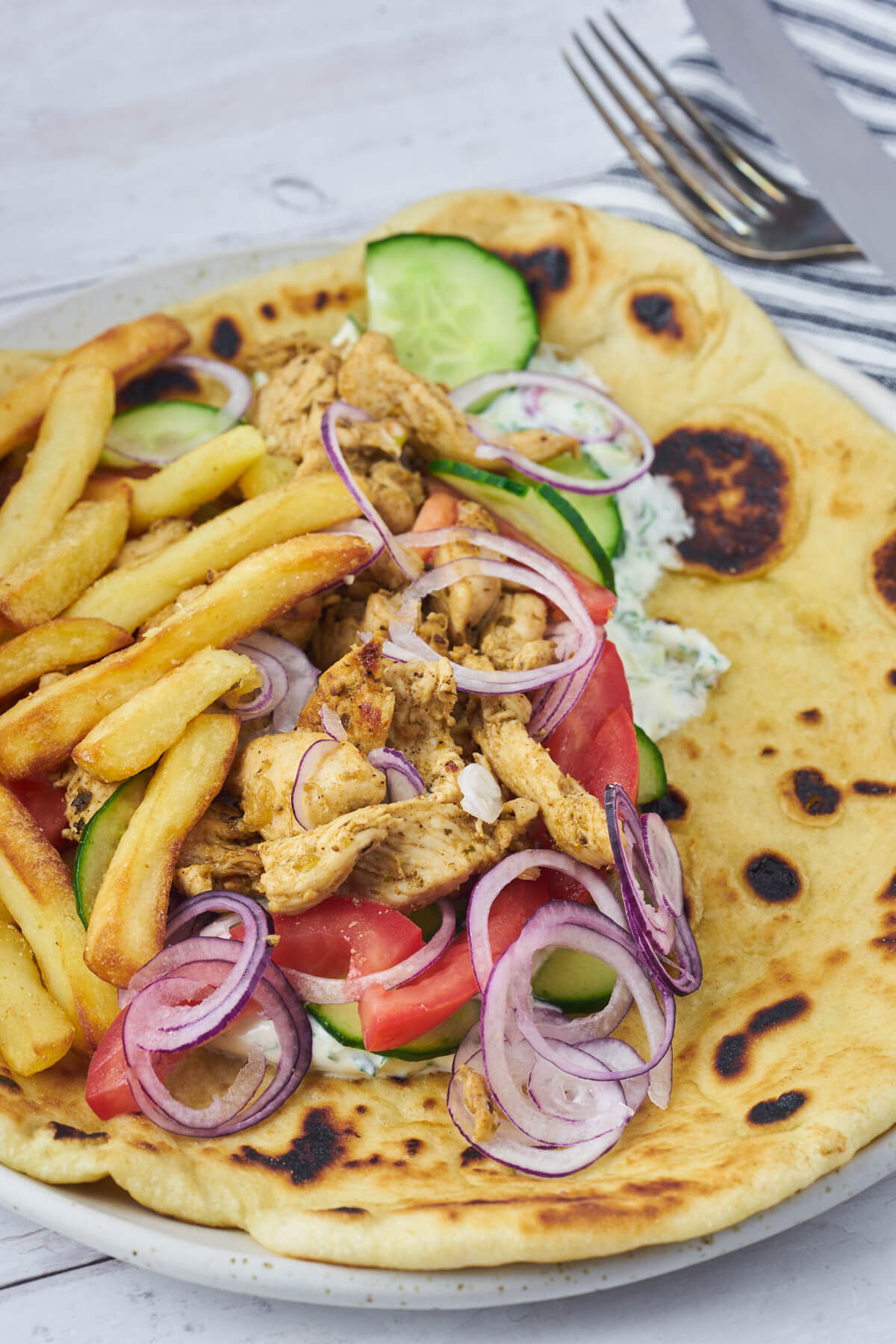 Ingredient notes
Chicken meat – I use chicken breast in this recipe, but it also turns out really delicious with thigh meat, which has a slightly stronger flavor.

Olive oil – Olive oil forms the base of the marinade.

Red onions – Red onions add a good flavor to the finished gyros; they caramelize when the meat is cooked at high heat.

Garlic – Garlic is a staple ingredient in Greek cuisine and it's a must in our gyros as well.

A good gyros requires a variety of spices, and you can find all of them on the shelf in your local supermarket.

Oregano – You can't do without oregano; you can use dried or fresh oregano if you're lucky enough to have it in your garden.

Ground coriander – Ground coriander has a delicious and slightly citrusy aroma and taste and is an essential part of the marinade flavor.

Ground allspice – Ground allspice pairs incredibly well with the other spices and gives a lovely aroma and taste to the finished dish.

Smoked paprika & Paprika – The combination of the two types of paprika provides a really good and deep flavor to the dish.

Salt – Salt is essential in the marinade. I use 1.5 teaspoons. Try frying a bit in the pan, then you can always adjust the amount of salt according to your taste.

Lemon – Lemon juice and zest are required. I used a fairly large lemon in this recipe, so if you can only find small lemons, you might need to use 1.5 – 2.
How to make Greek chicken gyros?
Here's a brief description of how we usually make the best chicken gyros. There's some preparation work involved and, most importantly, the marinating time to consider, so it's recommended to make it the day before and let it marinate in the fridge overnight.

Place the already prepared and sliced chicken breasts in a large bowl. Add olive oil, red onions, and garlic, followed by the spice mixture. Stir everything thoroughly and let it marinate in the refrigerator.

The now marinated gyros are cooked on a very hot pan until nicely browned. Serve it in Greek flatbread with good tzatziki, fresh vegetables, and crispy french fries.

Find the full recipe further down this page.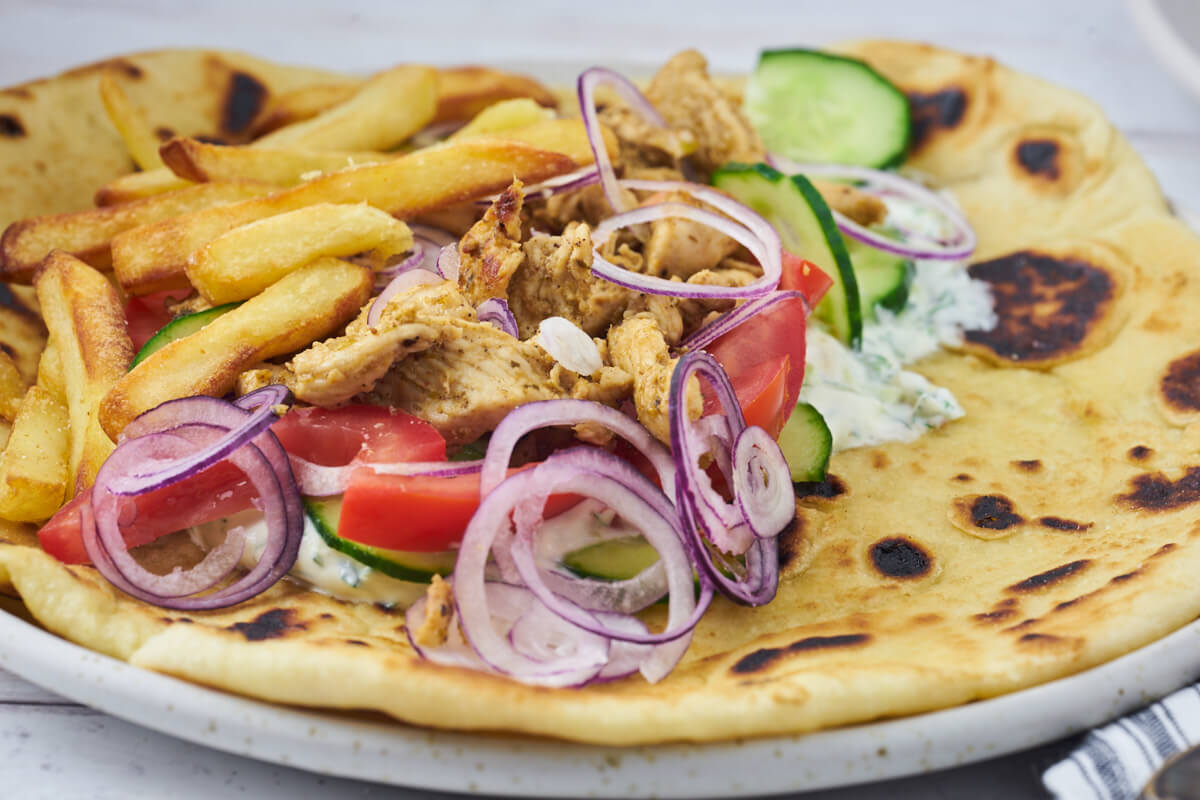 Frequently asked questions
How do you store the leftovers?
Keep it refrigerated for up to 3 days or freeze it for later.

Can gyros be frozen?
Yes! Both before and after cooking. Make a large portion and freeze half of it. Then you always have an easy meal ready to go.
Can I use something other than chicken?
You can use lamb or pork.
Other recipes you might like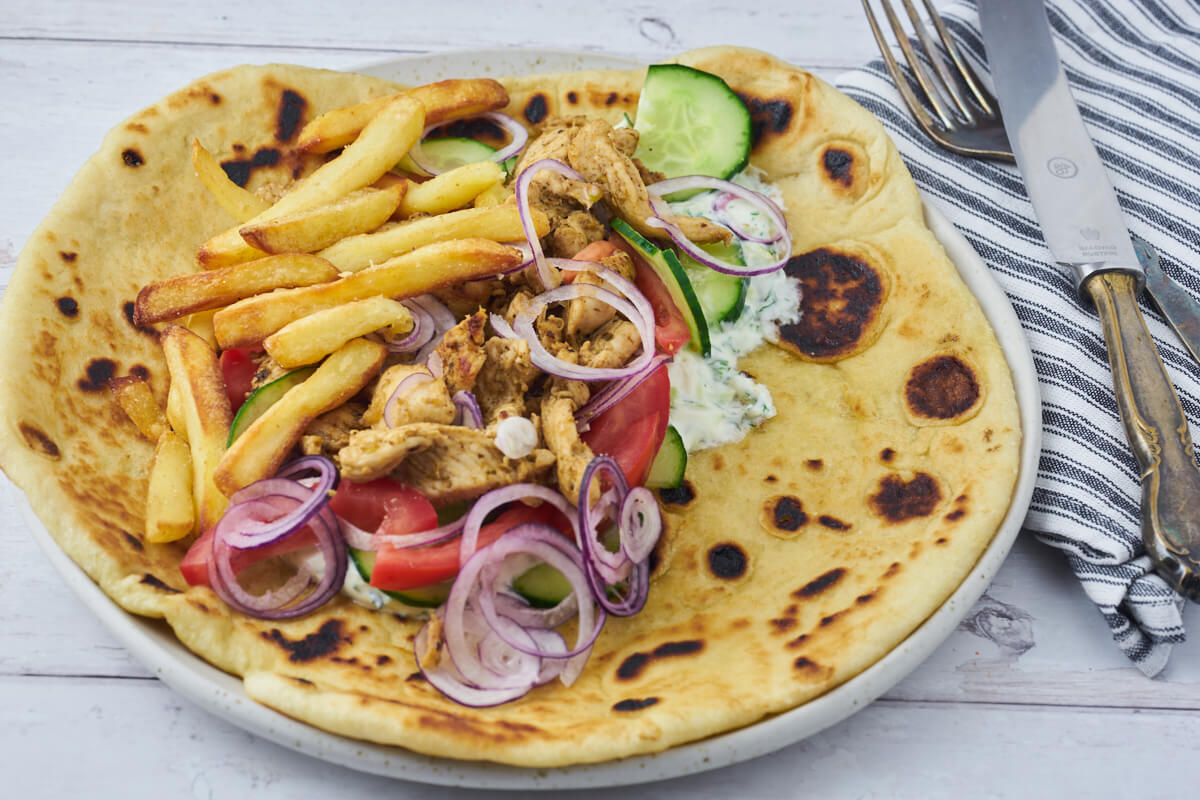 Tips and tricks for the recipe
Marinate the meat and put it in the freezer, so you always have an easy meal ready.
Remember to brown the meat at high heat for better flavor.
Try different types of meat, pork, lamb.
Serving suggestions
We usually serve it in the classic street food style. In homemade Greek pita bread with tzatziki, finely chopped vegetables, and crispy french fries.
You can also eat gyros with a Greek salad and cooked rice.
Do you want to make your own greek pita bread?

Try over recipe for traditional Greek pita bread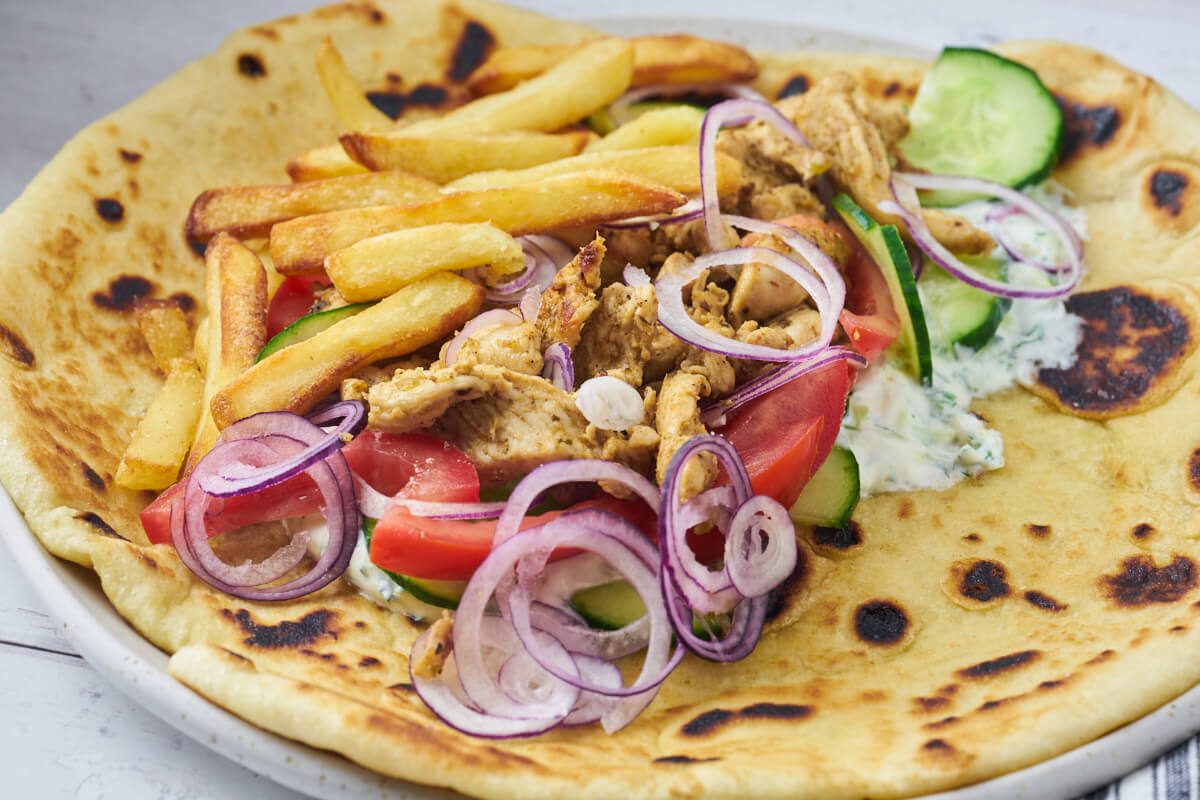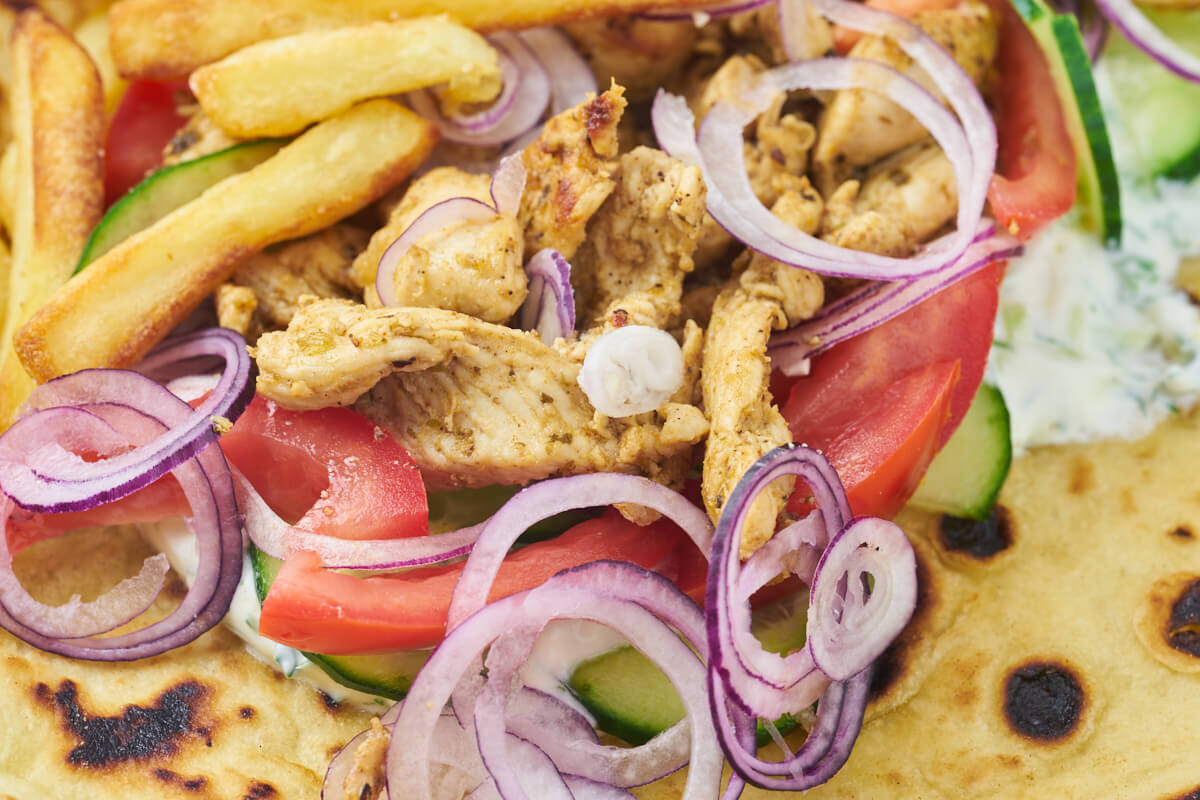 Recipe for Greek pita bread with Chicken
Here's our recipe for chicken gyros. We love eating it as a classic Greek street food served on flatbread.

If you've never made gyros yourself, try our recipe, you won't regret it.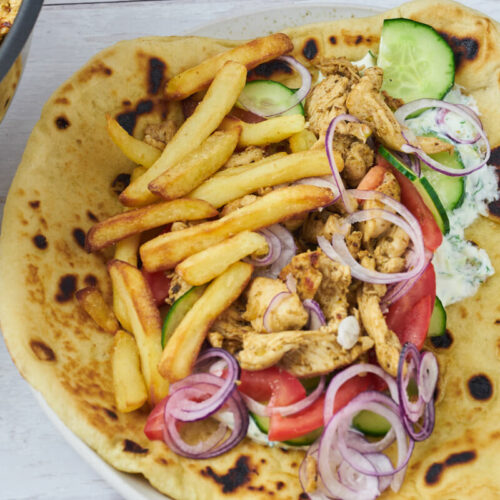 Greek chicken gyros
Recipe for greek chicken gyros
Classic Greek street food that tastes absolutely amazing. Serve in flatbread or pita bread with vegetables, tzatziki, and crispy french fries.
Ingredients  
800

g

chicken breast

or boneless skinless chicken thigh

4

tbsp

olive oil

½

red onion

2

cloves

garlic
Spices
4

tsp

oregano

1

tsp

ground coriander

½

tsp

ground allspice

½

tsp

smoked paprika

1

tsp

paprika

1.5

tsp

salt

or to taste

Pepper

to taste

1

lemon

organic, zest and juice
Other
500

g

french fries

1

cucumber

halved and thinly sliced

6

tomatoes

diced

1

red onion

halved and thinly sliced

1

portion

tzatziki

8

greek flatbreads
Instructions 
Trim the chicken breasts, removing any tendons and fat. Then, slice them into thin strips and place them in a large bowl.

Add the olive oil to the bowl, followed by oregano, coriander, allspice, smoked paprika, paprika, salt, pepper, the zest of 1 lemon, and the juice of ½ lemon.

4 tbsp olive oil,

4 tsp oregano,

1 tsp ground coriander,

½ tsp ground allspice,

½ tsp smoked paprika,

1 tsp paprika,

1.5 tsp salt,

Pepper,

1 lemon

Finely grate or mince the 2 cloves of garlic over the meat.

Peel the red onion, cut it in half, and then thinly slice it. Add it to the bowl with the other ingredients and mix everything together thoroughly.

The meat should now be refrigerated and marinated for a minimum of 3 hours, preferably overnight, to absorb plenty of flavor.

About 15 minutes before cooking the gyros, place the fries in the oven, air fryer, or deep fryer and cook them until golden and crispy according to the instructions on the package.

Prepare the remaining accompaniments. Rinse and cut the vegetables, then set them aside. Mix together your tzatziki and set it aside.

1 cucumber,

6 tomatoes,

1 red onion,

1 portion tzatziki

When it's almost time to eat, take the marinated chicken gyros out of the refrigerator. Add a little olive oil to a large pan and brown the meat over high heat until it develops color and is thoroughly cooked.

– Gyros should be browned at very high heat to achieve that slightly caramelized flavor and a good sear on the surface.

Serve the finished chicken gyros with Greek flatbreads and all the prepared accompaniments.
Nutrition
Serving:
1
person
Calories:
1065
kcal
Carbohydrates:
118
g
Protein:
59
g
Fat:
40
g
Saturated Fat:
9
g
Polyunsaturated Fat:
4
g
Monounsaturated Fat:
23
g
Trans Fat:
0.03
g
Cholesterol:
128
mg
Sodium:
2337
mg
Potassium:
2106
mg
Fiber:
14
g
Sugar:
9
g
Vitamin A:
2066
IU
Vitamin C:
56
mg
Calcium:
207
mg
Iron:
6
mg
How do you like the recipe?
Have you tried this recipe? We'd love to hear what you think of it. Leave a comment, add a number of stars to the recipe and share your photo on Instagram with #madformadelskere – We love seeing your dishes ♥️
Also, sign up for our Facebook group where you can show pictures of the delicious food you make! You can find the Facebook group here