In these times, we need quick food for everyday life that still tastes fantastic, is satisfying, and is also relatively cheap to buy. This recipe for chicken fried rice falls under all these categories. Therefore, it's a dish we keep coming back to, it's always a hit when it hits the dinner table after a long day. Read on and get the easy recipe.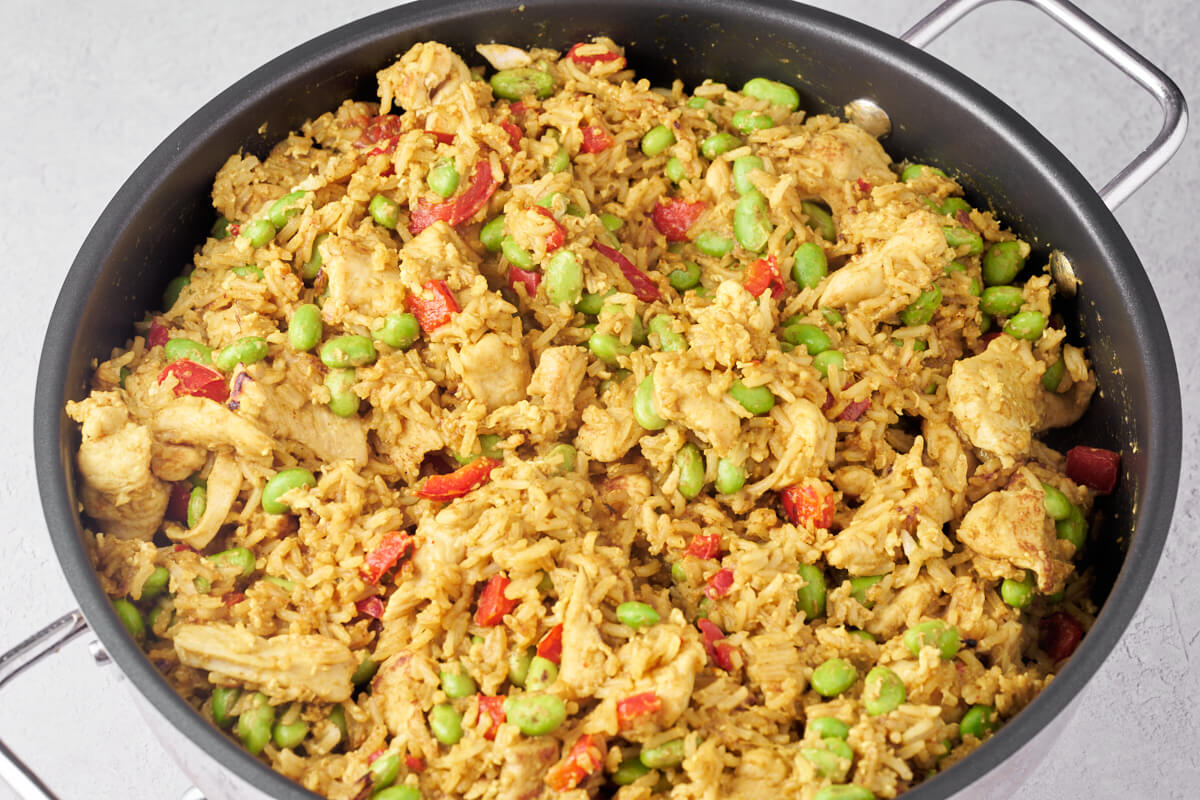 Easy dinner with chicken
The children at home love chicken – and rice, and this dish is really delicious for both children and adults. There is enough flavor with ginger, garlic, and various sauces, so it's certainly not boring. Of course, you can adjust the amounts so the taste fits your family and how spicy you want the flavor.

Fried rice with chicken, beans, and bell peppers is also fantastic in the lunchbox the next day. Both if you can warm it up a little in the microwave or even if you eat it cold. Both are lovely. So remember to save any leftovers, you won't regret it.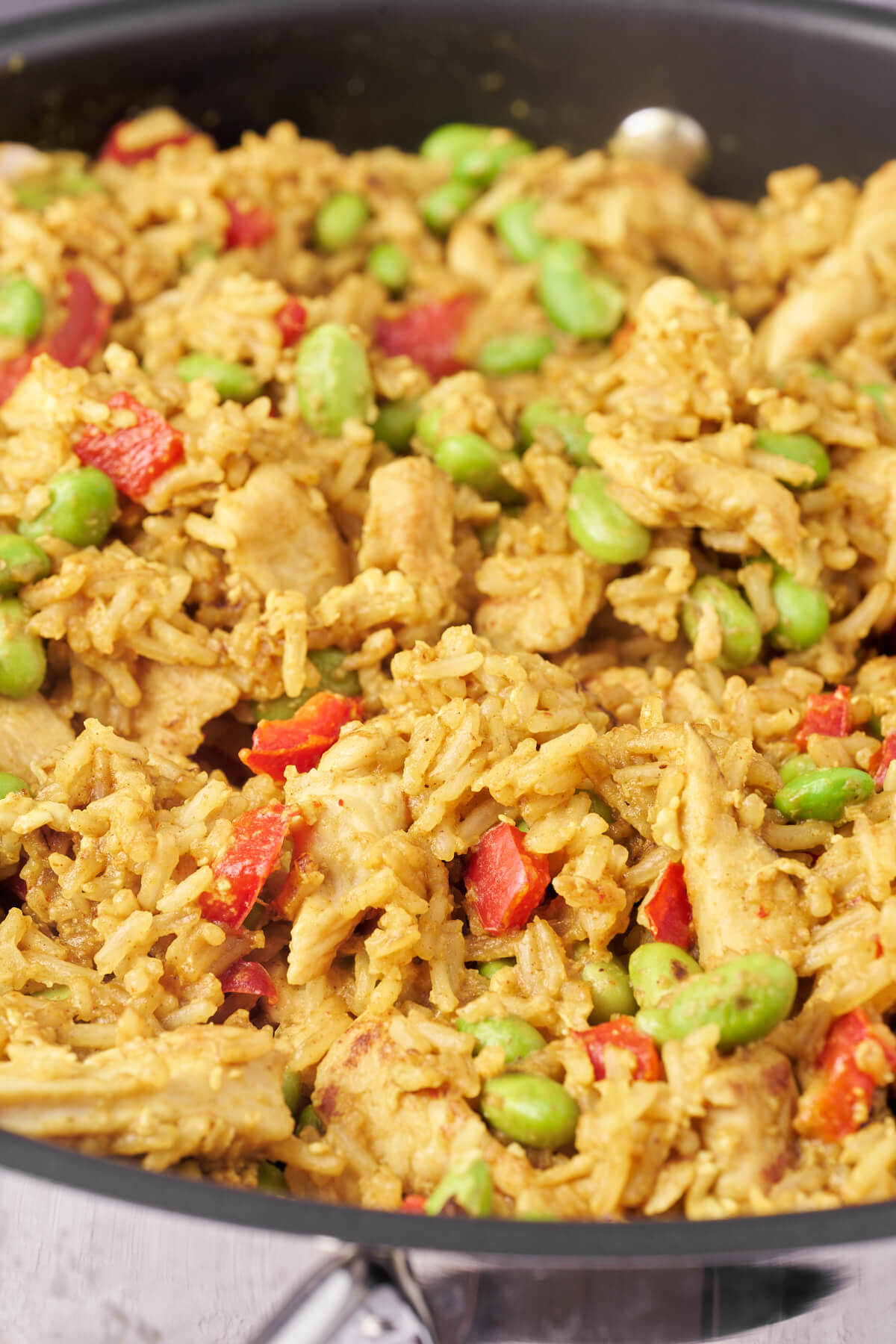 Ingredient notes
Rice – basmati or jasmine, choose the rice you like best. We often use basmati rice.

Ginger, garlic, and turmeric – Gives really good flavor to the dish.

Chicken breast – Or pieces of chicken fillet.

Bell pepper and edamame beans – These vegetables go well with the dish. You can easily use other vegetables if you have any in the vegetable drawer that needs to be used or if you find some other ones on sale. Just cut them into bite-sized pieces and add them instead of the ones we suggest here.

Eggs – Eggs provide a little extra protein and make the dish really good. We won't do without eggs when making fried rice, it binds the dish together well.

Soy sauce, fish sauce, sweet chili sauce, and oyster sauce – The sauces give the right taste and warmth to the dish. You can adjust the flavor, so the amounts fit your taste. Some like it a little spicier, but you can also serve extra soy and chili with the dish, so you can add a little extra yourself.
How to make chicken fried rice?
Fried rice with eggs is one of those dishes that can be varied endlessly. So you can easily change the vegetables if you're not into what we suggest here.

First, you need to cook the rice according to the package instructions, you can do that well in advance since they should preferably be cold. If you have leftovers from the day before, they can also be used.

Then the edamame beans need to be boiled, and then you are ready to start the actual dish.

First, garlic, ginger, and turmeric are fried, and then the chicken is fried. When all the ingredients are in the pan, add the eggs and taste the dish. Here you can put your own touch on the dish and use the flavors you like best.

Find the full recipe further down this page.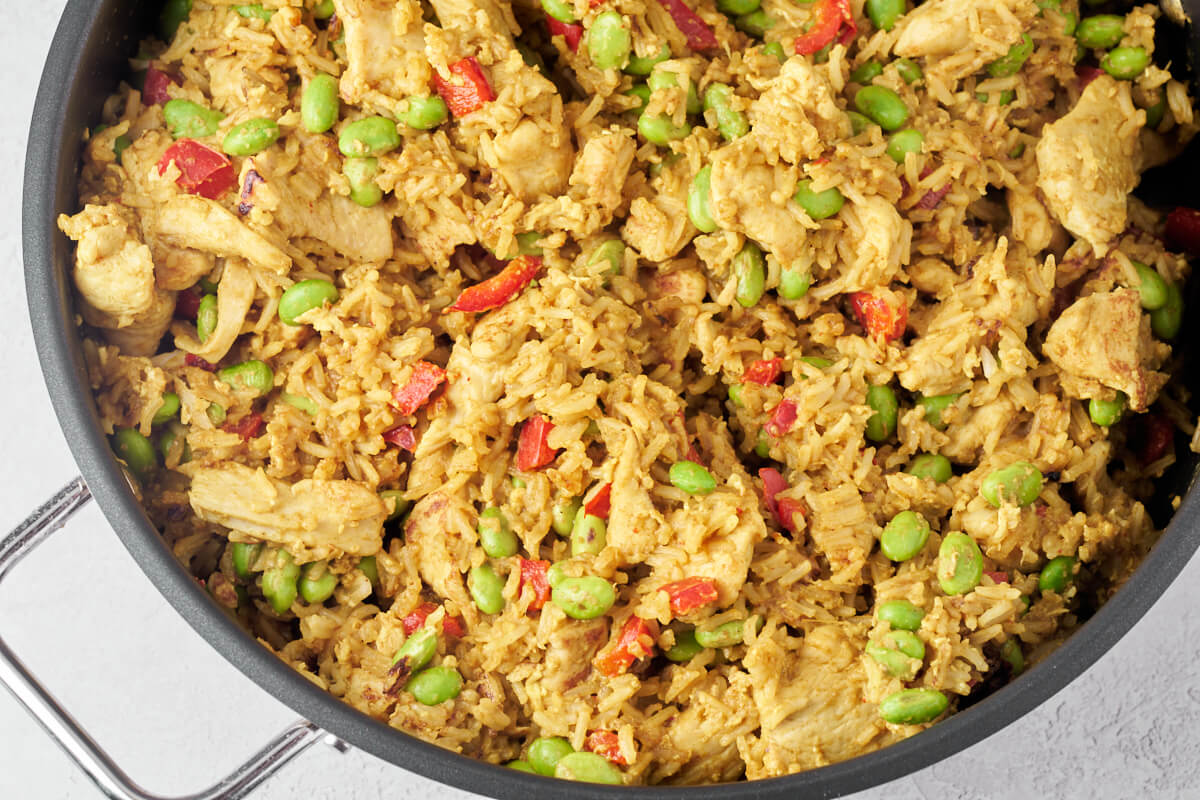 Frequently asked questions
Can I save the leftovers?
Yes, you can. They can easily be eaten the next day or taken with you for lunch.

Can I use other vegetables?
Yes. You can choose the vegetables you like best or the leftovers you have in the refrigerator. It's a super good leftover dish because you can put almost all kinds of vegetables and leftovers of meat in it. So use your imagination and try it out.
Other easy dinner recipes you might like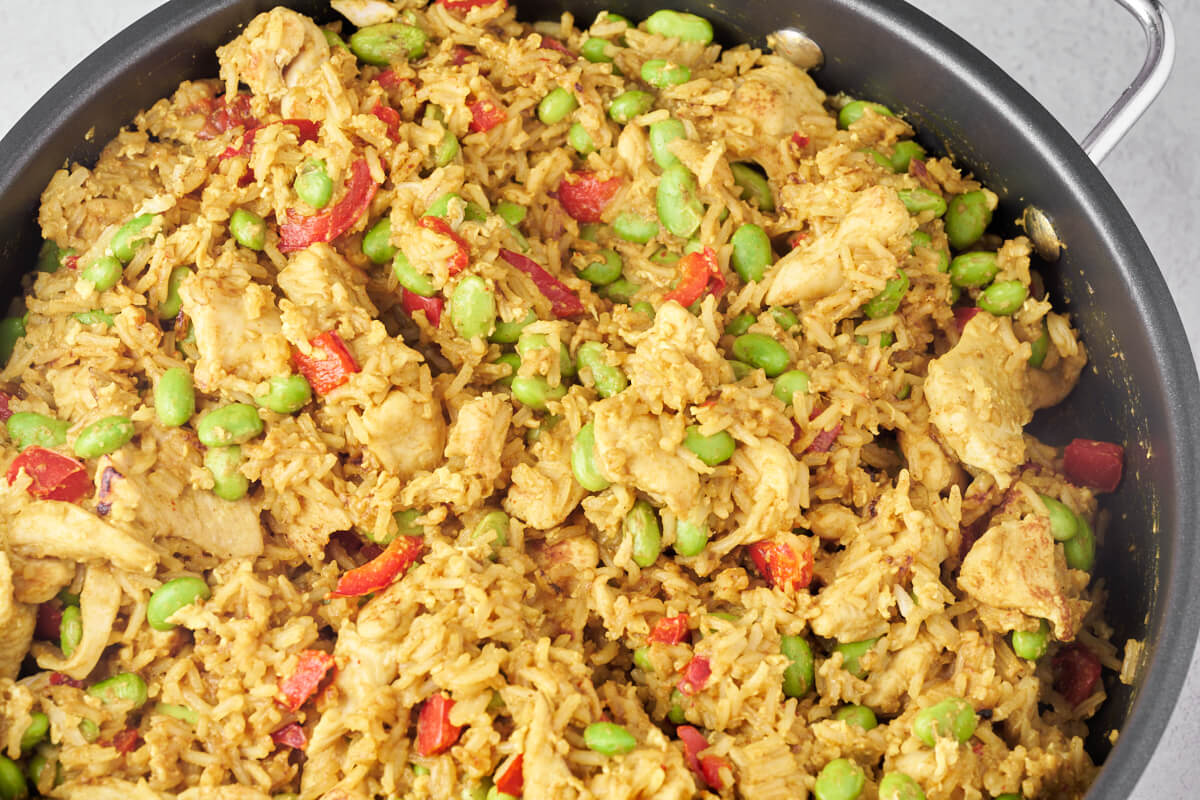 Tips and tricks for the recipe
Use the vegetables you like best and any leftovers you have in the fridge.
The dish can easily be made with leftover rice from the day before.
Serving suggestions
Serve with extra soy sauce and sweet chili sauce.
Serve optionally with a salad or a little bread, but it's certainly not necessary as you get everything you need in the dish itself.
Do you love this recipe?

You should also try our recipe for Ground beef fried rice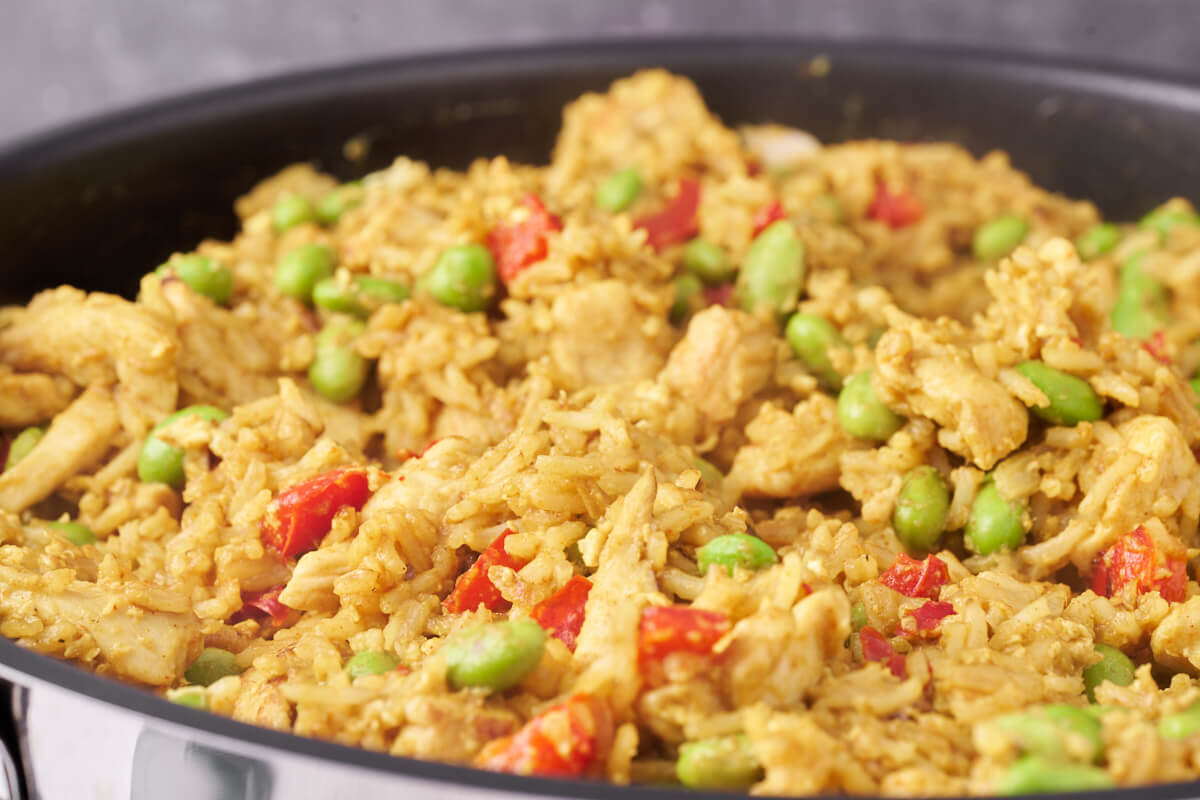 Recipe for fried rice with chicken and vegetables
Here is our recipe for chicken fried rice. It is an easy recipe for a delicious everyday dish for the whole family, which you can quickly make on days when there is not much time for dinner.

Of course, you can vary the ingredients as you like, see this recipe as inspiration. You can easily replace the beans with peas or corn, and the bell pepper can be replaced with other vegetables if you like. It is a good "clean-out-the-fridge" dish, and you can use the vegetables you have left at the end of the week when the fridge needs to be emptied and space made for new groceries.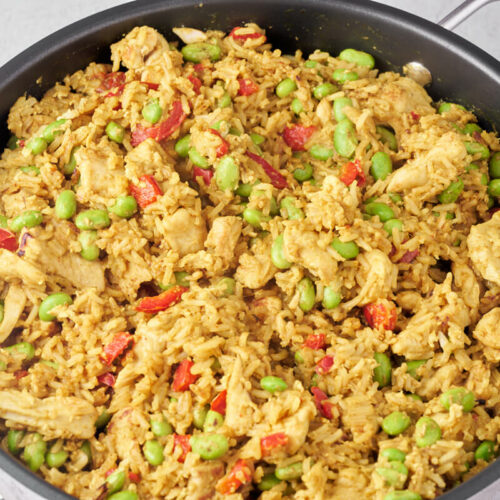 Chicken fried rice
Recipe for chicken fried rice
Easy, quick, and cheap dinner with chicken, rice, and vegetables. It's a dish the whole family can eat, and you can serve it with extra soy and chili sauce if anyone wants a little extra.
Ingredients  
4

dl

basmati rice

300

g

edamame beans

without shell

4

tbsp

olive oil

2

cloves

of garlic

finely grated

1

tbsp

fresh ginger

finely grated

1

tsp

fresh turmeric

finely grated. Can be replaced with ground turmeric in the same amount

350

g

chicken breast

1

red bell pepper

cut into small cubes

2

eggs

1

tbsp

soy sauce

1

tbsp

fish sauce

1

tbsp

oyster sauce

2

tbsp

sweet chili sauce
Instructions 
Cook the rice according to the instructions on the package. Rinse the rice before cooking. When it is done, set it aside.

Put the edamame beans in boiling water and let the water boil. Drain the water and set them aside.

Heat the oil in a pan or wok. Add the garlic, ginger and turmeric. Fry for a minute until it has flavored the oil.

4 tbsp olive oil,

2 cloves of garlic,

1 tbsp fresh ginger,

1 tsp fresh turmeric

Cut the chicken into bite-sized pieces and add it to the pan. Fry until the chicken is cooked through.

Add the red pepper and fry for another couple of minutes.

Add the rice and stir it thoroughly so it doesn't burn. Fry for about 4 minutes.

Scrape the rice away from one corner and crack the eggs into the pan. Mix the eggs with the rice and fry for a minute. Add the beans and stir everything together.

Add the oyster sauce, fish sauce, soy sauce and sweet chili sauce, and mix everything together thoroughly.

1 tbsp soy sauce,

1 tbsp fish sauce,

1 tbsp oyster sauce,

2 tbsp sweet chili sauce

Serve immediately.
Nutrition
Serving:
1
person
Calories:
749
kcal
Carbohydrates:
98
g
Protein:
37
g
Fat:
22
g
Saturated Fat:
3
g
Polyunsaturated Fat:
2
g
Monounsaturated Fat:
12
g
Trans Fat:
0.02
g
Cholesterol:
138
mg
Sodium:
952
mg
Potassium:
909
mg
Fiber:
5
g
Sugar:
8
g
Vitamin A:
1077
IU
Vitamin C:
40
mg
Calcium:
116
mg
Iron:
4
mg
How do you like the recipe?
Have you tried this recipe? We'd love to hear what you think of it. Leave a comment, add a number of stars to the recipe and share your photo on Instagram with #madformadelskere – We love seeing your dishes ♥️
Also, sign up for our Facebook group where you can show pictures of the delicious food you make! You can find the Facebook group here