Turkey stew is just one of the recipes that you should know how to cook. It tastes really good and it's easy to make. You can advantageously make a large portion and freeze the leftovers down, so there is always something easy to eat on a busy day. If you want to see how easy it is to make the best Danish turkey stew, read along here and get our recipe.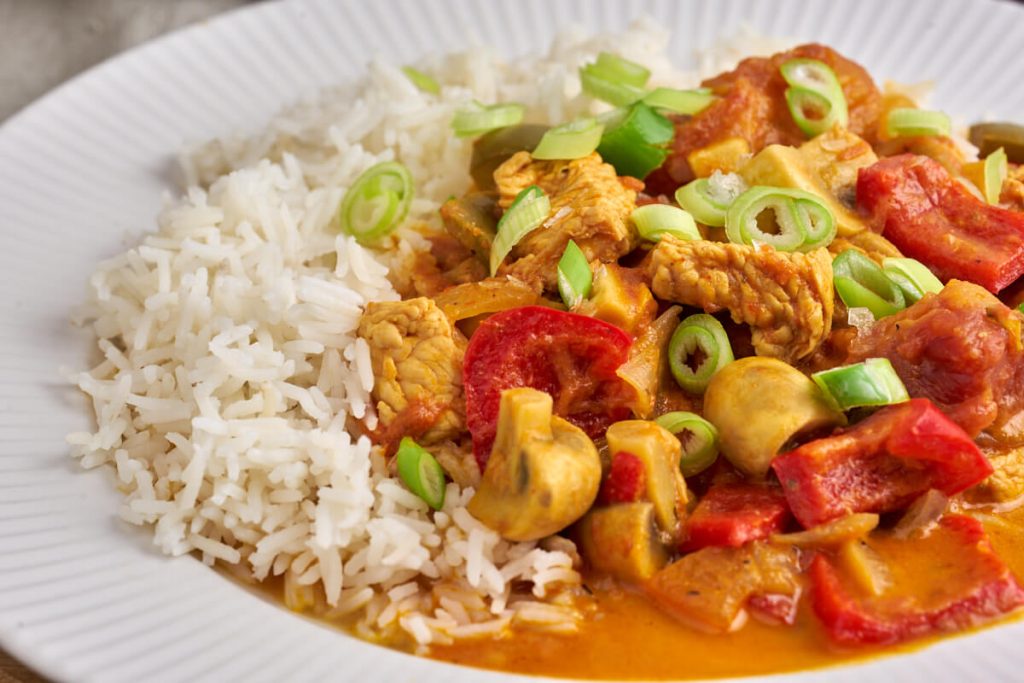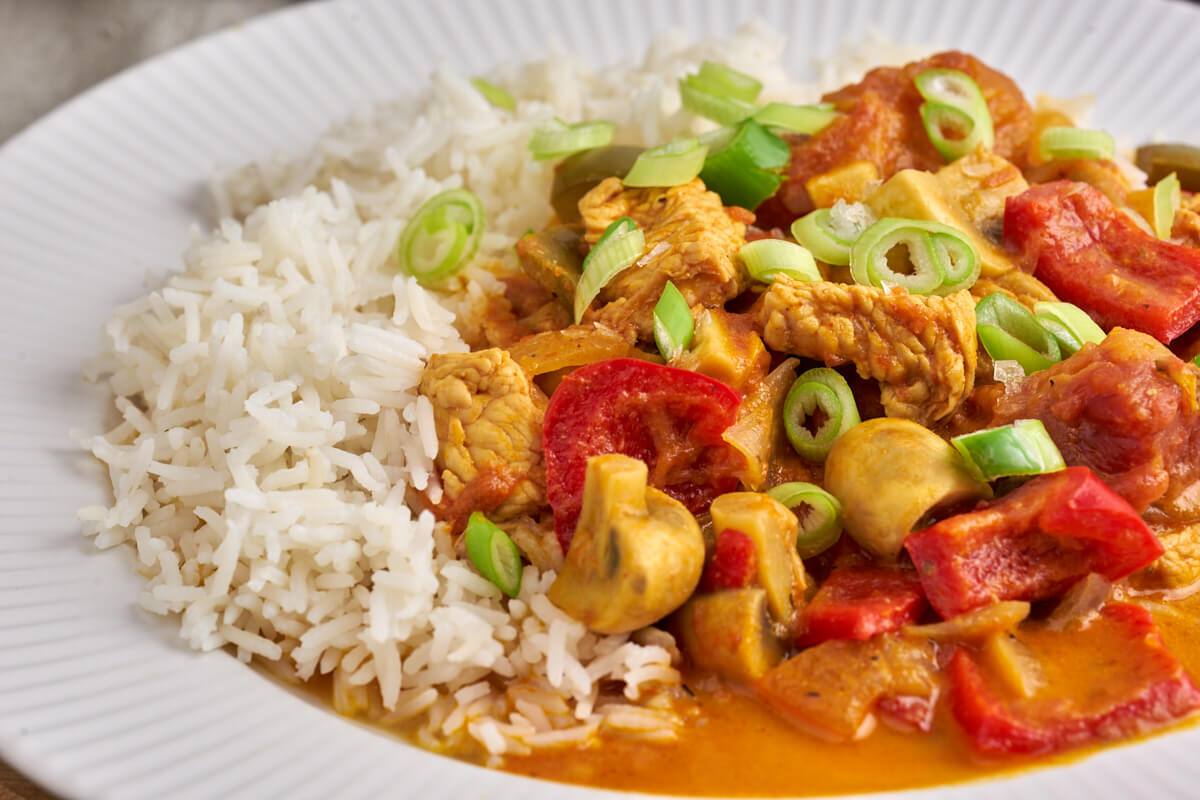 Easy dinner with turkey
Often, everyday life is about making easy and quick dinners, but therefore it does not have to be boring.

Turkey stew is one of the dishes our children love, and so do we. It tastes really good and then it's so easy to make.

Turkey stew is a child-friendly dish, and it may be because it is a little uncomplicated in taste, in other words, it tastes like what it is. And if you serve it with some cooked rice, then it is a dish most people will appreciate.

We put mushrooms and bell peppers in the turkey stew, but you can of course vary the vegetables a bit, and use the ones you like best or the ones you have in the fridge.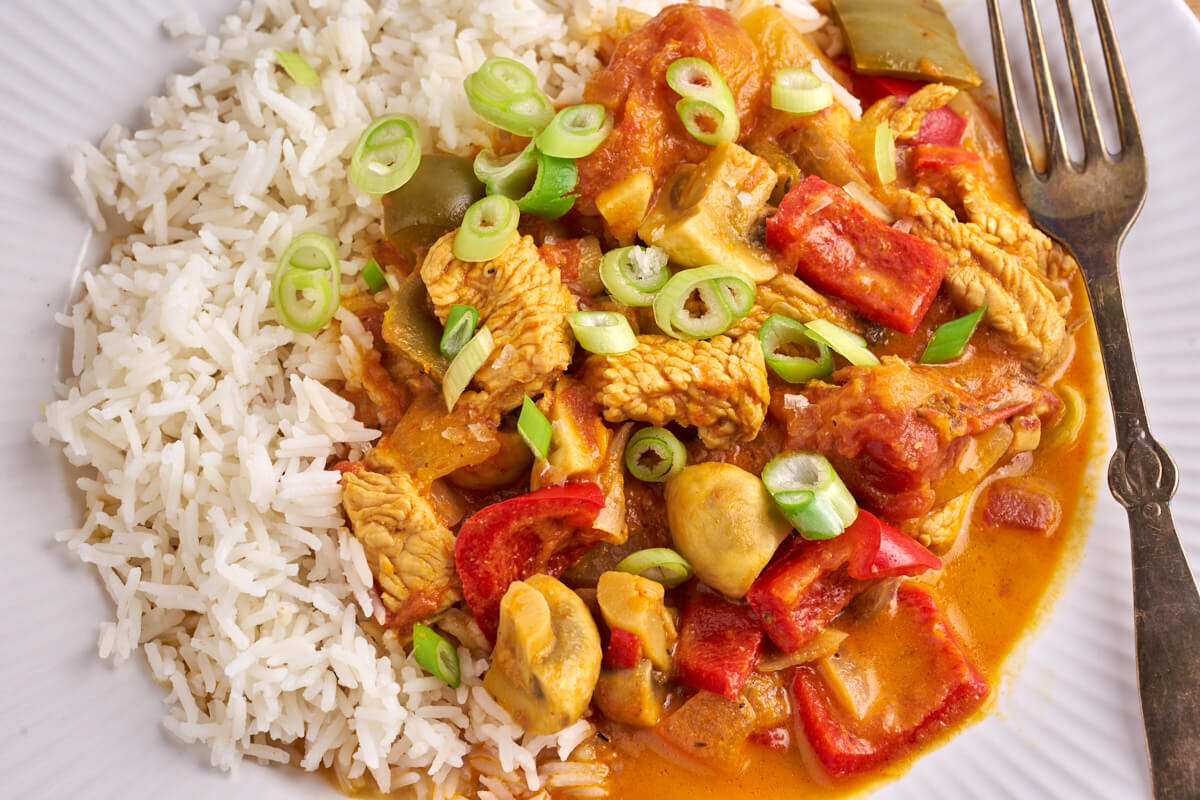 Ingredient notes
Turkey meat – Here I am talking about turkey breast. I usually buy it in the Danish supermarked MENU, but I'm sure you can find them in other supermarkets around.

Bell peppers – I think bell peppers belong in a turkey stew, but if you do not like bell peppers, try another vegetable instead. It could be carrots or the like.

Paprika – Paprika helps to give the turkey stew the right taste. It can be sweet or strong paprika you use.

Smoked paprika – Smoked paprika also contributes something good to the turkey stew. I do not use bacon in our version of turkey stew, so if you like a touch of the smoked flavor bacon would give, then smoked paprikas can be a help.

Whipping cream – The whipping cream helps to round off the taste and give a delicious sauce. You can skip it if you want fewer calories in the dish.

Parmesan cheese – Parmesan contributes a deliciously deep and salty taste to the turkey stew
How to make Danish turkey stew?
Here is a brief description of how to make the best stew with turkey. You can make it for a weekend and freeze it in portions, then there is always an easy dinner just to pick up.

The vegetables, as well as the turkey meat, are prepared so that it is ready to use.

In a saucepan, sauté the turkey meat in olive oil. Then add onions, bell peppers, and garlic and sauté. The 2 kinds of paprika are added together with the mushrooms and sautéed briefly before canned tomatoes, water, whipped cream, stock cube, salt, sugar, pepper, apple cider vinegar, and grated parmesan are added.

Bring to the boil, turn down the heat and simmer for 25-30 minutes.

Serve the Danish turkey stew with cooked rice.

Find the full recipe further down this page.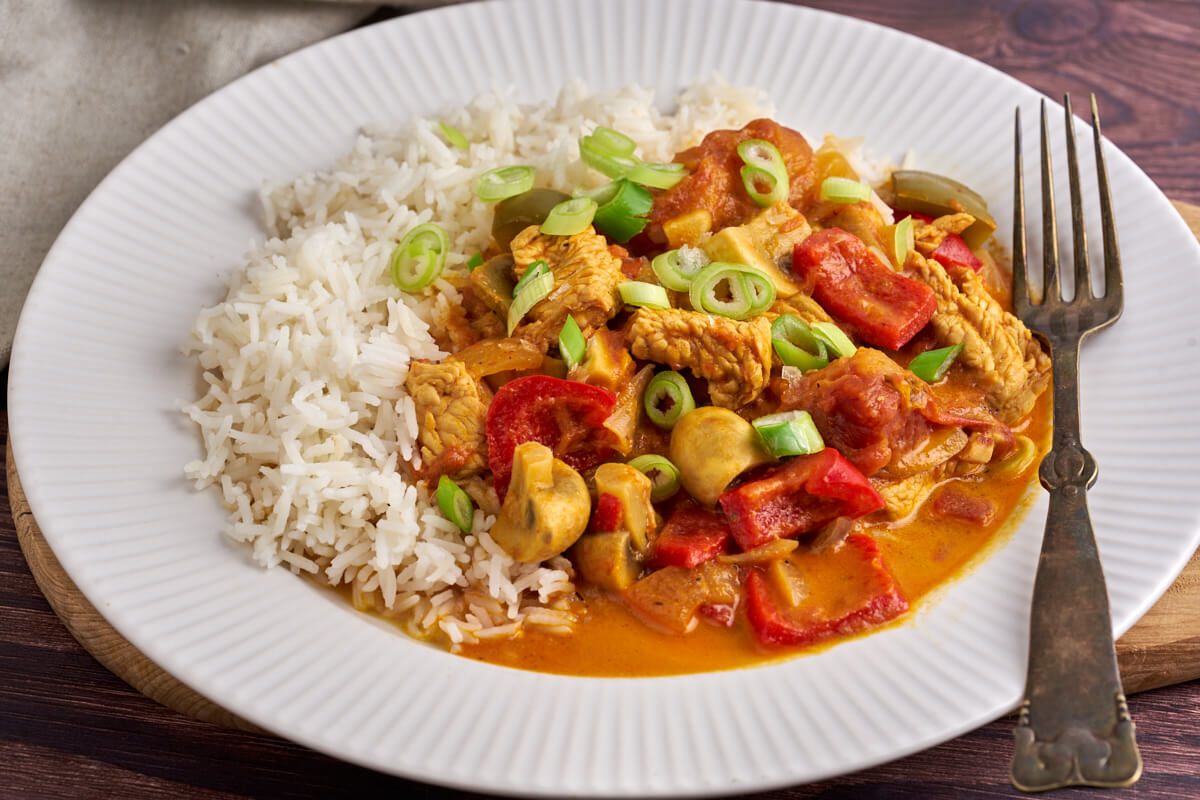 Frequently asked questions
How to store turkey stew?
The finished Danish turkey stew can be stored for a few days in the refrigerator or frozen.
Can turkey stew be frozen?
Yes, it can. Put the dish in a plastic container or freezer bags in smaller portions, and put them in the freezer. Then you always have dinner for a busy day.
Can I use any other vegetables than mushrooms and red bell pepper?
Yes, you can easily make the turkey stew with other kinds of vegetables. Try it out and use the vegetables you like best or the ones you have in the fridge.
Other Danish dinner recipes you might like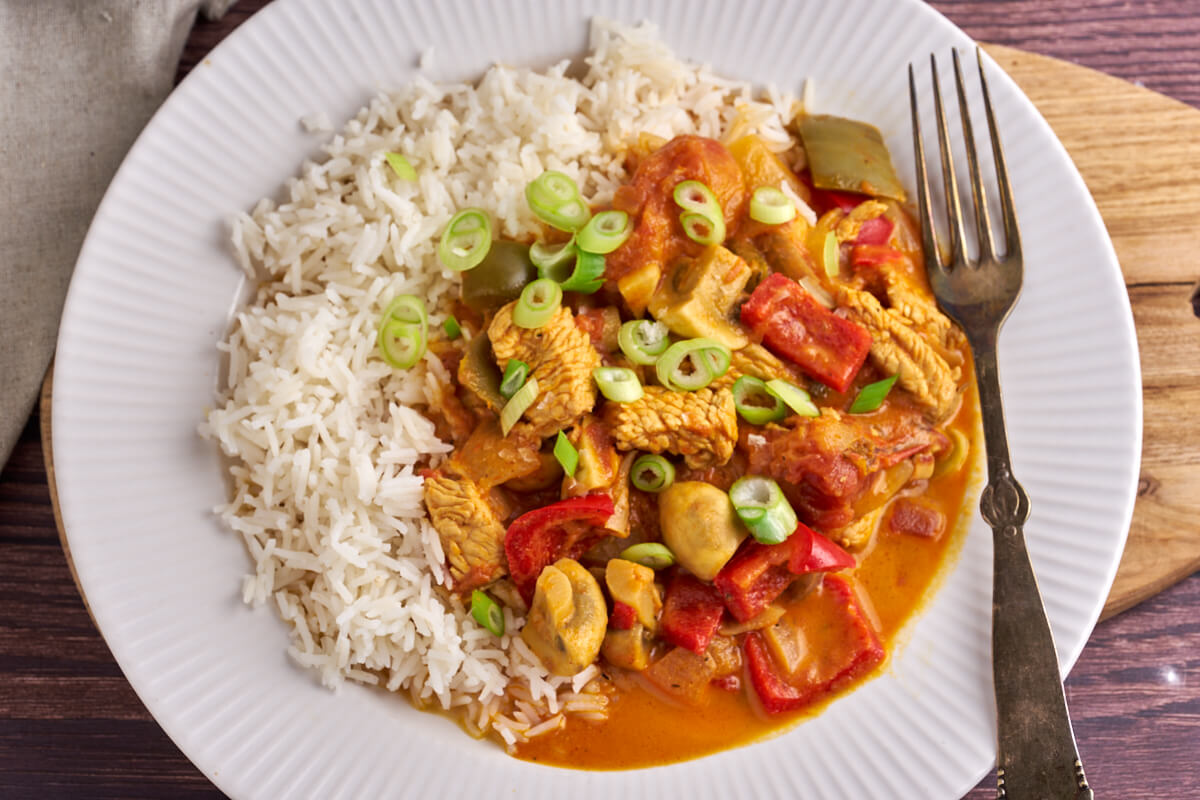 Tips and tricks for turkey stew
Make a large portion and freeze it in smaller portions, then there is for dinner on the busy weekdays where you do not have time to cook.
You can easily replace turkey breast with chicken or diced beef or pork.
Serving suggestions
Serve with cooked rice.
If you want to have less carbohydrates, you can serve turkey stew with cauliflower rice or finely chopped cabbage.
You can also serve Danish turkey stew with mashed potatoes or freshly cooked pasta.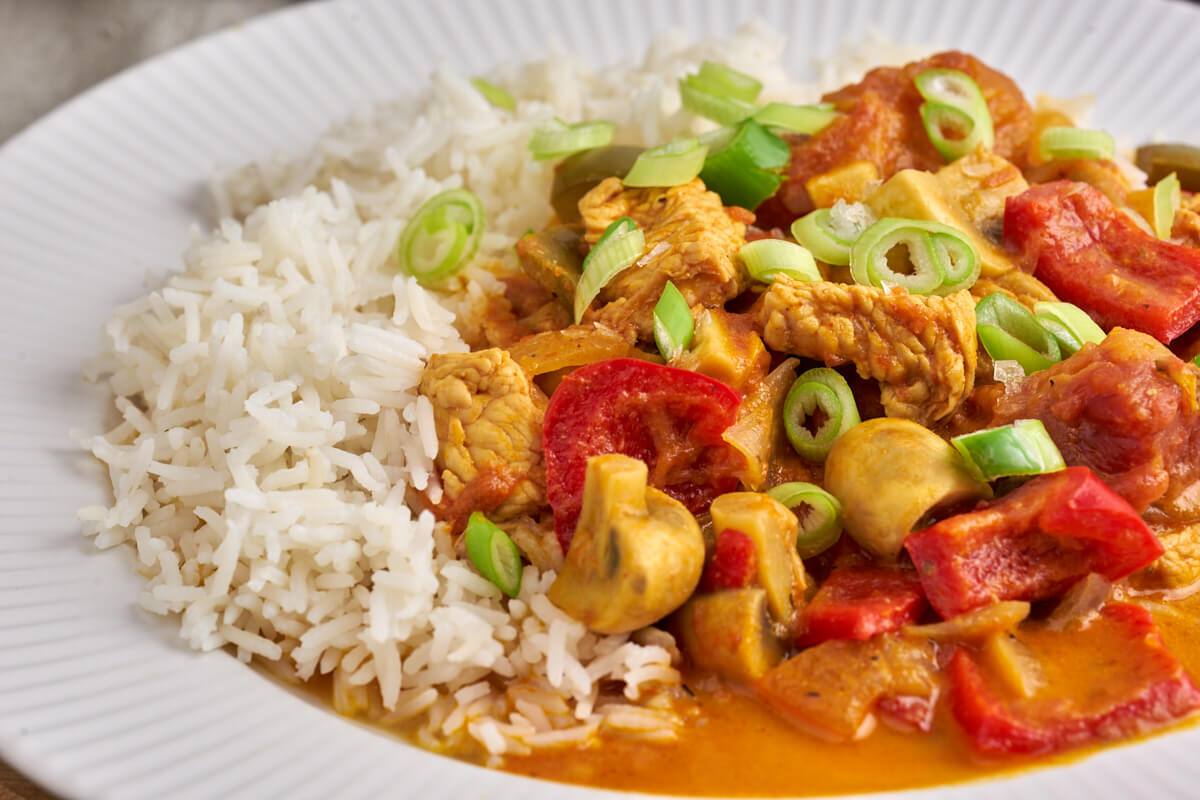 Recipe for turkey stew with mushrooms and red bell peppers
Here you get our recipe for the best turkey stew. Delicious and tender turkey meat in a delicious tomato cream sauce with bell peppers and mushrooms.

Serve it with white rice, or a good loaf of bread. We hope you feel like trying the recipe and serve a delicious turkey stew to your family.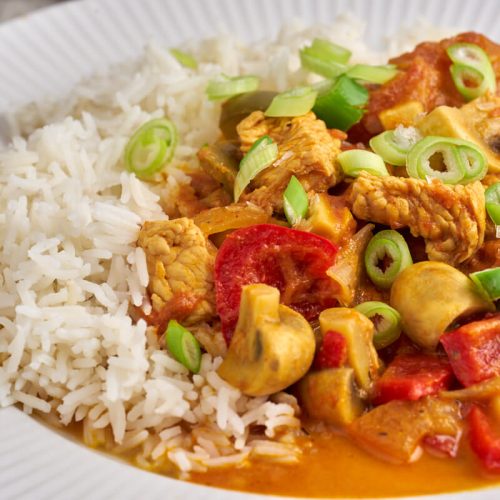 Danish turkey stew
Recipe for Danish turkey stew
Here you get our family recipe for the best turkey stew with lots of flavors, It goes perfectly with cooked white rice, or good bread to soak up all the delicious sauce.
Ingredients  
2

tbsp

olive oil

600

g

turkey breast

3

onions

3

cloves

garlic

1

tsp

dried thyme

1

red bell pepper

1

green bell pepper

400

g

white button mushrooms

½

tbsp

paprika

1

tsp

smoked paprika

2

cans

chopped tomatoes

3

dl

water

2.5

dl

whipping cream

1

chicken stock cube

2

tsp

salt

2

tsp

sugar

Pepper

to taste

1

tsp

apple cider vinegar

or red wine vinegar

½

dl

parmesan
Instructions 
Start by preparing vegetables and meat:

– The onions are peeled and cut into cubes.

– Rinse the bell peppers and cut them into coarse cubes.

– The mushrooms are rinsed, cleaned, and cut into quarters.

– Peel the garlic and finely chop them.

– The turkey meat is cut into mouth-sized chunks.

In a large saucepan, heat the olive oil over medium-high heat. Put the turkey meat in the hot oil and brown it. Then add onions, bell peppers, and garlic. Saute it with the meat for approx. 5 minutes.

Put the mushrooms in the pan and saute them for a few minutes. Add paprika and smoked paprika and sauté for a minute.

Then add chopped tomatoes, water, whipped cream, stock cube, salt, sugar, pepper, apple cider vinegar, and grated parmesan.

Stir the stew and bring it to a boil. When it boils, turn it down to low heat. Let the turkey stew simmer on low heat for approx. 25 – 30 minutes without a lid so that it reduces a little. Remember to stir at regular intervals.

Finally taste the turkey stew, and add more salt, sugar, or pepper if needed. Serve it with white rice or good bread.
Nutrition
How do you like the recipe?
Have you tried this recipe? We'd love to hear what you think of it. Leave a comment, add a number of stars to the recipe and share your photo on Instagram with #madformadelskere – We love seeing your dishes ♥️
Also, sign up for our Facebook group where you can show pictures of the delicious food you make! You can find the Facebook group here