Who does not love traditional Danish burning love? Delicious homemade mashed potatoes, soft sweet onions, and crispy bacon, it does not get much better than that. Burning love is a classic Danish dish that should be enjoyed in good company, and with an ice-cold beer. If you want to see the recipe for the best burning love, read on here.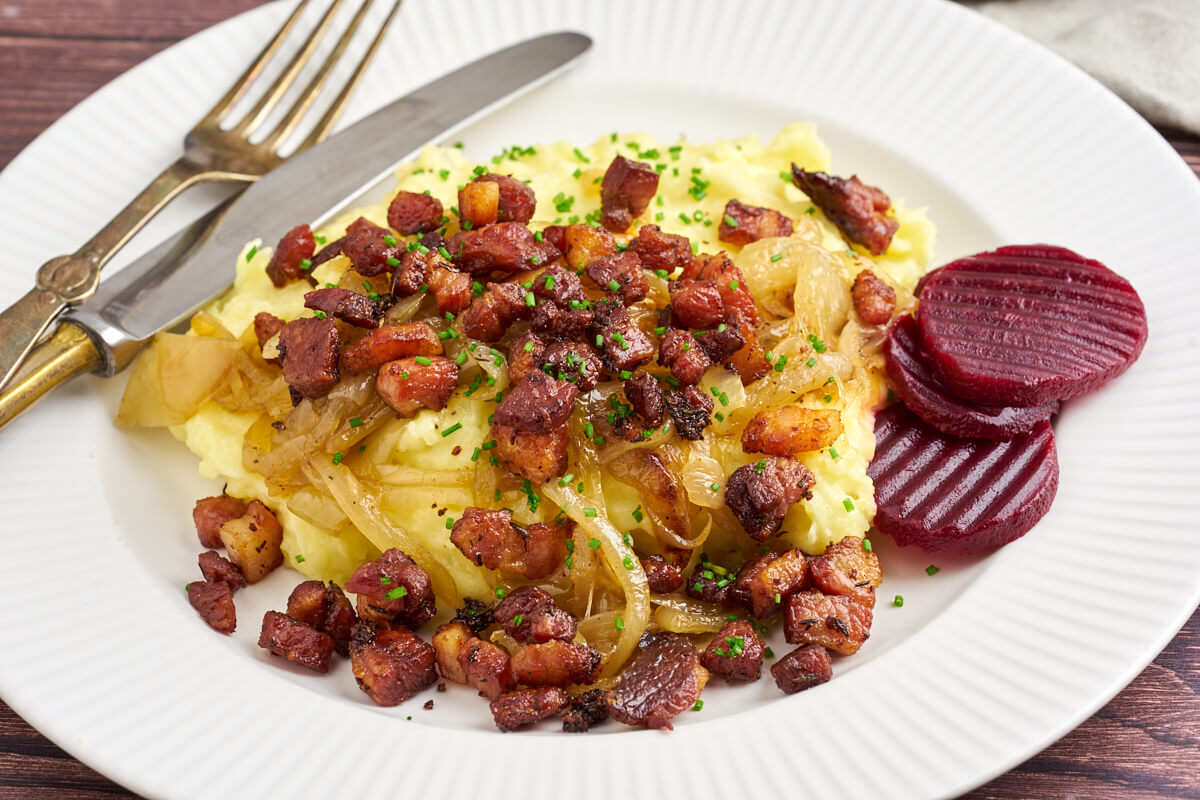 Great danish family dish
At our house, Danish burning love is often on the menu. It tastes good, it's easy to make, and then it's a cheap dinner.

I remember burning love from my childhood, it was always something we appreciated, and now it's my own kids who love it.

If you put a little love into the ingredients and make sure to season it all well, then burning love can actually be really delicious. Make your own mashed potatoes from scratch, use good quality bacon, here I mean a whole piece of bacon you cut out yourself. And it gets even better with homemade bacon, where you control the amount of smoke and salt.

The soft sweet onions must be plentiful, they must be well seasoned, both with salt, sugar, and pepper, and then they must be really caramelized! So you need to take your time to make them.

The mashed potatoes are, of course, homemade, that's how the dish will turn out the best. But if you run out of time, you can use the premade version, and then maybe add a little cream and butter.

Altogether, the salty, smoked crispy bacon, the sweet soft caramelized onions, and the delicious airy mashed potatoes form something close to the perfect taste experience. And if you add pickled beets to the serving, then you have pretty much all the flavors in place.

Treat the family with homemade Danish burning love, on weekdays and on weekends as true classic Danish comfort food.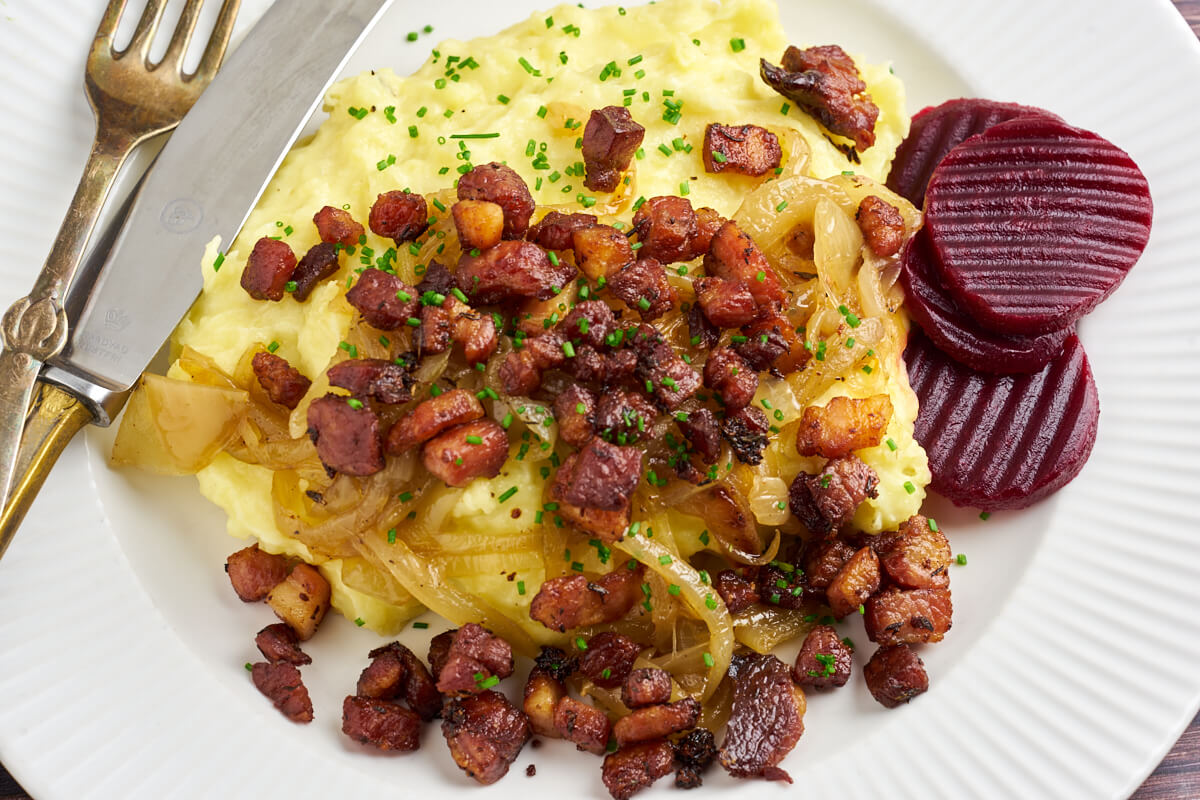 Ingredient notes
Bacon – Find a good piece of bacon and cut it into suitable cubes. You can also use sliced ​​bacon, but it will not be the same.

Onions – Large onions, cut into thin slices, this is how it should be. Then fry them in a mixture of oil and butter, add salt, sugar, and pepper. And then they just have to cook and become soft, caramelized, and delicious.

Potatoes – The potatoes must of course be turned into mashed potatoes. Homemade mashed potatoes are just the best.

Butter – Butter, butter, and more butter! Butter just makes mashed potatoes better! And soft onions should also have a little butter in the pan, and it will be perfect!
How to make Danish burning love?
Here is a brief overview of how to make the best Danish burning love or brændende kærlighed as we call it.

It's all about good ingredients. So we use real potatoes instead of the finished bag of mashed potatoe powder, a piece of real bacon, and not in slices. And otherwise, it is to put lots of love in the work in the kitchen, then the result will also be loveable.

All the ingredients are prepared first. The potatoes are peeled and cut into cubes, the bacon is cut into cubes and the onions are peeled and cut into thin slices. And now it's all about getting it all ready at the same time. You can also make bacon and soft onions in advance so you don't have to stress about that in the kitchen.

The potato chips are cooked until tender. At the same time, make the soft onions and the crispy bacon. When the potatoes are tender, pour off the water and add butter, cream, salt and pepper. Mash it into a smooth mash without touching it too much.

Now it's just to serve on plates, a portion of the good homemade mashed potatoes, portion of soft onions upstairs followed by crispy bacon and maybe a sprinkle of chives. Serve with some pickled beets and then you have a meal worthy of a king.

Find the full recipe further down this page.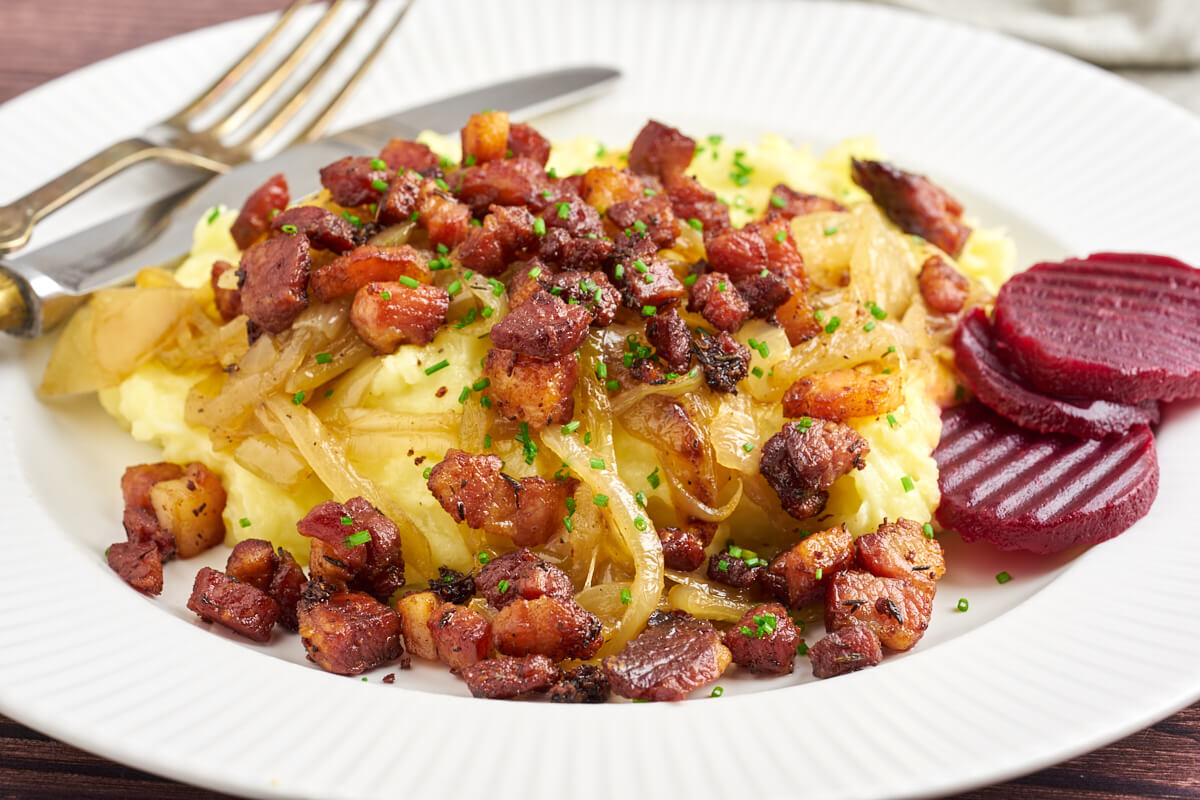 Frequently asked questions
How to store burning love?
You can store mashed potatoes, soft caramelized onions, and bacon in plastic boxes and put them in the fridge. Here it can stay for 3 days.
Can mashed potatoes be frozen?
Yes, you can freeze the mashed potatoes, but the consistency can change a bit after defrosting.
Can I make the dish with anything else than mashed potatoes?
Yes. You can make the mash of any vegetables you like. It is also great with celeriac, carrots or sweet potatoes.
Other danish recipes you might like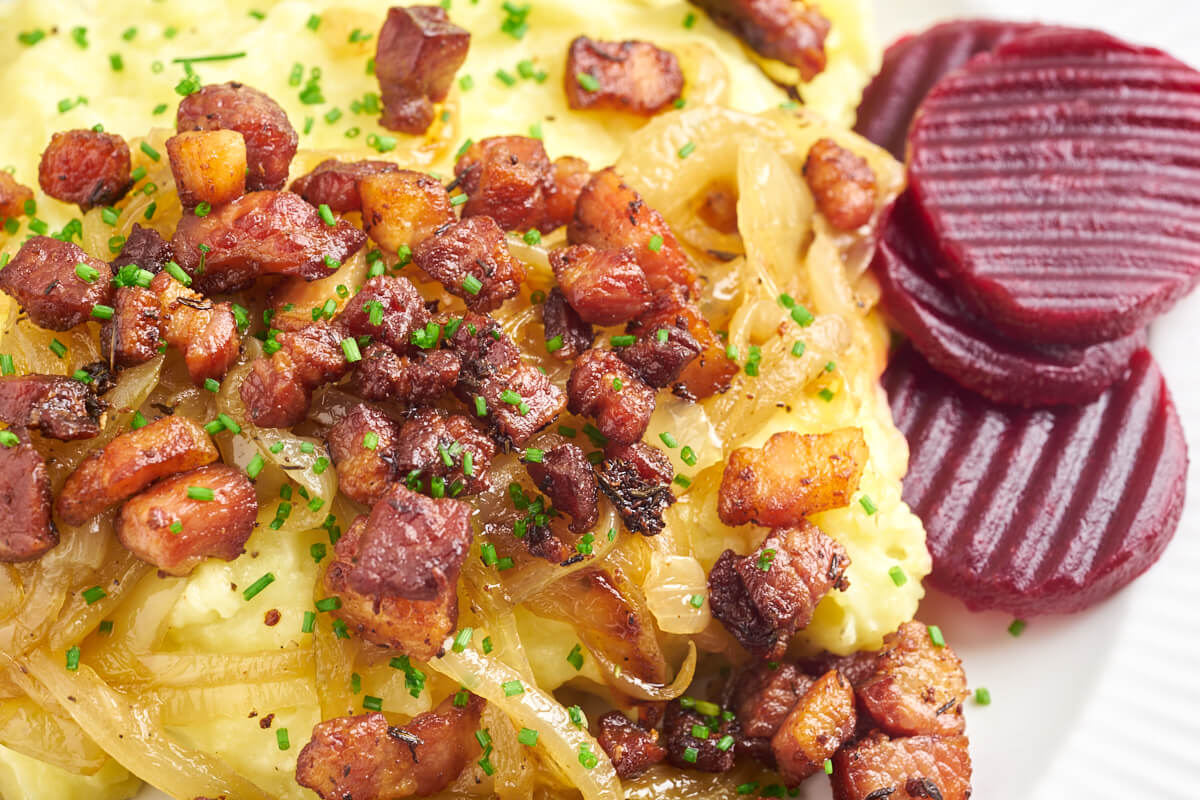 Tips and tricks for burning love
Try mixing the potatoes with other root vegetables. It tastes good with, for example, celeriac, Jerusalem artichokes, or parsnips.
Use good quality bacon. There are so few ingredients, so feel free to choose the extra good ones.
Make soft onions and bacon well in advance, then just concentrate on the mashed potatoes.
Serving suggestions
Serve with pickled beets or another acidic side dish.
If you want to serve a little extra, then a piece of toasted danish rugbrød is great.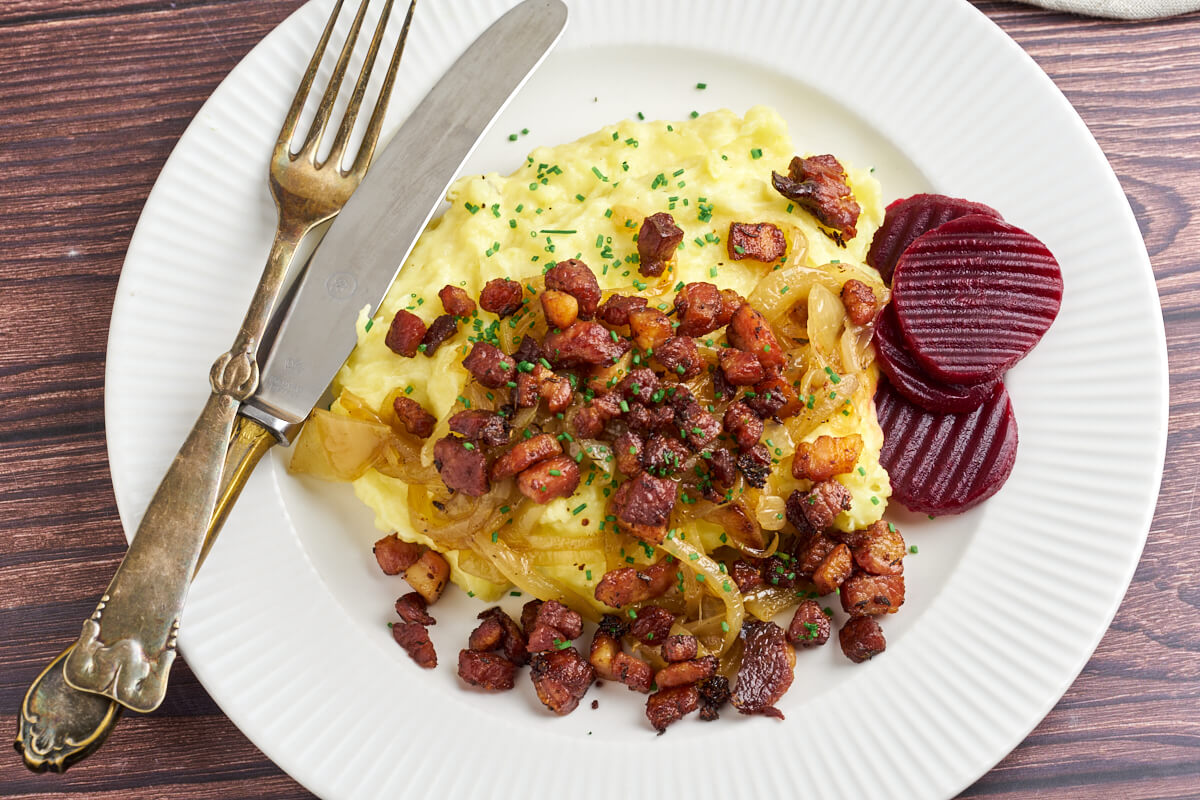 Recipe for mashed potatoes with soft oinions and bacon
Here you will find our way to make the best Danish burning love. Delicious and homemade airy mashed potatoes, with the best soft caramelized onions and crispy bacon.

It's really Danish comfort food for a cold day. Serve it as a delicious lunch dish, or as dinner for the whole family. We hope you enjoy the recipe.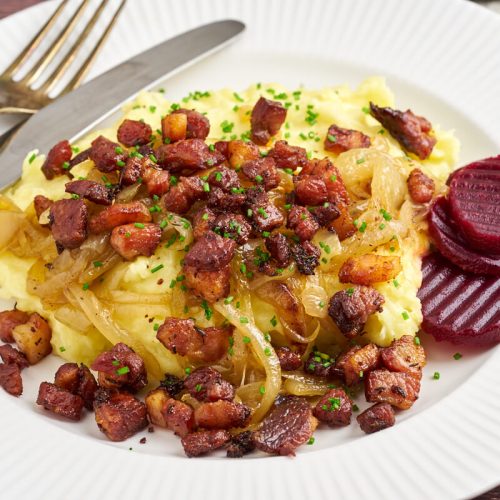 Danish burning love (brændende kærlighed)
Recipe for Danish burning love
Here you get the recipe for the Danish classic dish Burning Love. Despite its simplicity, it tastes absolutely fantastic and is a cheap and easy dish to serve for the family. It is traditional Danish food at its best.
Ingredients  
Mashed potatoes
1.4

kg

potatoes

100

g

butter

1

dl

whipping cream

2

tsp

salt

Pepper
Other things
50

g

butter

1

tsp

olive oil

6

onions

large

2

tbsp

sugar

1

tsp

salt

500

g

bacon

Chives

Pickled beets
Instructions 
The potatoes are peeled and then cut into smaller cubes.

Peel the onions, cut them in half and then into thin slices.

The bacon is cut into cubes and set aside.

In a large saucepan, bring plenty of water to a boil. Put the potato cubes in and cook them for approx. 15 minutes, or until tender. When cooked tender, pour off the water.

While the potatoes are cooking, melt

50

grams of butter in a pan. Add olive oil and add the sliced ​​onions. Then add sugar together with salt and pepper to taste.

Now saute the onions over medium heat while stirring until they collapse and become delicious and caramelized. It takes 15 to 20 minutes depending on how much heat you give them. When the onions are done, set them aside.

– There is sugar in the onions and therefore they burn easily, so remember to stir at regular intervals.

At the same time as the onions are seared on the pan, the bacon pieces are placed on a pan and are now seared over medium heat until they become golden and crispy. When the bacon is done, pour off the fat and set the crispy cubes aside.

When the potatoes are done and the water has been poured off, add

100

grams of butter cut into cubes, as well as whipping cream together with salt and pepper to taste.

Now mash the potato cubes until it is a coarse or fine mash as desired. Stir it together with butter and cream. Do not stir it too much as it will become sticky.

Now serve the plates with a portion of mashed potatoes, soft onions and crispy bacon and a sprinkle of chives on top. Serve with pickled beets.
Nutrition
How do you like the recipe?
Have you tried this recipe? We'd love to hear what you think of it. Leave a comment, add a number of stars to the recipe and share your photo on Instagram with #madformadelskere – We love seeing your dishes ♥️
Note: This recipe is a translation of our danish recipe "Brændende kærlighed" which can be found on our danish food blog.
Also, sign up for our Facebook group where you can show pictures of the delicious food you make! You can find the Facebook group here