Delicious and tasty pasta salad with chicken and bacon. It is good for lunch, for dinner, or as a delicious packed lunch, so pasta salad is always a winner. Serve it as dinner with a delicious pull apart garlic bread and delight the whole family. Read along here and get the recipe for how to make the best chicken pasta salad.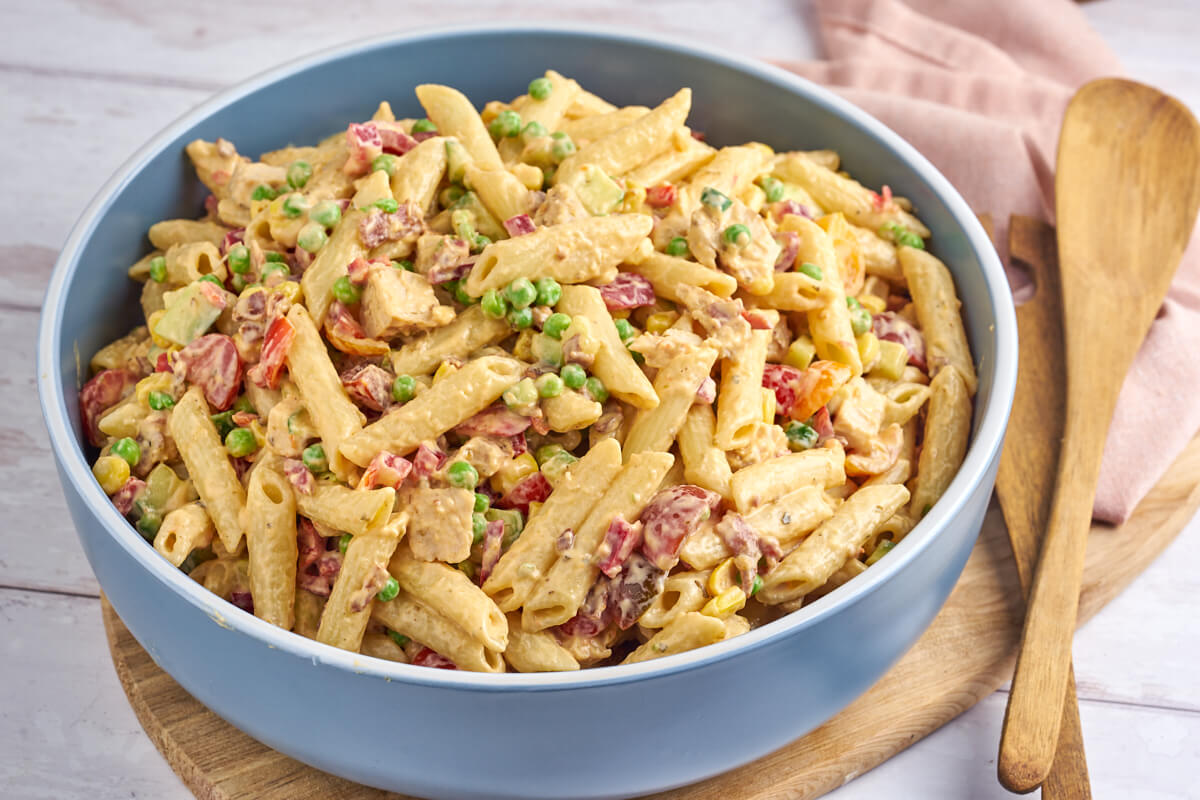 The best pasta salad for lunch
Now we're all really busy, so once in a while it's really nice to have an easy dinner, and here pasta salad is just a sure winner.

The kids love it, and so do I actually. With pasta salad, it's really only your imagination that sets the limits of what you can put into it. Lots of vegetables, meat, and cooked pasta combined in a delicious and flavorful dressing.

We're outdoorsy people and when we're on a trip, easy food is just the thing!

Prepared at home and kept in a cooler bag, or in our case the small fridge in the car, pasta salad is something we all appreciate. It's actually only here in the last few years that I've started to appreciate a good pasta salad. But it is really something! It tastes good and is an excellent accompaniment to many dishes.

When you make it with chicken and bacon like here, it's a whole meal in itself, but you can also easily serve some bread or maybe some vegetables with it.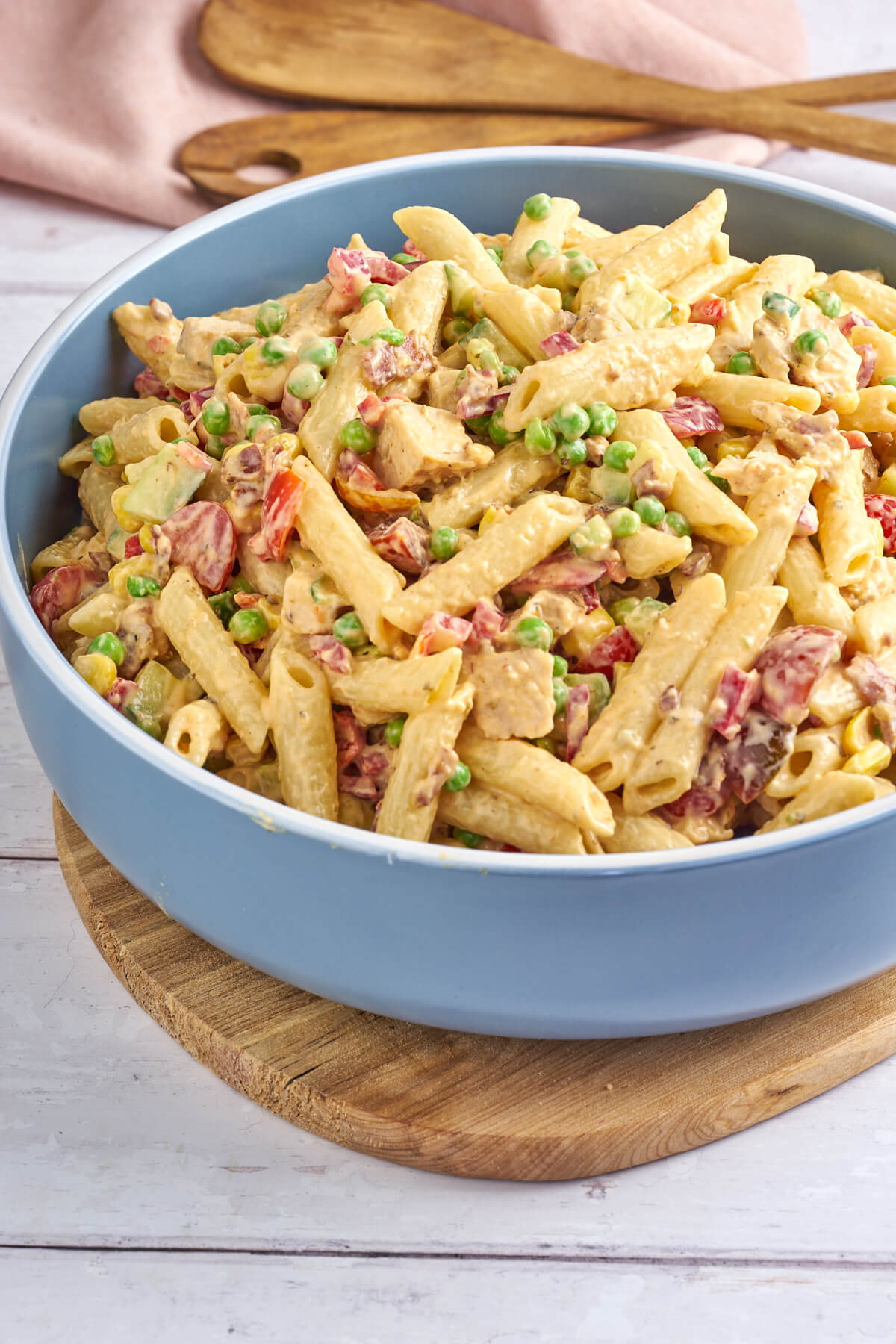 Ingredient notes
Pasta – We often use penne when making pasta salad, but all types of pasta can basically be used. If you are more into other types of pasta, it works just as well.

Chicken – Chicken fillet or breast. It must be cooked when it goes into the pasta salad, so you can use leftover chicken if you have it, otherwise, you can easily fry the chicken on the pan and cool it down before putting it in the pasta salad.

Bacon – Bacon gives good flavor and a delicious crunch to the pasta salad. You can easily use turkey bacon or skip it if you prefer.

Vegetables – You can use the vegetables you like best or those left in the fridge. Here we use bell pepper, red onion, tomato, cucumber, peas, and corn. It is a delicious and child-friendly combination.

Dressing – Dressing for a pasta salad is important! It should be slightly fat and creamy and with a good taste. We use a mixture of sour cream and mayonnaise and then add red pesto. It tastes so good. You can also use green pesto if you like.
How to make pasta salad with chicken and bacon?
It is not that difficult to make a wonderful pasta salad with chicken and bacon. The pasta must be cooked according to the instructions on the package. At the same time, you can prepare the vegetables and the dressing.

The vegetables just need to be cut into smaller pieces, and then they are almost ready. The peas just need to be boiled if you use frozen peas.

The bacon must be cut into cubes and fried until crispy on a pan, and then the dressing must be mixed together and the chicken must be cut out.

When the pasta is prepared and cooled, it can all be mixed together, and then the pasta salad is ready to serve.

Find the full recipe further down this page.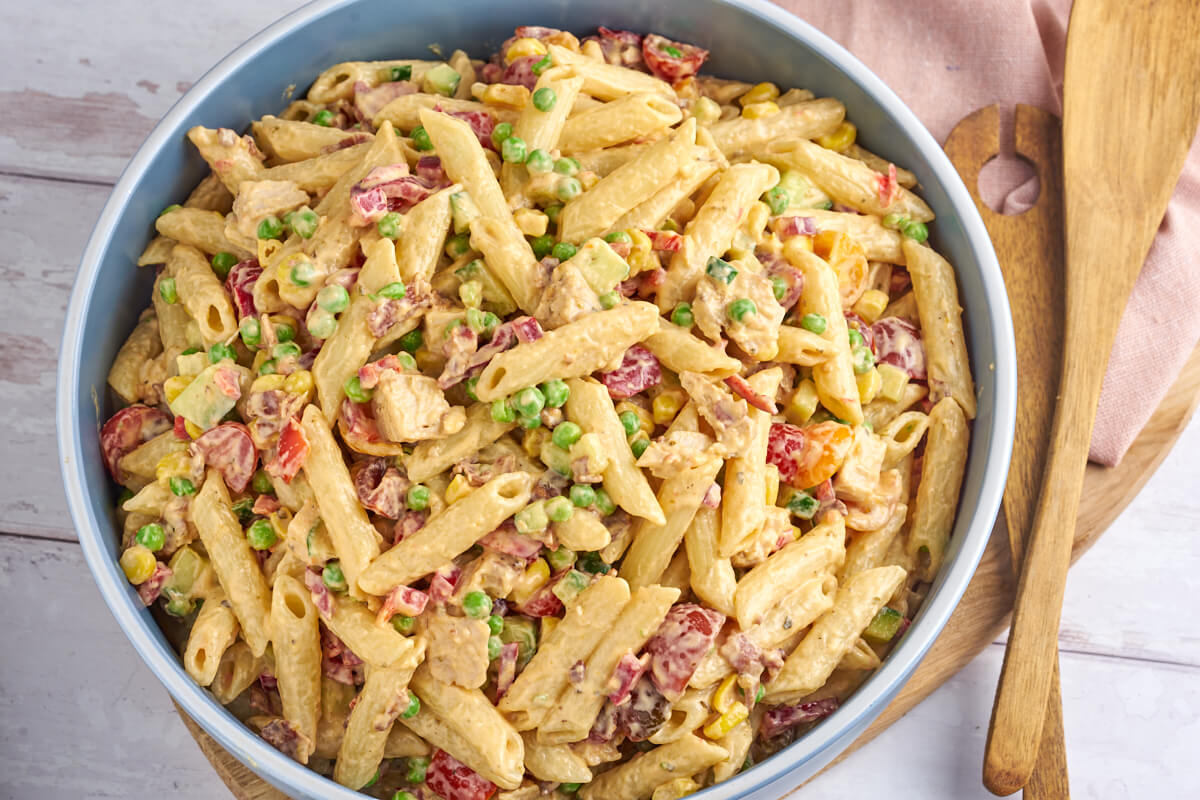 Frequently asked questions
How to store the pasta salad?
The pasta salad must be kept in the fridge when it is finished. We recommend that you store it in a cooler bag if you have to take it on a trip.
Can I use other vegetables?
Yes, you can use exactly the vegetables you like best, or those you have left at the end of the week in the vegetable drawer.
Other easy recipes you might like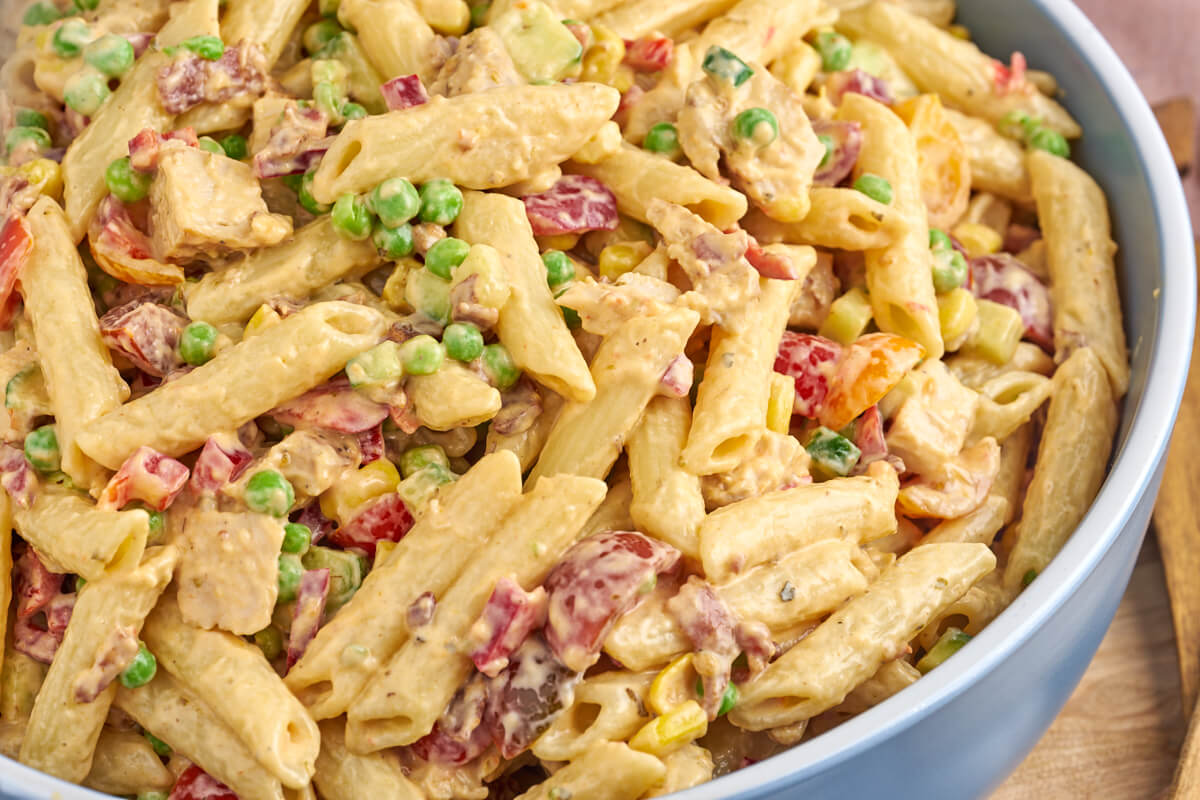 Tips and tricks for pasta salad with chicken and bacon
Make the pasta salad a few hours before serving or the day before. It becomes extra good when it is allowed to rest a little in the fridge.
Use leftover chicken to make this pasta salad.
Use the vegetables you like best or those left at the end of the week to avoid food waste.
Serving suggestions
Serve as an independent meal when you go on an excursion or give it to the kids in the packed lunch.
Take it with you to school or kindergarten parties, it's a sure hit with the kids.
Eat for dinner on a hot summer day in the shade on the terrace.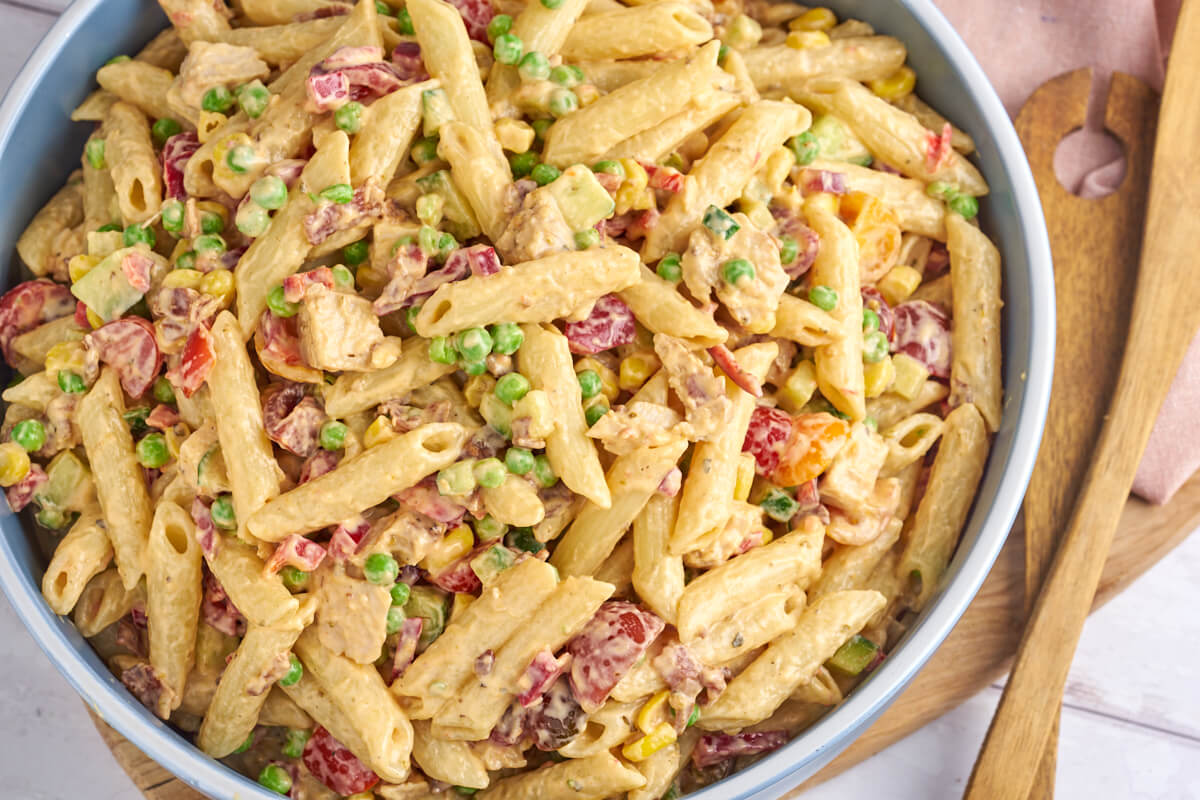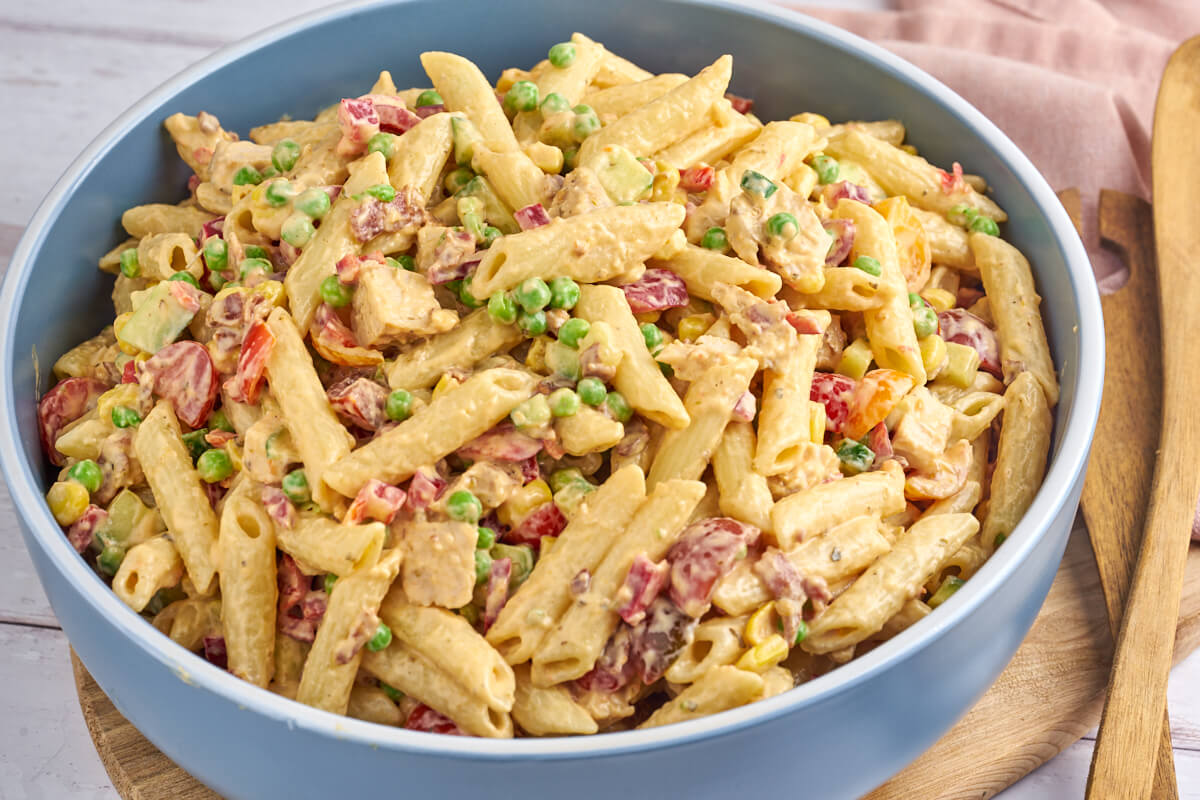 Recipe for easy chicken and bacon pasta salad
Here is our recipe for pasta salad with chicken and bacon. It's an easy and delicious dish that can be eaten for dinner on a hot summer day or used in a packed lunch or picnic basket.

We hope you will want to try the recipe and serve a delicious pasta salad for your family. You can easily switch out and use other vegetables if you like.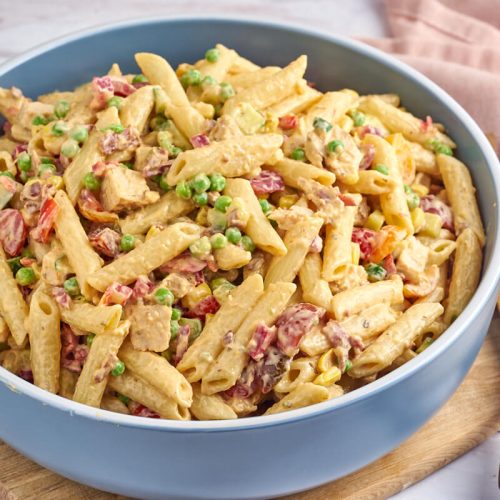 Pasta salad with chicken and bacon
Recipe for pasta salad with chicken and bacon
Easy and delicious lunch or dinner for a hot summer day. We love to bring pasta salad on field trips, and here it is with chicken and a meal in itself. It is also nice to have in the packed lunch, so remember to save the leftovers. You can use other vegetables and choose the ones you like best.
Ingredients  
500

g

penne pasta

450

g

chicken breast

cooked, for example pan fried

200

g

bacon

diced

1

red bell pepper

½

cucumber

½

red onion

200

g

peas

100

g

corn

200

g

tomatoes
Dressing:
1 ½

dl

mayonnaise

1 ½

dl

sour cream

3

tbsp

red pesto

1

tbsp

dried oregano

1

tsp

of salt

Pepper
Instructions 
In a large pot, bring plenty of well-salted water to a boil. Cook the pasta according to the instructions on the bag. When the pasta is ready, pour it into a colander and pour over cold water so that it cools down faster.

– It is important that the pasta is completely cooled before it is mixed with the rest of the ingredients. You can preferably cook it in advance.

In another smaller pot, bring water to the boil, add the frozen peas and give them a quick boil, pour off the water and let them cool down.

While the pasta and peas are cooking, fry the bacon until crispy on a frying pan. Pour off the fat and let the bacon cool.

Mix all the ingredients for the dressing thoroughly in a small bowl and set aside.

Pepper, tomatoes, cucumber and red onion are cut into small cubes and placed in a large bowl.

Cut the cooked chicken breast into suitable bite-size pieces and add to the bowl.

Then put the cooled bacon in the bowl together with the corn and peas.

Finally, pour the cooled pasta penne into the bowl together with the dressing and turn it around thoroughly. Serve the pasta salad immediately or put it in the fridge for later.
Nutrition
How do you like the recipe?
Have you tried this recipe? We'd love to hear what you think of it. Leave a comment, add a number of stars to the recipe and share your photo on Instagram with #madformadelskere – We love seeing your dishes ♥️
Also, sign up for our Facebook group where you can show pictures of the delicious food you make! You can find the Facebook group here