Delicious and tender beef in a delicious sauce with onions. Stifado is something close to the perfect dish, which with its characteristic taste of cinnamon and other spices is a stew you simply have to try. If you want the best recipe for Greek beef stifado, read on here.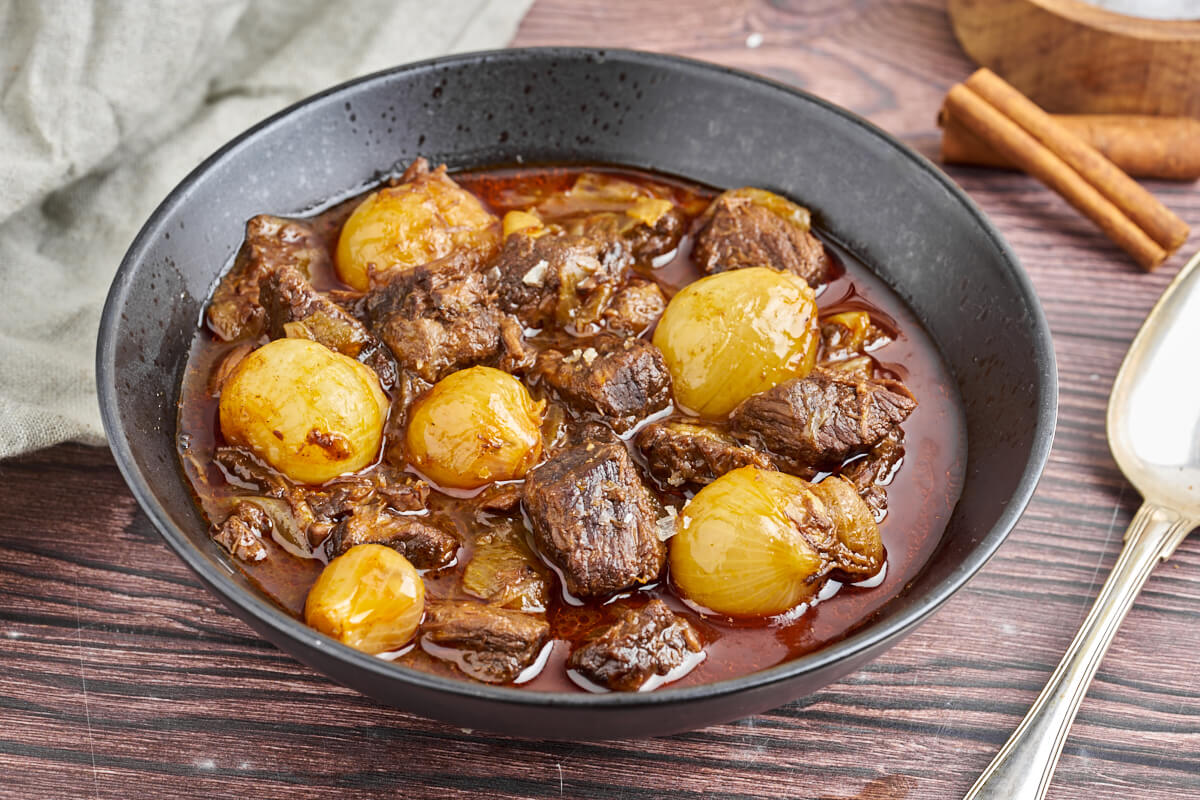 Holyday memories from Cyprus
Stifado brings good holiday memories to me. Many years ago I was in Cyprus with my sister. It was an absolutely fantastic trip that offered both excellent dining experiences and lots of parties.

In the hotel room next to ours lived a married couple, I fell into conversation with the man one day on the balcony and he recommended me to try the dish stifado when going out to eat.

Of course I followed his advice and ordered it the same night, YUM! it simply tasted amazing. I can only recommend you to try this lovely stew spiced with cinnamon and allspice, you are guaranteed not to be disappointed!

Stifado can be cooked with beef or lamb. The meat is braised in red wine, stock and delicious spices and it gives a tasty and warm dish.

We eat stifado with a good piece of bread, we use it to dip in the wonderful sauce, this is how we like to eat the dish best. It has so much taste and power that you do not need other accessories.

If you want to serve a little side dish, you can, for example, make a green salad or serve rice or potatoes with it.

Stews like this, are especially good for the cold months. We love to cook this kind of food, which can stand all day on the stove in the fall and winter. It always gives a great result, and you build up a nice hunger from smelling the dish all afternoon.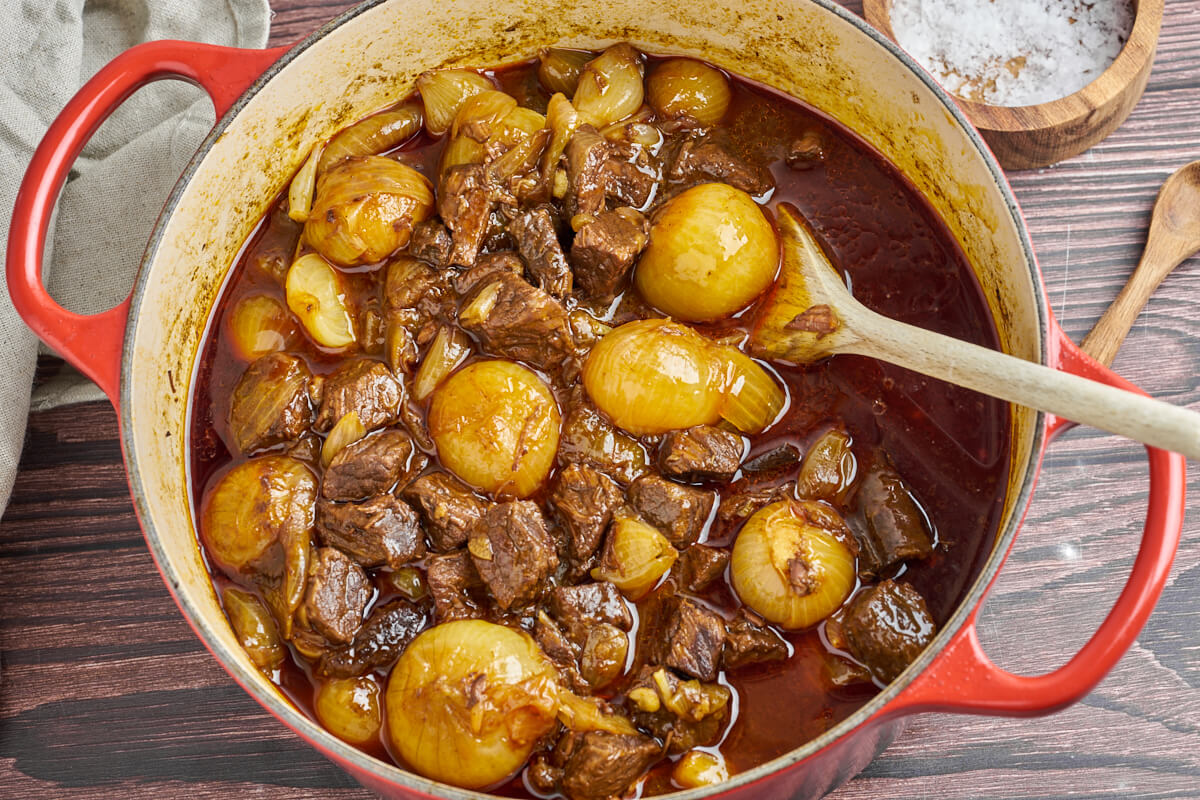 Ingredient notes
Onions – I usually use shallots. But you can also use pearl onions or ordinary yellow onions. Many of them boil out a bit, and become a part of the amazingly delicious sauce.

Beef – You can also make stifado with lamb or pork. I prefer it with beef though. Use medium-cut beef, it does not matter that there is a bit of fat marbling in the meat, it helps to give flavor to the dish.

Cinnamon – Yep! You need whole cinnamon sticks, and when the smell spreads in the house, it becomes difficult to wait until the food is ready. As many people mistakenly believe, it will not taste like Christmas at all. On the other hand, it has a delicious aromatic taste that is guaranteed to excite most people.

Red wine – Go for a good strong red wine, as it is the one ingredient that forms the basis of the sauce. Here you have to spend a little and buy a good one.
How to make greek beef stifado?
Here is a brief overview of the procedure for how to make the best greek beef stifado.

In a large pot, brown the onions well, take them up and set aside. In the same oil, brown the meat over high heat. When the meat is browned, add the other ingredients and the dish now has to simmer under the lid.

When it has simmered, add the onions and the dish should simmer again until the onions have cooked out a bit. Season the dish with salt and pepper before placing it on the table, where it is served with good bread, salad, rice or potatoes.

Find the full recipe further down this page.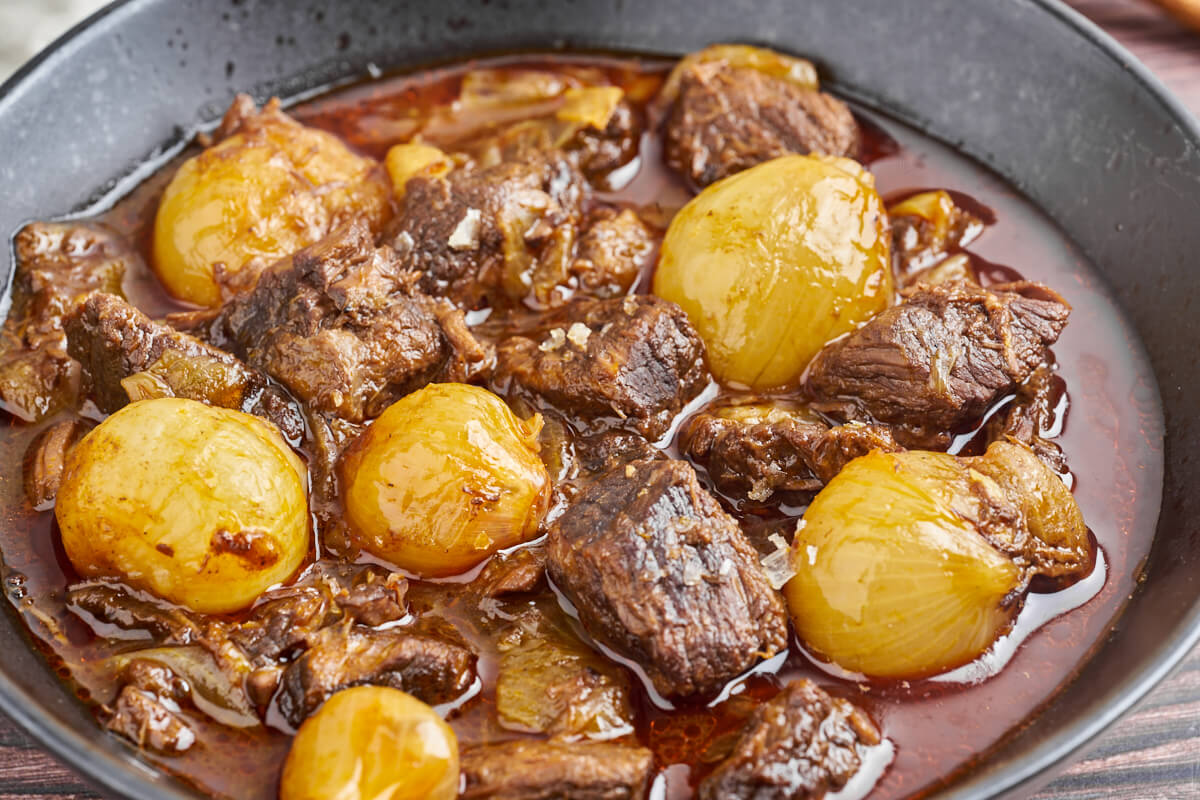 Frequently asked questions
Can beef stifado be frozen?
Yes! You can easily make the dish in advance. Make a large portion and freeze it in smaller portions, so there is always easy dinner for a day where you do not want to cook.
Can I use anything else than beef for stifado?
Yes, you can also use pieces of pork or lamb. It can also be made with chicken if you like.
What do I serve with beef stifado?
We eat it with good bread. It is good for soaking up the sauce. You can serve rice, salad or potatoes if you like, but we do not think it is necessary.
What equipment will I need for this recipe?
You do not need any special equipment to make this dish other than a good thick-bottomed pot. If you have a pressure cooker, you can shorten the cooking time and get a really good result. We also occasionally make this dish in our pressure cooker as it goes fast and the meat becomes super tender.
Can I make stifado in a slow cooker?
Yes, you can. Cook the dish until the meat is completely tender. It takes about 6-8 hours on the low heat setting.
Other dinner recipes you might like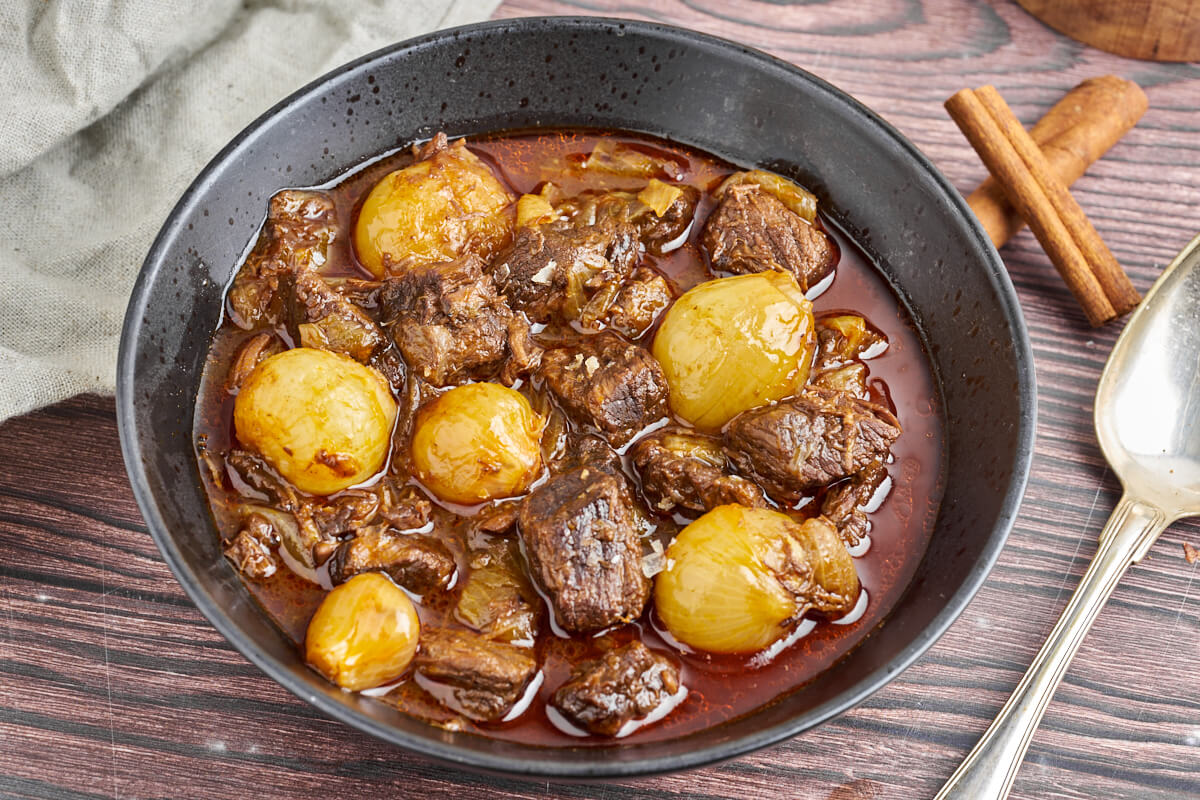 Tips and tricks for Greek beef stifado
Try making stifado with lamb or pork, it is also super delicious.
It is a stew that can stand and cook for some time. The longer the better almost.
Make the dish the day before, it only gets better from standing in the fridge until the next day.
Serving suggestions
Serve with bread or a good baguette.
Serve with potatoes or rice if you want a little more starch.
Make a green salad or a Greek salad if you want a little more vegetables.
Try serving the dish with authentic Greek pita bread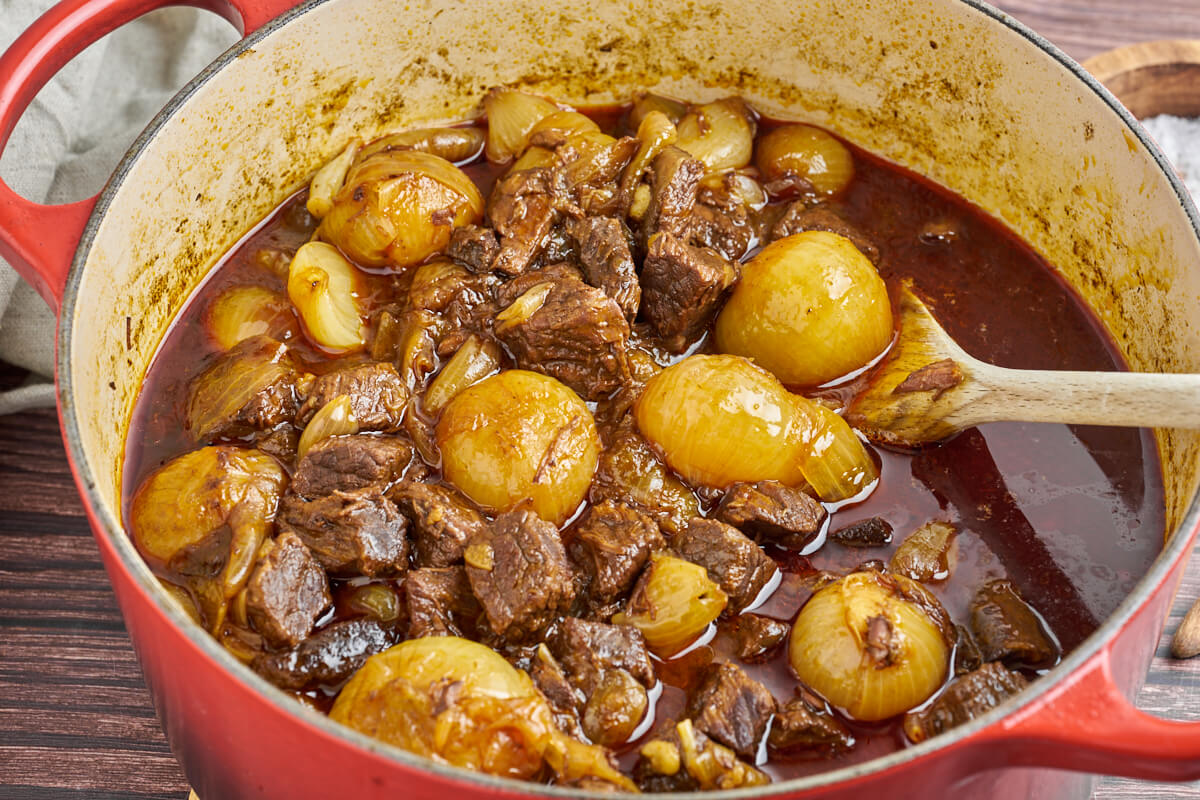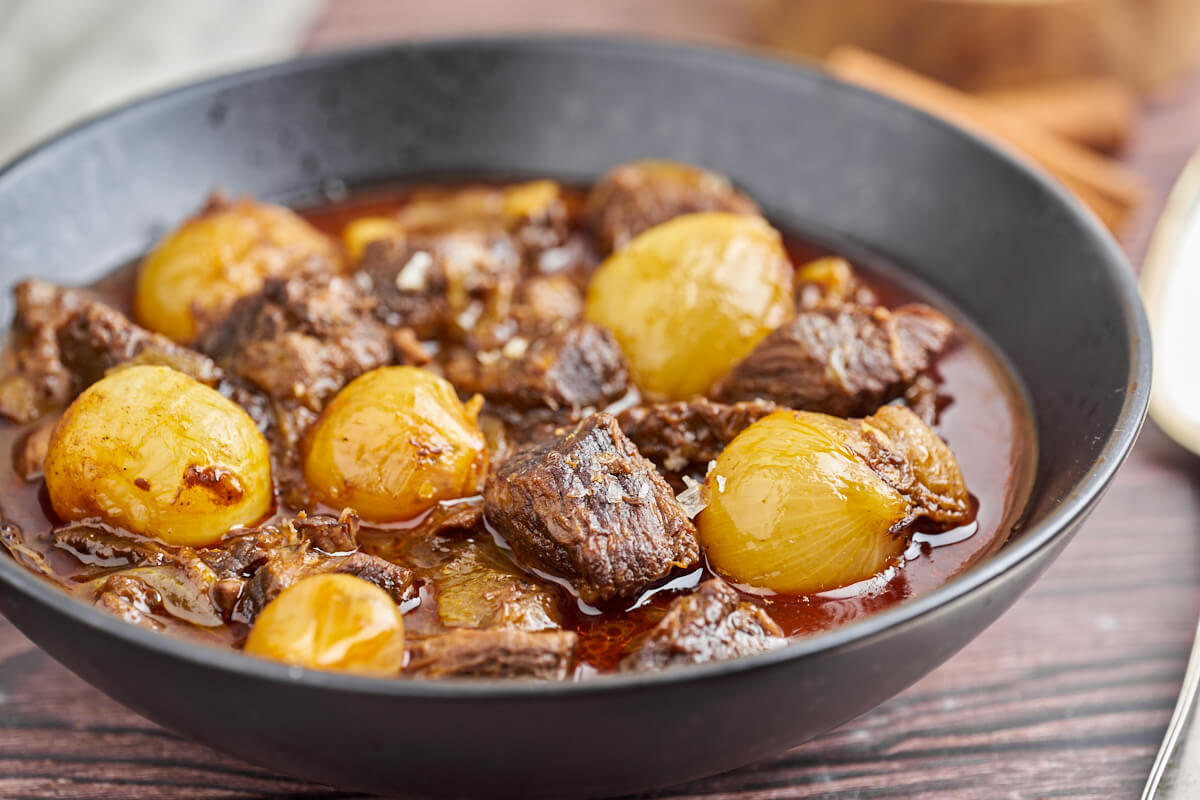 Recipe for Greek stifado with beef
Here comes our recipe for Greek stifado with beef. It simply tastes great, and even though there are relatively few ingredients, they gives a great taste in the end.

Try to make it the next time you need a delicious stew for dinner. We hope you enjoy the recipe as much as we do.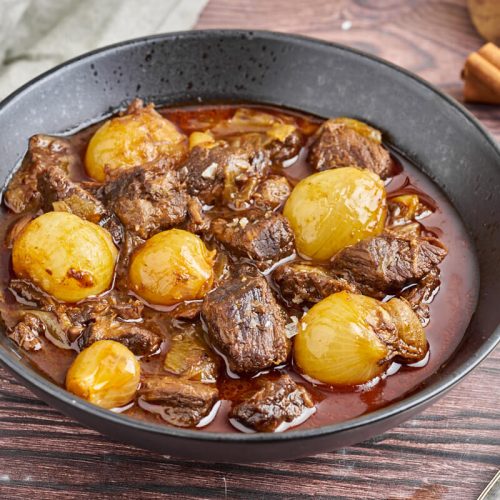 Greek beef stifado
Recipe for Greek beef stifado
The traditional Greek stew is made with beef or lamb. You may know the dish from a holiday in Cyprus or Crete. It also tastes great at home in Denmark or any other place in the world. We make stifado with beef and it just tastes great, but you can easily use lamb or pork instead.
Ingredients  
0.5

dl

olive oil

1

kg

beef

cut in cubes

500

g

shallots

4

cloves

garlic

chopped

3.5

dl

red wine

2

tbsp

tomato concentrate

1

tbsp

red wine vinegar

1

tbsp

brown sugar

2

sticks

cinnamon

1

pinch

allspice

crushed

3

dl

beef stock

Salt

Pepper
Instructions 
Stifado in a pot
Start by peeling the onions and browning them well in a thick-bottomed pot with olive oil, pick them up and set them aside.

Brown the meat over high heat in the excess oil, it can advantageously be done a few times to avoid that too much meat juice is extracted.

When all the meat is browned, it is returned to the pot along with red wine, tomato concentrate, red wine vinegar, brown sugar, cinnamon, allspice, garlic and beef stock.

Now the lid must be put on and the heat must be lowered. The dish should simmer over low heat for approx. 40 min. If it reduces too much in, add more stock or water.

While the dish is simmering, cut a slice in the side of the onions, then they are cooked a little faster. After approx. 40 min., put the onions in the pot, now it all has to simmer for another hour. It is important that the onions are cooked well as they form part of the sauce. Stir in the pot occasionally, adding more liquid if necessary. Season with salt and pepper.

When the onions are cooked well and the meat is tender, the dish is ready to be served.
Stifado in a pressure cooker
Start by peeling the shallots and browning them well in olive oil. When the onions have acquired a nice golden color, they are picked up and set aside.

Then brown the meat in the excess oil from the onions. Do this a few times so that the meat does not boil instead of fry.

When all the meat is well browned, it all goes into the pressure cooker.

Then add red wine, stock, red wine vinegar, brown sugar, salt, pepper, allspice, cinnamon, garlic, tomato concentrate and the browned onions. Put the lid on and now cook the dish under pressure for 35 – 40 min.

When the time has passed, remove the pressure from the pan until the lid can be removed, season the dish with additional salt and pepper and serve.
Nutrition
How do you like the recipe?
Have you tried this recipe? We'd love to hear what you think of it. Leave a comment, add a number of stars to the recipe and share your photo on Instagram with #madformadelskere – We love seeing your dishes ♥️
Also, sign up for our Facebook group where you can show pictures of the delicious food you make! You can find the Facebook group here