Danish breaded pork patties are called krebinetter or karbonader in Denmark. Krebinetter with stewed peas and carrots is just delicious! It is one of our favorite dishes. Read along here and get our recipe for the traditional Danish dish.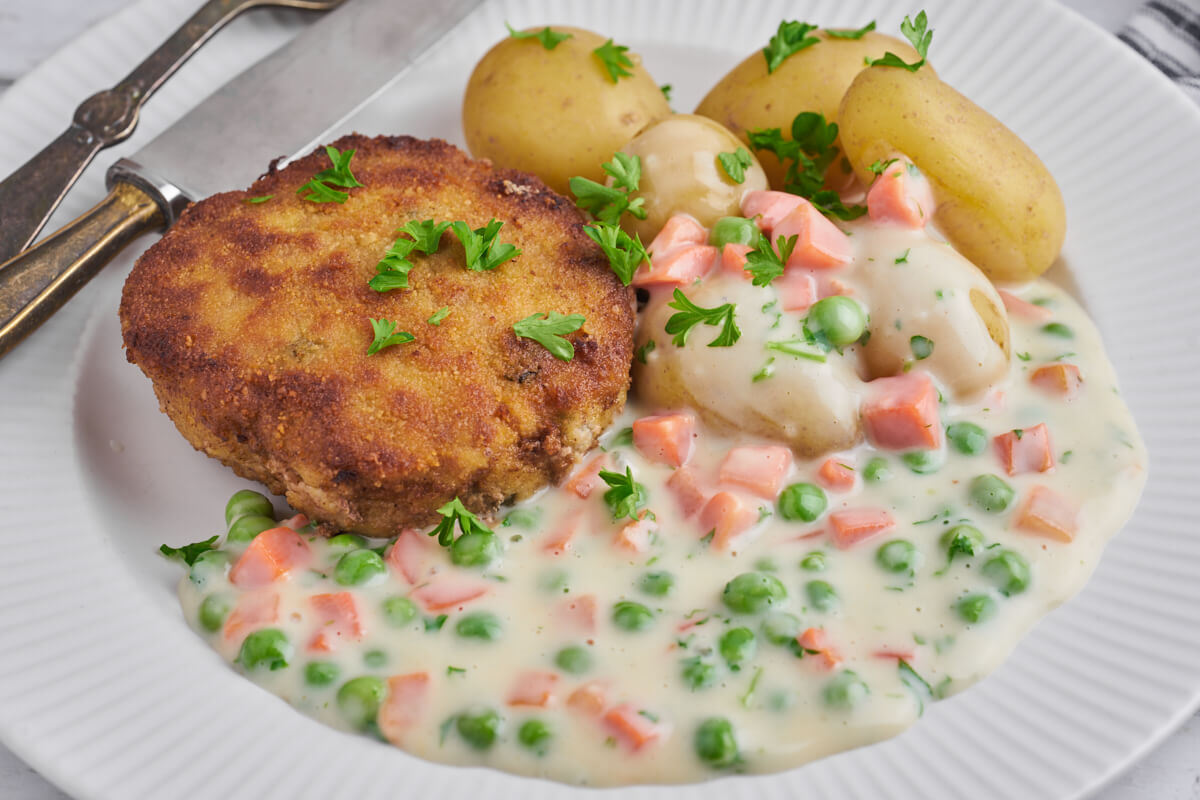 Krebinetter or karbonader
It is time for Danish breaded pork patties or krebinetter as we call them. Danish breaded pork patties with stewed peas and carrots in the classic Danish way. It is a dish we repeatedly return to at home, it tastes so good.

Krebinetter is a dish we get quite often at home. Because the whole family just loves it. The kids have also become quite happy with it over time, and they just love the stewed vegetables when we get it.

Yes, we others do too, which is why we always make a large portion.

We call them krebinetter, but there are also many who call them karbonader. Krebinetter or karbonader, dear child have many names, and no matter what you call them, they just taste good.

The classic way to serve Danish breaded pork patties is with stewed peas and carrots and boiled potatoes. This is probably how many people remember the dish from childhood, and it still tastes great.
Ingredient notes
Minced pork – We most often use pork mince, but a mixture of minced veal and pork also works really well for danish breaded pork patties.

Capers – Our secret to the best krebinetter is capers. It is so delicious in the mince and gives a great taste. Even the kids love it, and if you have not tried it, then we recommend that you give it a try.

Bread crumbs – We bread our krebinetter in bread crumbs so that they get a delicious and crispy surface when they are fried on the pan.

Frozen peas and carrots – It's just super easy to buy a bag of frozen vegetables in the supermarket. You can also use frozen peas and fresh carrots cut in small squares.

Parsley – We add parsley to our stewed vegetables, it gives a good and fresh taste, which goes perfectly with the krebinetter and the slightly fatty sauce.
How to make danish breaded pork patties with vegetable stew?
It is not at all that difficult to make a batch of krebinetter for the family.

The first thing you need to do is mix all the ingredients for the mince together. Then the mince should be shaped into patties and breaded before being fried on the pan until golden, crispy, and well done.

In the meantime, you can make the stewed vegetables. First, the vegetables must be boiled quickly, and then the sauce must be made of butter, flour, and milk. The sauce gets extra taste from a stock cube as well as nutmeg, and then the vegetables just have to be stirred in.

Finally, add the parsley to the sauce, and then it is ready to be served!

Find the full recipe further down this page.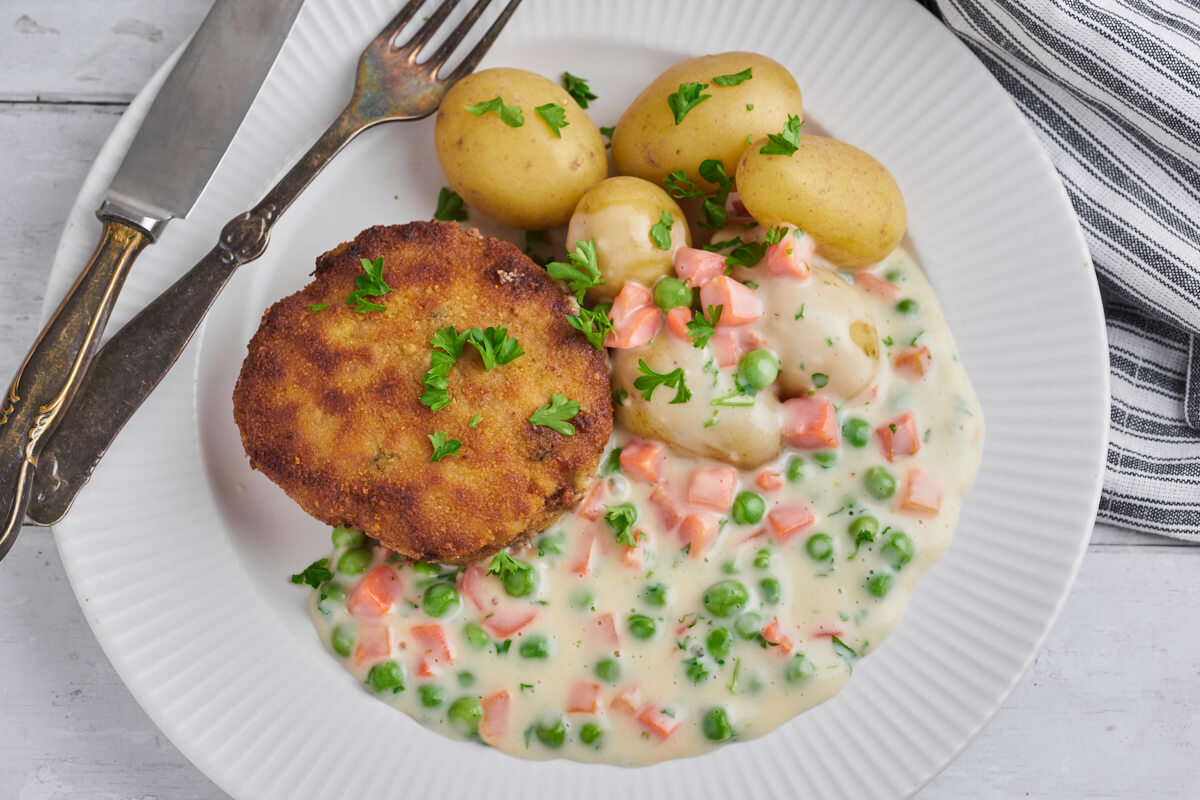 Frequently asked questions
Can danish breaded pork patties be frozen?
Yes, you can easily freeze the remnants of the pork patties if you do not get to eat them all.
Can the stew be frozen?
Yes, you can easily freeze the leftovers if you do not get to eat all of the stew.
Can caper berries be omitted?
Yes, but then you may need to add a little extra salt to the mince. Capers contribute with a good salty taste and a lot of juiciness, so we recommend you put it in the mince.
Other Danish recipes you might like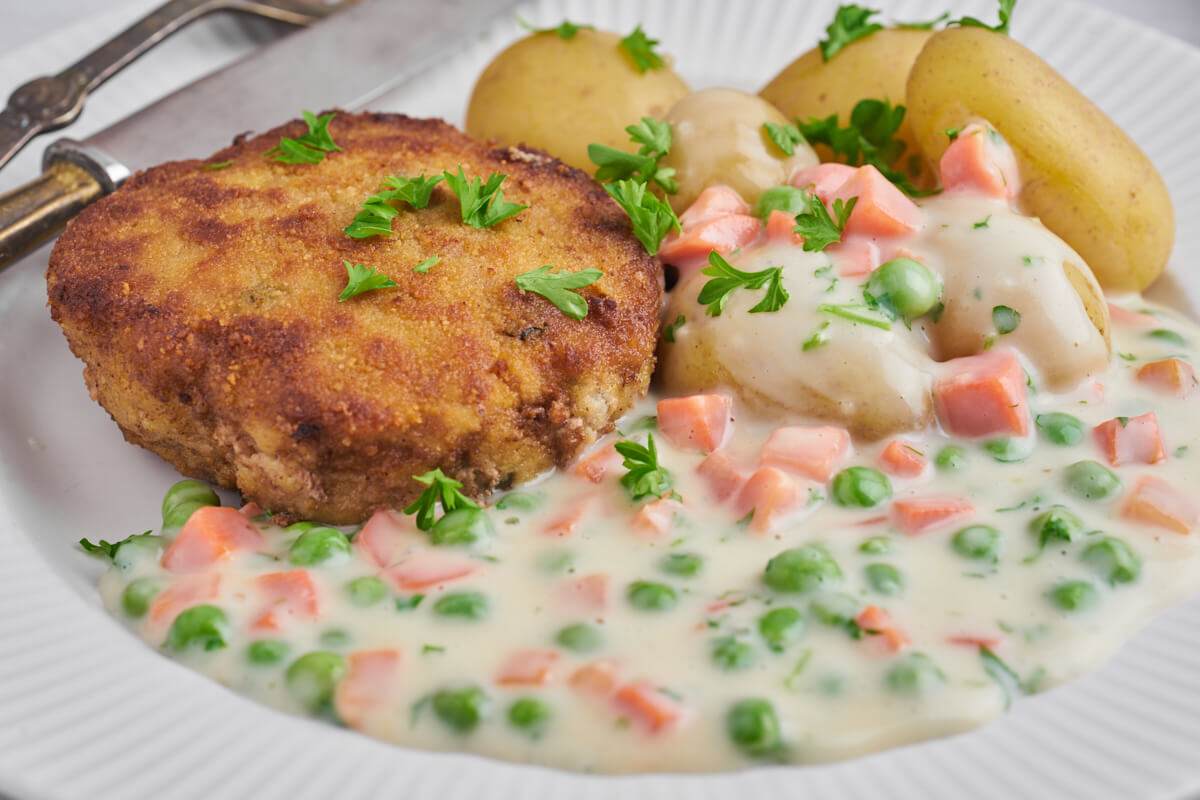 Tips and tricks for Danish breaded pork patties
Add capers to the mince, it gives an absolutely fantastic taste to the krebinetter.
Fry it over medium heat in olive oil so that the breading becomes crispy.
Bread in eggs and bread crumbs gives the crispy surface that we really like.
Remember to taste the dish properly while cooking. It does not taste of much in itself, but capers, lots of fresh parsley and freshly grated nutmeg lift it to new hieghts.
Serving suggestions
We love breaded pork patties with stewed peas and carrots.
You can also make the vegetables in a light version with an oil/vinegar dressing if you are not into a baked sauce.
Serve with boiled potatoes.
Do you love Danish food? Try our recipe for Danish meatballs in curry (boller i karry)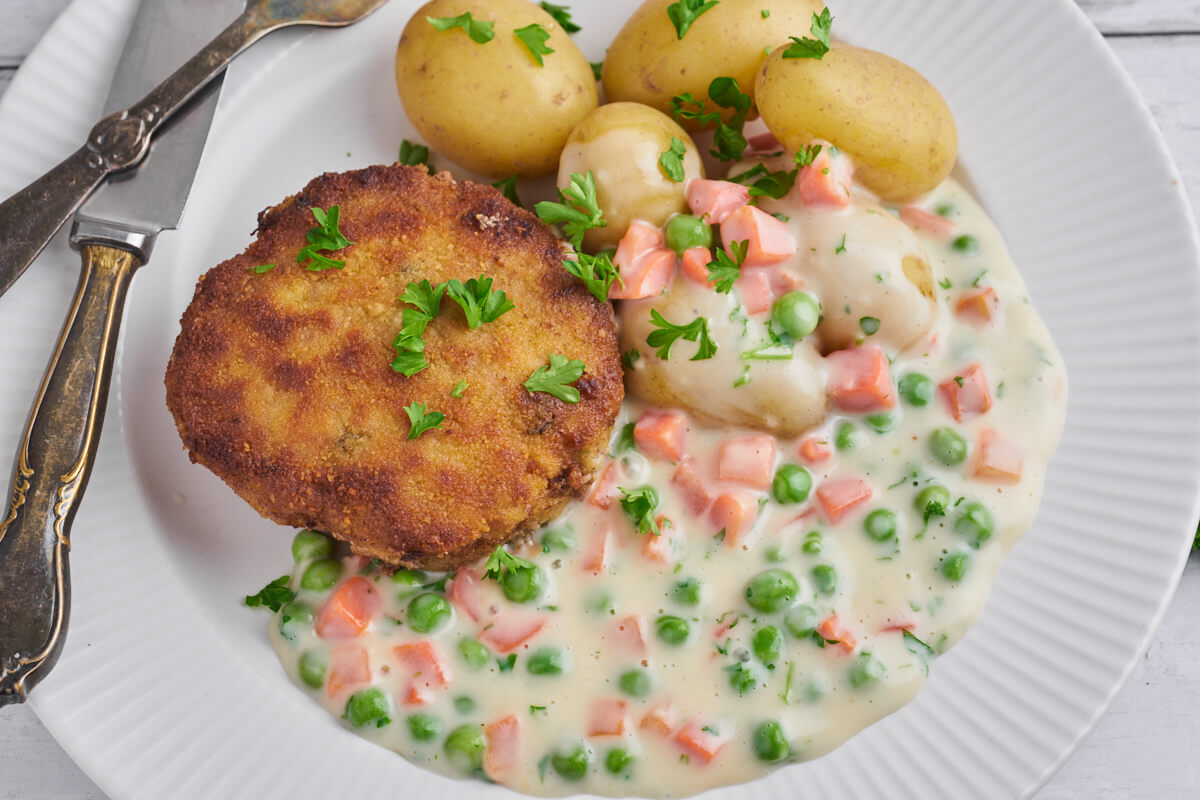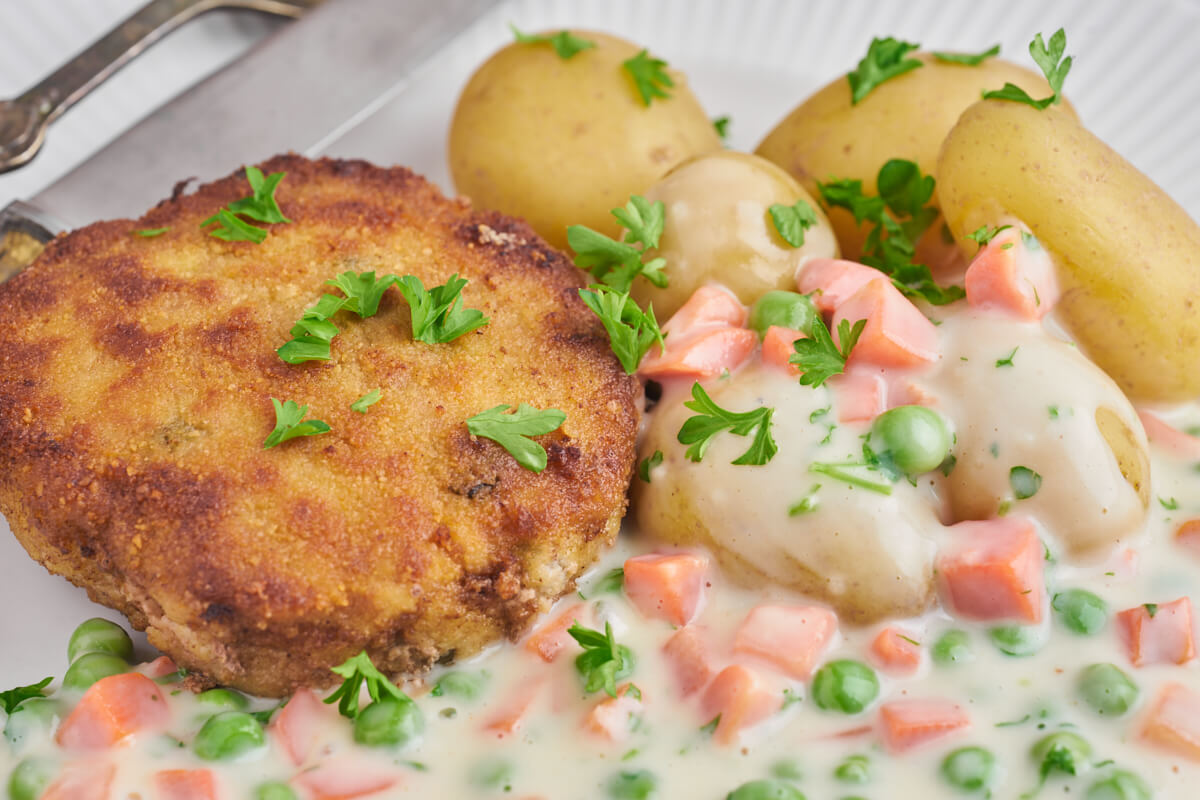 Recipe for Danish krebinetter or karbonader
Here is our recipe for our way of making danish breaded pork patties. We use capers in the mince, as it gives an absolutely fantastic taste to the meat. If you have not tried it then you should definitely give it a try. You will not regret it.
The recipe for stewed peas and carrots is absolutely classic, and it tastes great with vegetables as well as parsley and nutmeg. We like to eat it quite traditionally with boiled potatoes. We hope you enjoy the recipe and want to serve the dish to your family.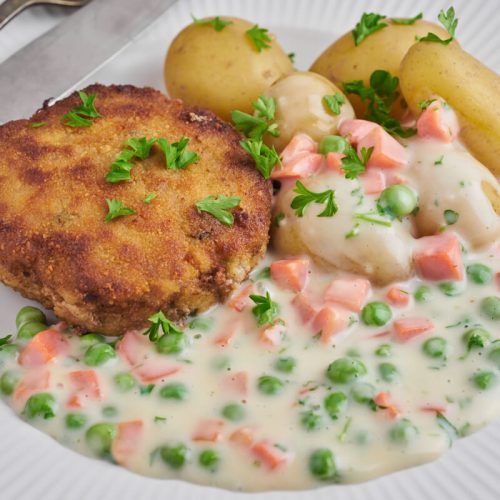 Danish breaded pork patties (krebinetter)
Recipe for Danish breaded pork patties with stewed peas and carrots
The classic Danish dish krebinatter or karbonader as they are also called, with stewed vegetables. We eat it with boiled potatoes. It is a wonderful dish that the whole family loves.
Ingredients  
600

g

minced pork

1

glass

capers

2

eggs

for breading

2

dl

bread crumbs

for breading

Oil

for frying
Stewed peas and carrots
750

g

frozen peas and carrots

50

g

butter

2

tbsp

all purpose flour

with top

2

dl

milk

Water

1

pork stock cube

1

dl

parsley

finely chopped

¼

tsp

nutmeg

finely grated
Instructions 
Find a large bowl and add the mince and capers and the liquid from the glass. Mix the mince thoroughly and form 4 patties. Find a frying pan and heat up the olive oil. Now the patties should be breaded. First, they are turned into beaten eggs and then into bread crumbs. Then they should go on the hot frying pan and fry at medium heat approx. 10-15 min. on both sides.

While the breaded patties are frying in the pan, you can make the sauce. When you turn over the patties, the peas and carrots goes in a pot of boiling water, and get a short boil so they still have a little bite. Pour off the water and let them drip off.

Melt the butter in a pot over medium heat and add the flour while whisking until it becomes a smooth mixture. Let it cook over low heat for approx. 1 min while whisking.

Gradually add the milk while whisking. Continue adding water to the sauce until it has the desired consistency. Add the stock cubes together with the grated nutmeg and peas and carrots. Let it simmer for approx. 5 min, remember to stir so it does not burn in the bottom. Finish by adding parsley and season with salt and pepper.

Serve the dish with boiled potatoes!
Nutrition
How do you like the recipe?
Have you tried this recipe? We'd love to hear what you think of it. Leave a comment, add a number of stars to the recipe and share your photo on Instagram with #madformadelskere – We love seeing your dishes ♥️
Also, sign up for our Facebook group where you can show pictures of the delicious food you make! You can find the Facebook group here