A classic Danish dish is chicken and asparagus tartlets. Everybody loves tartlets with creamy chicken and asparagus filling. In Denmark, we eat them for Christmas or easter lunch, for dinner, or as a starter when having a nice meal with friends and family. Read along here and get our recipe for the best filling for Danish tartlets.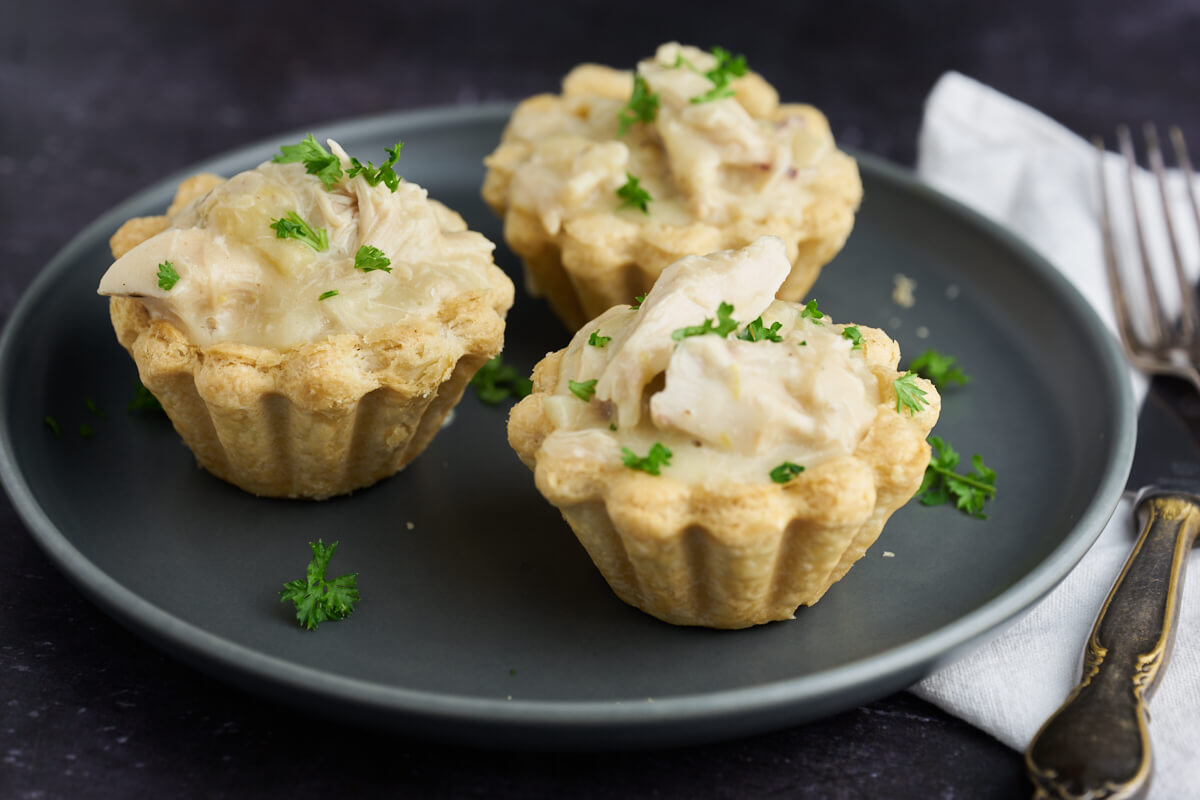 Childhood memories
There is something about chicken and asparagus in tartlets! I remember it vividly from my childhood when my mom made it, we loved it! Now it's me who serves it for my own little family, and fortunately, they love it too.

It's not that often we get it, and it's usually also something I do on the weekends. I usually cook whole chickens, so there will also be a good soup out of it, but you can easily make the "easy version" and boil some chicken breasts and use them. It saves some time and it tastes almost as good.

Tartlets for starters are a classic Danish tradition. Just like a little warm-up for the main course, it's actually not that bad at all. We usually serve them for a Danish Christmas lunch or Easter lunch.

There are some things that you just have to try, and if you ever come to the Danish Island Bornholm, then definitely take a trip to Ekkodalshuset. Here they serve a tartlet with chicken and asparagus that is a little out of the ordinary. 500 grams of homemade chicken and asparagus filling in a giant tartlet, baked at baker Dam in Aakirkeby.

It's an experience and an incredibly tasty one! But remember to book a table well in advance if you are going over there during the summer holidays.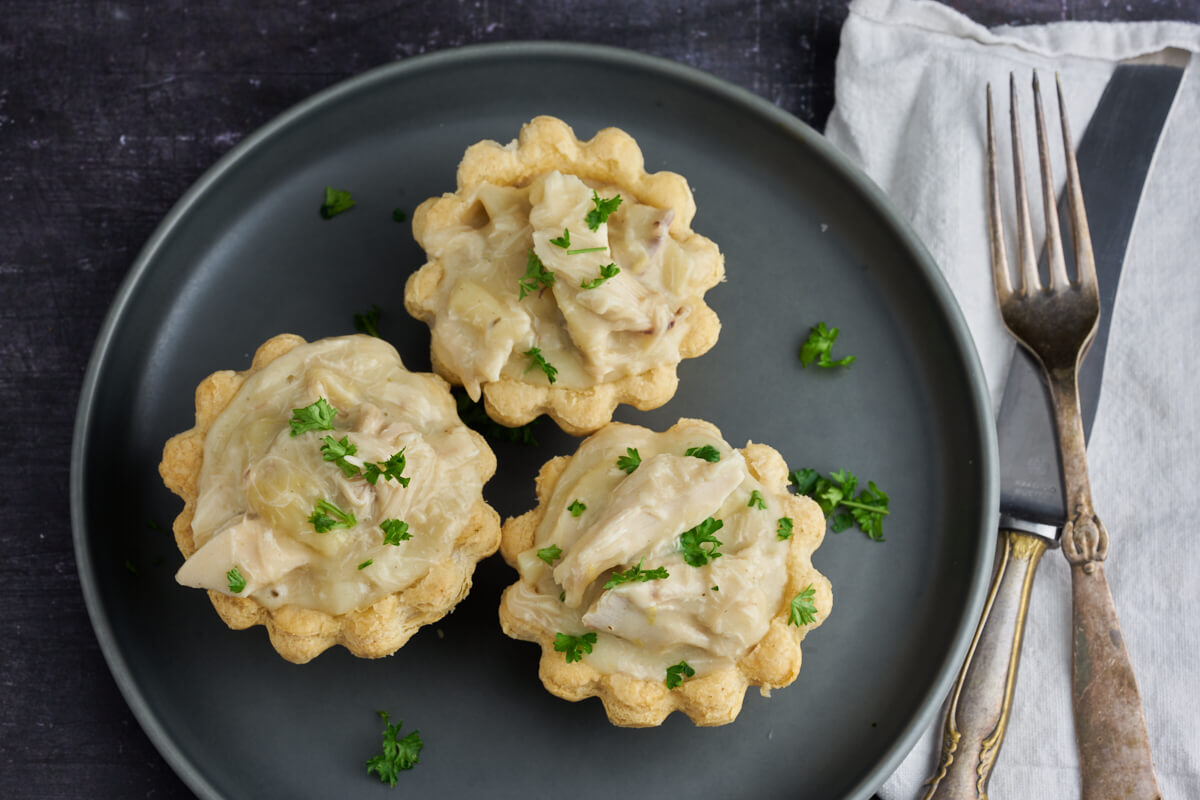 Ingredient notes
Chicken – from boiled chicken, or boiled chicken breast. There is about. 600 g of meat on a whole chicken weighing 1200-1300 g.

Chicken stock – Home-made or made from stock cubes.

Canned white asparagus – Including the liquid from the can.

Tartlets – The crispy Danish tartlets are very common in Denmark. They can be bought in all supermarkets. If living abroad you can be lucky to find them in a Danish bakery or Danish supermarket.
How to make chicken and asparagus in tartlets?
When you make chickens and asparagus tartlets, it is, fortunately, something you can prepare well in advance. I buy the tartlet shells, am simply too lazy to bake them myself! The chicken can advantageously be cooked in advance, so you also save some time there.

For the chicken and asparagus sauce, chicken stock must be used and I must say that homemade is best. But if you do not have the time, then the end result will also be quite good with either a stock cube, or another premade stock.

I assume here in the recipe that you have pre-cooked chicken meat available.

In a thick-bottomed pot, make a roux, consisting of a generous amount of melted butter, in which flour is whisked. Stir for a few minutes before gradually adding chicken stock while whisking.

Then add the liquid from the canned asparagus in the same way as before, followed by milk and cream. Bring the sauce to a boil, add finely grated nutmeg and salt and pepper. Turn down to low heat and add chicken meat and asparagus slices and turn it around in the sauce.

Season with additional salt and pepper if necessary and simmer over low heat until served. Remember to stir at regular intervals so that it does not burn.

Find the full recipe further down this page.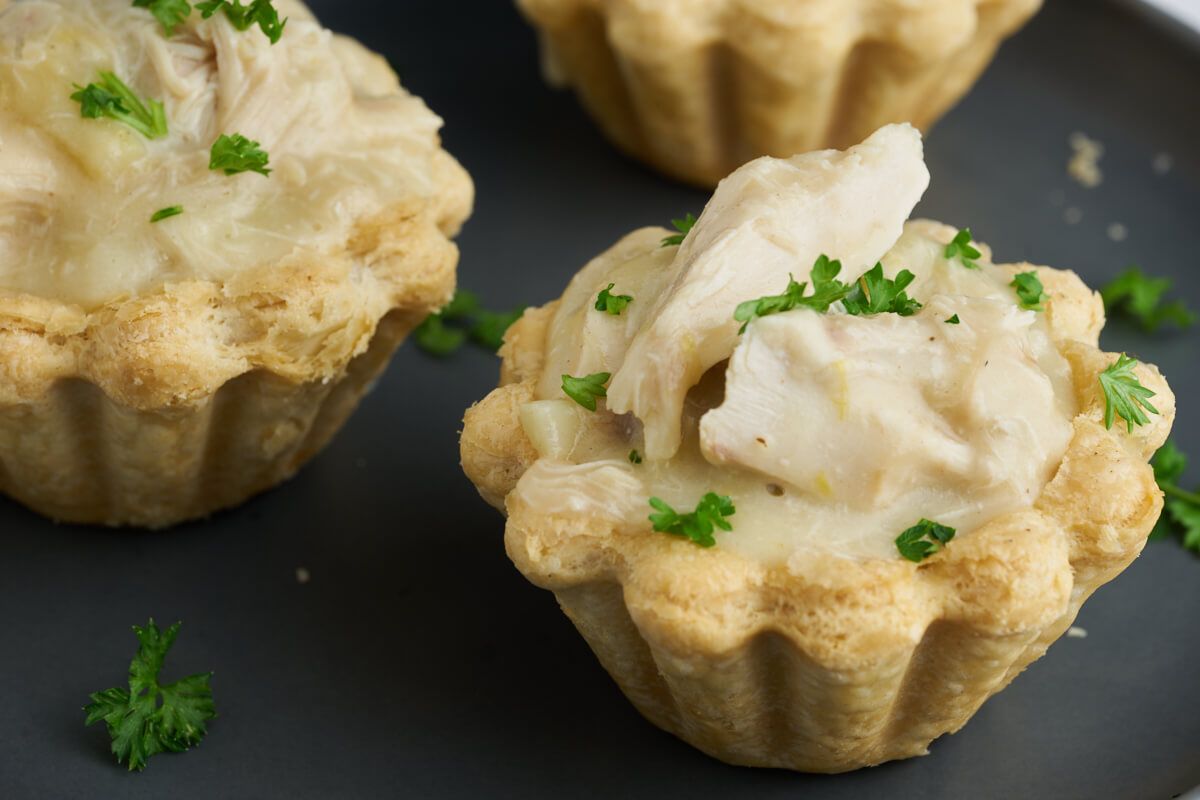 Frequently asked questions
What is the Danish name for this dish?
The Danish name for this dish is "Tarteletter med høns i asparges". It translates directly to Tartlets
chicken in asparagus.
Can I make the sauce ahead?
Yes, you can. Store it in the fridge and heat it up before serving.
Other Danish recipes you might like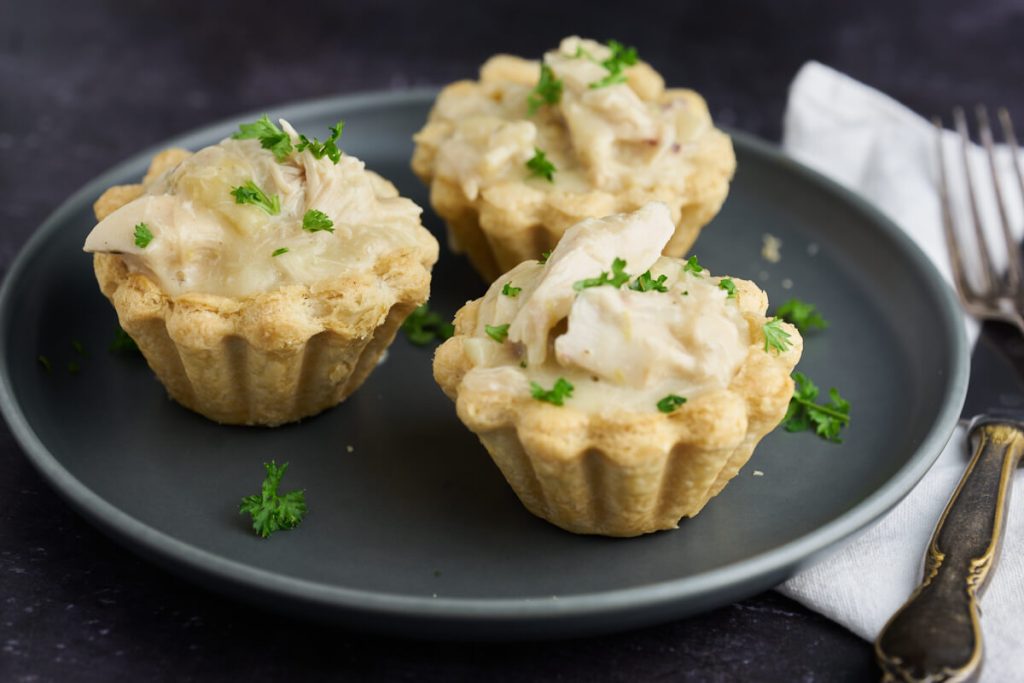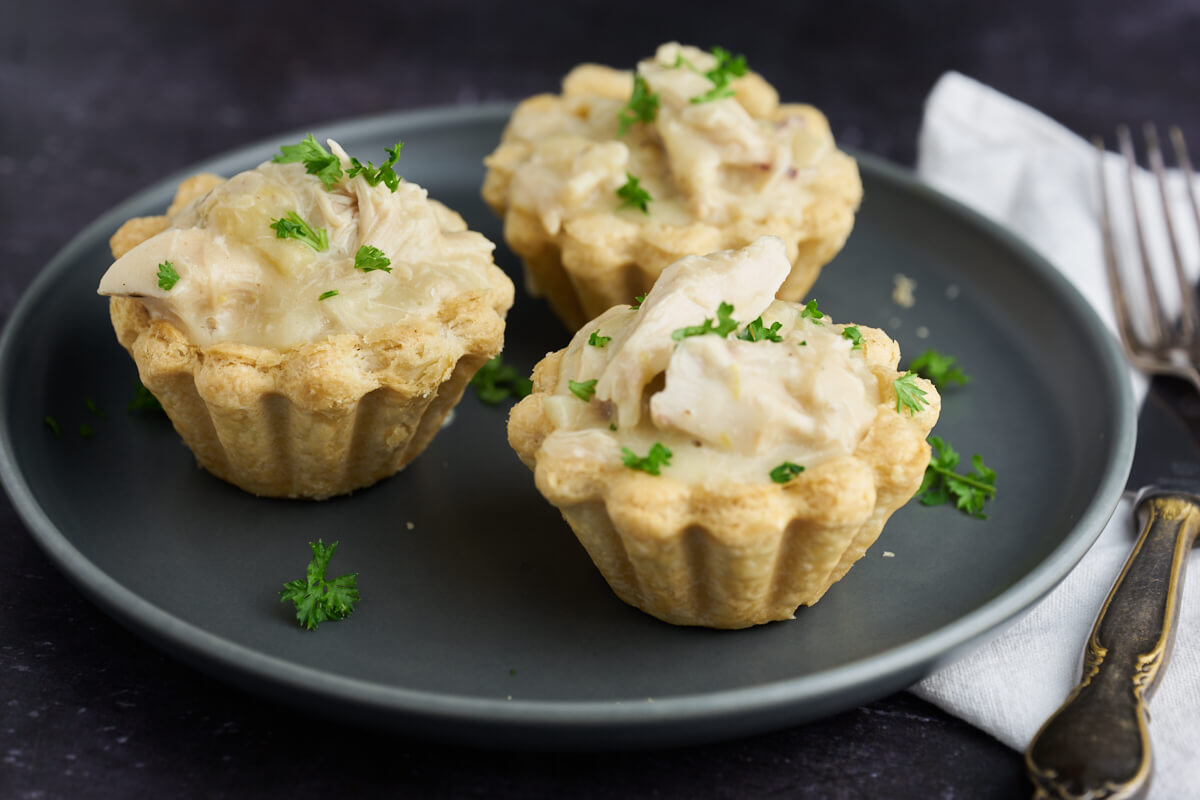 Recipe for Tartlets with chicken and asparagus
Here is our recipe for the best tartlets with chicken in asparagus. You can eat it as a starter, or as a main course. There is plenty of good taste, and chicken and asparagus can easily be made in advance and frozen, so it is ready to take up.

I hope you feel like trying the recipe and serving the Danish traditional dish for your family.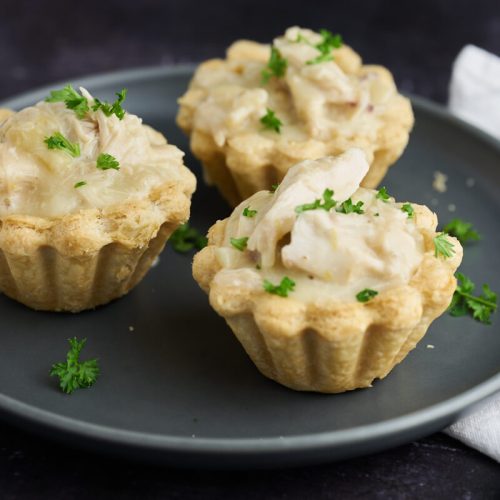 Danish chicken and asparagus tartlets
Recipes for chicken and asparagus tartlets
Tartlets with chicken and asparagus is a classic Danish dish that everybody loves. They are traditionally served for lunch such as Christmas lunch and Easter lunch, or as a starter in a traditional Danish meal.
Ingredients  
700

g

chicken

cooked and diced. From boiled whole chicken, or boiled chicken breast.

70

g

butter

65

g

all-pourpose flour

3

dl

chicken stock

home-cooked or premade.

2

dl

liquid from asparagus slices

1.5

dl

milk

preferably whole milk

1

dl

whipping cream

2

cans

asparagus slices

remember to save the liquid, it must be used in the sauce.

1

tsp

salt

¼

tsp

nutmeg

finely grated

Pepper

to taste
Instructions 
In a large thick-bottomed pot, melt the butter. Once it is melted, add flour, mix it with the butter for a roux. Let it simmer on medium heat for a few minutes while stirring.

Then first add chicken stock gradually while whisking until it becomes a thick sauce. Then add the water from the canned asparagus in the same way. Whisk constantly so that there are no lumps in the sauce.

Now add milk and cream gradually while whisking. Bring the sauce to a boil while stirring to give it a thick consistency. Add salt, grated nutmeg, and pepper to the sauce and taste. Add more salt, pepper or nutmeg if needed.

Add the pre-cooked chicken meat and the asparagus slices to the sauce and stir gently. Let the sauce simmer over low heat until you are ready to serve. Remember to stir at regular intervals. It is a baked sauce and tends to burn in the bottom of the pot.

Serve chicken in asparagus in classic Danish tartlet shells. You should heat the shells in the oven before serving.
Nutrition
How do you like the recipe?
Have you tried this recipe? We'd love to hear what you think of it. Leave a comment, add a number of stars to the recipe and share your photo on Instagram with #madformadelskere – We love seeing your dishes ♥️
Also, sign up for our Facebook group where you can show pictures of the delicious food you make! You can find the Facebook group here