When spring sets in and the rhubarbs shows up in the garden, there is nothing better than a wonderful rhubarb cake. This one is quite simple and classic with pieces of rhubarb. A perfect cake for afternoon coffee or a good dessert. Read along here and get our recipe for the best rhubarb cake.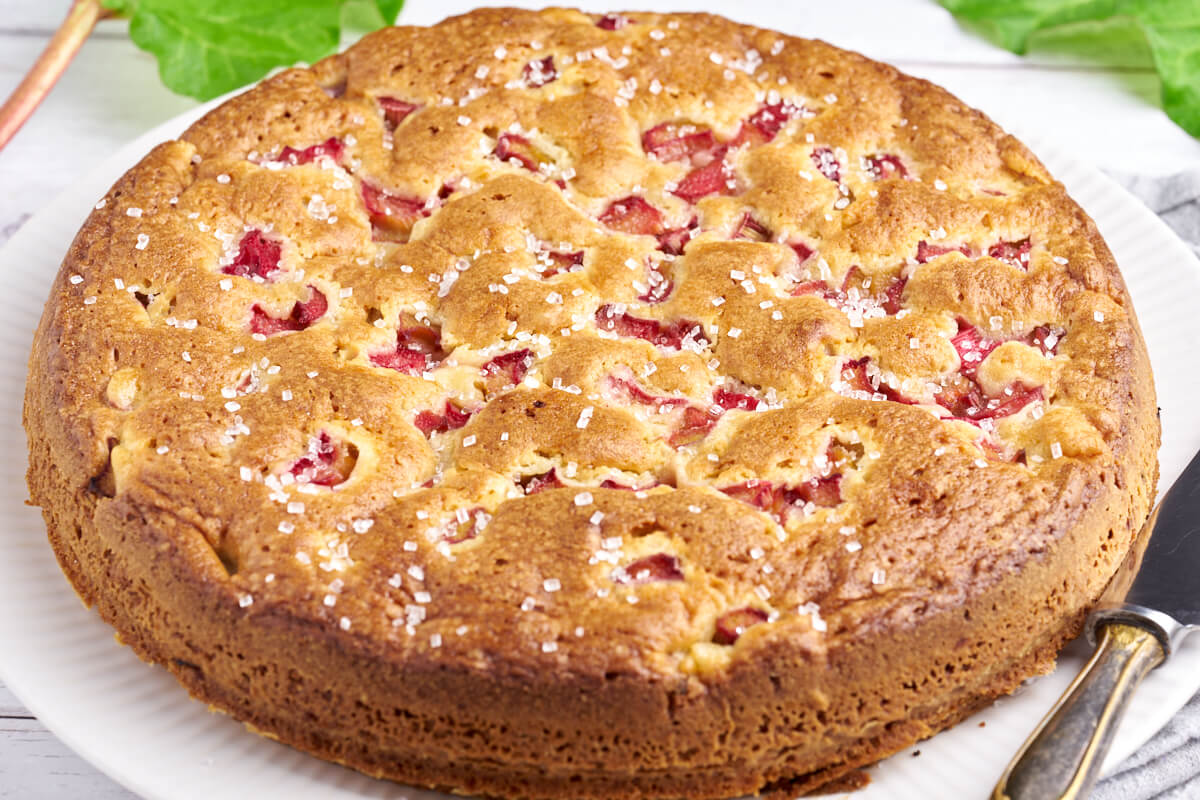 One cake, a thousand opportunities
This rhubarb cake is based on a recipe that we use again and again. It is a basic recipe for cake that we use for everything from blackberries, to apples, pears or pineapples.

The dough gives a perfectly spongy and deliciously moist cake, and it is such a recipe that is just super good to know, because then you can adapt it to the berry or the fruit you want.

Today it is with rhubarb. Pieces of red ripe rhubarb from the garden. Then it will not get much better than that. This is the best rhubarb cake because even though it is simple, it just tastes amazing.

It goes for both a good cup of coffee or as a dessert after a nice meal. It can be eaten as is, or it can be served with a little sour cream, vanilla ice cream or a delicious whipped cream.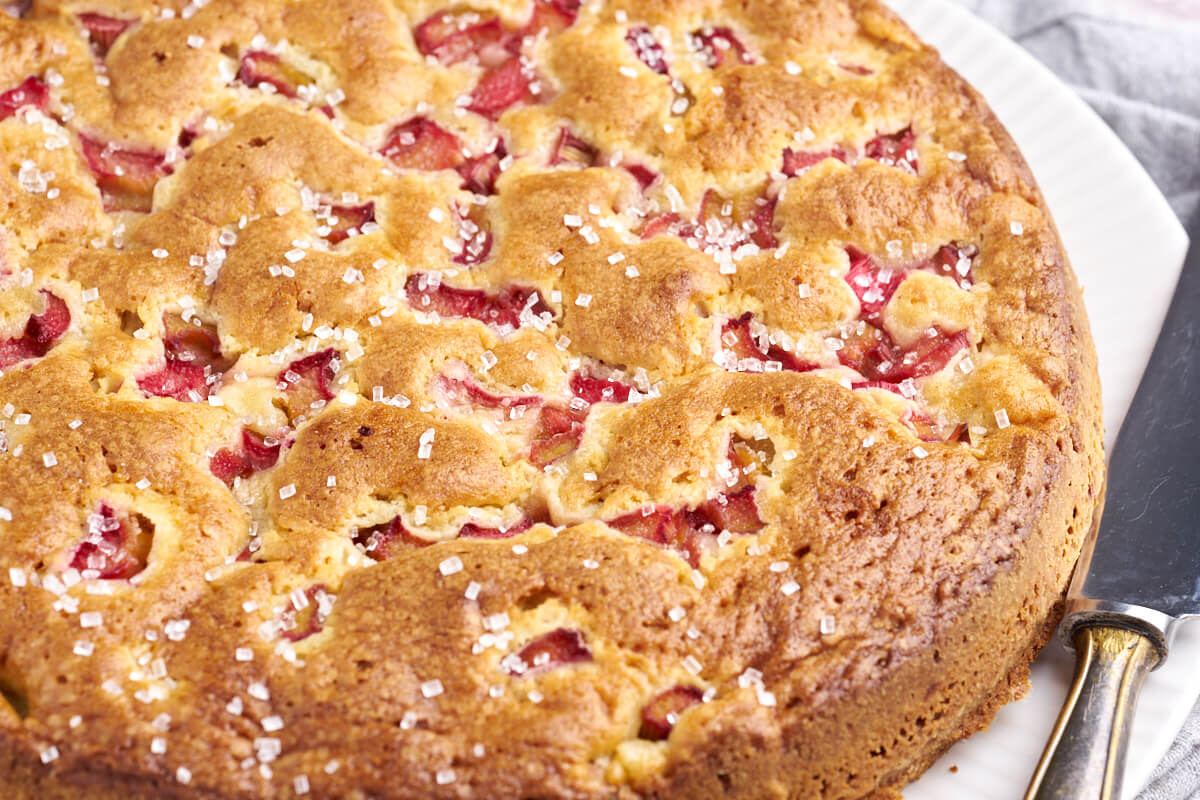 Ingredient notes
Rhubarb – If you have rhubarb in the garden, then it is of course obvious to use them in the cake. If not, you can buy rhubarb in supermarkets. You can also use frozen rhubarb, they just need to thaw and drip off first.

Vanilla – We always use vanilla paste when we bake. It's easy to handle, and works just super well for us. You can easily replace the vanilla paste with seeds from a vanilla bean or equivalent amount of vanilla powder.
How to make rhubarb cake?
This cake is super simple and easy to make. Once you have washed and cut the rhubarb into slices, mix them with a little sugar, and then just let them sit and rest while you continue with the cake batter.

First, eggs and sugar must be whipped together, and then vanilla must be added. Then flour and baking powder must be added, and finally melted butter. In the dough, turn 2/3 of the rhubarb pieces, and the dough goes into a greased springform pan. The last rhubarb is spread out on top of the cake before it is placed in the oven and baked.

Find the full recipe further down this page.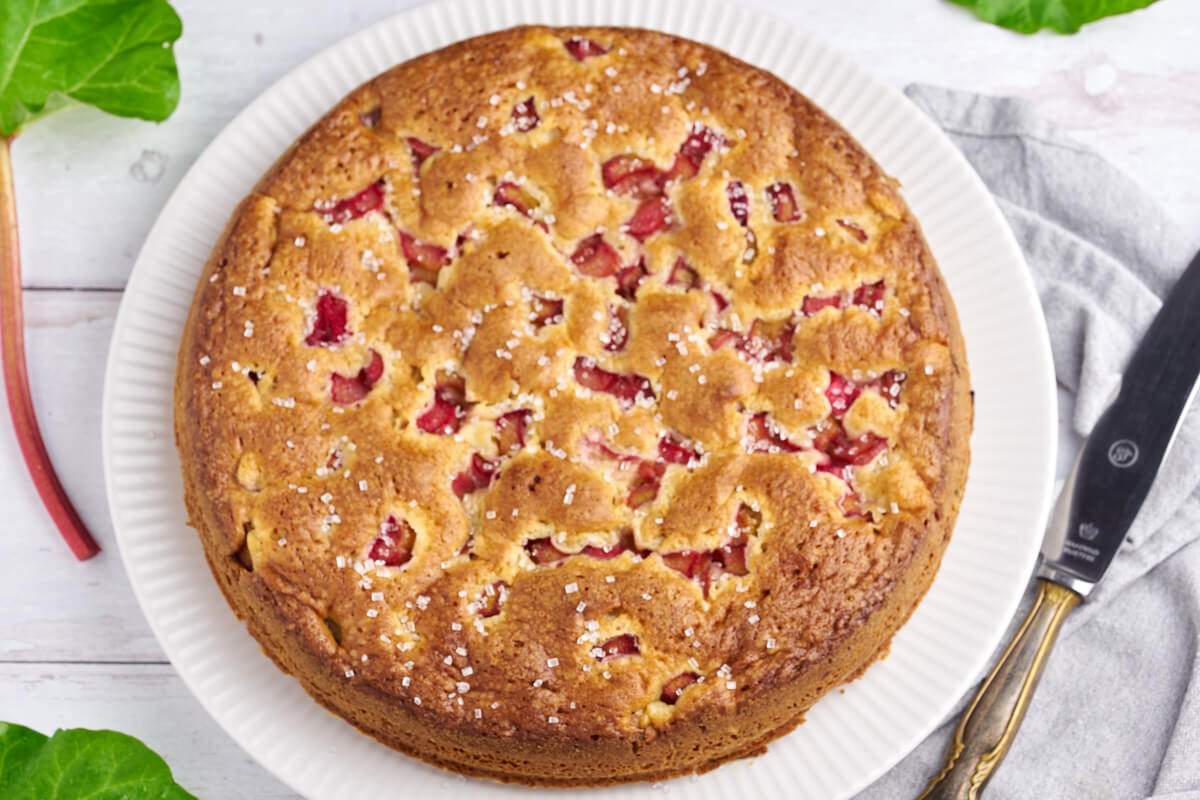 Frequently asked questions
Can rhubarb cake be frozen?
Yes, the cake can easily be frozen after it is baked. You can possibly just warm it briefly in the oven before serving it when it is thawed.
Can I use anything else than rhubarbs?
Yes! This cake batter is perfect for all kinds of berries and fruits. So if you need to make a fruitcake with something else, just replace the rhubarb with apples, pear, blackberry, pineapple or whatever you fancy.
What do I serve with the rhubarb cake?
The cake is delicious and spongy, and can easily be eaten as it is. It is also delicious with sour cream or whipped cream. If you want to use the cake for dessert, you can possibly serve a scoop of vanilla ice cream.
Other rhubarb recipes you might like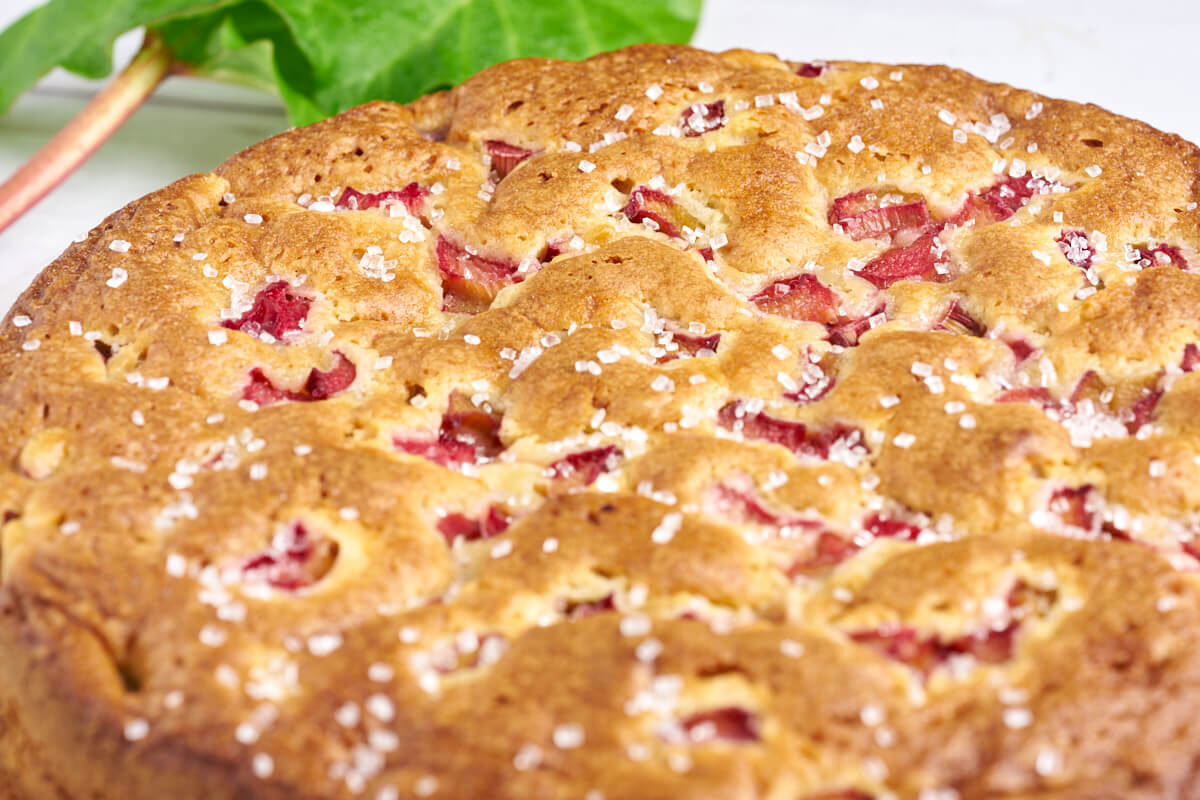 Recipe for easy cake with rhubarbs
Here you get our recipe for an easy and delicious rhubarb cake. The cake does not take more than 10 minutes to prepare and get in the oven, so it is a cake you can quickly mix together.

It tastes great and it is always a hit with both children and adults. We hope you enjoy trying it out if you've also lucky enough to have rhubarb in the garden.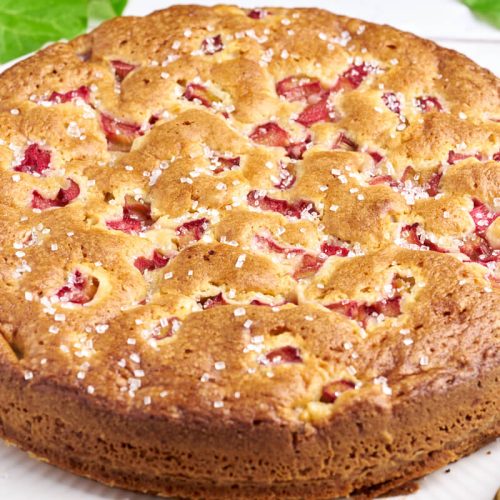 Rhubarb cake
Recipe for rhubarb cake
Easy recipe for a classic cake with rhubarb. It fits perfectly as a wonderful danish spring or summer cake, so if you have rhubarb in the garden, you should definitely try it. It is easy to make and can be served with sour cream, ice cream, or whipped cream.
Ingredients  
250

g

rhubarb

1

tbsp

sugar

for the rhubarb

200

g

sugar

2

eggs

1

tsp

vanilla paste

200

g

all purpose flour

1

tsp

baking powder

200

g

butter

Pearl sugar

or icing sugar
Instructions 
Cut the rhubarb into slices of approx. ½ cm. Mix the rhubarb slices with

1

tablespoon of sugar and let them sit for 5 minutes while you prepare the cake batter.

Turn on the oven and preheat it to 180 degrees Celcius ordinary heat.

Find a springform pan of approx. 22 cm in diameter. It should be thoroughly greased with butter and then sprinkled with flour.

Melt the butter in a saucepan and set it aside to cool slightly.

Beat eggs and sugar together until fluffy and white, use a mixer. Then add the vanilla paste and beat for a little more time.

Flour and baking powder are now added to the mixture of eggs and sugar. Whisk it slowly until it becomes a smooth dough. Then add the butter gradually until the dough is evenly mixed. Finally, add 2/3 of the rhubarb and turn the dough around a few times so that they are evenly distributed.

Pour the dough into the greased springform pan. Spread the last 1/3 of the rhubarb over the cake and press them down lightly. Also feel free to pour the juice from the rhubarb over the top of the cake.

Now the cake must be baked at 180 degrees Celcius for approx. 40 minutes, or until you can stick in the cake with a needle without the raw dough sticking to it.

When the cake is done, take it out of the oven to cool.

Now the cake is ready to serve. You may want to give the cake a sprinkle of pearl sugar or icing sugar on top.

Serve the cake as it is or with whipped cream, vanilla ice cream, or sour cream.
Nutrition
How do you like the recipe?
Have you tried this recipe? We'd love to hear what you think of it. Leave a comment, add a number of stars to the recipe and share your photo on Instagram with #madformadelskere – We love seeing your dishes ♥️
Also, sign up for our Facebook group where you can show pictures of the delicious food you make! You can find the Facebook group here