Nothing signals the arrival of the sunny days quite like the opportunity to create an old-fashioned Danish rhubarb cake. As the sun shines brighter, so does the temptation to taste the first batch of fresh rhubarbs from our very own gardens or local markets. From the delightful layers of rhubarb pudding and Danish macarons, to a crumble top adorned with a dollop of whipped cream, this quintessential Danish dessert offers a quick and satisfying culinary adventure. Before we delve into the recipe, let's look at what makes this cake so endearing, including the key ingredients and features that will certainly pique your interest.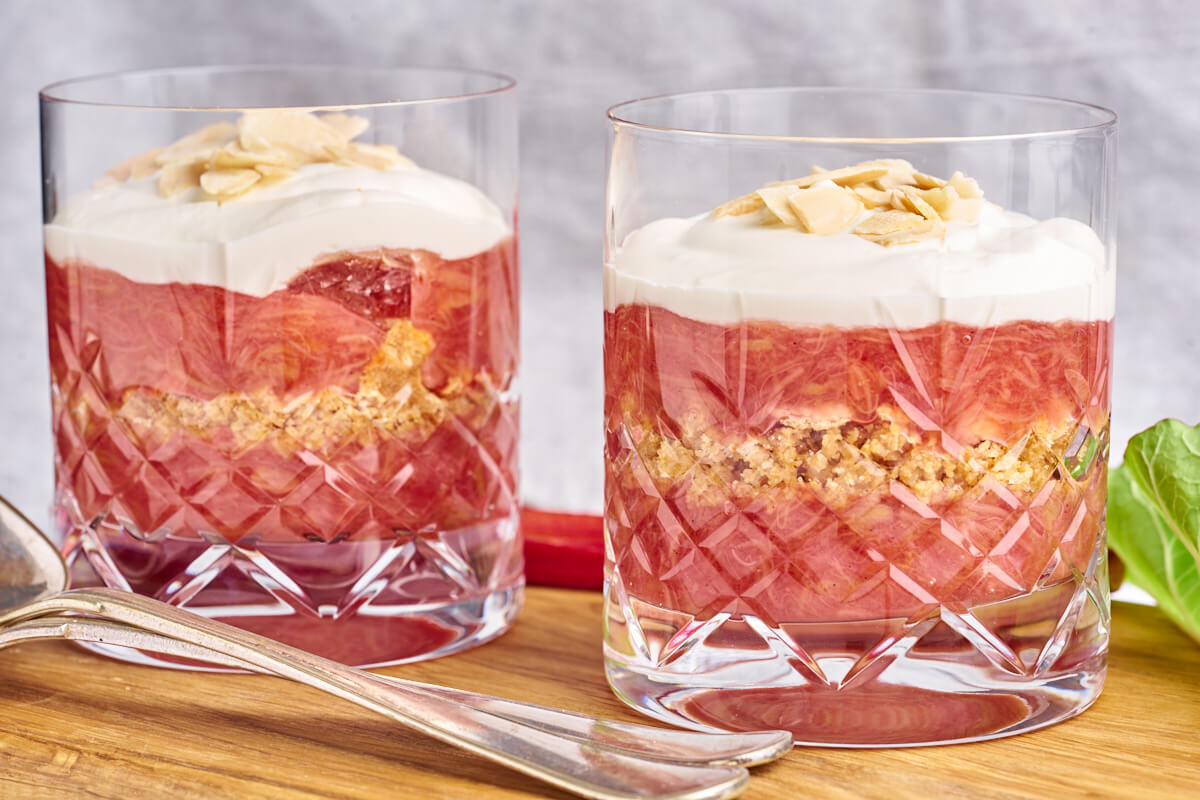 A Taste of Danish Summer: Endeavour into Flavours
There is just something about such a glass of old-fashioned Danish rhubarb cake with Danish macaroons and whipped cream, and everything. The taste of the sour rhubarb pudding, the sweet crunch of macaroons and crumble, and then the creamy and delicious whipped cream and almonds on top. Yum, Yum, Yum…!

It is a dessert we make again and again during the summer, and for that matter also in the autumn because we often have rhubarb in the freezer after the season ends. It is an easy dessert, it tastes terrific, and then you can make it well in advance.

We love to serve old-fashioned danish rhubarb cake, or "gammeldags rabarberkage" as we call it, in a glass, but if you would rather serve completely traditional in a large bowl, then, of course, you just do it instead. The recipe is exactly the same. We just think the glasses are easier, and then it also looks super nice.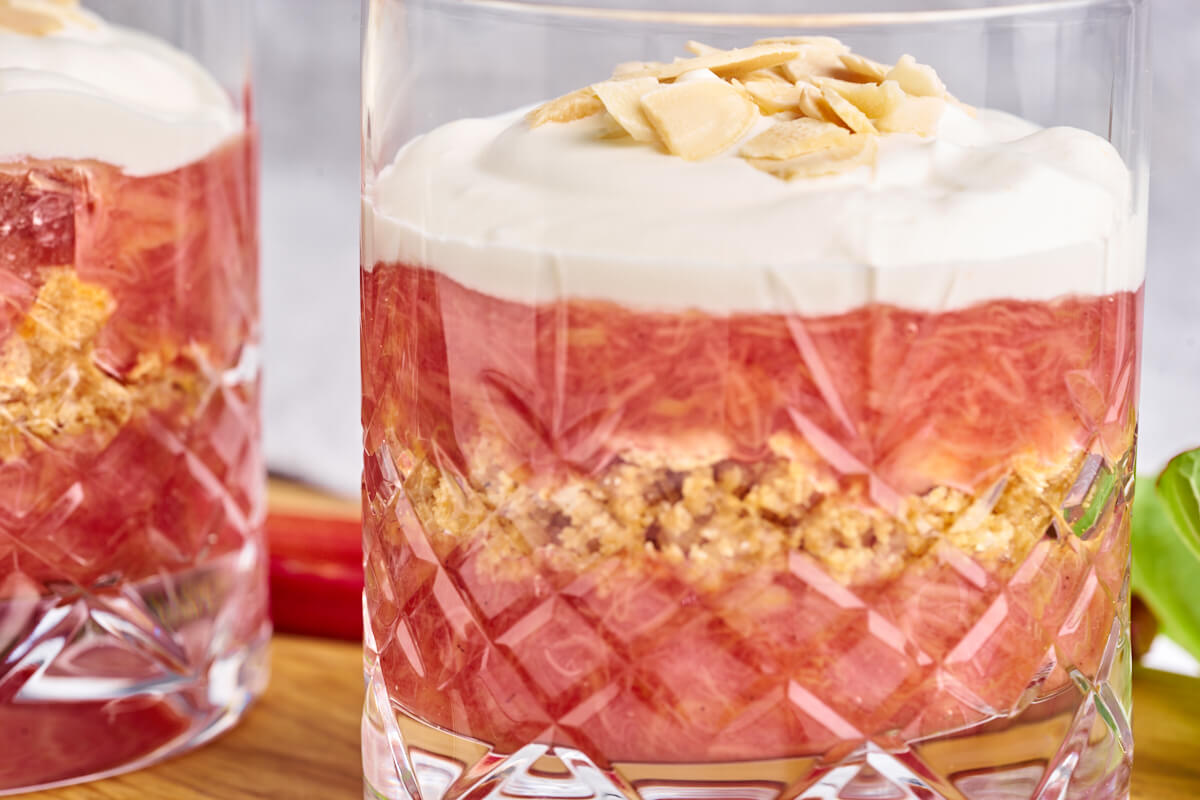 Dig Deeper: Notes on the Key Ingredients
Rhubarb – You can use all kinds of rhubarb, but depending on the sweetness of the ones you use, you may need a little more sugar in the pudding. Here it is a mixture of the sweet red strawberry rhubarb and some old-fashioned rhubarb varieties that are greener in the stems.

Danish Macaroons – Here you can use pre-purchased danish macaroons or make your own. It is entirely up to you. Danish macaroons can not be bought outside Denmark to my knowledge, you can though buy them online here.

Crumble – Yes, in most places it is probably called apple cake crumble, but now it is not old-fashioned apple cake but old-fashioned rhubarb cake. But apple cake crumble can also be made yourself or bought ready-made. Here in the recipe, I make it myself, it is so easy, but you can, of course, buy it ready-made in the supermarket if you live in Denmark.

Whipped cream – Whipped cream is needed on Danish rhubarb cake. That's just how it is.

Almonds – Almonds and rhubarb go well together. That is why we always serve almond flakes on rhubarb pudding and old-fashioned Danish rhubarb cake.
How to make Old-fashioned Danish Rhubarb cake?
Old-fashioned Danish rhubarb cake is both an easy and really delicious classic Danish dessert. The first thing to do is to prepare the various elements.

The rhubarb pudding must be made from rhubarb, vanilla, sugar, and water, and then a crumble must be made. It is made by roasting bread crumbs and sugar in melted butter on a frying pan. Last but not least, whip the cream.

When all the elements are ready and cooled down, the dessert can be assembled. First a layer of rhubarb pudding, then a layer of crumble and danish macaroons, and then rhubarb pudding again before adding whipped cream and almonds on top.

Find the full recipe further down this page.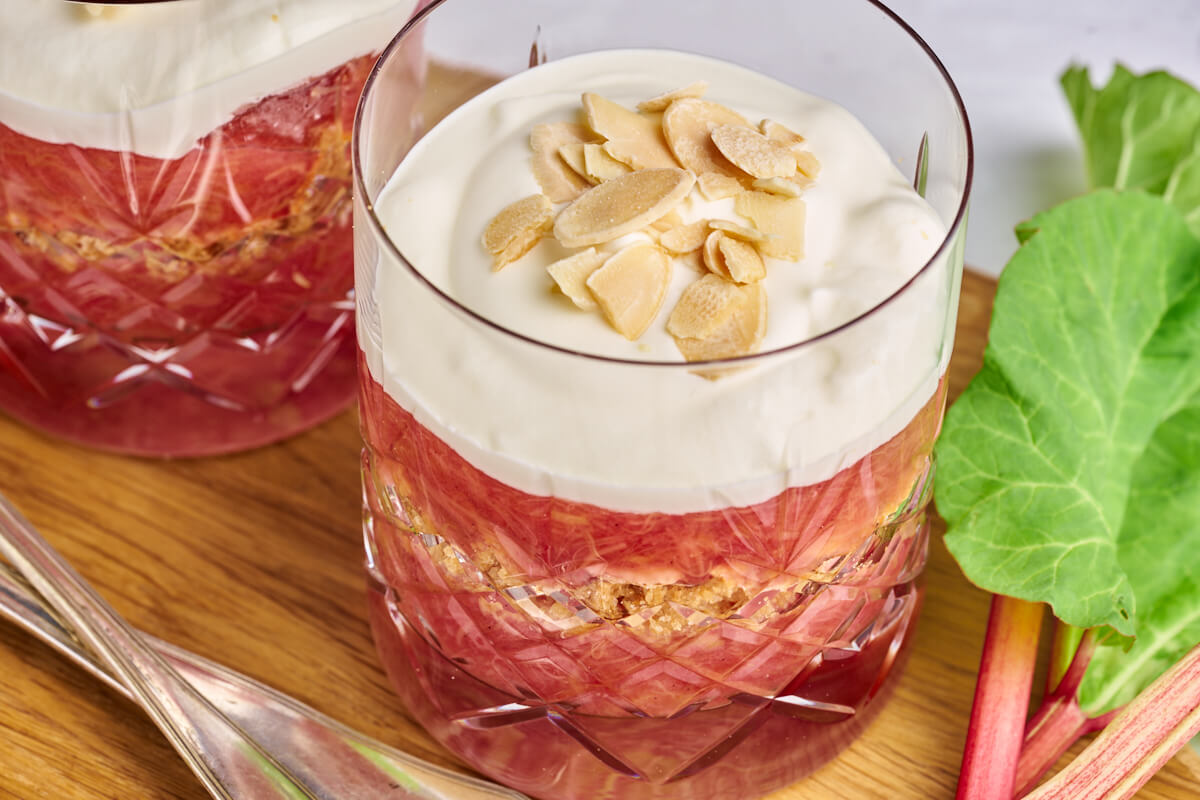 Queries Uncovered: FAQ on Making Old-Fashioned Danish Rhubarb Cake
Can I make the rhubarb pudding ahead?
Yes, you can. It is a good idea at least to make it a few hours before, as it should cool down completely. You can also easily make it the day before.
Can the rhubarb pudding be frozen?
Yes, it can. Then you can always make quick and easy dessert later in the year.
Can I make the crumble ahead?
Yes, the crumble can be stored in an airtight container or a jar, so it can easily be made the day before or even a few days before.
The Danish Dessert Trail: Further Culinary Exploration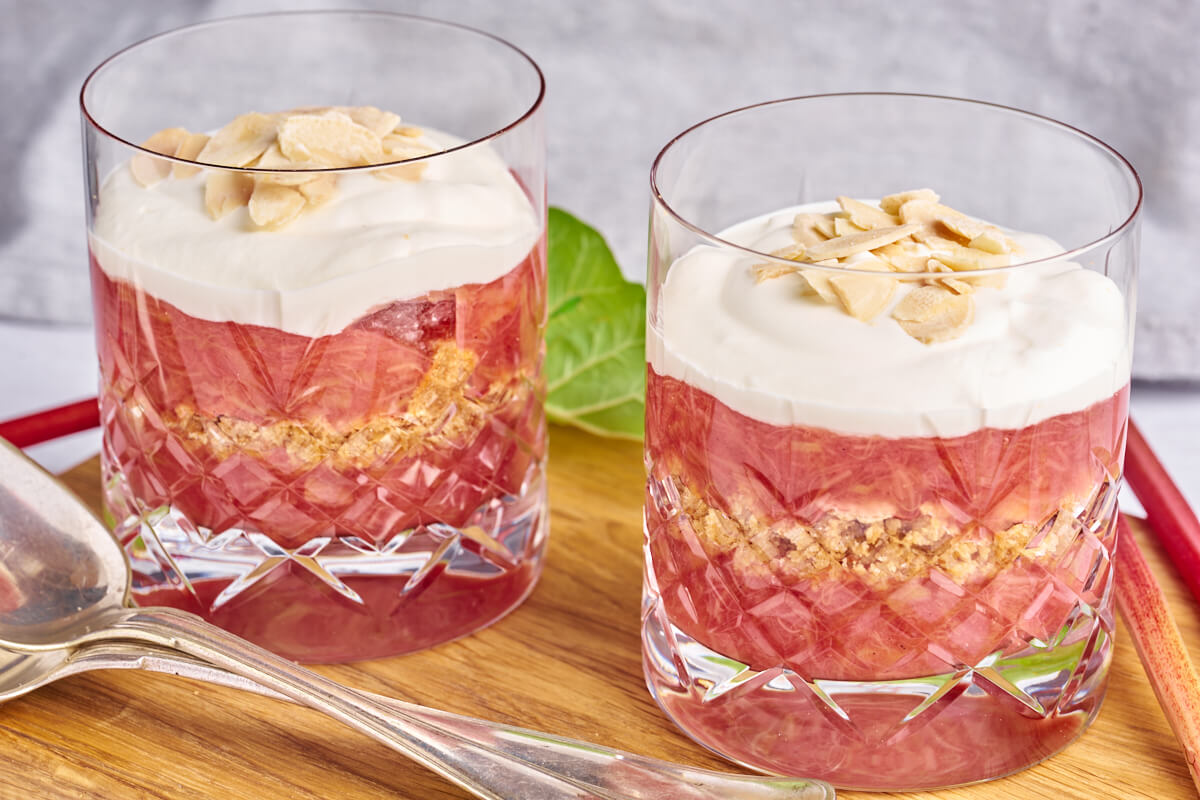 Culinary Contrast: A Peek into Danish Rhubarb Trifle Recipe
Here you get the recipe for the best rhubarb dessert, an old-fashioned danish rhubarb cake. It is easy to make and then it tastes great.

It is a wonderful summer dessert, that both children and adults love at our house. If you have frozen rhubarbs in the freezer, then they are also ideal for old-fashioned rhubarb cake.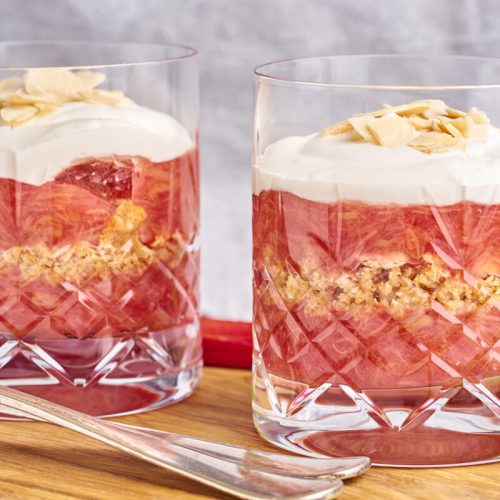 Old-fashioned Danish Rhubarb Cake
Recipe for Old-fashioned Danish Rhubarb Cake
A traditional Danish dessert recipe. The dessert consists of a rhubarb pudding, a sweet and crunchy crumble, Danish macaroons, whipped cream, and almond flakes on top. A classic Danish summer dessert, that the whole family loves.
Ingredients  
Rhubarb Pudding: A Step-by-Step Guide
500

g

rhubarb

180

g

sugar

possibly more depending on the sweetness of the rhubarb

1

tsp

vanilla paste

1

dl

water

1

tbsp

potato starch

½

dl

water
Crumble Perfection: A Detailed Roadmap
25

g

butter

25

g

sugar

50

g

bread crumbs

or oatmeal
Serving:
6

danish macaroons

2.5

dl

whipping cream

20

g

almond flakes
Instructions 
Rhubarb pudding:
Wash the rhubarb and cut it into 1-2 cm slices.

Put rhubarb, sugar, vanilla paste, and

1

dl water in a saucepan and bring to a boil.

Let the compote cook under a lid for approx. 20 minutes. Add more sugar if necessary, you have to taste it. When the rhubarb is well cooked out, the pudding should be thickened a little.

Stir potato starch into

½

dl of water and pour it into the pudding while stirring. Add the thickener until you are satisfied with the consistency of the pudding. Remember it gets a little thicker when it cools down.

Take the pudding off the heat and let it cool in a bowl before putting it in the fridge. Sprinkle a little sugar on top so that it does not form a skin.
Crumble:
Melt the butter in a frying pan.

Put bread crumbs and sugar on the pan and fry it over medium heat until the crumble is golden, it takes about 5-10 minutes. Place the crumble to cool on a piece of baking paper.
Serving:
Whip the cream to a light and fluffy whipped cream.

Serve the dessert in a serving glass or in a large bowl, the procedure is the same.

First, put a layer of rhubarb pudding in the bottom, and then put a layer of crumble on top. Crush the danish macaroons and spread them on top of the crumble. Now put another layer of rhubarb pudding on top, and finally whipped cream. Sprinkle with almond flakes on top and now the dessert is ready to serve.
Nutrition
How do you like the recipe?
Have you tried this recipe? We'd love to hear what you think of it. Leave a comment, add a number of stars to the recipe and share your photo on Instagram with #madformadelskere – We love seeing your dishes ♥️
Note: This recipe is a translation of our danish recipe "Gammeldags rabarberkage" which can be found on our danish food blog.
Also, sign up for our Facebook group where you can show pictures of the delicious food you make! You can find the Facebook group here