It is one of the classic Danish desserts that most of us Danes have a memory of. Childhood memories of grandma's vanilla cream pudding with berry coulis or canned fruit. Here you get the recipe for a danish vanilla cream pudding, that tastes completely classic of cream and vanilla. Just like the one from our childhood.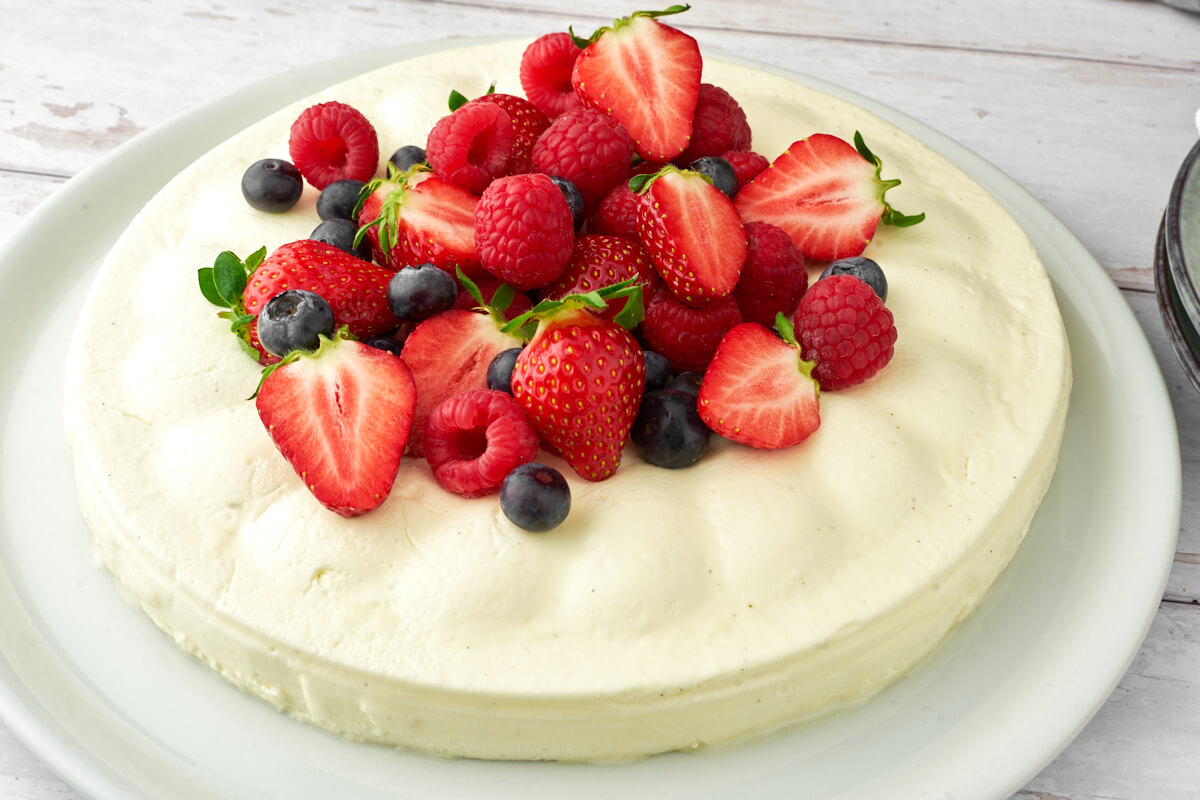 Home made is best
Here in Denmark, you can buy frozen vanilla cream pudding or fløderand as we call it here.

Although it is easy to buy a frozen cream pudding from the supermarket, it pays off to make the homemade version.

It only takes 15 minutes to make it, and then it just tastes better than the one you buy.

I myself have a somewhat ambivalent relationship with the store-bought vanilla cream pudding. You know the one you find in the freezer in the supermarket, and which has to defrost for many hours before it can be eaten.

So they taste good, and with a delicious sauce and fruit, I can easily eat them. In fact, I have many fond memories of these frozen desserts. When we were younger, my little brother and I often shared a whole just the two of us. We both love those kinds of desserts, and our mom actually still serves it often when we get home because she knows we love it.

It is rare that we share a whole edge of vanilla cream pudding today, but a single piece tastes great, and maybe two if it is of the homemade kind like here. We like to eat it with delicious raspberry coulis and fruits or berries.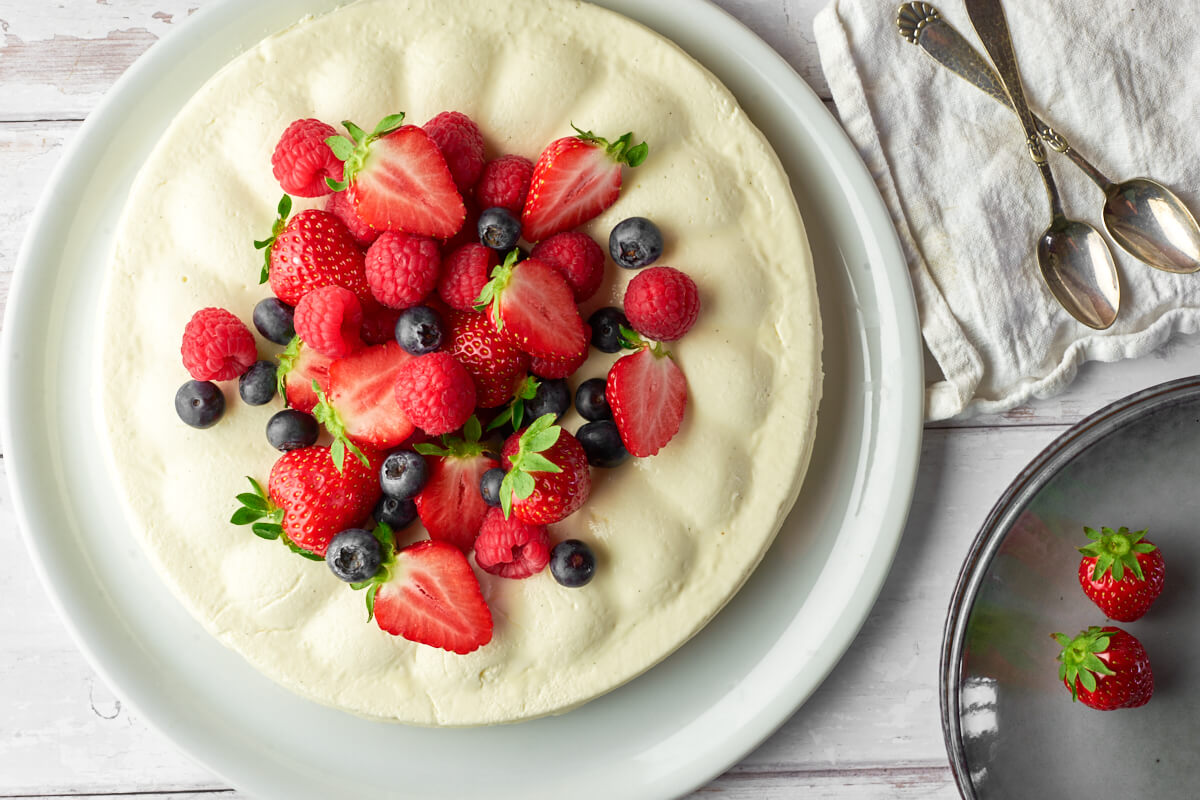 Ingredient notes
Gelatine sheets – And no, it is not difficult to work with! Just follow the procedure here in the recipe, and it will certainly go as intended

Water – Used to melt the gelatine in. You do not need very much.

Whipping cream – Vanilla cream pudding is made of whipping cream, of course! You can not get around that.

Vanilla – You can use either vanilla paste or vanilla beans.

Icing sugar – Used to sweeten the cream a little, as the dessert should be a little sweet.
How to make danish vanilla cream pudding?
It is both quick and easy to make homemade vanilla cream pudding.

First, soak the gelatine sheets in cold water for 5 minutes. Then 1 dl of water must be heated so that the gelatine can be melted in the water.

Then whip the whipping cream with icing sugar and vanilla into a light foam, and then add the cooled water with gelatine to the cream. Then pour the mixture into a ring mold and refrigerate for a few hours until it has set.

You can serve it with whatever you like. We love fresh berries in a mixture of sweet and sour. Freshly cut fruit, a nice berry coulis or caramel sauce is also delicious to serve.

Find the full recipe further down this page.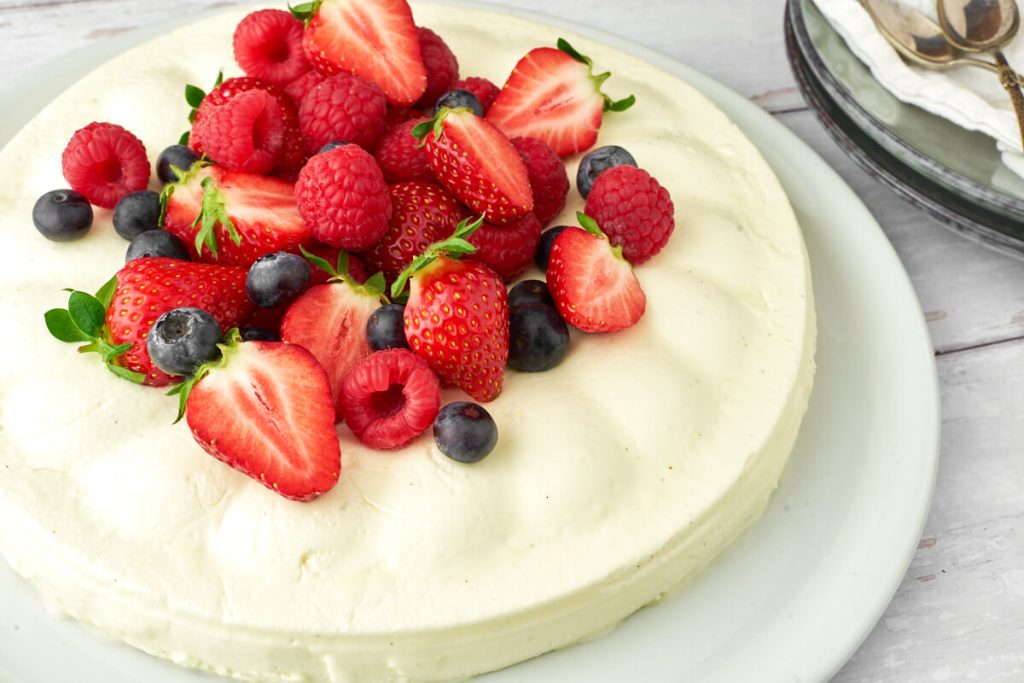 Frequently asked questions
Can the dessert be frozen?
Yes, it can. Just remember to take it out well in advance before eating it so it can defrost properly.
How long can the cream pudding be saved?
You can save it for 2-3 days in the refrigerator. For storing longer, put it in the freezer.
What can I serve with danish cream pudding?
Here are a few ideas for what you can serve as an accessory:
– Berry sauce of, for example, cherries, raspberries, or strawberries
– Fresh fruits
– Caramel sauce
– Pickled pears
– Canned fruits such as peaches or pineapple
Other danish desserts you might like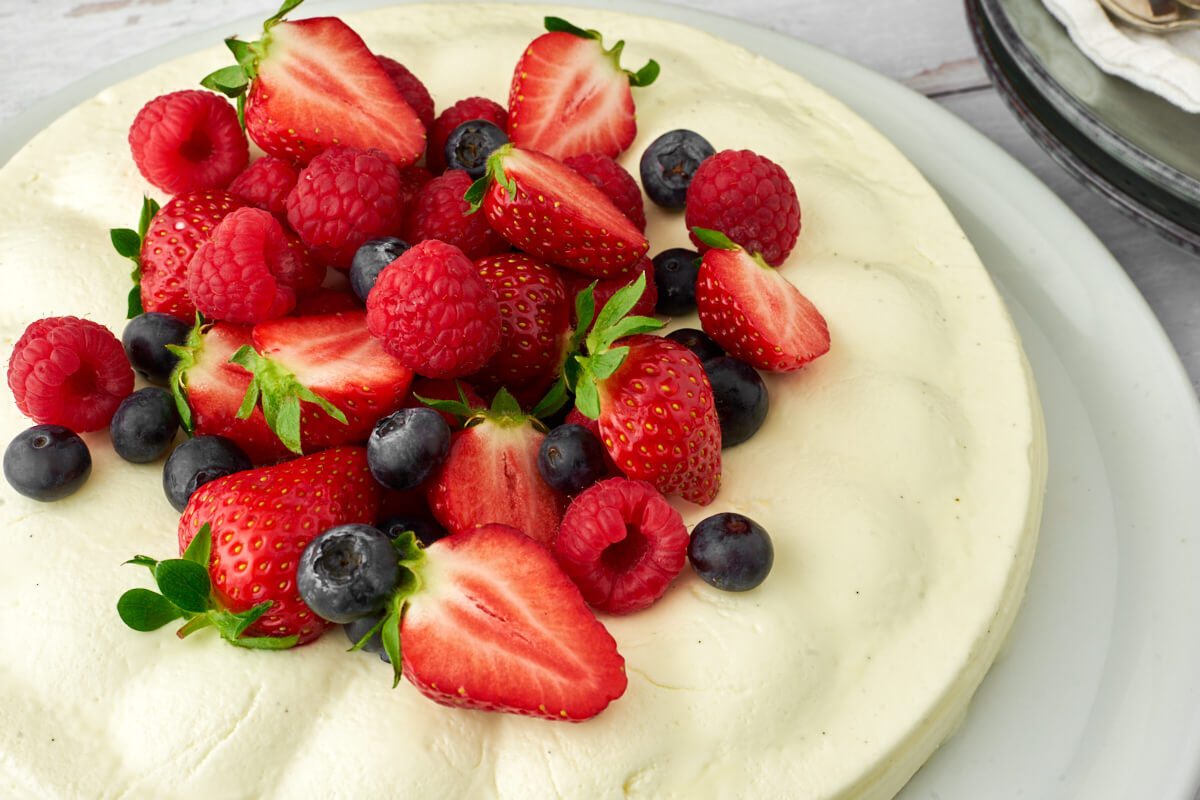 Recipe for the traditional danish pudding
Here you get our best recipe for a classic danish vanilla cream pudding. The good old Danish dessert can be served with strawberry or cherry sauce, fresh berries, or sliced ​​fruit.

It is an easy dessert that both children and adults love to eat, and then it must be made in good time so that it can settle down. You can therefore prepare it in the morning or even the day before it is to be served.

We hope you will like to try our recipe for this wonderful Danish dessert.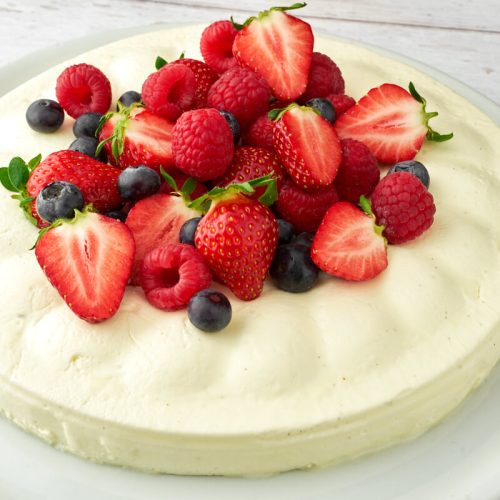 Danish vanilla cream pudding
Recipe for danish vanilla cream pudding
Vanilla cream pudding is a classic Danish dessert that is easy to make yourself. Serve it as dessert on top of a good meal food, and garnish with fresh berries or serve with berry coulis or other fruit sauce.
Ingredients  
6

gelatine sheets

1

dl

water

5

dl

whipping cream

2

tsk

vanilla paste

4

tbsp

icing sugar
Instructions 
Soak the gelatine sheets in cold water for a minimum of 5 minutes.

Heat the water in a saucepan. Squeeze the gelatine sheets to take out the cold water and melt the gelatine in the hot water while stirring. Take water with melted gelatine off the heat and let it cool down to about 37 degrees Celcius.

Whip the cream in a bowl together with the vanilla and icing sugar until it becomes a soft foam. It must not be too stiff but must form soft peaks when you run the whisk through it.

Softly mix the cooled mixture containing water and gelatine into the whipped cream. You don't want to beat out the air in the cream, so do it gently.

Pour the cream mixture into a ring shaped mold and place it in the fridge for a minimum of 2 hours to set.

Turn the vanilla cream pudding out onto a plate and serve it with fresh berries, sliced ​​fruit, or a berry sauce.
Nutrition
How do you like the recipe?
Have you tried this recipe? We'd love to hear what you think of it. Leave a comment, add a number of stars to the recipe and share your photo on Instagram with #madformadelskere – We love seeing your dishes ♥️
Note: This recipe is a translation of our danish recipe "Fløderand" which can be found on our danish food blog.
Also, sign up for our Facebook group where you can show pictures of the delicious food you make! You can find the Facebook group here