The apple season is in autumn, and autumn apples are perfect for making a delicious old-fashioned danish apple cake with apple puree, apple cake crumble, macaroons, and, of course, whipped cream on top. It's an easy-to-make dessert that tastes amazing. Read along and get our recipe.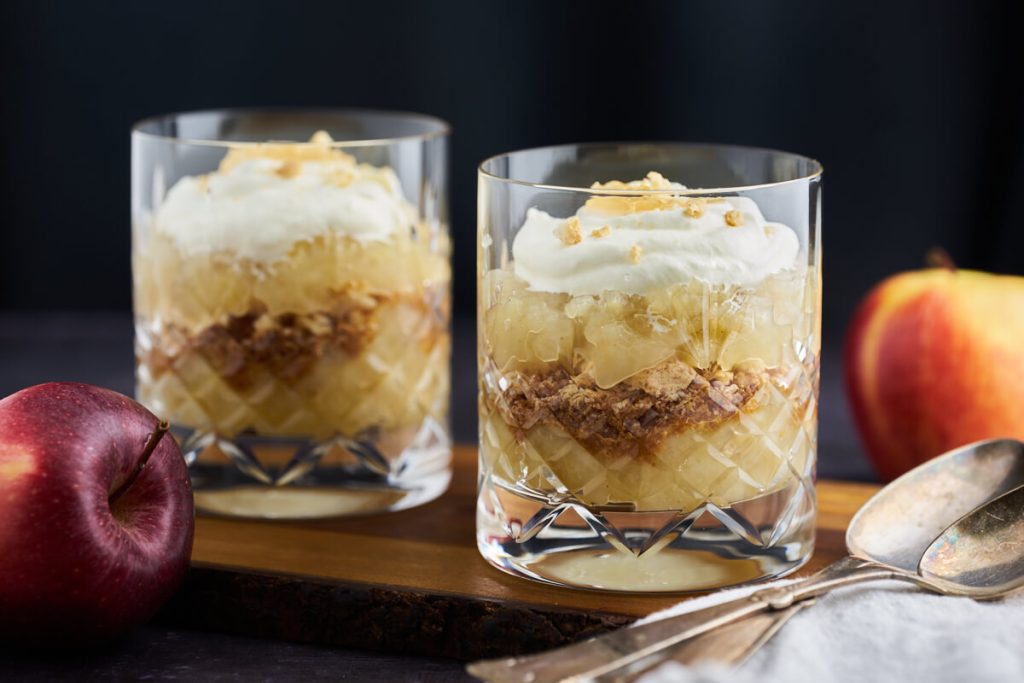 The best autumn dessert
We love a good apple cake here in the autumn months when there are lots of delicious apples in Denmark.

It is both the classic baked apple cake but also a good old-fashioned danish apple cake of apple puree with apple cake crumble and danish macaroons.

Danish Apple cake is a lovely dessert on top of a good meal, and then it's pretty easy to make.

You can make the crumble and apple puree well before it is to be served, and also the macrons if you want to make them yourself. They are not easy to get outside of Denmark, so you may have to if you don't live here.

If you live in Denmark and want to make it even easier, you can choose to buy macaroons and apple cake crumble in the supermarket. Apple cake crumble is quite easy to make though.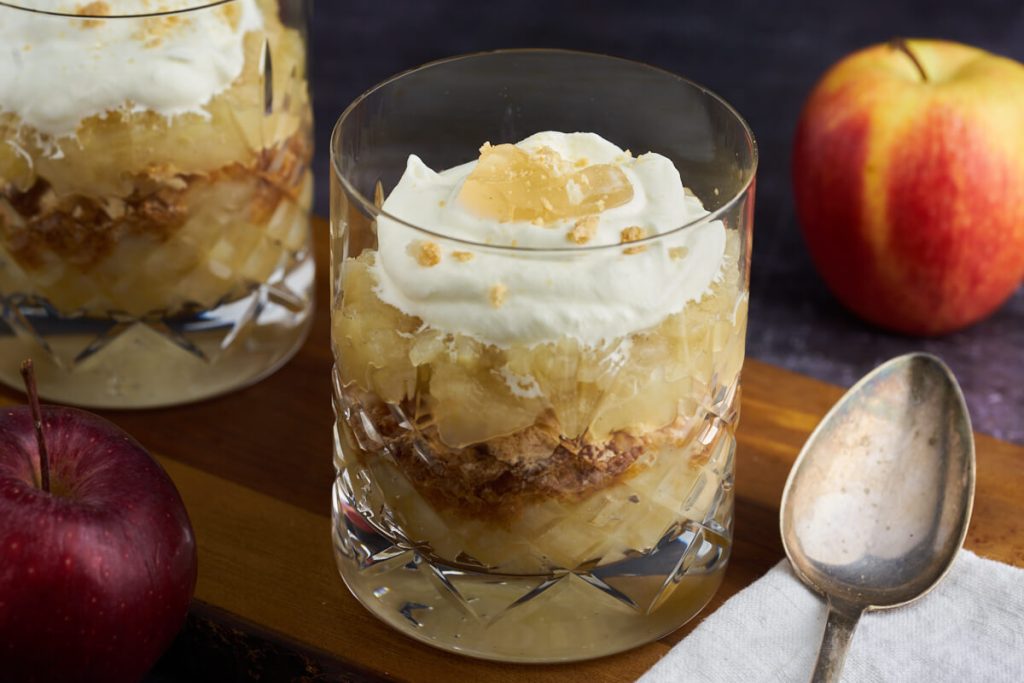 How to make old-fashioned Danish Apple Cake?
You will need four elements in this dessert. First there is the apple puree, which is boiled with apples, water and a little vanilla and sugar. It is important to taste the puree along the way, I do not think it should be too sweet for apple cake, because the other elements are also sweet. Therefore, it may be a little acidic, and the amount of sugar to use depends on which apples you use. Taste it. The puree should be completely cooled after it is cooked before it is to be used in the dessert.

Meanwhile, the apple cake crumble can be made. It's breadcrumbs and sugar that's fried on the pan in butter. If you want a little more texture, you can also make it from oatmeal, and get a delicious oatmeal crumble in your dessert.

Then macrons must be used, I bought them this time, but if you have homemade danish macaroons it is extra delicious.

The last element is whipped cream, which is made of ordinary whipping cream. If you want to dress up the dessert it can be done with red currant gel or apple gel on top and slightly crushed macaroons.
Other recipes for dessert you might like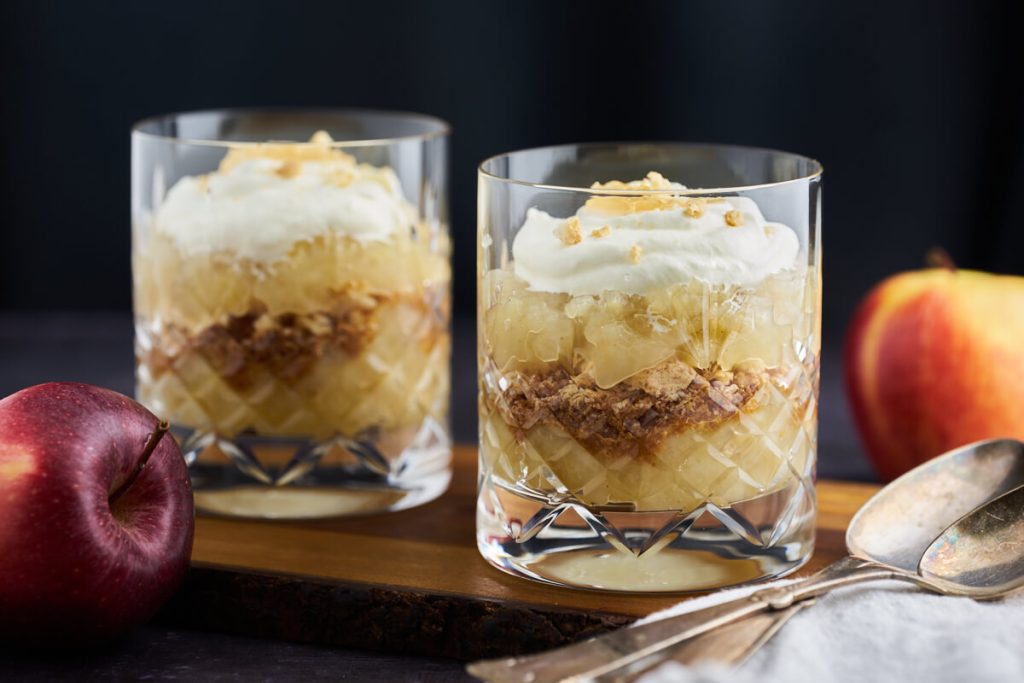 Recipe for Old-fashioned Danish Apple Cake
Here you get our recipe for a delicious danish apple cake with crumble and whipped cream. If you have more apples than you can use right now, the puree can easily be frozen, and you can always take it up when the desire for dessert comes in.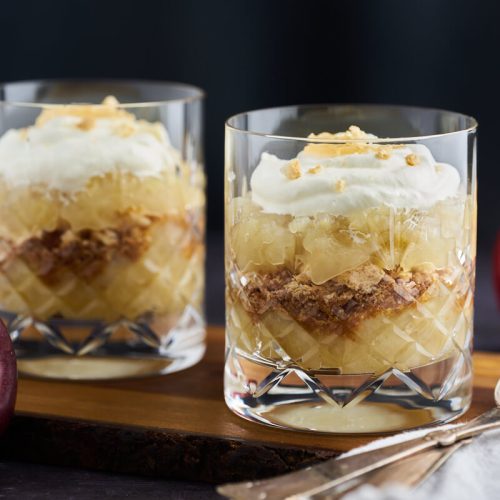 Old-fashioned Danish Apple Cake
Recipe for Old-fashioned Danish Apple Cake
Traditional Danish dessert with apple puree, apple cake crumble, macaroons and whipped cream
Ingredients  
Apple puree:
1

kg

apples

peeled, core removed and cut into cubes.

2

dl

water

1

tsp

vanilla paste

50

g

sugar
Apple cake crumble:
25

g

butter

25

g

sugar

50

g

bread crumbs

or oatmeal
Other stuff:
¼

l

whipping cream

6

danish macaroons

Decorate with red currant gel or apple gel and crushed macaroons
Instructions 
First make the apple puree:
Put apple cubes, water and vanilla in a saucepan and bring to the boil.

When the apples start to break down, add the sugar. Cook the puree over low heat until it has the consistency you want. I think there should be some apple pieces left. Depending on the apple variety and the size of your apple cubes, it takes about 15 minutes.

When you are satisfied with the consistency, you taste the puree to see if it needs more sugar. For danish apple cake, the apple puree should be a little acidic, as the rest of the elements in the dessert are sweet. It is therefore important that it does not become too sweet.

When you are satisfied with the taste and consistency, the porridge must cool down before it goes into the dessert.
Meanwhile, make the apple crumble:
Melt butter in a pan. Mix the bread crumbs and sugar together and add it to the melted butter. Fry the crumble until golden, and begin to lump together slightly. Then take it off and cool down on a baking sheet.
Serving the dessert:
Now the desserts need to be assembled. First put a layer of apple puree in the bottom of the glasses, and sprinkle with 1-2 tbsp. apple cake crumble.

Crush the macaroons in your hands and spread them on top of the crumble.

Put another layer of apple puree on top.

Whip the cream to a soft whipped cream and spread it on top of the desserts. Garnish with red currant gel or apple gel, and sprinkle if necessary with slightly crushed macaroons on top. Now the dessert is ready to serve.
Notes
We always serve this dessert in a glass. But if you would rather serve it in a large bowl, you can easily do so. Then make 3 layers of apple puree with 2 layers of crumble and macaroons in between. Top with whipped cream and garnish with jelly.
If you want crunch with more texture, then you can make it from oatmeal. Just replace the bread crumbs with oatmeal and follow the recipe.
Nutrition
How do you like the recipe?
Have you tried this recipe? We'd love to hear what you think of it. Leave a comment, add number of stars to the recipe and share your photo on Instagram with #madformadelskere – We love seeing your dishes ♥️
Note: This recipe is a translation of our danish recipe "Gammeldags æblekage" which can be found on our danish food blog.
Also sign up for our Facebook group where you can show pictures of the delicious food you make! You can find the Facebook group here