Are you looking for the best recipe for the softest and most delicious danish cinnamon rolls? Then you are in the right place. These snail-shaped buns are baked in a tray and they will impress everybody you serve them to. They are so soft, delicious, and sticky, and they taste so good. We hope you feel like trying our recipe for these high cinnamon buns.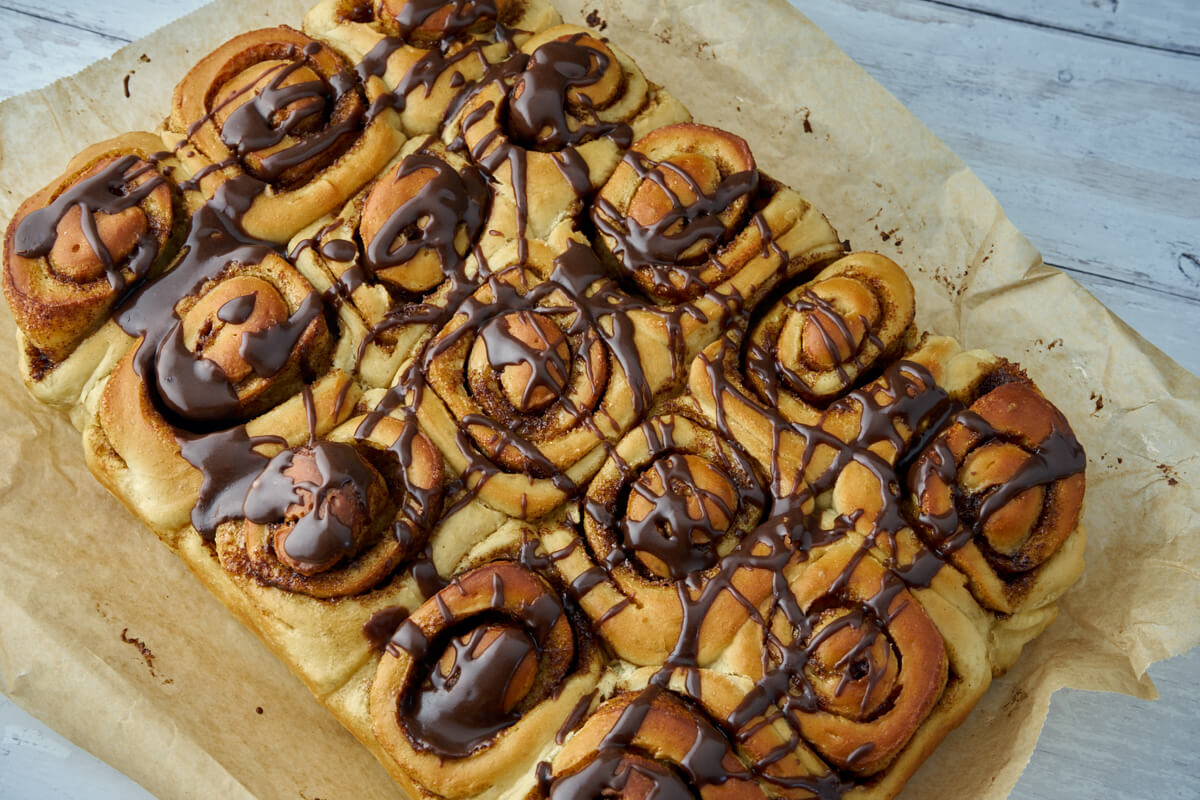 Soft danish cinnamon rolls
We have baked lots of cinnamon rolls, and some quite delicious ones. But these buns baked in a high baking tray beats every recipe we have tried previously.

They are extra soft and sticky, and they can easily be saved for some days without going dry.

These cinnamon rolls are perfect for a cup of coffee in the afternoon or for your kids' birthday party. If you serve them for kids, remember to bring extra napkins, because these are the sticky kind of cinnamon buns.

Non the less, our kids love them, and so do the parents.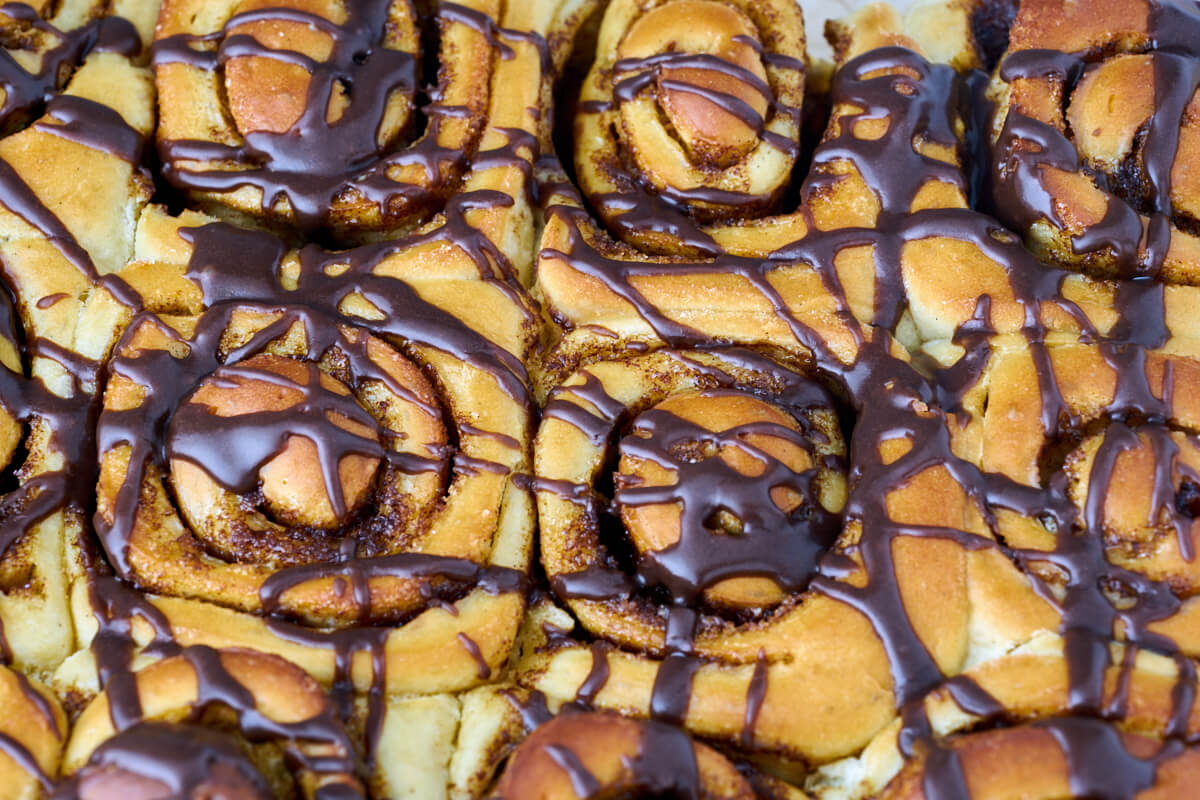 Ingredient notes
Dry yeast – Works well for this recipe. You can also use fresh yeast if you like.

Vanilla – Either a vanilla bean or vanilla paste.

Butter – Has to be melted and cooled a bit before being added to the dough.

Flour – Use normal all-purpose flour.
How to make danish cinnamon rolls?
It is actually not that hard to make this recipe for your family.

First, you have to make the dough for the cinnamon buns. This is a nice yeast dough with butter, which gives us some really soft snails in the end. We use dry yeast for this recipe, but this can be substituted for fresh yeast as well.

The dough is a regular yeast dough. It has to be very well kneaded, so we recommend using a electrical mixer if it is available. The dough has to be kneaded for a long time, approximately 15 minutes until it releases from the sides of the bowl. It is definitely easier to do on a machine.
Afterwards the dough needs to prove. While the dough is proving, you can make the filling. The filling consists of brown sugar, soft butter and cinnamon. You make the filling by mixing it all together in a bowl and letting it rest until the dough is ready.

When the dough is finished proving, you have to roll out the dough. It is important to have a lot of flour on the table so that the dough won't stick to the tabletop. The dough is pretty soft to work with. Roll out the dough as a square on approximately 50×50 centimeters. Remember to use lots of flour on the tabletop and on the rolling pin.

Now you have to add the filling to the dough. After spreading it out on the dough, it has to be rolled fairly tight and cut out to delicious high snails. We use a piece of thread for cutting the cinnamon rolls, so we don't deform the roll while cutting it. If you prefer to cut with a knife, you can also do that.

We recommend that you place the cinnamon rolls in a baking tray with high edges with baking paper in it. Before baking, the snails have to prove once again. After that, it is time for baking. Some of the fillings will run out during the baking, but the buns will soak most of it up again, so don't worry.

When the cinnamon rolls have been baked for 20-25 minutes, they are done and you can take them out to cool down. They have to be completely cold if you want to add icing, but they also taste nice when they are warm.

Find the full recipe further down this page.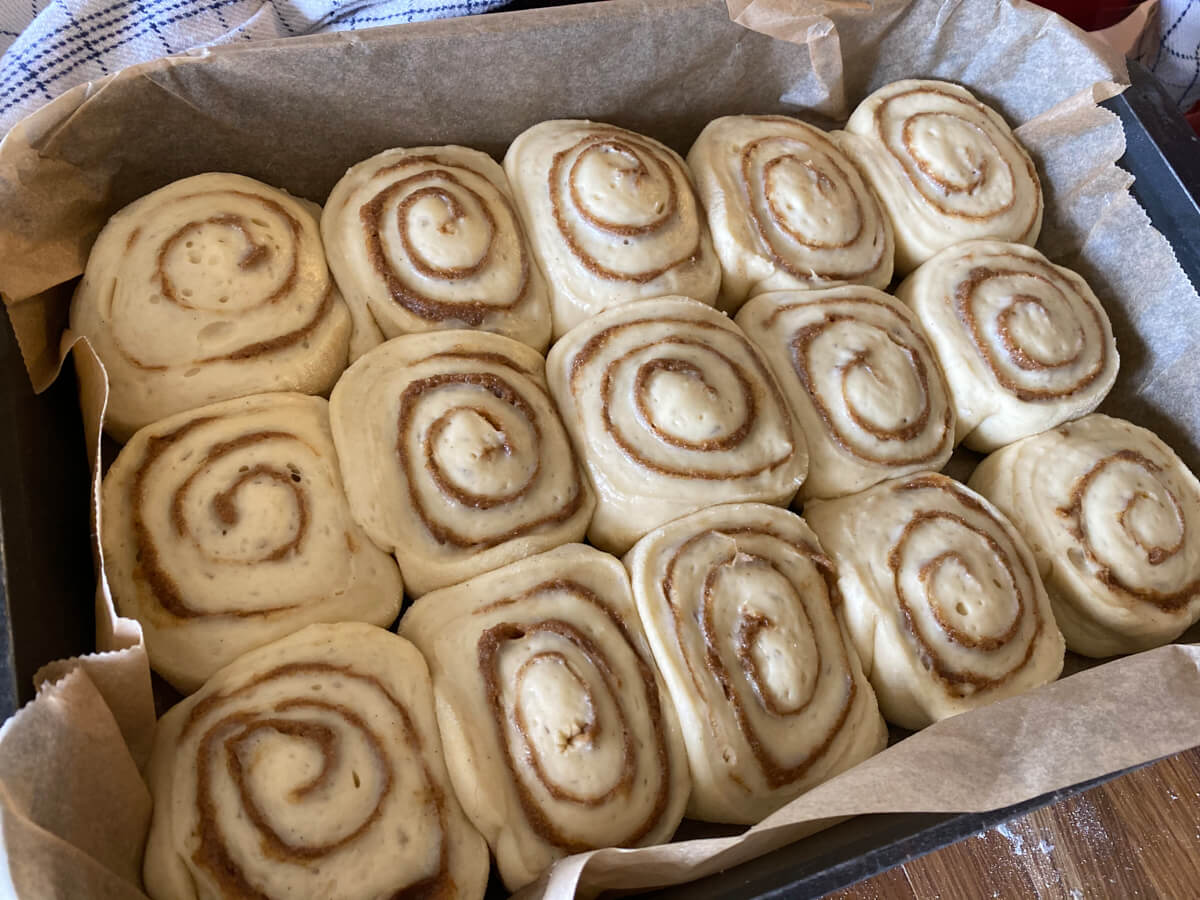 Frequently asked question
Do I have to add icing?
No, you don't. Most traditional danish snails have white or brown sugar icing. But you can certainly eat them without.
Can cinnamon rolls be frozen?
Yes. You can freeze the snails after baking if you prefer. You shouldn't add the icing before freezing, but you can add it after they are defrosted.
What are cinnamon rolls called in danish?
Cinnamon rolls are called "Kanelsnegle" Which actually means cinnamon snails. The name is of course because of the snail-shaped rolls.
Other danish recipes you might like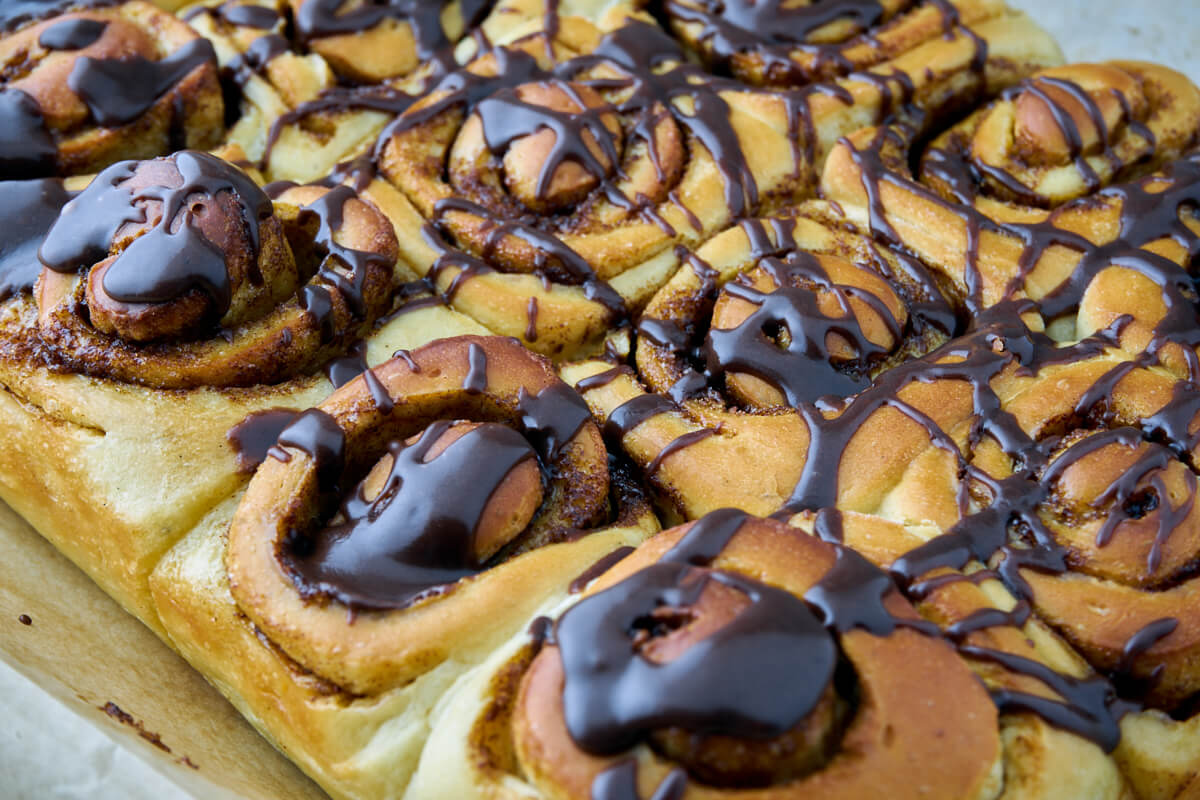 Recipe for Danish cinnamon rolls (snails)
Here is our best recipe for the softest and most delicious sticky cinnamon buns. You can eat them just as they are or top them with sugar icing and sprinkle them with almond flakes.

Even though these cinnamon rolls are easy to make, we think they are the best in the world. And both kids and adults love to dig into a nice warm cinnamon snail. We hope you will try out the recipe.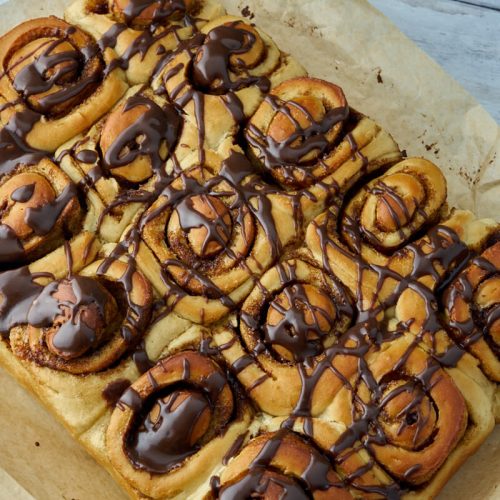 Danish cinnamon rolls (snails)
Recipe for danish cinnamon rolls
Traditional soft and sticky cinnamon rolls or snails as we call them in Denmark. They are pretty eady to make, and they taste amazing.
Ingredients  
Dough:
3,5

dl

milk

2

tbsp

sugar

6

g

dry yeast

or

25

gram of fresh yeast

560

g

all purpose flour

maybe 10 gram extra if the dough is too soft.

60

g

sugar

1/4

tsp

salt

2

eggs

60

g

butter

melted

1

vanilla bean

the seeds, or

1

tsp of vanilla paste
Filling:
180

g

butter

2,5

dl

brown sugar

1

tbsp

cinnamon
Sugar icing:
1

dl

powdered sugar

2

tbsp

cocoa

2

tbsp

water

boiling
Instructions 
Heat the milk up to approx. 30 degrees. Add the 2 tablespoons of sugar and the dry yeast. Whisk it thoroughly and place it in a warm spot until it bubbles up. It usually takes 10 – 15 minutes. Then the yeast will be activated.

I assume you knead the dough on the machine. Add flour, sugar, the mixture of milk and yeast from step one, salt, cooled melted butter, eggs and vanilla seeds to the bowl. Then knead the dough at medium speed until it releases from the sides of the bowl. It is in this step that you can add extra flour if you think the dough looks too soft.

I usually knead the dough for about 10 – 15 minutes before it is ready.

When the dough starts to release from the sides of the bowl, pick it up and transfer to a second bowl greased with a little oil. Position it in a warm place and let it raise to double size. It usually takes an hour.

As the dough raises, prepare the filling for the cinnamon snails. Mix brown sugar, soft butter and cinnamon in a bowl. Mix it thoroughly and set it aside.

When the dough is rised, transfer it to a table sprinkled with flour. The dough may seem a bit sticky, so it is important with the flour. Sprinkle flour on the dough and roll it out to a square of approx. 50 x 50 cm with a rolling pin. Then spread the filling gently into an even layer on the dough.

Gently roll the dough from one edge to the opposite into a cylinder shape.

Find a roasting pan approx. 22 x 33 x 5 cm and cover it with baking paper. Now cut the cylinder into 15 equal sized snails and place them in the roasting pan. It doesn't matter they are a bit close. We want them to raise upwards during baking. It is a good idea to use a piece of sewing thread to cut the pieces. This avoids pressing the dough flat. You make a loop around the dough and tighten.

Now the cinnamon rolls have to rise again. Place them in a warm space and cover them with a cloth. Let them rise to double size. It should take 30 – 40 minutes depending on the temperature. While the buns are rising, the oven is preheated to 190 degrees celcius.

Place the roasting pan in the middle of the preheated oven and bake the cinnamon rolls for 20 – 25 minutes until slightly golden on top.

Allow the snails to cool and mix the powdered sugar, cocoa and boiling water to make the icing. Decorate the snails with sugar icing and enjoy them with someone you love.
Nutrition
How do you like the recipe?
Have you tried this recipe? We'd love to hear what you think of it. Leave a comment, add a number of stars to the recipe and share your photo on Instagram with #madformadelskere – We love seeing your dishes ♥️
Note: This recipe is a translation of our danish recipe "Kanelsnegle i fad" which can be found on our danish food blog.
Also, sign up for our Facebook group where you can show pictures of the delicious food you make! You can find the Facebook group here