Halloween is on the horizon, and the food should be a little extra fun. These Jack o Lantern quesadillas are both easy to make and fun to serve to the kids as a snack, side dish for dinner, or for the Halloween party. Read along here and get our easy recipe for quesadillas cut out like pumpkin lanterns.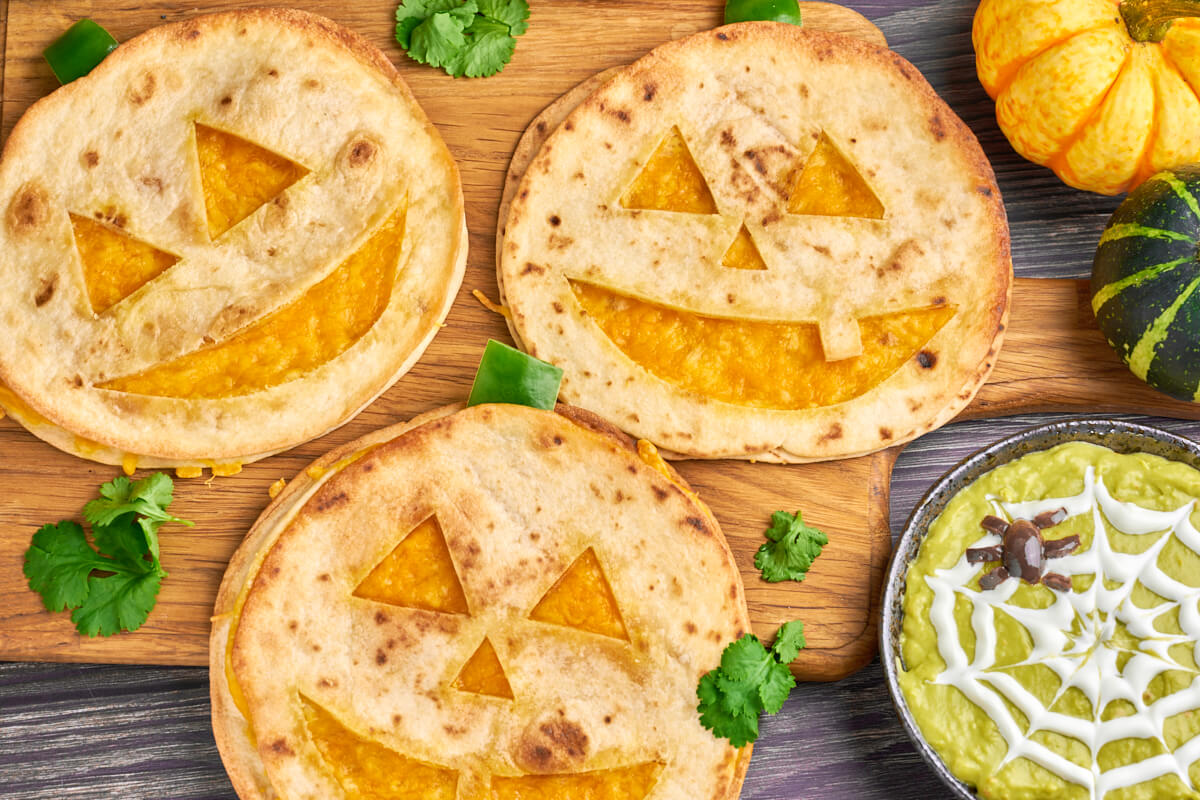 Fun snacks for Halloween
Soon it will be Halloween, and it is a holiday that has gotten bigger in Denmark in recent years. We love a good excuse to cook a little extra food, so we're definitely not complaining.

Whether you're having a Halloween party or just socializing with your family and having some delicious Halloween dinner, this recipe is perfect.

It is both easy and fun Jack o Lantern quesadillas with cheddar cheese inside, but you can of course also fill them with something else.

It's a super fun way to serve quesadillas, and it's always a hit with the kids when you serve them.

You can let the kids cut out their own pumpkin faces, it's a super fun and cozy activity, and that they can then be a part of dinner is just a bonus.

You can cut out your soft tacos just as you like, in different pumpkin faces like here or like other Halloween characters. It's entirely up to you.
Ingredient notes
Soft tacos – You can find soft tacos in the supermarket or you can make them yourself. In fact, it is not at all difficult to make tacos.

Cheddar cheese – I use cheddar cheese in these quesadillas because it tastes great and has a lovely Halloween color. I prefer to buy a whole block and grate the cheese myself, but you can also buy grated cheddar.

Olive oil – The top should be brushed with oil to get a crisp and golden surface.

Green bell pepper – I use green bell pepper as the stem of the pumpkin. You can also use other green vegetables if you like.
How to make Jack o Lantern quesadillas?
It's super easy to make fun quesadillas shaped like pumpkins for Halloween.

First, cut out half of your soft tacos like pumpkin faces. Then the cheese should be distributed on the remaining tacos, and the pumpkin faces should be placed on top as a lid.

The top is brushed with oil, and now your quesadillas go in the oven and bake until golden and crispy and the cheese has melted. The finished quesadillas are decorated with a piece of green bell pepper as a stem and served with guacamole, salsa, or your favorite dip.

Find the full recipe further down the page here.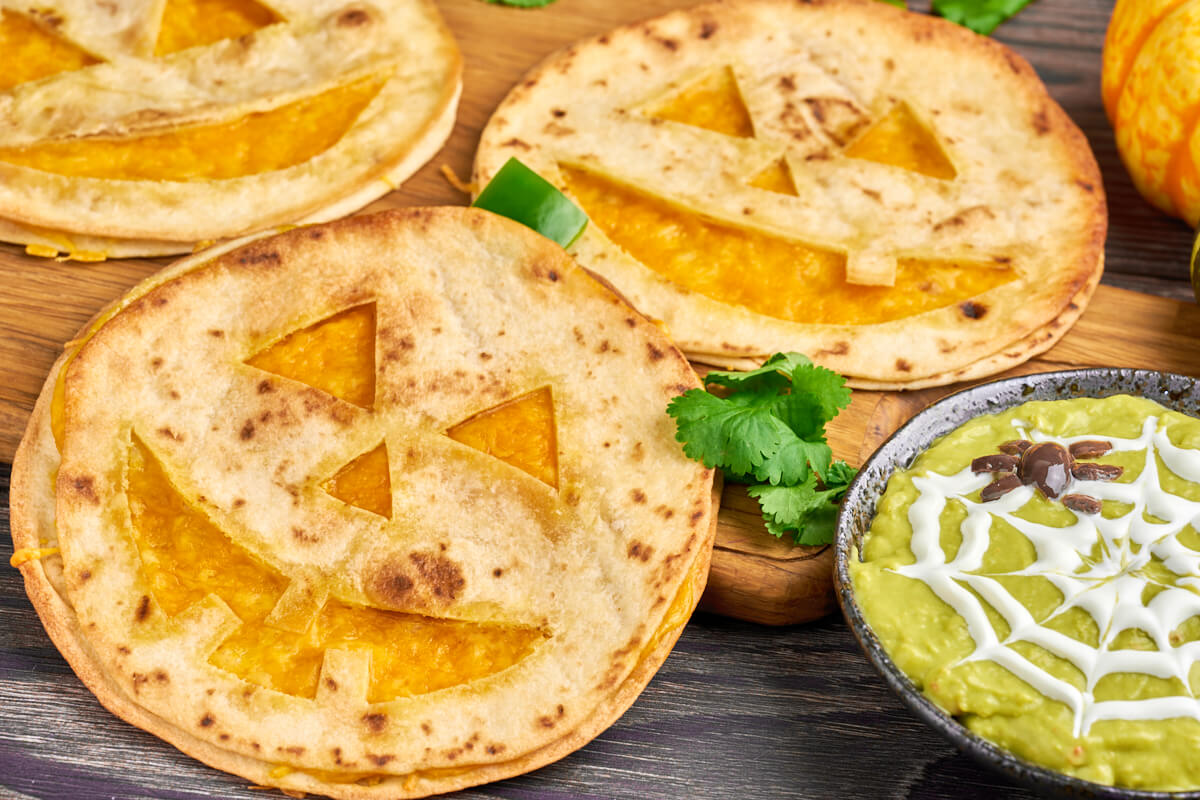 Frequently asked questions
Can I cut anything but pumpkin faces?
Yes, you can cut exactly the shapes you want. You can also cut one taco into strips and make a mummy quesadilla by crisscrossing the strips. Only imagination sets the limit.
Can I eat them the day after they're made?
You can easily eat the remnants of your quesadillas the next day. However, they get soft from lying in the fridge, but they still taste fine.
Can I add some protein to the recipe?
Yes, you can easily add a little Mexican chicken, Mexican beef, or some beans from a can under the cheese. Then you get a little more protein in the dish and it becomes more of a whole meal rather than just a side dish.
Other Halloween recipes you might like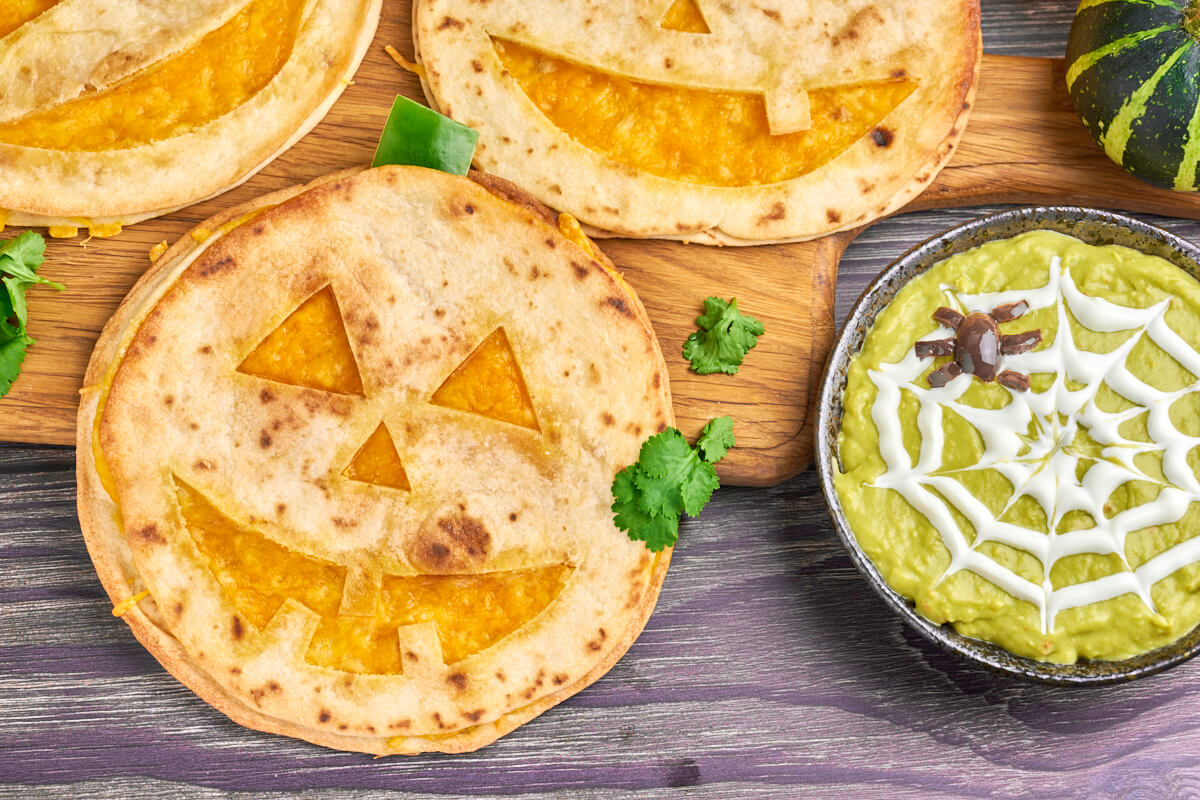 Recipe for quesadillas as pumpkin lanterns
Here you get our recipe for delicious and crispy Halloween quesadillas like pumpkin lanterns. They're easy to make, they taste good, and then they decorate every Halloween table.

We hope you will want to try the recipe if you are going to spoil the family with some delicious food for Halloween or if you are going to have a fun Halloween party with snacks.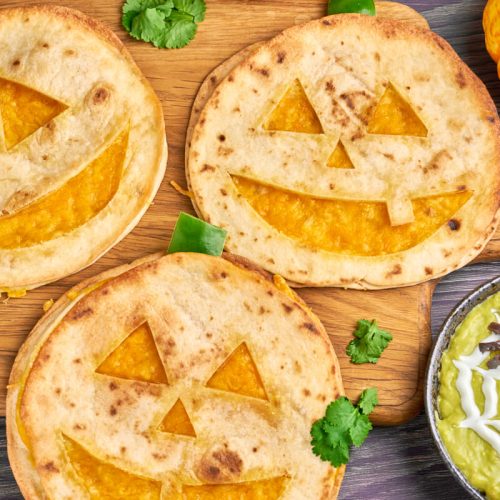 Jack o Lantern Quesadillas
Recipe for Jack o Lantern Quesadillas
Easy halloween quesadillas with cheddar cheese inside, which can be used as a snack or accessory for dinner for Halloween. They are also guaranteed to bring joy to the children at the Halloween party. Serve them with various dips, for example, guacamole, salsa, or pico de gallo.
Ingredients  
8

soft tacos

100

g

cheddar cheese

1

tbsp

olive oil

¼

green bell pepper
Instructions 
Cut Jack o lantern faces into half of the soft tacos. Feel free to let the children help cut the faces.

Place the uncut tacos on a baking sheet lined with parchment paper. Spread grated cheddar cheese on these tacos.

Brush the pumpkin faces with olive oil and place them as a lid on top of the cheese so that they are closed.

Put your quesadillas in the oven at 220 degrees for about 10 minutes until they are golden and the cheese inside is melted.

Cut the bell pepper in squares, they should be used as a stem on the pumpkin. Put a piece of pepper on top of each quesadilla as it comes out of the oven.

Serve with guacamole, salsa, or your favorite dip.
Nutrition
How do you like the recipe?
Have you tried this recipe? We'd love to hear what you think of it. Leave a comment, add number of stars to the recipe and share your photo on Instagram with #madformadelskere – We love seeing your dishes ♥️
Also sign up for our Facebook group where you can show pictures of the delicious food you make! You can find the Facebook group here