For Halloween, the food should be a little extra fun. It's allowed to be a little creepy, and I love making a little extra of it for the kids. These snake bread are perfect for Halloween if you serve soup or dips. It's breadsticks shaped like snakes, read along here and get our recipe.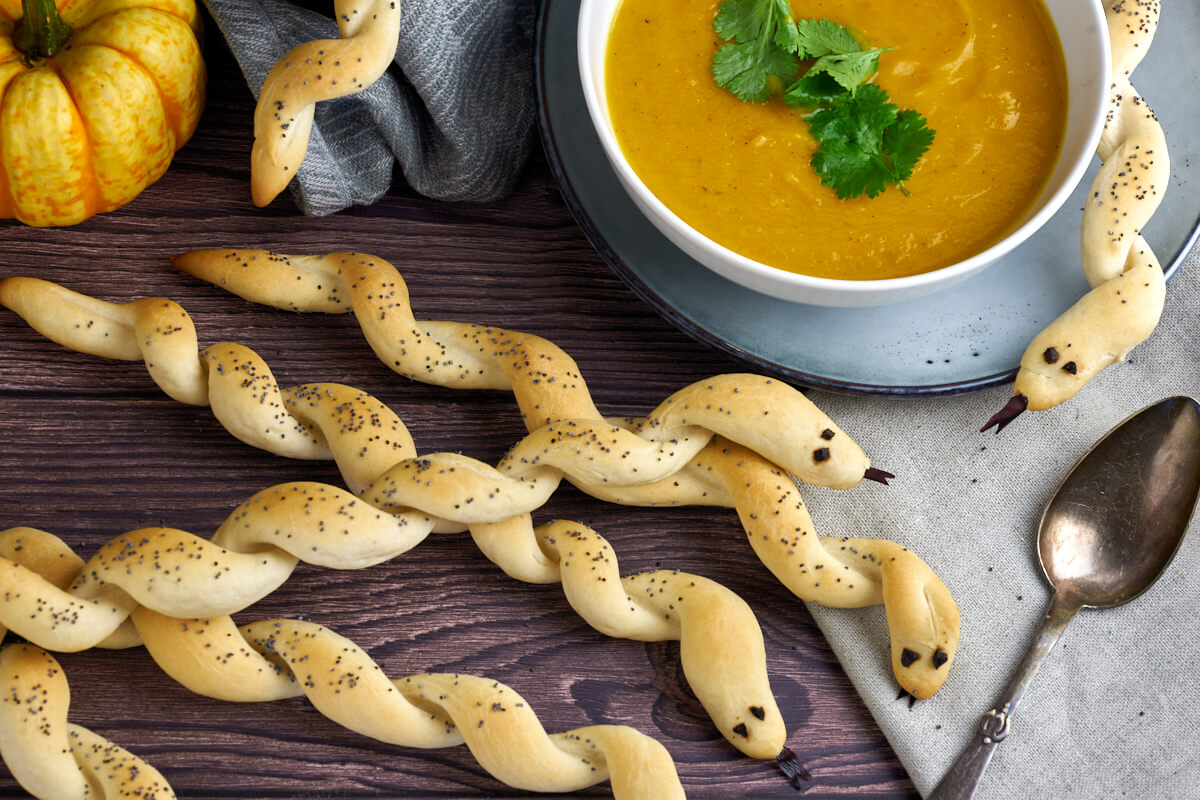 Fun Halloween bread
These grissinis shaped like snakes are perfect as bread for the Halloween soup or as breadsticks for the dip for the Halloween party.

These are ordinary breadsticks shaped like snakes, which are sprinkled with blue poppy seeds and have got eyes and a tongue, so they look like small snakes.

If you want to serve a soup for Halloween, then these breadsticks are absolutely optimal as accessories for the soup. Whether it's pumpkin soup or a classic tomato soup. You can also use them as accessories for the tapas table for Halloween or maybe as bread for a creepy time spaghetti with meatballs.

If you want to give the breadsticks a little extra flavor, they can also be sprinkled with oregano, grated Parmesan cheese, or other delicious cases. It's entirely up to you and your imagination.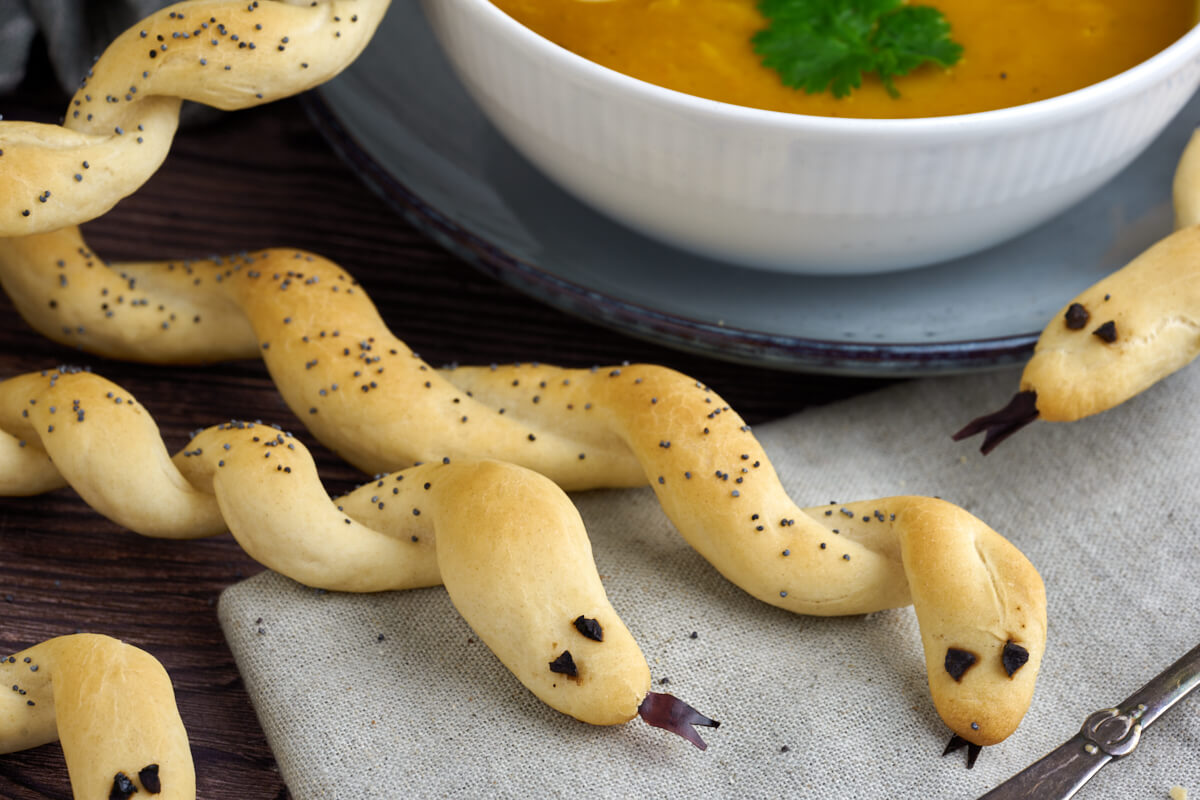 Ingredient notes
Wheat flour – Use ordinary wheat flour.

Blue poppy seeds – Blue poppy seeds are delicious on top. You can also use oregano, sesame, Parmesan cheese, or other sprinkles on top of the breadsticks.

Olives and dried chili – I use olives and dried chili to make eyes and tongue for the snakes, but of course, you can use other things if you think it's easier. See what you have in the drawers that can be used.
How to make snake bread?
It's super cool to make your own breadsticks shaped like snakes for the Halloween soup, or when you just want to make the food a little extra fun for the kids.

First, the dough must be made. The yeast dissolves in water, and then the rest of the ingredients are added. I knead the dough on a mixer, and then it should raise 30 minutes.

After half an hour, divide the dough into 20 pieces, and then the dough pieces should be wheeled into long sausages and wrapped around a wooden skewer. The Head and tail are shaped and the olive eyes are put on.

The breadsticks are brushed with water and sprinkled with poppy seeds before baking in the oven.

When the breadsticks are finished, stick a small hole in the head where a small piece of dried chili is put, which is cut into like a tongue. After that, the sticks are ready to serve with your soup.

Find the full recipe further down the page here.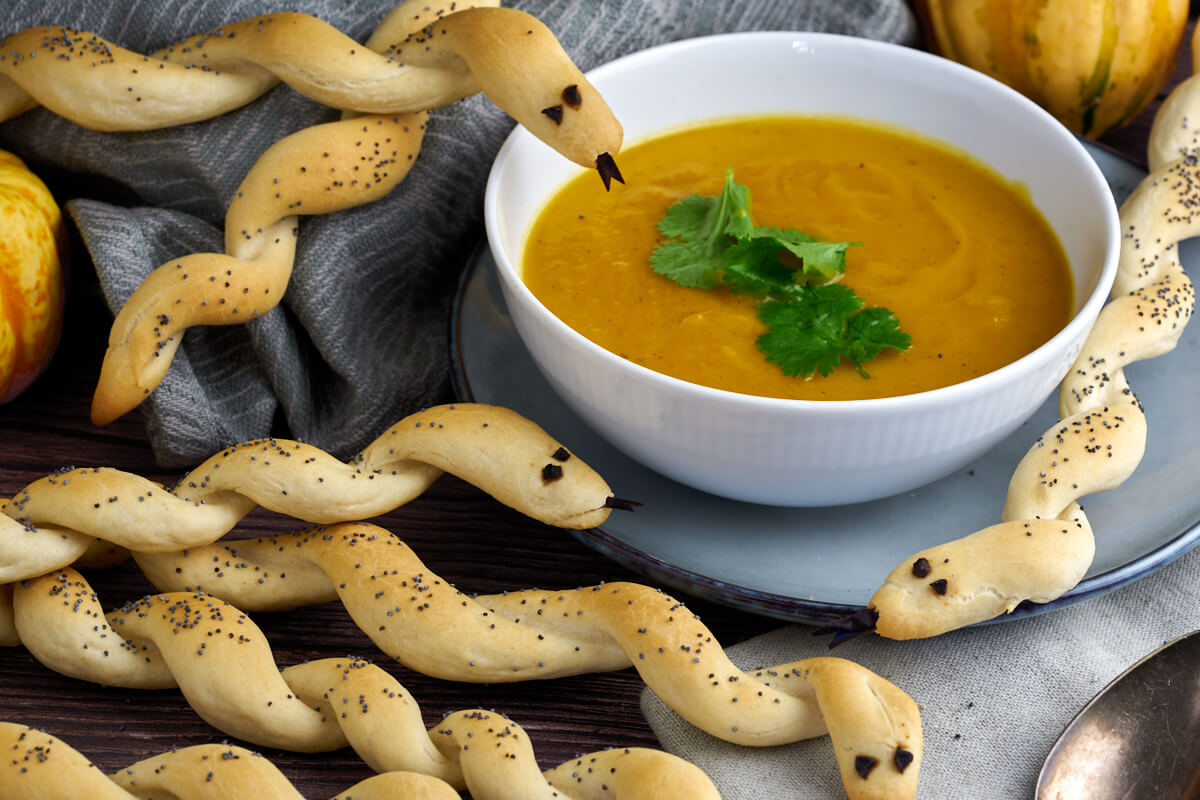 Frequently asked questions
How to store the bread snakes?
The finished hoses can be stored in a plastic bag or airtight container until serving.
Can I make the snakes well in advance?
Yes, you can easily make the snake bread the day before or two days before they are to be eaten. These are breadsticks that need to be dry, so nothing happens by having them lying in an airtight container for a day or two.
Can I use anything other than blue poppy seeds?
Yes, you can sprinkle the snakes with anything. You can also choose something that has more flavor for example grated Parmesan or oregano.
Other recipes you might like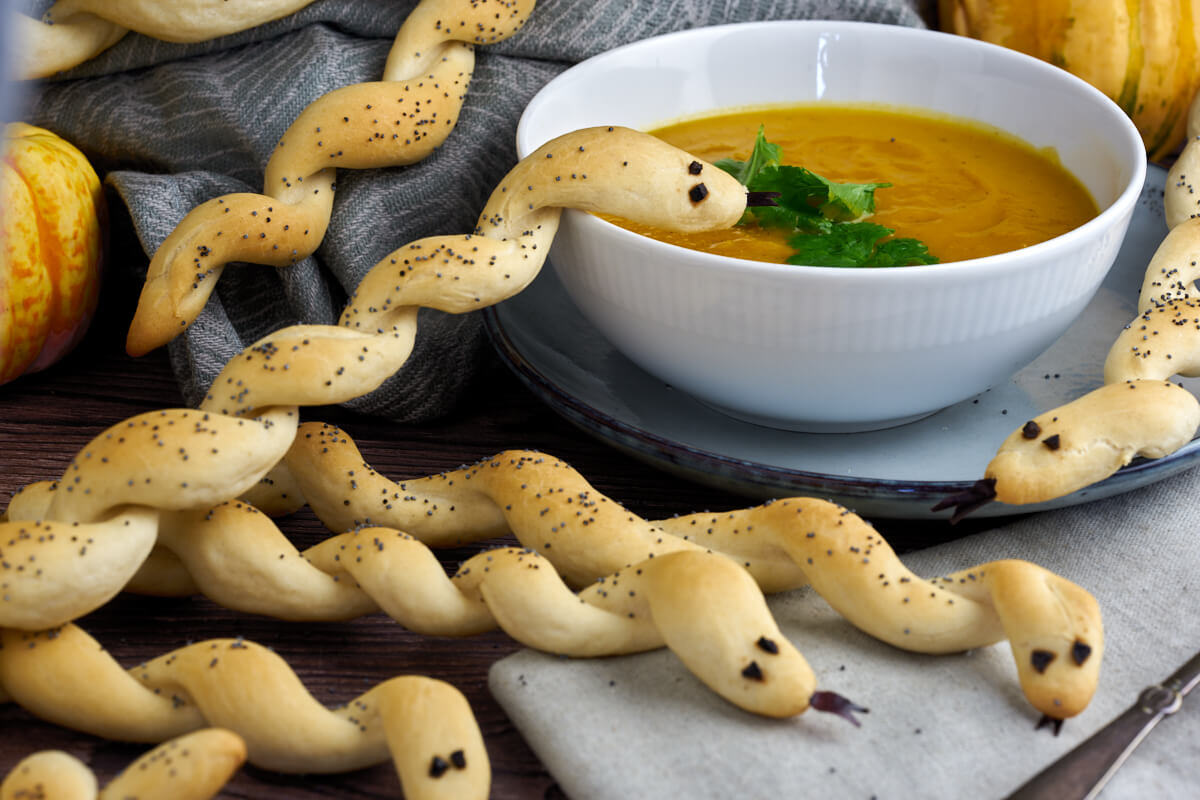 Recipe for Halloween grissinis shaped like snakes
Here you get our recipe for fun and delicious snake bread for Halloween. They're easy to make, and they're fun to serve for the pumpkin soup for Halloween or as breadsticks as a snack for Halloween with a good dip.

We hope you will want to try to make the fun snakes even next time you have to pamper the family a little extra with good food.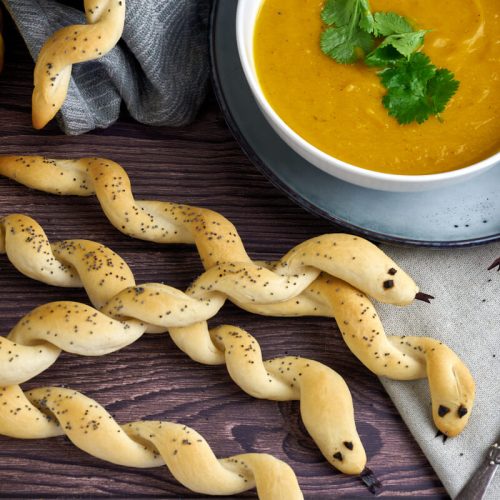 Snake bread for halloween
Recipe for snake bread for Halloween
Bread sticks, breadsticks, grissini .. Dear child has many names, but can we agree that they are a little more fun when they look like dangerous snakes? They are perfect to serve as snacks for Halloween with a dip or they are good for dinner with a nice soup. It could very well be a pumpkin soup.
Ingredients  
2.5

dl

water

25

g

fresh yeast

2

tsp

salt

½

dl

rapeseed oil

500

g

wheat flour

2

tbsp

blue poppy seeds

2

olives

1

dried chili
Instructions 
Dissolve the yeast in the water. Add salt, oil and wheat flour, and knead the dough well. I use the mixer. Once the dough is well kneaded together, leave it to rise covered for 30 minutes.

Turn the oven to 200 degrees celcius.

Divide the dough into 20 equal pieces. Roll each piece of dough into a long sausage about 1 cm thick. Now the dough must be shaped like a snake, this is done by wrapping it around a wooden skewer. The head is pressed a little flat and the tail is made a little pointed.

The bread snakes are brushed with water and sprinkled with blue poppy seeds.

The eyes are made by cutting small triangles of olives, which are pressed firmly on the head.

The bread snakes are baked at 200 degrees celcius for about 20 minutes until crisp and golden.

Just as the breadsticks come out of the oven, punch a hole with a meat needle and insert a small piece of dried chili, which is cut out shaped like a tongue.

Let the bread snakes cool down and then they are ready to serve.
Nutrition
How do you like the recipe?
Have you tried this recipe? We'd love to hear what you think of it. Leave a comment, add number of stars to the recipe and share your photo on Instagram with #madformadelskere – We love seeing your dishes ♥️
Also sign up for our Facebook group where you can show pictures of the delicious food you make! You can find the Facebook group here