Are you familiar with profiteroles? The small French pastries are made from choux pastry filled with delicious airy vanilla cream. We make our profiteroles with cream inside, and decorate them with icing on top. Traditionally, they are eaten with chocolate sauce rather than icing. Read here and get our recipe for the best profiteroles with pastry cream.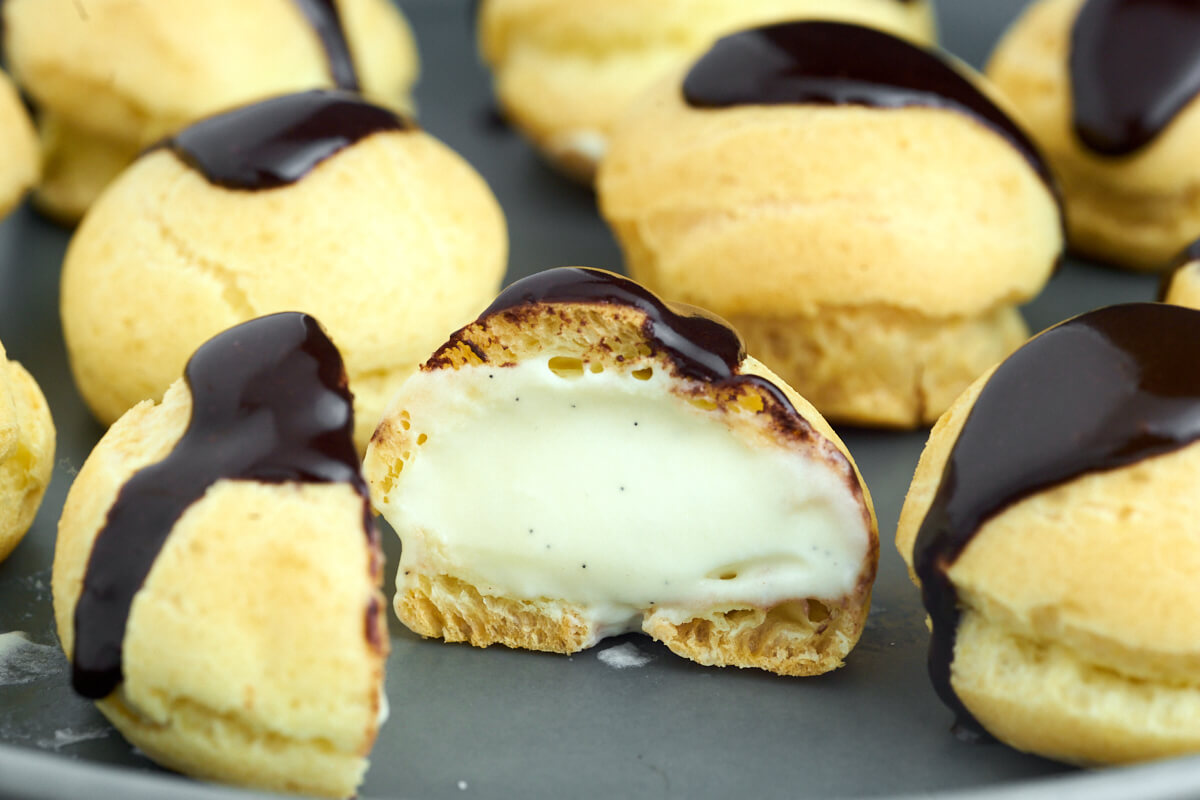 Small choux buns with a light pastry cream
Profiteroles are the French name for these little choux pastries. Actually, they are not at all as complicated to make as one might think from the name. I would actually say that most people will be able to make them.

The pastry consists primarily of a small hollow bun of choux pastry dough. If you have tried choux pastry before, then you know that it is actually not that difficult. When the choux buns are baked, they are filled with light pastry cream. It is a lovely pastry cream with lots of vanilla in it, which is mixed with whipped cream. It becomes a light and airy cream that just tastes great and is perfect for filling profiteroles.

These little pastries are a favorite at our home. And when the recipe says it gives 50 pieces, then you should not halve it. They disappear in a flash. These are small bite-sized cakes, and once one has eaten one, it is hard to stop again.

Should there, against all expectations, be some left, yes then they can easily be stored for the next day in the fridge. Not that we've ever tried this situation.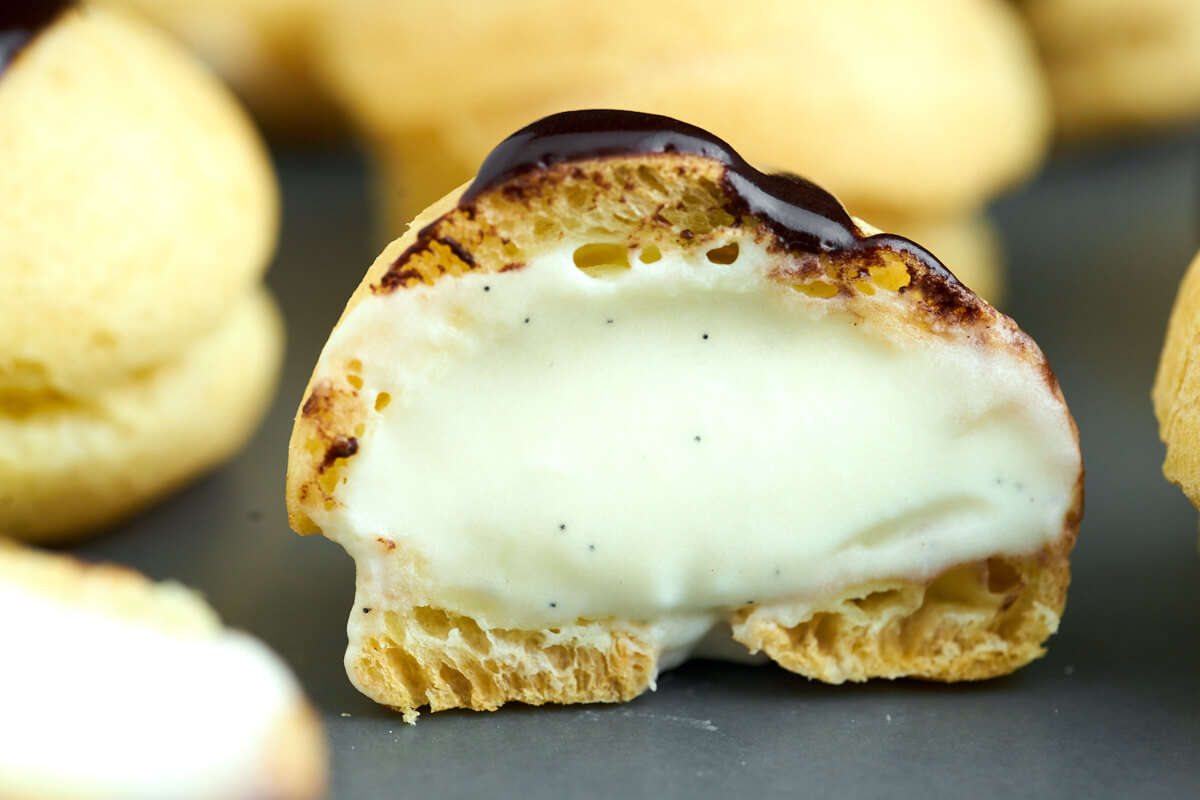 Ingredient notes
Vanilla – You need vanilla for the pastry cream. You can use either a vanilla bean or vanilla paste, that is your choice.

Whole milk – For the cream, I use whole milk. The milk needs a little fat to make the cream just perfect.

Corn starch – Corn starch is used to set the cream and make it thick and delicius.

Butter – I use salted butter for making choux pastry. Use real butter!

All-purpose flour – Needed for the choux pastry. Just use the normal kind you have at home.
How to make profiteroles with pastry cream?
The pastries consist of 3 elements. First, there is the cream inside. It can be made well in advance or possibly the day before because it should preferably have time to cool down before it is to be mixed with whipped cream.

First, the vanilla cream needs to be cooked, and while it cools down, you can start with the choux dough. There are a few things that are good to know when making choux for the first time.

The dough for choux pastry should be made in a saucepan. The first thing to do is to bring water and butter to a boil. When it boils, add all the flour at once, and then stir well with a wooden spoon until the dough is completely smooth. Then the dough must cool before the eggs have to be whisked in one at a time.

When the dough is ready, put it on a baking sheet, it is easiest with a piping bag, where you pipe small tops. Then the profiteroles must be baked. Finally, do not open the oven during baking, as this risks the choux pastry collapsing. When the baking time is over, you can take one out of the oven and put it on the kitchen table. If it does not collapse, you can take out the rest of the plate.

Once the profiteroles have cooled down, cut a cross-shaped hole at the bottom and fill them with pastry cream mixed with whipped cream. Finally, they are decorated with icing.

Find the full recipe further down this page.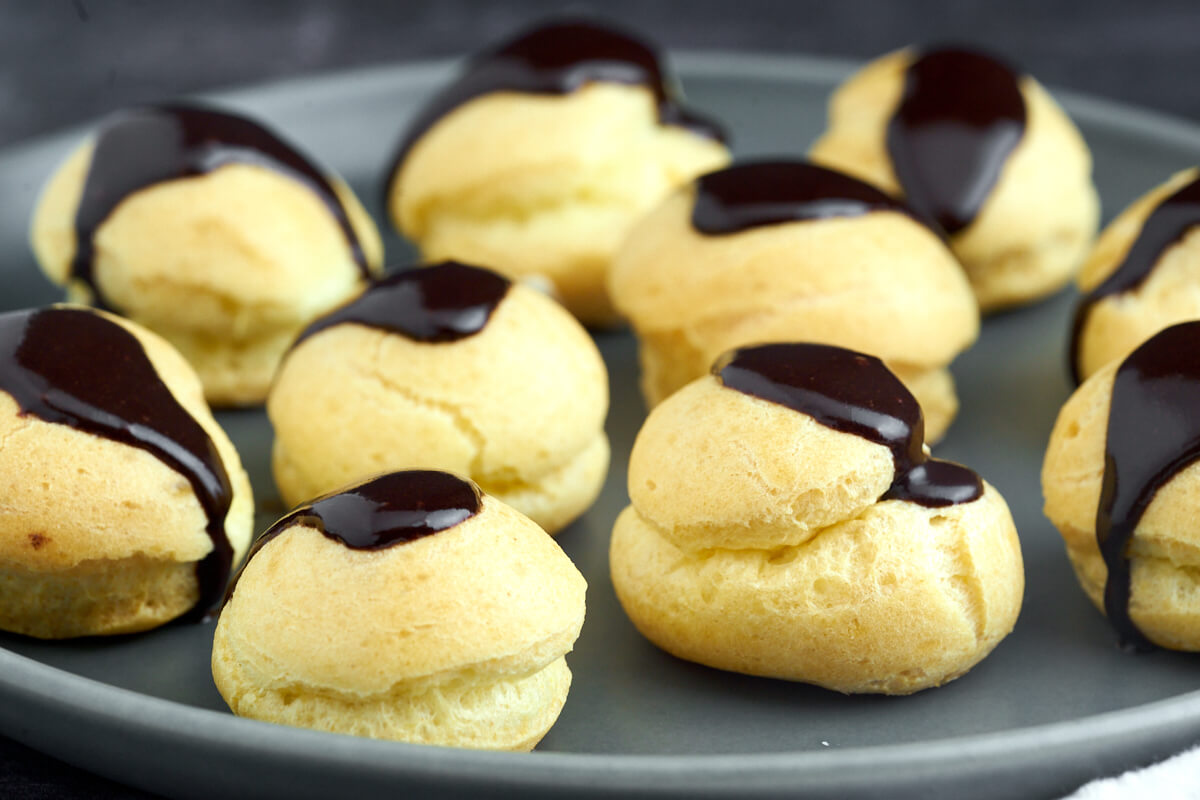 Frequently asked questions
What are profiteroles?
Profiteroles are small buns made of choux pastry that you can fill with mousse or cream. Traditionally they are filled with vanilla pastry cream and served with chocolate sauce.
How to store profiteroles with cream?
The finished and filled profiteroles with pastry cream should be stored in the fridge.
What can I substitute the pastry cream with anything else?
Yes you can fill them with any other cream you like.
Other dessert recipes you might like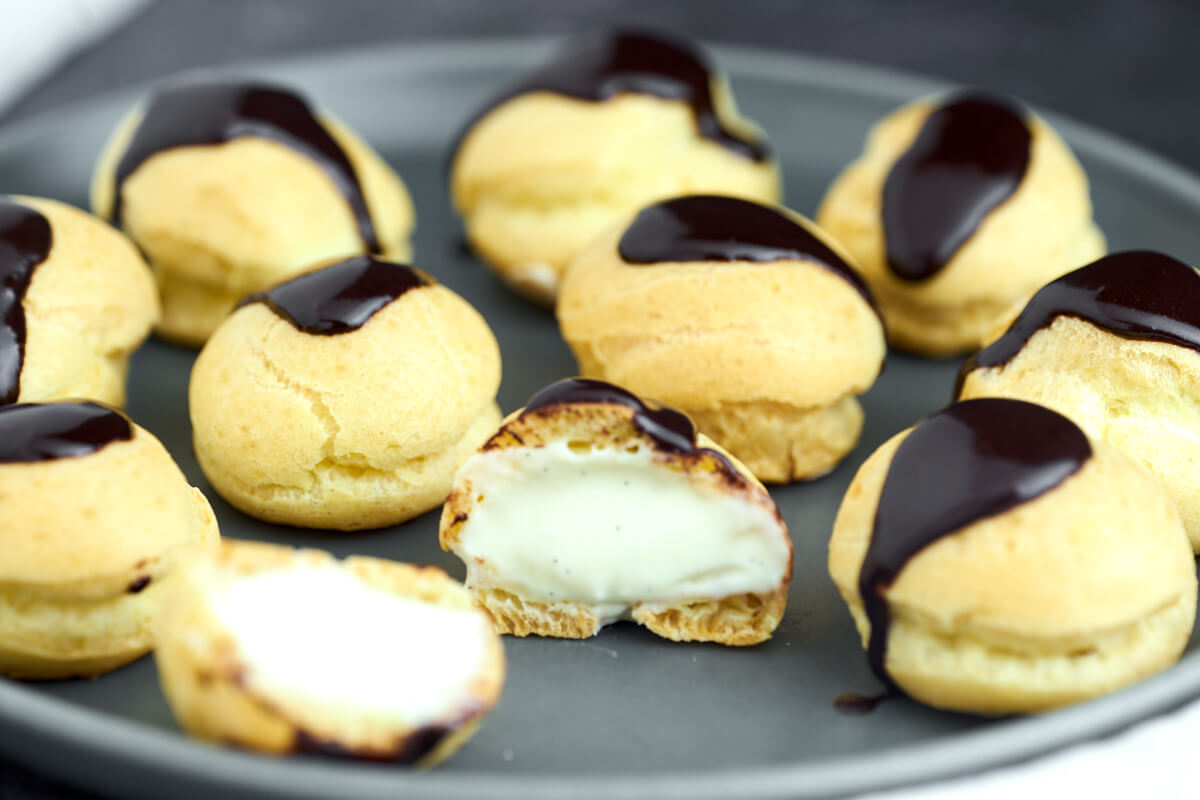 Recipe for the best small choux pastry with cream
Here you get our recipe for the little delicious French profiteroles. They taste great, and once you get started on such a portion, it's hard to stop again. Traditionally, they are not served with icing, but with chocolate sauce, you can choose the topping you like the best.

We hope you will enjoy the recipe and make a portion of fluffy profiteroles with pastry cream for your family.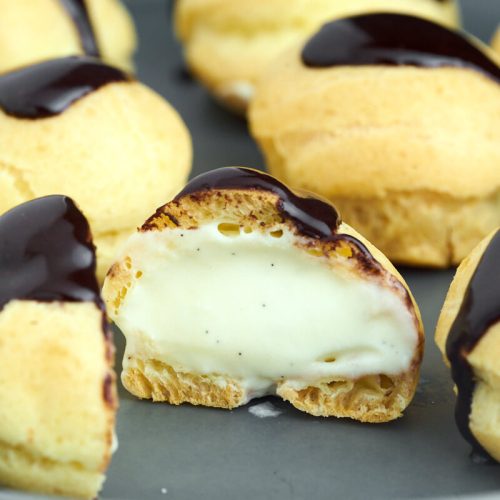 Profiteroles with pastry cream
Recipe for profiteroles with pastry cream
Small choux buns filled with an airy light pastry cream with vanilla mixed with whipped cream. They are pretty easy to make, and they taste SO good. The whole family will love them.
Ingredients  
Pastry cream:
75

g

sugar

1

vanilla bean

2

eggs

2

tbsp

corn starch

5

dl

whole milk

2.5

dl

whipping cream
Profiteroles:
2

dl

water

125

g

butter

125

g

all-purpose flour

5

eggs
Icing:
2

dl

icing sugar

1

tbsp

cocoa powder

Water

boiling
Instructions 
Pastry cream:
Start by making the cream, then it can cool down while you make the choux pastry.

Put sugar, seeds from the vanilla bean, and the empty vanilla bean, eggs, corn starch, and whole milk in a saucepan and bring to a boil over medium heat while whisking.

Let the cream cook for 2-3 minutes until it thickens and becomes creamy. Take the cream off the heat, pour it into another container and let it cool down. Place wrapping film over the cream, all the way down on the cream itself, so that it does not form a skin. Put it in the fridge until your profiteroles need to be filled. Now make the choux pastry.
Choux pastry buns:
Turn on your oven at 200 degrees Celcius.

Bring water and butter to a boil in a saucepan.

When the liquid boils, add all the flour at the same time. Stir vigorously now, I like to use a wooden spoon. Stir around over low heat until the dough gathers and becomes glossy and releases the bowl. Then it needs to get off the heat fast!

Now let the dough cool down. Meanwhile, whisk the eggs together in a bowl.

Put the dough in a mixer with a whisk or use an electric whisk. Add about 1 egg at a time, and whisk the dough well after each egg. In the end, the dough should be quite sticky but still smooth and even. See the consistency we are looking for in the picture here.

Now put the choux pastry in a piping bag with a round tip. Pipe out small tops on a baking sheet lined with baking paper.

Bake the choux buns for about 25 minutes in the middle of the oven. Avoid opening the oven for the first 20 minutes. When the time is up and they are golden, take one of the buns out and see if it collapses when you place it on the kitchen table. If it collapses, the baking time must be extended. If it does not collapse, you can take the rest out of the oven.

Place the choux pastry buns on a rack and let them cool down while you prepare the cream.
Serving:
Remove the vanilla bean and whisk the cooled pastry cream well through. Whip the cream to an airy whipped cream and mix it gently with the cold pastry cream. Fill the finished cream in a piping bag with a small round tip at the end.

Cut a cross-shaped opening with a sharp knife at the bottom of the choux buns. Fill the buns completely with cream from the piping bag.

Finally, stir together an icing of icing sugar, cocoa powder, and boiling water. Decorate the filled profiteroles with the icing and now they are ready to serve.
Nutrition
How do you like the recipe?
Have you tried this recipe? We'd love to hear what you think of it. Leave a comment, add a number of stars to the recipe and share your photo on Instagram with #madformadelskere – We love seeing your dishes ♥️
Note: This recipe is a translation of our danish recipe "Profiteroles med creme" which can be found on our danish food blog.
Also, sign up for our Facebook group where you can show pictures of the delicious food you make! You can find the Facebook group here